And Now You Know Where to Get Your Croissants in Kathmandu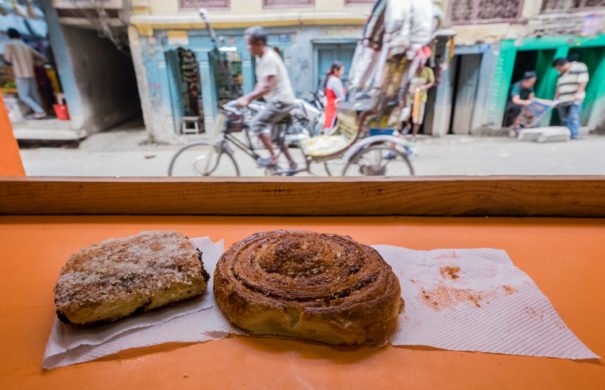 And Now You Know Where to Get Your Croissants in Kathmandu
Pastroes in Nepal
Nepal's capital, Kathmandu, is not a party town. By 9 p.m. most lights are off and people are drifting off to sleep. By 5:30 a.m., the streets are packed with humans, bikes, carts, dogs, cars, and the occasional goat. At 9 a.m., many Nepalis share a national breakfast of daal baat, a staple dish of rice, hot lentils, and pickled vegetables.
A hefty portion of daal baat is too heavy a breakfast for the expatriates and visitors holed up in Thamel, Kathmandu's traveller district. Here, hundreds of identical shops sell counterfeit goods and imitation mountain-climbing gear that looks so convincing it's hard to believe it's a rip-off. Among the North Face fakes, pseudo-French bakeries and European-themed cafes serve croissants, fresh pastries, muesli, and other Western comfort foods that keep tourists coming, happy to buy a comforting taste of home despite Thamel's inflated prices.
But just 10 minutes' walk south, towards Durbar Square, is Chhetrapati chowk. Past the main Chhetrapati roundabaout, along a road filled with shops, street dogs, and bicycle-pulled carts, there's a small Newari-style Hindu temple. To the left of the temple, the orange sign of the hole-in-the-wall Fresh & Baked bakery welcomes visitors to a land of delicious pastries that cost a fraction of Thamel prices. Piles of cinnamon rolls, Danish pastries, chocolate-covered croissants, muffins, and sponge cakes tempt customers from behind glass. Twenty Nepali rupees (18 cents) for a pastry is a steal.
Fresh & Baked is always full of young locals. They wear tight jeans and t-shirts, forgoing Kathmandu's traditional Newari hats in favor of international brand logos. This generation of Western-influenced, 21st-century Nepalese consumers come here for a bite of globalization—a sweet diversion from the daal baat diet.
It's usually bustling. Customers battle for a free stool in the tiny, orange-tinted room that serves as a rudimentary café. From a hole in the shop's front wall, they watch cycle rickshaws zooming past while a few holy cows roam along a road drenched in post-monsoon mud while they eat their croissants; not a bad way to start the day.