A Love Letter to Lagos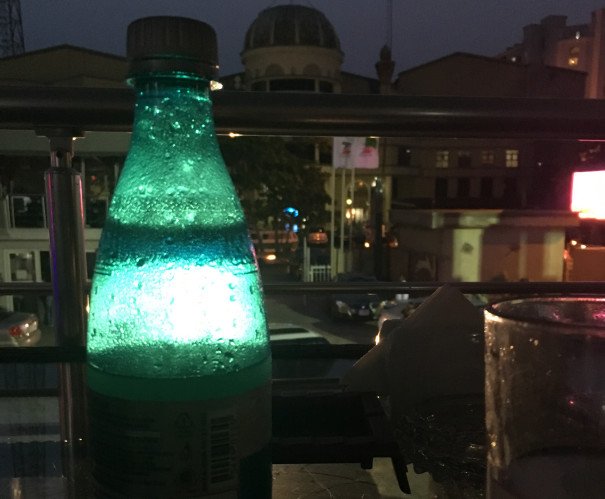 A Love Letter to Lagos
Bitter Lemons in Nigeria
It's been a long day in Lagos and this is a small moment of slowness in a city unable to do calm.
Lagos and I, we're sweet on each other, though my God she's got a funny way of showing it: she bursts my car tires, holds up my meetings, wrecks my plans, throws my schedules to her warm winds. But I still love her. And, in my three last Lagosless months, I had missed her. London offers no substitute.
The noise, the rush, the incessant movement, the chatter: information here is more valuable than the ever volatile naira. I had a hundred rumors in my back pocket by lunchtime today, a thousand bits of maybe golden, maybe garbage information tucked into my handbag come twilight.
Sitting in this first-floor bar I see Nigeria's green and white flag flapping in the breeze; sequins skintight across bodies getting ready for a night of dancing; cheery yellow motor trikes zipping past on the nearby road; huge trucks heavy with broken rocks; ladies in high heels starting their hours long commute home; security guards lolling against gate posts as a night of sitting and arranging rammed car parks stretches ahead. It's a blue evening, freckled with rainbow dots from the swaying disco light overhead.
One friend is on the beers; here it's usually Star or Heineken, maybe a syrupy Gulder. I'm drinking Bitter Lemon; it's not jazzy but it's as much my Nigeria drink as anything else. Car headlights are shining through the bottle as drivers fight for parking spaces; the turquoise plastic filter lends a near-romantic glow to proceedings.
Another friend is sipping on a Zombie, recalling the Fela Kuti song you'll hear leaking from bus windows while you're stuck in evening traffic, its speedy, jangly beat at odds with the static traffic.
"Zombie no go go unless you tell'em to go/Zombie no go stop unless you tell'em to stop/Zombie no go turn unless you tell'em to turn/Zombie no go think unless you tell'em to think."
Zombies are much bastardised cocktails and here they come with a scatter of dried cinnamon from a kitchen spice pot and with an orange plastic flip-top. The barman holds a lighter over the drink, shakes the cinnamon; it burns and smells like Christmas. Our table lights up with a quick blue flame from the alcohol. Even drinks are on fire in Lagos.