A Full Stomach Is No Reason to Skip a Meal in the Philippines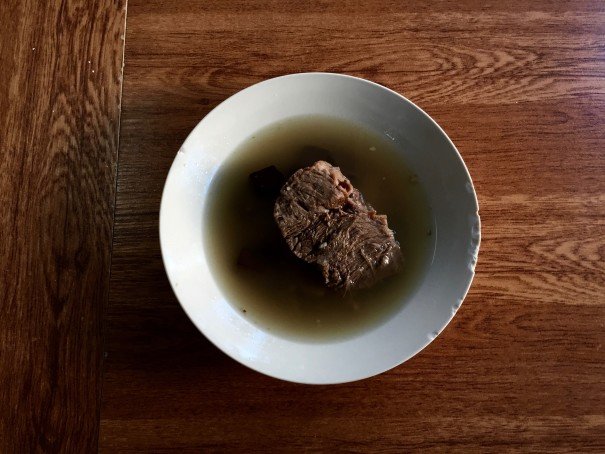 A Full Stomach Is No Reason to Skip a Meal in the Philippines
Sinanglao in Vigan
We thought we were on our way to breakfast when our friend Camille led us into 9 Sisters' Longanisa & Bagnet in Vigan. One man stirred an enormous wok mounted upon a wide, brick oven, heated from below by a pile of burning sticks. He deposited the bagnet—deep-fried pork belly—after it endured boiling and two rounds of deep-frying, onto a pile of newspapers for another man wearing rubber slippers to tend to. It had crisp, bubbled-up skin and it darkened the newspapers with dripping oil. The slippered man cut us little bite-sized pieces of bagnet and giggled at our delight. Skinny dogs gazed at us mournfully. A row of pork skin hung behind them, drying like tiny washcloths on a laundry line, while a curtain of longanisa sausage links obscured ladies stuffing the sausages by hand at a low table. Everyone was friendly and sweet, graciously answering all our questions until we inquired about what spices they used in their longanisa. Everyone went quiet.
Nobody was hungry after 9 Sisters'. However, as was often the case, a full stomach never seemed to be a sufficient reason to forego a meal or snack in the Philippines, so once again, we were heading to breakfast. Camille had promised us tocino—fatty bacon—for our first meal of the day, but she also stopped to pick up little plastic baggies of chicharron. Under Camille's wing, we were always heading to get something to eat and on the way, we made numerous stops for other things to eat. We were in the Philippines looking for inspiration, dishes that would make our food truck back in Philadelphia more interesting. Camille over-delivered and we overate. Camille's husband Melo had barely driven another fifty feet when she stopped him again. There were red plastic stools and picnic tables covered in oilcloth set up, tricycles parked, mopeds planted in the gravel, and the scent of stewed beef wafting through the air. "Let's get sinanglao. It's like the Ilocano version of siningang," she explained.
Everything felt familiar to me in Vigan, but nothing was exactly what I had tasted before. I thought I understood Filipino food. I grew up in Hawaii, eating plenty of it. Now I see that's sort of like saying, I belong in this family, but I'm a second cousin, thrice removed. I know you, but I don't. In the Philippines—and in the province of Ilocos Sur in particular—I am off-center. Not lechon kawali but bagnet. Not dinuguan but dinardaraan. Not sinigang but sinanglao.
The sinanglao—an offal stew—gathering looked like an extremely well organized picnic, as many restaurants in Vigan do, with plastic tables and chairs spilling out onto the pavement.
Ladies in aprons and hairnets ladled soft slices of beef, cubes of coagulated blood, kidney, and sour broth into chipped porcelain bowls from cauldrons set upon makeshift, propane-powered stoves. We handed over a few pesos and bought plates of white rice to sink, chunk by chunk, into our sinanglao. We sprinkled peppery cane vinegar and green bile into our stews from little glass bottles and we dug in with spoons and forks. It was steamy, tart, and delicious.
"What is this place?" I asked Camille, expecting her to name some restaurant.
"Oh, this is just the post office," she laughed.