A Flaky, Oily, Meaty Hangover Cure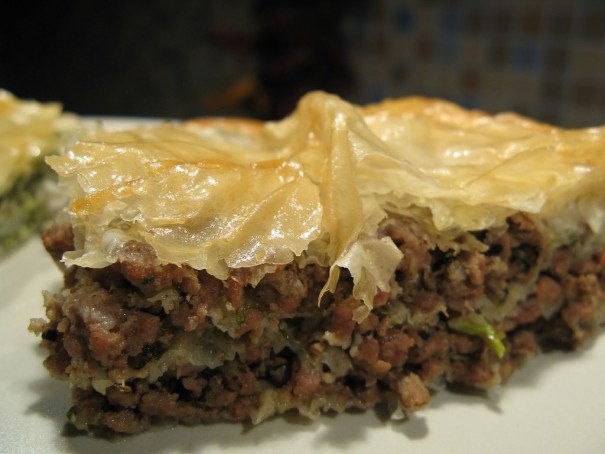 A Flaky, Oily, Meaty Hangover Cure
Burek in Montenegro
First thing in the morning, and we were departing the beautiful solace of Montenegro.
Montenegro is what I'd consider the "pocket rocket" of locales. A part of a state union with Serbia until 2006, you can traverse its entire length in an afternoon. Up until three days ago, we were in Kotor, near the border of Croatia, and barely an hour and a half later we had arrived in the nation's capital, Podgorica.
And now we were leaving, minds still fresh with memories of Marko and his fellow metalheads, whom we'd met on the street purely by coincidence. We had spent the night prior fusing common threads—politics, metal bands we like, our mutual affection for 90s Australian TV show Heartbreak High (it had been imported to ex-Yugoslavia)—and drinking cheap, local wine; five liters in what looked like a plastic oil container bought for €5 from a convenience store window shielded by a screen. The wine was mixed with Pepsi for effect. The hangover the next day was brutal.
Trudging into the train station bleary-eyed, sustenance was of importance. We were sick of the pizzas, pastas, and burgers we found ourselves gravitating to in our short time in Montenegro, as we started to become travel-weary and longed for the comforts of home. There was only a single food stall in a dim corner of the station, and we caught the shopkeeper's eye as he looked over at us with interest.
The stall had one small, heated showcase, filled to the brim with what looked like pastries. It was difficult to discern what was in them. "Burek," the shopkeeper said as he noted our curiosity. "Very good and fresh! Meat, or spinach and cheese."
We got two each at €1 a pop, then sat down at the café facing the tracks to wait for our train. Unfurling the burek from its paper bag, its crust so oily the oil had partially soaked through, it had already left stains on the bag. Our Turkish coffees arrived, and the first bite that accompanied it was delightful: the meat, freshly cooked and piping hot, melted in my mouth as it coalesced with the filo pastry skin. The burek was light and airy, yet packed a punch within. My mouth felt like it was in contact with something that was a cross between a sausage roll and an apple strudel. And even that wasn't quite right. It evidently belonged in a league of its own. As bite after (flaky, oily, and meaty) bite ensued, the further away my hangover felt.
Our train was two hours late. We got two more. When the old Soviet-era train eventually made its slow, mechanical presence felt, we got on with one final burek each in our hands. Later on, I would learn that burek dates back to the Ottoman empire, its modern-day presence serving as a remnant of a regime that no longer exists. Croatian burek varies from Montenegrin burek, which differs from Bulgarian burek, and so on.
As the train wound down valleys and mountains away from Montenegro, the burek would stoke cravings that could not be satiated for months to come.