Thailand has one of the highest rates of traffic fatalities. Volunteer ambulance crews like the Pingnakorn Emergency Rescue are always in demand.
The Ping River is nothing but a blur. City lights twinkle and reflect off its waters as the ambulance flies across a bridge and into the downtown center of Chiang Mai. Two drivers sit in the front, throwing the roaring vehicle from left to right, dodging tuk tuks and scooters.
At speeds rarely seen on Chiang Mai's congested roads, the volunteer crew in the Pingnakorn Ambulance is racing to the scene of an accident in the old quarter. It screeches to a halt and the mass of bodies exit swiftly. With a calm, rehearsed purpose, the medical team sets to work assisting another ambulance that arrived on the scene first, directing traffic, holding back the crowd, gathering information.
The scene is a mess. Traffic police do their best to cordon off the gawkers, who are soon followed by drunken tourists, stumbling through the newly erected barriers. An upset relative is guided into an ambulance for a drive to the hospital. A pool of blood reflects the emergency lights flashing in the night.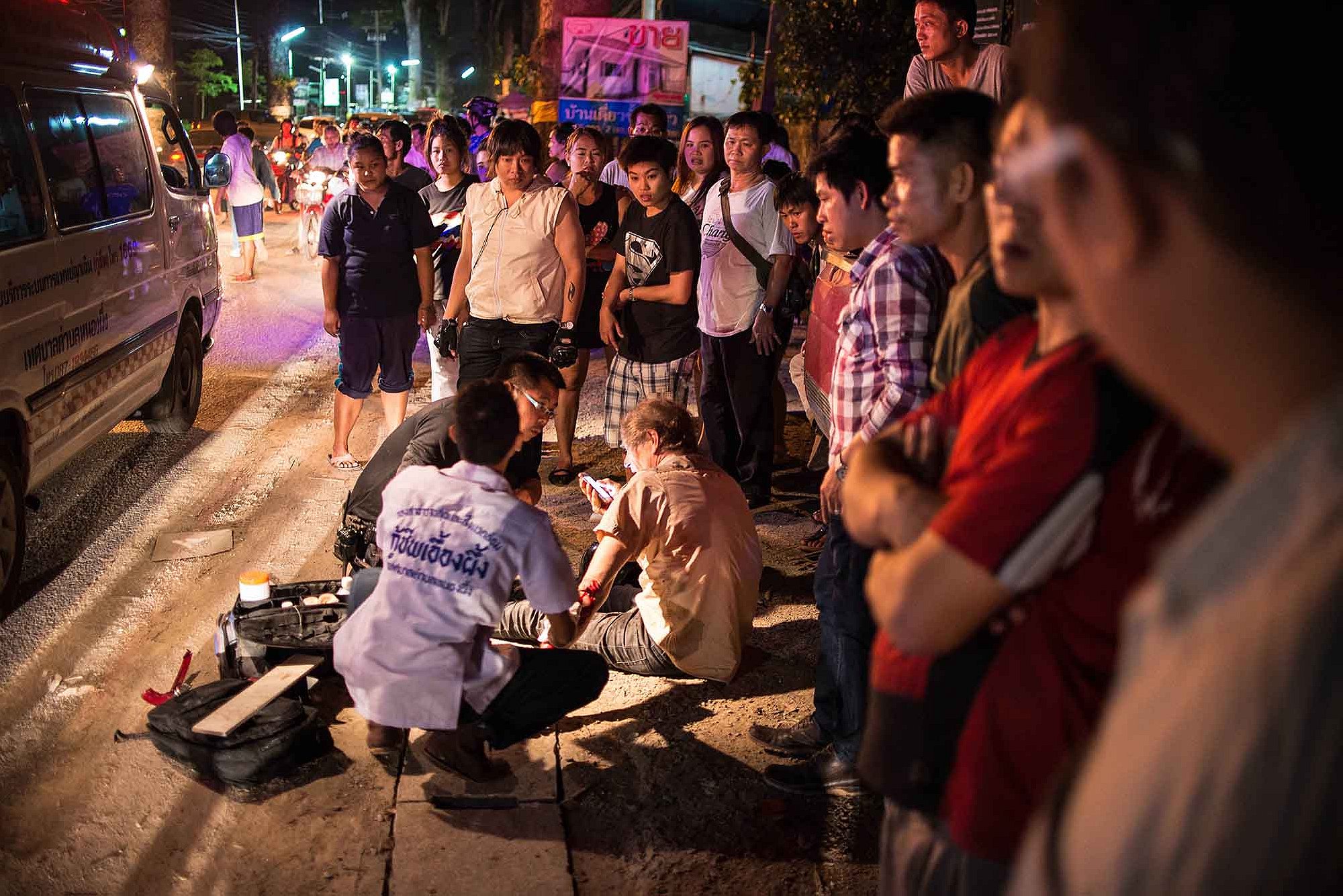 Thailand is notorious for its poor traffic record and growing number of road fatalities. The most recent numbers available, from 2013, place the country sixth in the world for road fatalities, with up to 26,000 deaths per year. Some 70-80% of those are motorcyclists or their passengers. The primary causes of death: speeding, drunk driving, and failure to wear safety belts or helmets.
In Chiang Mai, Thailand's second largest city, the carnage is met by various emergency services like the Pingnakorn Emergency Rescue – a volunteer organization that has teams stationed throughout the city.
Established in 1988 with support from the Thai government and international backing and training, Pingnakorn has a role in relieving the city's overwhelming need for first responders and trained medical staff. Rescue services like Pingnakorn historically worked separately, in part because the first ambulance on the scene would get money for bringing the victims to the hospital. Today, though, they've learned to work in conjunction, and they are part of Chiang Mai Rescue, a non-profit umbrella organization of all the rescue and first-response teams in the city. This way, they're able to spread resources where most needed and respond to disasters more effectively.
Some volunteers sign up for religious reasons; making and gaining merit is a cornerstone of Thailand's Theravada Buddhism. Others, like Khun Wichet, a Pingnakorn rescue driver for the past seven years, have a much simpler explanation: "we want to help, it makes us happy seeing the work we do, and also for the excitement."
The team we ride with tonight is responsible for one of the busiest sections of the city. It's led by Utit Lek and his wife Khun Aof, both of whom have been emergency workers for close to 15 years. Now in their mid forties, they have created a tight-knit and well-prepared (if somewhat ragtag) response team. For them, creating a family atmosphere is crucial to combatting the long hours and stress.
As the clock nears midnight, they gather around a roadside noodle shop near one of Chiang Mai's direct motorway links to the highway. They wait for the throngs of revelers who will soon begin filtering out of downtown. Between bowls of steaming broth and a steady stream of Coca-Cola, an uneasy calm sets in; the inevitable lingers. A team member asks where I live in the city. I tell him on Chiang Mai-Lamphun, a road known for the hundreds of giant trees that line its curbs. He looks up shaking his head. "Very dangerous that street, those trees kill many people". Work with these crews long enough and patterns begin to emerge, slowly revealing perilous streets, corners, and traffic lights. A morbid city map that these volunteer medics can recount by heart.