Hell is real, it turns out, and it's located in a garden just north of Chiang Mai, Thailand. Meet Clean Teacher Monk and his handcrafted nightmare.
Clean Teacher Monk wanders through the serene temple grounds, amid singing birds and humming cicadas. Moments earlier he was sitting cross-legged before a classroom of young children, leading Buddhist chants. The chanting has put Sa'ad in a tranquil mood well suited for the temple where he serves as head monk. It's like many other temples across Thailand, with golden spires reaching toward the sky and exquisite embroidery lines on the walls.
But around the garden is Clean Teacher Monk's nightmare vision: Graphic scenes of rape and torture, with statues of women brutalized by demons and children impaled by fishing hooks.
Wat Mae Kaet Noi's grisly landscape, five years in the making, is not Thailand's only hell temple, but it can rightly claim to be the Kingdom's most gruesome. "I have trouble sleeping," the 53-year-old monk, Pra Kru Vishanjalikon, also known as Sa'ad, tells me. (Pra Kru Vishanjalikon translates to 'Clean Teacher Monk.') "I have these dreams, nightmares—it feels like lightning, between being asleep and awake—I can see another world: hell."
The garden, located 17 miles north of Chiang Mai, is meant to be pedagogical, a visual education aid used to teach visitors about the afterlife. Buddhist perceptions of hell are taught in the Thai public school system, usually in the form of long-winded ramblings by guest speaker monks accompanied by poorly printed drawings. Rarely is hell depicted in such excruciatingly vivid detail as it is in Sa'ad's garden.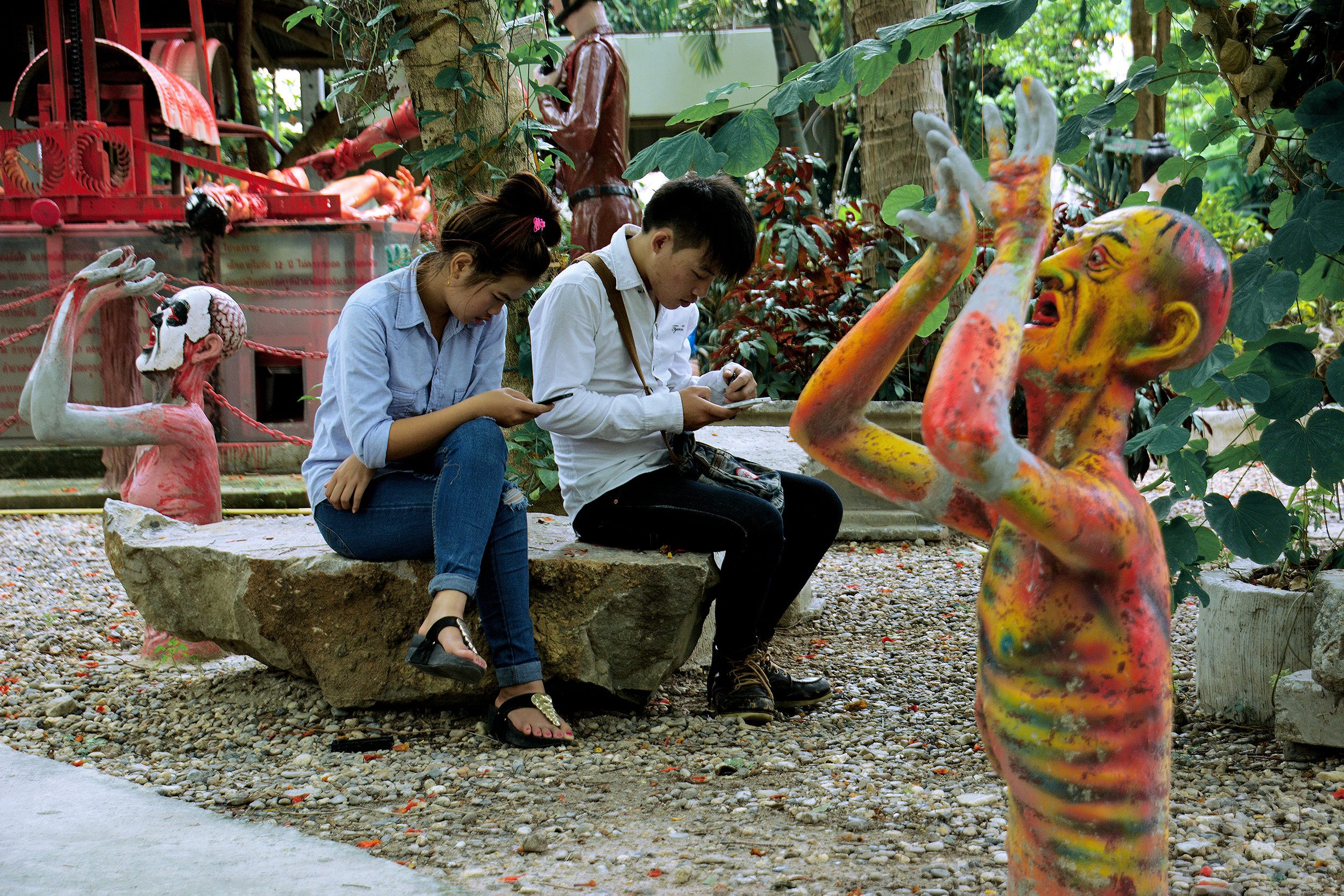 Sa'ad's vision first came to him in a dream 25 years ago. He found himself wandering around a desolate, blisteringly hot, pitch-black city. "A red demon spirit approached me. When he spoke the ground trembled. He told me: 'When you go back to the human world, you have to build a city like this.'"
The garden has been Sa'ad's life's work ever since.
In the temple grounds both the spirit world and the human world are depicted. A well-endowed man lies on the floor, eyes bulging, as five naked women stuff his mouth with a banana and his anus with a giant phallus. Sa'ad glances down disapprovingly to the graphic orgy he created. "It's like a porno, isn't it?" he says. A few feet away we see the repercussions of the life of sin: demons raping terrified, blistered men and women with pikes, axes, and worse. "Don't get lost in the sex," Sa'ad mutters with a nod to the troubling scene.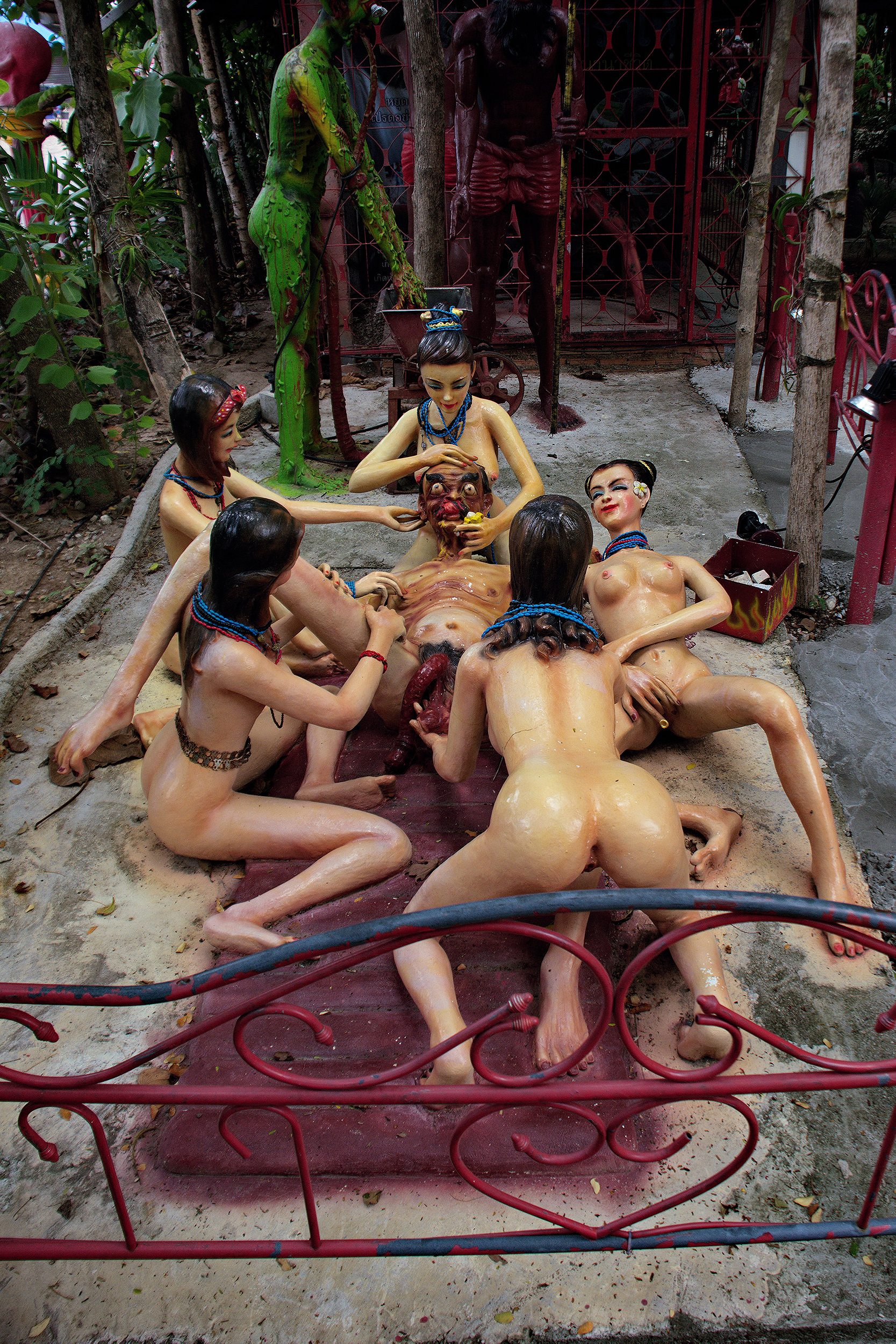 Descriptions of hell exist in almost every culture, from the ancient Greeks' tales of Hades' Underworld to Dante's Inferno. While Buddhism is often considered a rather placid religion, its version of hell, known as Naraka or Narok, rivals Dante's in its lurid detail. The ancient texts tell of 136 fiery pits that await the damned after Phaya Yom—the Death King—delivers his judgment. Phaya Yom determines if you've broken any one of five key doctrines: stealing, murder, sexual misconduct, intoxication, and lying. Once his verdict is made, your sentence awaits. On the bright side, Naraka, unlike Christian hell, is not infinite—once you've served your time and leveled your Karmic debt you'll find yourself reincarnated in a more favorable setting.
"I think these visions come to me because I've read about Naraka in the ancient texts," Sa'ad tells me. "But when I sleep I visit the other world. After waking up, I search the Internet, describing what I see. I print the images and give them to the sculptors. Over thousands of years people have illustrated hell through drawing, but I want to make it more real."
While most head monks raise money for huge gold Buddha statues, Sa'ad's attempts to gain funding for his hell park raised a lot of eyebrows. "'What? You're crazy!' people told me. The temple was very poor. We had little to no money. Everyone laughed at me when I told them my idea."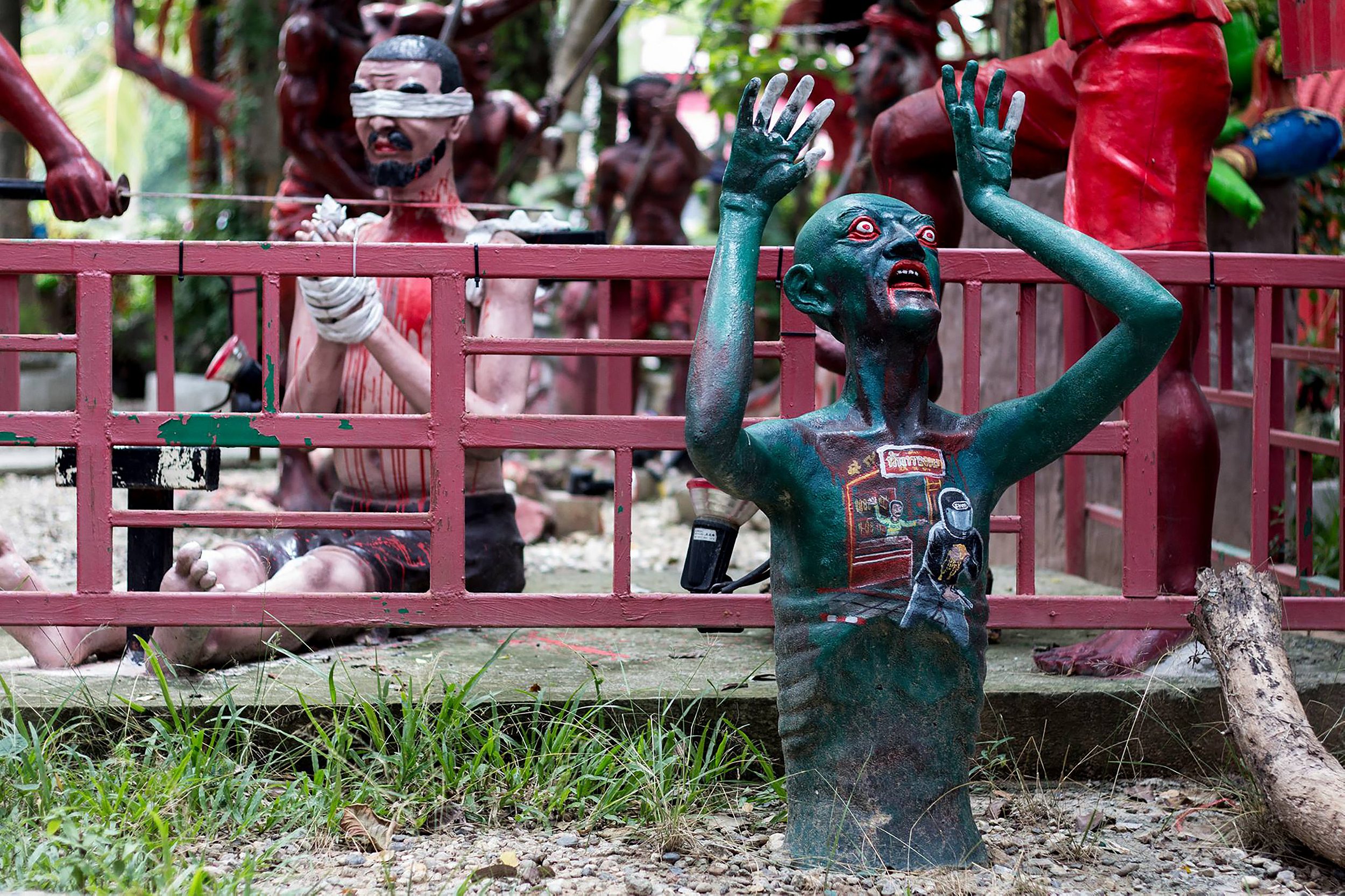 It wasn't until Sa'ad had a high profile visitor, a pious member of the Thai royal family who he refuses to name, that the ghastly temple blossomed. The royal family member provided significant financial support to the garden. "Since then lots of Thais come here for birthdays, weddings, and funerals," Sa'ad says. "For them it's something different."
Recently, people have been visiting the garden for another ghastly purpose. Sa'ad stops at one particular statue, lowers his voice, and gestures to a scene of a blood soaked woman murdering a baby. "This statue is here to tell people not to have abortions. But in the past few years, early in the morning, I find real dead babies here."
This is no vision. Abortion in Thailand is illegal and often performed by the individual on herself. It carries a great deal of shame in Thai society and some grieving women have started leaving their aborted fetuses by the statue as an act of repentance.
"One morning I came outside and there was a girl by the statue crying. She had her fetus and asked me to bury it in the garden." Sa'ad agreed. "She knew she had made a mistake. She felt guilty and she was trying to repent." He wouldn't say how many babies he'd buried, but instead raised his eyebrows in a way that suggested, a lot.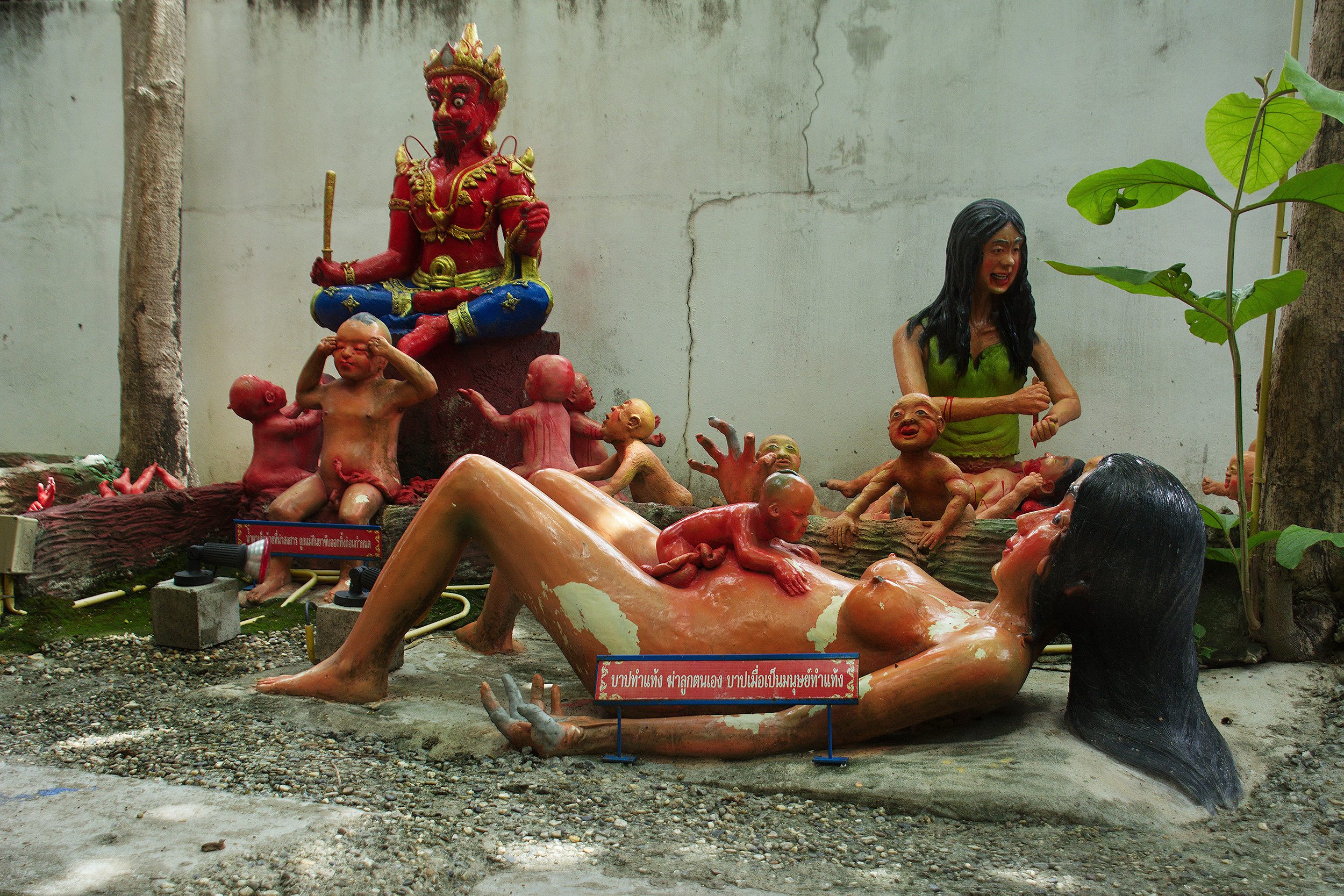 Today a young Thai couple have made the trip up from Chiang Mai. As they take a break from strolling around the temple grounds they reflect on what they've seen. "I think it has had an effect on both of us because I do believe that hell is like this," the woman says. "It's definitely not a place I want to visit again, here or in any life," says the other.
For Sa'ad, that means he is accomplishing his mission. "I want to scare people," he says. "I want to make them afraid of hell and sin, make them feel ashamed."
Suddenly the trees above us erupt with the sound of tortured screams coming from a tinny speaker. Sa'ad laughs. "Someone's put 10 baht into the machine!"