Gambling on change in Georgia's most surreal city.
There is no chacha in the chacha fountain. There was supposed to be, of course. The Georgian brandy should have filled the fountain once a week, says Corrie Noe, whose husband, Aleko Kikilashvili, was commissioned by then-Georgian president Mikhail Saakashvili himself to do the fountain's lighting design.
"You should have seen Misha," says Noe, using the name by which most Georgians refer to their former leader. We are sitting outside Noe and Kikiashvili's brainchild, the Holland Hoek Hostel, under a canopy of umbrellas, drinking bottles of dark Khareba wine. "When Aleko showed him the lights, he was like a child. He just sat there, smiling, for hours."
Misha, after all, was famous for the exuberance of his ambition. The first president after Georgia's 2003 Rose Revolution—which brought an end to the lawless days of the 1990s—Misha greeted the structural challenges facing the post-Soviet state with all the subtlety of a steamroller. Dilapidated houses in Tbilisi? Demolish them all and build a glass bridge that lights up when you walk past it. A remote mountain outpost populated by bandits? Turn it into a ski resort!
So it was no surprise when Misha sought to transform the Black Sea port city of Batumi—until 2004 the personal and political playground of local warlord Aslan Abashidze—into what Misha envisioned as the "Las Vegas of the Black Sea": an extravagant and orgiastic celebration of new money and newer values, the oil-skimmed coastline dotted by monuments to his magnificence: a Trump Tower, a rocket-shaped technological university with a Ferris wheel circulating like a clock face. And then there's the Eiffel-like Alphabetic Tower in the shape of a double helix, silver Georgian letters spiraling up its sides, its only usable interior space a panoramic globe at the top.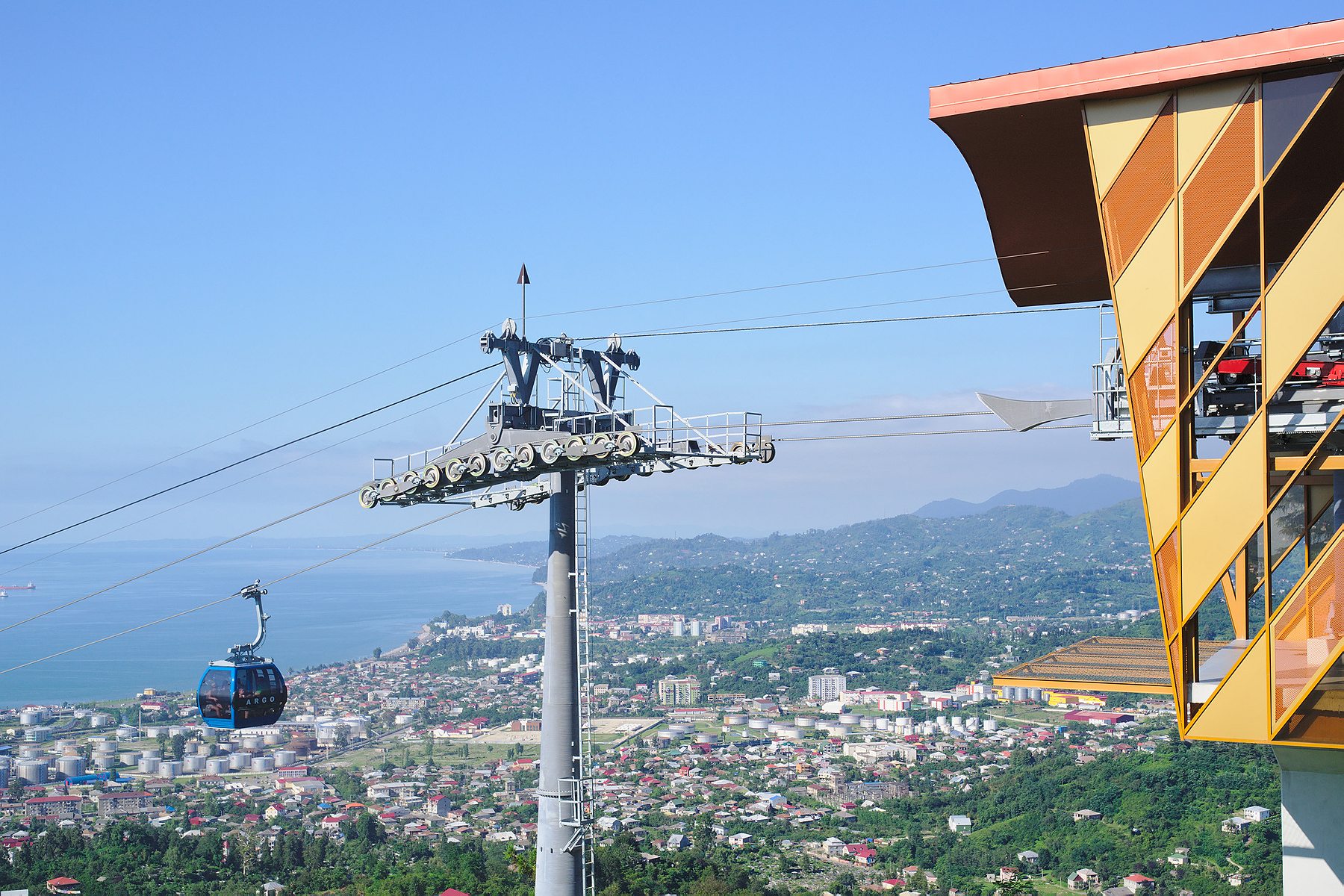 The chacha fountain—which in Misha's quixotic conception would shoot forth gallons of the famously noxious Georgian moonshine for ecstatic European hordes—was one such scheme.
"It worked once," Noe tells me.
I ask if she means once a week.
"No," she says. "Once."
After all, Noe says, the government has changed, and with it everything else. In 2012, the Georgian Dream party, led by the reclusive, enigmatic billionaire Bidzina Ivanishvili, took over from Western-leaning President Mikhail Saakashvili's United National Movement, which had governed Georgia with a strong reformist agenda since the Rose Revolution. Ivanishvili's sudden rise to popularity—paved by massive construction projects of his own (he was a principal backer of Tbilisi's new cathedral and central cable cars, and he heavily subsidized several of the city's arts institutions)—saw Saakashvili's ambition stopped in its tracks. And then, after only a year as prime minister, Ivanishvili officially retired from public life, technically unaccountable for whatever happened next, although he left handpicked successors as both president and prime minister.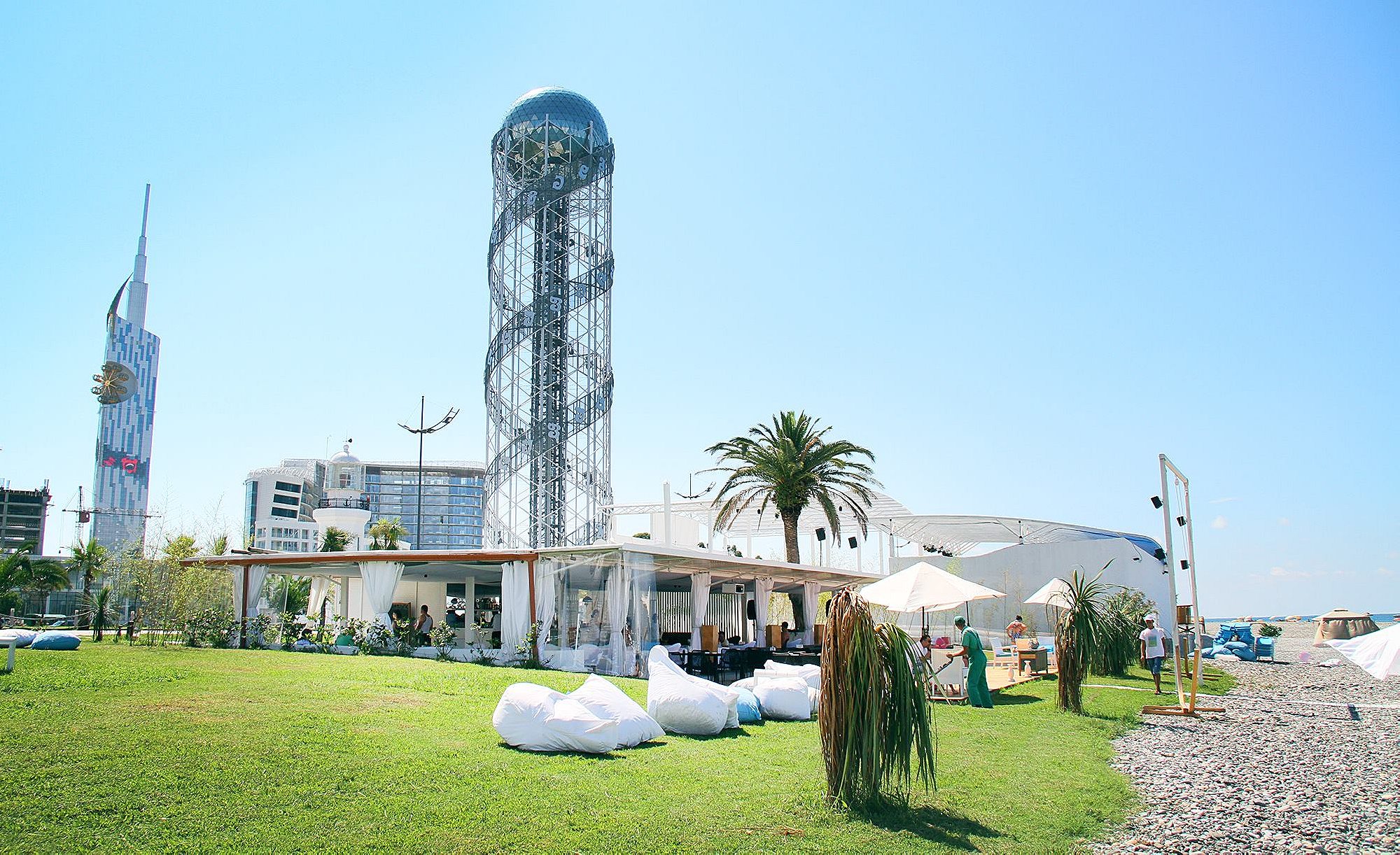 And so the chacha fountain is dry. The Alphabetic Tower is structurally unstable, leased for the equivalent of 40 cents a year to a Spanish company that has promised to take over its upkeep. Nobody knows exactly what happened to Trump Tower, only that no ground was ever broken. On midnight on a Saturday at the tail end of the summer high season, waiters in the cafés at the "Piazza"—a newly built square designed as an imitation of Madrid's Plaza Mayor—are already putting away the tables. There was meant to be an open-air concert, I later learn from Kikliashvili, but the local authorities who invited the musicians down from Tbilisi forgot to coordinate with the venue or technicians. The musicians arrived, were paid, and were promptly sent away.
"Typical," Noe says.
In the shadow of the Radisson Hotel sits a seven-star Kempinski hotel franchise that, almost a decade after the papers were signed, is still a skeleton. (Rumor on the street, Kikilashvili says, is that they're desperate to sell it off as quickly as possible.) For every erected hotel, there is a derelict site, or one whose posted computer-renderings change abruptly and without warning (until a few weeks ago, Kikilashvili tells me, the "Crowne Plaza" was supposed to be a Holiday Inn).
But that doesn't stop Batumi. The city's energy, like that of its onetime champion, is relentless.
Along the waterfront boulevard, a neon-illuminated fountain jolts up water in time with pre-recorded music (on this Saturday night, a techno cover of Fiddler on the Roof's "If I Were a Rich Man"). Lime-green Batumvélo bike rental stations are interspersed with minimalist-chic rotating statues of famed fictional lovers Ali and Nino. Batumi has a Hilton, a Sheraton. The Radisson is a crooked "S" of glass with a terrace swimming pool overlooking the newly paved boulevard. It has a Europe Square—anticipatorily renamed—where the tragic child-killer Medea is immortalized on a golden column in front of a new stained-glass façade. (The Radisson Hotel's café, too, is called "Medea's Pizza.")
There is a German beer restaurant where nineteenth-century ceiling frescoes have been repainted to look new. There are rooftop bars and limoncello cocktails and Golden Palace casinos and advertisements for luxury developments projected onto the rocket-ship building. Champagne glasses with Toulouse-Lautrec's courtesans on them go for 60 GEL ($25) apiece, an astonishing sum in Georgia. There is a house on Rustaveli Avenue with a façade in the shape of an astonished face. There is a restaurant that is quite literally "upside down." There is a fake Chinese pagoda overlooking the sea. None of these are ironic. Most of them are remnants of Saakashvili projects, but not all; there are rumors of a Marriott Courtyard going up on the boulevard. At the Porta Tower, one of the few active construction sites in the city, the sound of cranes echoes over the water.
On the surface, Batumi makes no sense. But somehow, the city survives. "Fun Goes Down All Day Round," promises a poster I see at least ten times around the city.
In search of information about Batumi's development, I meet with Volker Riedl, a German brought to Batumi by the promise of sunshine (though it rains in the region 50 percent of the time) and profit in the real-estate sector. We meet in the Piazza under an imitation Venetian arcade at a café called Brioche.
Oligarchs buying up fifty or a hundred apartments in one go
Riedl plans to open a real estate management company in Batumi. I ask if such a business might still be profitable, given the slowing of construction. Of course, he says. People may not be building in Batumi anymore, but they are buying.
"Russians, Ukranians," he shrugs. "After the [Crimea] crisis, they want to get their money out of the country." And Batumi, he says, is a perfect fit: located in a stable country, a short weekend flight over the Black Sea. He's heard of oligarchs buying up fifty or a hundred apartments in one go. "One Ukrainian guy," he says, echoing a sentiment I hear several times—always shadowy and unsubstantiated—during my time in Batumi, "I heard he bought seventy at once." Apartments at the Kempinski-adjacent, just-completed Palm (advertised as "elitist apartments at the seaside") can go for up to a million U.S. dollars, he says, all but unheard-of in a country where the average salary is around $270 a month. The current government may be doing little to court investors—the recurring sentiment I hear among Georgians is that the government is, for better or worse, doing nothing at all—but private investors are still making their way across the Black Sea.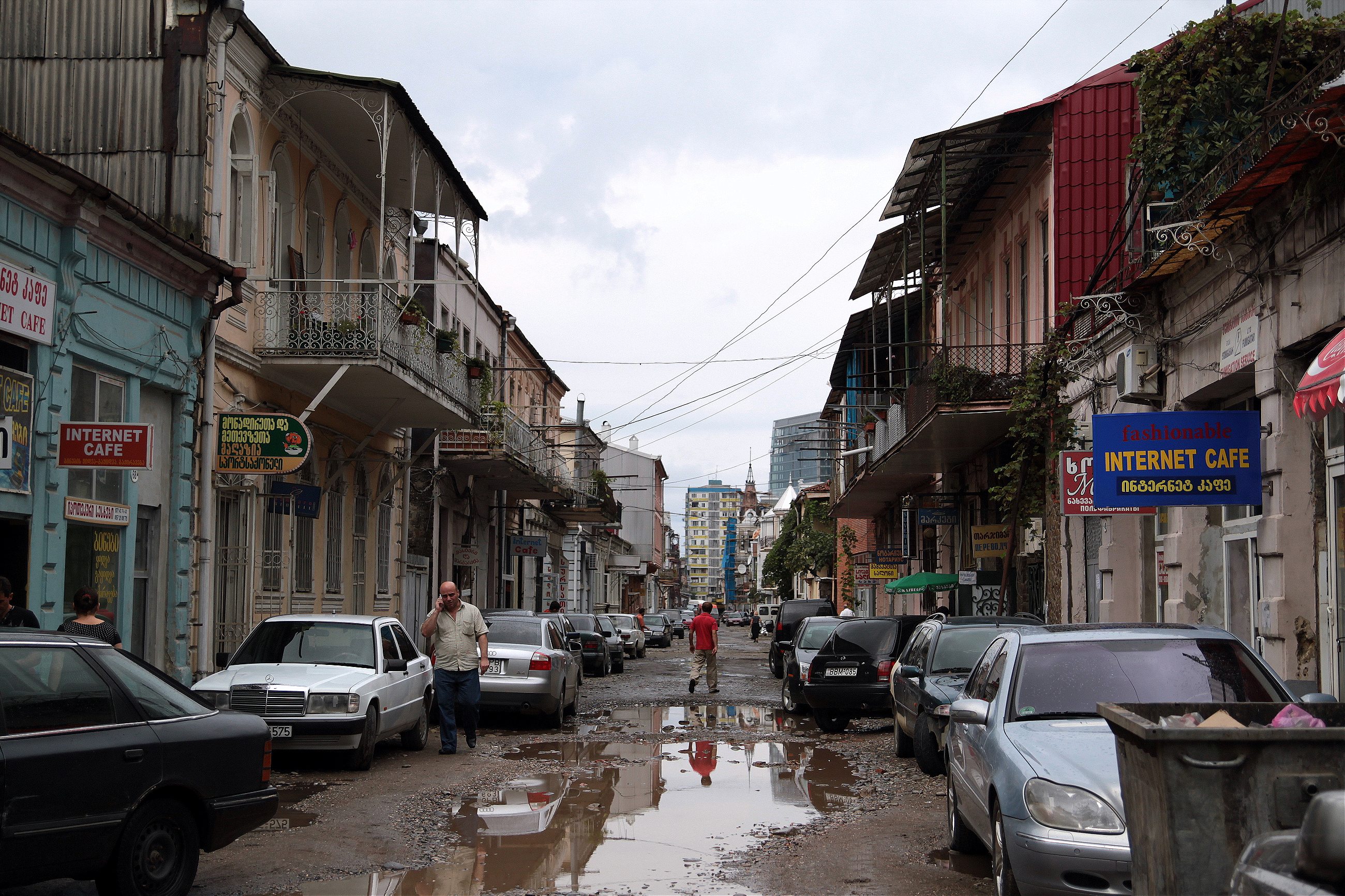 Of course, Riedl acknowledges, there are risks. He's heard plenty of cases of investors putting money down on properties that never ended up breaking ground, and losing everything in the process. "Just the other day, the Babillon went bankrupt," he says of one aptly named tower. But that's all part of the game. "Back in Germany," he scoffs, "everything is over-regulated, over-controlled." He tried to start a catering company, only to be stymied by the lack of a license. "Here in Batumi, we are free." It is that freedom, Riedl hints, that sustains Batumi even now: a shadow economy that local authorities tacitly accept.
For the thousands of Turks that cross through the border town of Sarpi, 20 minutes away, Batumi offers the possibility of a lost weekend: gambling at the city's myriad casinos—Saakashvili offered astonishing tax breaks to all hotels offering them—and taking home a woman or two from one of the "Turkish bars" along Kutaisi Street (or, for the wealthier among them, from the infamous disco at the Inturist Hotel). The main road between Sarpi and Batumi has becomes so infamous for street-side solicitation that local families took to the streets in protest.
The first thing you see when you cross the border into Georgia is the Atlantic City Casino, where men—it's almost all men—in windowless, black-lined rooms smoke cigarettes and press mournfully at slot machines where the mythic "Grand Prize" is just 2800 GEL—around $1000—and most recently-listed payouts hover in the $15 range.
"But that's what you need," Riedl insists. "That's why people come here. People want to go to a casino, gamble, take a woman…" Though prostitution is technically illegal here, the government tacitly allows it, he says, because they know that, ultimately, it's the promise of excess—in all its forms—that keeps Batumi afloat.
Most of the visitors at the Iveria Casino are Turkish; Turkish is the language of all the signs. They're dressed down: jeans, striped T-shirts, the odd logo. Alcohol is free for gamblers, but at several tables the men drink nothing but tea. They're mostly at the slot machines, although a few gather around the blackjack tables. (The high rollers, here as elsewhere, are hidden from view in a secret room). The air is thick with smoke. Nobody speaks.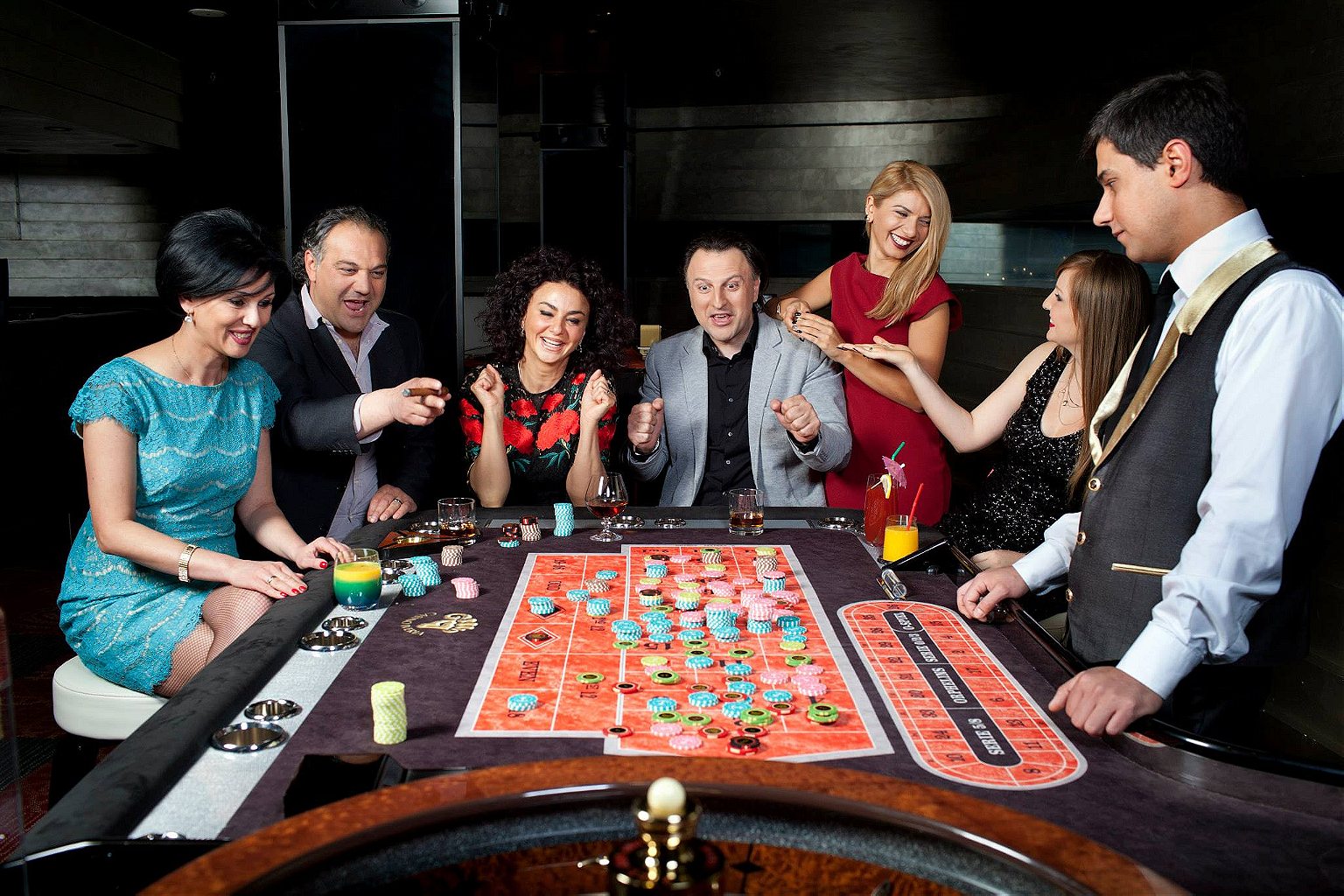 That sense of silence, a low and humming melancholy, pervades all Batumi. It's at restaurant Fan Fan, which serves as a miniature mecca for artistic Tbiliseli. It's on the all but abandoned streets of the restored fin de siècle old town, which is full of art nouveau façades, their pink set into relief by the vertiginous green of the Adjarian mountainside. It's on the beach at Sarpi, reportedly the best water on the Georgian Black Sea Coast, which sits in the shadow of Turkish border control.
It would be so easy to hate Batumi. It would be easy to hate the neon fountains, the Turkish bars, the glittering seaside promenade and the broken-down Ali and Nino statue . And yet, I don't. By the end of my time there, I find myself falling in love with Batumi, with its strangeness, with its idealistic insistence on pleasure at any—and every—price. If the ultimate goal of the resort town is to provide the traveler with a kind of liminal space, an escape from what it means to exist in the real world, then Batumi may be the most surreally successful resort city ever created: a wild and self-referential creation in which every street, every sign, every swimming pool seems to exist in relation to some other hotel, some other city, some other imagined paradise. It is Trieste by way of Atlantic City by way of Doha. It is the Kim Kardashian of port cities: so in love with its own illusion that I cannot help but love it, too.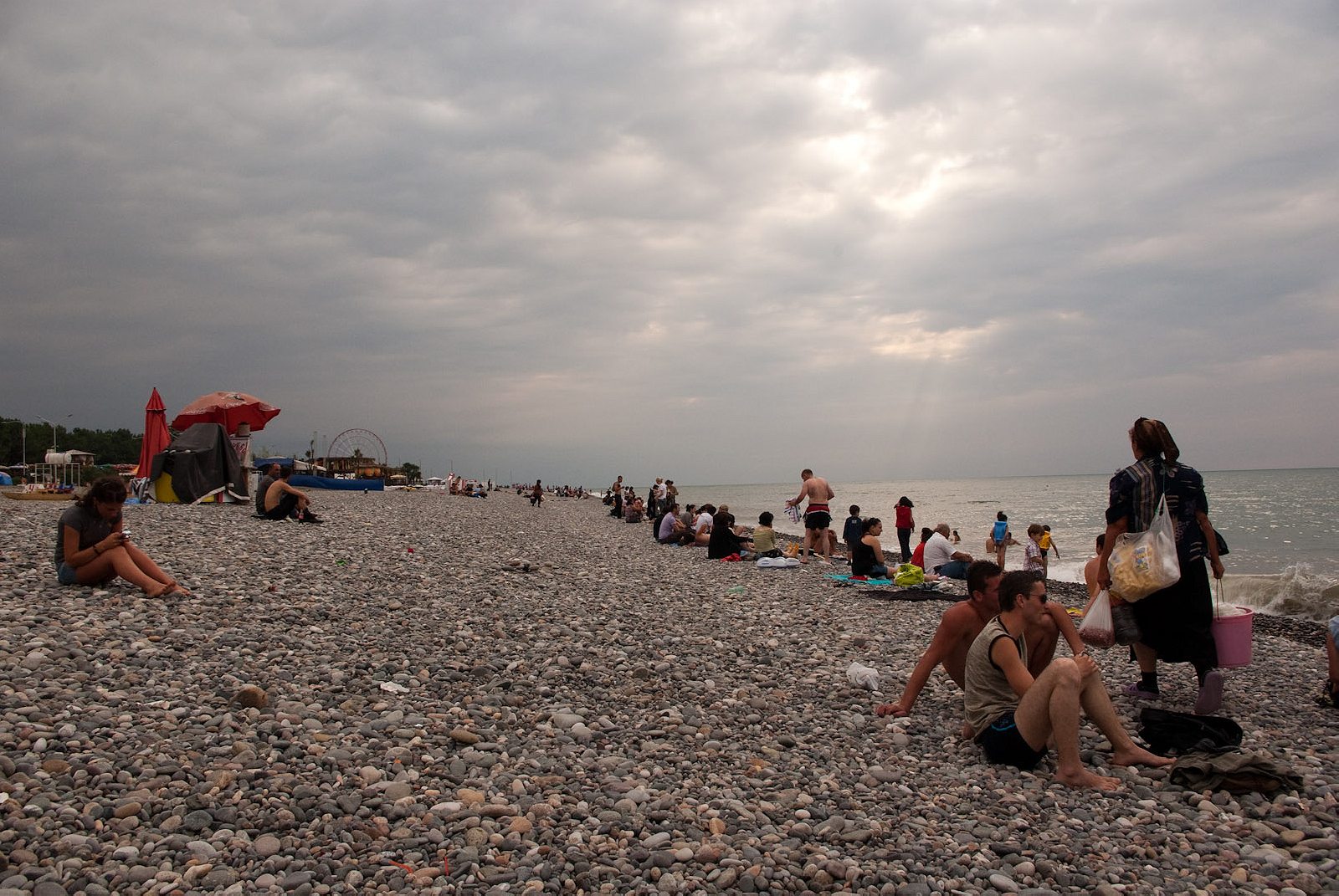 On Kutaisi Street, Natali is the only bar open at one in the morning on this Saturday night. It's one of the city's ubiquitous "Turk bars," catering to the cross-border clientele and their dirty weekends. The barmaids don't look up when I enter, safely on the arm of a male friend. They play cards and refuse to proffer a menu with a price list (this is strategic: once the bill comes, my friend's Jack Daniels comes to 30 GEL, two to three times the customary price in a Georgian city); they pour drinks and then return to their tables.
A half hour later, a woman in a short sequined dress stumbles in. She argues with the proprietress and pushes her away. She sways onto the empty dance floor, catching a glimpse of herself in the mirror, all smeared makeup and glitter. She smiles and turns her hips outward, just a little, and at first I think she is only admiring herself until she starts to dance, ever more robustly, then leans in and kisses her reflection on the lips, long and straight.
She keeps on dancing until the proprietress kicks her out.
Cover image: Mikhail Kryshen