Egypt's revolution (and counter-revolution) hasn't stopped an influx of Chinese, who bring with them a rich and delicious culinary heritage.

CAIRO, Egypt—
Amina and her panda suit have gone back to China. In her absence, the fiery flavors at the one-room Chinese Muslim restaurant in Abbasiya, Cairo, have faded. Amina had for a while memorably served food at her mother's restaurant wearing a onesie panda suit her grandmother bought in China. But it was really the tantalizingly long and succulently addictive hand-pulled noodles, or lamian, that kept my friends and I coming back to this secret staple of Cairo cuisine.
Amina may be gone, but a new owner keeps the noodles coming. Egypt's revolution (and counter revolution) has not deterred the Chinese. There are now over 10,000 Chinese in Cairo, mainly clustered in three areas. Chinese Muslims, like Amina, typically live either in Abbasiya, a dense neighborhood with dusty buildings in need of a deep shine, or Nasr City, close to Al-Azhar University, the revered Islamic institution where many of them study. Then there's a large Chinese community in Maadi, where the big Chinese companies are centered. These Chinese come from all over China and are largely here for business of all sorts, not religion. Only it's Egypt, so all the meat is still halal.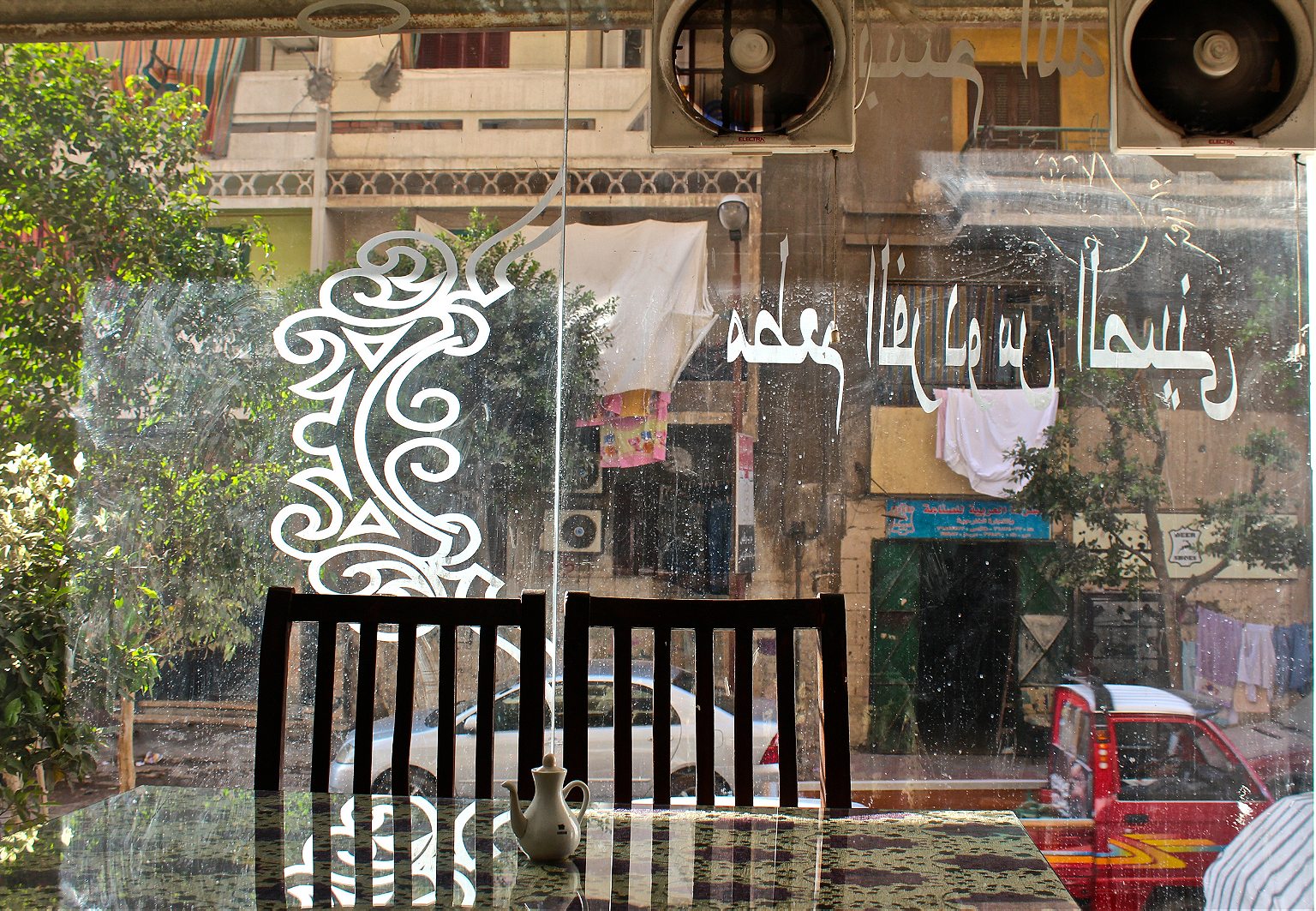 Abbasiya
When I first moved to Cairo three years ago, the other American khawagat—Egyptian for foreigners—raved about Abbasiya's Uighur restaurants. Only the main restaurants in Abbasiya now aren't actually Uighur, the Turkic minority living predominantly in Central Asia and China's (or, to the Uighurs, Chinese-occupied) western Xinjiang province: They're Hui, another mainly Muslim ethnic group with communities (and cuisines) in northwest China and dispersed and assimilated throughout the country.
Now take a right at the gas station near the Abbasiya stop and there's a fork in the road with four (Hui) Chinese Muslim restaurants: two cheap adjacent storefronts with photo albums as menus, a third inside a shisha café two doors down, and the fourth (and most expensive) on El Fardus Street on the other side. The names and reputations of the restaurants, like their owners, are often in flux. In a way, it seems fitting that the Chinese have settled in Abbasiya: a century ago, a Jewish community thrived.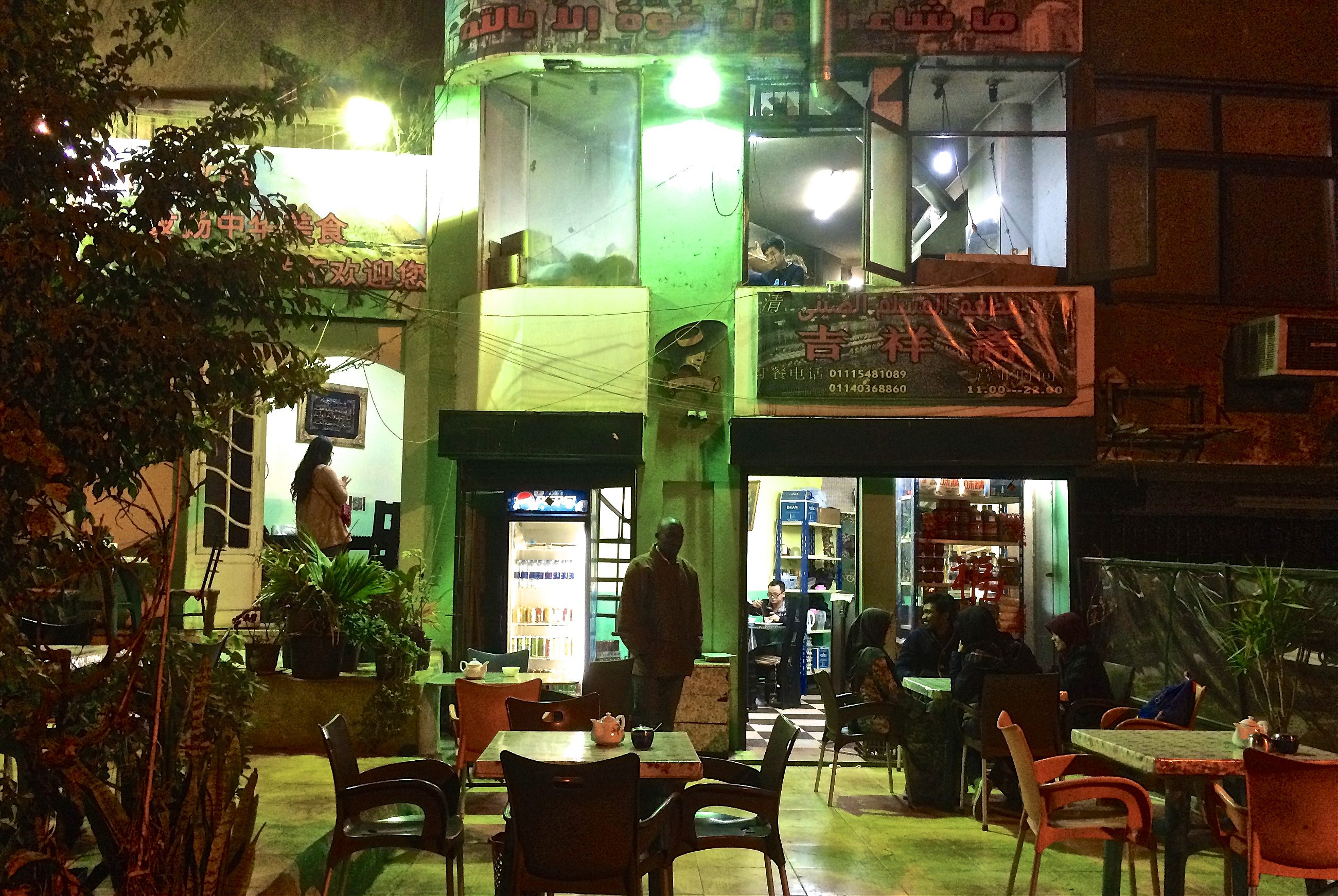 On a cool night in December, I take the metro to Abbasiya with friends to retry the second of the cheap eats. We settle into plastic chairs at an outdoor table, sip green tea, and begin the ordering process: What from the picture book was available that night? We switch off between the server from Northwest China's formal Arabic and our Cairoene dialect. Soon the dishes begin to haphazardly fill the slanted tables.
The instantly addicting lamian noodles are both a Hui and Uighur specialty. And in Abbasiya they are the main attraction. They arrive cooked al dente with onions and peppers and mixed with la jiao you, hot pepper-infused oil, and a hint of something sweet. We ask to omit the usual beef to accommodate the flexible vegetarian (me.) To my surprise, the cook complies.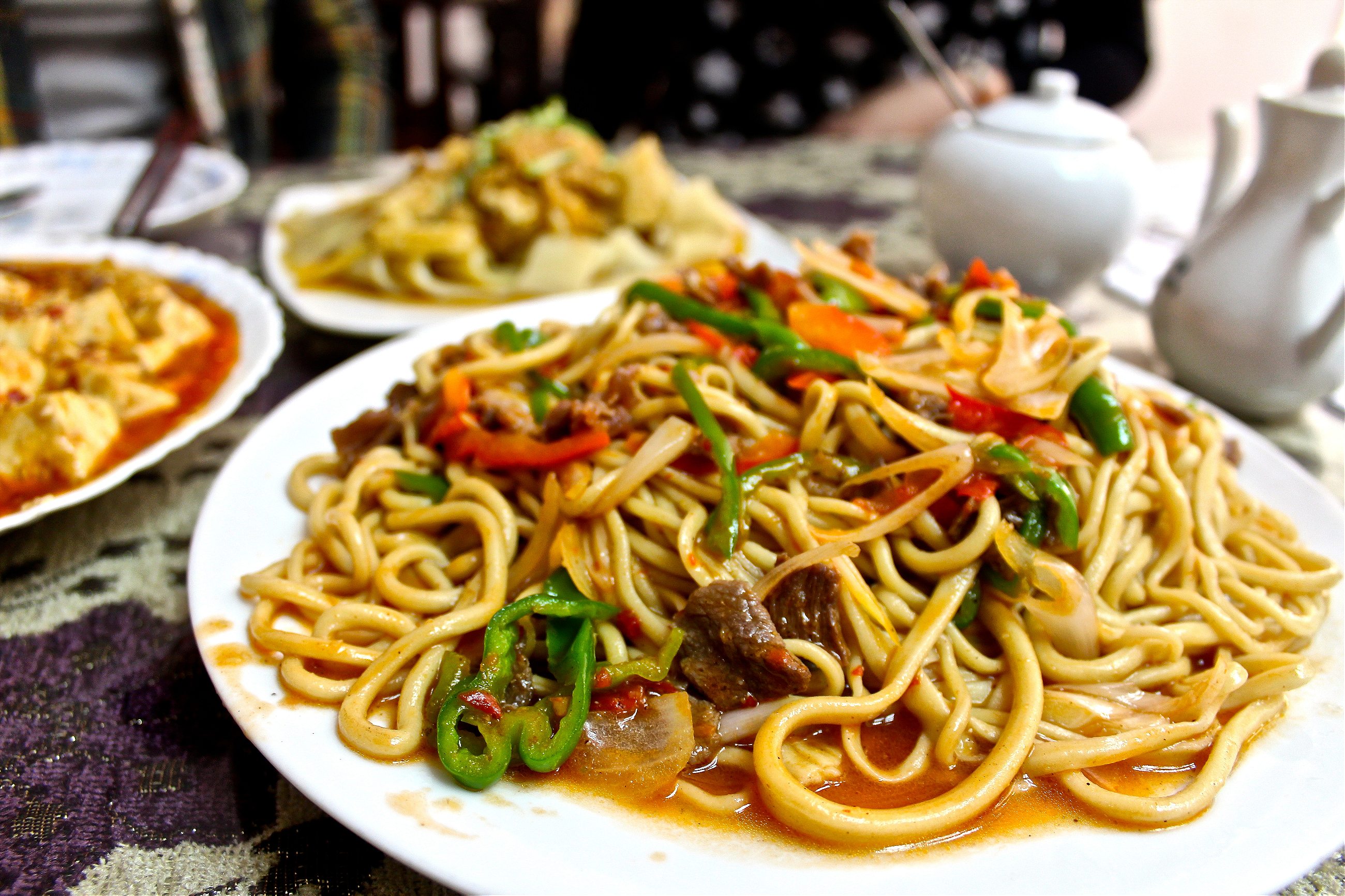 Meat of all kinds—chicken, beef, lamb, goat (though of course not pork)—is a staple of Chinese Muslim cooking. We order the salt and peppery mutton soup, which comes with even more deliciously slinky lamian noodles dancing inside the bowl. Then comes the dapanji—"big plate chicken"—which is indeed a big plate of chicken chunks (bones included) and cubed potatoes stewed in a thick and sinus-clearing cumin sauce. Plain lamian arrives to soak it up. We forgo ordering the traditional polo—rice cooked with eggs and diced vegetables (and meat if you like)—to keep room for all the lamian.
Then there's the homemade tofu. We opt for the jia chang, or home-style tofu, lightly fried succulent triangles soaked in a red sauce with diced hot peppers. For a moment I regret we won't have the satisfyingly sweet and spicy cubes of mapo doufu, one of China's national dishes. But then comes the tangy niang pi, cold rice noodles topped with cucumber and spongy wheat gluten that oozes out a deliciously light and tangy garlic, oil, and hot pepper fusion. An assortment of vegetables—spinach, mushrooms, string beans, carrots, bok choy—can also come soaking up either a version of the home style sauce or another hot pepper oil and garlic combination, depending on the day's availability.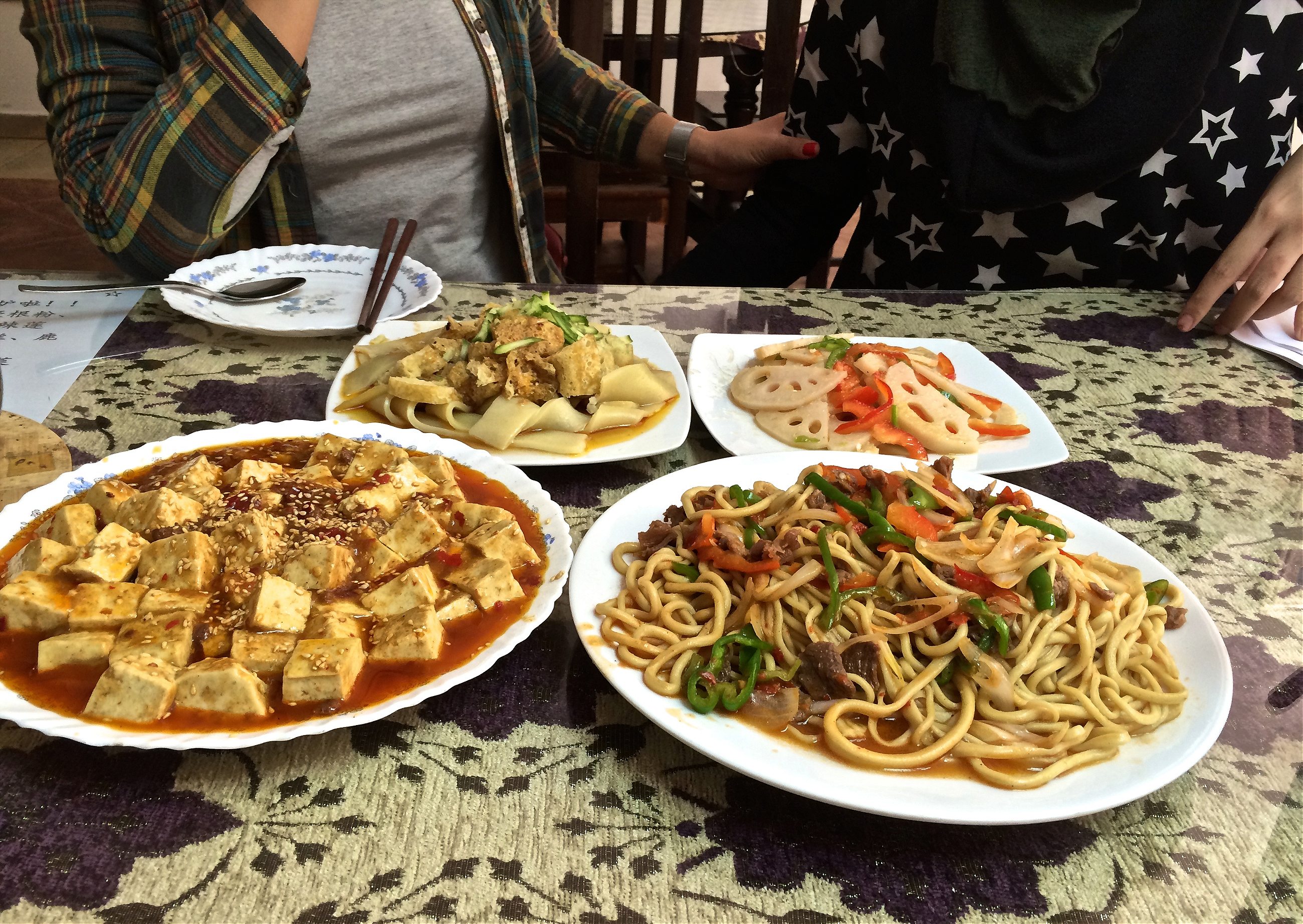 Several Chinese and the server from Burkina Faso are around a table reciting the Koran and practicing English as we stand to leave. I ask them where to find the famed Uighur naan (or nang) bread. No one knows. Someone suggests al-Hay al-Sabaa, a poor area on the other side of Al-Azhar in Nasr City, where many Muslim Asian students also live. On the table a small notebook is open and several hand-written English words catch my eye: "Where is the closest hotel?" "Six." "Sex." I motion to the words and we all agree there's an important difference.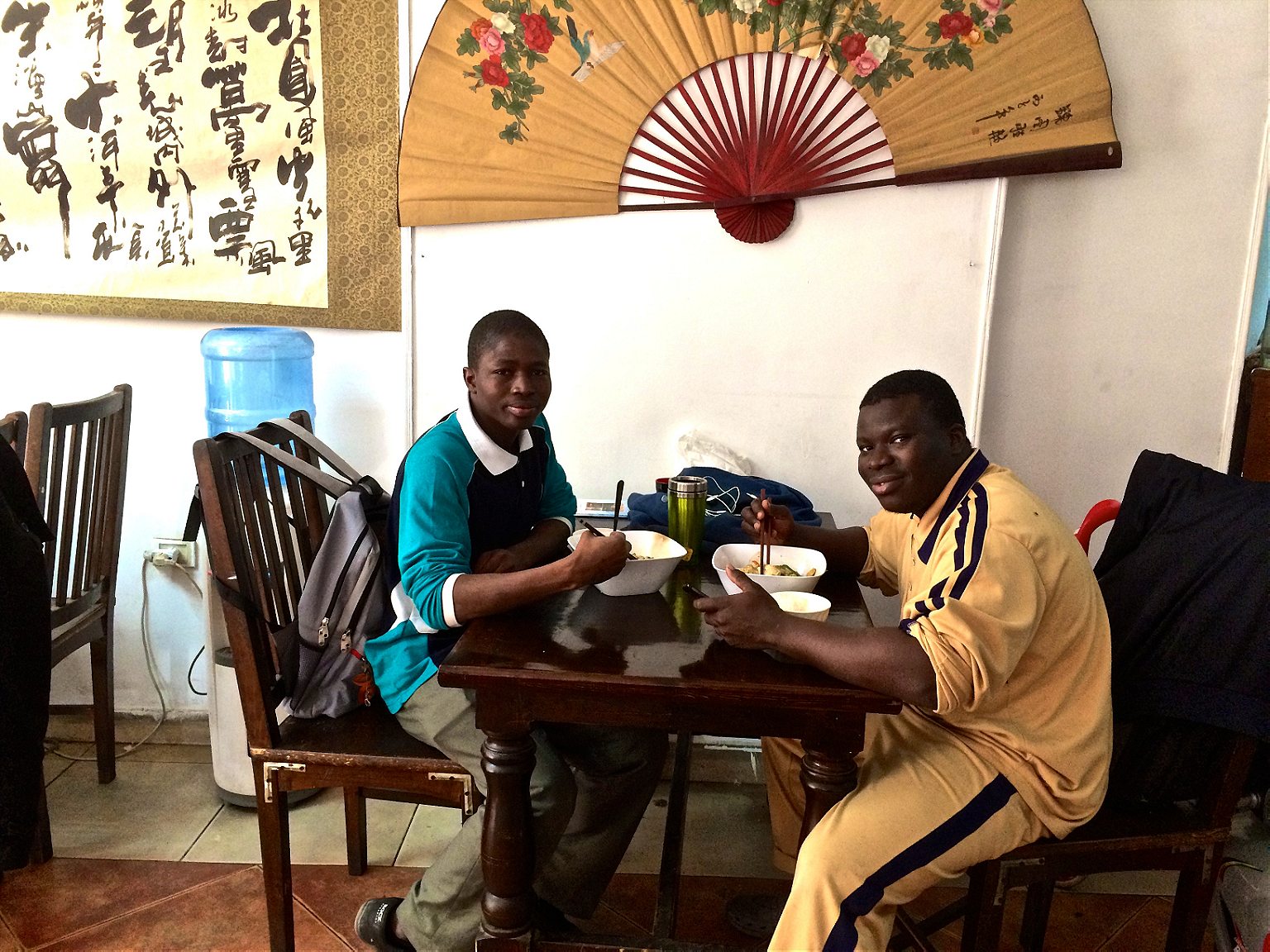 Maadi
The Chinese restaurants of Maadi are harder to map. From the small shops off side streets, to the popular stops on Road 9, the cuisines vary from all over China and the cliental are more business-oriented. Spot a red lantern outside a nondescript building and chances are high there's a sizzling Chinese restaurant inside. In expanding Middle Eastern cities, like Dubai, Chinese workers (and developers) have made their own Chinatowns. Cairo isn't there yet.
For now, there are pockets of restaurants all over Maadi, each with a distinct element. There's Ruyi Fang near Nasr Street, a restaurant with no sign and delicious thick-dough, juicy dumplings of all kinds. Then there's Dumpling House on Omar Abdel Aziz Shababan Street. The owners are also from the northeast; these dumplings are thin and light and gone in one bite. Further on the same road it's Ghengis Khan—not the larger one on Road 233 with big tables for parties and a karaoke machine, but the smaller sister shop that specializes in hot pot. We order our hot pot spicy and the cabbage, mushrooms, spinach, sprouts, tofu strips, and beef are easily cooked and gone. There's only garlic, oil, and tahini for dipping. More traditional sauces, the Mandarin-speaking Egyptian husband of the owner tells us, are hard to consistently find.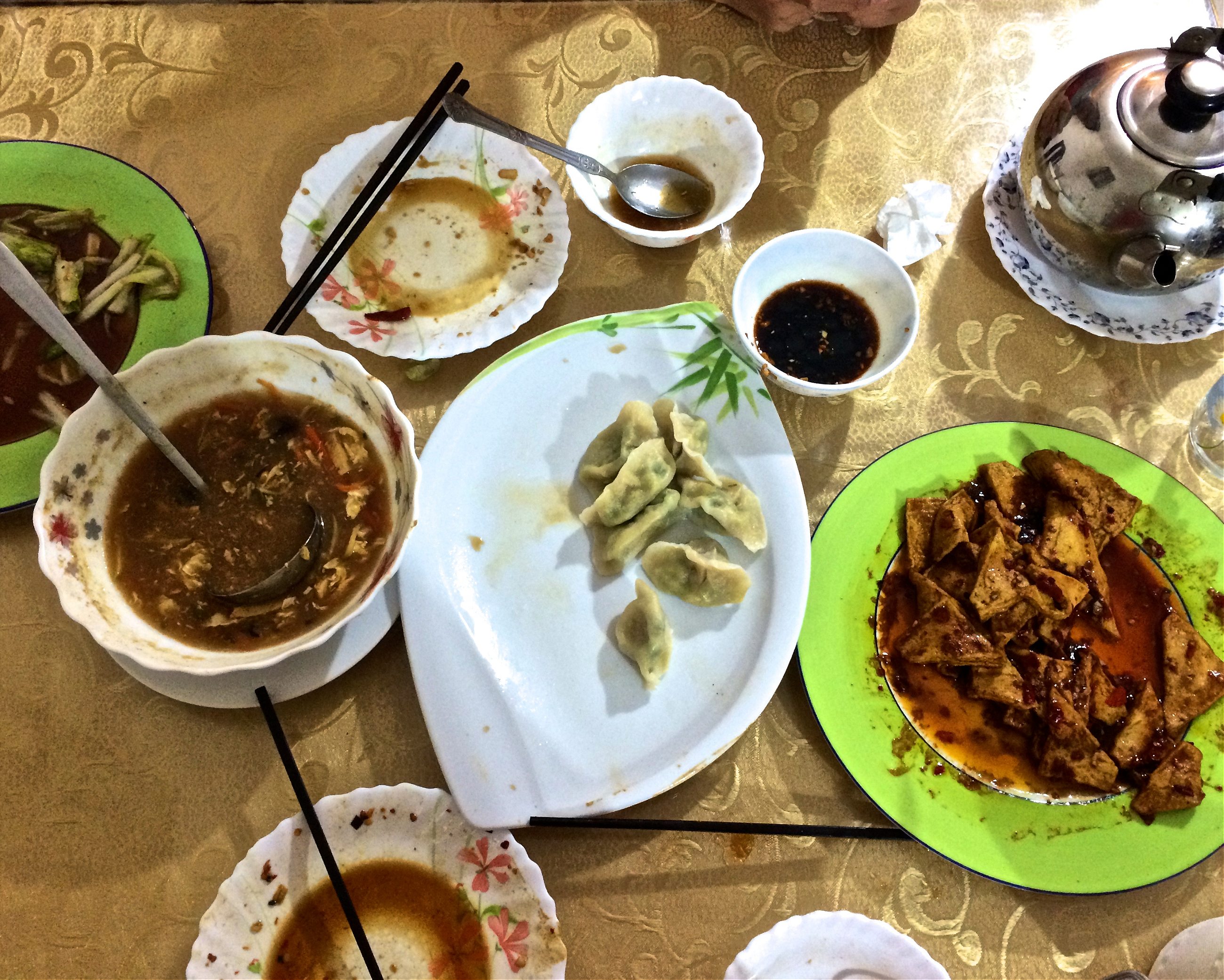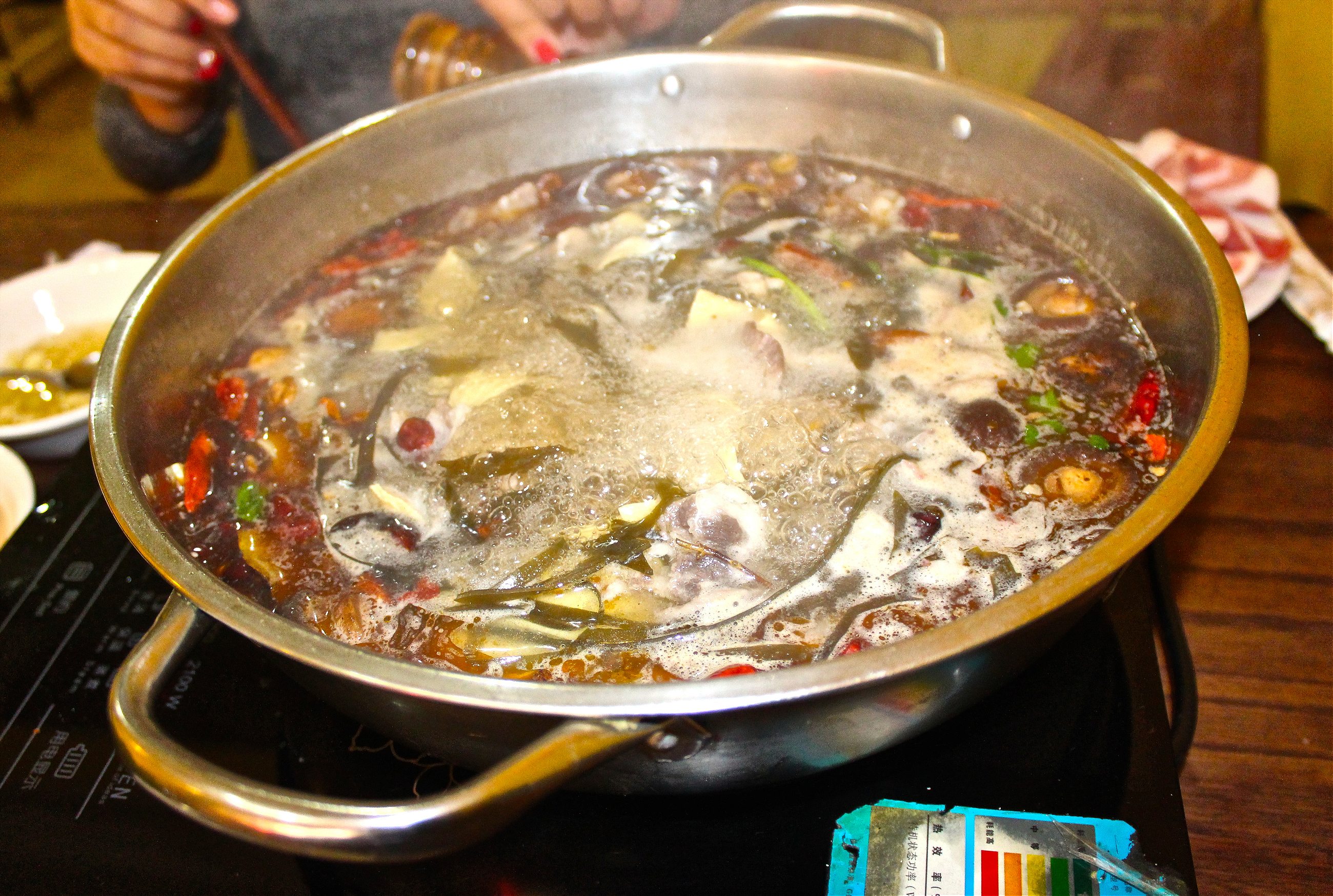 I've never been to China so I don't know what "real" Chinese food tastes like. But what I like about these places is that they aren't trying to be anything but what they know best. And what these shops are not are what Egyptians with disposable income most often want: the carbon-copy chains that could be anywhere, selling an overpriced idea of international cuisine.
Nasr City
In December, I become determined to find the Uighur bread of Nasr City. The Internet is no help: everything equates Uighur with Abbasiya. The woman I reach at the Chinese Embassy has no idea. The Egyptian who answers at the Nasr City branch of Pekin, a popular Chinese chain, just wants my number. I hang up.
An Egyptian friend, Nehal, gratefully agrees to join the search. We set out one Friday in her family's car with just one clue: the address of a Malaysian noodle shop reported on by the since-shut Egypt Independent three years ago. I'm hoping they'll know their regional competition. We head into Nasr City and turn right at Rabaa al-Adawiya square. The area bustles with people and cars. My stomach turns at the thought of what these streets have seen. Rabaa al-Adawiya was the site of a military massacre of over 800 protesters in August 2013. We drive on.
Minutes later we reach the Malaysian restaurant—only to learn it's closed on Fridays. We regroup and circle around. A sign for the Filipino Muslim Student Association catches Nehal's eye. Needing a lead, we take the elevator up and an old Asian man in glasses answers the door. No, he tells us in broken formal Arabic, only Malaysians here. Go ask at the microbus hub in al-Hay al-Sabaa. We do. The first driver I ask doesn't know, but insists in a smoker's rasp that the cashier at the shawarma shop Abou Rami next door will.
Take your first left, then right, the smug cashier in a red and white uniform tells me. It doesn't add up. We circle around and around and return to Abou Rami. Turn left, then right, and ask at the shop, Shereket el Marwa, the cashier adds. We comply. The abaya-clad woman at the small shop shakes her head. No Chinese, just a Malaysian restaurant a few doors down. We find the restaurant—only it's Thai, not Malaysian. The four men seated at the front shake their heads as well. It's just us Thai here. And Malaysians. Then the magical words I've been waiting to hear: You want the Uighur?
We arrive at the aptly named Uighur Restaurant on Mousa Ibn Nasser Street close to seven, just as it's closing. The shiny menu claims to offer a host of Uighur kebab, bread, noodle, soup, and dumpling dishes. Only now there's barely anything left.
The Egyptian waiter is unhelpful, but the middle-aged owner, Omar, from Xinjiang province is happy to chat with us ladies in his formal Arabic. He came from an "occupied" area in China to study at Al-Azhar. He's stayed since for the money. And to marry—anyone. He opened this restaurant just ten months ago, and suggests we come back between 11 a.m. and 4 p.m., before everything runs out. When we go to pay the twenty pounds for our rather flavorless lamian noodles he pulls an Egyptian move: khali, he says, meaning, don't pay. We only need to insist once before he accepts.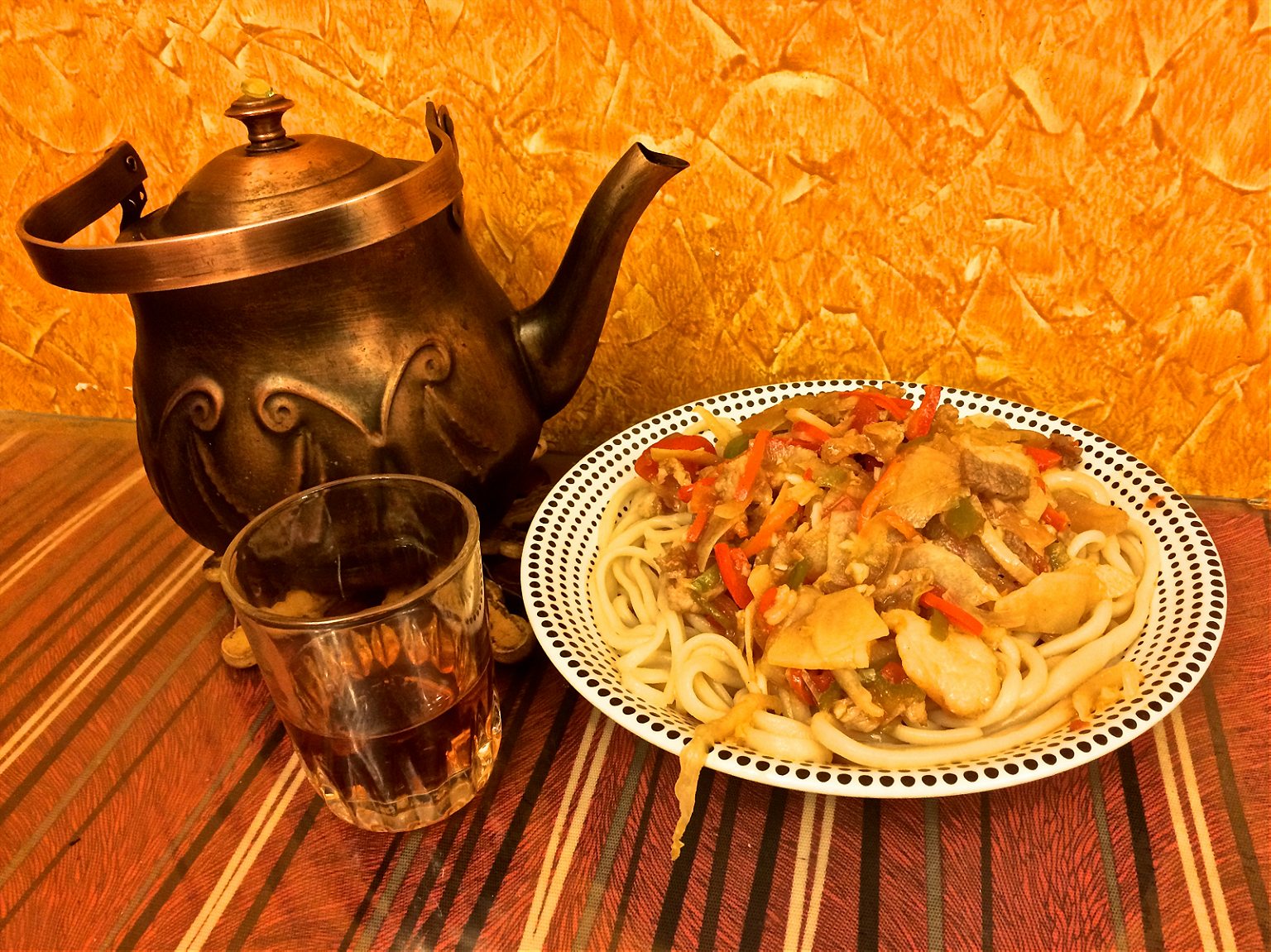 The next day I return to Nasr City with three other Egyptians. We follow directions to the naan baker, just across the main road, Tayaran Street (or Dr. Abd Allah El-Araby on Google Maps), and past Istanbul Restaurant (supposedly a Turkic place closed each day I go). The baker says he's from Turkestan—one of the Uighur names for Xinjiang province. His shop, he adds, has no name.
Saturday at 1 p.m. and there are four options to eat: pre-packaged liang pi; cold starch jelly noodles with hot sauce and cucumber, or a version of cold egg noodles with steamed wheat glutton; meat samsa (a pastry which the Egyptian waiter Arabizes to sambusa); and piles of fresh naan. Both noodle dishes are disappointingly bland and nondescript, even with the accompanying bag of mildly spiced oil. The samsa is fatty and cold.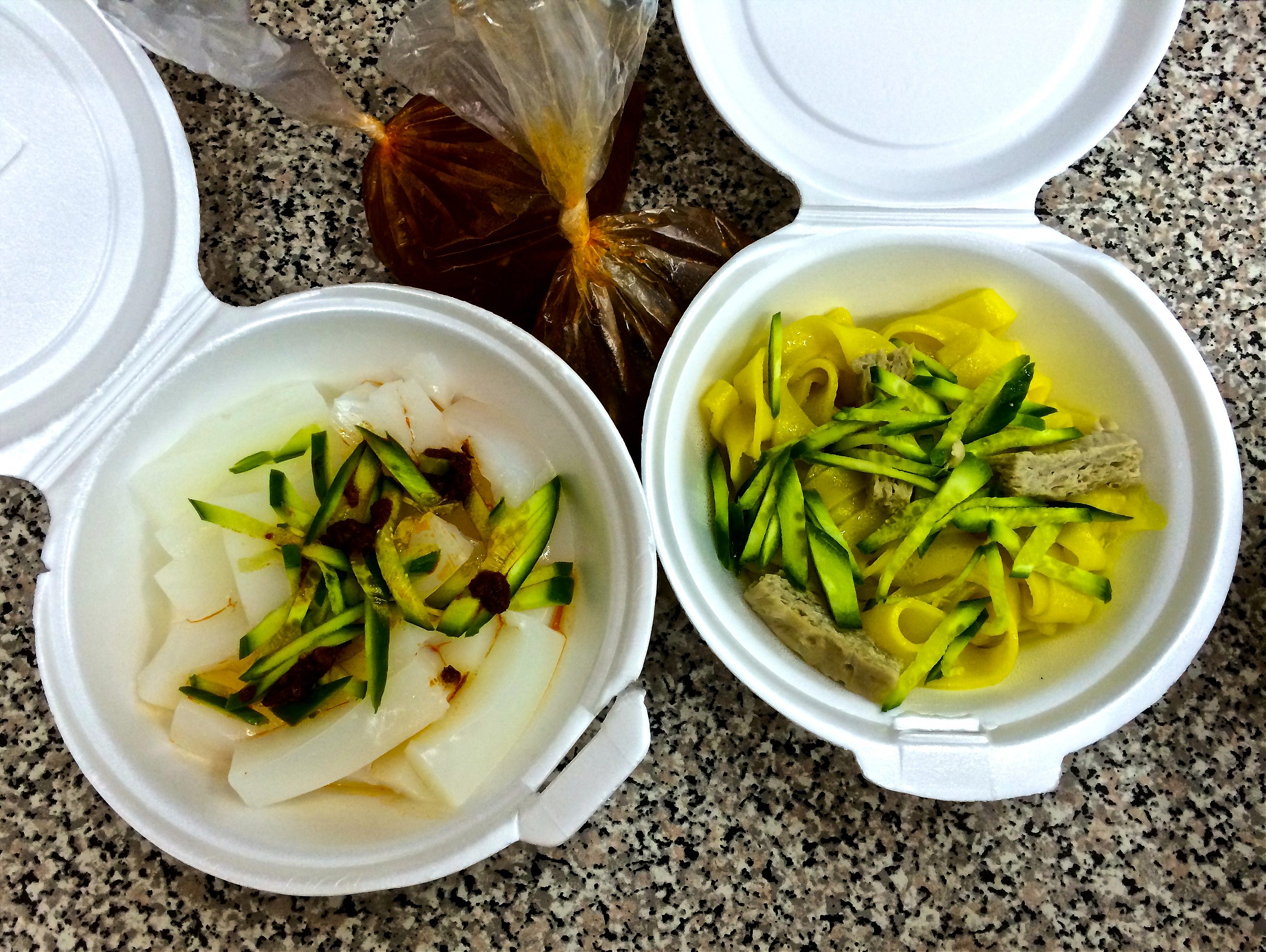 But then there was naan.
The simple round naan sprinkled with onion flakes mocks all the tasteless white bread that ever caught your eye. Baked per tradition on the inside of the oven, the perimeter of the beige bread is perfectly thick and dense and chewy. It then grows satisfyingly crunchier as the layers shrink into a crispy center. For a moment, Cairo tastes of another world. I devour the experience fast.