These Afghan chefs bring a slice of their culinary culture to their neighbors in the north, whether they want it or not.
Arbab's life revolves around rice. Every morning, the 71-year-old cooks up a huge vat of golden kabuli palau, the Afghan national dish, a combination of rice, succulent raisins, sliced carrots, and tender lamb, all of which will be eaten by closing time at four in the afternoon. His reputation for rice precedes him: you don't get a nickname like Arbab, which means "the boss" in Persian, without being able to deliver.
It's the quality of his beloved rice dishes, he says, that keeps the customer's coming. Arbab doesn't mind Tajik staples like smoky kebobs and thick meat soups, much of which are similar to his own northern Afghanistan cuisine. But he won't eat Tajik rice: He's convinced the way it's cooked, with the pan burned black by the end, causes cancer.
Dushanbe, Tajikistan's humdrum capital, unsurprisingly does not have a particularly exciting food scene. Still, there are pockets of flavors that hint at the region's underlying diversity: Iranian kabob shops for the businessmen, Korean restaurants for a community dispersed during the Soviet Union, and Uighur noodles from across the Chinese border.
And then there are the Afghans. Over the last two decades, thousands have come and gone, crossing into their northern neighbor to escape the chaos unleashed by the Taliban, the United States-led war, and the subsequent anarchic politics. Tajikistan is considered the less dangerous and socially restrictive alternative to Iran and Pakistan, where far more Afghans have gone. It is also convenient because linguistically, Afghanistan's Dari is similar to the Persian Tajik.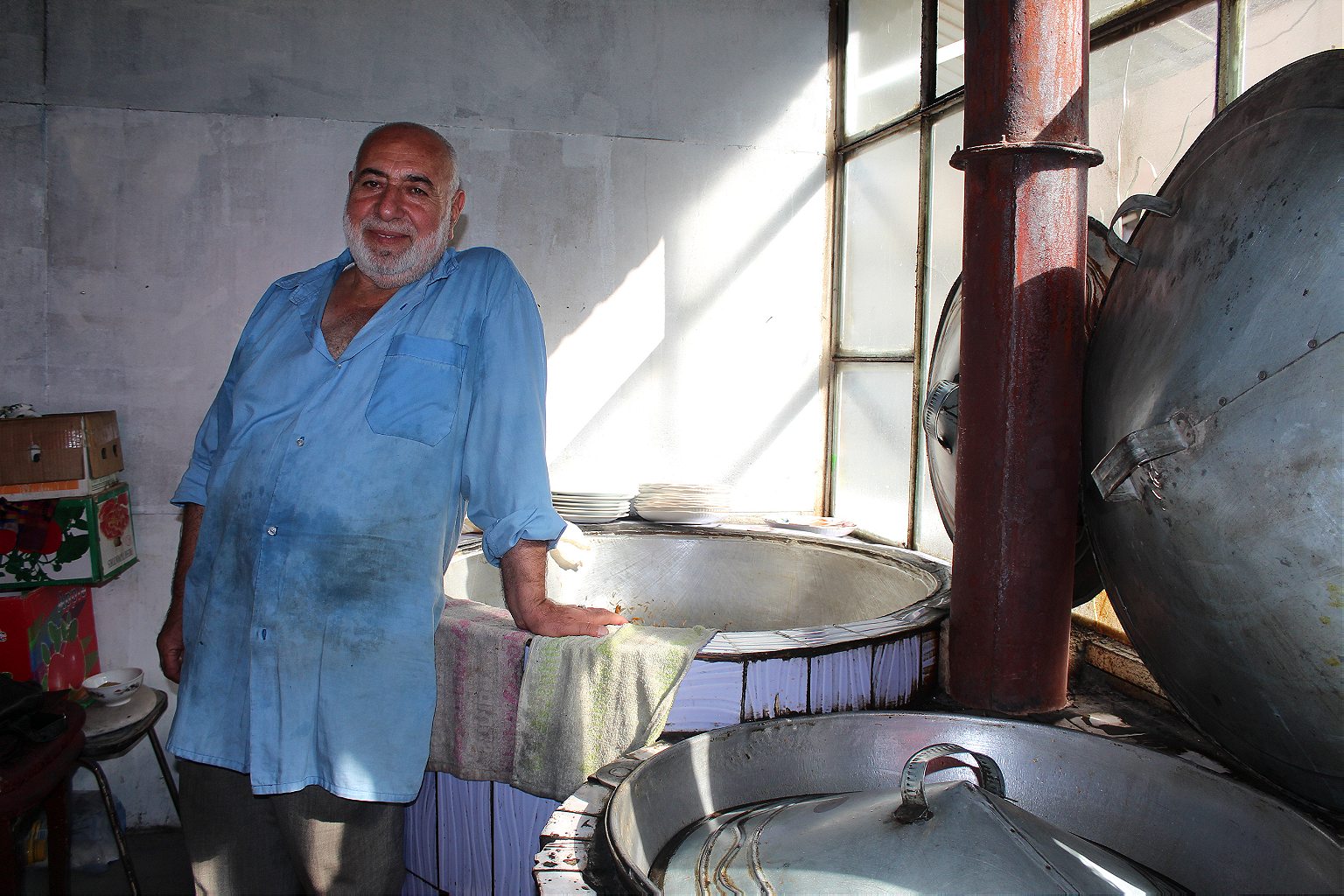 But it is no great haven: Tajikistan is the poorest country in Central Asia, and the repressive president Emomali Rahmon has ruled this mountainous republic since the collapse of the Soviet Union and the country's ensuing civil war, which lasted from 1992-1997. The U.S. invests heavily in Tajikistan—recall its border with Afghanistan—but Afghans here struggle to find work, adequate housing and schooling, and a way out.
Arbab, one of three Afghan chefs in Dushanbe, has made it work by spending his day in a side room dishing out plates of his coveted rice. Given how hard it is for Tajiks to find work—over a million men each year head to Russia to find employment—it's notable that Arbab is the boss of his restaurant. He doesn't own the actual establishment, a Tajik does, and the other employees are all Tajiks as well. But he has been cooking here for five years, and now the restaurant—located in Farovin, an outer area of Dushanbe—is known simply as Arbab's.
"When I eat here it feels like Afghanistan again," Abrahim, a 16-year-old Afghan refugee tells me as he politely tries to balance his late lunch—a plate of kabuli palau—with answering my questions. Abrahim is one of those incredibly smart and motivated kids unfairly given the shortest stick: His family and eight siblings fled his home in Baghlan province in Afghanistan last year after the Taliban resurgence. In Tajikistan, his parents are unemployed and he has few opportunities to advance himself or continue his education. By law, Afghan refugees who arrived after a major influx in 2001 can't live in major cities and, left without their own source of protection, face extra discrimination from Tajikistan's notoriously corrupt and repressive state apparatus.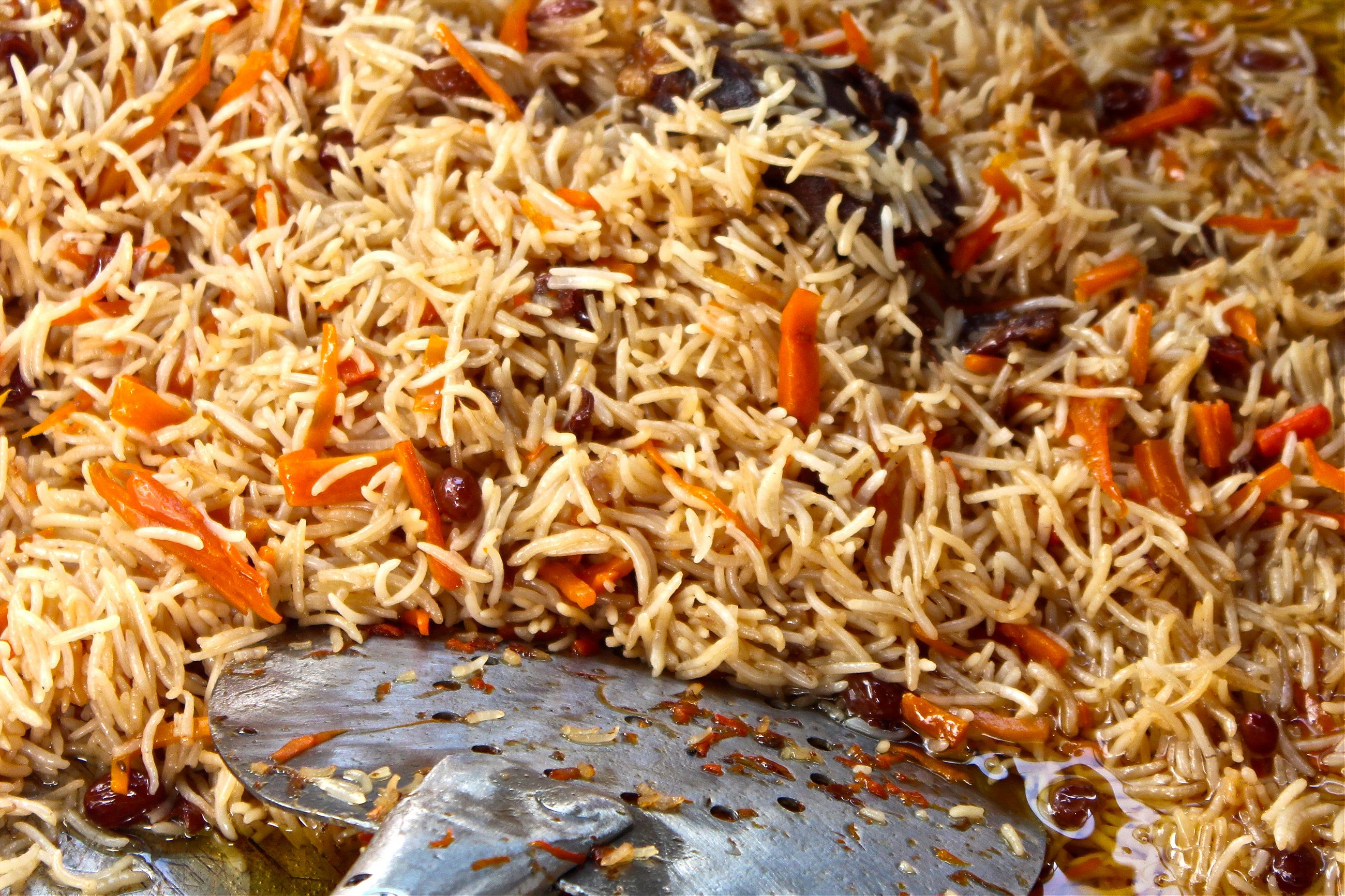 Perhaps that's part of why Abrahim speaks so highly of Arbab. The restaurant brings positive visibility to the Afghan community. More than two-thirds of Arbab's customers are Tajik, but it's a point of pride for Arbab that his savory rice brings people a slice of Afghan life to break bread (or naan) over.
It has taken two decades for him to build this reputation. Arbab fled his home in Kunduz, in northern Afghanistan, 21 years ago, after the mujahadeen came and killed his two brothers. He hasn't been back since. The day before we spoke in September, the Taliban retook Kunduz: it was their biggest advance since the U.S.-led war 14 years ago that was supposed to drive the Taliban out. Two weeks later, the Taliban withdrew from the city, but not before seizing military equipment, freeing prisoners, and destroying government buildings, all while proving that Afghanistan's U.S.-backed security forces don't have control over the chaotic north.
Arbab values the comparatively quiet safety of Dushanbe, but life here has its own struggles. When Arbab first came to Tajikistan, he sold sugar from Afghanistan, but struggled as a businessman and had to start again. Now he has a coveted job but still barely makes ends meet: he makes $500 USD a month, while rent alone eats up $300 of it, he says. Then there are life's added expenses, like the police who harass him, demanding money even when his paper work is in order. Afghan, Tajiks in the street shout, what are you doing here?

He is hesitant to criticize Tajikistan with Tajik customers in earshot. "We don't have a homeland here," he says. Arbab left school after the sixth grade to work, but along the way learned the ins and outs of Afghan cooking from his food-loving father. Now he daily recreates more than five kinds of rice alongside a mix of other Afghan dishes.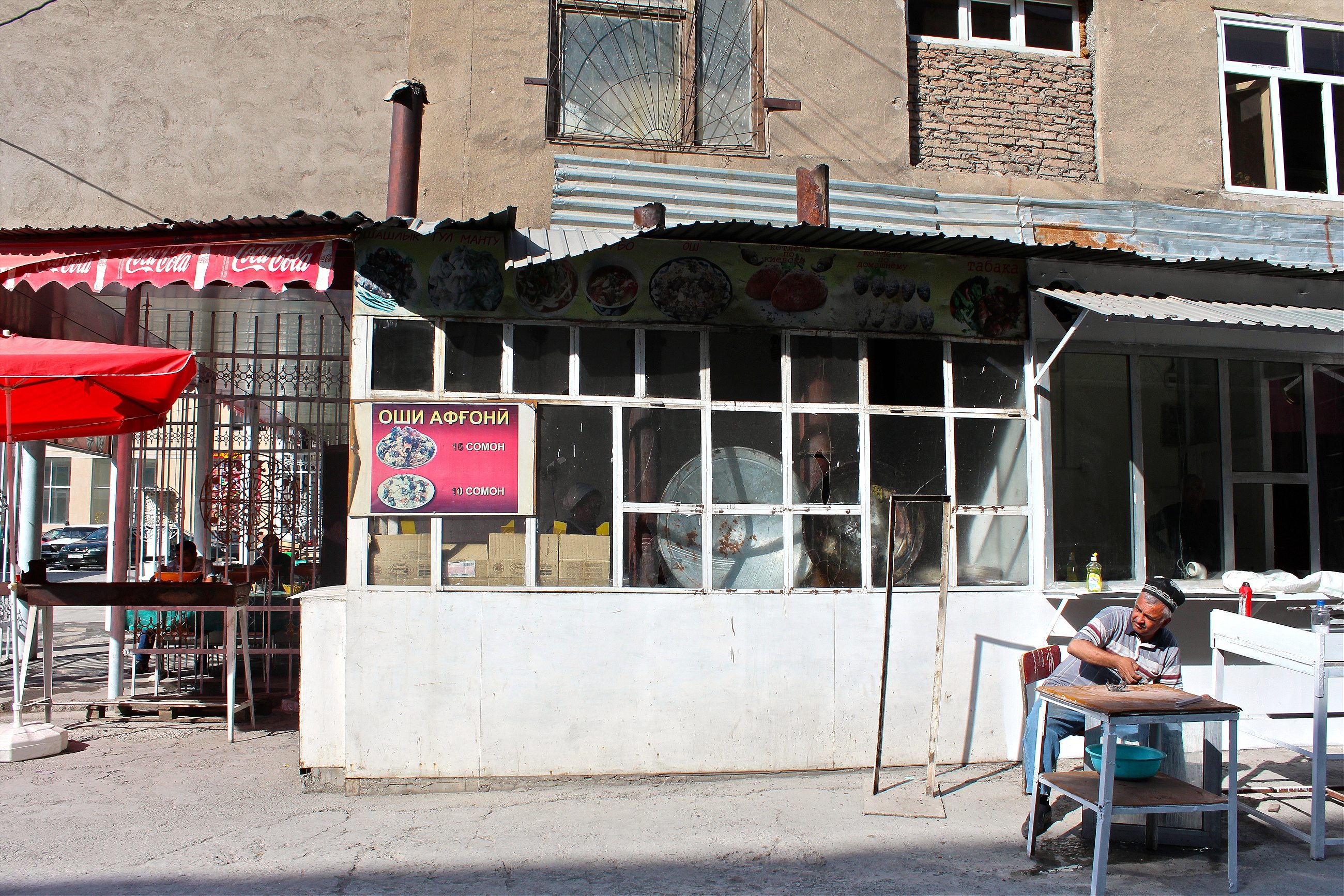 His staple is a heaping plate of fresh kabuli palau, complemented by a vegetable soup, a classic tomato and cucumber salad, and the ubiquitous round naan, whose popularity knows no borders. If that's not enough, there's always mantu, the Afghan specialty of meat-filled steamed dumplings, or bean and meat shorbe—soup—of all kinds. And, of course, there's more rice: dopiaza (meaning two onions) to fulfill your onion and lamb needs, the sticky starch fix of shola, and that old staple, beloved biryani.
Arbab has many fans, but his main competitor, Abdul Latif, also claims to make the best Afghan rice around.
Middle-aged Abdul Latif is also from Kunduz and came to Tajikistan over two decades ago during the Tajik civil war. He worked for 15 years as a businessman before joining this restaurant in an area called Diyaknastic. The restaurant sits on the second floor of a rundown building at the far end of a car park, where some Afghans work as mechanics, but like Arbab, the majority of his customer's are Tajiks. He keeps his prices low: twenty somoni ($3) for rice, meat, bamia (okra), bread, and chai.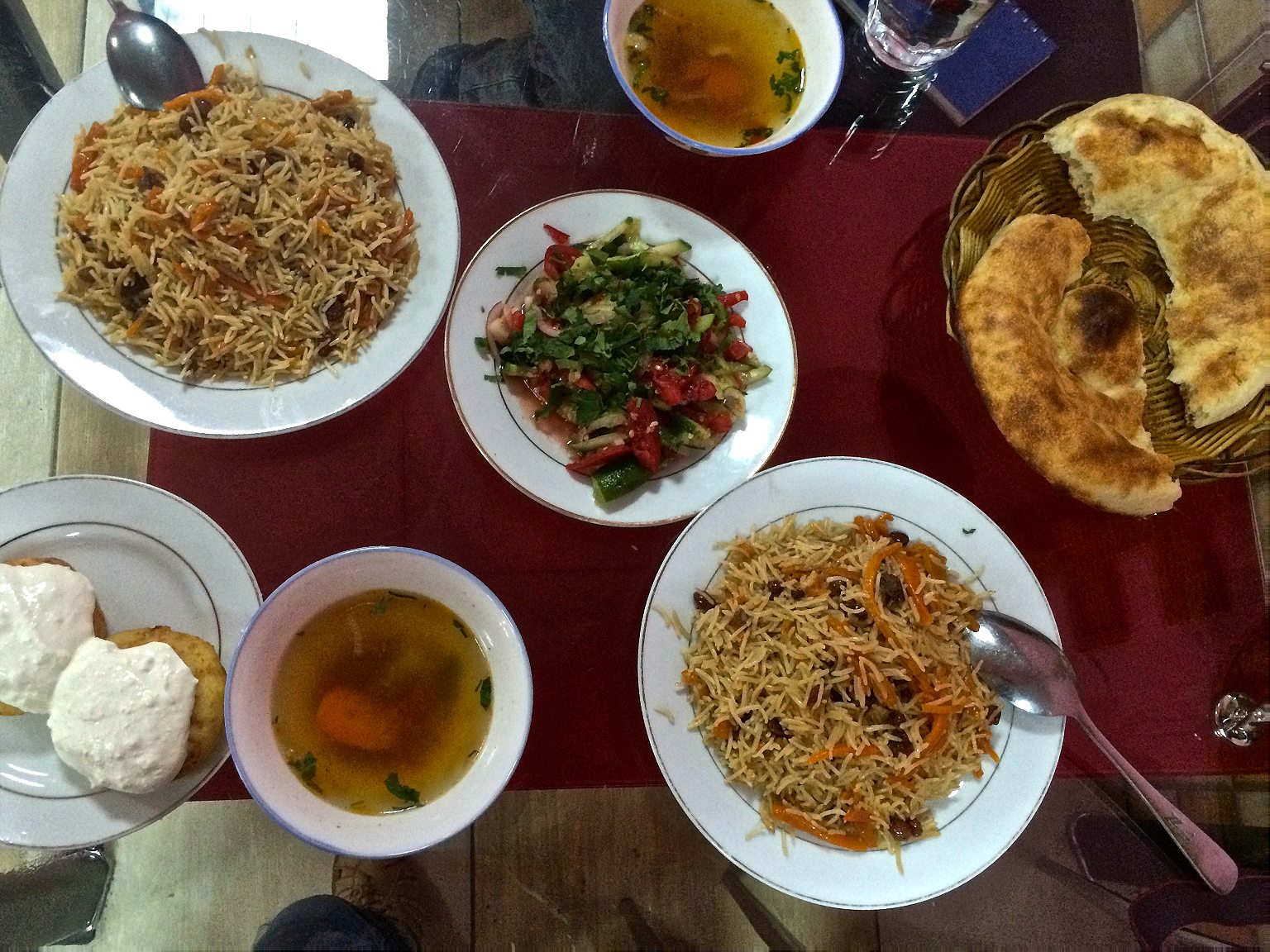 Neither Arbab nor Abdul Latif, however, can afford to eat Abdul Sami's food. Abdul Sami, 33, works at Marco Polo, a jazzed-up, mostly Afghan restaurant, where most appetizers cost the equivalent of two meals at Arbab's. Inside, the cave-like décor is dark, with an under-the-sea-esque ambience.
Abdul Sami left Kabul a year and a half ago after 11 years working for luxury and upscale establishments, including the U.K. Embassy. He proudly shows me pictures on his phone of his cooking certificates and the elaborate food platters he used to create, interspersed with photos of his smiling wife and two kids. But then two Taliban came to his home and threatened to kill him for working with Americans. It's just my job—to cook, Abdul Sami recalls saying as he tried to defend himself.
When he came to Tajikistan, a friend recommended he apply for a job at Marco Polo because of his experience and cooking credentials. Now, he recreates price-hiked appetizers like golden, baked kadu (pumpkin); ashak, chive-filled, thin dumplings with yogurt; and bichak, savory, potato-stuffed pastries. Then there are staples like kebab with palau and chalau rice, or sweet and savory korma-flavored meat sauce to soak up with rice and naan.
Abdul Sami says he hasn't faced many problems as an Afghan here, but he works long days on his feet and worries that this is the peak: his cooking credentials gave him a rare advantage, but there isn't really anywhere for an Afghan in Tajikistan to go from here. Abdul Sami has one question at the end of our interview: Can you get me a job cooking in America?