Writer Will Philipps takes part in the Pyongyang marathon, in the first year the Hermit Kingdom has opened the race to foreign amateur runners.
UPDATE, February 23, 2015—North Korea has announced that it has barred foreigners from participating in April's Mangyongdae Prize Marathon in Pyongyang, the capital, citing fears of the spread of Ebola. Last year, some 30 foreign amateurs ran the marathon, including Beijing-based writer Will Philipps, who filed the following dispatch for Roads & Kingdoms' series with Slate magazine. (Originally published April 18, 2014)

PYONGYANG, North Korea—
As I wait for the gun to sound at the start of the Pyongyang Marathon, my nerves are overcome by a bout of self-consciousness. Here I am, a foreigner in North Korea, with high-end running gear, florescent sneakers, and energy gels in my pockets. The local runners, meanwhile, sport antiquated uniforms and shoes that look like they might fall apart.
Nevertheless, we say hello and high-five one another in the moments before the race. Then the gun fires, and we're off.
This year is the first time foreign amateurs have been allowed to race in North Korea
A moment later, it sounds again—false start. But before long we're running hard, pounding the pavement of Pyongyang in an historic event: This year is the first time foreign amateurs have been allowed to race in North Korea's premier athletic competition.
For me, running the Pyongyang Marathon—or, more accurately, the 27th Mangyongdae Prize Marathon, named after the birthplace of Eternal President Kim Il-Sung—is a chance to race against the backdrop of one the world's most reclusive and idiosyncratic countries; a unique way to experience a unique place, and hopefully connect with some of the people who live there.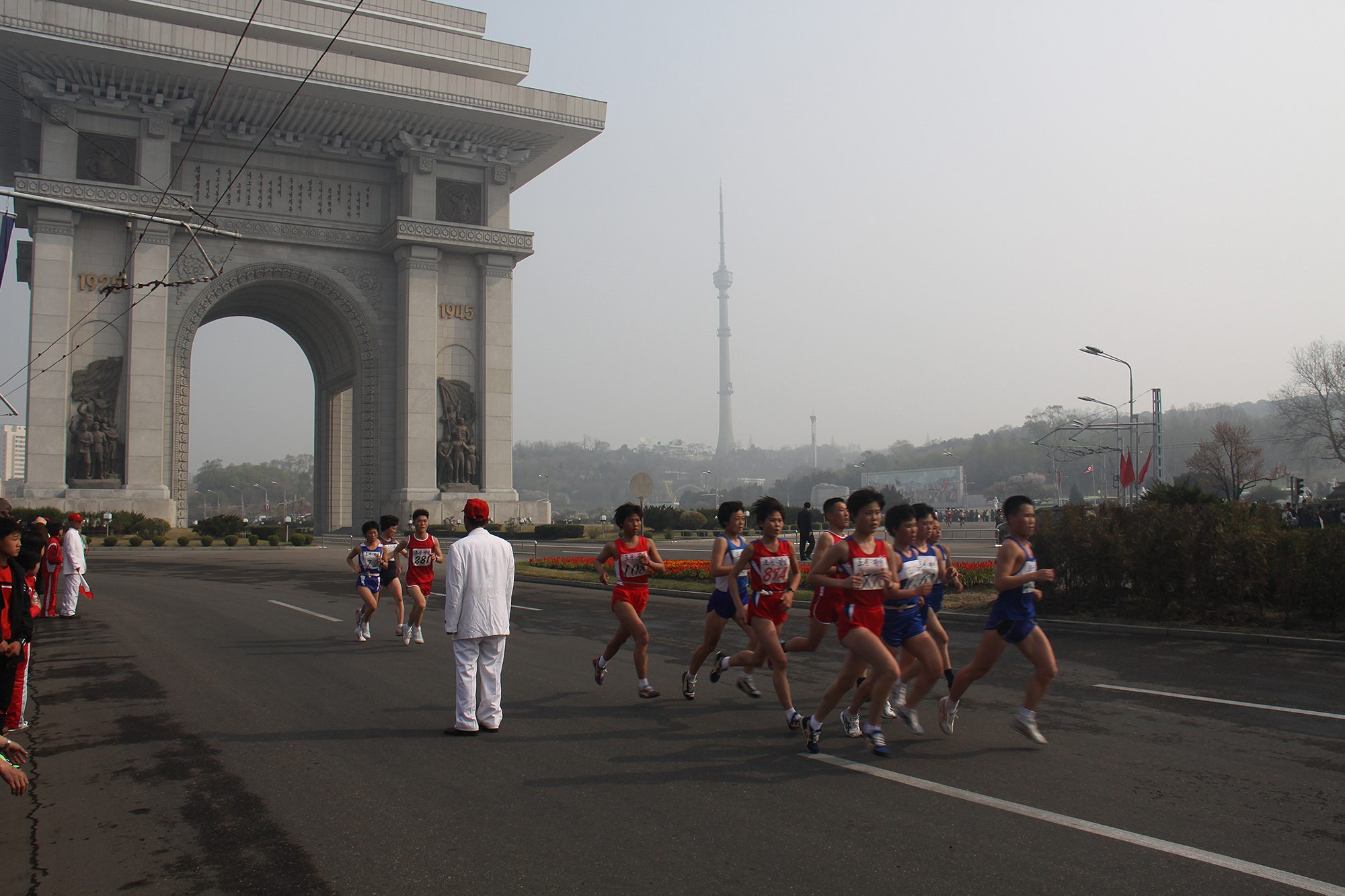 As a tourist in North Korea, you have zero freedom, except when you return to your hotel. Foreigners drive around the city in gleaming tour buses, staring at expressionless workers in drab overalls. I hoped that the marathon might let me experience the country on a deeper level.
But I had a second motive, I confess: I simply wanted to say I'd done something as crazy as run a marathon in the Democratic People's Republic of Korea. As Simon Cockerell, general manager for Beijing-based Koryo Tours, the company that arranged my trip, told the Associated Press: "I think a lot of the attraction is the 'Pyongyang' part rather than the 'marathon' part." In fact, Simon told me that while his company had brought foreigners and North Koreans together through sports in the past, like bringing Middlesbrough Ladies football team to DPRK in 2010, they hadn't done anything of this scale or openness. In all, 225 foreign amateurs would take part in the April 13 marathon, running free in the streets of Pyongyang with the whole city welcome to line the course and watch.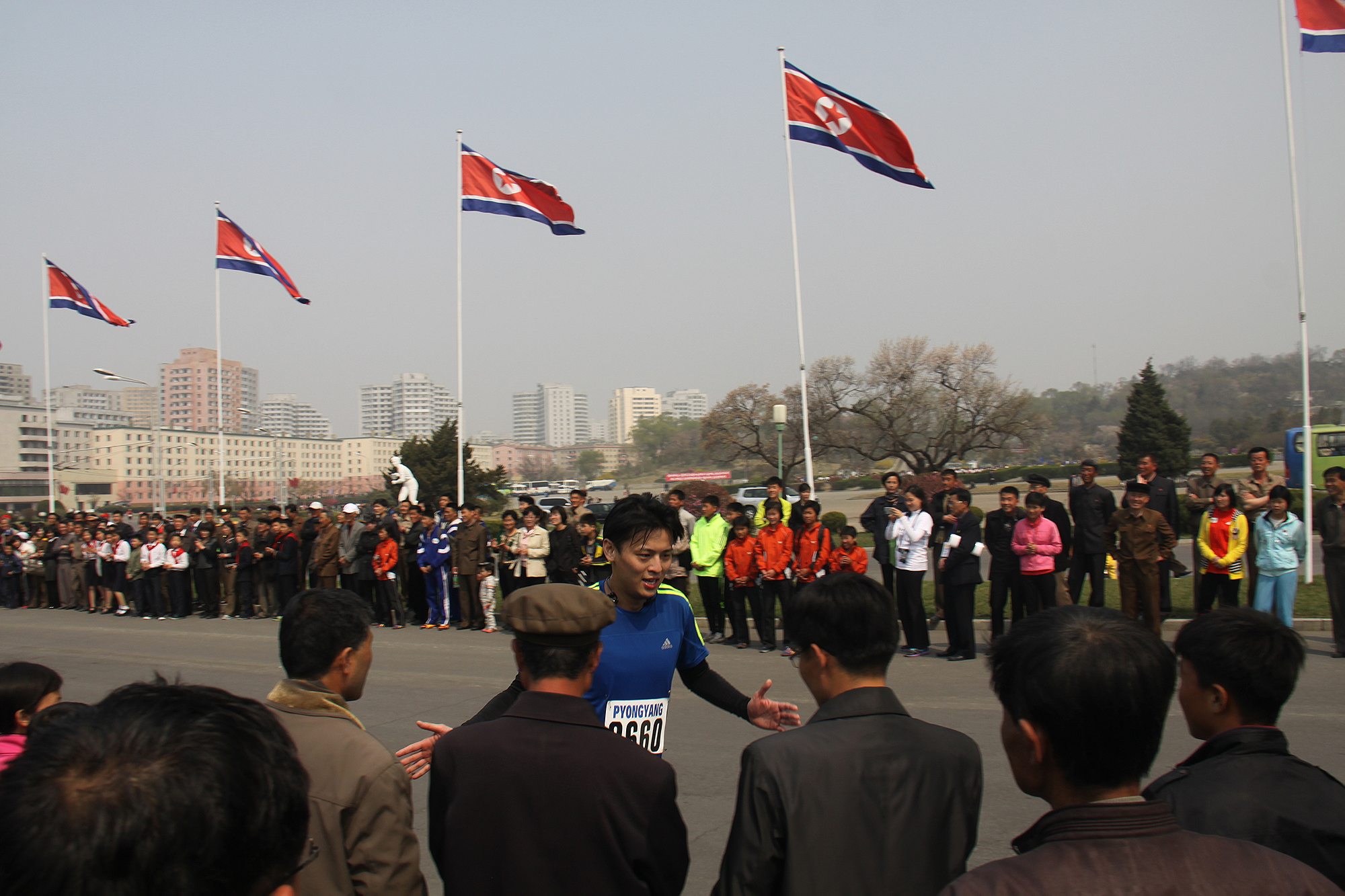 Landing in Pyongyang airport the day before the race, we meet our two local guides, both female, who introduce themselves as Kim and Kim. To avoid confusion, the older Kim jokes that we should call her "Married Kim" and her younger colleague "Single Kim." They tell us how excited they are that foreigners are taking part in Sunday's race. Their English, much to my surprise, is nearly perfect.
Our group chats with the Kims as we wait for everyone to come through security. It's just small talk, but the fact that I'm actually in North Korea, conversing for the first time with North Koreans, makes it all deeply fascinating. I suspect for the Kims, however, this is just another day on the job.
No country names, messages, or national flags could be visible on our running gear
We have many questions about the marathon, only some of which the Kims are able to answer. Our tour company told us to expect the unexpected and be ready for misinformation and last minute changes. We were not to bring MP3 players and that no country names, messages, or national flags could be visible on our running gear. (On race day, however, I saw many people running with MP3 players, and two runners with a British and German flag, respectively. In fact, I later learned it was only American and Japanese flags that were forbidden.) Cockerell later told me that "many of these miscommunications were just teething problems. In North Korea, when there is confusion or uncertainty, the default answer is just, 'No.' Much of the information we were given prior to the race turned out to be wrong."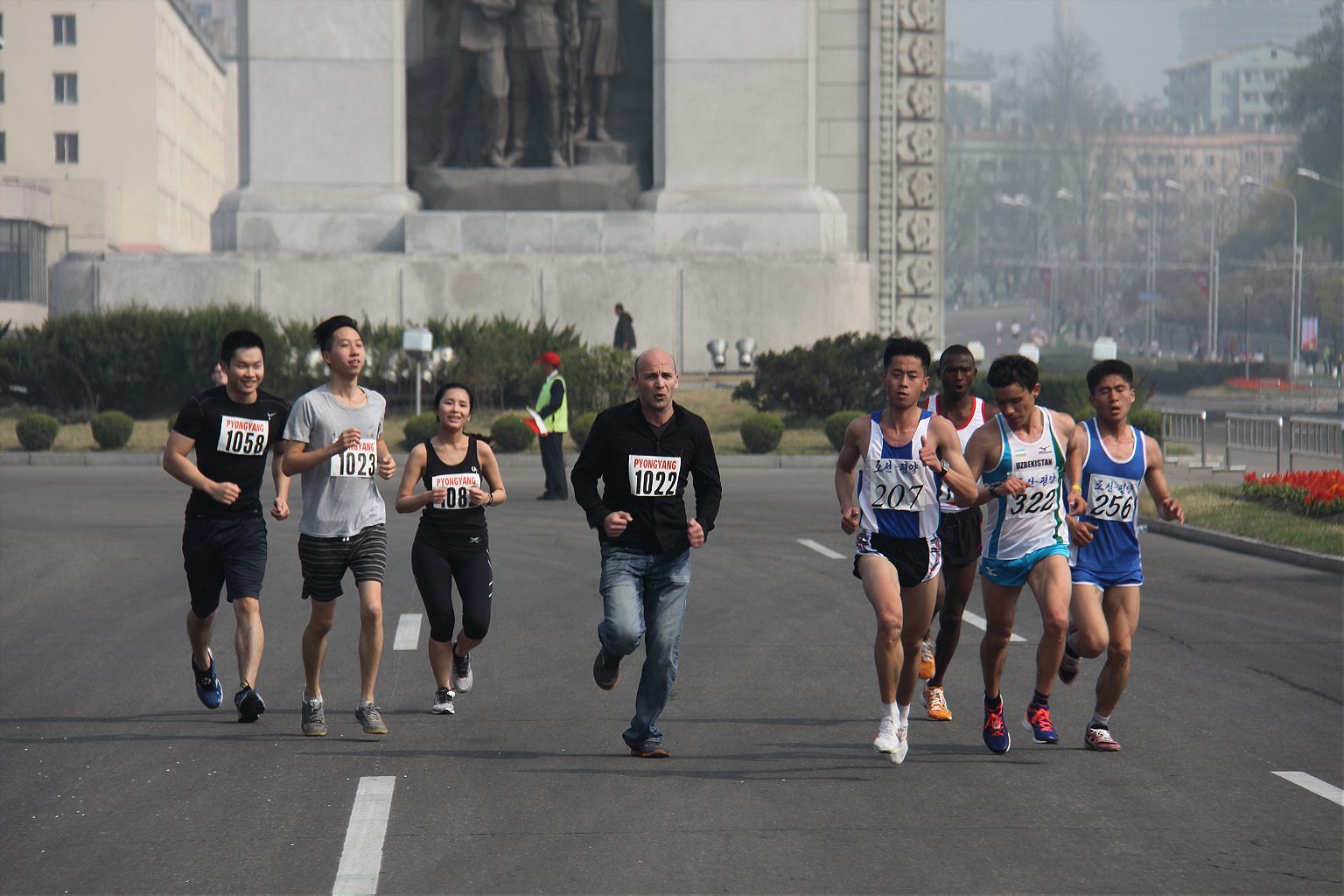 A major uncertainty is the cutoff time for the full marathon. Months earlier we were told it was five hours, but the day before the race I hear it's four hours. This is cause for concern: My fastest marathon to date is a leisurely 4:20. I ask Married Kim to clarify. "Don't worry, you'll finish the marathon," she says. I'm not exactly reassured.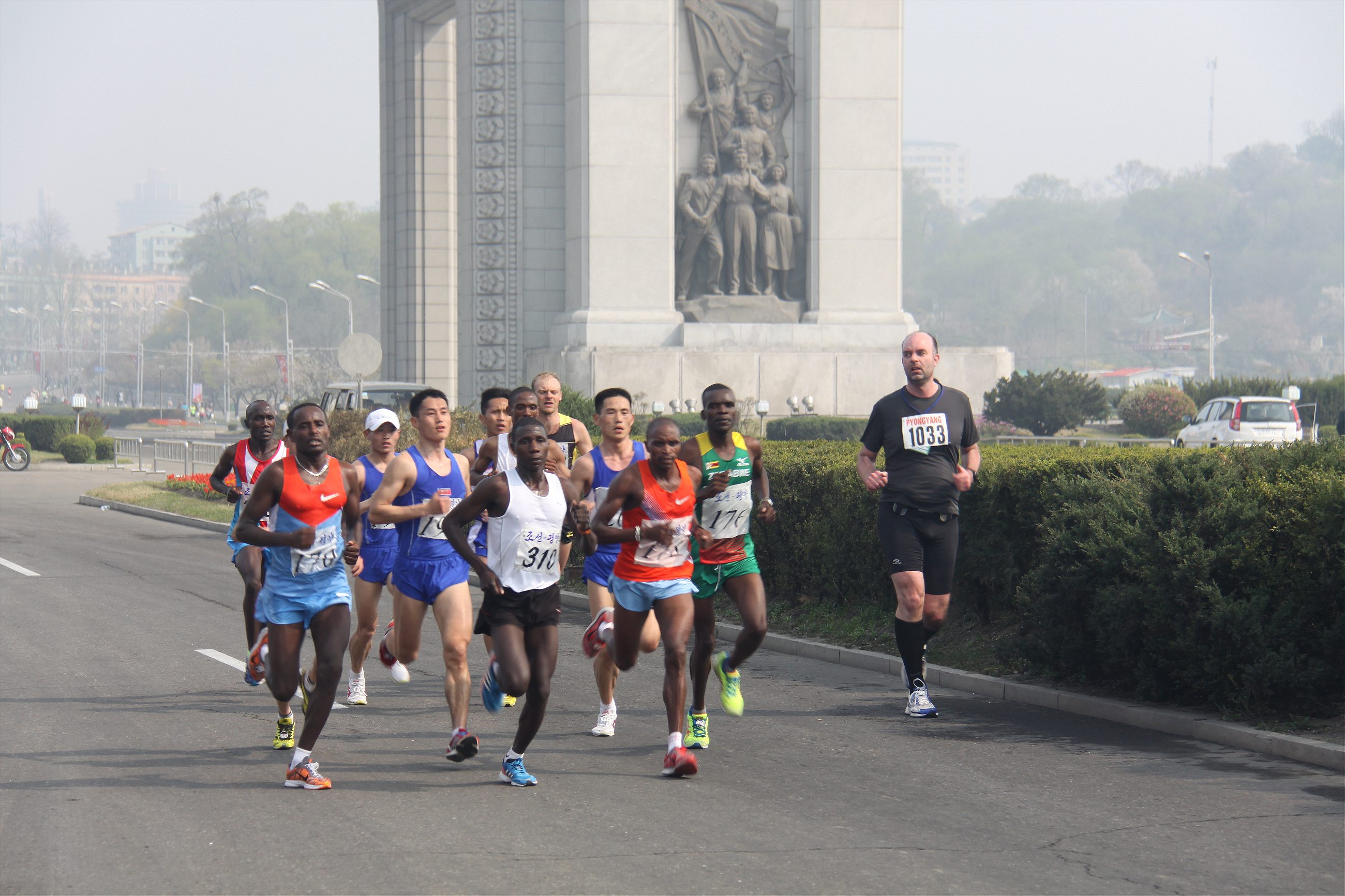 The official guidelines we receive, printed on a single side of A4 paper, tell us that the closing ceremony will be at 1 p.m., exactly fours hours after the start of the race. This will take place in the 50,000-seat Kim Il-Sung Stadium, which will also be the marathon's start and end points. Since finishing is very much what I have in mind, I figure I'll need to clock in at under four hours or risk not finishing at all.
After our arrival, I pepper our guides with questions about sports in North Korea. "Our leader is focusing on getting our people to play sport and keep healthy. That's why foreigners have been invited to the marathon this year," Single Kim explains. On our way from the airport, we drive past vast sport centers, built in elaborate geometric Soviet styles that have recently been refurbished for badminton, taekwondo, and swimming. Earlier this year, the opening of a ski resort in the northern part of the country made news in the West, and during my stay I see many young men and women playing volleyball, soccer, even rollerblading in newly built concrete skate parks across Pyongyang. As for why this year's marathon was opened to more tourists (previously, only professional runners had been allowed to compete), no one really knew, although some suspect it's part of a broader campaign to boost tourism and bolster the country's tarnished image.
There is no element of "fun" in this run
Having previously run marathons in London and Shanghai, I'm curious to see how Pyongyang's will be different. One obvious difference is that although both have elite races for professionals (Pyongyang has been attracting a handful of professional foreign runners for many years), the major Western marathons are also fun runs, open to athletes of all abilities.
Pyongyang is different. There is no element of "fun" in this run. All the North Korean runners are here to compete, and I suspect many belong to athletic clubs or teams. For North Korean runners, I suspect, a good result at the Mangyongdae Prize could have life-changing consequences; it might mean acceptance into a better club or school, which could in turn could lead to a place at a university, and a brighter future for them and their families. When I contemplate the pressure they must be feeling, my four-hour hang-up seems trivial.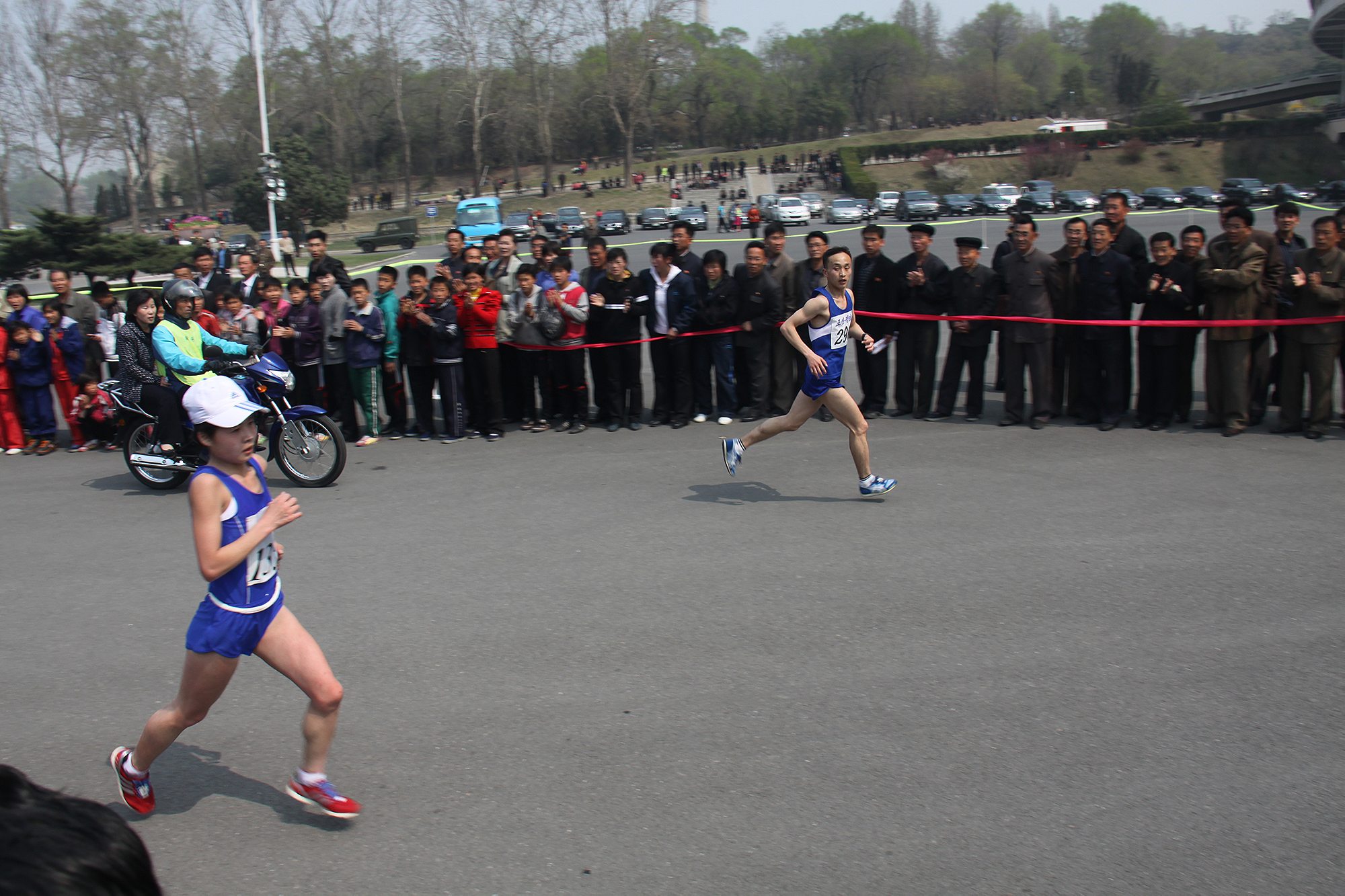 On race day, I take up position side by side with locals at the starting line. Their faces are marked with intense concentration as we set off on the 26-mile race. The mood lightens with the false start, which leads to much laughter from the stands and looks of frustration from race officials. This is one of the few moments where the marathon feels chaotic; the rest of the day goes off without a hitch.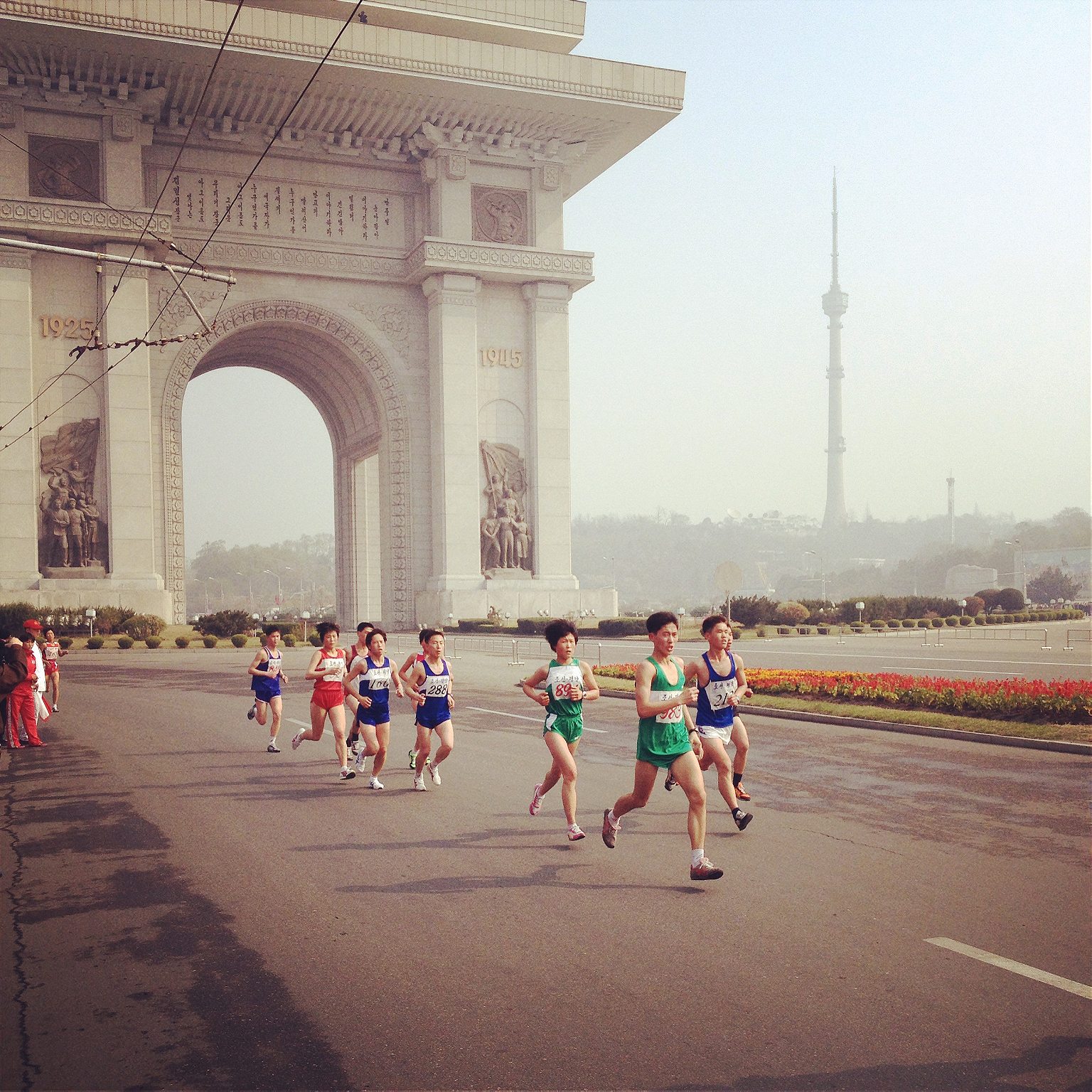 Unless, that is, you needed to stop to use the toilet midmarathon, something that unfortunately many marathon runners do (as Paula Radcliffe famously demonstrated in full view during the London Marathon in 2005). Most city marathons are lined with portable toilets; otherwise you can jump over the barrier and find an empty stretch of wall.
We're told not to urinate in the streets, and running off the course is a definite no-no
But in Pyongyang, we're told not to urinate in the streets, and running off the course is a definite no-no. Instead, there are a few strategic toilets marked along the route in public buildings and restaurants, some as far as 50 meters away from the course and one, unbelievably, on the second floor of a building.
These towers dominate the scenery throughout the course, which is four laps around the city. We also pass imposing monuments, such as the Arch of Triumph, built to commemorate the end of Japanese colonial rule in 1945, and the May Day Stadium, where the Mass Games are held before more than 100,000 spectators each year. But we also pass unassuming streets that run along gray and dull green tower blocks; the only signs of life or character are a few flowerpots on window ledges.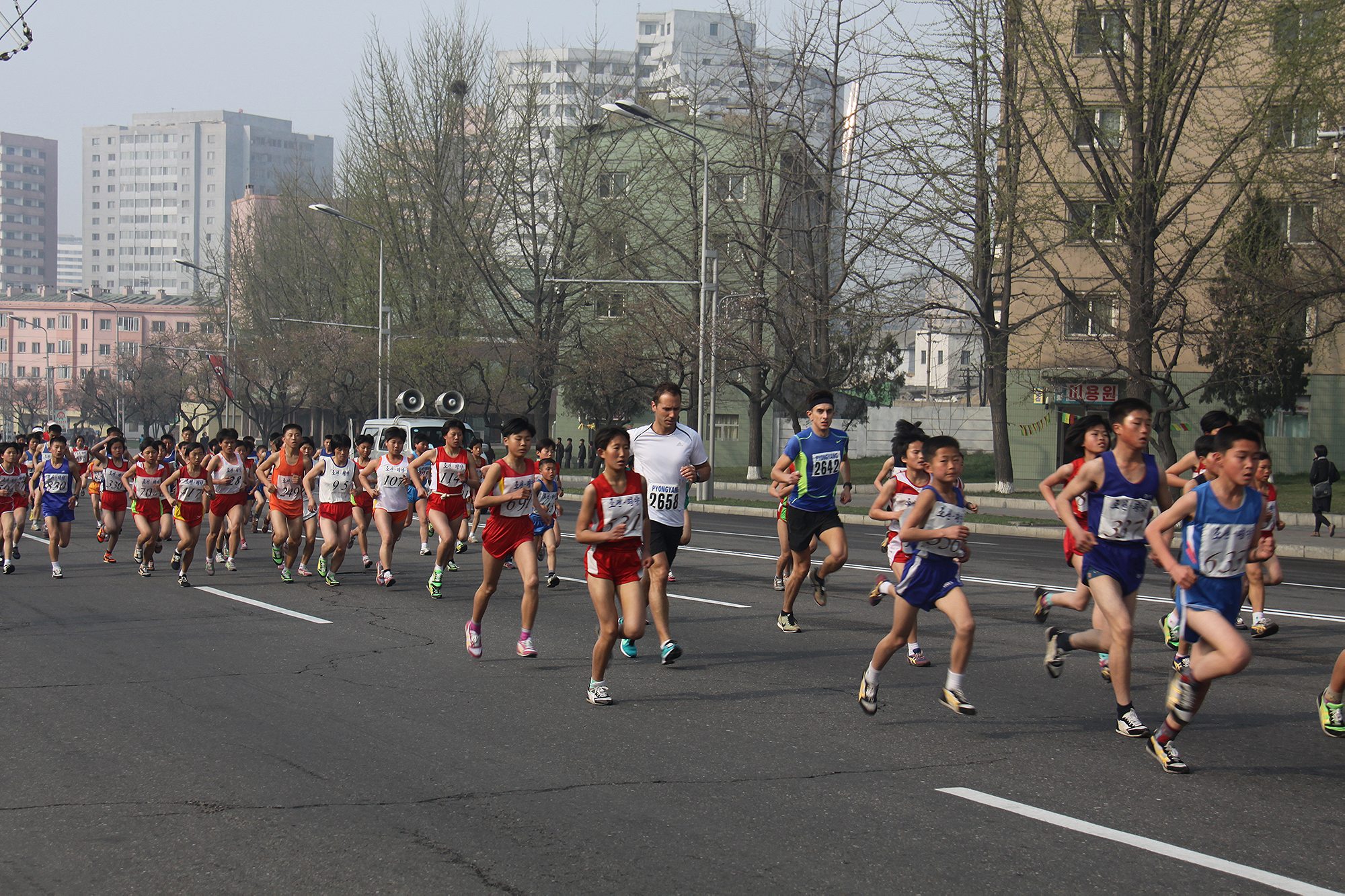 The aesthetic of Pyongyang is old-fashioned and kitsch, frozen in the 1960s. No neon, no advertisements, no billboards. Everyone is in some kind of uniform. All apartment blocks and fixtures are painted in the kind of color palette that I used to see in my grandparents' house; the battered old trams, the gray concrete roads, even the grass seems like it's from a different time. It's only when we pass the Russian embassy with its satellites and air-conditioning units that I realize no other buildings in the city have them.
Earlier, I'd asked Single Kim if she'd seen much change in Pyongyang over her 25 years growing up here. She told me no, since the economic situation of her country had not been so good recently, there hadn't been much change. There were exceptions, of course, like new monuments to the leaders or the looming Ryugyong Hotel, a 330-meter tall pyramid-shaped skyscraper, which has been in a perpetual state of construction since 1987. Kim told me that it would be completed in the next two years—but I suspect she's been saying that for a long time.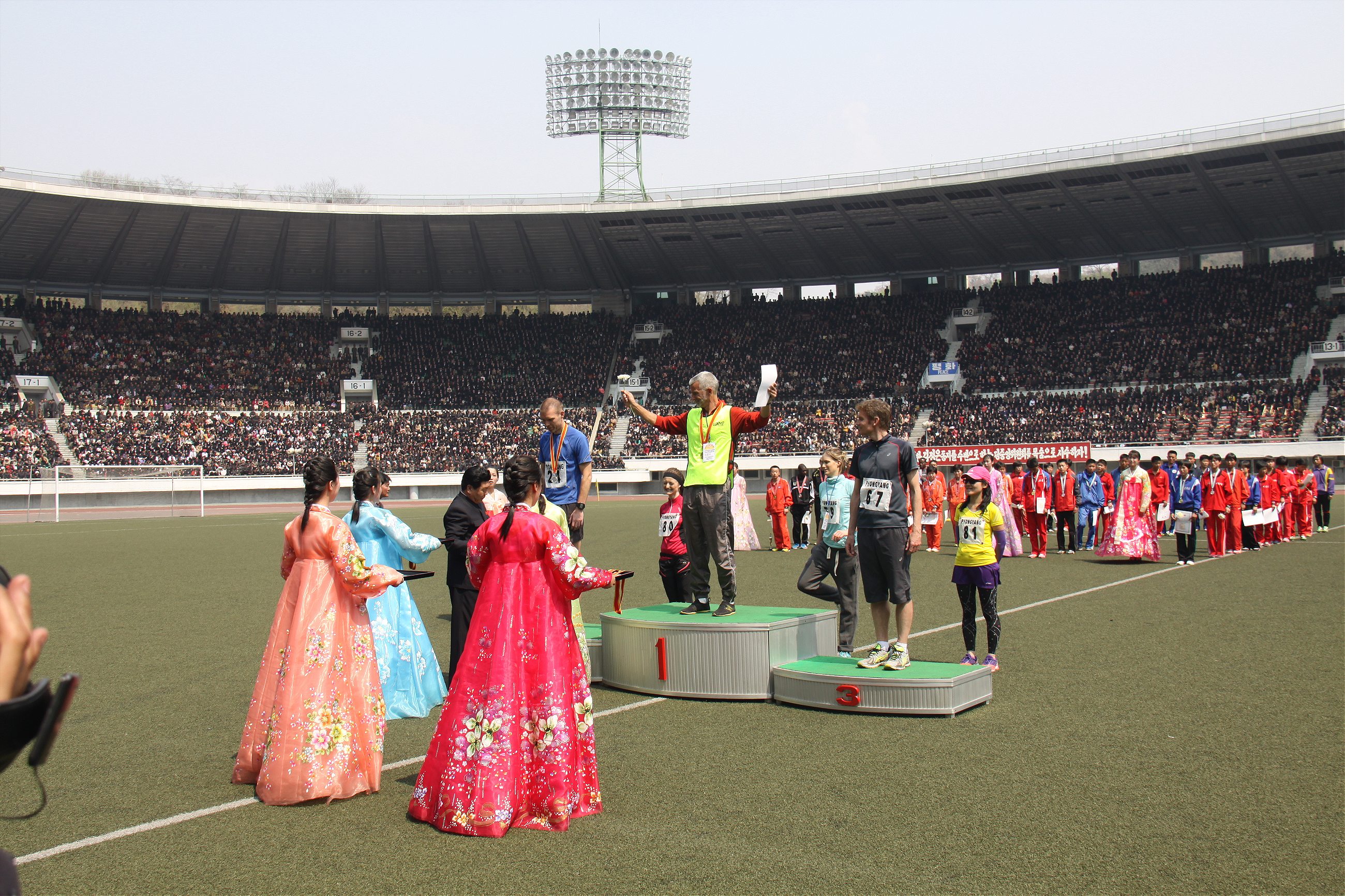 The Ryugyong Hotel is visible on the foggy skyline for most of the run. When we run by it, people are gathered in droves, young and old. Many are dressed in uniform or military attire. There are groups of children, cackling wildly as I give them all high-fives and shout "annyeong!"—hi!
Toward the end of the race, the runners thin out, and the faster runners are no longer overtaking me. There are officials on the course to ensure we don't get lost, but only at certain points. For long stretches I'm isolated, running just a few feet from workers cycling past on bikes or kids kicking around a soccer ball.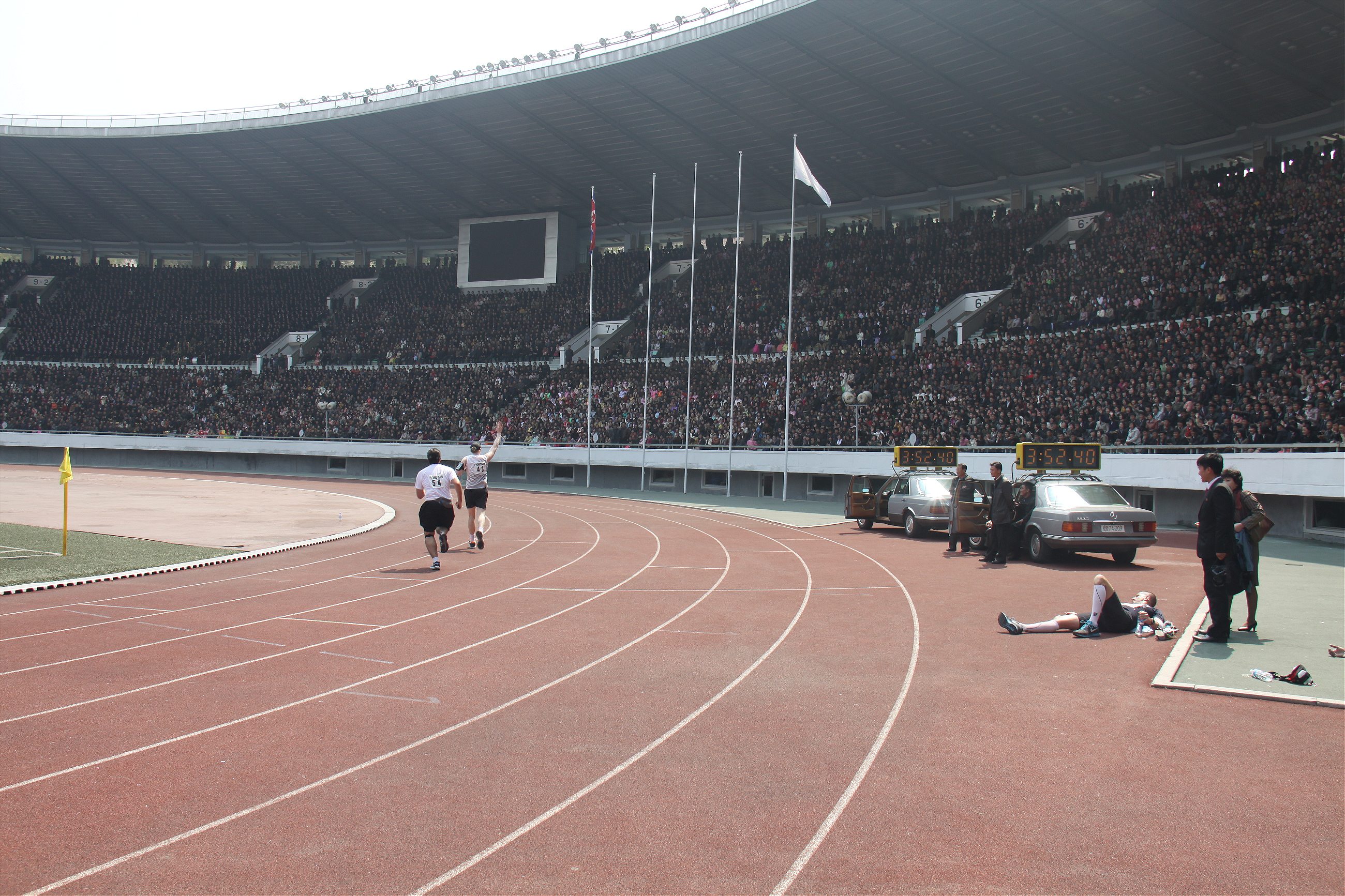 The most striking part of the marathon at this point is the silence. Except for the patter of my feet, there's barely any noise—Pyongyang is not known for its traffic and blaring horns. During these quiet moments I entertain myself by shouting "annyeong!" to large groups of North Koreans who stop in their tracks to watch me jog past. They burst into laughter. I think about sitting down at the bus stop and sharing some of my energy gels with them, but I still need to get back into the stadium within the allotted time.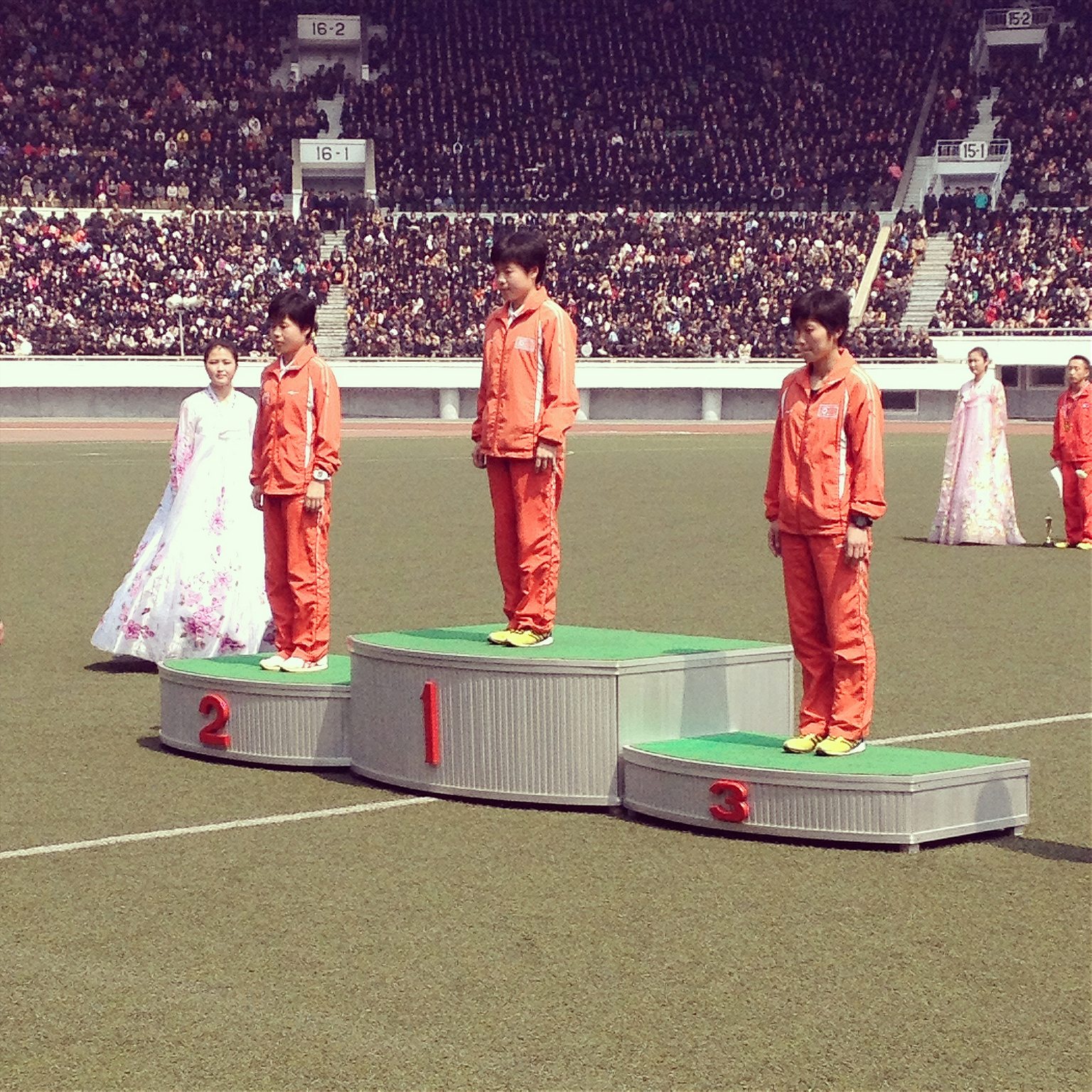 As I enter the fourth and final lap, time is quickly fading, much like the power in my legs. I completed the first half of the race too quickly; the adrenaline and fear of not finishing caused me to set my pace too high. Now, other runners are overtaking me and my body is ready to give up.
Four hours have passed and I'm still a kilometer from the stadium, with a lap of the track to complete once I get inside. A huge wave of disappointment washes over me as I realize I might not make it. A car of officials pulls up alongside, beckoning me into their car. I politely decline and press on, and as I turn a bend, I see the door to the stadium is still open.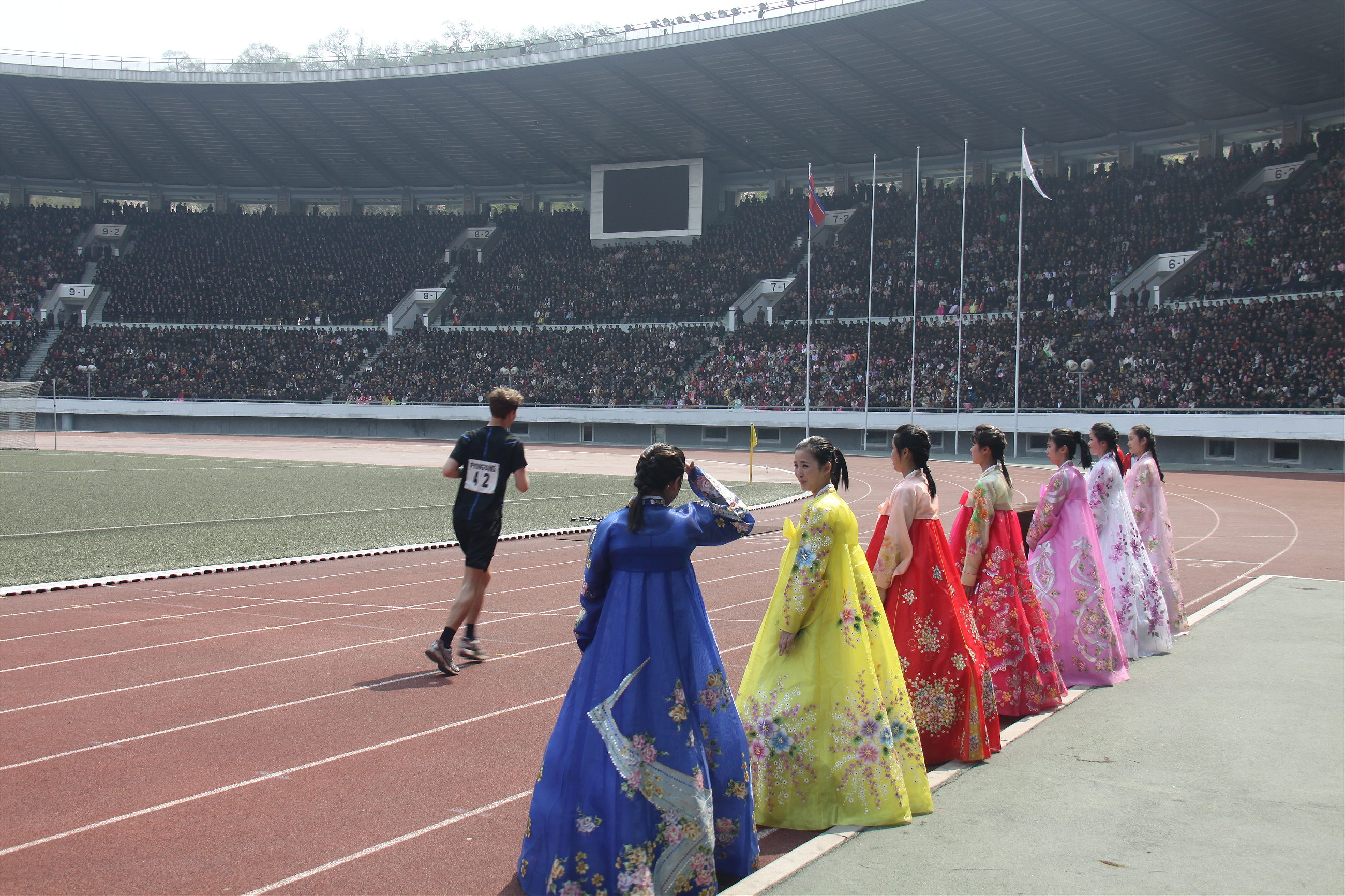 A moment later, inside the massive stadium, I bound onto an empty track unsure if I should be going clockwise or counter-clockwise. Fifty thousand pairs of eyes focus on me as I slowly conquer the last 400 meters.
There are no runners in front of me or behind me. The crowd cheers (and laughs) as I cross the finish line, the second to last runner to do so. I raise my arms in victory, knowing that a few minutes slower and I wouldn't have been able to finish at all. This is my gold-medal moment. A Mass Games for one.