At Suame Magazine, more than 200,000 skilled workers armed with welding guns and hammers make up the heart of the country's informal economy.
There's a word for it in Ga: nakpee. That combination of awe and disbelief that leaves you breathless. That's what I feel when I round a corner in a field full of what I assume are rusting old tanker trucks and find a man standing on a massive sheet of curved metal. He's staring into the guts of a half-finished tanker with a profound look of resignation on his face. "Light off," says Kofi Boache, brandishing a lifeless welding gun to prove it—there's another blackout. This is why the damn things take a month to make.
This is Suame Magazine. A vast, open-air industrial district in Kumasi, Ghana's second largest city. Here, 200,000 skilled workers manufacture everything from bolts to tanker trucks by hand. A million dollars passes through the factories and workshops here every day, and it's the place where most of the country's laborers learn their trades: the heart of Ghana's informal economy.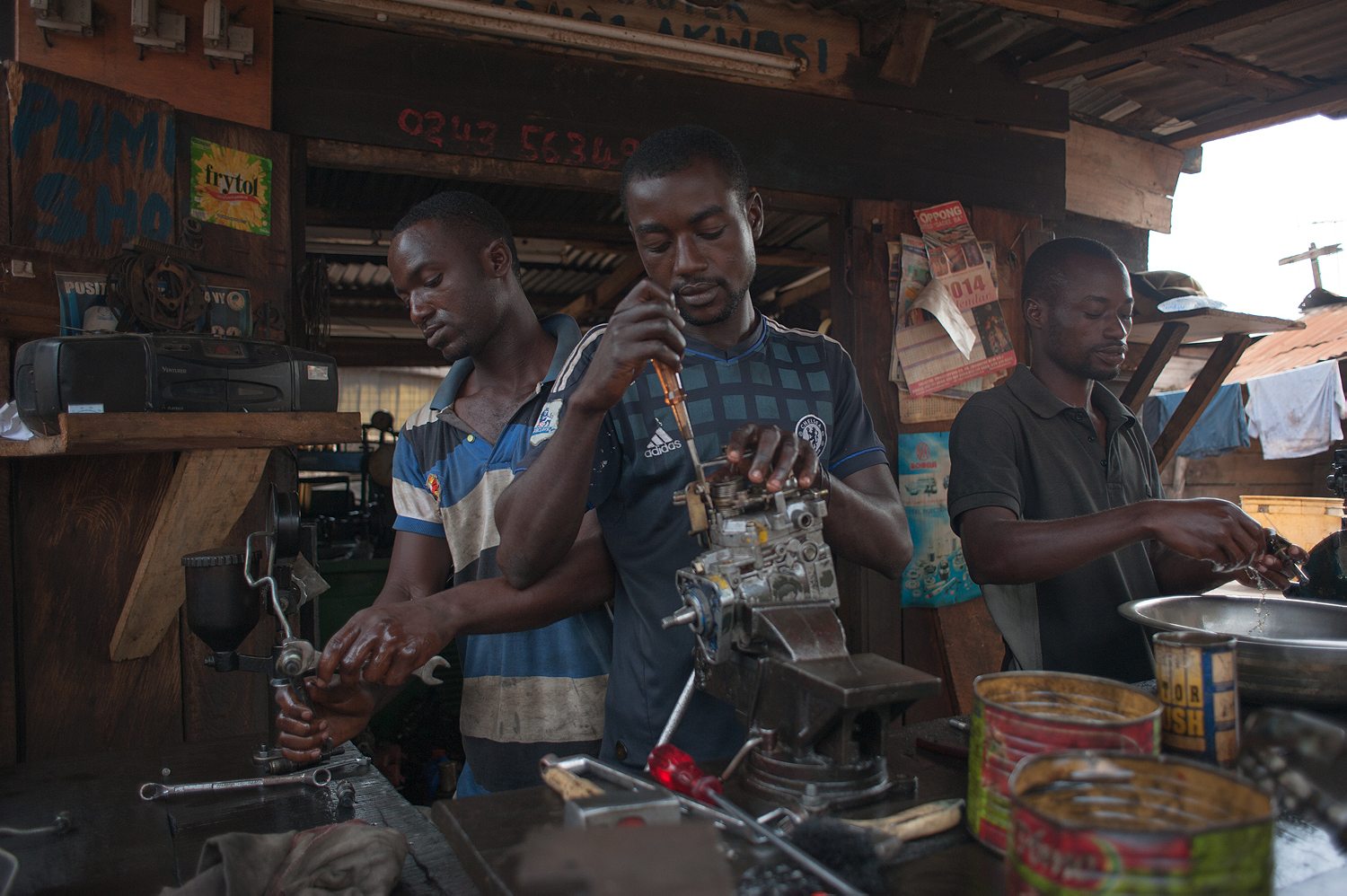 All of this—especially the part with the tanker trucks—is news to me. Nearly everything in Ghana is imported from Europe, the U.S., or China, and it has been that way since much of Ghana's formal industry collapsed in the 1970s, leaving the country dotted with abandoned canneries and textile factories.
Most Ghanaians who live abroad ship in their own supplies when they visit the country. When I was a kid growing up in England, right before each summer holiday in Ghana my mother would send half a shipping container of stuff ahead of us: tinned food, shelf-stable milk, consumer electronics, and, once, most of a kitchen she'd just had ripped out of our north London home. "Why pay markups when you can just pay shipping costs?" she'd tell me as we ran 144 tins of tuna through a supermarket checkout.
We weren't alone: Kitchen showrooms and consumer electronics stores all over the greater London area have encyclopedic knowledge of which products have warranties valid in West Africa. The Port of Baltimore ships thousands of American-made SUVs into Ghana every year. Much of Ghana's supply of bootleg designer jeans comes from one Ghanaian operating out of a seedy trading mall on Nathan Road in Hong Kong.
Sure it's possible to make all this stuff in Ghana, but the conventional wisdom is that making stuff in Ghana is expensive, and the products are of low quality, and why bother when you can get it made, ten times quicker, and ten times cheaper, in a factory in Guangzhou?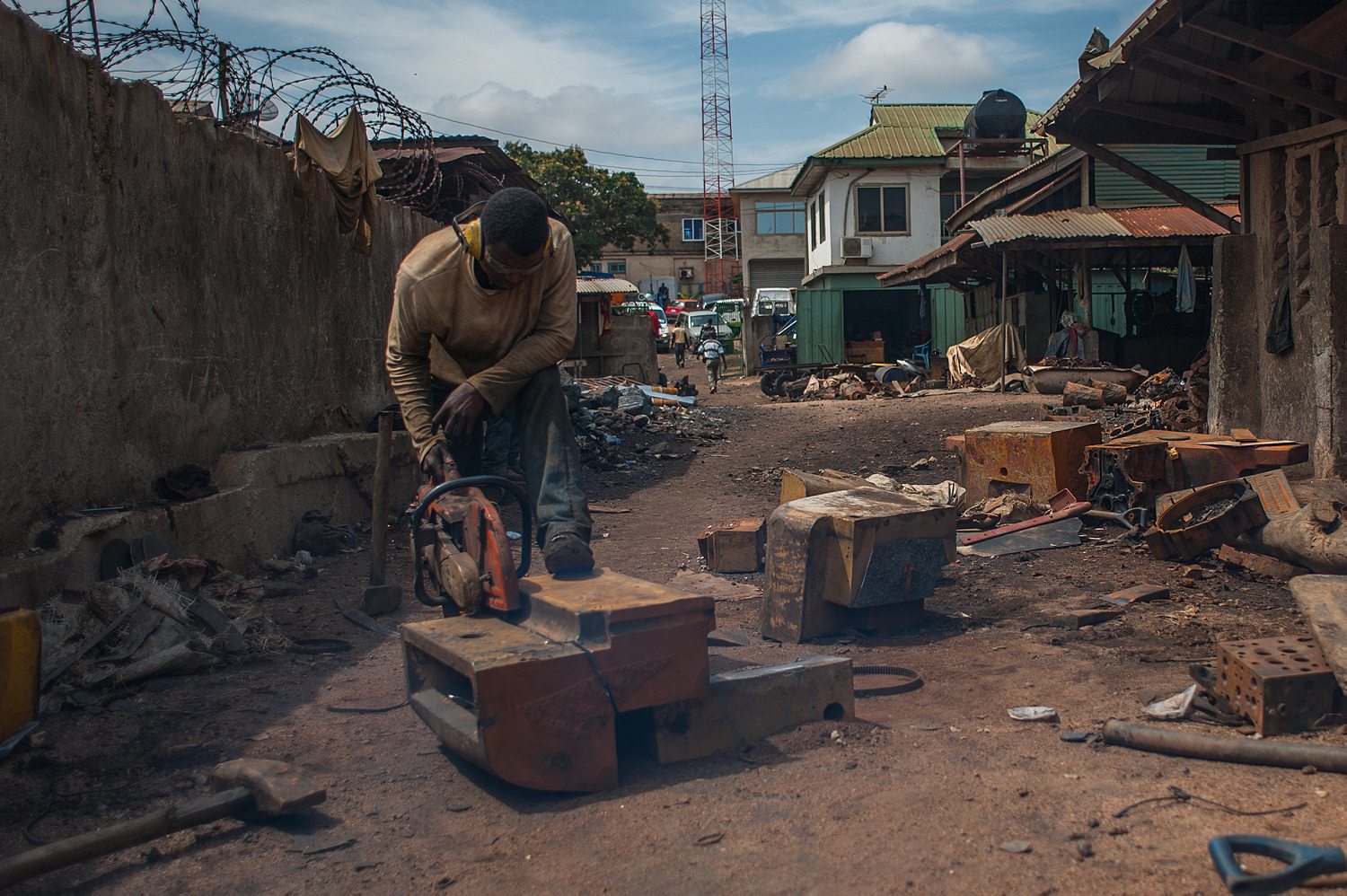 Suame Magazine wants to be the reason why. Right now, it's an obstacle course—a 20-mile stretch of wooden sheds, half-finished concrete factories, countless open-air workshops, and at least two foundries that turn scrap metal into grinding plates for flour mills and ore crushers for gold miners. There are five-foot heaps of rusting excavator parts, pools of motor oil, and hundreds of stores piled high with spare parts: truck springs, steering wheels, locally-made bootleg Mercedes mud flaps, and bumpers harvested from the wrecks of imported cars, complete with foreign license plates. Every so often, there's a three-storey heap of carefully piled truck cabs.
Suame Magazine emerged around a colonial-era armory in central Kumasi in the 1930s. For a while, it was just big companies—local giants and multinationals repairing cars. They grew rapidly and were moved to the outskirts of Kumasi in the 1960s. Then in the 1970s, with Ghana's economy faltering, and a bunch of new trade restrictions almost banning imports, the big companies collapsed, leaving hundreds of skilled workers. They became the first wave of small firms in Suame Magazine.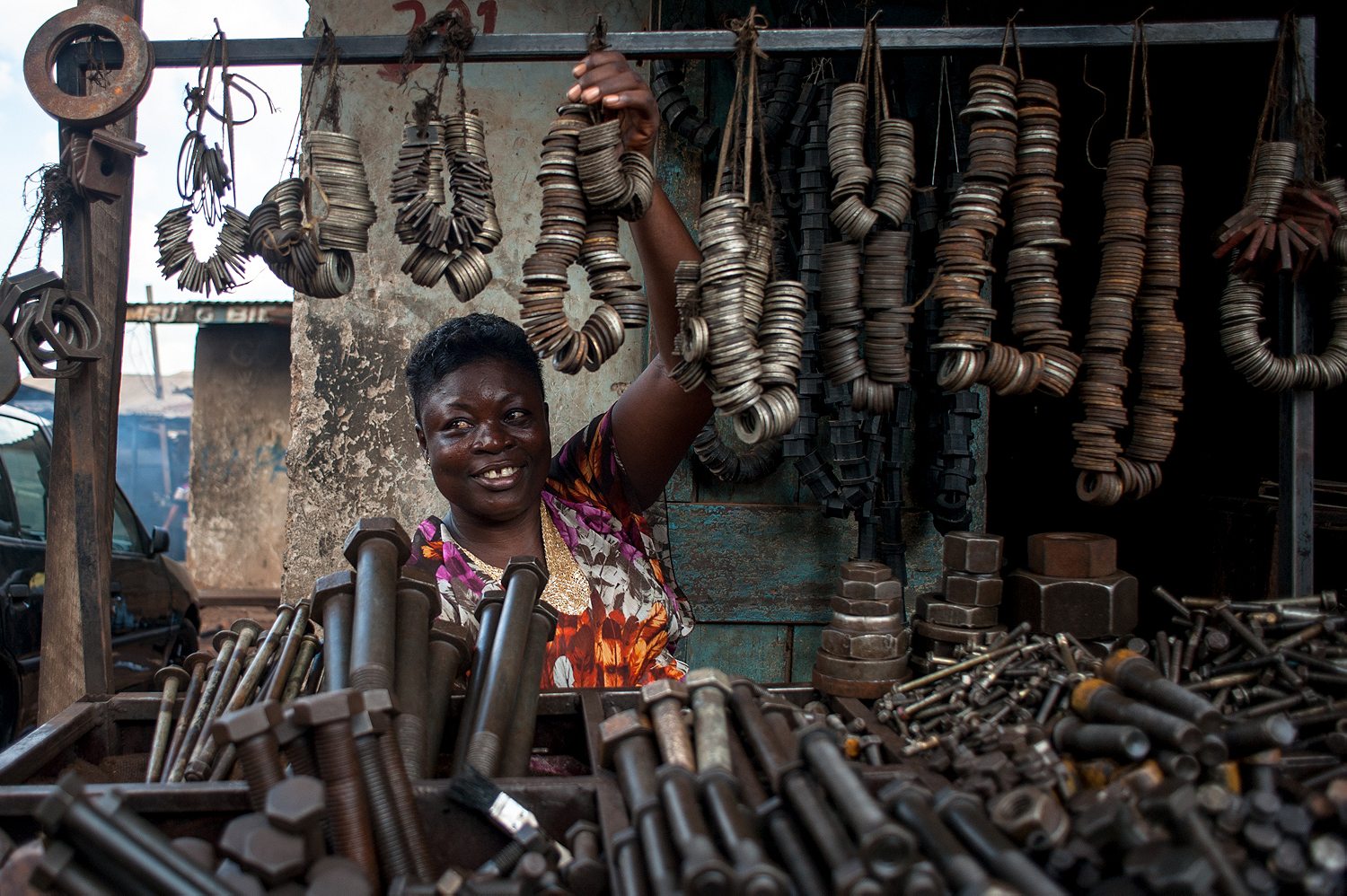 They slowly turned this into the best place in the region to overhaul a fleet of trucks or get heavy machinery made. People come from as far away as Burkina Faso and Nigeria to do business here, and there's a sprinkling of foreigners from further afield wandering around: Chinese traders clutching spare parts, and Indian businessmen haggling with mechanics.
There are 12,000 businesses here now. Some are tiny, one-man shops, like that of Awudu Alase, who makes small coal-fired stoves called coal pots, from scrap metal and iron rebar. It's just him, sitting outside a shed, with a welding gun and a pair of sunglasses he uses as a shield, making 15 coal pots a day. There's a giant heap of the things to his right. They sell for 8 cedi—about $2—apiece, a bargain. There's one man who just makes u-shaped bolts for trucks. Hundreds of them, every day, with a hammer, an anvil, a series of metal pegs, and a small palm-kernel fire that turns the metal red-hot in minutes. The simple setup keeps things cheap. He's been doing this, all day, every day, for three decades. They seem small-time, but small-time businesses bring in 70 percent of Ghana's gross domestic product.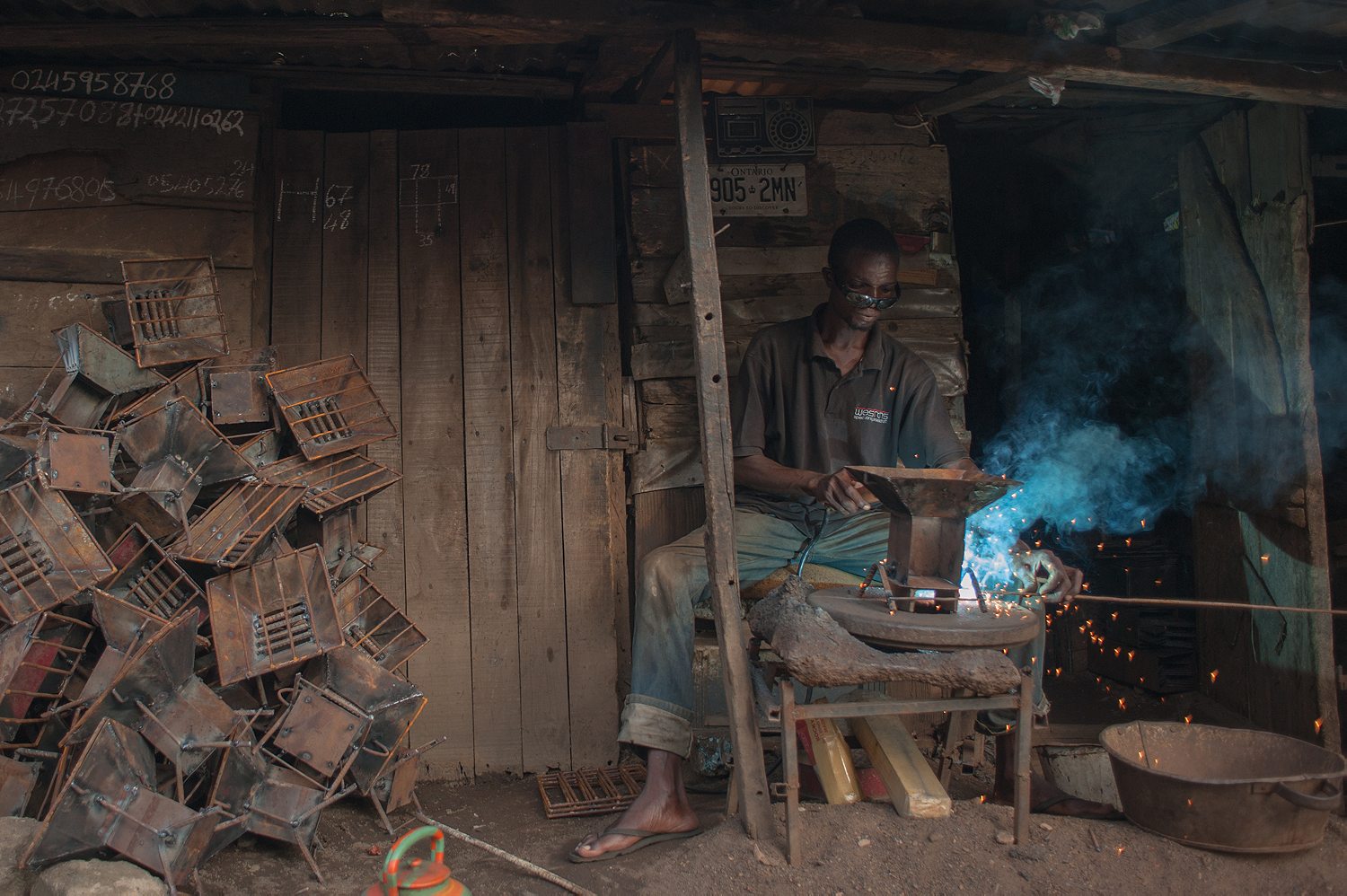 Then there are the big businesses: the factories that do everything. Montari Salidu owns one of the biggest factories in the place. He makes bread ovens. And buffet serving stations. And gas stoves. And because Ghana is a football-mad country, and Salidu has a ton of scrap metal lying around, he also makes goal posts. All of it happens at the same time in a half-finished two-storey factory where dozens of guys each do one very specific job: there's a man welding metal together for stoves; another guy measuring metal tubes for the goal posts; and a pre-teen boy manning a sheet metal press. Salidu started out that way—a young boy learning the ropes. Twenty years later, he runs one of the biggest operations in the place.
The real business of Suame Magazine, though, is the vehicles. These huge, ancient heavy-duty trucks made by European companies like Mercedes, MAN, and DAF crisscross West Africa filled to tipping with charcoal, plantain, or timber. Fortunes are made and lost with these things. Mechanics here overhaul and refurbish entire fleets of them: replacing smashed windscreens the size of bed sheets, rebuilding engines piece by rusting piece, then spraying them a reassuringly lurid color.
Then there are the cargo vans still covered with the insignia of their former lives: signs for German bakeries and Dutch florists, for example. In Suame Magazine, they rip the guts out, and replace them with 19 seats. Then they cut out the side panels, replace one with a sliding door, and turn the rest into windows. And there you have it: the tro-tro. These mini-vans and busses ferry most people around in Ghana. Made—well, jerry-rigged—in Ghana.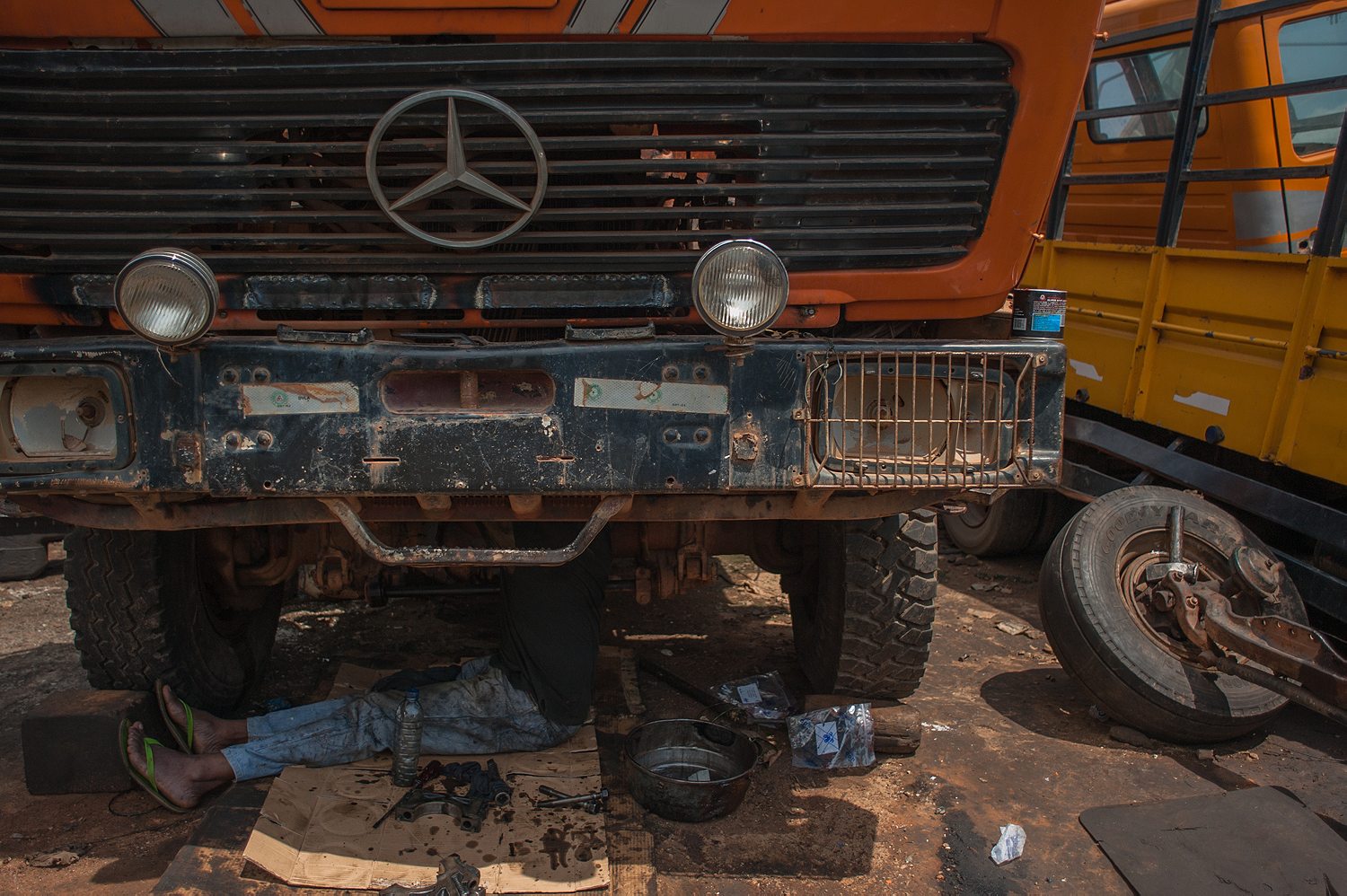 They even built a car out of spare parts here once, the SMATI Turtle 1. They drove the prototype out into the city, but later discovered it wasn't actually roadworthy. They just didn't have enough time to perfect it, says Stevenson Apomasu, president of the Suame Magazine Industrial Development Organization.
Apomasu was a fount of knowledge about Suame. Most mechanics here prefer European cars, he says. Mercedes last a long time, Opels are super cheap, MAN and DAF trucks take a beating and keep working—and lord knows most of Ghana's roads offer a beating. TATA trucks from India and models from South Korea are catching up though. Trucks from China, he says, break down and stay broken down.
American cars have too many electronics, and nobody knows what to do with them. Which, in Apomasu's opinion, is the biggest problem. "Now cars have moved from manual to computers, which we can't maintain," Apomasu says. So in a few years, most mechanics at Suame Magazine won't be able to fix modern vehicles: "If we don't take care, Suame is going to collapse."
But there are glimmers of a future for Suame. In Kumasi, I stayed with an uncle on the absurdly lush campus of Kwame Nkrumah University of Science and Technology. The city had carved plots of land for the university out of virgin bush, so everything was a wrong turn away from almost obscenely luxuriant greenery. Workers had to cut the grass really short to keep the snakes, the big black scorpions, and whatever it was that made those high-pitched screaming noises at night away from the house. The building itself was the kind of 1960s African modernist construction people dream about now, featuring mahogany everything, cross breezes, light in every room.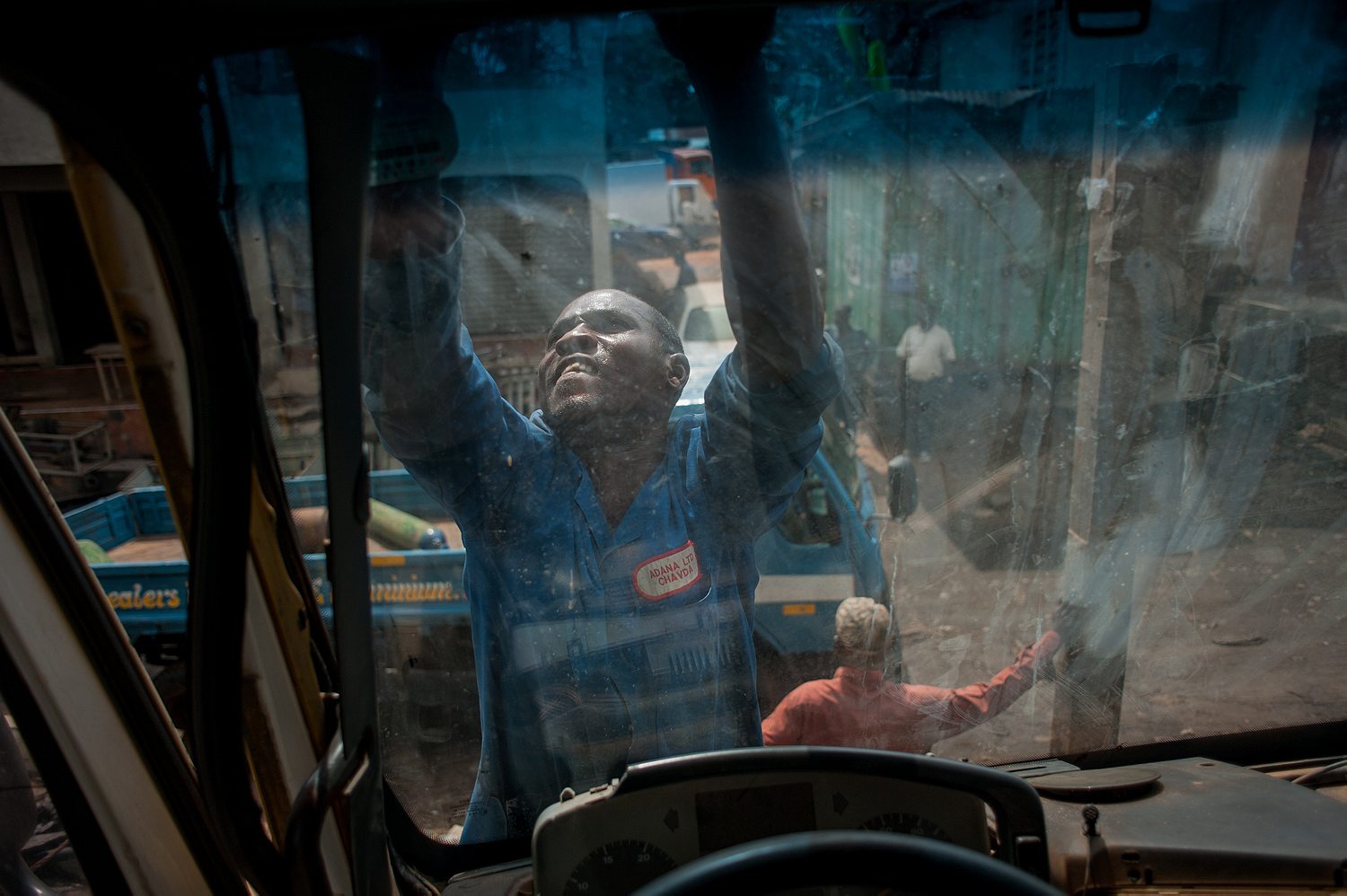 My uncle, an engineer working on a handful of million-dollar projects to turn raw sewage and trash into fuel, had turned the servants' quarters into a lab. There were solar panels charging backup batteries and a constant stream of earnest grad students. He was working on turning the river of waste oil generated by mechanics at Suame Magazine into fuel, so the place could power itself.
Back in that field of tankers, Boache takes me on a tour of his open-air plant with no small amount of pride: These tankers keep Ghana running. You see them everywhere, carrying water, delivering fuel to gas stations, carting away sewage. The imported ones are expensive, Boache says, so most people buying them prefer locally-made. And he's right here in the country: if the tankers sprung leaks or fell apart, he'd never hear the end of it.
Boache's been doing this for two decades. He had little more than a high school education and a welding apprenticeship when he started to figure out how to make these things. Now he looks around with wonder—nakpee—at what he's building.