A chance encounter brings Rose Skelton into the studio of the man whose pictures had changed her life from afar.
The studio was on the corner of a street that was part of a grid of similar streets, somewhere in the Bagadadji neighbourhood of central Bamako. The building, a single-roomed, one-storey block on which a metal shop front had been precariously tacked, was unpainted, just bare concrete walls. The roof was flat, with iron rods sticking out of it, waiting for someone to build another storey. Damp orange sand sat piled to one side, a layer of concrete blocks behind it drying in the sun. A wooden bench, an old tyre filled with rubbish, a taxi idling outside. No one would know this shop was any different from any other, except for the black and white sign.
I had first noticed the sign this March, when I was driving past on my way to rent a generator during a power outage that was already into its fifth hour. Photo lab signs in Mali are usually hand-painted in garish colours, Kodak yellow slogans splayed across the whole shopfront, but this studio had just a simple black and white board hanging from the lean-to. The name on the sign began to register somewhere deep in my memory, but just then the phone rang. It was a friend, telling me he was stuck in a bank, soldiers firing all around.
It was the March coup. Soldiers tired of the government, of the way they were handling a Tuareg rebellion in the north, of the corruption and incompetency of the regime, were in the process of taking over the national television and radio station, and later, the palace, sending the president into exile. Within the space of a few hours, the soldiers plunged the country into an enduring chaos and any thoughts of the past that I might have had were quickly forgotten. Borders were locked, airports were closed, and I was stuck until further notice.

Some months later, however, I went back to Bamako. The political situation was dark and uncertain, but relatively stable, and I was drawn once more by the memory of that black and white sign, and the name that I had connected with on that turbulent afternoon: 'Studio Malick Sidibé'.
It seemed so unlikely that the Sidibé, the photographer who had propelled Mali into the art spaces of the western world, who had brought the cool, the glamour and the unself-conscious pride of post-colonial west Africa to people all over the world, would have a studio, here, in the cobbled grid of streets where butchers hacked animal carcasses on chopping blocks, and where young men sat, legs outstretched on the ground, beating their fabrics with wooden mallets to make it shine, brilliant and stiff, for the ladies of today, just like the ladies of Sidibe's portraits from so many years ago. It just didn't seem possible.
And so I went back there, feeling my way along the maze of streets, trying to remember which way the traffic had been going along the one-way streets, until I came across the sign, and stopped. Outside, under the metal lean-to, a group of young men sat, watching the street. To one side, there was a table covered with an old towel, brown and dank like a mouse's pelt, covered in tiny pieces of camera: miniature screws, circuit boards, old batteries, a pair of brown specs long separated from their arms, the face of a Kodak Easy Share and a Sony Cybershot. Also: some prayer beads and a packet of dates for eating, because it was Ramadan. I went up to the group of men, expecting a laugh in reply, and asked if this was the studio of Malick Sidibe.
"Yes," one of them replied.
"And is he here?" I asked, shrinking from my own question.
"His son is here. Karim," the man turned his head lazily towards the back room, and shouted.
A skinny young man in a green flatcap appeared at the door.
"Hello." I shook his outstretched hand. "I'm a journalist."

I was a journalist, but that wasn't all. I was a journalist with a long-held admiration for Karim's father. The reason I knew about Mali was largely because of his father, and because I knew about Mali, I also knew about Senegal, and there I had spent more than a decade of my life living. Senegal was the spinning top around which everything else in my life was balanced, and in part I owed that to Malick.
When I was at university in London, Malick Sidibe and another Malian portrait photographer, Seydou Keita, had an exhibition, and Sidibe came to speak about the collection. The exhibition had this amazing name: 'You look beautiful like that'. The title came from a Bambara saying, but it also perfectly described the photographers' ethic. Looking beautiful was the entire aim of their work, but it wasn't shallow beauty. In their moment of history, beauty was political. It meant taking a people who had been, up until then, presented by the white man as savages, and showing them on their own terms, in their own style.
And what style! Gone were the photo postcards that inspired Picasso's nudes, of young girls with glossy breasts, braided hair, intricately tattooed stomachs and beads twisted around every limb. Here instead were photos of a young man in a sailor's outfit, a studded belt hung low around his waist, dark glasses, a wry smile, a pot of fake flowers at his feet, posing, proud and elegant. Or a trio of young friends, wide creased flares, loud shirts with wide collars, denim jacket and cigarette hanging out of the mouth, afros, cameras slung around their necks. Or a lady lying on a day-bed, a grand embroidered boubou, a matching headpiece, her shoes laid out demurely beneath the bed, a slight smile, inviting.
There were people posing with their children on the handlebars of a motorbike; there were whole families poised with the family sheep. There was a group of friends in sombreros; there is one, quite simply, sitting with his back to the lens, his wide-brimmed hat so vivid that you feel you can reach out and touch it. These were the photos that showed the world that the free people of west Africa were as modern as you. That they know more about looking lovely than you ever will. And that they, they know how to have fun with it.

The more I looked at these photos as a student, and wrote about them in essays, and studied them sometimes in disbelief as just how cool they were, the richer they became to me, like a story which gets more detailed with every telling. And when I finished my studies, and moved to Senegal, those images came vividly to life. Each time I passed a building site and a young man emerged, stepping across a ditch of filth, his muscles bulging beneath a fluorescent jacket, and he took off his hard-hat to reveal a Burberry flatcap, then slipped on aviator shades and smiled, insatiably, at the passing world, I saw Sidibé's portraits come to life.
Or when I went to a nightclub and saw girls wearing red patent high-heels and matching earrings that jangled alongside faces made up with purple eye-brows and green eye shadow, or came across a housemaid sweeping the pavement with a hand broom wearing a dress that she might have been out dancing in last night, I saw that Sidibé had been telling me the story of a place beyond invention, one that existed in the 60's and 70's and still exists today. The pride of image, that reckless and unself-conscious celebration of gaudy, brash colour, size and form, is something that excited me back then, and still excites me today.
Karim had a sweet, bright smile and his eyes flickered closed when he was speaking to me, as if he were afraid I might look at him too closely. He wore a peaked hat and had a bag slung across his chest—in the coming days, I would never see him without a bag of some sort. I don't know what he kept in those bags; while I was with him, he never delved into it. He spoke energetically, with his hands, an incorrect French that flowered excitedly, with great passion.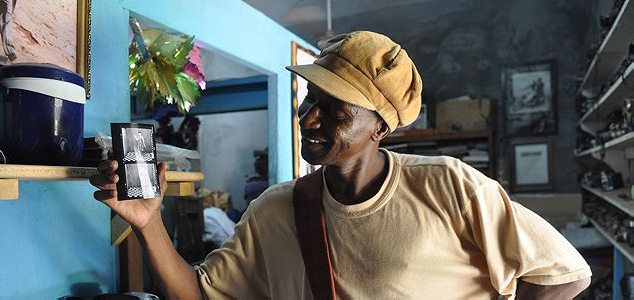 As we chatted, I looked around the single room, part of which I already knew so well from those photos. Behind a partition, a solitary wooden stool sat in the centre of a small space, the floor covered in black and white chequered linoleum. Behind the stool, a black and white striped curtain draped downwards, half-covering a wall painted in the standard acidic blue that covers concrete in west African interiors. Stains—hand prints, smudges, dust, dampness—covered one wall, out of which an electrical cable hung, inert. Higher up, lighting umbrellas dangled from the walls. A Hasselblad stood on a tripod, above which hung a tumble of dust-encrusted Christmas tinsel. A pair of leather shoes sat to one side.
Elsewhere in the room, above which a ceiling fan turned, there were shelves. There were shelves on every wall. One held bottles containing traditional medicinal herbs, a thermos ice-bucket, a bag of mystery powder, a green hair comb and a pile of papers. Others held rows and rows of cameras, dozens of Brownies and old Canons, Yashica's and Rolleiflexes.
Behind many of these shelves were photos of Karim's father, of him in a photo lab, or fixing cameras, or in promotional posters from various of his exhibitions held across Europe and Scandinavia. The room was a museum, a shrine, and a camera repair shop all at once. It was both humbling and ordinary.
I warmed to Karim, slowly and strongly. Over the coming days, I spoke to him often on the phone and visited him at his studio, where I interviewed him about his work, his love of camera film, his reluctant resignation to the fact of digital photography. He told me how instead of super-imposing his clients on scenes of New York and Washington, as is the fashion in west Africa, he was reminding his clients of their Malian village roots and superimposing them on landscapes filled with mud huts and dry Sahel grassland. He was getting the last laugh, in his own quiet way.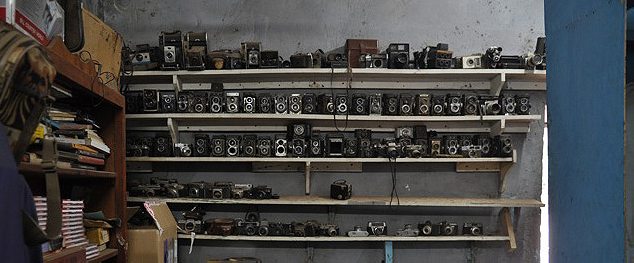 Towards the end of my visit I discussed with Karim the idea of him photographing me.
"What should I wear?" I asked. I was wearing my uniform of jeans, a t-shirt, my camera on my shoulder and a pen in my hair. I thought about his subjects in their sombreros, or the young men with their cameras around their neck. Perhaps he would depict me as I was, a journalist happily sweating over a notebook and an old plastic Nokia.
"Well," he went, his eyes flickering shut. "Yes, you're ok like that," he stuttered, "it's good, yes, well, you know, chez nous…"
He took a deep breath and started again. "Women. Here, we like women to, you know, look beautiful," and he swept his hands up to his flatcap to show the headpiece a Malian lady might wear. He summed up. "We like them in dresses."
The next day I went back, wearing the only dress I had with me. He had prepared the space, sweeping the curtain across the whole of the back wall and removing the stool. I hated to have my picture taken, so this was a once-only thing for me, and he, armed with a Hasselblad and expensive 120 film, wasn't going to waste more than one frame on me. "I must not mess up the shot… No no no!" he said dramatically. "That would be like a tunnel collapsing on me."
I stood, feeling awkward, shuffling my feet beneath me. Karim disappeared behind the camera, looked down into it, and then stood back. On my left hand I wore a ring, a large round of patterned brass, bought from a Malian Tuareg. Karim spotted it, and asked me to turn my hand so that it faced him, and to lift my other hand, lightly, into the air, so that my palm turned to face him also.
"Yes good," he whispered gently, holding his hand up to get my attention, "that's very pretty. Ok, watch out, it's coming…". And he snapped me, the bulb exploding to light up that iconic studio floor, and I, immortalised, on film, standing, disbelieving, in the very middle of it.