An offshoot of CeaseFire, the embattled Chicago anti-violence organization, takes on Africa's murder capital
On a sunny Monday morning, two young men in tracksuits stand at the edge of an open square in Hanover Park, a dusty township on the eastern outskirts of Cape Town. A crowd is gathering in the square, drawn by a community block party of sorts aimed at raising awareness of HIV/AIDS, which affects more people in South Africa than any other country in the world. Volunteers circulate sign-up sheets for free testing for the virus, while a group of young girls practices dance moves for a performance.
For young people growing up in Hanover Park, HIV/AIDS is a real threat. But it's far from the only one, and it's certainly not the most visible. Hanover Park is one of the most violent communities in Cape Town, which last year was labeled the city with the highest homicide rate, outside of war zones, in Africa.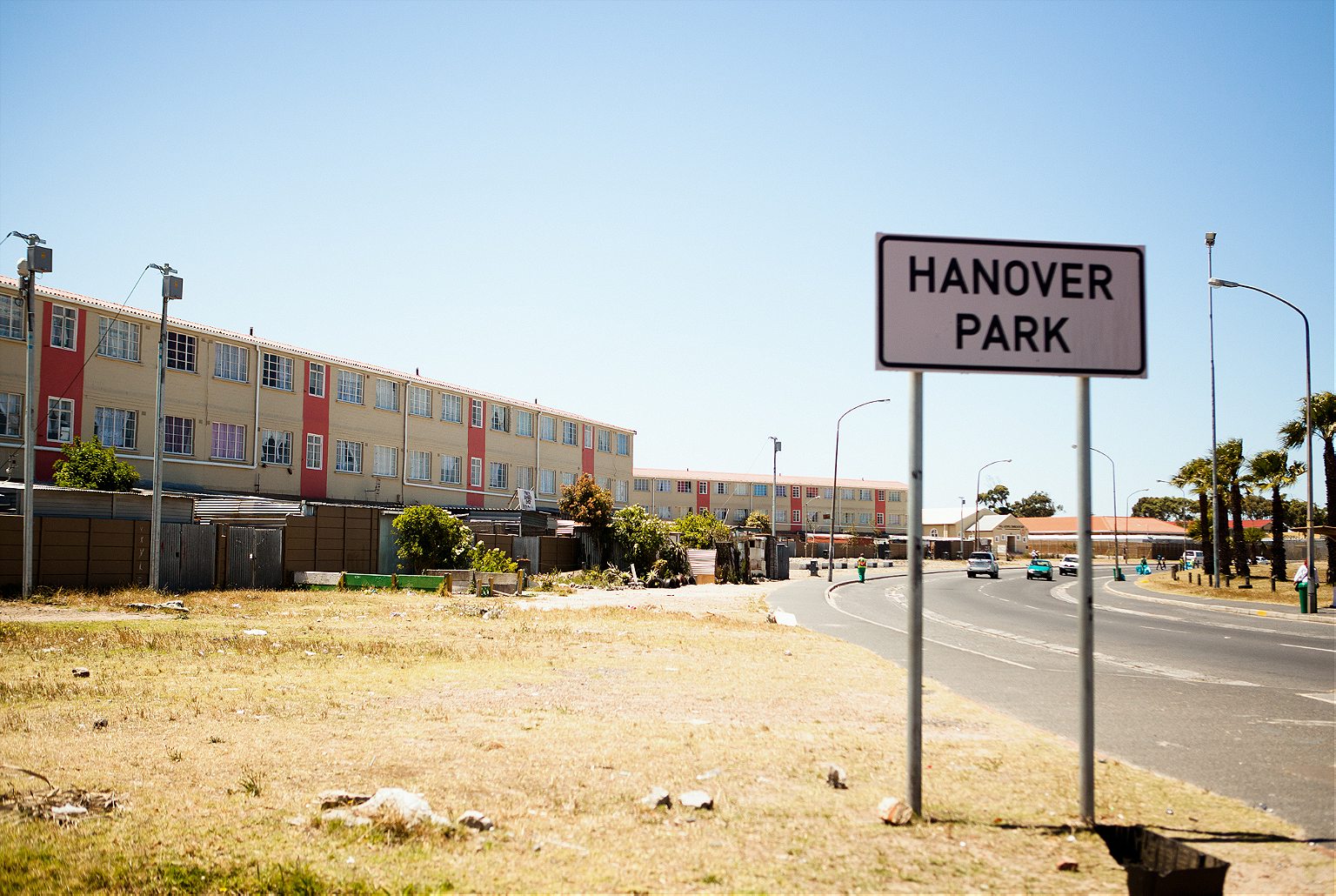 The two men in track suits, Albert Matthews and Glenn Hans, are well-known in the local gang scene. And sure enough, when word reaches the square by mid-morning that gunfire has erupted nearby, the pair start a brisk walk toward the source.
The days when these two ran with local gangs are over, though. Today, they're working to prevent the next shooting. The letters printed on the back of their black and yellow jackets bear the name of their organization: "CEASEFIRE."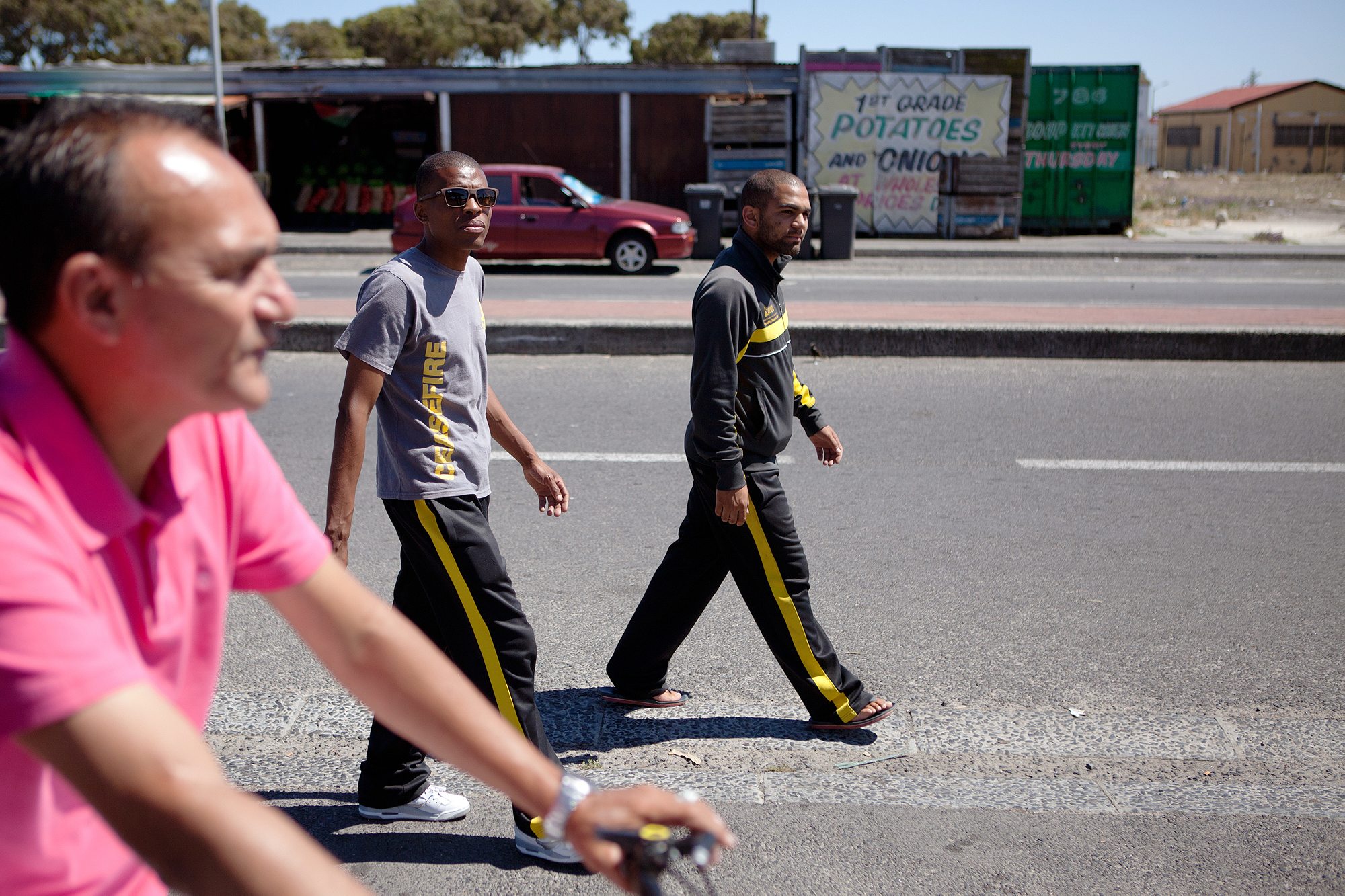 Half a world away in Chicago, these are uncertain times for CeaseFire Illinois, the anti-violence organization featured in the 2011 documentary The Interrupters. Founded in 1995 by Dr. Gary Slutkin, CeaseFire Illinois takes a public health approach to fighting gun violence. It employs former gang members as "violence interrupters" who develop relationships over time with people considered at-risk for committing acts of violence. Through these relationships, the interrupters try to dissuade these would-be aggressors from turning to guns to solve conflicts.
The Interrupters brought widespread praise for the organization, which has grown from its initial sites in Chicago into a network of two dozen sites across the state. In 2000, Slutkin started a separate organization, Cure Violence, with the goal of sharing the CeaseFire model in other states and countries.
But while Cure Violence has helped spread Slutkin's public health approach around the world, CeaseFire Illinois—the original site where Slutkin tested his model—has been hit hard by funding cuts. In March, Governor Bruce Rauner announced a spending freeze that included the immediate suspension of a $4.7 million state grant to CeaseFire Illinois. All but seven of CeaseFire Illinois' 24 sites shut down indefinitely, and funding for next year remains an open question.
Often overshadowed in articles about the future of CeaseFire Illinois, however, is the story of the day-to-day street work taking place as the organization's approach spreads far beyond its Chicago roots. Boosted by training sessions and guidance from Cure Violence, more than 50 sites around the world are using the model, employing former gang members in local hot spots as interrupters working to defuse conflicts before they become deadly.
One of these sites is in Cape Town, in the working-class and violence-prone community of Hanover Park. A series of visits to the site made it clear just how many challenges the group is facing there—and the strides it seems to be making nonetheless.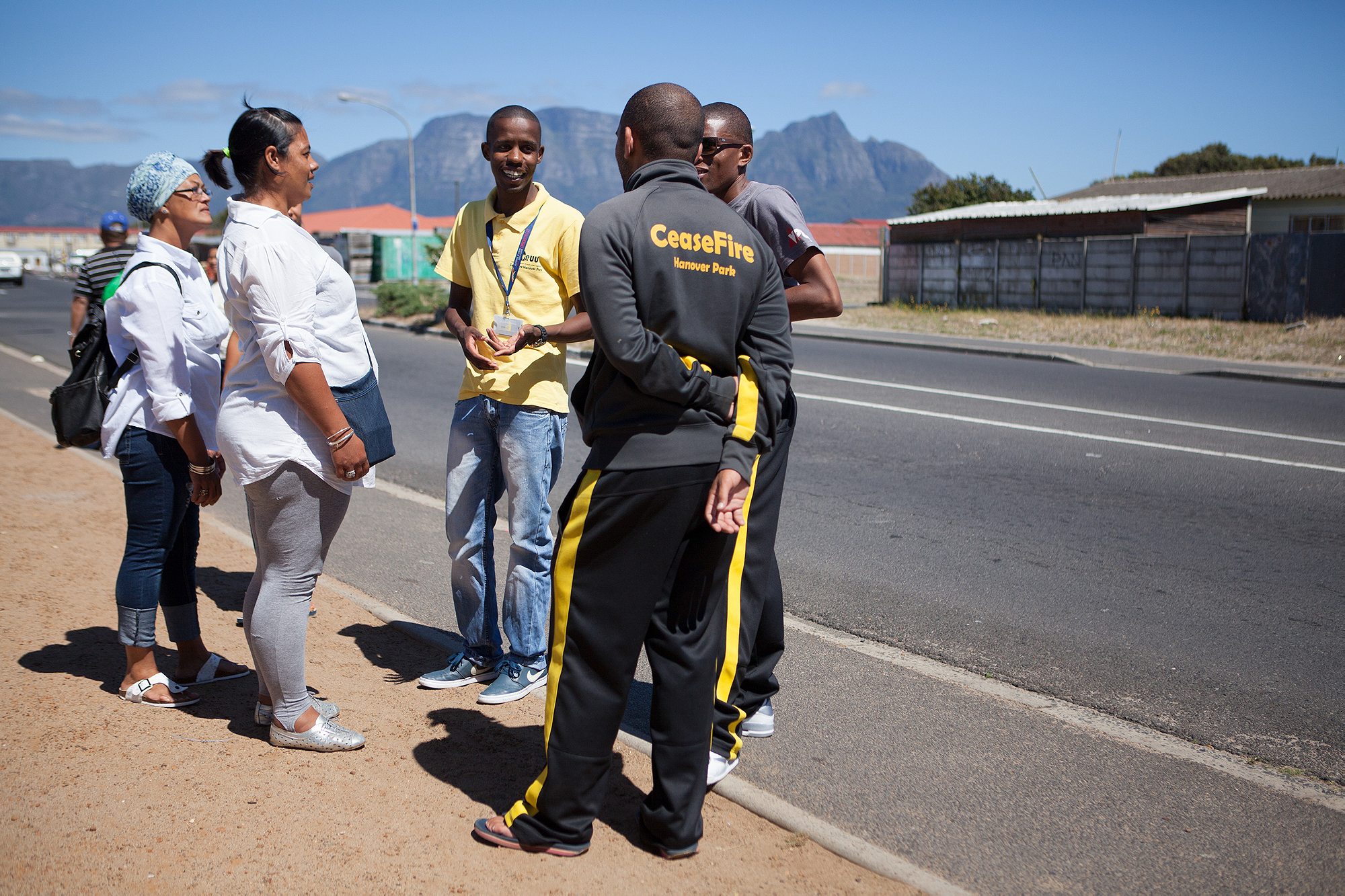 Back in Hanover Park, Hans and Matthews quickly walk away from the central square toward the source of the gunfire. A community member had approached a CeaseFire member in the square and passed along a report of a shooting nearby.
"Monday morning," says 30-year-old Hans, his stride quickening. "This has, like, never happened."
For Hans and Matthews, jokes and small talk usually flow easily. Now though, smiles shift subtly into more serious expressions as they head towards the scene of the shooting.
On the way there, they cross paths with the mother of a recent shooting victim.
They also spot Wilfred McKay, another CeaseFire member, who tells them he was 50 yards away from the shooter when it happened. McKay, 43, sports bright colors, a permanent grin—and, upon close inspection, a small gang tattoo he acquired during one of his 11 years in prison. McKay points Hans and Matthews in the direction of the scene.
South Africa's townships remain deeply segregated
As they continue towards the scene of the shooting, Hans and Matthews speak in Afrikaans, the first language of almost everyone in Hanover Park. More than two decades after the end of Apartheid, South Africa's townships remain deeply segregated, and Hanover Park's residents nearly all identify as "coloured," a local word for a mixed-race, Afrikaans-speaking community with deep roots in the Cape Town area. In the 2011 census, people identifying as coloured comprised 42 percent of Cape Town's population, the highest percentage of any racial group.
A couple blocks away from the square, Hans and Matthews decide to move off the main road, which serves as a border between two local gang factions. They walk past streetside fruit stands and a store selling sausage, burgers, and chicken. A car speeds by, drawing a glance from Matthews.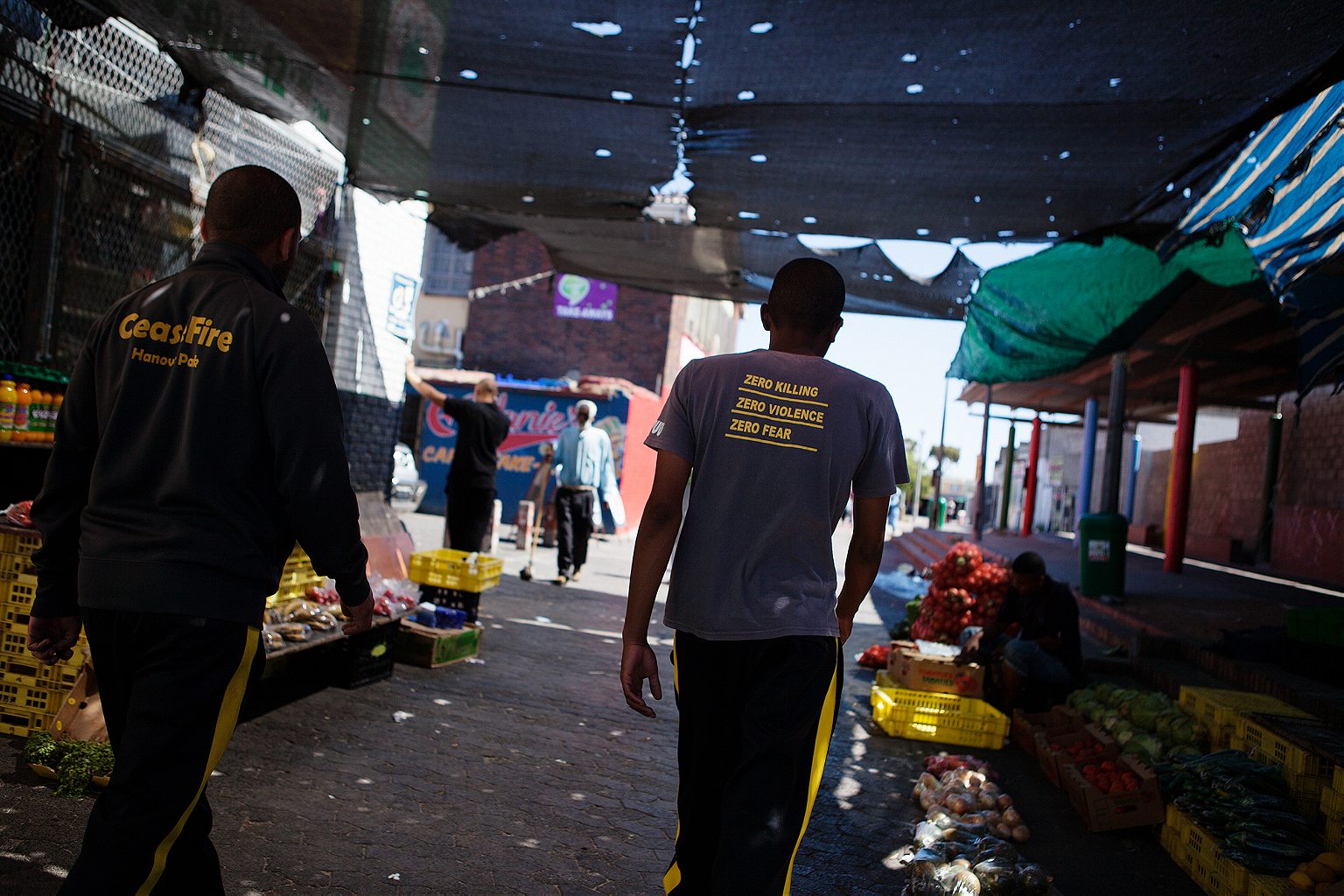 Despite Cape Town's growing reputation worldwide as a tourist destination—in 2014, the New York Times named it the world's top city to visit—the area remains a difficult place to grow up for many of its residents. Fears of violent crime are pervasive even in the affluent city center, where upmarket homes are enclosed by walls and electric fences. The vast majority of violence, however, takes place in the townships at the city's edge, a testament to the scars of Apartheid still visible in all South African cities.
In terms of total killings, larger townships like Mitchell's Plain, Khayelitsha, and Gugulethu comprise a larger share of the area's violence than Hanover Park, a community of 45,000. (By contrast, Khayelitsha's population has been estimated at over one million.) But that's little comfort to the people growing up in Hanover Park. Relative to its population, the township ranks among the area's most violent. In a 30-day period toward the end of last year, 16 people in Hanover Park were shot to death.
In a community of close quarters and a history of struggle, this epidemic—an intentional word choice used by Cure Violence—is one that touches everyone. CeaseFire Hanover Park operates from the second floor of the First Community Resource Centre, a church ministry that runs a number of outreach programs. Staff members hear gunfire occasionally through the ministry windows; during the 30-day surge in violence, Pastor Craven Engel says shots could be heard "every day."
Charismatic by nature, Engel exudes a confidence and conviction that seem to lend themselves perfectly to his work leading CeaseFire Hanover Park. Growing up in nearby Athalone, Engel learned the allure of gangs through firsthand experience. Many years ago, he and a group of friends started a group that became a gang. He made it out, though. First pursuing a career in graphic design, he then became a commercial artist. Fifteen years ago, he joined the ministry.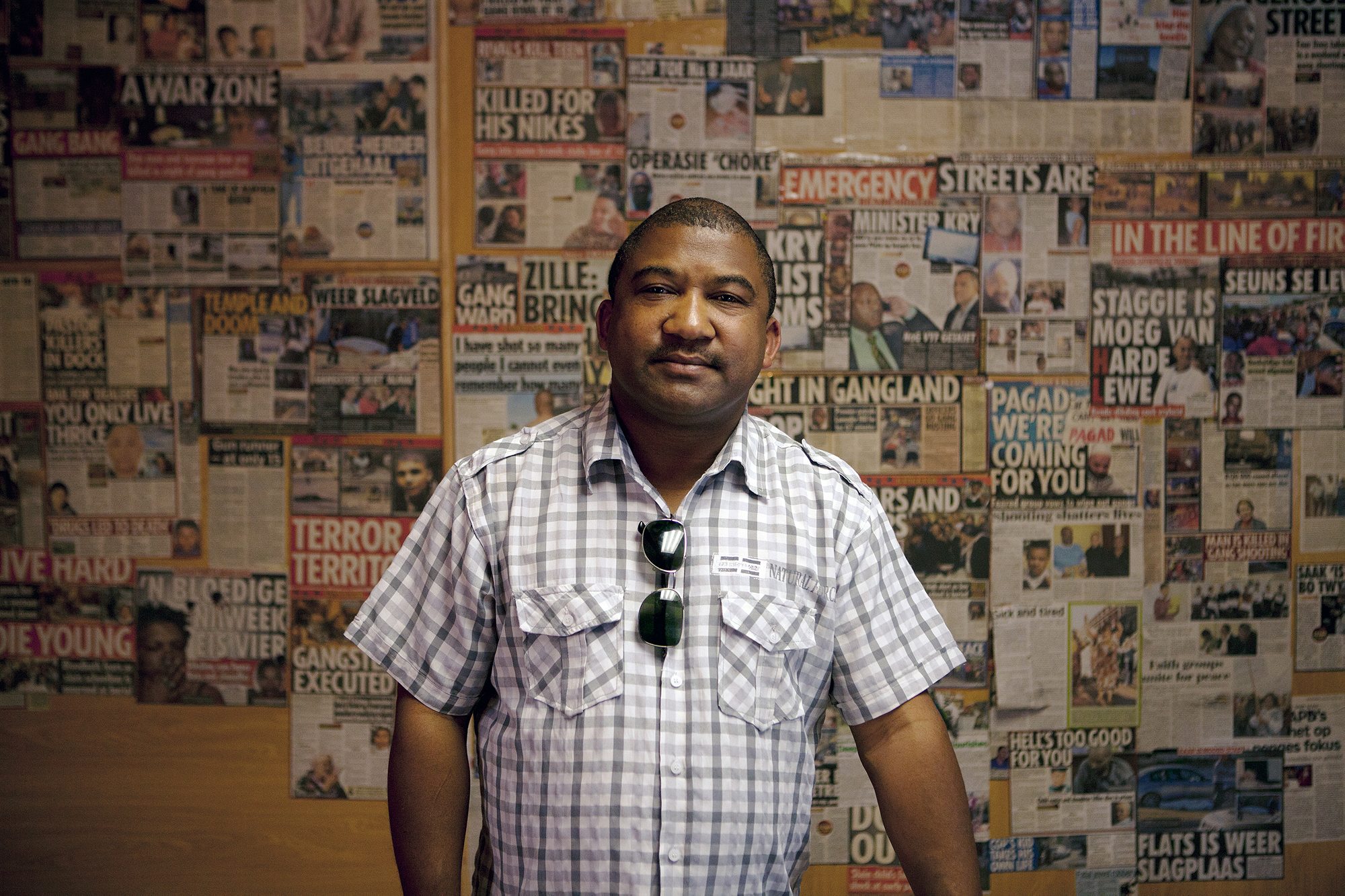 As a pastor, he turned his attention toward steering the area's young people away from the drugs and violence claiming so many lives. The two are closely linked; drugs offer a profit motive for gangs, and the widespread availability of cheap drugs like tik, a highly addictive narcotic popular—and cheap—in South African townships, complicate efforts to promote resilience and responsibility among young people.
From the start, Engel's approach emphasized rehabilitation, reaching out to people with credibility on the streets but an interest in creating a positive legacy. In 2010, he heard about the group in Chicago that was treating gun violence as a public health epidemic. CeaseFire's creator, Dr. Slutkin, hoped to slow the "transmission" of violence much as doctors try to treat infectious diseases; by identifying people most likely to spread the problem and working to "interrupt" the process.
"My God," Engel remembers thinking, "this is perfect."
All we know is that they're reformed gangsters. How reformed, we don't know
Hans and Matthews reach the site of the shooting, near long rows of apartment buildings adjacent to a major street marking the border between two gangs. Scouring the ground, they find no shell casings. (Some guns, like revolvers, don't leave casings behind). No witnesses are around, either. The pair walk back to the square, where the block party continues.
Mingling with community members are two members of the South African Police Service who work regularly in Hanover Park. There is no police station in Hanover Park, so the officers work out of a station in nearby Philippi, but the warm greetings they exchange with residents make it clear they're well-known.
Asked about the relationship between law enforcement with CeaseFire, the officers say it's a growing one. "We really appreciate what CeaseFire is doing," says Warrant Officer T. A. Allies. "Whatever help we can get as police, we welcome."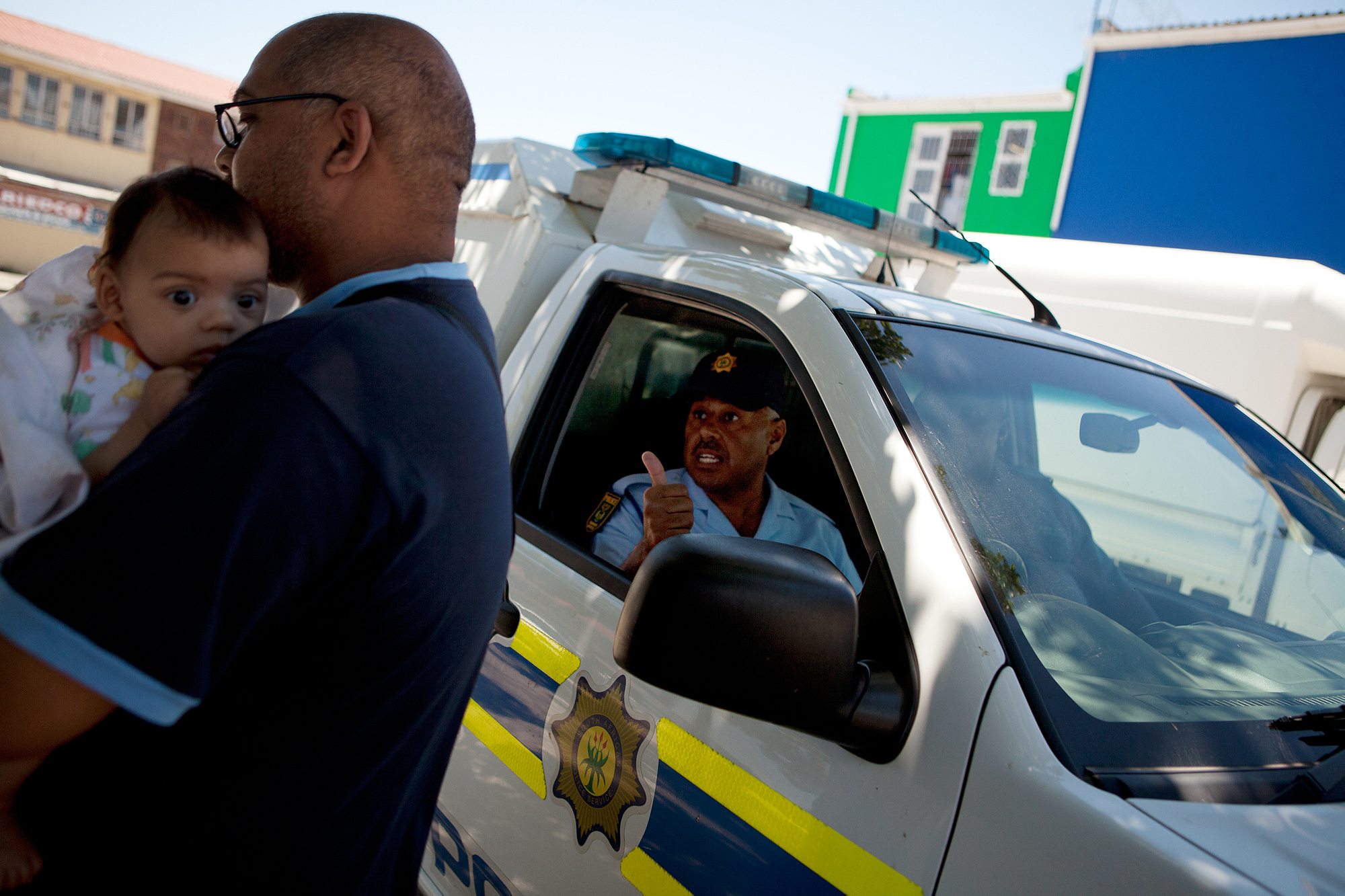 CeaseFire Hanover Park tracks data over time, and shares some of its findings with local police, helping them determine locations that are becoming hot spots. Still, like other chapters using a similar model, CeaseFire doesn't share specific tip-offs with law enforcement; doing so, they say, would undermine their credibility in the community. As it has in other cities, this causes some tension between the organization and the police.
"We don't screen [the CeaseFire workers]," the second officer, Ettiene Conradie, acknowledges. "All we know is that they're reformed gangsters. How reformed they are, we don't know."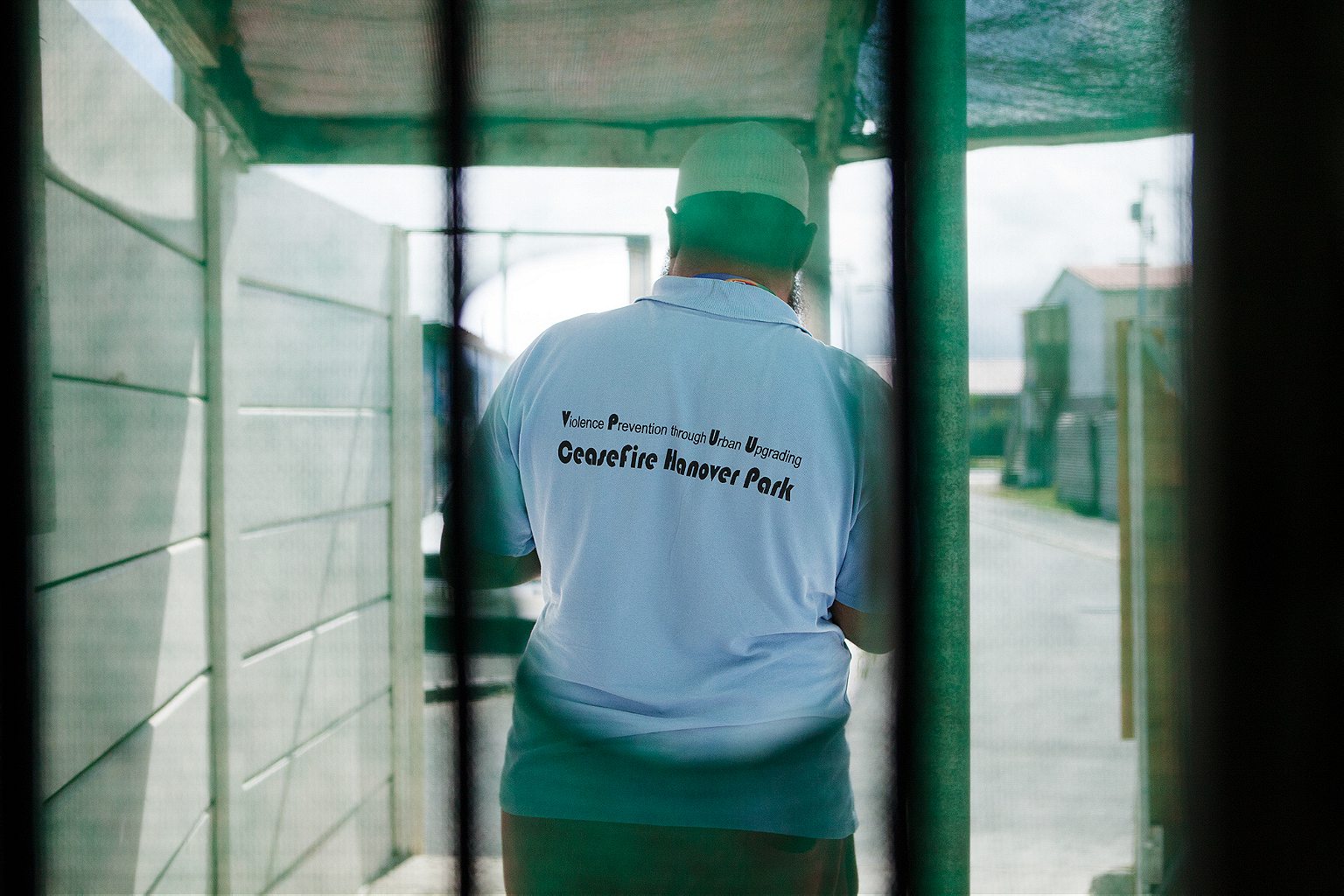 Funded by the city of Cape Town, CeaseFire Hanover Park employs a small staff of people with deep ties to local gangs. When they evaluate a potential hire, supervisors use a table that lists categories like "groups where credible" (essentially a list of local gangs and factions) and "areas of credibility." The more boxes an applicant has, the more valuable they are to CeaseFire—although every hire eventually works with other staff members to gain credibility in all areas of the community.
Being a successful CeaseFire worker involves much more than just having the right rap sheet. Outreach workers like Albert Matthews spend much of their time driving through Hanover Park, stopping to talk with gang members and establish the kind of social connections that will help them glean information about when or where conflicts are likely to arise. When an outburst is likely, violence interrupters, a separate job, meet with local gang leaders, working to resolve conflict through nonviolent means and dissuade gangs from using violence as a strategy or for retaliation.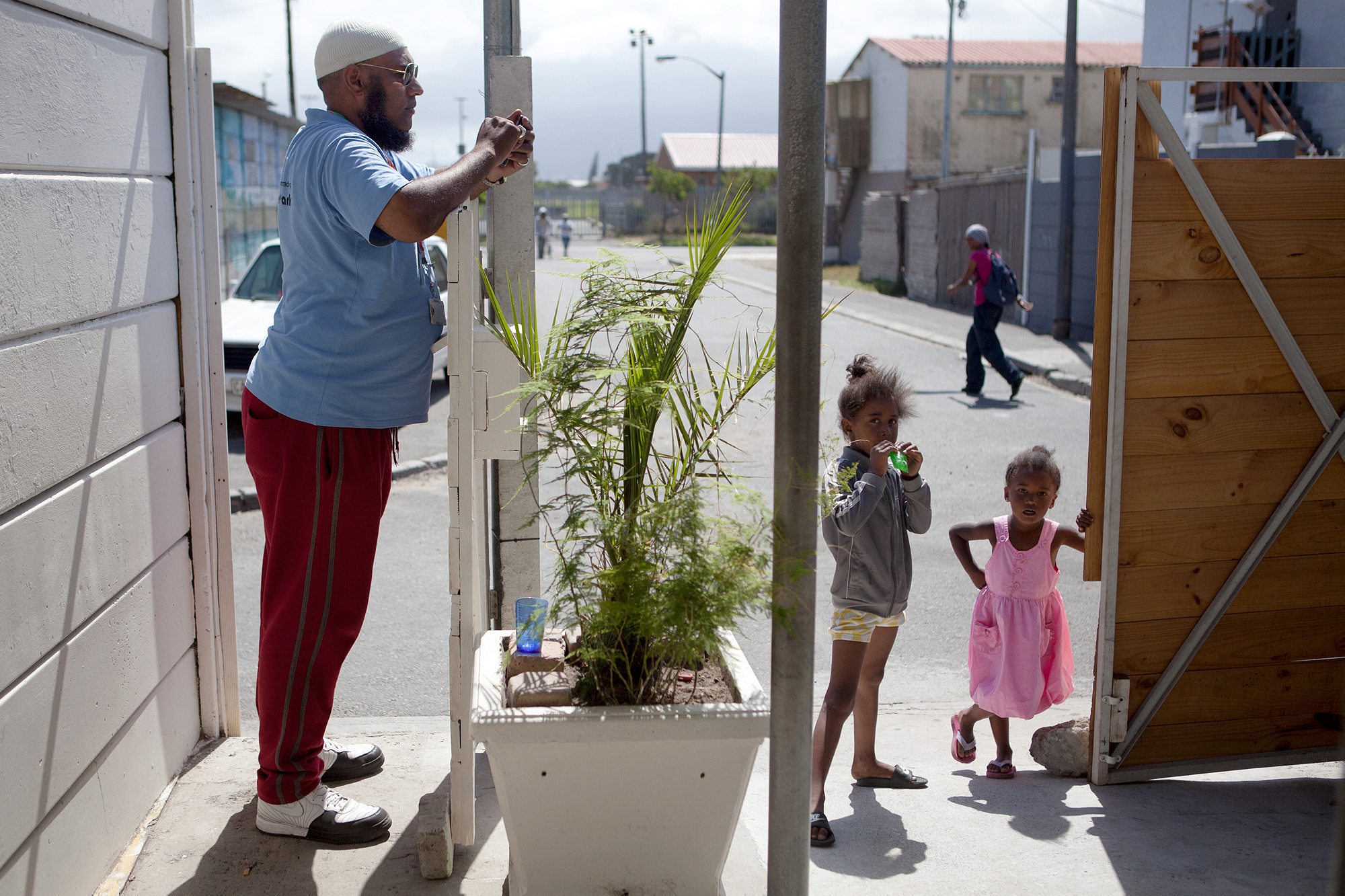 All of this requires a cool head in dangerous circumstances, a sense of humor, and a deep loyalty to the organization. One former employee "defected" from the organization, in the words of staff members, and returned to gang activities while still wearing the organization's clothing. Actions like that deeply undermine CeaseFire's credibility with both law enforcement and gangs, and they heighten the already significant risks for other CeaseFire workers.
By and large, though, the organization's workers exhibit a mix of fearlessness, commitment, and creativity needed to carry out the tough tasks they set out to do. Humor, sometimes self-deprecating, seems to be part of the job description. "I can talk a lot of crap," says McKay.
Matthews adds: "They say the CeaseFire guys are mad, because when we hear shots, we run toward them."
Once, while driving with his wife, McKay spotted a local youngster aiming a gun at someone else. Jumping out of the car, McKay called out and the would-be shooter recognized him. That gang member fired into the air—a ruse, McKay thinks, to convince fellow gang members that he had tried to hit his target—and ran off.
Albert Matthews recalls a time he bumped into a group of gang members preparing to carry out a shooting; a car aficionado, he popped his hood and showed off his souped-up engine, distracting the gang members until tensions had cooled and level heads prevailed.
Success stories like these have become a point of pride for CeaseFire workers. But there have been setbacks, too. McKay often hosts participants he works with in his home, giving them a place to lie low and get clean during a tough time. One participant ended up breaking into a vehicle and stealing from McKay's son, likely to support a drug habit. The hardest blows come when longtime participants fall victim to violence.
McKay turns serious when he recalls the shooting death of a participant he had worked with for eight years. "It's like losing a son," he says.
In addition to the individual relationship between staff members and young people, CeaseFire holds somewhat impromptu summits, opportunities where gangs in conflict can talk face-to-face. Carrying these out requires significant planning. During a recent one, for instance, outreach workers asked gang members to be prepared at a specific time to be picked up. Disclosing the location of the meeting, they feared, could lead rival gangs to wait in ambush.
Workers then drove members of several gangs to a nearby mall, where they met at a popular seafood chain. Trying to minimize the chance of violence breaking out, staff members had called ahead, asking the restaurant to leave forks and knives off the table.
The summit broke down part-way through the meal, with gangs storming out. Still, no one was hurt. Progress can be frustratingly slow, but even bringing gang members to the same table, Engel says, was a success.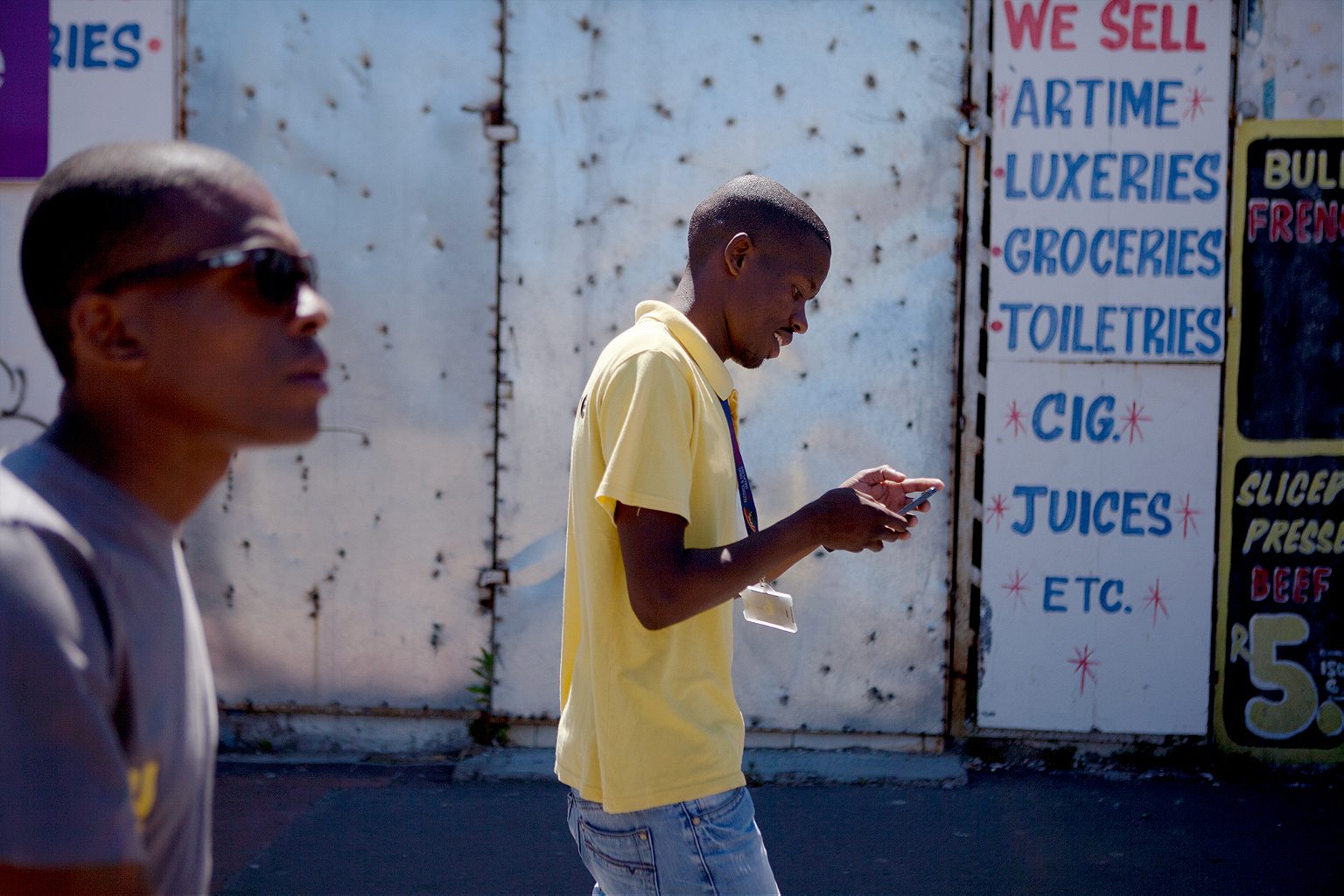 Violence remains rife in Hanover Park
Despite all that CeaseFire is doing, however, violence remains rife in Hanover Park.
During drives through the township, Matthews stops repeatedly to greet groups of gang members. Handshakes and smiles flow easily, even occasional peace signs and shouts of "CeaseFire!" Yet respect for CeaseFire workers and the organization has not translated into peaceful streets.
The influence of drugs in the gang violence can hardly be overlooked. CeaseFire runs intensive residential programs at a site outside the township, designed to give addicts a physical space to decide what kind of a future they want for themselves. Demand for these programs is high.
On one cruise through the township, Matthews drives down a narrow alley and spots a 23-year-old he recognizes standing in the doorway of a garage. The 23-year-old, who asks that his name not be published, is wearing grey sweatpants and orange plastic flip-flops. He steps out to talk with Matthews in his car, and his eyes dart up and down the street every several seconds. From time to time, someone will approach, and they'll greet each other in Afrikaans. Coins will change hands, followed by small packages.
"To be honest with you, I'm a gangster," the 23-year-old says later, in the backseat of Matthews' car. "I sell heroin," he continues. "Only heroin."
At 20-25 rand a pop—approximately $1.50 to $2.00—the small packages of heroin that he sells can get up to four people high. When the dealer was four or five, someone fatally shot his older brother, who was in his teens. From that early age, he says, this was his path.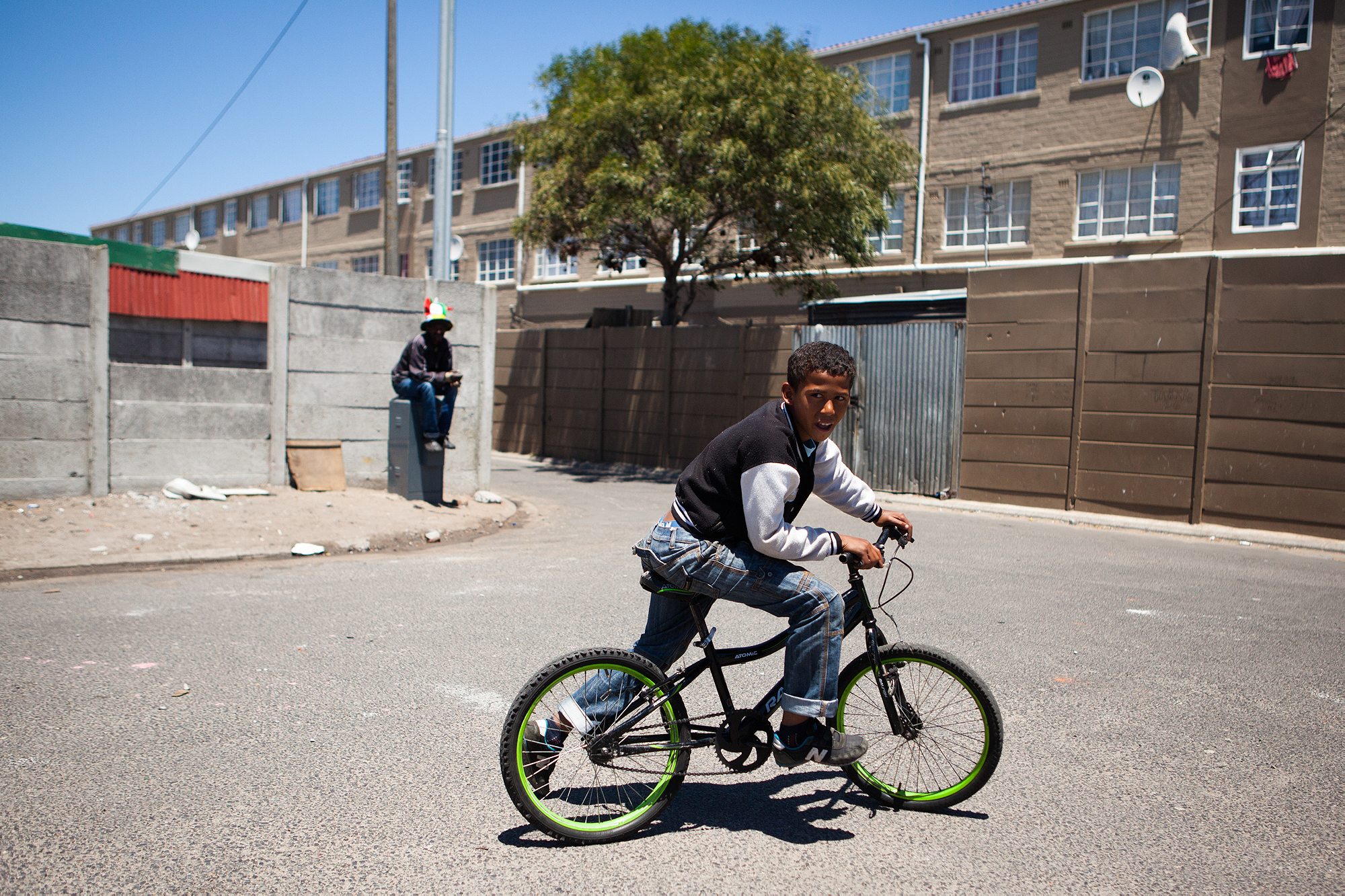 For Matthews, connecting with people still deeply involved in street life seems to come naturally. His path to CeaseFire started about a decade ago, after three stints in prison for drug possession. Loosely affiliated with a local gang, Matthews was regularly using tik. On a Saturday afternoon he remembers clearly, a friend of his was shot 14 times in front of him. The friend died in Matthews' arms.
That Tuesday, his group of friends spray-painted a wall commemorating the young man; the next day, another friend was shot and killed.
That was the turning point for Matthews. He remembers asking himself: "Do you really want to die like that?" These days, it's a question he hopes he can impart on young people still active in gang life.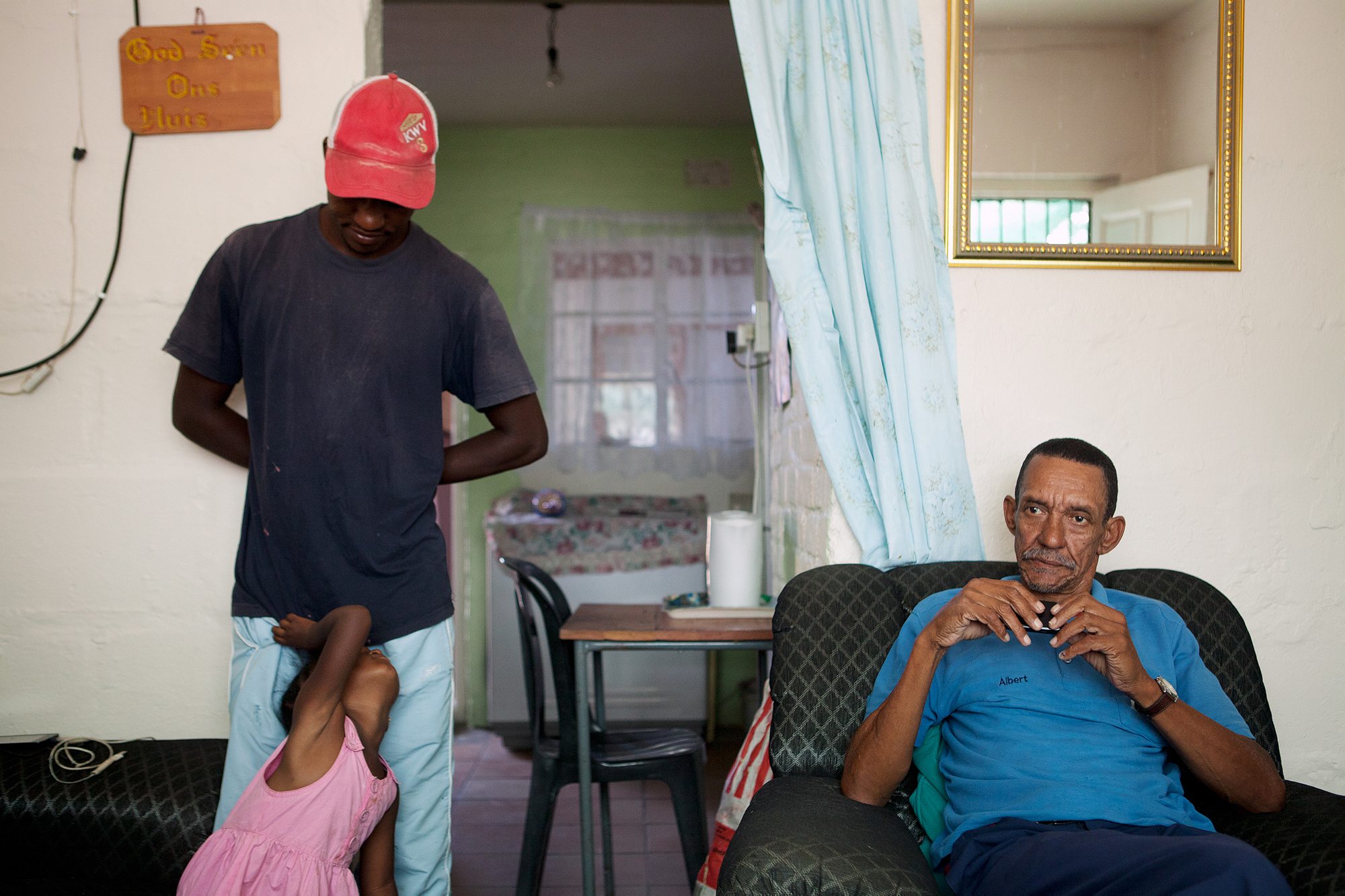 On one drive through Hanover Park, Matthews spots a boy in his mid-teens in a front yard, cracking a gate open and peering out toward the street. When the boy sees Matthews, the gate closes. Slowing the car, Matthews guesses the boy is tucking a gun away, and a moment later, the boy emerges, empty-handed.
"This guy can eat a lot," Matthews announces, by way of an introduction, as the stout teenager approaches the car. Everyone laughs.
The teenager greets Matthews, and McKay, who is riding in the passenger's seat. After a brief conversation in Afrikaans, the three say goodbye, and Matthews drives on.
"He was volunteering with us more than a year ago," McKay says. But after a friend was killed, the boy feared for his safety. He left the CeaseFire program he was involved with, and in the streets, he's known as a shooter.
"He's a killer," McKay says.
Days later, the boy is at the front of a small group of teens that arrives unexpectedly at the CeaseFire offices. Outreach workers seem surprised to see the boys. Ignoring a sign by the front desk that says Pastor Engel is available by appointment only, they ask to see him.
Moments later, the pastor walks out and invites them in.