A Cinnamon Roll with Swedish Restraint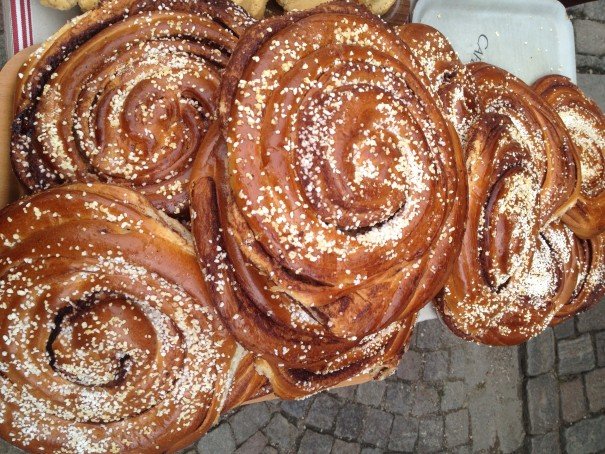 A Cinnamon Roll with Swedish Restraint
Kanelbullars in Gothenburg
In Gothenburg, Swedes look forward to their fika. While it's not breakfast per se, the Swedish morning break reserves the same hours as a Sunday brunch in America and the cafes in the city are abuzz with those seeking caffeine and confectionaries well before noon.
A walk through Gothenburg's old quarter, down the street Haga Nygatan, unbalanced tables and old desks converted for restaurant use are packed on the edges of the cobblestoned thoroughfare. While most cafes offer a unique take on the fika, from the modern establishments doubling as furniture shops to the classic coffee houses, Cafe Husaren at the western end of the street stands as an institution. As if staged to be the literary setting for a Wes Anderson film, with its odd color schemes, nostalgic photographs, and distracting wallpaper, Husaren is home to plus-size pastries and industrial-strength coffee.
The cafe displays giant meringues, plate-sized cookies, and prodigious pieces of pie, but most Swedes opt for the kanelbullars, which are piled up high to resemble a tire pit filled with wheel-shaped edibles.
These treats, best known as cinnamon rolls in the States, have had their name slandered, corrupted by Cinnabon and comedians alike. Despite their size, these aren't the industrialized desserts that Louis CK buys and equates with hitting rock bottom. "I'm buying a Cinnabon," he begins his joke, "at the airport… I arrived at."
Sweden's cinnamon rolls are a more wholesome, refined version. That congealed white sugar is supplanted with a few sugar crystals that resemble the salt on a pretzel, and the cinnamon swirl is subtle, as opposed to that dense swoosh of brown in Cinnabon's version. And while "no one's happy on the Cinnabon line," according to Louis CK, the fika is a time of gleeful chatter and satisfied eating, and patrons have the good sense to split the oversized pastry before heading back to work.