After Russia's takeover of Crimea, a famous rave relocates to an increasingly conservative country, the Republic of Georgia.
I admit it was a blonde kneeling on the bar baring her breasts that lured me under the canopy. She had taken off her leather batman mask and her fishnet body suit was in tatters.
The drum and bass rhythms of electronic music pumped from a nearby club, while a dozen men, mostly Georgians, stood by, telephones out, recording her drunken impromptu striptease. The Russians and Ukrainians just smirked and went on with their banter: they have seen it all before. In Kazantip, Europe's most renowned beachside rave, breasts are window dressing, the pulse of electronic music is unremitting and debauchery is the axiom. The Georgians, however, were wholly unused to this.
Sashka Toykinen, owner of the Zapravka Bar, introduced himself and bought me a shot, then another. A Georgian got on the bar and began groping the girl while other men crowded closer with their phones and started reaching out with their free hands. In an instant, a tall Russian girl stepped in and chased the men away with cusses, kicks and swings.
The Burning Man of the East
"You want to work the bar?" Toykinen asked me.
Kazantip, which takes its name from the cape in northeastern Crimea where the festival started, is the brainchild of Segway-riding Ukrainian, Nikita Marshunok. He is the self-declared "prezident" of the so-called Ex-Democratic Republic of Kazantip, who charges around 200 euros for a multi-entry visa to enter his country. It started as a windsurfer's beach party in 1992 and morphed into an annual month-long electronic music party attracting tens of thousands of revelers—mostly Ukrainians and Russians—and the world's top DJs to an abandoned nuclear reactor on the Crimean peninsula. When he moved his "country" in 2001 to the underdeveloped village of Popovka in western Crimea, the event was already being called the Burning Man of the East. Last year it attracted a record 100,000 people. But when Russia forcibly annexed the Crimean peninsula in March, Marshunok was faced with new legal and political complications for Kazantip. The prezident had to find new borders for his republic.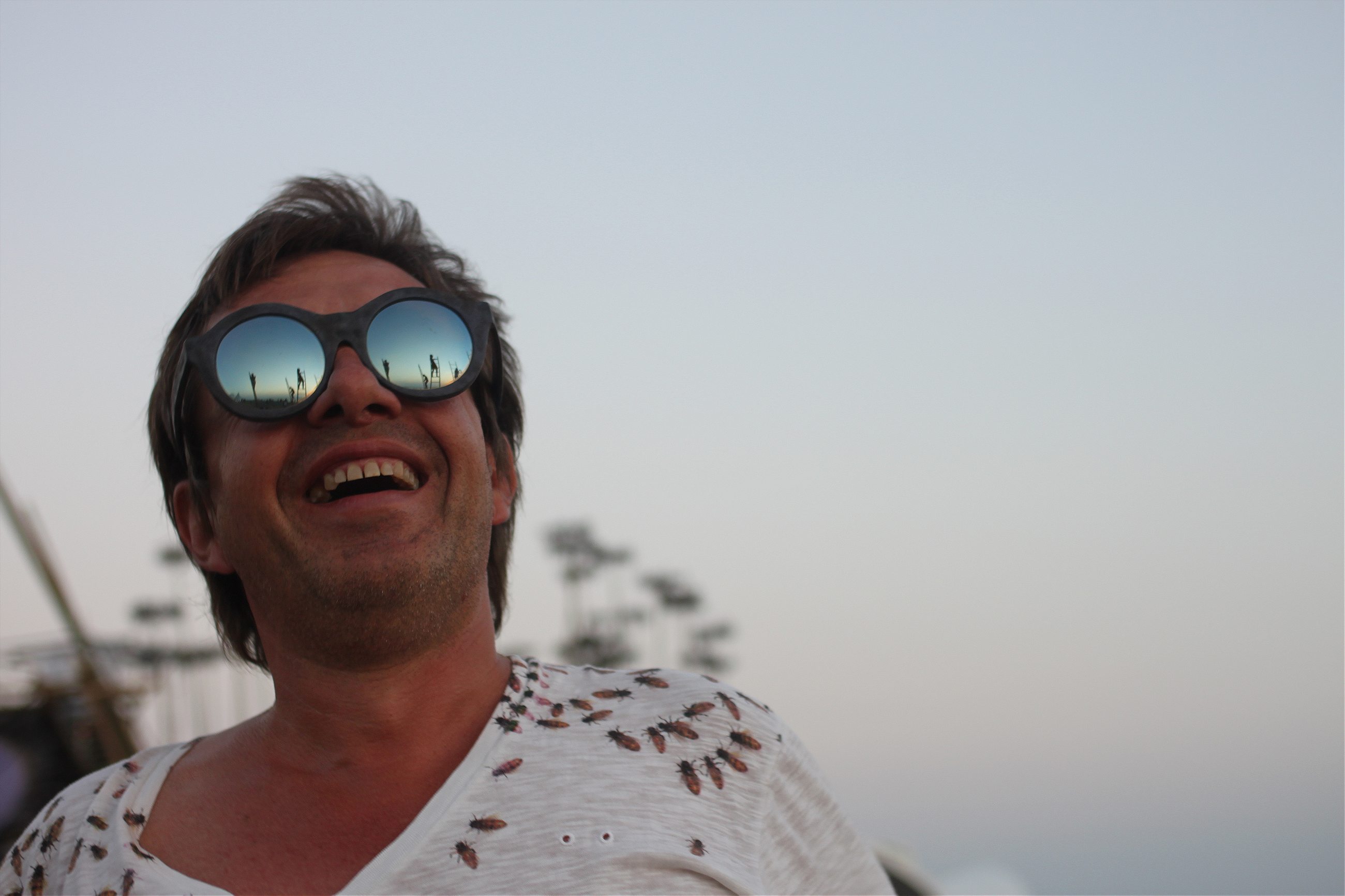 Georgia's reputation for plethoric hospitality is well established within the former Soviet Union. Moreover, the small South Caucasus country has made a name for itself in a region dominated by systematic corruption as a reformed country that you can freely do business in. Moving Kazantip to Georgia seemed like the perfect solution.
The blonde had been gone for hours and I was busy learning how to make cocktails like the "Boyarsky," a shot of grenadine and vodka named after the Russian actor who played d'Artagnan in the Russian version of The Three Musketeers. More complicated cocktails requiring more than two ingredients, I passed to my colleagues, a hodgepodge of Russians, Belorussians and Ukrainians. You would never know civil war was raging in southeastern Ukraine between pro-Ukrainian and pro-Russian separatists, even though some of the Ukrainians here supported the protest at Maidan in Kiev. But one of Kazantip's maxims is that it is "a bulwark of freedom and the struggle against global idiocy."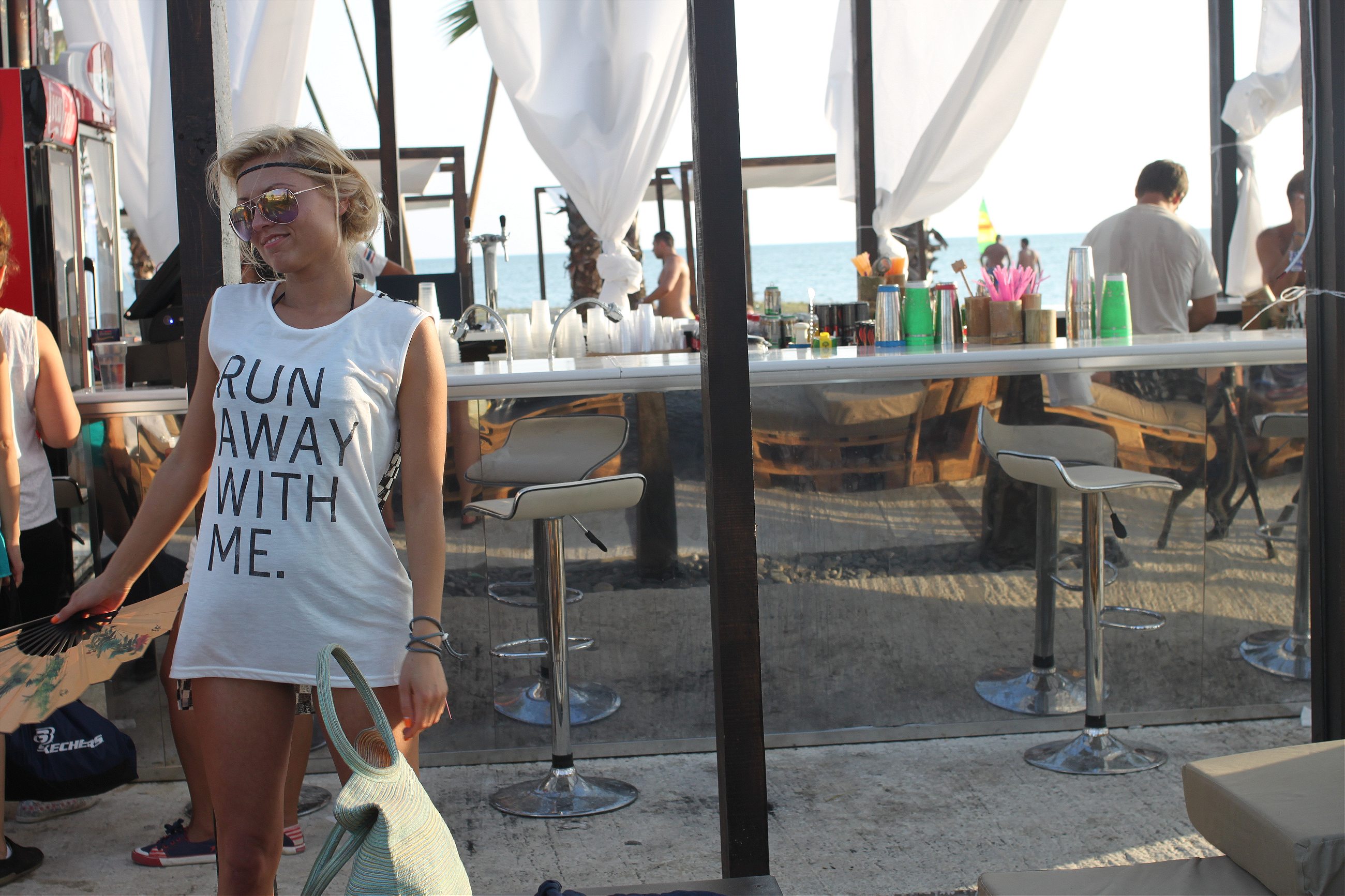 When news broke in the spring that Kazantip would be coming to the would-be beach resort of Anaklia in western Georgia, the priests got angry. Over 80 percent of the country's 4.5 million people consider themselves Georgian Orthodox Christians, and the Patriarch of the Church has the highest popularity rating in the nation. The Church and conservative nationalists led a series of protests in the capital Tbilisi against the perceived immorality of Kazantip. This is the same Church, incidentally, whose priests led a mob of tens of thousands of homophobes to attack a handful of LGBT rights activists in May 2013.
"The ideology of Kazantip promotes psychedelic drugs and the ritual of free sex. Of course, we're against that. How can a healthy person be for that?" asked Iosef Manjaridze, a leader of a May 26 protest in the capital, Tbilisi. When I met him there before the rally, Manjaridze, hunched and pale, reeking of beer and smoking a cigarette, was hardly a picture of health himself.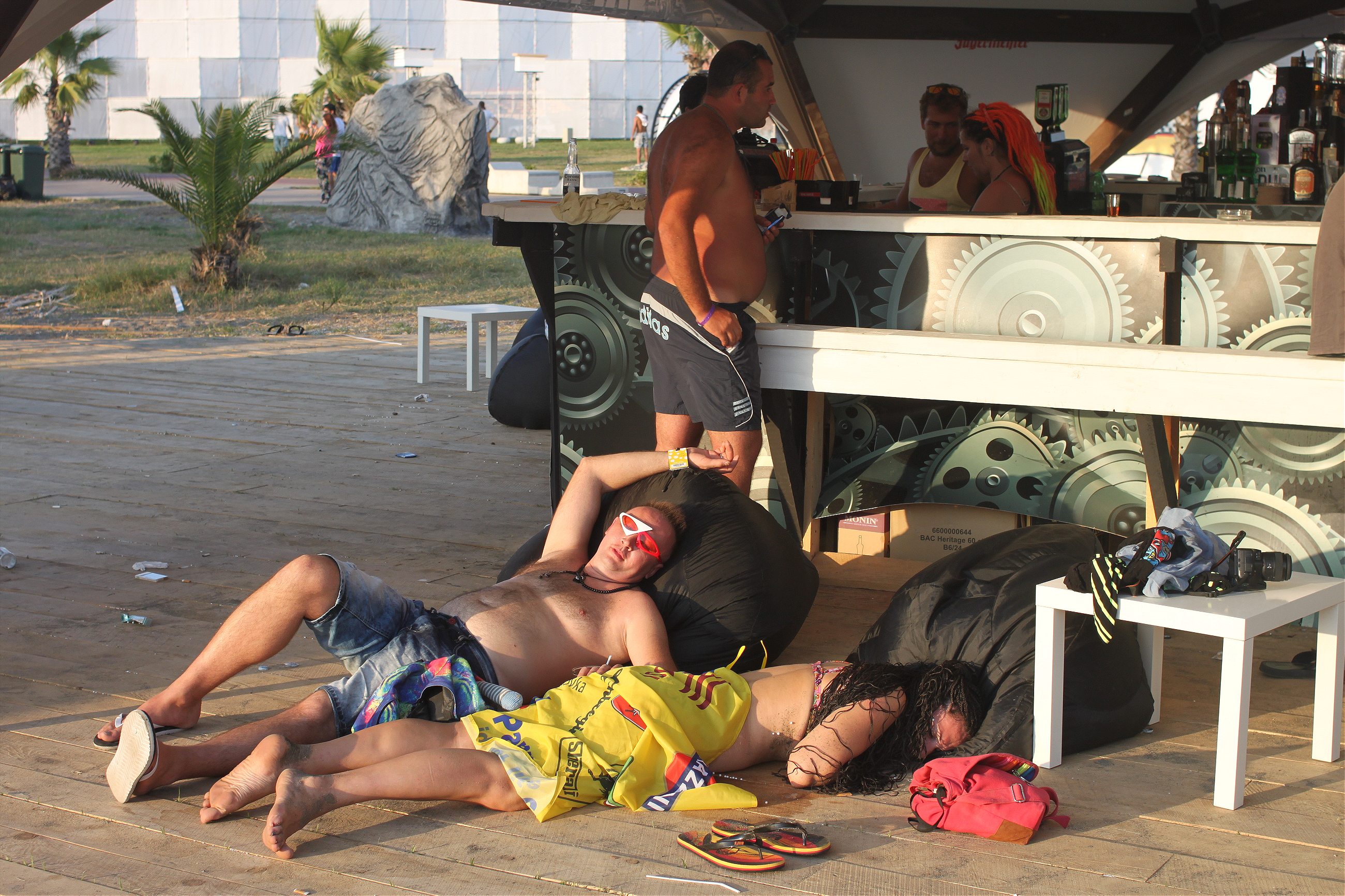 Despite Marshenok's assurances that there would be no orgies or drugs and of his respect for the Orthodox faith, the priests and their powerful lobby kept the pressure up, spreading tales of Kazantip's presumed association with black magic and claiming Kazantip had ministers of homosexuality, masturbation and untrimmed body hair.
The residents of Anaklia, however, were not going to be blackmailed by the Sodom and Gomorrah rhetoric coming from Tbilisi. This impoverished village of 2500 people, which has long been trying to create a tourism industry for itself, saw the rumored 30,000-40,000 visitors as a golden opportunity. People spent the summer fixing their houses to accommodate guests and spent the weeks before the event building little makeshift bars and restaurants along both sides of the kilometer-long main drag.
"Nobody in Anaklia is against Kazantip. It's a festival. Young people dance, relax and have fun. The only people against it are outsiders," septuagenarian Pavel Tsusurmia told me over a beer in his front yard.
By the third day of Kazantip, it was evident that the expected 30,000 people were not going to come. The daily tallies were between 4,000 to 5,000 and Marshunok's offer of free admittance to Georgian and Ukrainian girls appeared to have fallen on deaf ears. This was an enormous disappointment for the Georgian and other South Caucasus men who came to pick up Slavic girls. Never good at taking "no" for an answer, the only scoring the Georgians got was points for annoying the girls.
I can't find drugs. Can you help me?
While the turnout was still a record for the locals, it was bad news for the concession owners in Kazantip. Renting space for the ten-day event cost a bar 15,000 euros, payable to a Kazantip account. Toykinen, who has operated his Zapravka Bar for ten years at Kazantip's previous location in Popovka, said he had invested about $50,000, free bartending from myself notwithstanding. "It looks like I'm going to lose money, but at least we'll have fun," he said.
Fun at an electronic music party means plenty of drugs to go around, but few dared to smuggle drugs into Georgia, which has some of the strictest anti-narcotic laws in the region. Possession of just several grams of marijuana can put you behind bars for up to 14 years. There were drugs, of course, but attendees weren't getting any without the right connections.
At the Zapravka, which was open 24 hours, people made up for the lack of MDMA by drinking massively. They'd drop by for a drink or two and then go dance at a nearby stage and return. One guy, though, was slouched over his beer, with a pained end-of-the-world expression only a Georgian can make. "I'm depressed," he said at the most studiously carefree event Georgia has ever held. "I can't find drugs. Can you help me?" Minutes later, another agonizing Georgian at the other side of the bar said the same thing. Sasha taped up signs announcing that there were no drugs, so do not ask. Still, people asked if the signs were for real.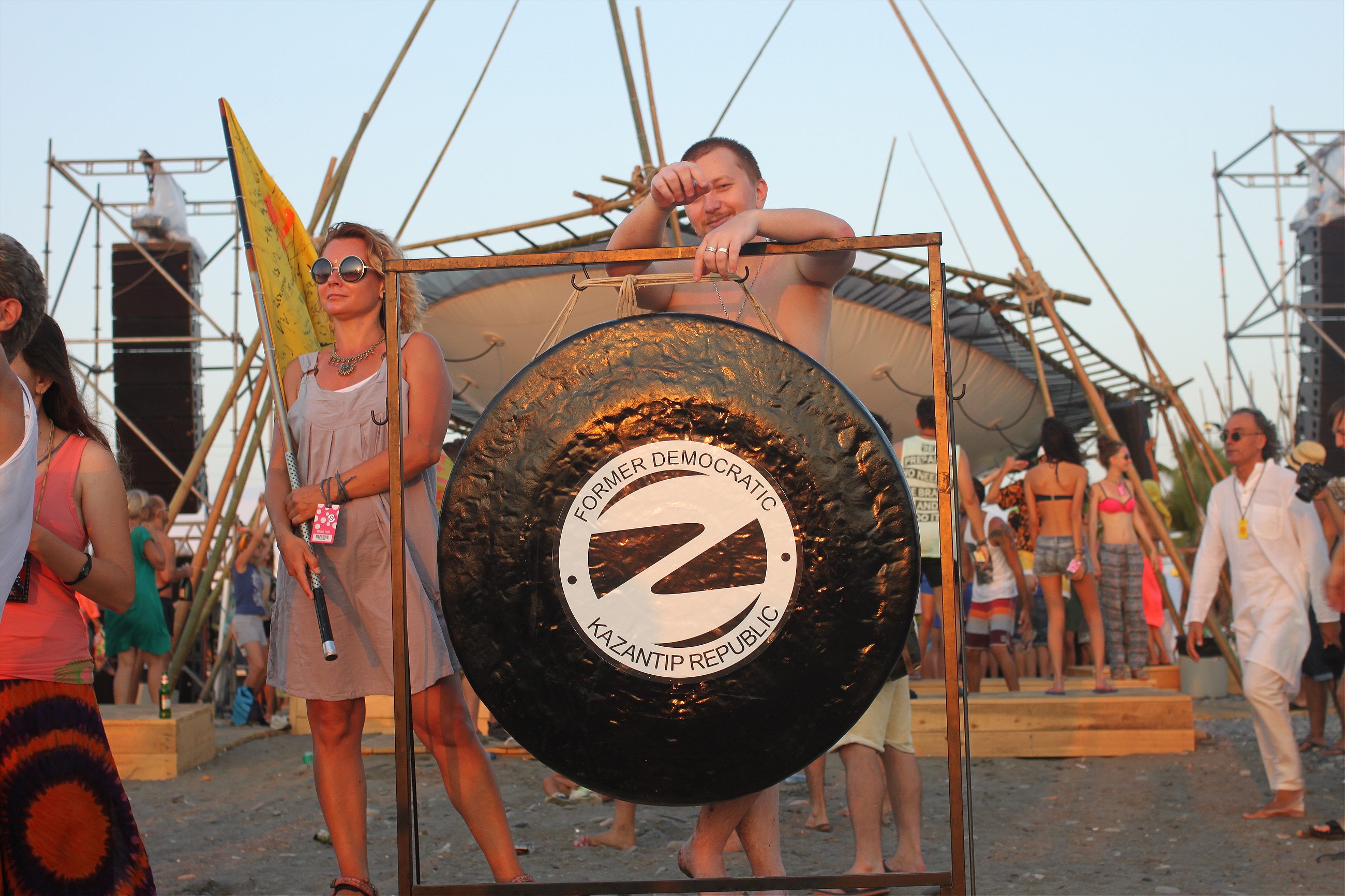 The cops didn't help lighten the drug-free downer. In Popovka, Marshenok had used his own security. In Anaklia he had to accept police protection. It's impossible to say what the police expected to happen at a dance festival, but there were more police visible in Anaklia than there were in Tbilisi when George W. Bush visited in 2005.
One veteran Kazantip partier named Sergei cornered me at the bar, carping about the police. "If Kazantip is in Georgia next year, I'm not coming," he said.
Some facility owners complained of how Georgian officials slapped unexpected taxes on tent space inside Kazantip and that they were forced to buy beverages from a single distributor who had jacked up the prices. The man credited by the government with bringing Kazantip to Georgia, Giorgi Sigua, was fired from his post as head of the Department of Tourism three weeks before Kazantip started. He refused to talk to me about Kazantip, offering only a pithy response on how it arrived to Georgia. "By plane," he said.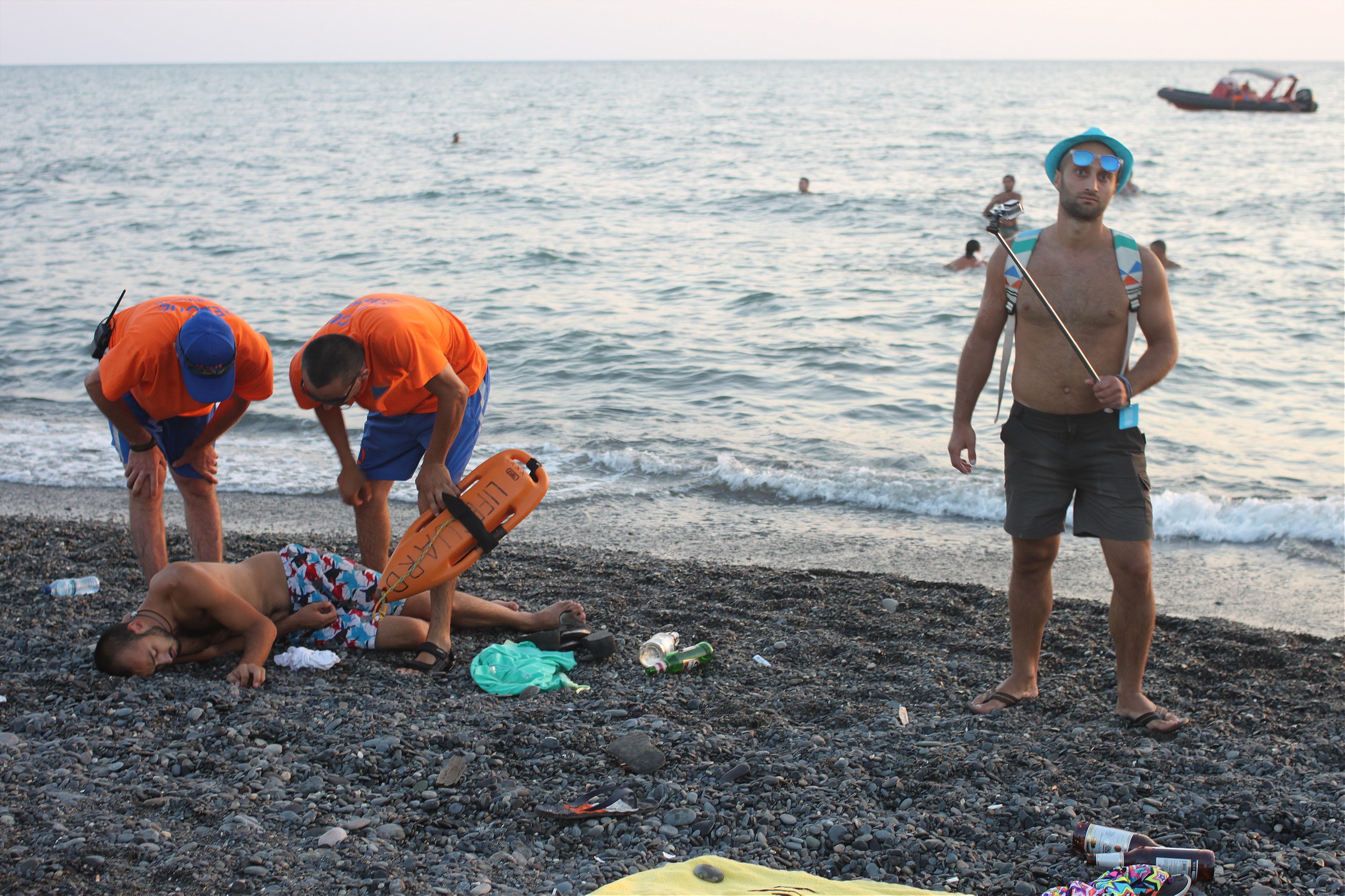 Most Kazantip participants agree that Anaklia is a vast improvement over Popovka in terms of beauty, infrastructure and local hospitality. Yet Kazantip's return to Anaklia depends on whether Marshunok thinks it's worthwhile. At first, he was optimistic. I caught him on the beach catching Kazantip's first sunset on his Segway, where he posed for pictures with his admirers. He compared this project to fusion cooking, where "you put things together that don't seem to match and still you create something new." But by day five, that buoyancy had foundered among his complaints of high prices and low Georgian turnout. "We want to share beautiful music… But Georgians sit at home, watching us on Facebook," he told the press.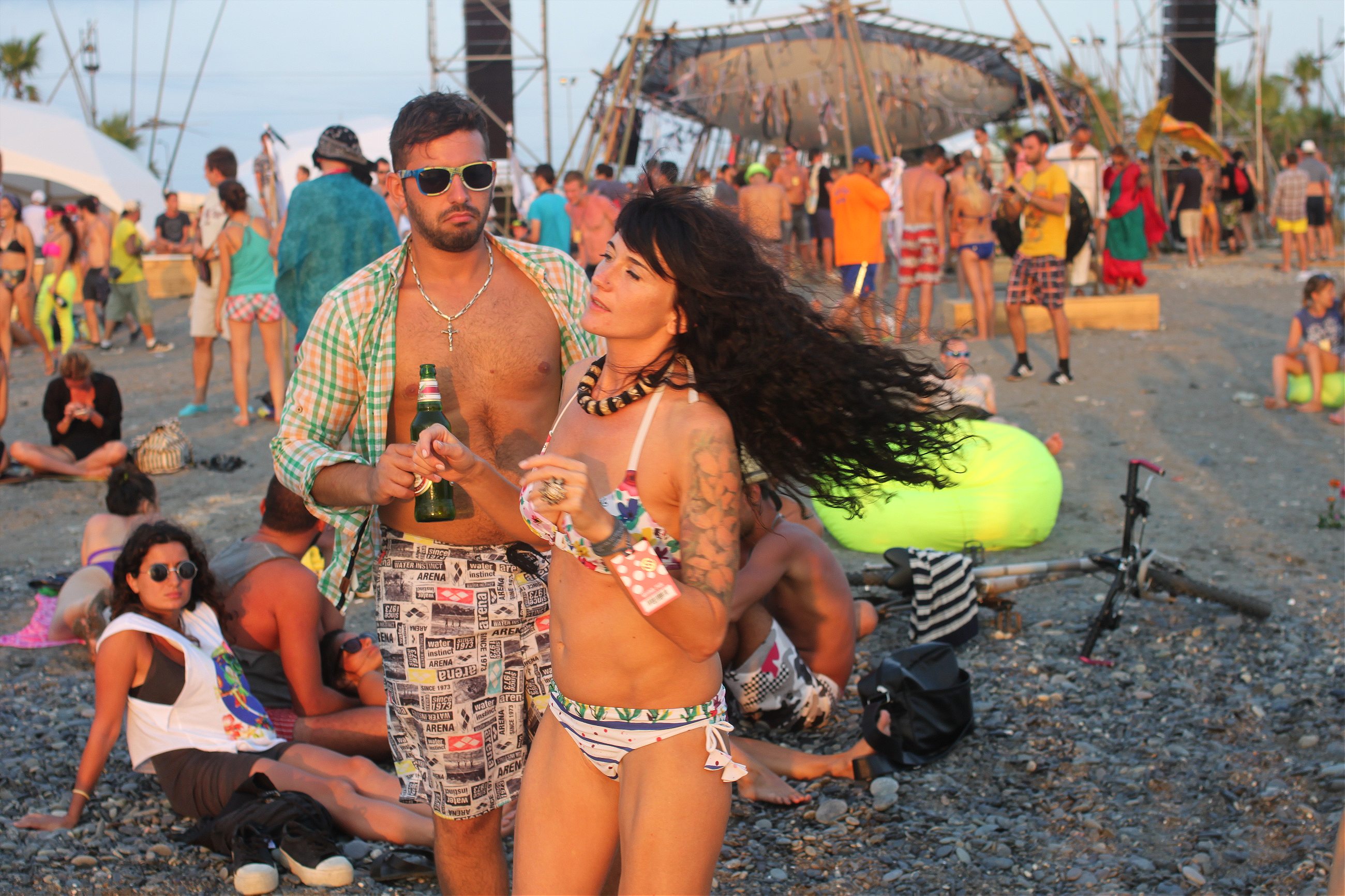 It's hard to imagine what Marshunok expected. He moved his party across the sea to a country that has only 10 percent of Ukraine's population. He shortened the length of the event by over 65 percent. He built Kazantip from scratch in Crimea and has to do the same in Georgia if he wants it to grow. Then again, Kazantip's success depends on how far Georgia is willing to go to accommodate the "Burning Man of the East" and reap the economic rewards it will surely offer instead of squeezing it for money the first time and blowing the chance forever.
The Zapravka Bar is the epicenter of the pulsating 24-hour party. People drink until they quite literally drop and that's okay. It's expected. It's Kazantip and sadly, I have to leave the best party Georgia has ever had. I hug my new friends goodbye and we promise to see each other sometime, maybe next year at Kazantip, wherever it may be.