Migrants keep dying in Italy's waters, but for true immigration dystopia, look no further than Spain's barricaded enclave of Melilla.
GURUGU MOUNTAIN, Morocco—
It is a warm summer night on Gurugu Mountain in northern Morocco, and We Wish You a Merry Christmas rings out from an old cell phone. The man everyone knows as The Chairman answers and disappears into the darkness, moving deftly over the rocky terrain.
The Chairman's title comes with age—at 32 he is the oldest of a band of Cameroonian migrants eking out a life on this inhospitable patch of northern Morocco, less than three kilometres away from the tiny patch of Spanish territory that is their goal. But his authority could also come from the years he has spent living rough in the forests and deserts of northern Africa, trying to edge a little bit closer to Europe and to his dreams of wealth, opportunity and a better future.
The world's attention has been focused on the migrant deathtrap that is the stretch of sea between Libya and Italy, after hundreds of Somalis and Eritreans died when their boat capsized off Lampedusa on Oct. 3. Another 34 died in a similar tragedy a week later. But for the strangest, most tantalizing slice of Fortress Europe, look no further than Melilla, a European enclave established as a trading post in the 15th century and still controlled by the Spanish, despite Morocco's claims on the territory. One of the only land borders between Africa and Europe, it has become a beacon for thousands of migrants trying to find their way to richer lands.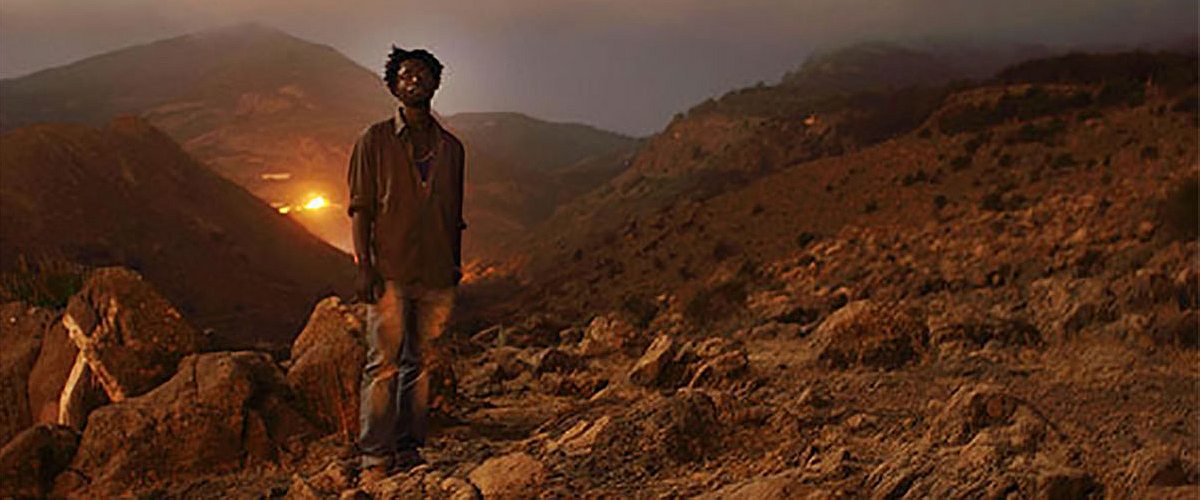 The Chairman is vague about when he left Cameroon. He says he has a child, but can't remember their age and won't say if it's a son or daughter. What he does know is that it has been eight years since he saw that child. And in those years, he has travelled far. He claims to have been one of the 500 migrants Moroccan authorities dumped in the Mauritanian desert without food or water in 2005. He recalls being in Libya a few years ago, and weighing up whether to board a boat with dozens of other migrants bound for Italy or Malta. "I didn't like the look of it," he says. "I can't swim."
The Chairman seems inured to the dangers. His face is fixed in a frown of determination; his eyes are dull and he talks with little emotion about his quest, which has for now pushed all other thoughts and feelings aside.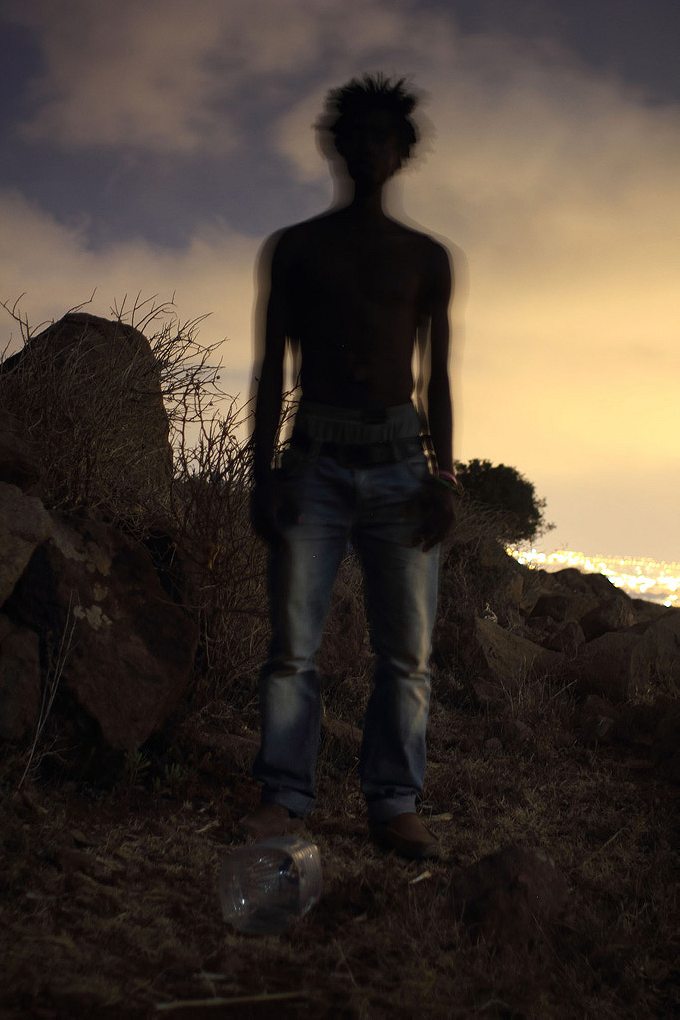 "I think Europe would be better for me," he answers simply when asked why he risks his life day after day trying to get a continent struggling with its own economic problems. The Chairman shrugs when I mention unemployment and poor living conditions for undocumented immigrants in London and Paris. In his home country, he could expect to earn around $110 a month and live until the age of 52. So he has no intention of giving up and perhaps one day, he will finally be able to work as a welder in Germany, France or Britain and provide for his child and parents. "I will keep trying until I get to Europe," he says.
Right now, he's closer than he has ever been before. At night The Chairman sits on a rock and gazes down at the orange glow of Melilla. As the oldest of the migrants, The Chairman takes responsibility for co-ordinating dozens of compatriots, bringing some order to their transient lives and planning the next assault on the heavily-fortified fence which marks the border. Hundreds of the migrants charge the fence armed with only ladders and adrenaline, hoping that a few will evade the Moroccan and Spanish police and escape death or serious injury and be able to set foot on European soil. Once there Spanish authorities have a duty to process their claims for asylum. Their dream is that they will be recognised as refugees – many will claim to be from other more war-torn parts of Africa – then resettled elsewhere in Europe. More likely, however, is that they will simply spend a year in a holding centre in Melilla then be sent back home
A few weeks after I met The Chairman, hundreds of migrants stormed the border. Six Spanish civil guard were injured. One migrant broke his leg running the gauntlet of three towering fences, coils of razor wire and pepper-spray laced water. A video posted on YouTube shows grainy night-time footage of waves of men streaming over the fence. "World War Z", one of the commenters wrote, a reference to the recent zombie movie. It's an offhand comment, but is somehow a perfect reflection of how many Europeans see the migrants: faceless hordes invading a continent.
This sentiment has only increased as unemployment soars and social welfare is cut in the nations worst hit by the economic crisis. So governments build their border fences even higher, trapping thousands of men and women on the edges of the continent, where they face harassment from police under increasing pressure to keep them away from the EU. Medecins Sans Frontieres claimed in a report earlier this year that the migrants were subjected to violence both by the Moroccan and Spanish forces as they tried to deter them from jumping the fence. Seven hundred women and children also reported sexual violence in Morocco, the report said. A couple of people are killed on the fence every year, and broken bones are common.

In the past, the men and handful of women on Gurugu were able to build something resembling a normal life. They put up tents, slept through the night, and tried to earn a little money during the day. That life ended last summer when Moroccan police burnt down their camps and started sweeping the mountainside in the day, arresting any migrants they found. So now the migrants spend their daylight hours hiding in small groups among the cacti. Those who escape the sweeps emerge at night, some heading down to a nearby village to beg. Others simply sit on the rocks and stare at Melilla. "People have big cars down there," The Chairman says.
He is right: many of the Spaniards in Melilla do have nice cars, and each day the beach is packed. Melilla is the Spain that guidebooks are nostalgic for: the town shuts down for hours in the afternoon; each beer still comes with free tapas. The city centre is pristine. It's only as you move further towards the fence that the houses get a little shabbier. But most Spaniards don't head towards the fence, unless it's to play golf at a course that hugs the 12-km barrier.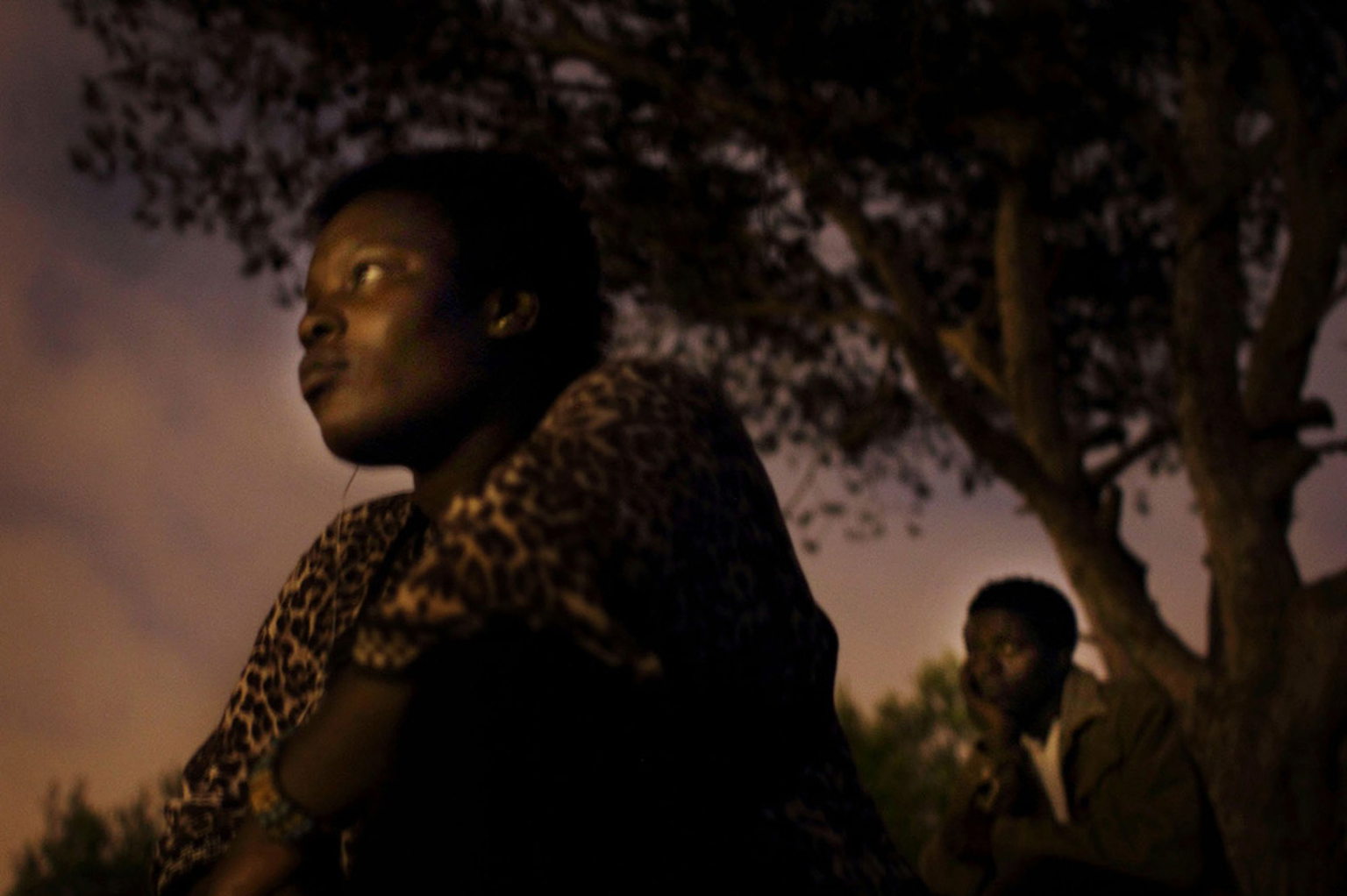 That barrier is both a place of hope and fear for the migrants. The men all bear scars from their repeated attempts to breach the border. The Chairman lifts up a trouser leg to reveal a badly-healed gash snaking up over his knee and up his calf. He sliced himself open on the razor wire on his last attempt on the fence, which failed when Moroccan security forces dragged him away.
"They gave me no doctor, nothing, no medicine, they instead sent me straight to Oujda," he says, referring to a town on the border with Algeria.
But that was nothing new: in the three years The Chairman has lived on Gurugu, he has been picked up and dumped at the border 13 times. And each time, he begins the trek back to the mountain, where he will return to his silent vigil of the lights below. "When I look at Melilla," he says, "I think that my life will change."
[All photos by Sergi Cámara/Prodein]