El Celler de Can Roca: A Family Meal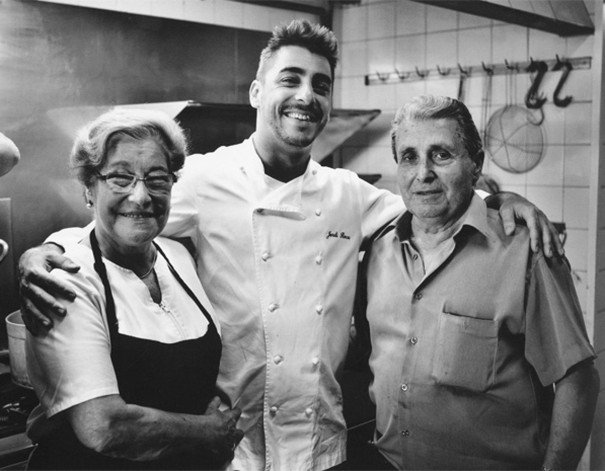 To understand the chefs behind the newly-crowned best restaurant in the world, El Celler de Can Roca, start with a meal at their parents' restaurant.
Last night, a panel of journalists, chefs and restaurateurs comprising the San Pellegrino World's 50 Best panel confirmed what seemed to me like a foregone conclusion after my first spectacular meal there three years ago: that El Celler de Can Roca is the world's best restaurant. It's not a shock by any stretch (after all, El Celler has held the number two slot on the list for the past two years), but now, life for the three Roca brothers and their restaurant is about to change in unfathomable ways as the collective gaze of the gastronomic world rains down on their tiny corner of Girona, 90 minutes north of Barcelona.
My first dinner there was, in fact, my first Serious Meal ever in Europe. And I'll be back another day to write more about the spectacular, paradigm-shifting cooking they're doing. But for now, if you'll indulge me, I think I can tell you something about the brilliance of the place by talking about the other Roca restaurant in Girona.
My earliest memories are of the smells of my mother's food. —Joan Roca
The day after the first dinner I ate at El Celler, on head chef Joan's recommendation, I went to have lunch with his parents. The Can Roca that everyone in the culinary world is currently reading about, the Can Roca whose website crashed this morning and whose reservation lines will be tied up from here to infinity, began as a humble blue collar bar called Can Roca run by the Roca brothers' parents, Josep and Montserrat. The three brothers, Joan (in charge of the savory side of the kitchen), Josep (one of the world's greatest sommeliers, who lords over a 60,000 bottle cellar) and Jordi (the young pastry wizard), grew up in their parents' restaurant, working in the kitchen, doing homework at the bar. "My earliest memories are of the smells of my mother's food," Joan told me back then, "of being by her elbow watching her cook the dishes she still cooks today."
The restaurant that day was packed with old men knocking back the day's news with glasses of Estrella Damn and local construction workers looking for gas to get them through the afternoon. I entered cautiously and slipped into a corner table. When Montserrat came by to take my order, I told her that I was a journalist writing a story about her sons and that I would love to ask her a few questions. She looked unimpressed, maybe even a touch annoyed. "I have a full dining room right now, so I can't really talk."
Instead of an interview, I had the menu of the day: an iceberg salad with olives, tomatoes and onions, a plate of fideuà (short pasta) studded with chunks of hot dog and a hunk of fresh cheese with honey drizzled over the top. Classic Catalan, and along with coffee, bread and a few glasses of red wine, it set me back exactly 4 percent of what I paid for their sons' masterpiece meal the night before.
After my first meal with the Roca family… I knew something had changed.
It might be hard to imagine food as intellectual and genre-bending as the dishes that come out of the Can Roca kitchen being inspired by noodles with hot dogs and iceberg salads, but if you look hard enough, you can draw a straight line from Joan's best dishes to the humble fare being cooked across the street at their parents' restaurant. Mom makes an escalivada by slow-roasting peppers, eggplant and onions; son takes those roasted vegetables, purees them, turns them into spheres in an alginate bath, dehydrates them until their skins are wrinkled like real roast vegetables, then serves them encased in a dome of smoke. A high-wire act, to be sure, but Joan's is the best escalivada you've ever had, modeled after the best he's ever had—his mom's. There's a reason why every day at the strike of noon, the staff of 40 at the world's best restaurant walk across the street and sit down to eat lunch at the original Can Roca.
After my first meals with the Roca family, as I sat on the steps of the cathedral in the old part of town and stared out across Catalunya, I knew something had changed. Three hours later, back in Barcelona, I met my future wife seated at a street corner café. Coincidence, sure, but in my mind, that meal and that moment will forever be linked.
I've been back to the sons' Can Roca a few times since, including this past Friday. I wasn't alone at the table this time, as I was the first time I ate there, fresh off a plane from the States. Quite the opposite; I ate with a group of 14 out-of-towners, all hoping to sneak in a meal before El Celler became the new media darling and we had to share the place with the rest of the world. The meal didn't have the same jarring impact on me as the first one (after three years living and eating around Spain, how could it?), but it displayed that same stunning mixture of precision and controlled chaos, studied composition and envelope-pushing technique. There was a black olive gazpacho that tasted like the Mediterranean in a bowl, a mid-meal slab of white asparagus and black truffle ice cream that had grown men licking their plates, and a gently poached oyster bathed in a hollandaise made from various game birds that left every last diner grasping for some kind of explanation: "But…what…I mean…no way!"
It seemed fitting that my dining companions were Danes, as it would be the pride of Denmark, Copenhagen's Noma, that would soon cede the top slot to the brothers from Girona. On our way out, I wished Joan luck and asked him if he thought they had a shot at being number one. He shook my hand, bowed his head gently, and said, "I just hope you guys had a nice meal." And that's exactly what he meant.
If you're the type who cares about these things (and, for the record, though San Pellegrino may have gotten #1 right, the list itself is deeply flawed for more reasons than anyone cares to read about), you'll read a lot about the Rocas and their Girona temple of wonders in the weeks and months to come. Some will talk about this being a victory for modernist cooking, a reassertion of Spain's dominance in the 21st century haute cuisine canon. Some will call it a win for a country desperately in need of a morale boost. No doubt a few proud Catalans will use it as proof of the superiority of their beloved region. But try your best to tune it all out. Because at the heart of all of the hype to come, more than any cooking tale you've heard before, this is a story about Mom and Dad. This is a victory for them.