How to unravel Vietnam's southern metropolis.
At first glance, Saigon—or Ho Chi Minh City, to use its official name—can be an assault of megacity chaos, courtesy of 13 million people and over 7 million motorbikes. Unlike the capital city, Hanoi, with its handsome old town and mist-covered lakes, finding Saigon's charms can be a little more challenging. Many first-time visitors leave feeling disillusioned. Without a map and a plan, a day's wandering can quickly become a fruitless experience. But for those willing to do a little research, Saigon is a city worthy of months, if not years, of exploration. The city limits stretch up and out from the waters of the South China Sea to within a stone's throw from the Cambodian border. Fast-paced and fueled by convenience stores, Japanese two-stroke engines, and turbo-charged Vietnamese coffee, it's the 24/7 city its older brother, Hanoi, is still catching up with.

Find the airport taxi rank. Once you land, from the luggage carousel to the crowded sidewalk outside people will offer you transfer services, whether it's uniformed staff behind a counter or men lingering in the area. They're all easy options that prove to be expensive. Instead, follow the airport signs to the taxi rank (straight ahead from the domestic terminal doors, or left outside international arrivals). Find the representative for either Vinasun or Mai Linh taxi firms. Show them your destination address and expect to pay between US$15 and US$20 to get into the center of District 1 (around 5.5 miles and 20-40 minutes away, depending on traffic). These two firms are safe, reliable, affordable, and often have GPS maps on display showing your real-time location and route.

Don't deal in dollars. Throughout the years of post-war instability, the U.S. dollar was the official-unofficial currency of Vietnam, but now you'll need to use the local currency, the Vietnamese Dong. For currency conversions, head to the currency exchange shop (also a souvenir outlet) at 135 Dong Khoi Street, District 1, for some of the best rates in town. Certain banks, along with exchange counters in malls and department stores, are another option, but tend to charge a higher rate. And while your own bank may charge a fee for foreign transactions, there are free-to-use ATMs located all over the city. Cashless transactions are on the up, but you still won't get far without a wad of Vietnam's high-tech plastic banknotes.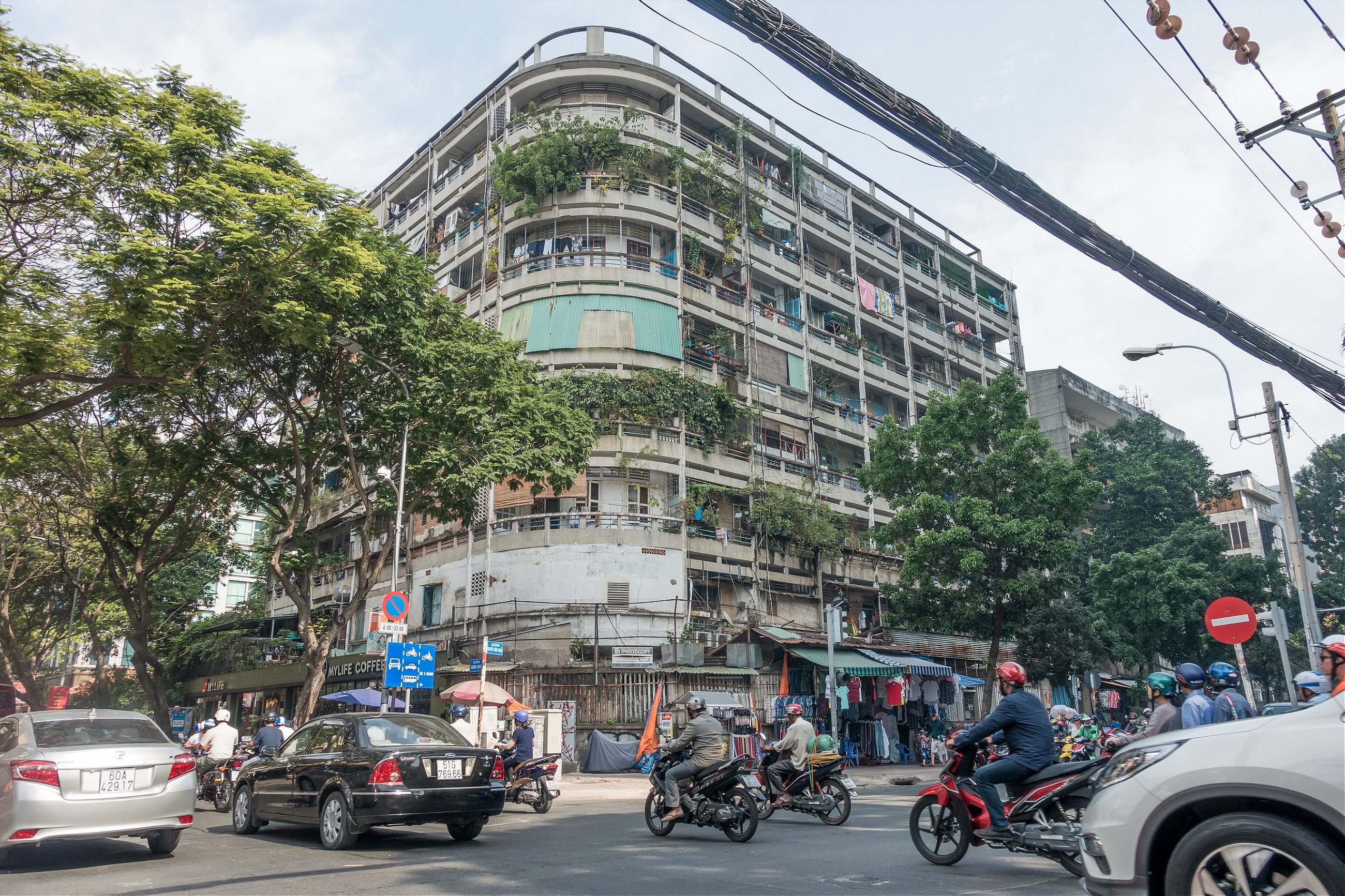 Don't ignore District 3. Cheaper, less crowded, and with better food than District 1—the central district where most visitors end up—District 3 is along the northern perimeters of District 1 (Nguyen Thi Minh Khai and Hai Ba Trung Streets), and still within walking distance of the city's most popular attractions. Try the many restaurants of Vo Van Tan Street and Nguyen Dinh Chieu Street, while occasionally diving into the alleyways that connect the two. Don't miss the morning street market at 287 Nguyen Dinh Chieu for fruits, vegetables, live frogs, pots and pans, grilled pork sandwiches, and even a secret wartime weapons cellar. And if narrow alleyways are your thing… 

Cut through a hẻm—with a map. Saigon's hẻm (alleyways) can either provide a quick shortcut from one main street to another or go on for miles in every direction. (Be sure to download a local Google map to your smartphone before entering the latter.) Start with the cut-through at 5A Nguyen Dinh Chieu Street, where traditional hẻm features such as old-school coffee vendors, "broken rice" shops, hole-in-the-wall restaurants, and pushcart fruit sellers sit alongside contemporary Japanese diners, media production houses, high-end tailors, and a synagogue, all overlooked by towering glass-clad office blocks. To avoid the heat and to see Saigon at its liveliest, the best time to explore any hẻm is in the morning. Just watch out for motorbikes, free-roaming  chickens, and friendly children keen to practice their English.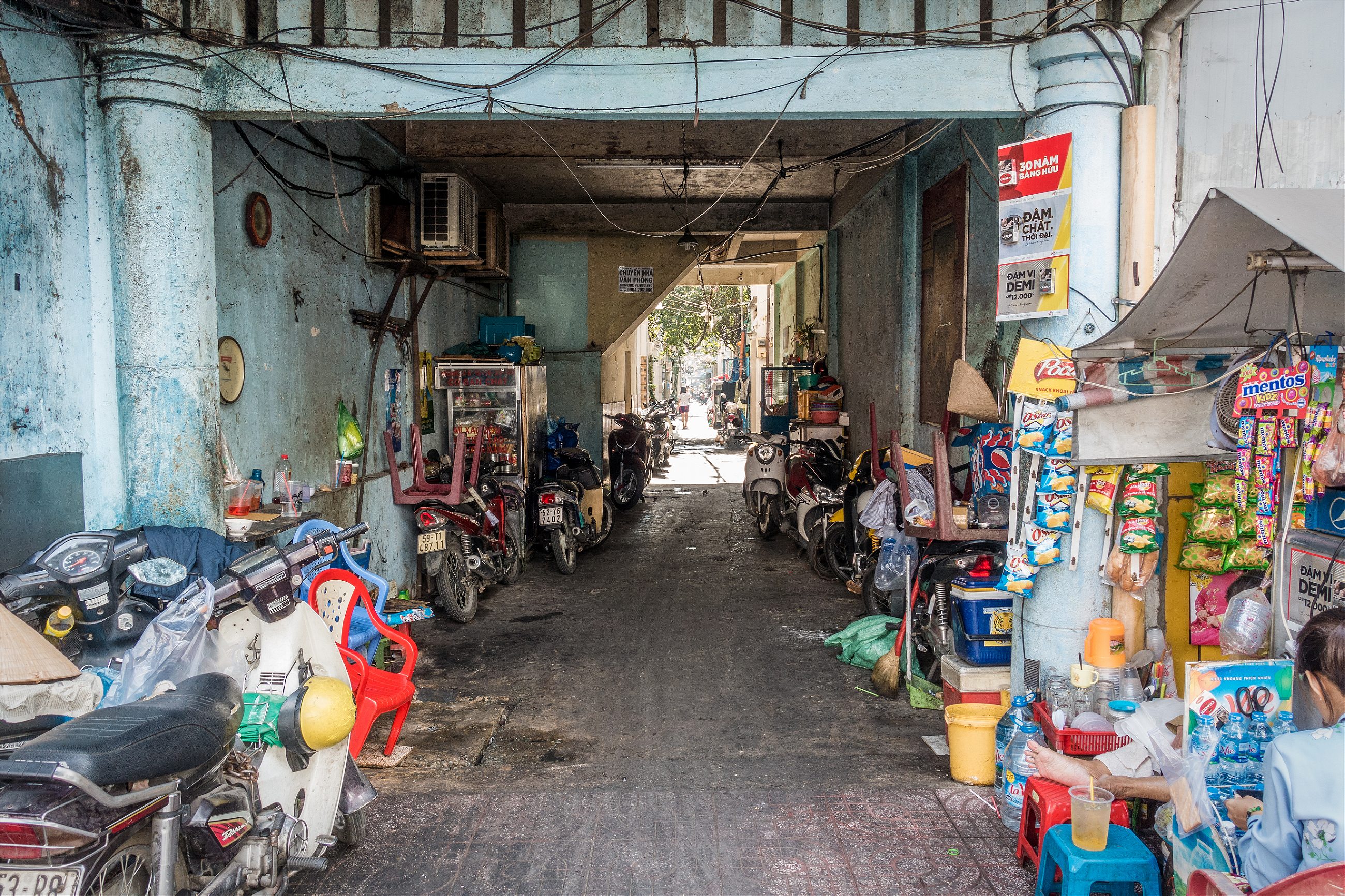 Drink beer on a building site. For nightlife, look beyond the backpacker-friendly drag of Bui Dien Street and the hotel-heavy strip of Hai Ba Trung Street and head to any 5Ku Station in the city. This home-grown chain of pop-up outdoor drinking halls, built out of pallets, barrels, and tarpaulin (and often in the ruins of demolished buildings), offers  an extensive menu of barbecued meat and seafood, salty snacks, a few token vegetable dishes, and lots of beer—all essential components of a Friday night in Vietnam. Live entertainment is likely to show up in the form of a rolling karaoke singer or magician (many of whom will also sell you cookies, tissues, and chewing gum), and competing sales reps from the local breweries will keep your glass topped up with their product. While 5Ku's Thai Van Lung Street location is likely to be the most convenient, the canal-side Hoang Sa Road outlet (which specializes in shellfish and snails) is worth the slightly longer taxi ride. And, don't forget, ice in your beer is a good thing when refrigerator space is at a premium.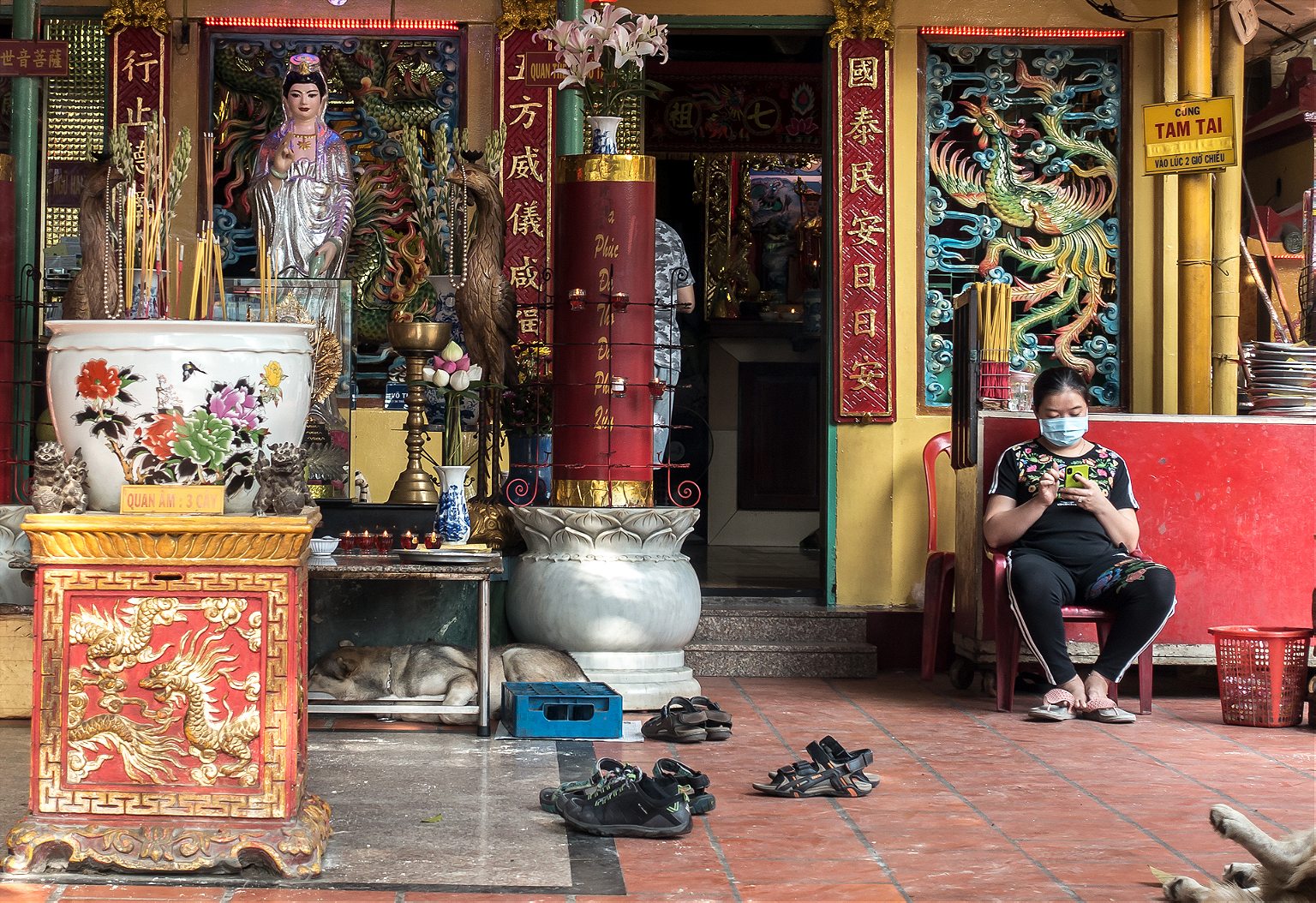 Don't expect to be understood. Say the Vietnamese words for "fresh milk" (sữa tươi) with just the slightest adjustment to your vowel sounds and tone and you could get your coffee served with "rotten jellyfish" (sứa thối) instead. Vietnamese is notoriously difficult to learn. Some names require sounds that most Westerners will struggle to make. Unless you're pinpoint accurate with your pronunciation, even the most basic phrases and greetings could be met with polite yet pained looks of bewilderment. So, get a speaking smartphone app such as Google Translate, and write all addresses down when riding in taxis.

Watch your step. With Vietnam's casual approach to road rules and safety (plus more motorbikes than ever, more cars than ever, and sidewalks frequently strewn with obstacles), navigating the city on foot, particularly at rush hour, can be challenging. But if you don't mind overcoming what can sometimes feel like an urban obstacle course, walking around Saigon is probably the most rewarding, most immersive means of travel. That said, take a taxi during the hottest times of the day, or during the rainy season's daily downpour. If you're traveling with kids, leave the strollers at home and invest in a carrier instead.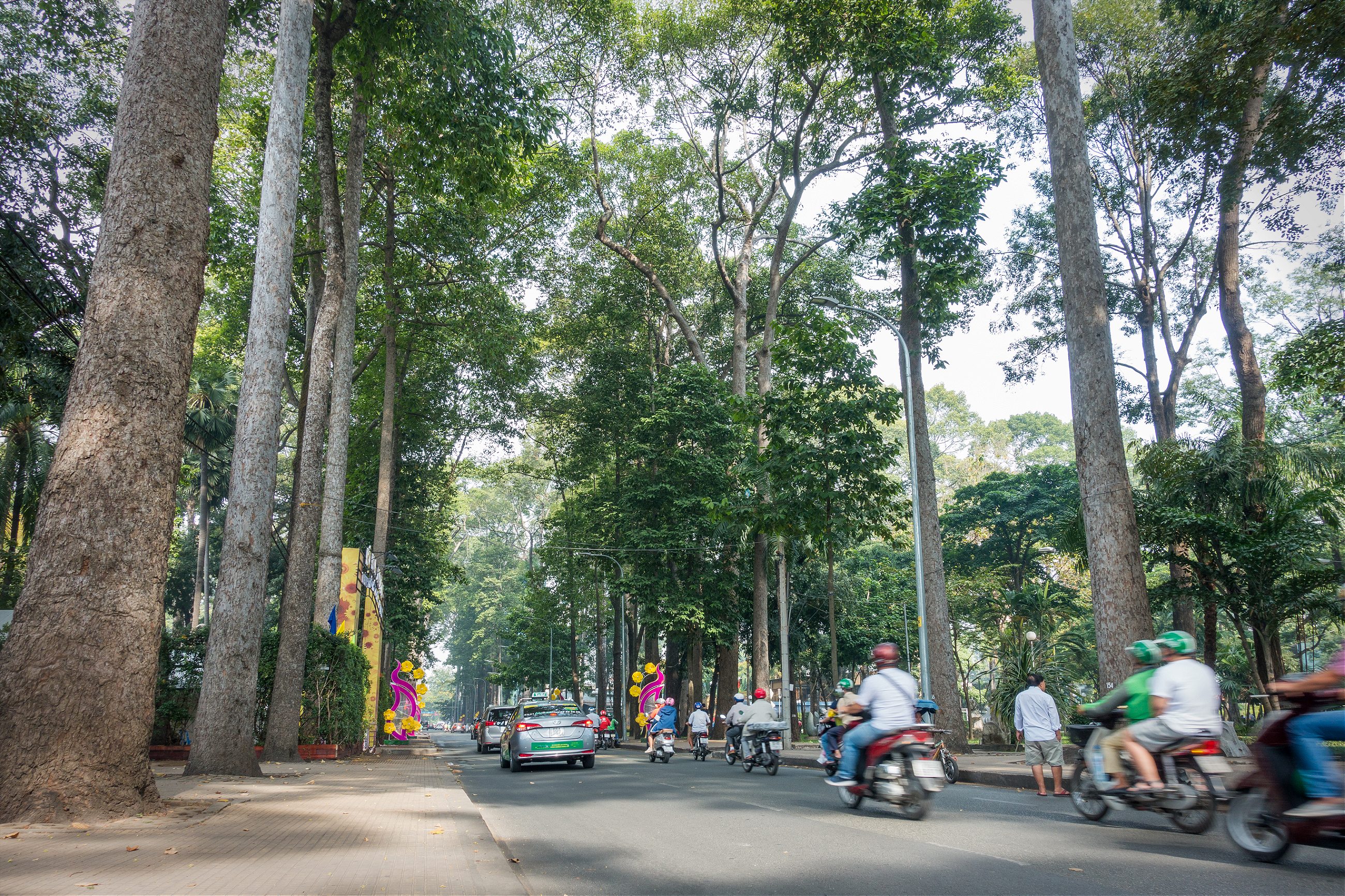 See the city at sunrise. To take advantage of the fresh morning air, the Saigonese rise early. Even before first light, the public parks will already be alive with joggers, keep-fitters, tai chi classes, and games of badminton or da cau (foot badminton) played by lamplight. Markets, in particular, are best to visit as early as possible when the produce is freshest, and when the bikes and trucks are still pouring in from the countryside. You might even spot the vendors' pre-opening rituals and religious offerings. So, set your alarm, grab some caffeine, and get at least one early-morning wander in before you leave.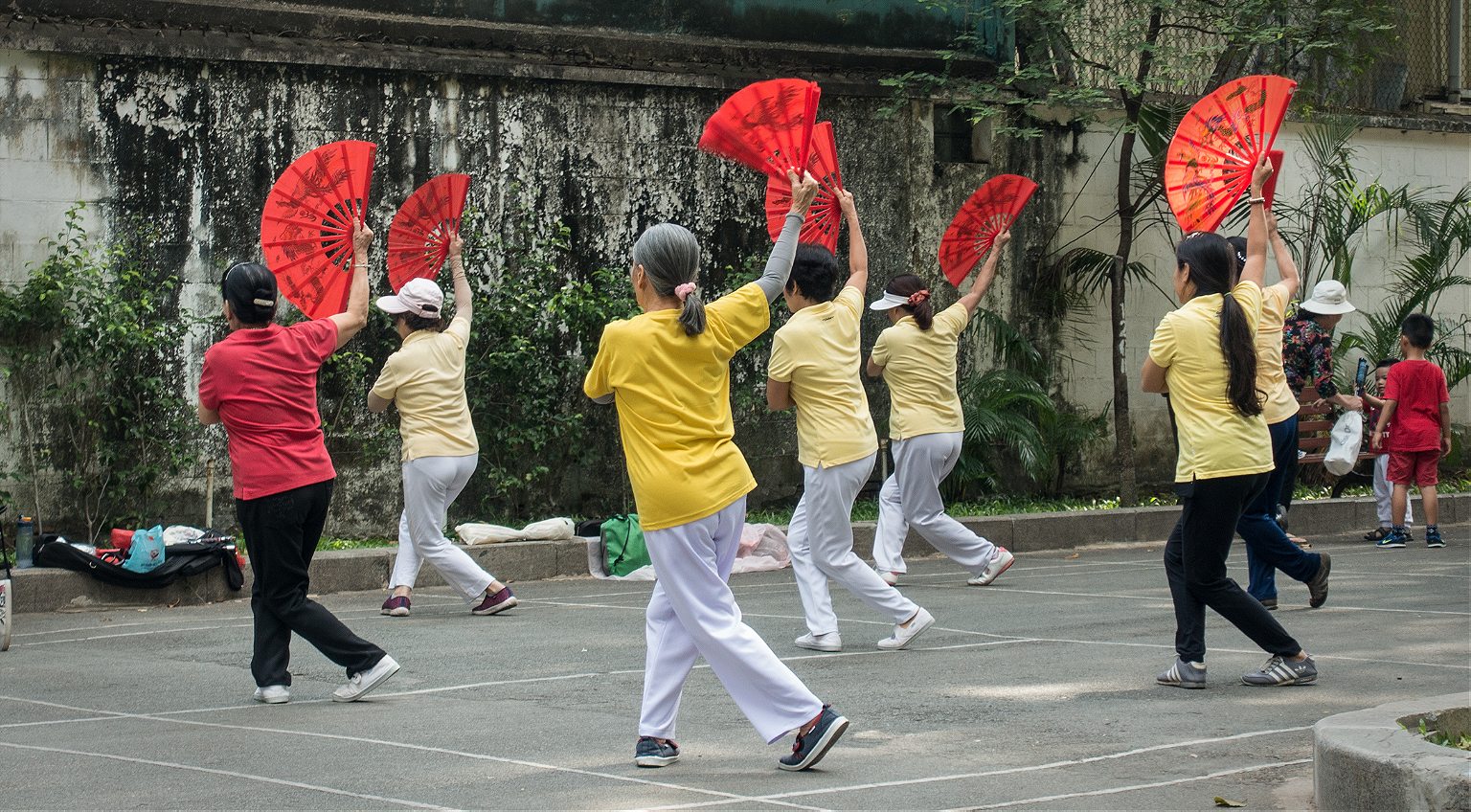 Order an iced coffee on the sidewalk… First introduced by the French in the 1800s, coffee is an integral part of the economy and culture. Vietnam is now the second-largest coffee producer in the world. The legendary ca phe sua da—iced coffee with condensed milk—is thick, sweet, strong as hell, and it's available everywhere from roadside vendors to five-star hotels. Made mostly of mass-produced robusta beans, the Saigon street brew, for the most part, won't win any awards for quality. (If you don't want to sleep for 72 hours, however, it's perfect.) Coffee aficionados should drop into any of the craft coffee outlets that have sprung up in recent years. The Workshop is already an institution, and the laid-back [a] Cafe has some of the best brews in the city (it also has one of the best banh mi street carts on its doorstep each morning).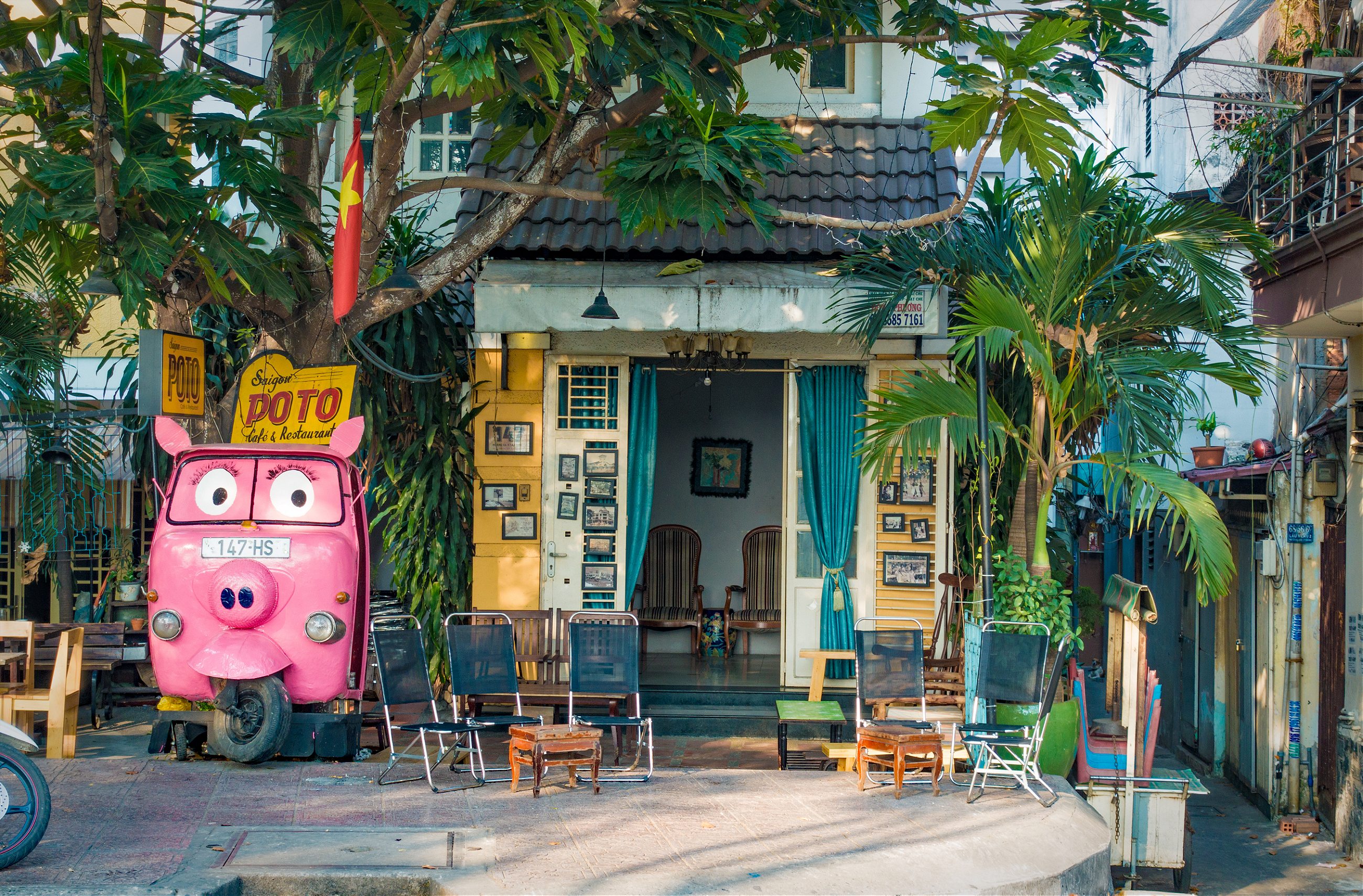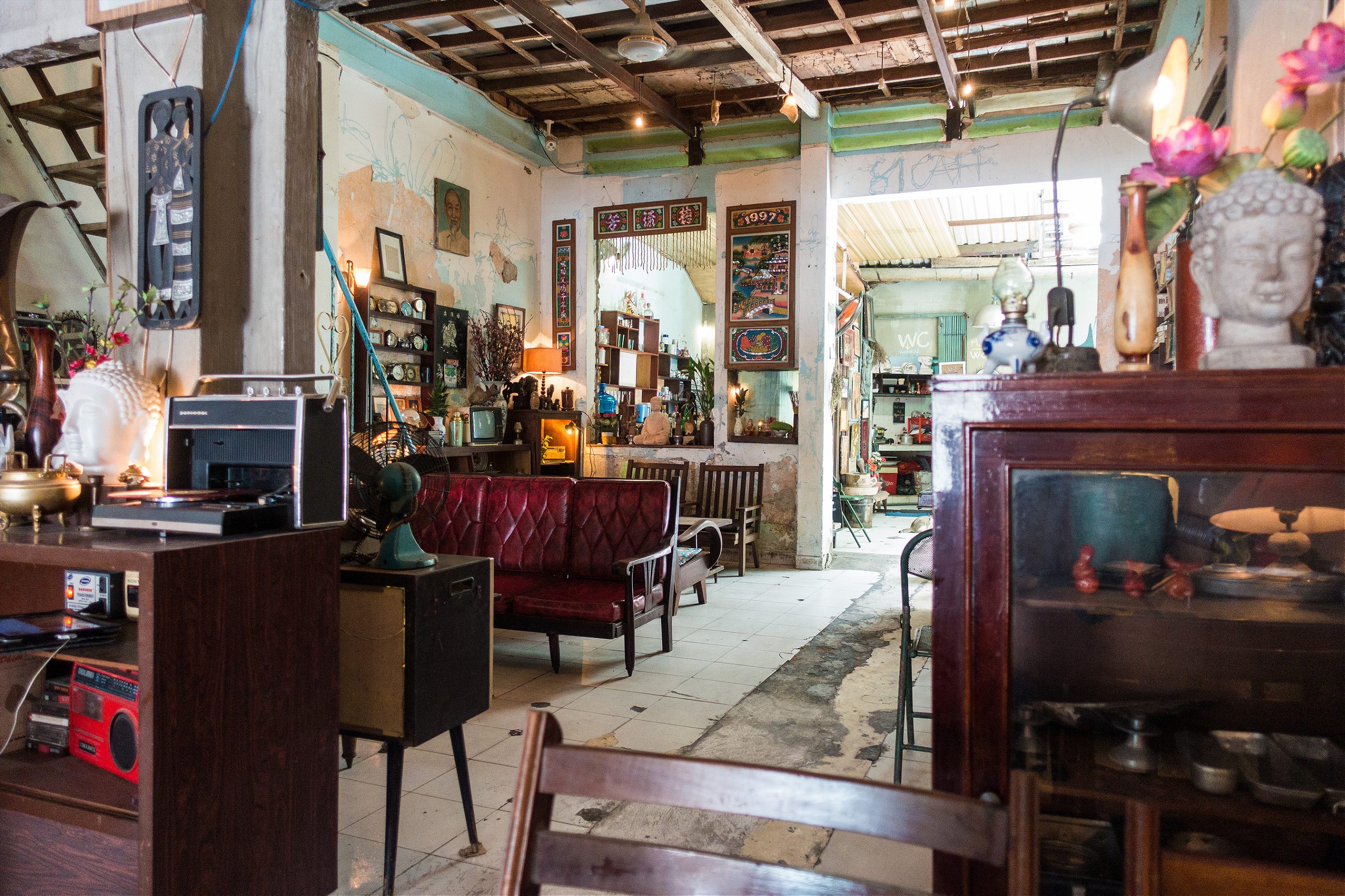 …then eat the finest sandwich in the world. The Vietnamese sandwich is an essential staple. Here, "banh mi" alone simply means bread, but to the Western world it has come to represent a varied and sometimes controversial spectrum of sandwich creations. The pork-heavy combination we all now know and love first left the motherland and sailed to California in the post-war years of mass migration, but the story began in the late 19th century with the arrival of the French in Vietnam. Today, loaded with roasted pork, assorted cold cuts, plus pâté, mayonnaise, coriander, fresh chili, and a dash of Maggi sauce, banh mi can be found all over the city, and often costs less than a dollar.
The best banh mi in Saigon, is generally, the one you're holding. If you're on a tiny plastic chair on a crowded sidewalk, with a ca phe sua da in one hand and sandwich royalty in the other, you can't go far wrong. But if you don't know where to start, head to Banh Mi Hong Hoa at 62 Nguyen Van Trang in District 1. Alternatively, to dine with the family who invented the modern-day banh mi, hit Banh Mi Hoa Ma at 53 Cao Thang, District 3. Skip the hotel breakfast, arrive early, and arrive hungry.

Find a bargain. Give the over-priced aisles of the famous Ben Thanh a quick look, then visit a neighborhood market. Cho Tan Dinh, located at 1 Nguyen Huu Cau Street in District 1, is a quick and easy ride (or a long stroll) from the center of town, and has more down-to-earth prices. Alongside standard household items, fresh produce, clothing, and a few tourist-friendly yet more authentic souvenirs stalls, the market is also notable for its many fabric merchants and haberdasheries. The Barbie-pink church down the street is also worth a look.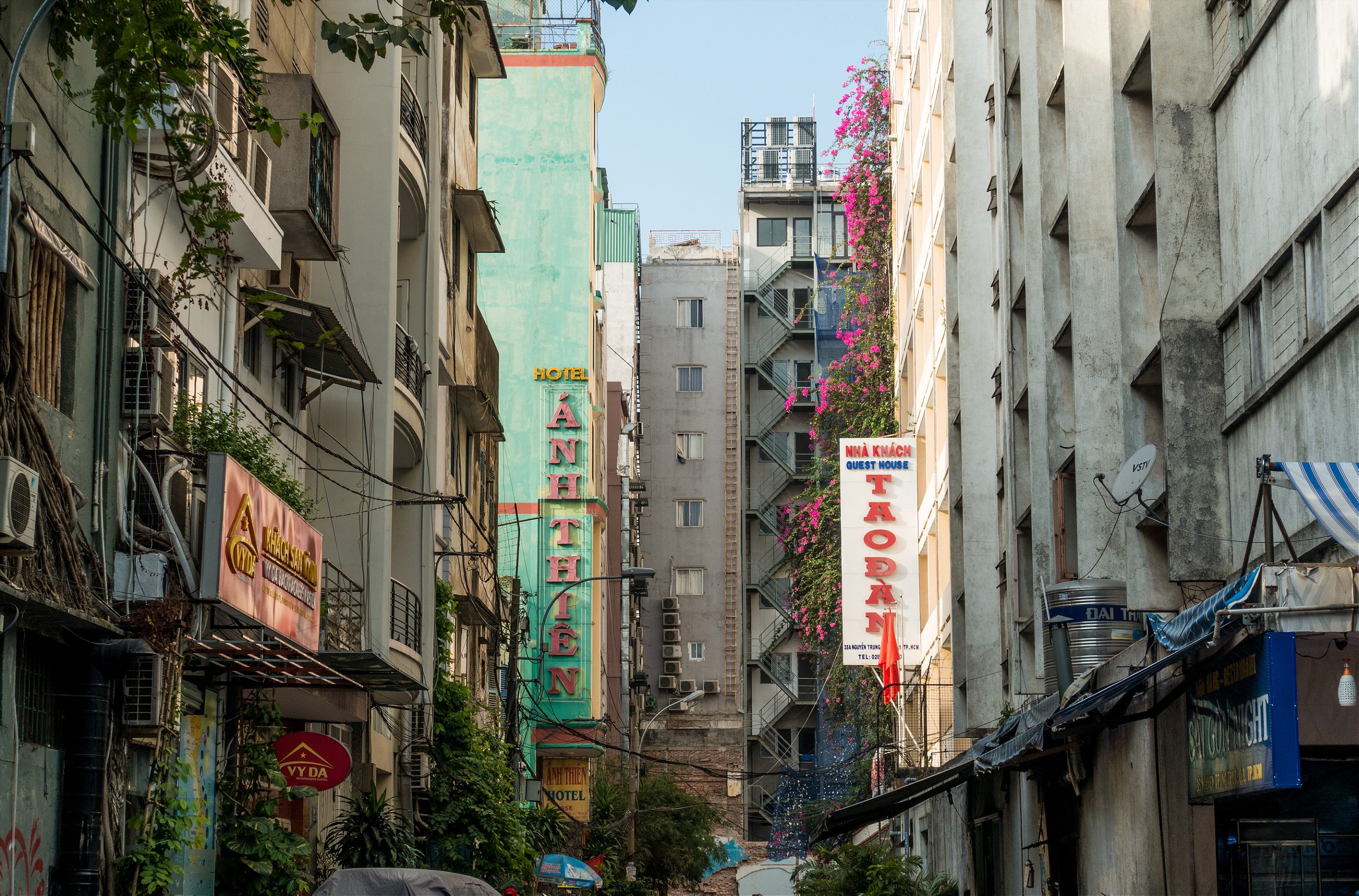 Stay dry. If visiting during the rainy season, usually from April to October, don't leave home without flip-flops and a small travel towel. When the daily deluge comes, get inside or get under a plastic poncho (sold everywhere). Umbrellas are no match for a Saigon downpour. If a trip during the dry season isn't possible, don't sweat it. The rainstorms tend to be short, sharp, and somewhat predictable. Mornings are generally dry, while fold-away awnings, tarpaulins, and parasols help keep Saigon in a business-as-usual state, even if that business starts floating off down the street.

Relax! It's still a big city in the 21st century, but Saigon is very safe compared to other parts of the world. Opportunistic bag and camera snatchings are on the rise, however, though mainly in the downtown tourist enclaves surrounding Ben Thanh market. Take your phone out with you—you're definitely going to need to download some local Google maps—just don't wave it around. Serious crime is generally a rare event. 

Come for the pho, stay for the bun thit nuong. Pho (noodle soup) has found a global following. You're  likely to find the best bowl of your life in Saigon if you're willing to hunt a little for it (hint: Googling "the best _____ in Saigon" is a good start for anything). Aromatic, spicy, sweet, sour, loaded with ruby-red beef and served with a mountain of garden-fresh accoutrements, Vietnam's national dish is the stuff of beefy dreams. But it's also a steaming bowl of boiling-hot soup in a tropical country, and possibly served in a restaurant that might not have walls, let alone an AC unit. So, say hello to bun thit nuong, the perfect sunny-day medley of cold rice noodles, a crispy vegetable salad, crushed peanuts, barbecued pork, and a zingy chili and fish sauce dressing. For one of the best versions in the city (with the bonus addition of cha gio—crispy spring rolls) head to the street vendor that pops up outside 1 Nguyen Trung Truc in District 1. It's in the heart of tourist town, but a lack of menus, signage, and prices has kept it a locals-only secret. Take a seat, raise one, two or ten fingers (they only sell one thing), add a glass of tra da (iced tea), and prepare to fall in love.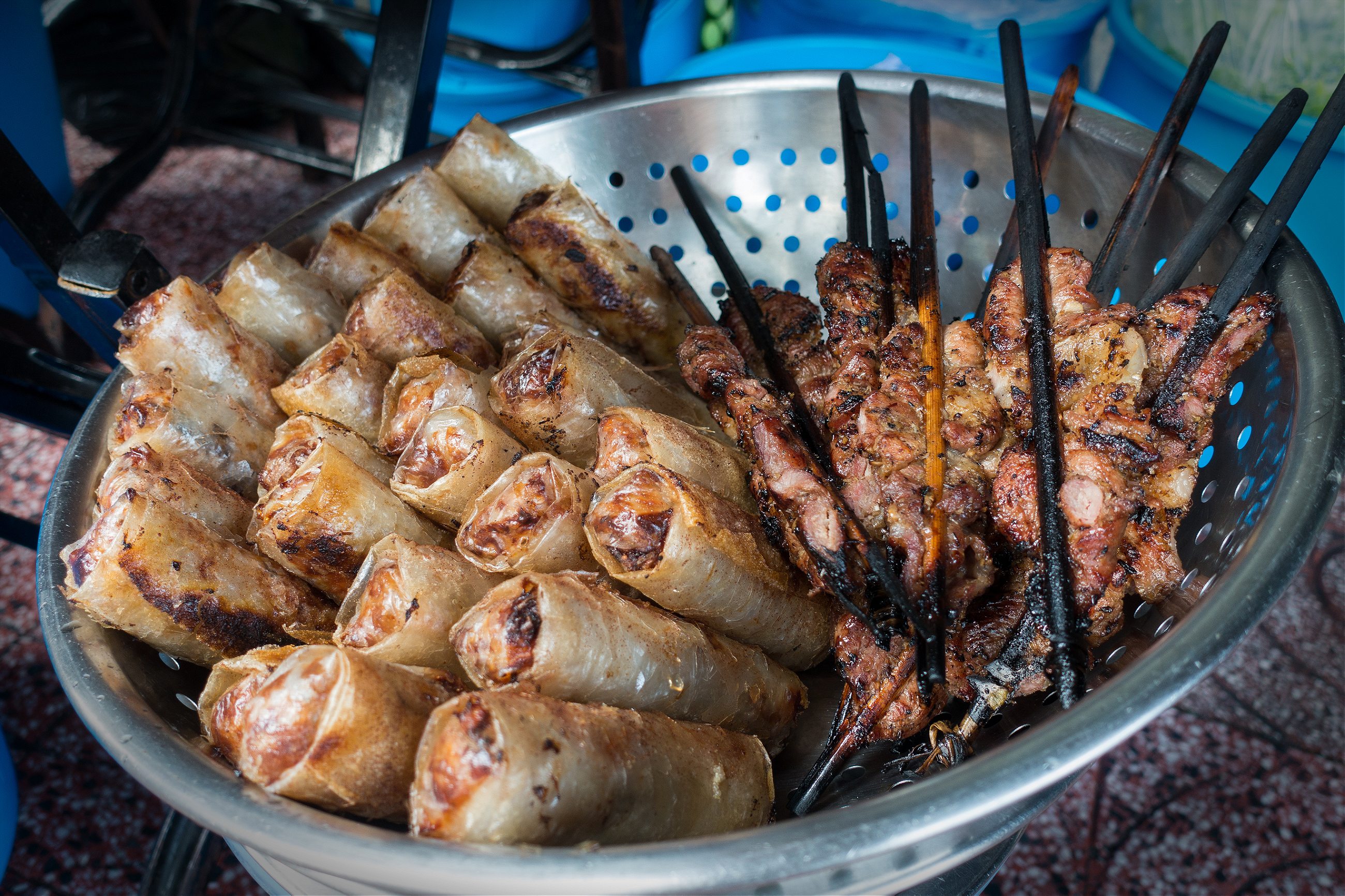 Find that rooftop. April 29th, 1975, and as a C.I.A. operated "Air America" helicopter touched down on the roof of a Saigon apartment block, the late Dutch photographer Hubert van Es captured the moment in an image that would come to symbolize America's slow and painful defeat in Vietnam. Northern forces were closing in on the city, South Vietnam was poised to fall, and the mass evacuation of U.S. personnel and their closest associates was drawing to a close. The photograph shows a stream of evacuees crowding a fragile ladder from a crowded rooftop, each straining to clamber up and towards one of the last rides out of the crumbling country. Frequently mistaken for the American embassy, the apartment block and its elevator housing still stands, located at what is now 22 Ly Tu Truong Street in District 1. Unless you happen to work in the modern office block of Vincom Centre B opposite, the best view is from the nearby crossroads of Dong Khoi Street and Le Thanh Ton Street.

Drink up high. Do happy hour at the Caravelle Hotel's Saigon Saigon Rooftop Bar. Back before the neighboring Sheraton Hotel was built, foreign war reporters would sink cocktails here while enjoying views across the nearby Saigon River. Unlike the over-hyped and over-priced "Five O'Clock Follies" happy hour, found at the equally legendary Rex Hotel rooftop, the Caravelle's daily sunset discount session is worth the trip. With a menu of carefully crafted cocktails, local craft ales, friendly staff, a relaxed vibe, and still with impressive views of the downtown area, it's a favorite with locals and expats.

Check out the museums, but look beyond the display cases. The low fee for many of Saigon's top repositories is worth it just to peek inside some of the increasingly rare historic buildings. The Ho Chi Minh City Museum, in particular, might fail to excite if compared to a London or New York City equivalent. But, look closer: Slip behind the large yet easy-to-miss blast door on the ground-floor and you'll discover that the building is home to a wartime bomb shelter and a series of secret escape tunnels. During a 1963 coup, the latter was put to use by South Vietnam's most infamous president, Ngo Dinh Diem, in the hours before his assassination. The building, once known as the Gia Long Palace, was being used as his temporary accommodation at the time and is perhaps more worthy of your time than the dusty and somewhat out-of-date exhibitions it contains. The Palace also served as headquarters and residences for an ever-changing succession of Japanese, French, Vietnamese, and British leaders and governors in the chaotic months and years after World War Two.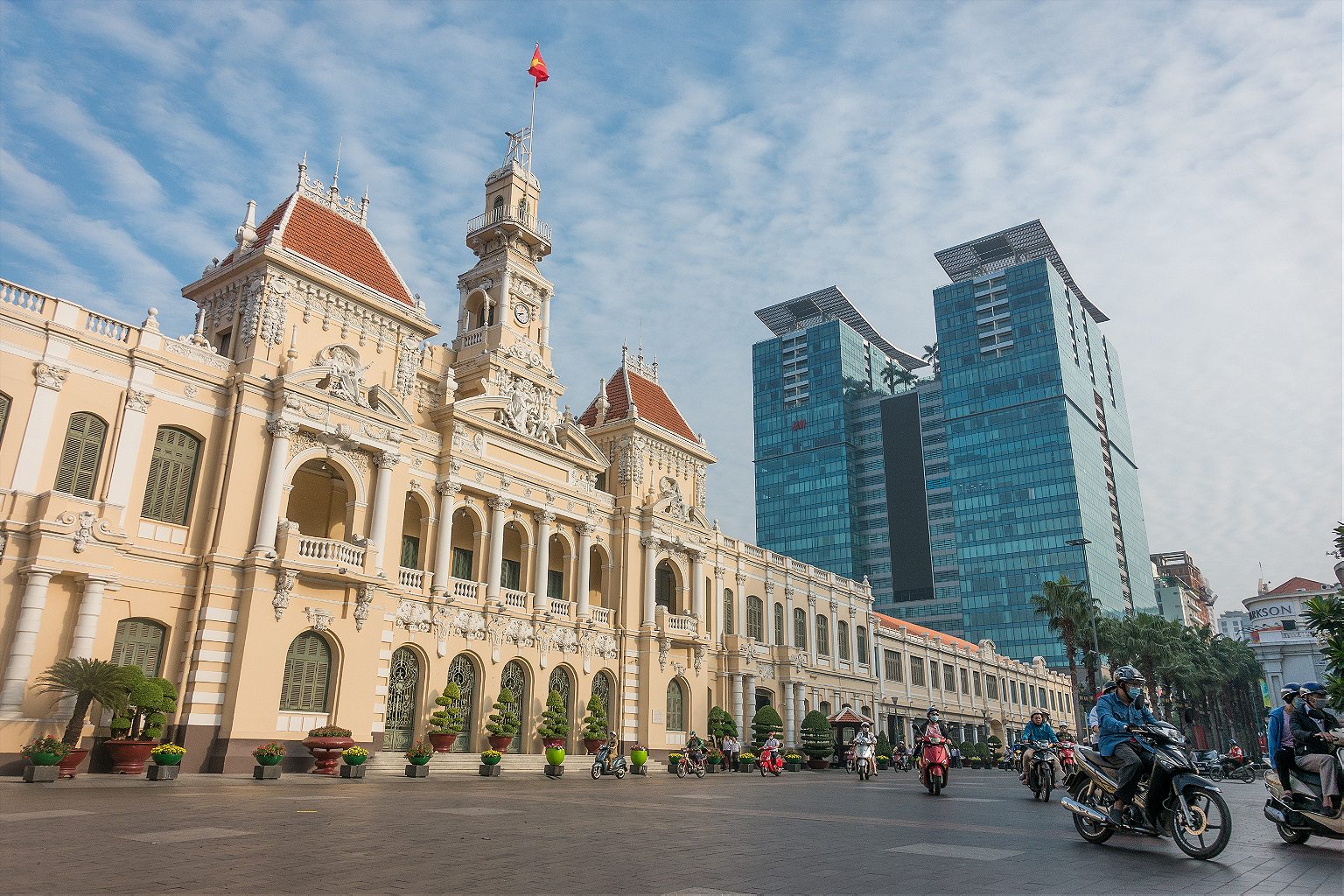 Find Mr Ngo. The French-built Central Post Office (opposite the French-built Notre Dame cathedral) is a popular photo opportunity. But don't just roll up and snap a selfie. It is, after all, just a post office. Find Mr. Duong Van Ngo—he often occupies a spot at the head of one of the writing benches in the rear hall. The 89-year-old trilingual gent is the last public writer in Saigon and can tell more of the city's turbulent, complex history in a few hushed lines than any guidebook ever could.

Discover the doorways. As downtown Saigon's real estate gets ever more expensive, small-business owners have started looking further up the old, crumbling apartment buildings of the early 20th-century to set up shop. These often have, narrow, dark, and understated entrances, having originally been built for residential occupiers only The Catinat building, at 26 Ly Tu Truong Street, District 1, should perhaps be visited with some urgency having been in the developers' crosshairs for several years. Once dripping with opulence and wealthy colonial residents, this former apartment building is now home to shops, cafes, bars, offices, a cookery school, and several floors of peeling paint, rusted shutters, and top-grade Saigon beauty. You may even spot the odd pair of shoes in the corridor, because some units are still private dwellings. 95 Pasteur Street, 42 Ly Tu Trong Street, and 42 Nguyen Hue Boulevard,  all in District 1, are similar warrens of discovery.

Follow the canal. Running for over five miles through five central Saigon districts, the Nhieu Loc-Thi Nghe canal is a masterstroke in urban design. Once a garbage-filled river that formed the city's northern border, the canal was transformed between 2003 and 2012 by a US$500m regeneration project. Along its winding banks now stands a ribbon of tree-lined walkways, public park space, and highly sought-after real estate. Mornings here are what mornings were made for, alive with joggers, dog walkers, fresh coffee, fresh juices, and fresh banh mi sandwiches wrapped in yesterday's headlines. At night, meanwhile, an ever-expanding lineup of restaurants and bars makes the canal just as glorious.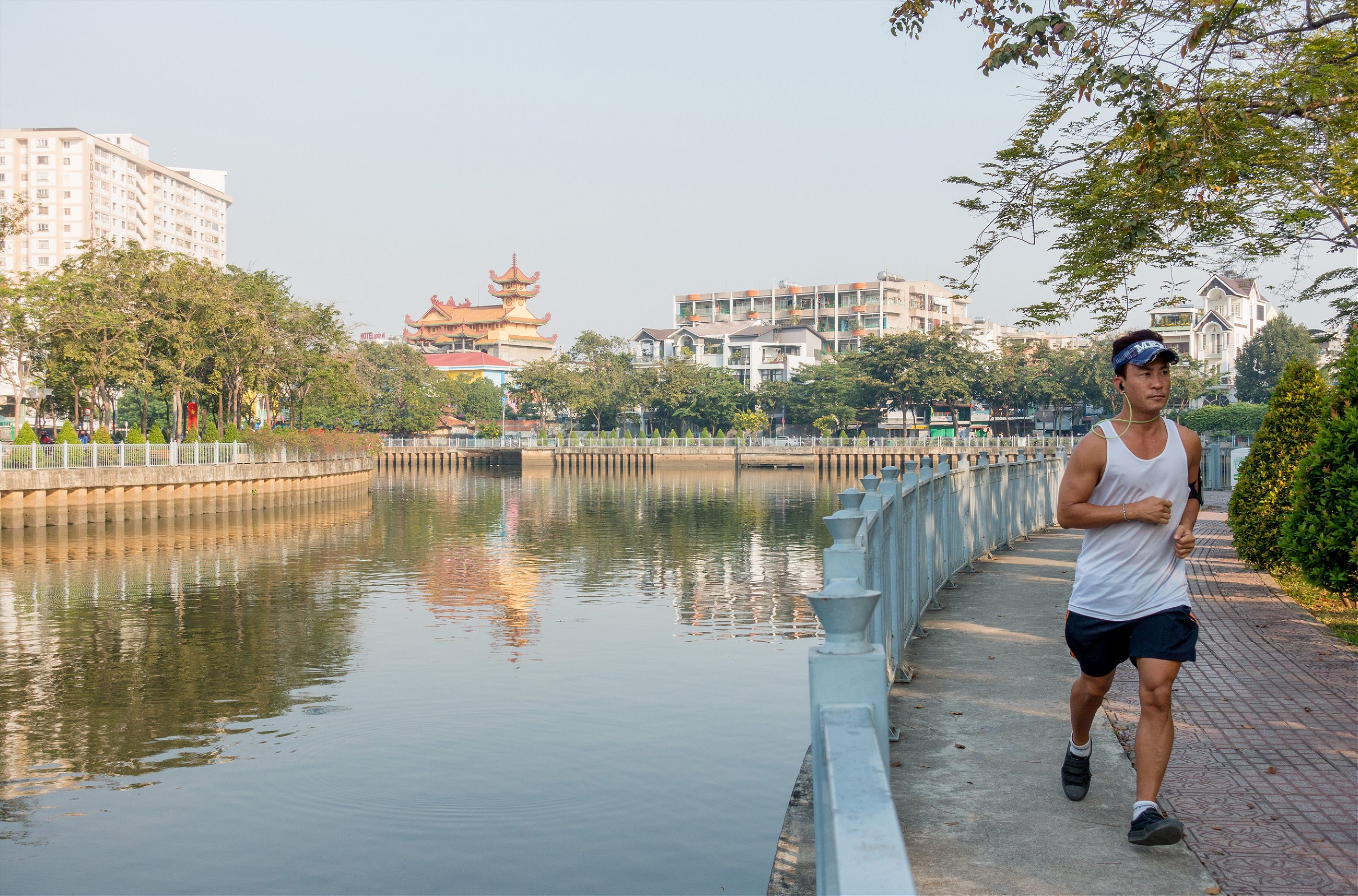 Avoid the cyclos. These bike-wheelbarrow hybrid taxis were once a common sight on Saigon's streets (typically with French officials in pith helmets sitting in the passenger seat). Times have certainly changed. Today, expect choking fumes, burning sun, and drivers with a reputation for overcharging foreigners. Take a motorbike tour instead. Two of the best and most reliable companies are Tiger Tours and Vespa Adventures. For travelers on a budget, there's Grab bike and the locals' favorite GO-VIET (the app has an English option, the website does not). They're both far cheaper than taxis but be sure to have a friendly Vietnamese speaker nearby in case the driver calls to check your pickup location.