It Was Only a Matter of Time Before Vietnam Came Up With Pho Craft Beer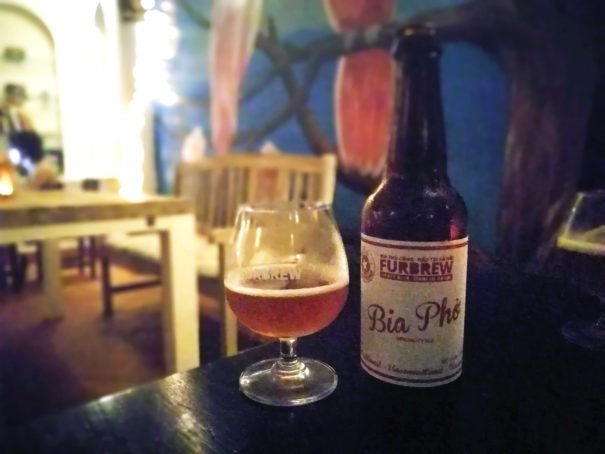 It Was Only a Matter of Time Before Vietnam Came Up With Pho Craft Beer
Beer in Hanoi
The driver drew the taxi to a standstill, pointing through the right-side window to say, "There it is." I nodded. We had successfully hauled ourselves from Hanoi's Old Quarter to Quang An Flower Market, on the edge of Hanoi's West Lake neighborhood. The market was a stepping stone, an obvious landmark to point out to a cab driver on the map, on the way to Tay Ho Tiki Company.
On a night menaced intermittently by heavy showers, flower market vendors were setting up for the all-night shift. Leaving the roadside, we shuffled past motorbikes captained by gaunt young men, flowers bundled high and secured on the back. Below the hum of a hundred engines, ladies laughed as they set up their stalls, and we passed a banh mi seller toasting baguettes, the scent of warm bread cutting through the damp air.
About 330 feet along the road, Tay Ho Tiki Company was cool and quiet, a welcome break from the Old Quarter's hectic nightlife. We had come looking for cocktails, working off an assumption that Hanoi bartenders are blessed with some of the best raw materials in the world. To walk around this city is to swoon over the scents of fresh fruit, herbs, and spices—lemongrass, lime, Vietnamese basil.
We came for cocktails, but the beer list caught my eye. "No," I reminded myself, "You don't always need to try the craft beer just because it was brewed locally and has a clever pun for a name." But what if one of them is a pho beer?
I put this internal debate on hold, temporarily, and we settled on a couple of cocktails. One of the house creations, The Spice Route, combined a 12-year-old Jamaican rum and pineapple caramelized with a mix of nutmeg, cinnamon, vanilla bean, and star anise, the package rounded off with lime and black walnut bitters.
We sipped and chatted on and off with the owners, a Canadian-Australian couple. They told us about the joys and travails of bar ownership in Hanoi— having a dream, making it happen, renovating and reopening after being briefly threatened with eviction. The bar was quiet otherwise. Rain now pounded the pavement outside. Yeah, we needed another drink.
As I began to order up another cocktail, the waitress cut me off. Did we want to try that Hanoi-brewed Bia Pho? The intrigue was too much. I had to take a chance on a drink that would, at worst, taste like beer.
In fact, the Bia Pho was excellent. As an idea scrawled on a coaster, a pho-inspired ale must have read like craft beer jumping the shark off the Vietnamese coast. Somehow, Bia Pho turned out as a finely-balanced brew, bringing flavor from cinnamon, ginger, cardamom, star anise, and coriander seeds. A spicy aftertaste from a slight dose of chili provided the perfect finish to a bold experiment.
So did it taste like actual pho? It did, at least as much as I wanted it to. But as I savored my pho-inspired craft ale, a delightful discovery in a city of relentlessly great food and drink, the comparison had ceased to matter.