Dangerous militants and anxious public officials have not dampened the Egyptian rally community's passion for desert racing.
Claes Raben, a Cairo-based interior designer from Denmark, turns his Jeep sharply off the highway and onto the jagged terrain of Egypt's unforgiving Eastern Desert. 
"I packed a shisha pipe and a few beers, just in case these guys take a while to come back," he says. I had hitched a ride just after sunrise from seaside resort El Gouna to join a ragtag convoy, rumbling its way towards an agreed point about a mile inland from the Red Sea.
Here, beneath a craggy hill, these obscure coordinates would serve as both start and finish for April's El Gouna Rally Special, the latest installment in the Egyptian domestic rally raid championship.
Raben begins heating coals for the shisha pipe while his wife, Dalia Abou-Senna, unpacks a generous spread of sandwiches, dips, and pastries. Such is the leisurely lot of the rally raid spectator, who rises at dawn to cheer on an eclectic mix of modified cars and dune buggies, only to see them plunge over the horizon, vanishing on a far-off adventure.
But in a country wracked with paranoia about the desert's lurking security threats—some real, some imagined—even getting to the starting line is a victory.
[Read: Egypt's largest camel race is a tether to a history entwined with the animals]
Rally racing has a proud history in Egypt. In 1982, a band of European motoring enthusiasts arranged the inaugural Rallye des Pharaons—a grueling, days-long trek that usually started in the shadow of the Great Pyramid at Giza. The international event drew teams from across the globe, with many considering it second only to the Dakar Rally as the sport's most formidable test.
But a series of ugly incidents has threatened the very existence of Egypt's dedicated rally scene. In 2013, President Abdel Fattah al-Sisi launched a crackdown against Islamist terrorists in the northern Sinai desert, which remains mired in armed conflict. Violence has also sporadically flared up in the Western Desert; insurgents operating there carried out a deadly attack on Egyptian police forces as recently as October 2017.
In 2015, the Egyptian armed forces unwittingly opened fire on a Mexican tour group during a anti-militant operation in the Western Desert, killing twelve and injuring ten. The military stated that the tourists were in an off-limits area at the time of the incident.
Haunted by this human tragedy and public relations disaster, the government imposed even sterner restrictions on accessing the Western Desert, a sprawling wonderland of verdant oases, mountainous dunes, and fast sand-trails. Today, rally events can only take place in the Eastern Desert—the expanse east of the Nile River stretching towards the Red Sea—which offers neither the enormous scale nor the varied terrain of the west.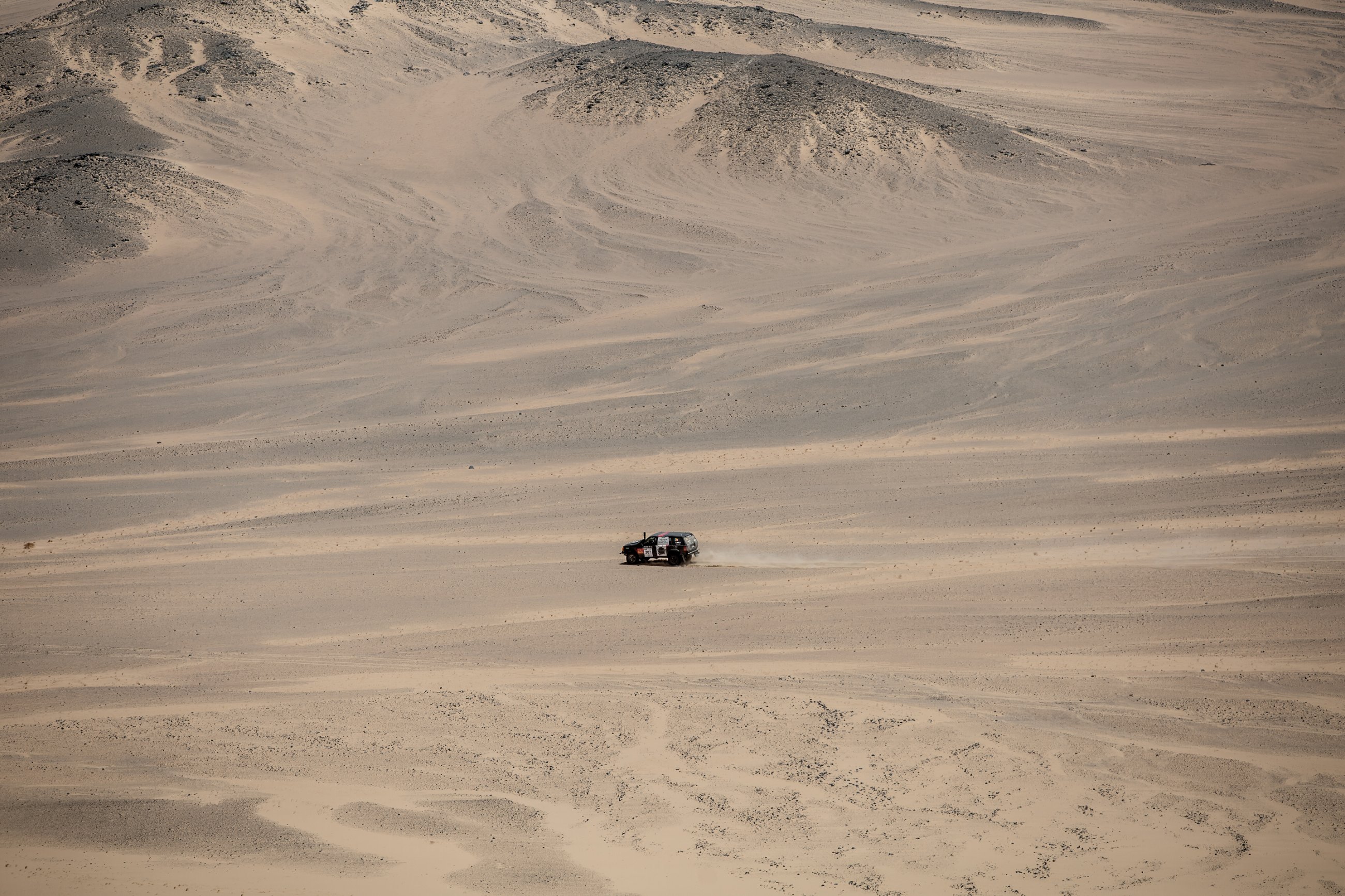 The competitors anxiously mill around before the El Gouna Rally Special, confirming final instructions and finishing off last cigarettes. The starting grid takes shape, engines roar, and the vehicles soon disappear from view.
The fans tailgate, Egyptian-style, while the competitors sweat under racing jumpsuits and intense competitive pressure. Each co-pilot calls frantic directions as the vehicles negotiate a winding, 164-mile course around rocky outcrops and unpassable valleys.
The occasional walkie-talkie dispatch gives flashes of information to supporters about the drama unfolding inside the desert. One car crashes, causing serious injury to the co-pilot's thumb. Another team soon stops to assist, sacrificing precious time and concentration.
Around four hours later, a monstrous red and black buggy reappears on the horizon as suddenly as it left, hurtling over the dunes to claim first place. Rahhala Total Racing Team has dominated the Egyptian rally scene in recent years, and this latest triumph comes as little surprise.
[Read: A year after its destruction, Cairo's Museum of Islamic Art remains a bombed-out shell]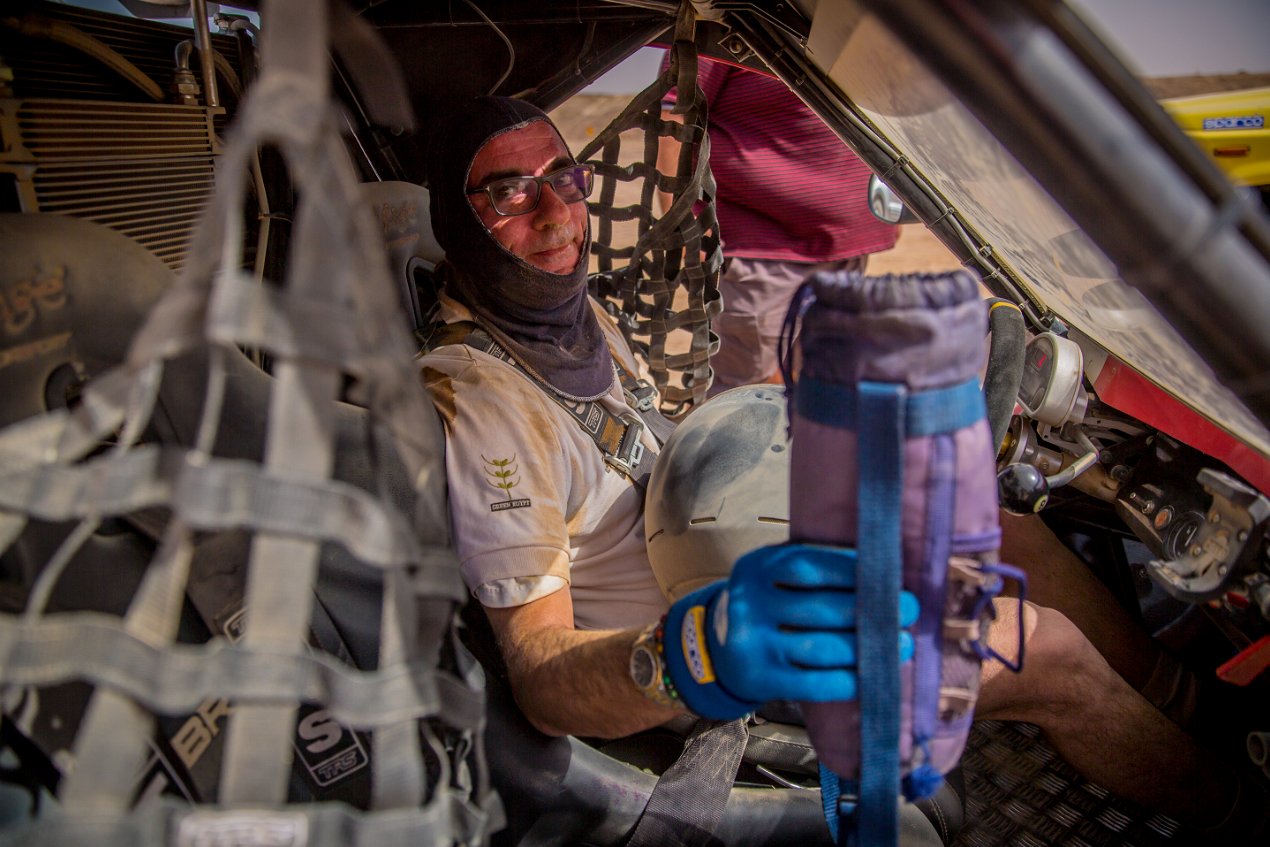 Weeks later, I caught up with Ahmed Sergany—who runs Egypt's domestic rally championship together with Alain Besancon—in Cairo's gaudy Mall of Egypt. His eyes twinkle as he reminisces about the golden age of Egyptian desert racing.
"Rally in Egypt used to be cross-country—literally!" says Sergany. "The [Rallye des] Pharaons organizers could point to anywhere on the map and go."
In any country, planning a rally raid event poses logistical challenges. Sergany, a jeweller by trade, devotes countless hours to crafting each race's course and generating the all-important road book—an instruction manual setting out the trail's coordinates, contours, and hazards in painstaking detail. "This is the fun part," says Sergany.
Far less enjoyable is the struggle to secure race permission from the Egyptian government, an administrative behemoth notorious—at the best of times—for its opaque, often-inscrutable procedures. "Getting the permits is hell," says Sergany.
For weeks before each race, Sergany must cajole no fewer than eight separate state entities into allowing the event to take place. The permit applications require precise coordinates of the proposed course, detailed evacuation plans and identification documents for every team member, which currently totals around 200 people.
After jumping through these bureaucratic hoops, the most brutal sting lingers in the tail of the process. Sergany and his rally colleagues must wait until 5 p.m. the day before each rally to receive final approval from the Egyptian army, which has full discretion to call off the event. The competitors, support crews, and spectators had all trekked out to a starting line deep in the Western Desert in 2015, only for the military to withdraw permission on the eve of the rally.
Most people would be open to having tracking devices on our cars, for instance, if it meant that we could use the desert again.
That same year, the international Rallye des Pharaons was discontinued. Egyptian state-owned newspaper Al-Ahram blamed the Federation Internationale de l'Automobile (FIA), which oversees the international rally raid tour, for canceling without good reason. In Sergany's view, the FIA understandably refused to commit sponsors' money to the event without firm assurances, well in advance, that it would go ahead.
I speak with Omar Amin, who drives for the Amino Brothers team alongside his co-pilot and brother, Hesham, at an upscale Cairo restaurant.  "The army may be doing the right thing, but it could do more to facilitate our sport," he says.
Amin acknowledges that the government faces considerable security threats in the Western Desert, which stretches from the Nile Valley to Libya, Egypt's anarchic neighbor. Smugglers have long traversed the porous border between the countries, but now drugs and weapons have replaced cigarettes and electronics as the contrabands of choice.
The situation has recently calmed somewhat—no fatal attacks have been reported in the Western Desert this year. But Amin believes that some public officials remain anxious, preferring to impose sweeping security regulations lest another mishap occur. He offers the example of rally drivers communicating only via walkie-talkies because long-range radio frequencies are locked for military use.
"National security is important anywhere in the world, but you need to at least try and find solutions," Amin says. "Most people would be open to having tracking devices on our cars, for instance, if it meant that we could use the desert again."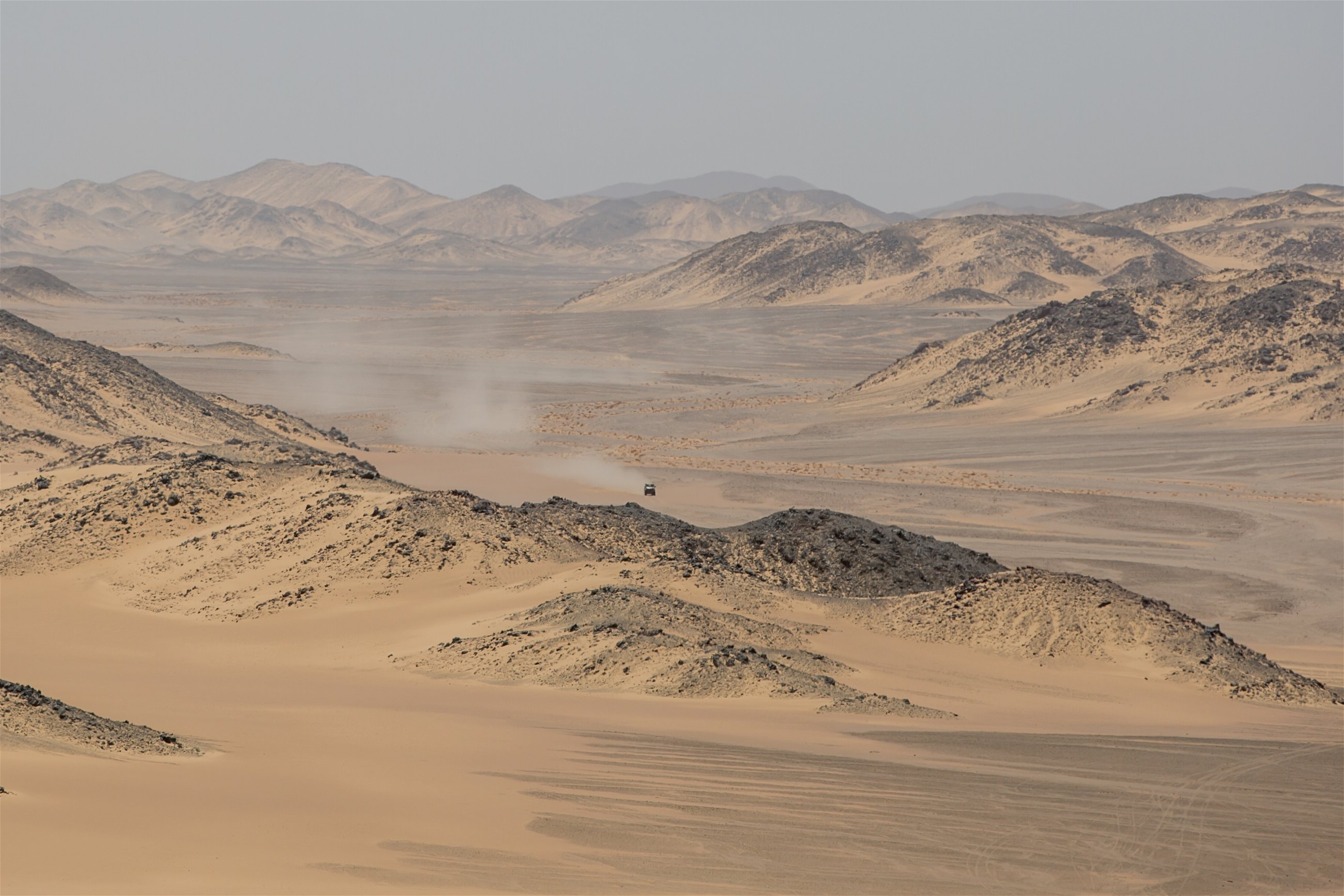 Egypt's rally racers are not the only the desert enthusiasts struggling under the heightened security restrictions. Only very limited areas of the Western Desert remain open to the general public, with virtually no opportunity for overnight camping. This has placed a severe dent in desert tourism, which once profited from lucrative, days-long adventure tours.
Hany Amr, the owner of Desert Adventures Egypt, tells me when I speak to him by phone that some tour companies still take groups outside the permitted zones in the Western Desert. "They are taking a big risk," Amr says. "If something happens, it will not just be bad for tourism—it will be bad for the whole country."
Amr has already seen the impact of the tourism downturn on desert communities, with locals selling their Jeeps and switching careers. Some have entered mining and agriculture. For others, the rampant smuggling trade offers a tempting source of income.
In other countries, they look for waves, but here, we look for dunes.
In the eyes of many Egyptians, the desert is more than a place for earning money and racing cars. Its awe-inspiring emptiness and calming silence offer a welcome respite from Cairo and Alexandria's wearying assault of bustle, stress, and car horns.
Now middle-aged, Sergany casts his mind back to his first encounters with the desert, when he and his teenage friends would set outdoor barbecues and tackle the terrain in their cars. "In other countries, they look for waves," says Sergany, "but here, we look for dunes."
This deep affection makes losing the desert much harder to bear. "Five years ago, it wouldn't have crossed my mind that I couldn't go to the desert," he adds. "People's eyes still glaze over when they think about it."
Yet, against all odds, Egypt's rally raid community is growing. A record 13 teams participated in this year's El Gouna Special—up from nine last year. The government has tentatively authorized another race for later in 2018.
Now, Sergany wants to lure foreign entrants to Egypt's domestic rallies, starting with the country's Gulf neighbors. Beyond that, there are faint murmurings that the Rallye des Pharaons could one day return, bringing full international competition back to Egyptian sands.
"The past few years have been incredibly difficult for us," says Sergany. "But I have great hope for the future."