Photographer Laurence Geai speaks with R&K about France's Yellow Vest protest movement and the difference between shooting in a war zone and covering her hometown.
When Laurence Geai returned to Paris after an assignment in Syria earlier this month, she saw her hometown upended: Protesters had filled the streets, shattering storefronts and defacing monuments including the Arc de Triomphe. Police responded with a heavy hand, launching projectiles and tear-gas grenades into the crowds.
It was the third weekend that thousands of protesters, known as the Gilets Jaunes, or Yellow Vests, took to the streets after President Emmanuel Macron proposed an increase in the fuel tax. (Motorists in France are required to carry yellow hazard vests in their cars, and many of the protesters say the tax increase disproportionately hurts residents of the suburbs and countryside who rely on private transportation.) What began as a movement against the fuel tax grew into a series of vast demonstrations, with other groups jumping on the bandwagon, including students, right-wing groups, and anarchists. Several protests descended into violent riots.
On December 10, Macron announced a hold on the fuel tax and an increase in the monthly minimum wage. The protests have since abated, but their impact, and their polarizing effect on France, will endure. More than 2,000 people were injured, eight people died, and businesses reported over a billion dollars in damages and lost revenues.
Roads and Kingdom's Emily Marinoff spoke to Geai, who covered the protests for Le Monde, about scenes from the demonstration and what made her realize that "it's easy to destroy a city."
Though tired from travel and nursing a cold, Geai ran toward the Champs-Elysée to take in the action. "I came with one camera, not the good lens. Like a tourist," she said.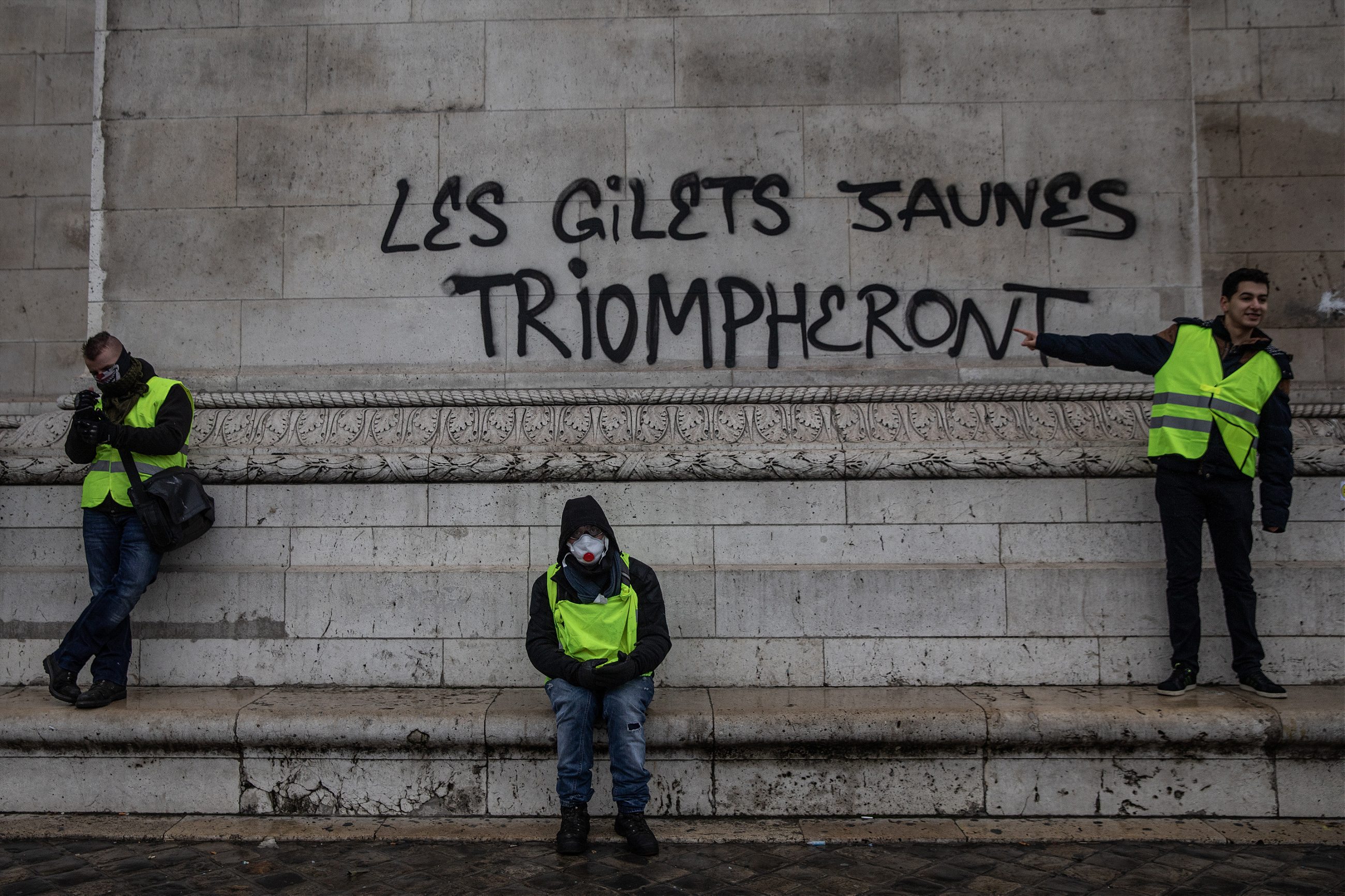 Emily Marinoff: Can you describe the scene from one of the protests?
Laurence Geai: I started documenting the protests on Saturday, December 1. I had just come back from Syria and was sick, but I wanted to figure out what was going on in my country. I went to the 8th arrondissement, near the Arc de Triomphe. I wasn't prepared. I came with one camera, not the good lens. Like a tourist.
I don't usually cover demonstrations in France, so I wasn't sure what to expect. I cover wars, so when I need to have a helmet or a mask it's on the frontline, not in Paris. The streets were a mess, and the police sprayed a lot of tear gas. I couldn't work without glasses and a mask, so a friend gave me a pair of glasses, but they didn't fit. I couldn't take very many pictures—I didn't feel comfortable. I needed some time to understand the behavior of the police and the Yellow Vests before I could take good pictures.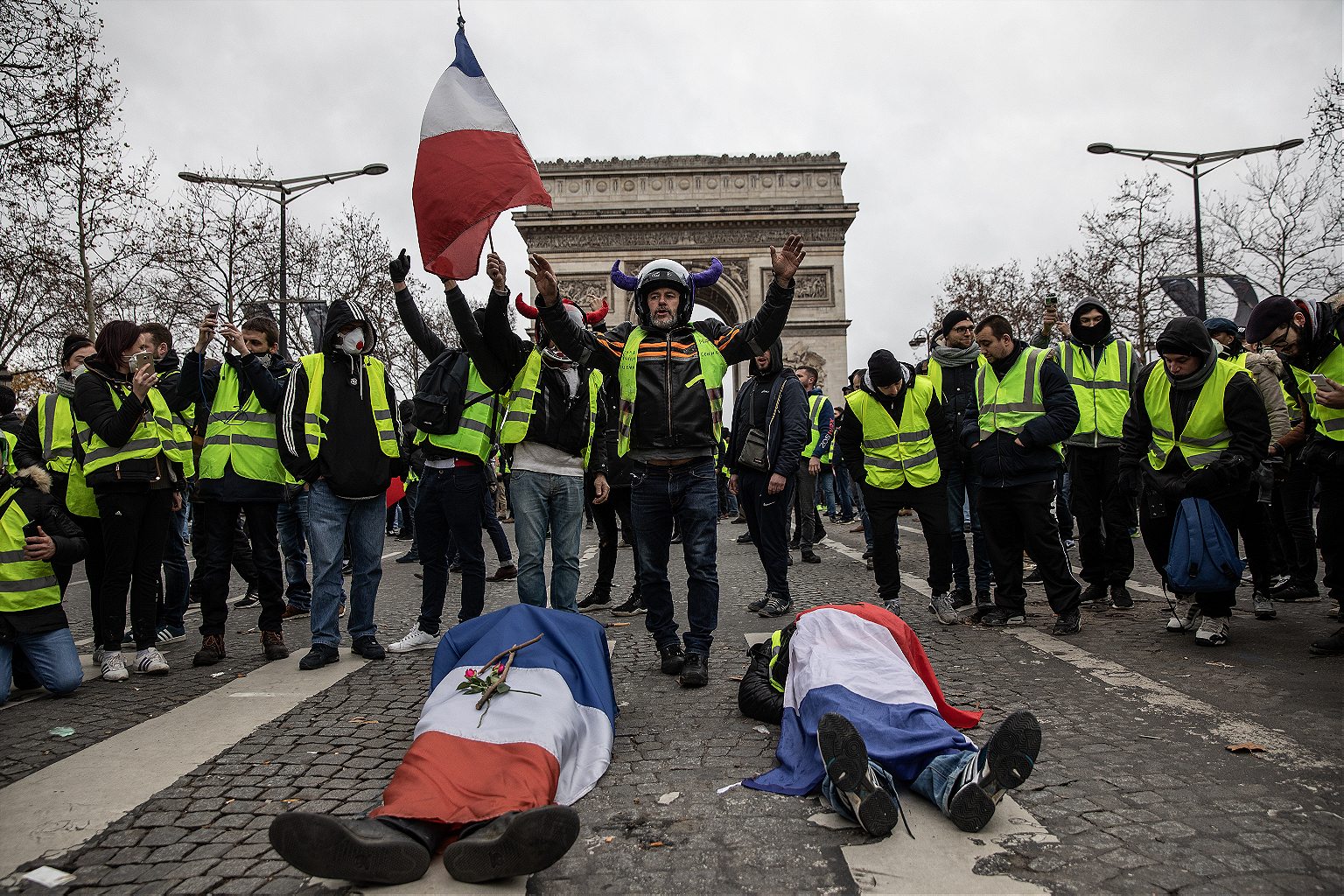 Marinoff: Who are the Yellow Vests?
Geai: Many different kinds of people have joined the Yellow Vests. Most of them are from the countryside or small towns, but I've also seen Parisians join in, so it's a vast group. I don't think all of the Yellow Vests are violent. Some are, but during these protests, bystanders were attracted to the chaos and joined in on the destruction.
The Yellow Vests are mostly against the personality of Macron. It's not just the politics. They don't like him because they feel like he doesn't give a shit about them, that because Macron is younger and has an upper-middle-class background he doesn't know so much about actual French people.
Marinoff: How did this situation compare with the war zones you've covered?
Geai: It's different. I've covered Gaza, Iraq, and Syria so this is not as bad for me. Other journalists might not agree, though, because it's just strange to cover this in France. My friends who usually cover demonstrations in France told me these are the worst [they've seen]. The road is blocked, people are setting things on fire, it's crazy.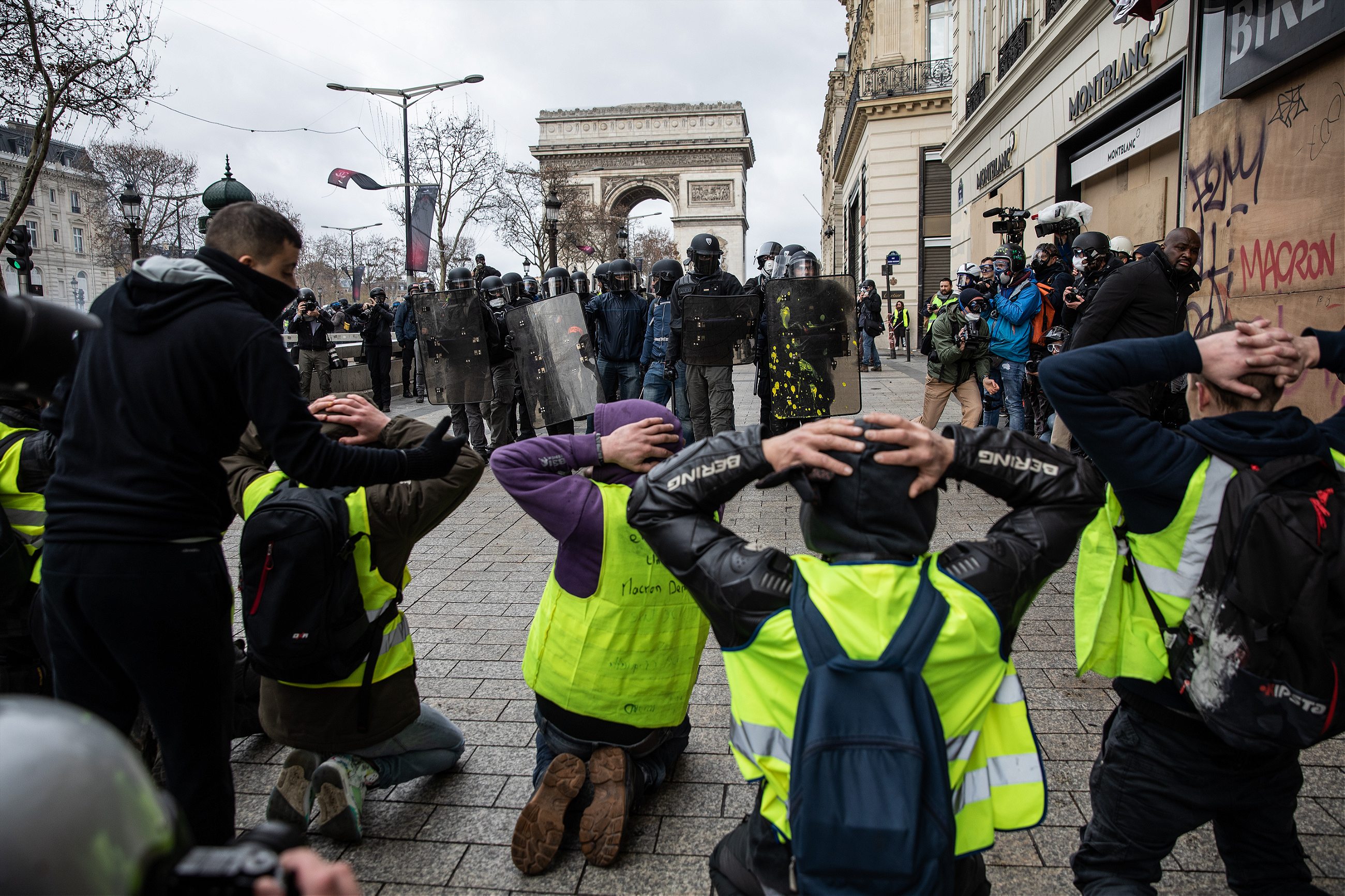 Marinoff: Have you felt unsafe?
Geai: Yes. At times during the protests, the police will throw tear gas and then run around until they arrest one of the Yellow Vests. This is the most dangerous part, when there are twenty guys heavily armed walking fast and pushing through the crowd. I really don't like when people are running. It scares me because if I fall down I know they will step on me. That's the only thing I'm really scared of.
Both the Yellow Vests and the policemen don't like journalists so much now. My friend, another photojournalist, had her helmet, glasses, and protection mask confiscated after taking a photo of a policeman arresting two teenage boys. He must not have liked that. So she worked without a helmet. I gave her my mask because I had two, but it's still very dangerous. She plans to sue the Paris police department. A similar thing happened to another journalist with Le Monde—it wasn't just us.
You know, just like Donald Trump, Macron doesn't like journalists. That makes it complicated for us to work freely and safely in France.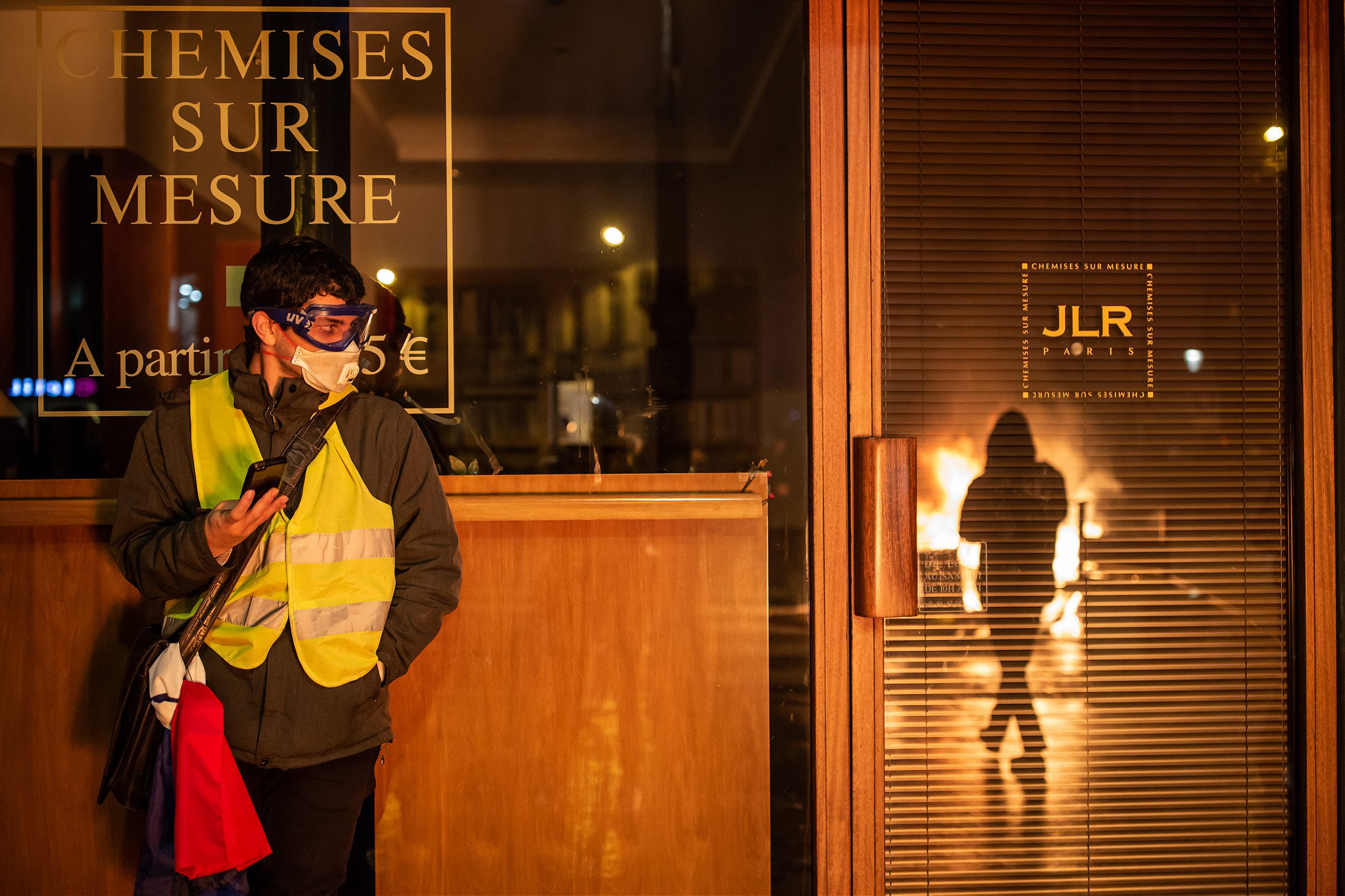 Marinoff: How have the protests affected day-to-day life?
Geai: My friend lives in the near the Champs Élyseés and has a child, so she decided to get out of Paris for the weekend because she was scared. I live in Republique, a neighborhood which isn't near the Champs Élyseés, and they burned a car my street. The glass was broken in a restaurant next to my front door, and there are still glasses scattered from an optician's office just in front of my street.
The majority of Yellow Vests are not destructive, though. I saw on the Champs Élyseés one group of Yellow Vests destroyed the front of a shop but then another group tried to repair it.
Marinoff: Have things started to calm down?
Geai: The streets of Paris are normal now, except near the Champs Élyseés where many shops are still closed. The [latest] protests I covered were very quiet and peaceful compared to previous weekends.
Marinoff: Do you have a favorite image from the protests?
Geai: After covering the protests all day, I like to take pictures at night. The atmosphere is not exactly peaceful, but things slow down because everyone is tired. One night, as I was going home, I saw the man who owns the restaurant next to my apartment cleaning up some glass. I took another picture that night of a car as it was burning and people staring at it. It's so strange to see Paris like that.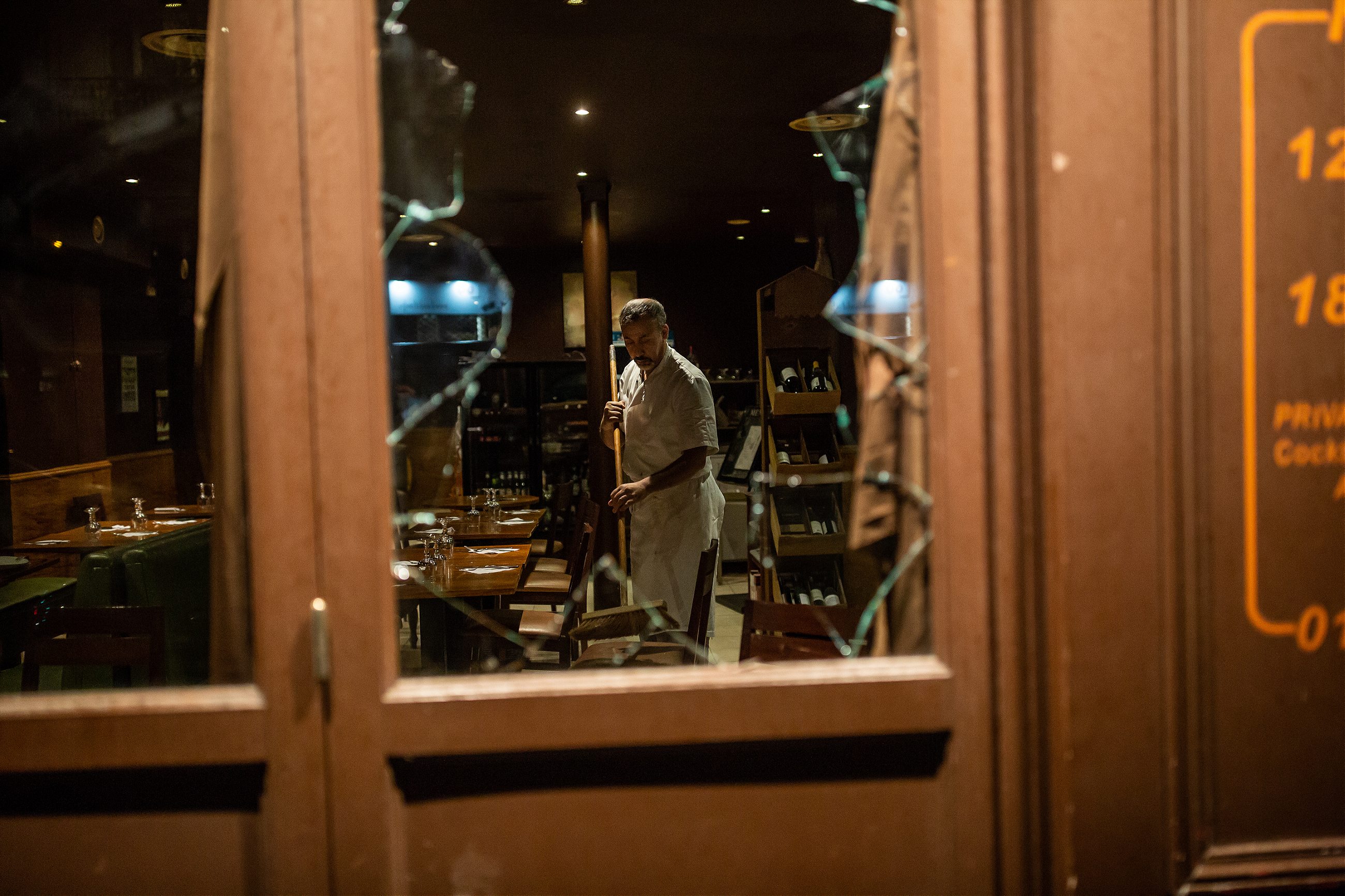 Marinoff: How long do you think it will take the city to recover from the damage?
Geai: I don't know. I've realized it's easy to destroy a city. The police cannot be everywhere. Economically it will be a big problem, but it's Christmas soon and the city will want to clean up the streets for tourists.
It's a very interesting time. A lot of the Yellow Vests are coming from the countryside to Paris to make their voice louder because they are kind of forgotten in our country. They came to Élyseés, the richest area of Paris, because it is nearest to the power.
This conversation has been condensed and edited.