A player's account of the highest-altitude hockey game ever played.


The road to the rink was short but slow going. We had just left the remote village of Tangtse, which you can find on Google Maps, for the even remoter village of Chibra Kargyam, which you can't. It was the last leg of our long journey into northern India near the country's disputed border with China. Two days earlier, hockey bags in tow, the 100 or so of us endured a four-hour white-knuckle ride to Tangtse through the Himalayas. The switchbacks along the edge of the mountains were abated only by the humor of the road signs: "Drive, don't fly," "Fast won't last" and "Be soft on my curves."
The dirt road to Chibra Kargyam was already a minefield of potholes and jagged rocks, and construction on it had only slowed the course. We passed yet another army outpost, one of many in Ladakh, a region in the restive northern state of Jammu and Kashmir, "where all the problems are in India," a security guard at the airport would later tell me as she confiscated my nail clippers. A front-page story in one of India's English dailies reported that Pakistani militants had recently stormed the barracks of an army outpost in the western part of the state. The gunmen had all been killed swiftly, the paper reported, though not before taking two Indian soldiers with them into oblivion.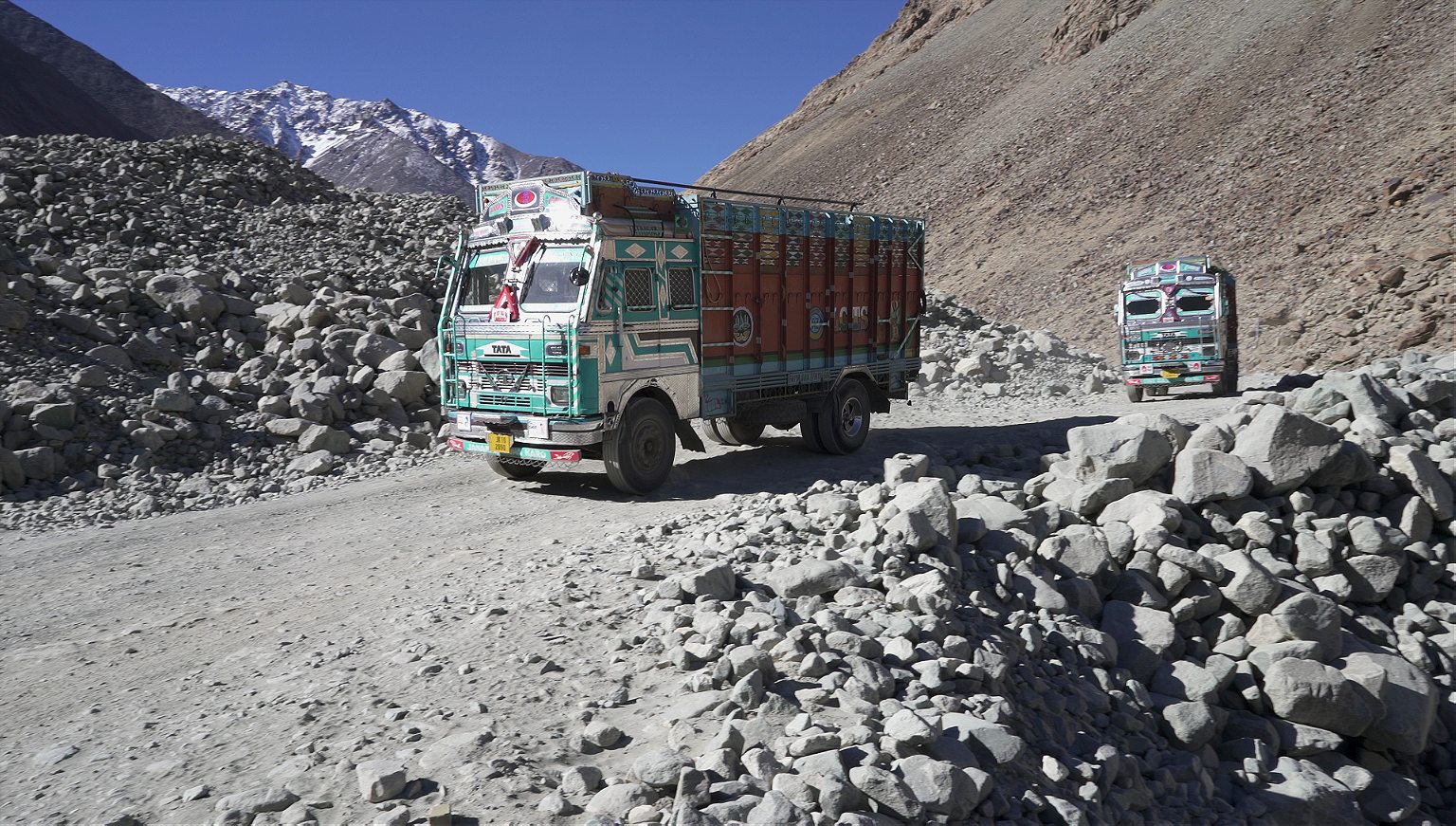 With rivals Pakistan to the west and China to the east, the Indian army is ubiquitous in Ladakh. But we were grateful for their presence. It was the military, after all, who'd flown the rink boards into Leh, the capital of Ladakh, so that they could be trucked to Chibra Kargyam in the eastern part of the region. After being bought and shipped from Europe, the boards had been stuck for weeks in Srinagar, the largest city in Jammu and Kashmir. It took an order from the minister of defense to fast track them through India's interminable bureaucracy–just so a bunch of beer leaguers could play hockey and attempt some obscure history.
On the way to the rink, the caravan was a mix of excitement and exhaustion after another cold February night in Tangtse without heat, electricity or running water. We passed a boulder scrawled large with the Tibetan mantra Om Mani Padme Hum, loosely translated as "jewel of the lotus." It's written inside every prayer wheel in this largely Buddhist part of India. My team's captain, who's been coming to Ladakh since 2009, had it tattooed on his arm.
As we rounded the corner, traveling ice technician Rob Ruszala interrupted the conversation in our taxi and pointed out the window. "There it is! Isn't it beautiful? Look at that. It's like Christmas morning."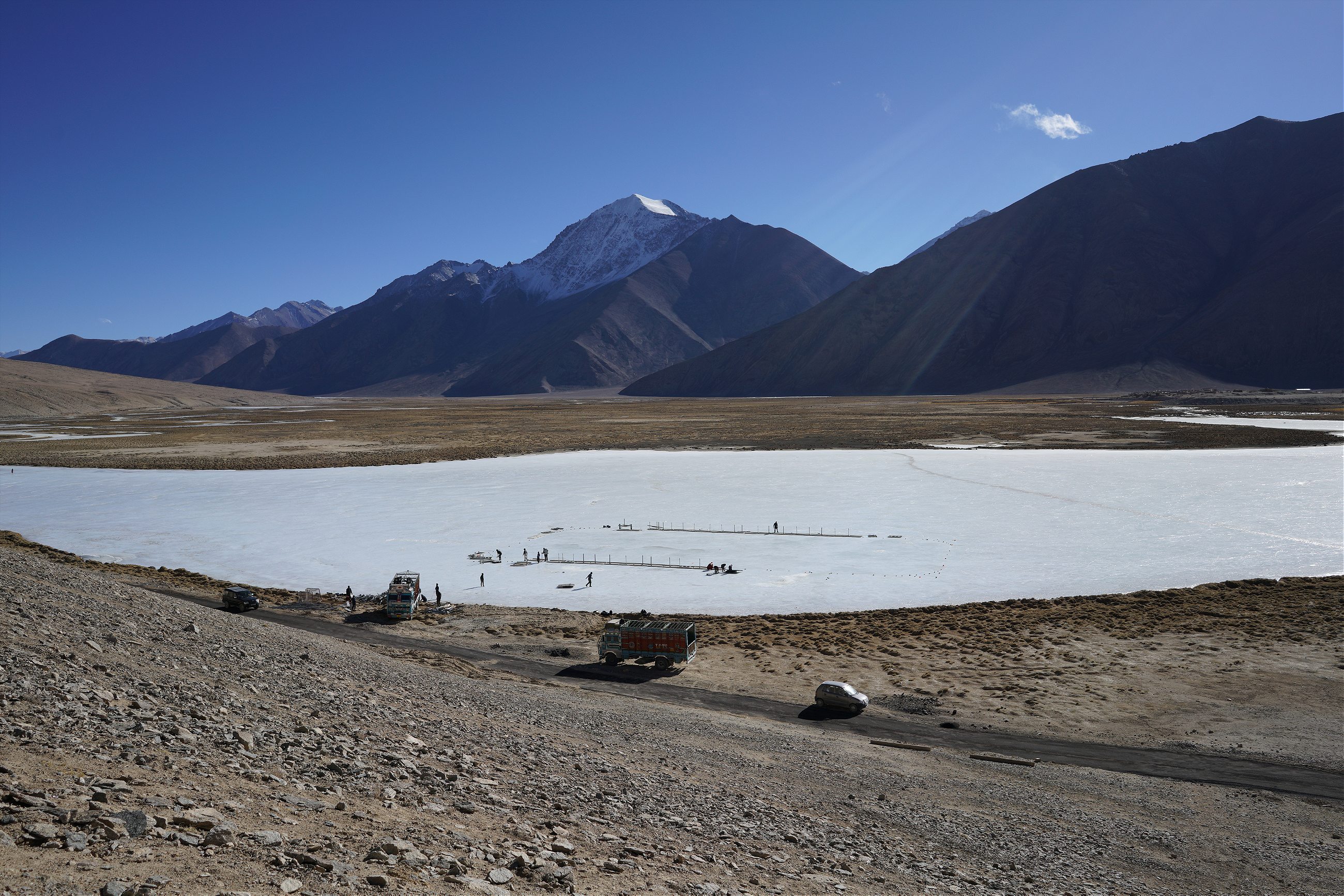 In the distance, about a half-mile away, stood the rink where we were going to attempt to set the Guinness World Record for the highest altitude hockey game ever played.
We crossed a short bridge strewn with Tibetan Buddhist prayer flags. Below it hung the severed heads of about a half dozen sick goats, which local villagers would cut off to avoid infecting their herds and then hang under the bridge out of superstition. The bumpy dirt road suddenly switched to a smooth, paved black surface that served as our red carpet the rest of the way to the rink. There, Ladakhis from Chibra Kargyam and some nearby villages had come out to meet us dressed in traditional wool robes. The villagers in this area are mostly seminomadic people who herd yak, sheep, horses and Pashmina goats. The children lined up along the road and shyly greeted us in English with "Welcome to Ladakh" as we pulled up to the rink.
We'd all played in the great outdoors before. Many of us had even skated on rinks far more makeshift than this one built hastily on a remote floodplain in the Himalayas. But nothing like this. With mountains all around it, the virgin sheet of ice was nostalgic and captivating.
The wind whipped up as my teammates and I hauled our hockey bags to one of the half dozen unheated tents set up for the players. In this part of the Himalayas, there are no trees to break up the wind or provide protection from the assaulting sun, whose radiant heat can melt ice on cloudless days even in sub-zero temperatures. We undressed reluctantly, as if preparing to take a cold shower. We then rushed to put on our equipment in search of warmth that wouldn't return until after the game. My fingers and toes were already starting to numb as I tied my skates. By the time the game was over, I wouldn't be able to feel them at all.
"Our roster of players read like something out of Slap Shot."
My teammates were a cast of characters who'd come from various parts of the globe. We were all playing under the banner of The Hockey Foundation, an American charity that has been working to grow hockey and improve lives in India, as well as other parts of the world, for the better of a decade. Our roster of players read like something out of Slap Shot: they included our captain, Adam Sherlip, executive director of The Hockey Foundation and former coach of the Indian men's national team; our coach, Tim Dyer, a San Diego wealth manager and Woody Harrelson doppelganger; "the Traveling Goalie," Adrian Mizzi, a film producer from Toronto who's played hockey in 37 countries and counting; the Kamman brothers, Pete and John, good old salt-of-the-earth boys from Montana; Corey Adams, a Brooklyn-based videographer and Sidney Crosby beard impersonator, who drew double duty, both playing in and filming the game; and also a gaggle of French-Canadians, including our speedy ringer, Alexis Daudelin, an urban beekeeper from Montreal and nude model for a 2017 calendar of local apiarists.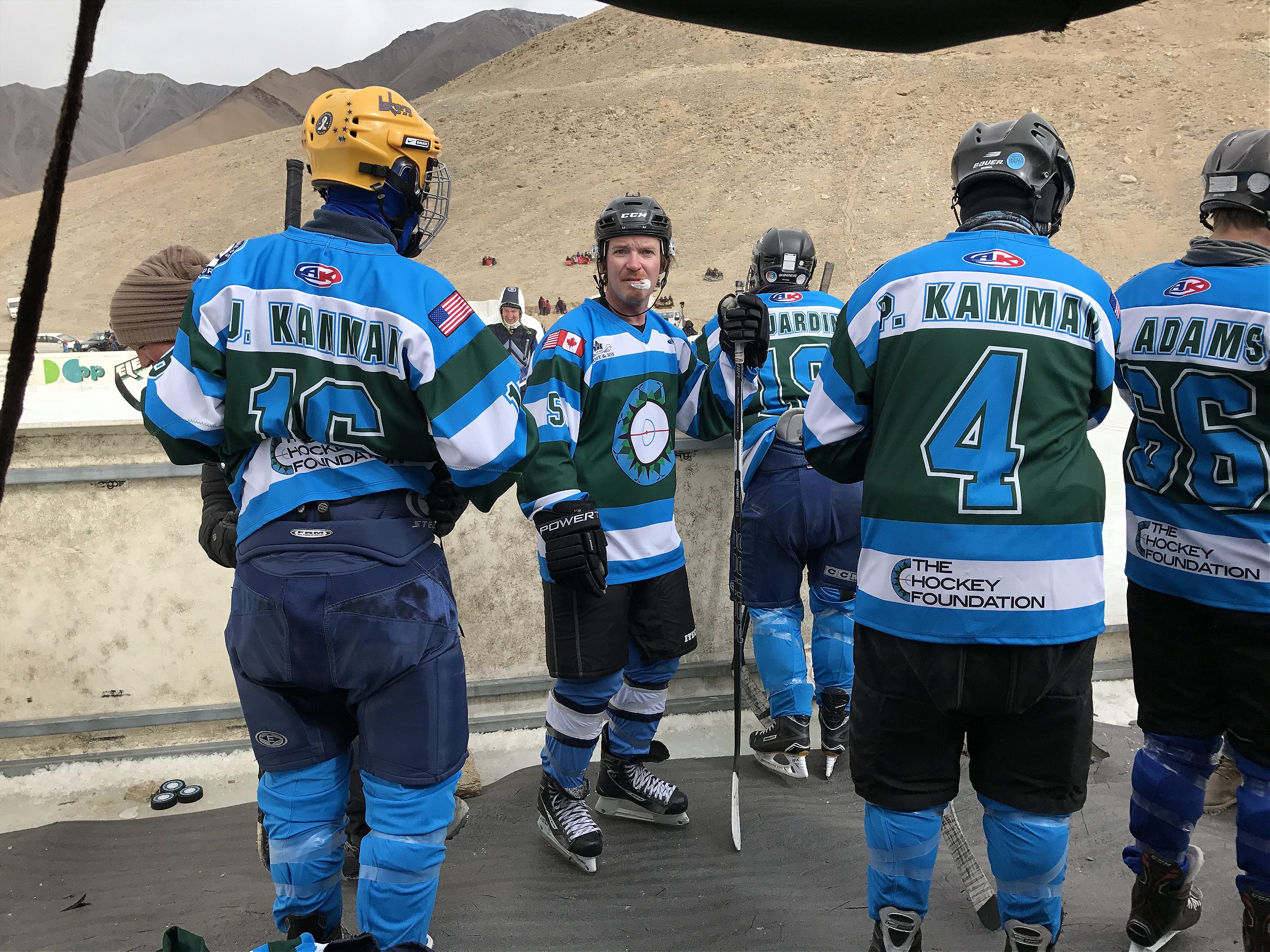 Our opponent was Team Ladakh, the home side for the Guinness game, made up mostly of players from the men's national team. Hockey in Ladakh is what cricket is to the rest of India. In winter, Ladakhis live and breathe the sport. They do so wearing donated gear, mostly from The Hockey Foundation, while playing on ice that is often dangerous to skate on. During a coaching clinic in Leh before the tournament, a player from the Indo-Tibetan Border Police team caught a rut on a routine skating drill and broke his leg. "On my first trip here, I saw a kid playing with just a stick and a rock and it brought me back to my childhood playing with whatever I had," Sherlip said. "Ladakhis love ice hockey. They live and breathe the game and have even come to follow NHL teams and have favorite players. It's incredible how much the game has grown in the past decade."
The Guinness game was originally the idea of Antoine Jouvet, a coach with The Hockey Foundation. It quickly took on a life of its own and became about much more than just setting a record. Jouvet and Sherlip wanted to use it as a way to bring attention to hockey in Ladakh and, more importantly, to donate a set of rink boards to an arena in Leh that has been sitting half-built since 2009. It'd be a game-changer for hockey in Ladakh. There isn't a functioning full-size arena in the region, or anywhere in entire country for that matter. The idea was also personal for Jouvet. "I've been coming here for five years now, and every year I say it's going to be my last," he said. "But I keep coming back. I love it here. It's like a second home, and I have good friends here. But at the same time, it's hard to be away from my wife and son for so long. Getting the Guinness World Record would be like the cherry on top."
Boards don't come cheap, though. The Hockey Foundation bought used boards from a rink in Austria for $18,000, and one its members put up over $20,000 of his own money to ship them to Ladakh. To cover the costs, the organization decided to build a tournament around the Guinness game and then find sponsors, charge registration fees and solicit donations. Exhibition games would take place in Leh, after which players would be driven through the Himalayas to Tangtse, about 20 miles from Chibra Kargyam where the record-setting game and the rest of the tournament would take place. Clubs from Germany and Slovakia signed up as well as a couple international squads, including the event's main sponsor, Randstad, a global staffing agency.
"We had to play 60 minutes of stop time on a real rink in full equipment at an altitude nearly half that of Mount Everest."
Attempting to set a Guinness World Record is a serious undertaking, and the organization had given The Hockey Foundation a lengthy list of criteria to qualify for certification. Many games had already been played before in Leh, which is 3,500 meters above sea level, so Guinness required the game to take place at an altitude over 4,000 meters. The Hockey Foundation scouted the region and found a spot in Chibra Kargyam. The game also had to be played on a regulation-sized rink, with boards, under rules from either the International Ice Hockey Federation or the National Hockey League. It had to be officiated by certified referees and videotaped by two cameras. Four witnesses were also required to verify that the game took place.
All of this meant that we couldn't just find a random sheet of ice high in the mountains, play some harmless shinny for five minutes and call it a record. We had to play 60 minutes of stop time on a real rink in full equipment at an altitude nearly half that of Mount Everest.
In the first period, many of us were overtaken by the novelty of it all, while those who run The Hockey Foundation were just relieved to have pulled it off. A few weeks beforehand, Ruszala, the organization's director of logistics and infrastructure, had arrived early to set up the rink with a gang of volunteers, only to sit and wait as the Indian authorities played hot potato with the paperwork for the boards. Every day they were told the same thing: "tomorrow." By the time the boards arrived in Chibra Kargyam, they had only five days to build an Olympic-sized outdoor rink. "You know that episode of the Twilight Zone when you just keep having the same conversation every single day?" Ruszala said. "That's what I feel like I've been listening to the past three weeks."
The game started slowly as we tried to find our hockey legs at 14,340 feet. The ice was brittle and bumpy to start, but we had everything we needed to play the game and set the record, including retired NHL referee Mike Leggo, who, according to YouTube, apparently screwed the Detroit Red Wings back in 2010.
Coach Dyer put me on a line with Pete Kamman and Ben Hardy-Chartrand, an international relations specialist from Montreal based in Tokyo. Dyer dubbed us "Big Sky" in homage to his Montana countryman. We clicked almost immediately.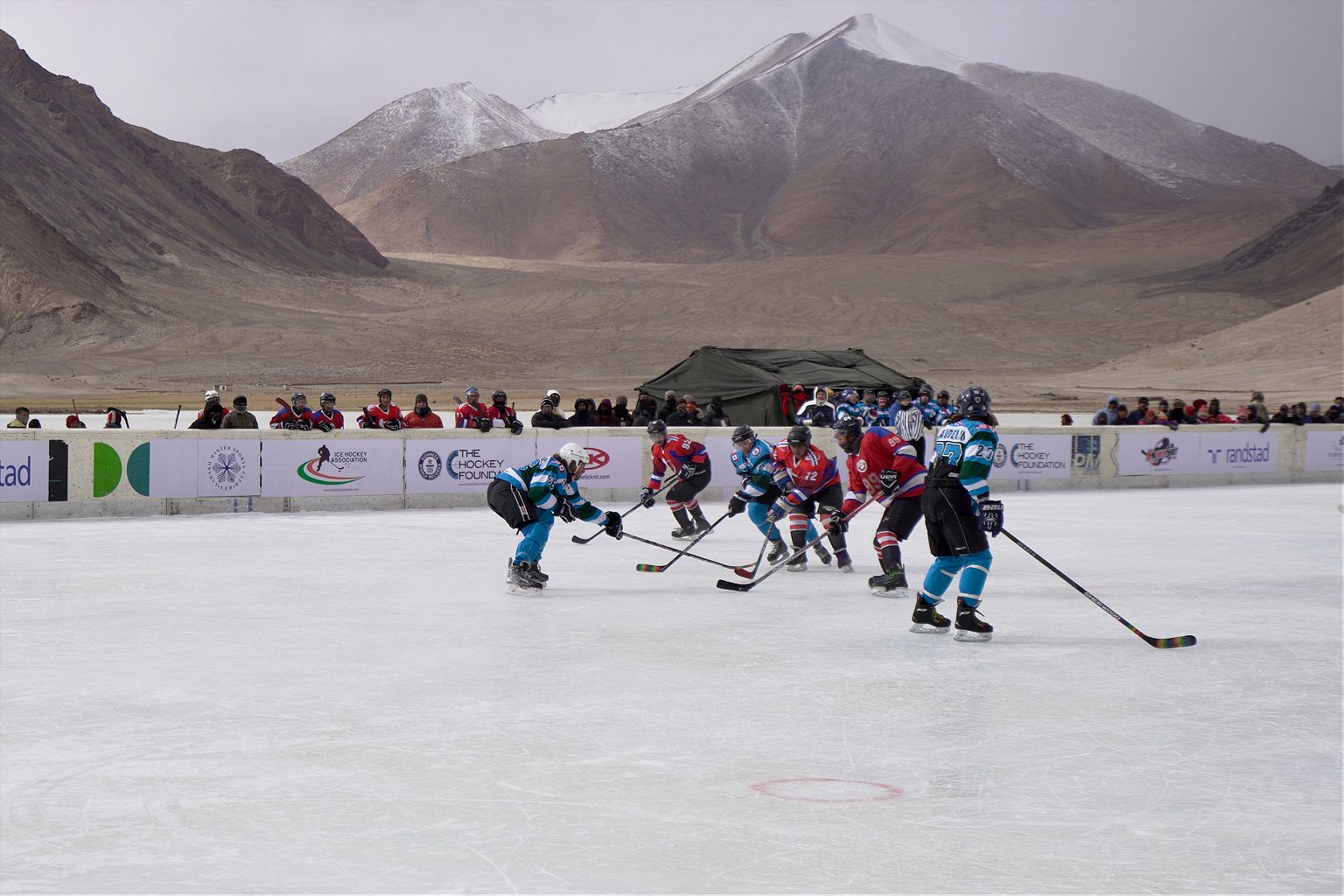 On our second shift together, I jumped on the ice just as my linemates were working their way inside the offensive zone. I raced unchecked to the net as Kamman deked through the Ladakhi players. He took a shot from the left boards. The rebound bounced right out to me with nothing but net staring me in the face. I tapped the puck in with ease. I kept my arms down as I celebrated with my teammates since I did little but nudge the puck over the goal line, a "garbage goal" in hockey vernacular. It wasn't until after the game that I realized I'd become the first person ever to score a goal in an organized hockey game over 14,000 feet.
The game stayed 1-0 until the start the second period. As I went out with my Big Sky linemates to take the faceoff, I looked up and lost focus. Surrounding us on all sides were the Himalayan mountains, brown and barren in the winter, though no less majestic for it. The morning sun struggled to shine through the clouds, like a lamp with a sheet thrown over it. The cold February air gave existence to every exhale. Ladakhis were sitting in the hills watching the game. Yak were grazing in the distance.
Hockey in the Himalayas. I couldn't help but smile.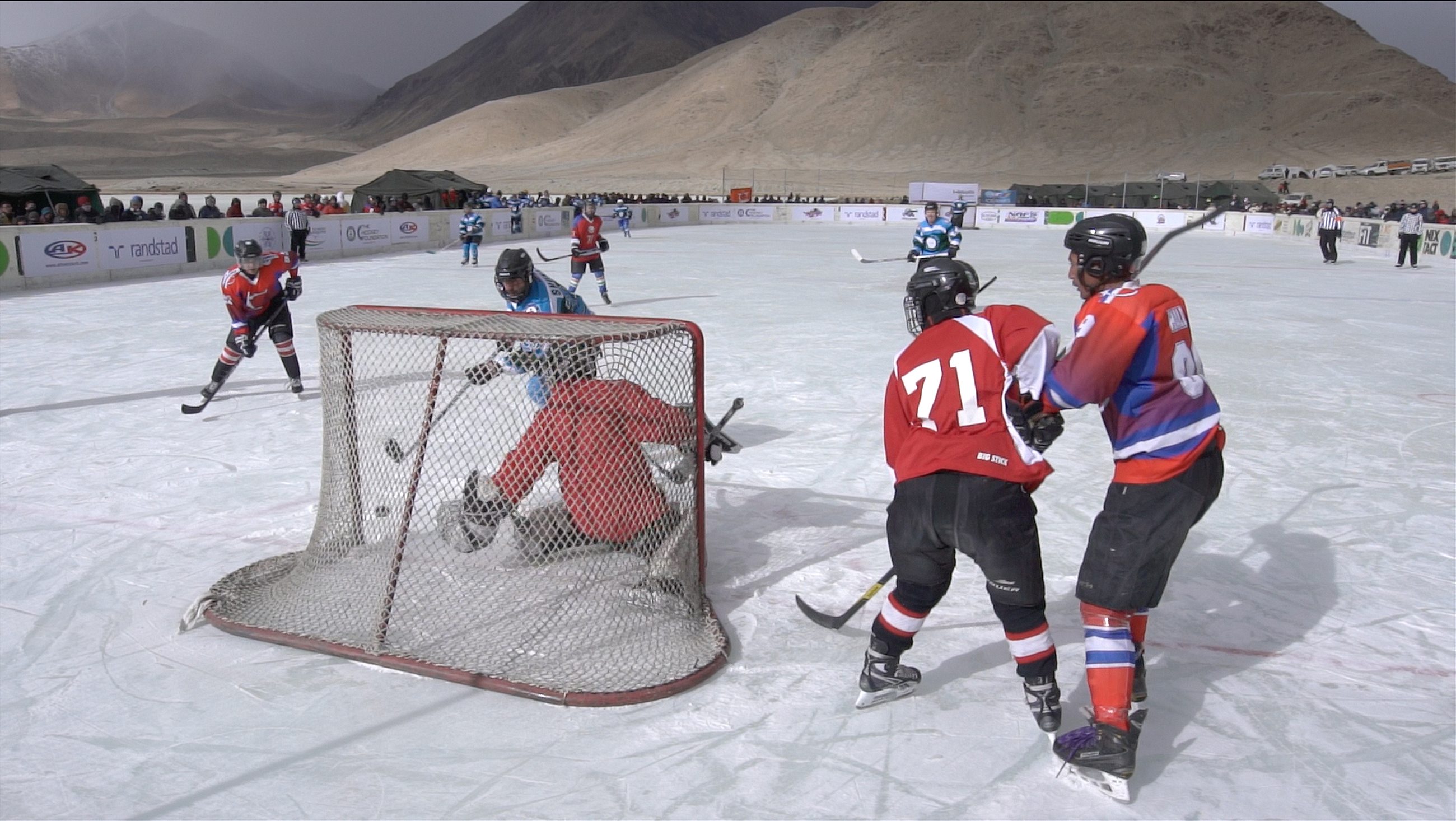 Then the puck dropped and 10 seconds later the game was tied. Kamman had won the faceoff cleanly back to the right defenseman, who accidentally tripped allowing a Ladakhi player to pick up the puck and score uncontested.
Suddenly, it was game on.
It was only the second game that our team had played together. The first was an exhibition match back in Leh, also against Team Ladakh. The Ladakhis led most of that game 3-1. Only two late goals salvaged us a tie and our pride.
The altitude began to assert itself as the game wore on. We'd gotten through the first period on adrenaline and awe, but by the midway point of the game everyone was getting noticeably tired, even the younger, faster Ladakhis. Legs were starting to leaden and chests were heaving visibly.
Playing hockey over 14,000 feet is like running a 200-meter race, except you get sucker-punched in the gut at the halfway mark and then repeat the process over and over and over again. In the thin mountain air, you slowly suffocate while straining to play.
By the end of the second period, the oxygen tanks most of us had stubbornly ignored were being sucked on with authority. "My lungs feel like they're on fire" was a common refrain as teammates came back to the bench. Almost everyone on the team had at least played a game in Leh to acclimatize to the altitude. But this was the first for Sherlip, who had been bedridden in Leh after a severe case of altitude sickness mixed with jetlag and the flu. "I've been playing hockey in Ladakh for many years, but that game was possibly the hardest of them all," Sherlip said. "My body had been trying to recover and that game nearly beat me. That being said, I didn't miss a shift, got a goal and an assist, and probably singlehandedly emptied an oxygen tank. I'd call that a victory. I'm so proud of the cooperation and hard work that went into making this event a reality and a success. I never want to do it again."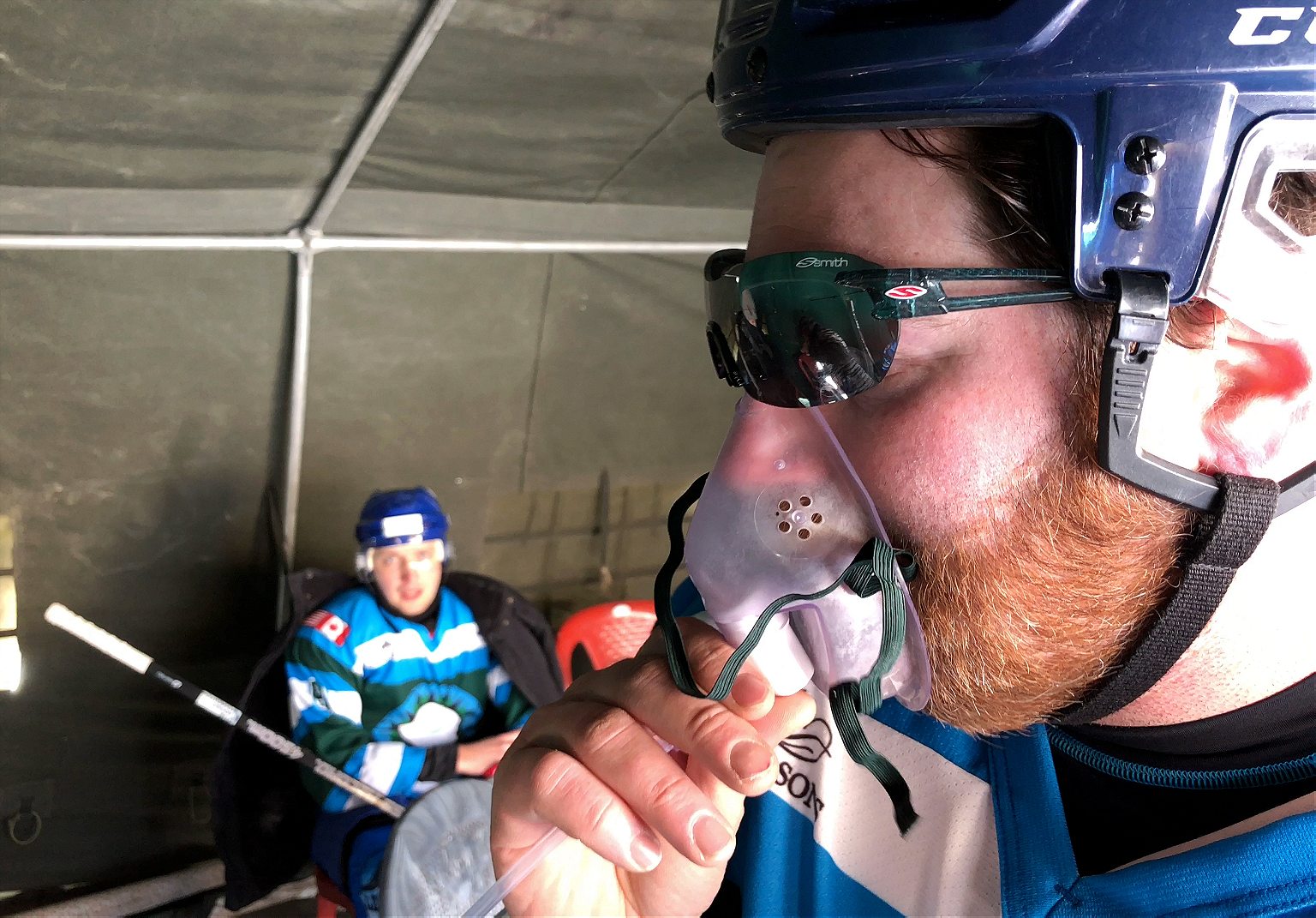 The symptoms of acute mountain sickness include headache, nausea, vomiting, shortness of breath, loss of appetite and flulike malaise, and they can all occur without any physical exertion. They'd already claimed a handful of participants before the tournament even began, some of whom thought mixing high altitude and copious amounts of alcohol to be a fine idea.
The incidence of AMS is about 25 percent at 7,000 feet and rises to 50 percent at 15,000 feet. If left untreated, it can deteriorate into High Altitude Pulmonary Edema in which fluid accumulates in the lungs. HAPE affects between 0.5 and 4.5 percent of adults at such altitudes. Without treatment, the mortality rate can approach 50 percent.
Everyone was well aware of the risks. We'd all signed waivers and taken out travel insurance to cover playing outdoor ice hockey in the Himalayas. With participants as old as 75, The Hockey Foundation had taken every precaution possible. A doctor was on site, and there was a defibrillator on hand just in case. But this was the Himalayas. If something serious were to actually happen, all we really had was an emergency beacon to alert the military if someone had to be airlifted to a hospital.
But none of that was in mind at the start of the third period. The record was in reach, and the game was still tied 1-1. "Big Sky," Dyer shouted. "You're up next."
On our first shift of the final period, Kamman deflected a shot from the point past the Ladakhi goaltender. Three more goals quickly followed in succession. Our bench breathed a collective sigh of relief. We cruised the rest of the way to a 6-2 win.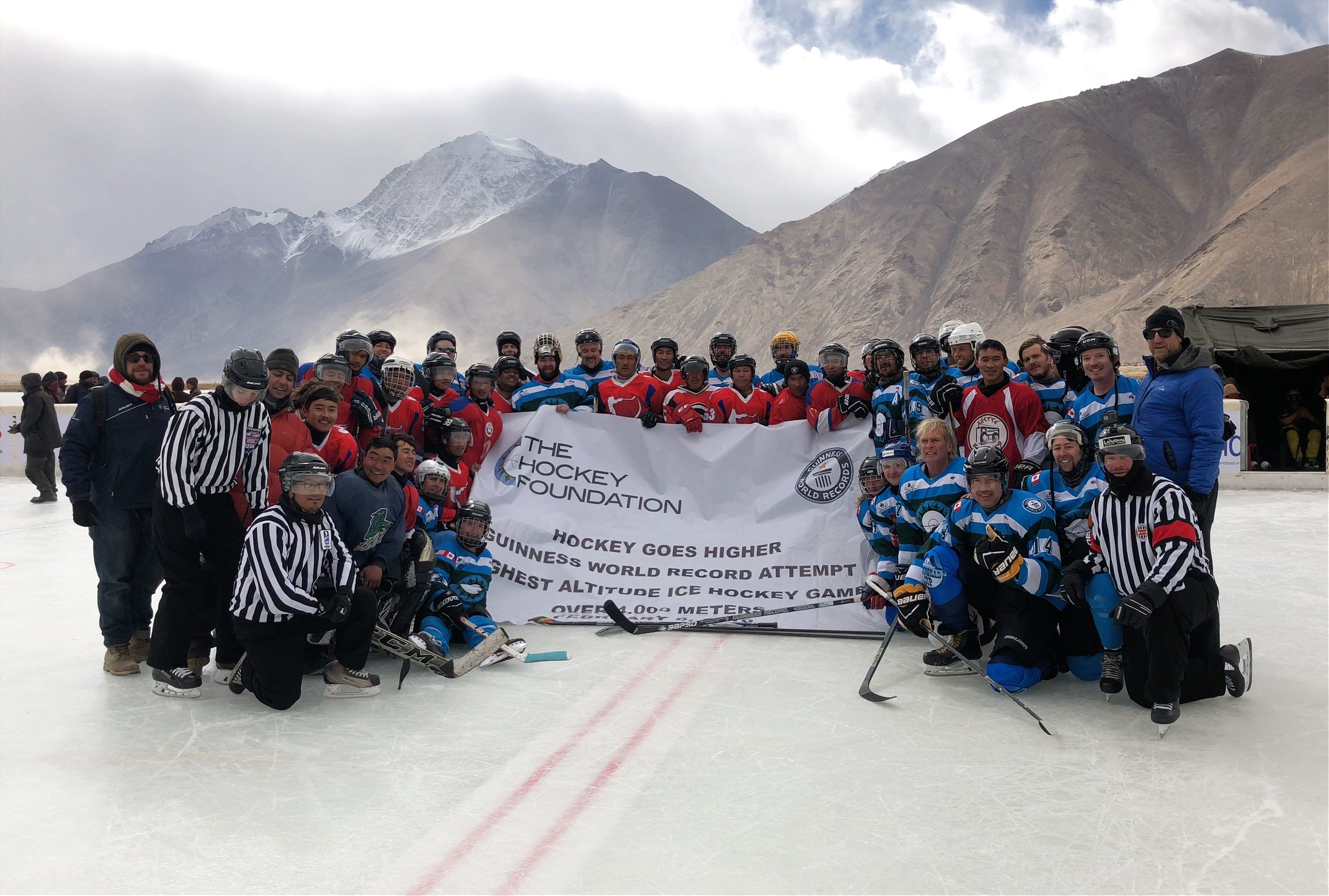 After all the postgame photos, hugs and handshakes, I quickly changed out of my gear and went to watch the next game. A Ladakhi player subbing in for one of the international teams took a puck in the mouth. It was, thankfully, the worst injury of the tournament. Back at our homestay in Tangtse, he beamed as he showed us the stitches in his upper lip. He couldn't have been prouder if he'd scored a goal.
Throughout the two-week long event, it was surprising how little a huge horde of rabid hockey fans talked about the NHL, and when we did, how little we cared. Instead, we talked about travel, we talked about playing hockey and we talked about where the two had taken us. For all of us, the twain had met on a remote icy floodplain somewhere in nowhere northern India. We came away teammates, opponents, friends, record-setters.