Dharamsala in the Himalayan foothills may be the most iconic Tibetan town in India, but for an unfiltered glimpse of the real life of the Tibetan exiles, you have to head south to the former refugee settlement of Bylakuppe.
Indian pop music blasted within the autorickshaw and the flimsy metal buggy chugged to a raucous dance beat as we bumped along the road to Bylakuppe. The plump, middle-aged Tibetan woman squeezed into the back seat next to me wasn't happy. She barked something to the Indian driver in Hindi and he called back over his shoulder as he dodged a jeep roaring at us from the opposite direction. He wore plastic flip-flops but had taken them off so he pressed the pedals with his callused bare feet. "What's the matter?" I asked her.
"He only has Kannada music," she grumbled, referring to the local language of Karnataka, the southern Indian state that we were in. "I want Hindi music!" I couldn't quite tell the difference between the two Indian languages so the music, the aural equivalent of sparkly bangles and sequined hot pink polyester, sounded the same to me. The woman yelled at the driver again until, cowed, he pulled over and rummaged in a compartment under his seat. The driver spoke to the woman apologetically and she let out another stream of chastising Hindi. Finally, when she accepted that he really did not have any Hindi cassette tapes she let him blast the Kannada music and resume the ride.
We were headed to Bylakuppe, the biggest Tibetan settlement in India, and readying to depart the noisy, crowded streets of Kushalnagar, the nearest Indian town. The throngs of chaotic traffic typical of India disappeared as we turned onto a side road leading toward the settlement. Soon we were one of just a few vehicles on a road flanked by woods. When we passed a small concrete building that was a police checkpoint, I leaned back into the autorickshaw to make myself inconspicuous. Foreigners were supposed to get a PAP—a "protected area permit"—from the Indian government to enter the Tibetan settlement and I didn't have one; I was told it took months and reams of paperwork to get a permit if you were lucky and I had organized this trip just two days before. It seemed a particularly inauspicious time to visit without permission, as security was tightening just a few days before His Holiness the Dalai Lama would arrive for a celebration of the 50th anniversary of Tibetan democracy in exile. I had spent a lot of time reporting from Dharamsala, the town that is the Dalai Lama's exile home in northern India, and had heard a lot about Bylakuppe from Tibetan exiles. When a reporting assignment took me to Bangalore, I welcomed the chance to make a side trip further south to the Tibetan settlement, well off the beaten track.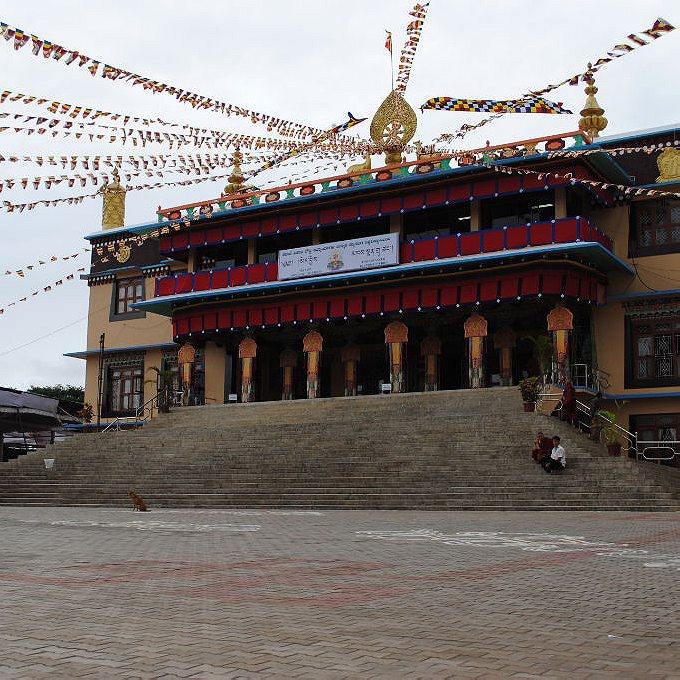 I needn't have worried. The autorickshaw didn't even slow down as we passed the checkpoint. Even if it had, the Indian policeman slumped in a lawn chair probably would have seen my face and waved me along. I am of Chinese descent, but to an undiscerning, sleepy Indian policeman, I could pass as Tibetan. Tibetans, however, knew otherwise.
Just a few moments after the Tibetan woman climbed into my autorickshaw with her shopping bags, she turned and squinted at me. "You belong to Japan?" she inquired quizzically in accented English. Her voice was blunt as a mallet.
I shook my head. Sometimes it seemed too complicated to explain that I am Chinese-American, born in the US to parents who emigrated from Hong Kong so I supplied an answer that was easier to understand. "I'm from Singapore," I said. I had to raise my voice over the chopper-like ruckus of the autorickshaw's two-stroke engine.
The woman's face lit up in comprehension at the strange sight of an Asian passenger sitting next to her. A hirsute Caucasian traveler loaded with a rucksack was foreign enough to do odd things like travel to small towns in India by themselves. But a lone Asian woman–someone who looked similar enough to her so as to be assessed by her standards–was more of an enigma. I figured Singapore explained the Asianness, but was foreign enough that people from there might also do odd things like travel to small towns in India by themselves.
As far as I was concerned, there were far more unusual sights to behold in Bylakuppe, and I was about to encounter some of them. When we entered the settlement, I was startled by a surreal vista of vast, pristine corn fields and a red-robed Tibetan monk, complete with crimson trucker's hat, driving a tractor across our path. We were a long way from the rooftop of the world, as Tibet is often referred to.
***
It was the end of August and I had been staying at a guesthouse in Kushalngar; I didn't want to risk staying in Bylakuppe without a permit even though I heard coconuts were the only inhabitants of the local jail. Mahalaxmi Guesthouse was named after the goddess of wealth and had clean $8 a night rooms. It was just a short walk from a bus terminal that received buses from Bangalore and Mysore to the north. The smooth two-lane 'highway' from Bangalore was lined with bright green fields of spiky sugar cane and roadside restaurants with big signs declaring themselves as "Pure Veg". The bus station was on Kushalnagar's main road, which was clogged with small shops and their jumble of signs, clouds of dust, and throngs of noxious traffic typical of an Indian town. Plumes of black exhaust streaming from buses, trucks and cars looked like lung cancer in gas form. It was noon and traffic in Kushalnagar flowed in a messy ooze. Drivers leaned on their screeching, bleating horns. For 50 rupees, or about one dollar, an autorickshaw driver parked on the road agreed to take me to Bylakuppe. This wasn't the best price–locals paid 30 rupees or less for the 20-minute ride to Bylakuppe–but it was low enough to show I had put up some kind of fight while we were bargaining for the ride. Plus I was eager to escape the cacophony. Shrieking traffic still made me grimace even after years of living in India, where I worked as a journalist based in Delhi, so I jumped into the autorickshaw.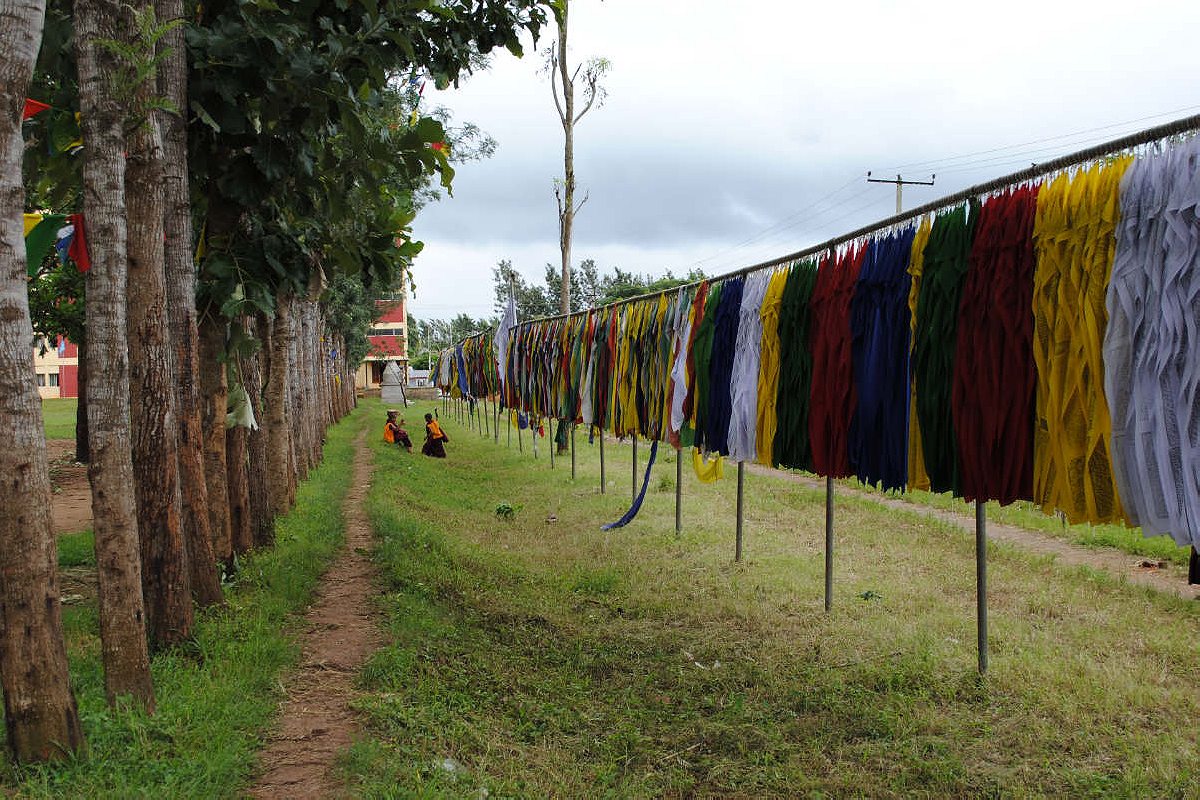 Before we drove more than a couple hundred meters, the driver pulled over next to someone standing on the side of the road. A moment later, a heavyset middle-aged Tibetan woman peered inside. A look of surprise crossed her face when she saw me, but she exchanged some words with the driver in Hindi to settle the fare, and gathered up her long chuba dress to climb inside. I slid over to make room for her and her shopping bags on the bench seat next to me.
"You alone?" the woman asked. She had long hair and a gap between her teeth.
"Yes."
The woman seemed perturbed by this. "Alone? No family?" she asked incredulously. "You are afraid?" It wasn't common for local women to travel alone in India, much less to this small town that is a five hour drive from Bangalore, the closest big city. It just wasn't the cultural norm, especially in a country where Indian women were wary of sexual harassment in public spaces. The further one got away from cities and tourist routes, the stranger it was to see a young woman traveling solo, especially one who didn't look obviously foreign.
PEOPLE IN INDIA AND MOST OF ASIA DO NOT UNDERSTAND THE CONCEPT OF BEING ALONE, BEREFT OF THE BUSTLE OF FAMILY
I smiled and shook my head again. "Akeli," I said, using one of the words in my small Hindi vocabulary. It was a word I learned from mustached taxi drivers in Delhi who turned around to give me befuddled looks when I confirmed that yes, I was alone, akeli, though sometimes I hastily clarified that my fictional husband was waiting for me at home. People in India and most of Asia do not understand the concept of being alone, bereft of the bustle and drama of family and two or three generations of an extended family together under the same roof. Being alone is something to avoid, a low-grade curse. It is almost unfathomable that someone would willingly choose this for themselves. And a woman who was akeli was especially peculiar, and sometimes suspicious. Surely akeli = prostitute? Yet my Teva sandals, long skirt and polo shirt didn't look like hooker gear. In spite of all this, I didn't mind being akeli when I travelled. In fact, I met more people and had more interesting conversations when I was alone than when I traveled with friends or my boyfriend. And it was because I was akeli that there was enough room in the autorickshaw to pick up this Tibetan woman.
"You live in Bylakuppe?" I asked the woman.
She replied that she had grown up in Bylakuppe and lived in "camp three." When Bylakuppe was founded in the 1960s, it was a refugee camp for the steady flow of Tibetans who followed the Dalai Lama into exile in India after China's takeover of Tibet in 1959. Some of the old lingo remained and locals still refer to different sections of Bylakuppe as "camps" even though today the settlement is really a township of 16,000 Tibetans spread over 5,000 acres. It is one of the few inhabited places in India I visited that felt spacious, sprawling and solitary. The makeshift tents housing destitute refugees in what was inhospitable jungle were long gone. They were replaced by tidy clusters of low concrete homes; schools; clinics; enormous monasteries that house more monks than the ones in Tibet; small factories that make oil, incense and bricks and other goods; and acres and acres of corn fields. Rice and tobacco also grow on the settlement but corn dominates. After struggling Tibetans in the 1960s failed to grow a variety of crops, a Swiss agricultural adviser recommended growing corn and by 1966 Bylakuppe was self-supporting thanks to a crop that unexpectedly thrived when transplanted to new soil, tended by people who had never tasted it before.
***
The autorickshaw swooped up and down the rolling hills of Bylakuppe's main road. Fields of shoulder-high corn stalks flashed by, occasionally punctuated by a windmill twirling in the breeze. For a few minutes we were the only vehicle on the road and our autorickshaw seemed to chug along with joyful abandon as if enjoying the solitude. Suddenly the sight of a large golden-roofed temple in the distance emerged from the chartreuse sea of corn stalks, like something out of a dream.
The woman told me she had lived in Taiwan for a few years. "Taiwan?" now it was my turn to be puzzled. I met Tibetans who traveled on a well-worn path to the US, Switzerland, Australia and England where immigration laws were more favorable for Tibetans but never to Taiwan. It must have been hard to get a visa. "What were you doing there?"
"Working in a factory," she explained.
That was unusual too. It wasn't easy for Tibetans to find work in India or abroad. "Did you like Taiwan?" The woman beamed and nodded enthusiastically. "What do you do now?"
"Not much," she answered. "Wash some clothes. Clean house. Cooking."
"You live with your family?"
"No." She shook her head. So she was akeli too—very unusual for a middle-aged Tibetan woman. Before I could learn more or ask what kind of factory she had worked at, the autorickshaw pulled over on the roadside and the woman clambered out. She looked back inside at me, concern suddenly flashing across her face, as though now she was again worried about me and my akeli state. Before she could impart any words of advice, the driver gunned the motor and the autorickshaw sputtered away down the road.
120,000 TIBETANS LIVE IN INDIA, MAKING IT THE LARGEST POPULATION OUTSIDE OF TIBET
Bylakuppe is the largest Tibetan settlement in India. It is in south India, thousands of miles from the snowy foothills of the Himalayas in northern India where the Dalai Lama lives in exile. In fact, the largest Tibetan settlements are in southern India, in the state of Karnataka, which is better known for coffee plantations, wildlife reserves populated by elephants, and the technology hub of Bangalore. If Tibet is the rooftop of the world to Tibetans, Bylakuppe is the basement, albeit a refurbished one made surprisingly comfortable over time.
About 120,000 Tibetans live in India, making it the largest population outside of Tibet. Roughly 40,000 Tibetans live in Karnataka alone. Some of them are recent refugees who fled Tibet by walking over mountains to eventually reach India. But some, like my fellow passenger, were born and raised in India, speak Hindi well enough to demand Hindi pop music over Kannada like it was their god-given right, and have never set foot in Tibet. Instead, India's mountain villages, crowded cities and settlements like Bylakuppe have become home to tens of thousands of Tibetans. Because foreigners need permits to visit Tibetan settlements, Bylakuppe lacks the touristy feel of Dharamsala, the Dalai Lama's exile home in the foothills of the Himalayas. There, narrow, hilly roads are cramped with shops hawking trinkets (prayer wheels, brass Buddhas, tie-dye MC Hammer trousers, fake North Face jackets) and cafes that sell pizza and banana pancakes. One disappointed visitor from California, a gray-haired woman who lived on an ashram in southern India for a couple months, told me that Dharamsala reminded her of kitschy ski resort towns in Colorado.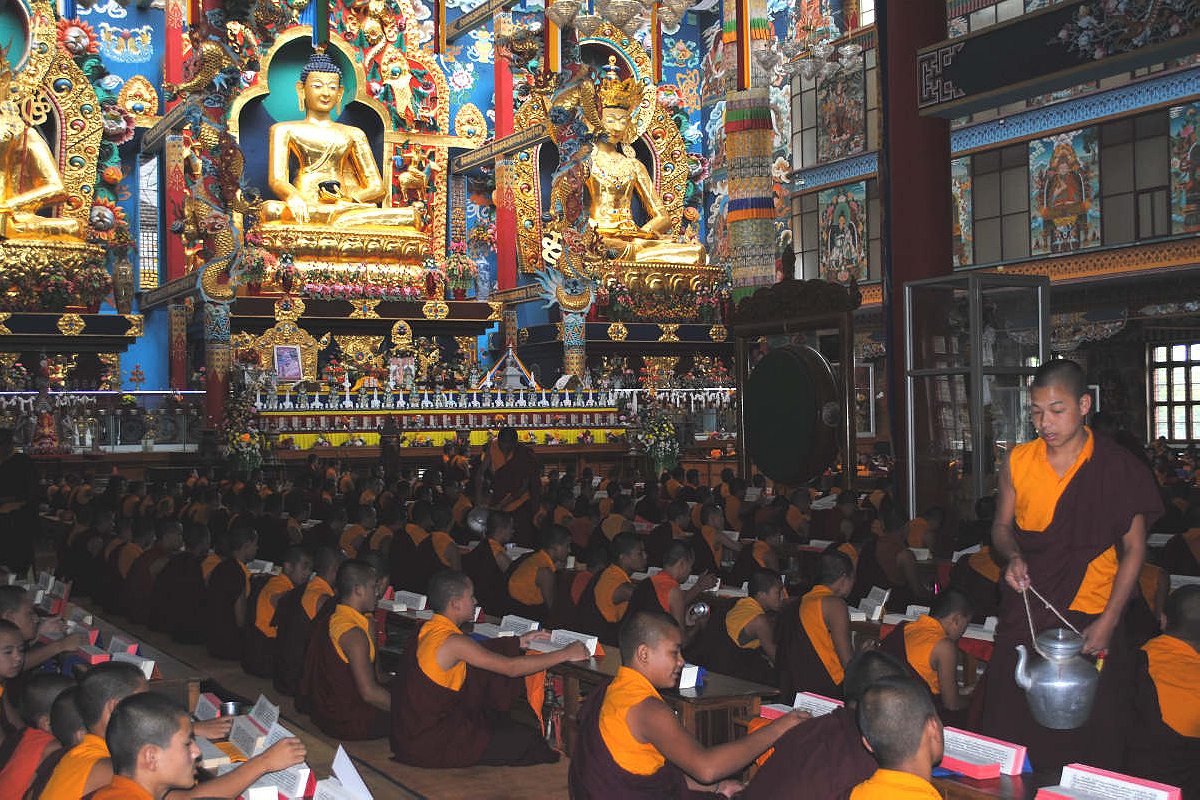 Bylakuppe felt like an odd blend of Tibet, Iowa and Maine, tempered with Indian masala. Summertime Maine came to mind because of the expansive landscape and the cool weather. That August, the heat in Delhi was still scorching and relentless. After months of being pummeled by heat, my body had forgotten what cold was. I packed hot weather clothes for my trip "down south", along with one long-sleeved shirt and a synthetic shawl suitable for two hours in airplane air conditioning. I was unprepared for the cold nights and the damp, rainy weather in Bylakuppe at the tail end of a long monsoon. There were also torrential downpours during my visit. On my second day in Bylakuppe I bought a plaid umbrella made in China from the "Tashi Delek Supermarket", one of the shops in Camp #1 Shopping Complex, a small commercial area crowded with little shops and grimy restaurants. (Tashi delek is 'hello' in Tibetan, or translates literally as 'blessings' or 'may all good things come to this environment'). Hand-lettered signs advertised phone calls to "Tibet and China" for 150 rupees. A poster on one wall declared "I will vote will you", in a preview of elections for prime minister of the Tibetan exile government in Dharamsala. An even older banner still hung over the road: "Hearty Welcome to Nobel Laureate His Holiness the Dalai Lama and all the Delegates of the First Tibetan National Conference 2010." In a few days, the Dalai Lama would arrive in Bylakuppe to commemorate the 50th anniversary of Tibetan democracy in exile on September 2. There would also be "a long life ceremony" for the Dalai Lama and a conference attended by Tibetan leaders from all over the world to discuss the state of Tibet and life in exile. Green autorickshaws lined the street with drivers seeking passengers. In a nasal drone Indians use when hawking wares they called out, "Lama khenpo! lama khenpo!", which translates roughly into "Monk, abbott! Monk, abbot!"
THE FIRST 660 TIBETAN SETTLERS SENT TO BYLAKUPPE IN 1960 THOUGHT THEY HAD BEEN BANISHED TO SOME KIND OF HELL
The plaid umbrella I bought from Tashi Delek Supermarket broke on the first day; I struggled to close it without cutting my fingers on the rough metal. In the evenings in my room at Mahalaxmi Guesthouse I wore my long-sleeved shirt over my summerweight nightgown and wrapped myself in my shawl. I still shivered from the damp cold.
It wasn't always so cool in Bylakuppe, in fact, it was normally very hot in the summer. Many of Bylakuppe's early Tibetan settlers were unused to the heat and died from tropical diseases and the harsh change in conditions. In its early days, life on the settlement was bleak. The first 660 Tibetan settlers sent to Bylakuppe in 1960 thought they had been banished to some kind of hell. Not only did they suffer from the heat and diseases, they were also attacked by elephants, boars and other wild animals that lived in the jungle. Unlike Dharamsala, where a town already existed (albeit one abandoned by the British because of earthquakes), Bylakuppe was untamed land. And unlike Tibet where the sky and wide-open landscape stretched on as far as the eye could see, they couldn't see anything in the dense vegetation of southern India. The sense of claustrophobia was terrifying.
"We all felt so frightened and forlorn that no one could speak," said Lobsang Chonzin, an early settler, reminiscing about those days in John Avedon's book In Exile from the Land of the Snows. "Many people sat helplessly on the ground crying to themselves."
How did Tibetans end up in Bylakuppe? As refugees flooded into India after China took over Tibet in 1959, they needed more space for their swelling numbers. Prime Minister Jawaharlal Nehru solicited India's state leaders to allocate vacant land to them. These leaders offered parcels of countryside, often inhospitable swaths of wilderness. Today there are settlements in more than a dozen states. Refugees went to remote states such as Karnataka, Chhattisgarh and Orissa (today, the latter two states are synonymous with Maoist insurgents and poverty, respectively). They thought their stay would be temporary and at first didn't understand why they had to bother cultivating land for farming. What followed were harsh years of backbreaking work clearing forest, coaxing foreign crops from the ground and weathering tropical diseases.
WHEN THE DALAI LAMA VISITED THE SOUTHERN SETTLEMENTS IN THE EARLY 1960S, HE WAS HEARTBROKEN OVER THE HIGH DEATH RATES AND LOW SPIRITS AMONG THE EARLY SETTLERS
In grainy black-and-white photos from the 1960s and 1970s, the Tibetan prayer halls in India resemble shacks. Other images show the Dalai Lama watching Tibetans plowing a field in an empty expanse of unbroken soil and observing monks debate in what looks like a patch of dirt. When the Dalai Lama visited the southern settlements in the early 1960s, he was heartbroken over the high death rates and low spirits among the early settlers. Still, he retained a vision for what the settlement could become. "Whenever I visited our larger settlements I always promised we would prevail," the Dalai Lama told Avedon. "I pushed and pushed and pushed and finally, year by year, the picture completely changed."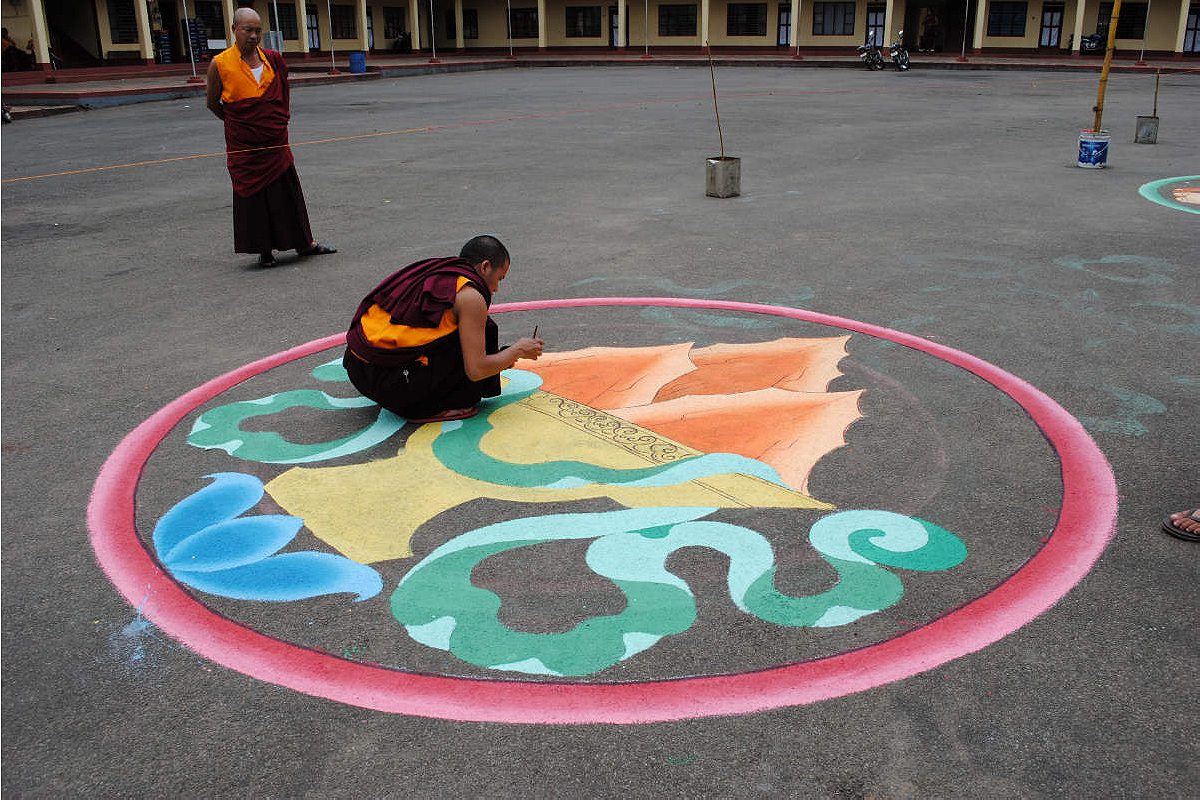 Bylakuppe's dramatic transformation is embodied in its magnificent monasteries. Today they have far more monks than their original counterparts in Tibet. Namdroling Monastery, known colloquially as the Golden Temple, attracts crowds of Indian tourists each day, as well as a few foreign visitors. In 1959 Penor Rinpoche of the Nyingma school of Buddhism fled Tibet and re-settled to southern India in 1961. The group of 300 he left Tibet with dwindled to 30 after succumbing to disease, harsh weather and the hardship of fleeing their homeland. In 1963, with just 300 rupees in his pocket, Penor Rinpoche built a bamboo temple to train a handful of monks. Today the monastery is home to roughly 5,000 monks and nuns, a teaching college and a hospital. The spectacular Golden Temple, finished in 1999, houses a 58-foot gold-plated Buddha within walls painted with colorful, elaborate murals of Buddhas and deities. Nearby, another four-storied temple is a stunning sight. Layers of golden roofs are stacked atop each other, pagoda-like. A massive golden arc circles over the topmost roof like a nimbus.
When I visited the Golden Temple I strolled on its manicured ground and took in the palm trees, a small bridge over a man-made stream, and tidy knolls of green grass, perfect for sitting on. There was no litter here and the water in the stream was surprisingly clean. I paused near a group of Indian schoolchildren on a field trip who were perched on a grassy mound. They were dressed in white uniforms and yellow hats and stared at me in silence. When I took a photo of them and waved, they erupted into giggles and cheerfully waved back. I was getting hungry so outside Namdroling's main gate, I bought an ear of corn from a vendor for five rupees. He tended a cart where he placed ears of corn, freshly released from their pale husks, on top of glowing red coals. The vendor placed my perfectly roasted corn on a sheaf of pale green husk – nature's version of the paper boats that hotdogs are served on.
MONASTERIES IN TIBET ARE CLOSELY MONITORED BY CHINESE AUTHORITIES AND CANNOT PRACTICE TIBETAN BUDDHISM FREELY
A couple miles away down another road lined with corn fields stands Sera Monastery. Some 3,800 monks are registered there. In contrast, the original Sera in Lhasa, Tibet, established in 1417, has just a few hundred monks, according to the Tibetan Centre for Human Rights and Democracy. Monasteries in Tibet are closely monitored by Chinese authorities and cannot practice Tibetan Buddhism freely, so a steady influx of monks has continued to flee Tibet for India since the early 1980s. But monks also come from Nepal, Bhutan and from all over India to study at the monasteries in Bylakuppe.
When I arrived at Sera, its main courtyard was abuzz with activity. Monks were busy putting up a large canopy over the courtyard, stringing bright new prayer flags from the roofs, painting large Tibetan symbols on the ground and cleaning an elevated stage where the Dalai Lama would sit. Preparations for His Holiness's visit were in full swing. Twenty thousand Tibetans from across India would attend the democracy commemoration. Security at Sera would be very strict. Indian policemen toting machine guns would only let people with IDs or special credentials pass through metal barricades set up 100 meters from Sera's entrance. I had seen the Dalai Lama give teachings in Delhi, Dharamsala and Sarnath in northern India but had never seen security as tight as it would be at Sera Monastery in Bylakuppe.
But that day, I casually walked through the open metal gates of Sera's main entrance. An acquaintance had suggested I get in touch with a Sera monk he knew so I called Geshe Ngyima on his cell phone. I waited for him under the prayer flags strung from the massive three-storied building at the center of the courtyard that housed both a prayer hall and administrative offices. With its cream-colored walls, trapezoidal windows and golden roof, the building resembled a gigantic sheet cake spanning a city block.
After a few minutes Geshe Ngiyma, a bespectacled, round-faced monk in his 40s, arrived to meet me. Together we strolled around Sera's large campus. The grounds stretched on behind the main building to form a village complete with a grocery store, the "Cyber Cool" internet café, library, outdoor tea stall with benches, dormitories, and cottages where senior monks lived. One bungalow had a sign on its door that indicated a "Chant Master" resided there.
Geshe Ngyima spoke perfect English in a soft-spoken voice with a slightly acerbic edge, as though he were thinking thoughts too clever to share with you. He was a geshe, the Tibetan Buddhist equivalent of a PhD, and had studied at Sera for more than 20 years to attain his degree. Geshe Ngyima had been born in northern India, but came to Sera more than three decades ago. He remembered when the monastery was small and struggled in a "difficult financial situation." The monks had to pitch in with farm work to make ends meet. Geshe Nyima recalled the monks had to work in the fields one month each year. "It was hard work but we had a lot of fun," he recalled with a nostalgic hint of a smile.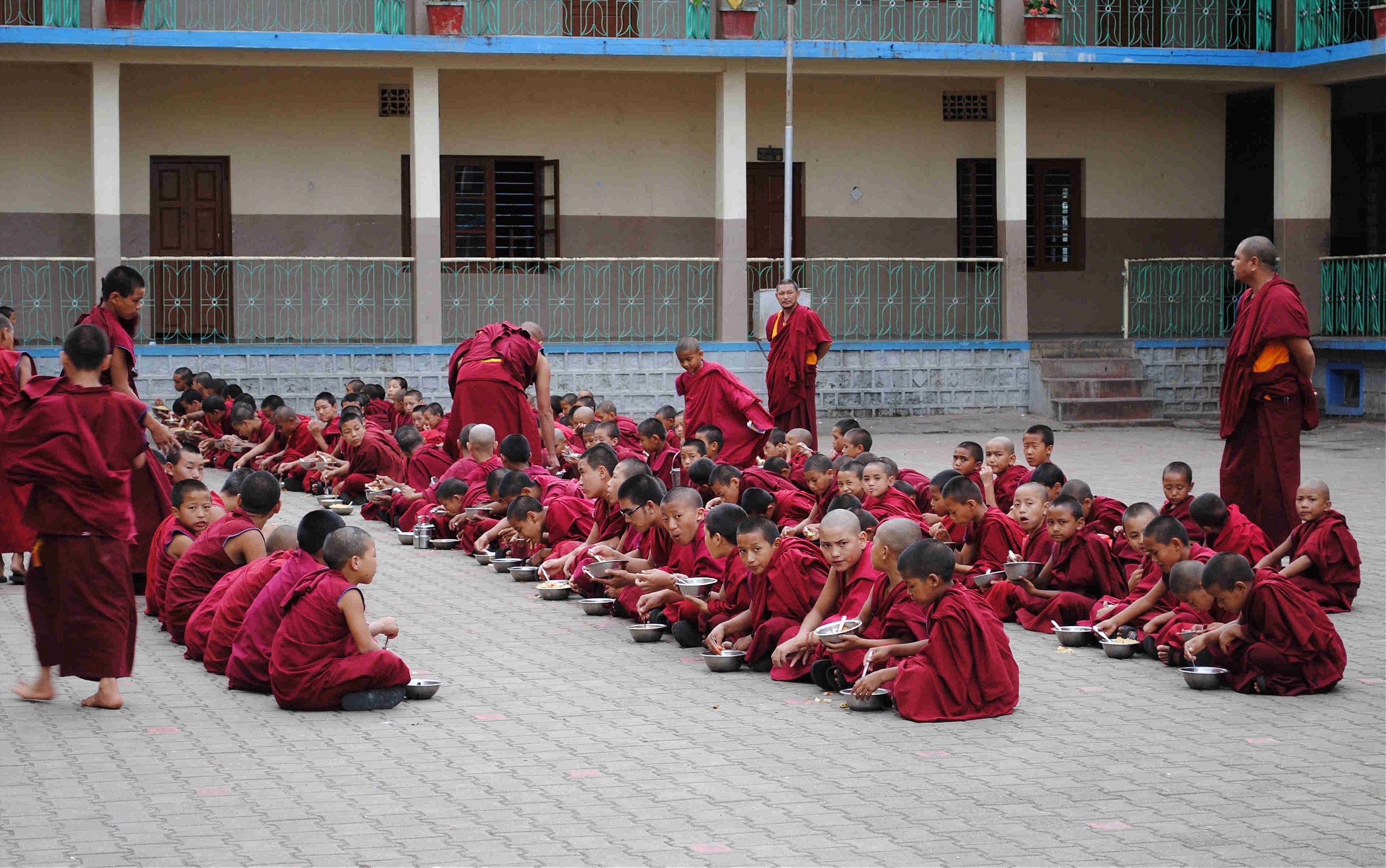 We passed a white administrative building and Geshe Ngyima told me there would be a photo exhibit there during the Dalai Lama's visit. We went inside and met a young Tibetan man named Tashi Phuntsok from the Tibet Museum in Dharamsala who was busy setting up the panels on metal stands for an exhibit called "Tibet: 50 Years Experience"—96 flimsy six-foot tall sheets with some of those images of Tibetans' long struggle to carve out their existence in India. The exhibit had debuted in 2009 in Dharamsala and was now traveling to various Tibetan settlements across India.
***
The dinner I ate at the monastery after saying goodbye to Geshe Ngyima was in its own way another sign of the integration of the Tibetan community here. Instead of momos—Tibetan dumplings that I craved, particularly when fried to a brown crisp—the café at the monastery's guesthouse only offered the standard list of Indian fare: aloo gobi, paneer, dal, butter chicken, cooked without much flair at all.
As I ate my uninspiring meal, an elderly Tibetan woman approached me. When I entered the guesthouse she had been sitting with two older men on uncomfortable wooden chairs in the lobby. I guess she saw me too. She smiled at me kindly, creasing her wrinkled face and sat down on the chair opposite me. The woman was small and wizened, had long gray hair and wore a dark chuba dress and a long sleeve shirt beneath it. She clutched a strand of brown prayer beads in one hand. "Ni yige ren?" she asked in Mandarin. You come alone? The literal translation was, 'You one person?' "Yes. I'm one person," I replied in Mandarin. It was not particularly surprising that Tibetans might speak to me in Mandarin. Those who had recently arrived in India, especially if they were young or had lived in a large city like Lhasa, or in Tibetan regions of western China, like Qinghai or Amdo in Sichuan province very likely spoke Mandarin.
"Where are you from?" the woman asked.
"America," I said. "I am Chinese American." The woman smiled. Counter to what one might think given the strained relationship between China and Tibet, I had never encountered hostility from a Tibetan in India about being Chinese. Rather, it was the opposite. Sometimes they were eager to speak Mandarin, which was like a native language for some. The language was simply something familiar from home, not something political.
CLOTHESLINES HUNG OUTSIDE THE BUNGALOWS, STRUNG LIKE PRAYER FLAGS
The previous day I visited the Tibetan school in Bylakuppe, called SOS Tibetan Children's Village. It was a pleasant stone-paved campus dotted with coconut palm trees, classrooms and basic bungalows that served as dormitories, dining halls and study areas for 1,500 children from kindergarten through high school. Clotheslines hung outside the bungalows, strung like prayer flags, except they held small trousers and T-shirts with slogans like, "Soccer is life; The rest is just details." I happened to visit during lunch when a room full of high school girls sat on benches about to eat from plates filled with rice and mushy vegetable curry. A red plastic basin of watermelon slices sat on the floor: dessert. The girls stared at me as I walked in and then to my surprise, before I had said a word, a couple of them cheerfully called out, "Ni hao!". They turned back to their meal and before eating they raised their bowls over their heads and sang in Tibetan to bless the food. After lunch I chatted with one girl, a tall 18-year-old from Sichuan in southwest China with luminous skin and red cheeks. She was shy but also seemed to glow with excitement as she spoke. The girl came to India eight years ago in 2002 in order to go to the Tibetan schools there, like so many Tibetan children whose parents sent them on the dangerous trek over the mountains.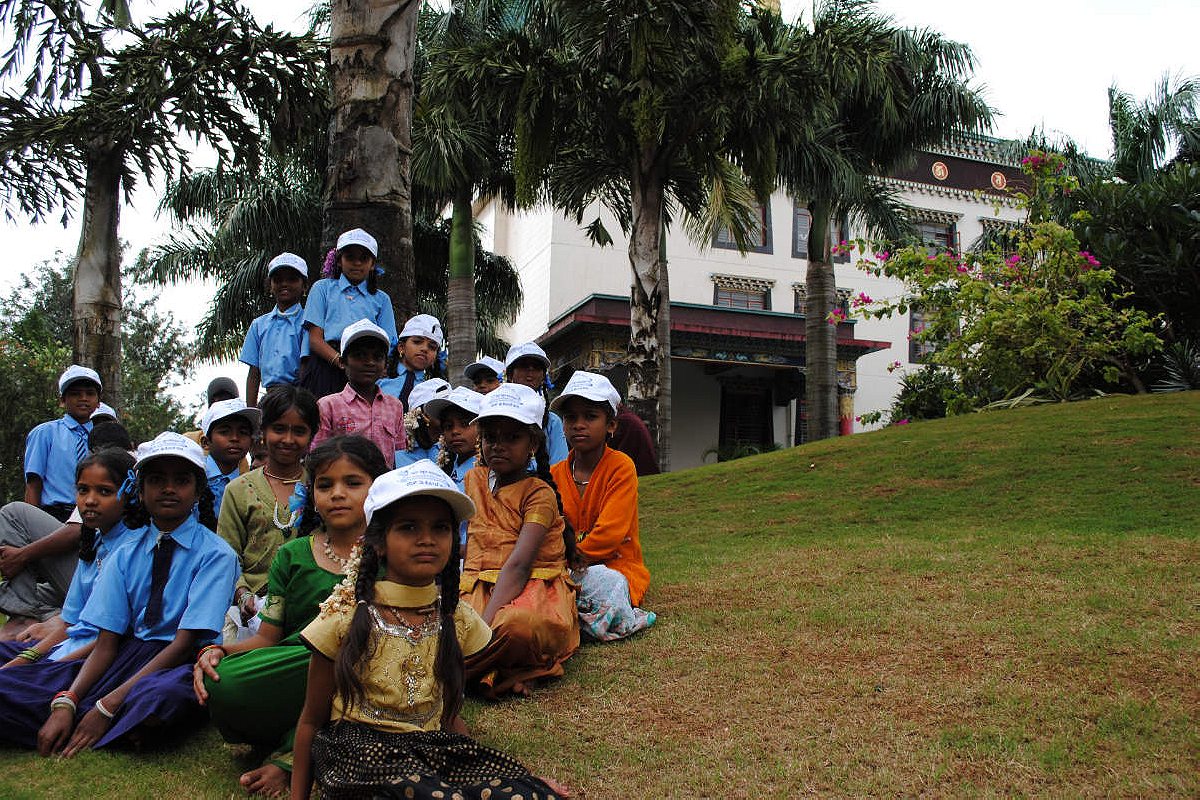 On my last day in Bylakuppe I visited Sakya Monastery, not far from Camp #1. It wasn't a big tourist attraction like The Golden Temple, nor as big as Sera. My autorickshaw driver didn't know where it was (or at least he didn't understand me) and had to pause to ask for directions en route. We turned off the main drag onto a small unmarked road until we entered the gates of the monastery grounds. The monastery itself was a compact but beautiful structure painted red and yellow. It was somewhat trapezoidal in shape and sat on top of a hill where it caught the afternoon light, which brightened the walls into a buttery glow. Palm trees dotted the grounds but the hilly path leading to the monastery was lined with dark green conifers shaped like parasols–surely another transplant to Bylakuppe.
I walked up the steep hill to the monastery. All was quiet except for a few young Tibetans who were snapping photos of each other. The guys had spiky hair and the girl wore skin-tight jeans. When they finished, they all climbed onto a new motorcycle and rolled off down the hill. As I was looking at the enormous doors of the monastery, a friendly young monk appeared and asked in fluent English if I wanted to look inside. He produced a set of keys to let me in and I admired the tidy prayer hall lined with large ceremonial drums and long, rainbow-hued tapestries that hung from the ceilings.
The monk's name was Desal and though he looked boyish, he was 30 years old. He told me he was from another Tibetan settlement in Karnataka (a poorer one, he said somewhat sheepishly) and was nine when he became a monk. He came to Bylakuppe 12 years ago. The prayer hall we stood in was new–just a few years old–and built from funds mostly raised from Buddhists or supporters in Taiwan. I thanked him for the glimpse of the prayer hall then wandered outside toward the back of the monastery. There was a large, grassy field behind the building; strings of colorful prayer flags flapped in the breeze. To one side, a group of monks crouched in the grass, busy cutting the lush green blades with hand-held scythes. It was a painstaking task and they had succeeded in clearing just a small circle in the large field.
A GROUP OF MONKS CROUCHED IN THE GRASS, BUSY CUTTING THE LUSH GREEN BLADES WITH HAND-HELD SCYTHESS
Meanwhile, another group of monks were engaged in a more enjoyable activity: they were playing soccer. Some wore sneakers but others were barefoot and they chased the ball up and down the field through the grass. Some had discarded their red robes in heaps to one side, while a couple others rolled down their robes and tied them around their waists, revealing white tank top undershirts. They flattened the grass with their pounding feet, shouted for passes and shot the ball through makeshift goal posts made of stray shoes. A windmill whirled near the monastery and overhead, gauzy clouds drifted across the blue sky as the sun began to set. The grass-cutting monks gathered up their tools but the other group continued their soccer game even as darkness began to fall, their shouts and stampeding foot emanating from the growing shadows.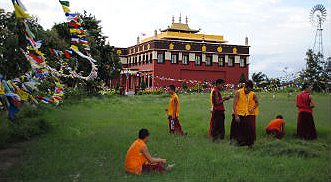 I went to the monastery guesthouse to say goodbye to Acharya Yeshi, a monk friend I knew from Delhi and Dharamsala who was staying there while attending the conference at Bylakuppe. He was based in Delhi and was a member of parliament in the exile government. When I found him he was still engrossed in a conversation with another conference attendee and could only pause for a moment. By now it was dark out. Acharya signaled to the young monk working in the guesthouse's restaurant and asked him to walk me to town to find an autorickshaw. The young monk gladly agreed and we set off down a back road, past the monastery, which was now just a darker lump of black on the hill. It was almost pitch dark and I walked cautiously while my companion confidently strode ahead. He didn't speak much English but I gleaned he was from Arunachal Pradesh, a small state in India's remote northeast bordering Tibet, which China has casually referred to as its territory, much to India's fury. My companion took out his cell phone and shone its feeble light on the path.
"This road is danger," the young monk announced. "Snakes." After minutes of terse silence, we finally reached the main road and I was surprised to find that we were close to Camp #1 Shopping Complex. The young monk waved down an autorickshaw and spoke in Hindi to the driver. I hung back and didn't say a word. Thanks to his negotiating, the fare was just 20 rupees. I climbed into the rickshaw, pulling my shawl around me for the ride back to town. The monk waved goodbye cheerfully in spite of his long walk back to the monastery on a dark road populated with snakes. I waved back at him as the autorickshaw's engine coughed to life and we drove off, leaving Bylakuppe behind us on our way back to the noisy thrum of India.