The Road of Doom Leads to A Lemony Heaven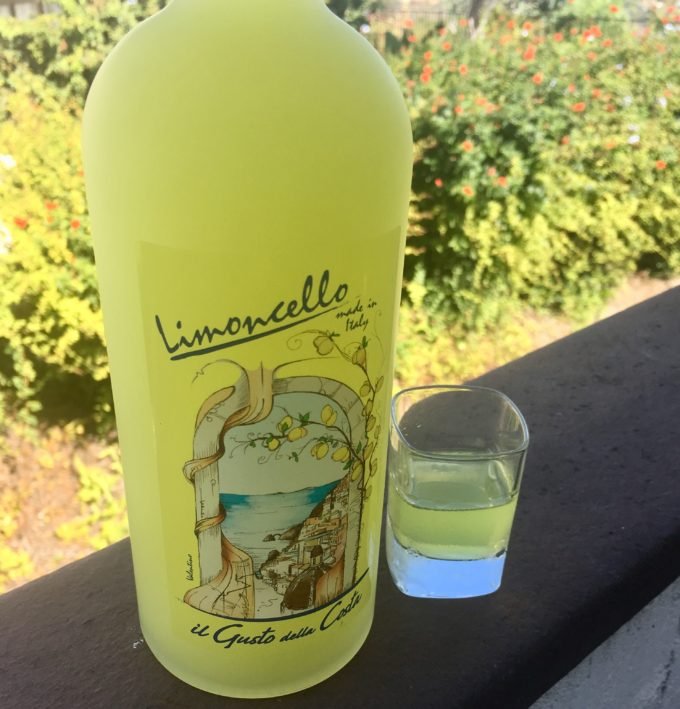 The Road of Doom Leads to A Lemony Heaven
Limoncello on Italy's Amalfi Coast
There's only one way to get to the best limoncello in the world, and that's via the Amalfi Road, a one-and-a-half lane road that winds up and down one of the world's most beautiful and terrifying coastlines. Taking a tour bus on what's little more than a paved donkey path while trying hard not to think about soaring off that road into the Gulf of Naples one thousand feet below has left me shaken; I'm an acrophobe. I need a drink.
Our bus driver delivered safely us to the town of Praiano, perched on those cliffs. Amalfi coast dwellers live vertical lives; the distance to shops, restaurants and your neighbors' homes is measured not in kilometers, but in the number of stairs one needs to climb to get there. It's an unlikely place for humans to thrive. It's an improbable place to grow lemon trees. But the world's best limoncello requires the world's best lemons, which, we're told, only grow in this particular region.
This seems like a boast, but Valentino Esposito, the owner of limoncello factory Il Gusto della Costa, backs this claim. "The limone Costa d'Amalfi is unlike your lemons. It can stay on the tree for over a year after it's ripe. It keeps growing. It gets longer, and sweeter." The lemons are massive, the size of mangoes. Valentino grabs a peeler and quickly shaves one down, producing a handful of rind, with none of the bitter pith that an amateur might leave. "We start making the limoncello with the fresh lemons. A couple of hours after they are picked, we peel them." There are also no chemicals; the company uses pesticide-free lemons.
Limoncello was first crafted on the Amalfi coast. There's some debate regarding which of the coastal towns—Sorrento, Amalfi, or Capri—was the first to produce it. What you get here is definitely not the citrus-flavored cough syrup served at your local Olive Garden. Standard limoncello has a grain alcohol base. "Everclear," says Valentino, "like the American teenagers drink at their parties." Grappa, he insists, is what makes great limoncello; the stuff's fairly common here, obtained from local winemakers, an inexpensive byproduct. Pounds of those Costa d'Amalfi lemon rinds—hand-peeled, of course—are added to vats of grappa; the batches sit for three days, then strained and mixed with a sugar syrup.
Valentino pours some shots. "Limoncello is a digestivo, you drink it after you eat your meal," he says. "It's best cold, but you don't need to put it in the freezer." I sip mine. The sweetness is there, of course, but the flavors are clean, and those lemons really do make a difference. The tartness is front and center, with a slight hint of the lemon oil that's lost in mass-produced versions.
I buy a bottle to bring back home to the United States. Then I think about the bowels-loosening drive back down that perilous road to my hotel. "Can I get another shot, per favore?"
Il Gusto Della Costa 
Via Gennaro Capriglione 24
84010 Praiano SA, Italy