The newest wave of Chinese immigrants to Nigeria are highly educated and more deeply embedded within the local community.
The Oriental Hotel, a skyscraper with the vague styling of a pagoda on the roof, looms large from the nose-to-bumper traffic on the Island-Lekki expressway, the carotid artery that connects the affluent Victoria Island with the new and rapidly developing free-trade zone of Lekki. An international five-star hotel, with a swimming pool, large conference centers, and a couple of hundred rooms, it is an imposing monument to the Chinese presence in Lagos, Africa's largest city.
On the ground floor of the hotel is a Hong Kong-style hot pot restaurant, called, imaginatively, HotPot. Fang Kai is a regular. He sits in a seat by the window and orders us individual pots of clear broth and such an impressive spread of meats and vegetables that plates end up stacked precariously on top of each other. Fang works for the Chinese telecom giant Huawei, which has an office tower adjacent to the hotel.
Fang did not choose to come to Nigeria; Huawei sent him. It was his first time leaving China. "It took me around two years before I really got used to being here," he tells me. "But once I understood how things worked, and how to interact with people here, I really fell in love with it."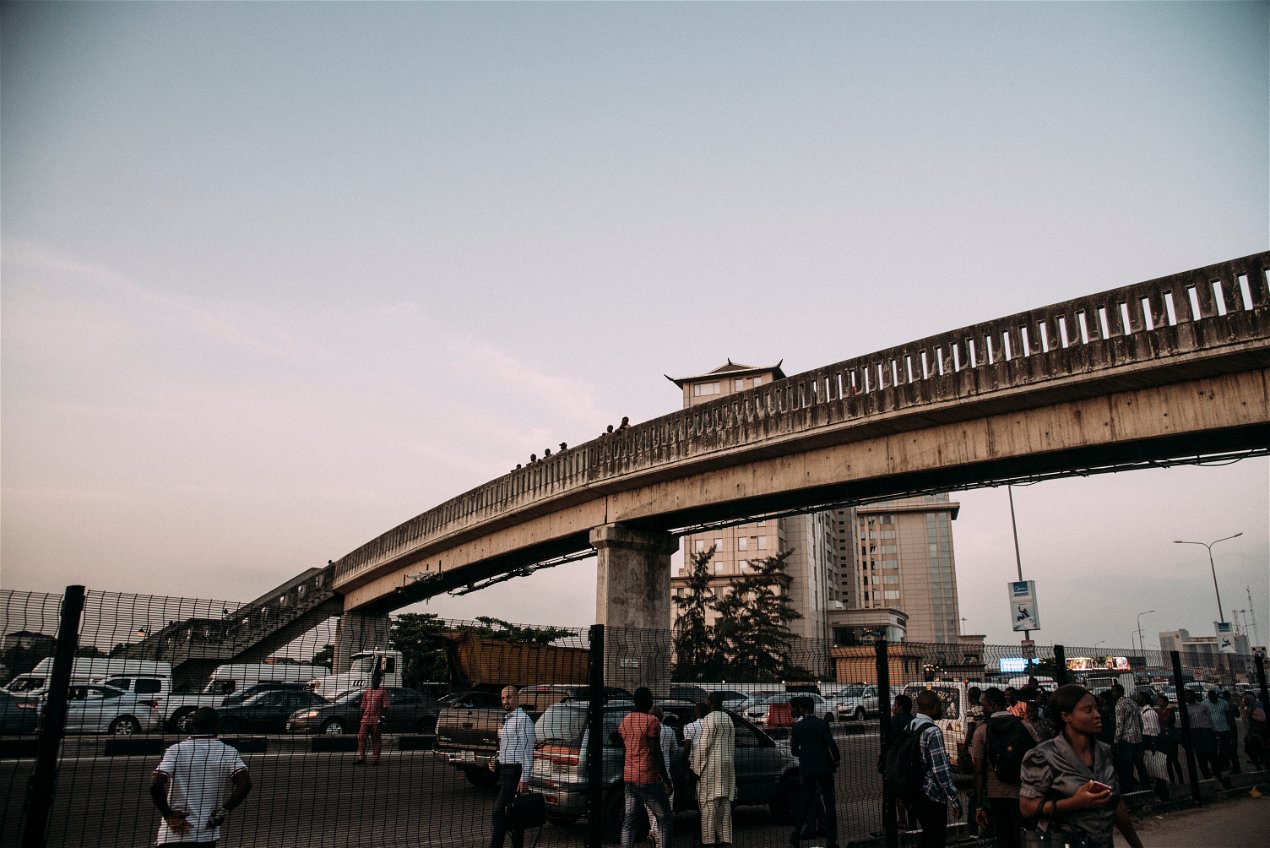 After work, as the sky bruises pink and purple, the Huawei workers stream out of their tower and into waiting buses that ferry them into dormitories nearby. Fang, however, is working late this evening. He is in charge of Music Plus, a streaming service focusing on Afrobeats that Huawei has set up in partnership with MTN, a local service provider, specifically to target the domestic market. It has been running for three years and already has 400,000 users.
It might feel like an unlikely collaboration: the stuffy corporate world of China's largest telecom company with the ebullience of Nigeria's Afrobeat musicians. But the pairing makes sense. Nigeria is Africa's largest economy. Lagos, with an estimated population of 17.5 million, is the continent's largest city. In 2000, China-Africa trade was a paltry $10 billion USD; by 2014, it had risen more than twenty times to $220 billion. Nigeria is the second-largest African recipient of Chinese investment, behind Egypt, with over $6 billion coming in from 2012-2017.
But while this partnership has grown exponentially, ties between the two nations have faced criticism and a potential slowdown in recent years. In 2013, Lamido Sanusi, the then governor of the Central Bank of Nigeria, wrote an editorial in the Financial Times saying that "Africa must get real about Chinese ties," and decrying the way that China operates across the continent. "China takes our primary goods and sells us manufactured ones," he wrote.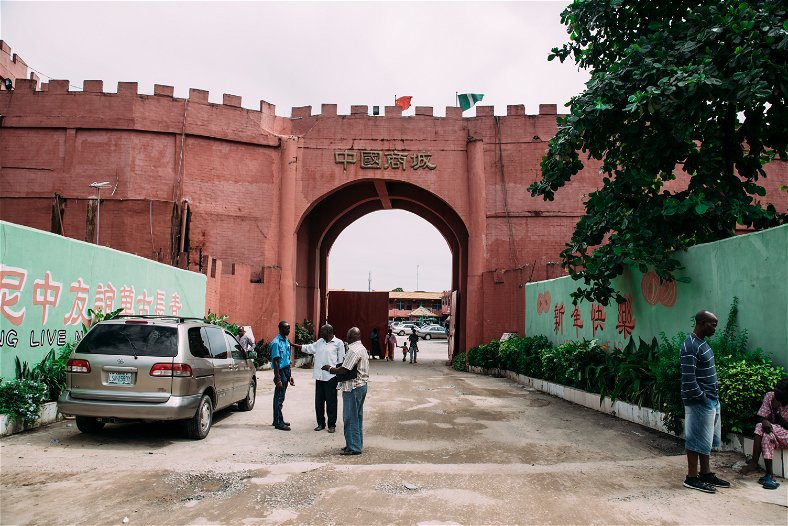 It is true that across the continent Chinese state-owned enterprises heavily engage in resource extraction and often employ Chinese labor at the expense of training or developing the local labor force. But beyond this, there are huge private enterprises, like Huawei, and thousands of small-scale traders and entrepreneurs operating in a different manner. Some have already been on the ground for decades.
A good example is the Oriental Hotel itself. It is a partnership between the Tung group and former governor of Lagos state, Bola Tinubu, who owns a 10 percent stake. Tung Group is one of the 'Four Big Families' who came to Nigeria in the 1960s: the Lee Group, Tung Group, WAHUM Group, and Cha Group. There were more, but these are the groups who remain most active in Nigeria today, according to Liu Shaonan, a PhD candidate in the Department of History at Michigan State University, who studies the history of Chinese engagement in Nigeria.
In the 1960s and 70s, Nigeria was the biggest overseas market for Chinese enamel products from Hong Kong
These initial family groups came over to manufacture enamelware. In the 1960s and 70s, Nigeria was the biggest overseas market for Chinese enamel products from Hong Kong, with traders in the city utilizing British colonial networks that spanned to Nigeria to get their products sold in the country.
On occasion, the Nigerian government would impose import restrictions. A few of the more enterprising exporters decided that instead of finding a new market, they would just move their operation into Nigeria to avoid the import restrictions. The successful ones, like Tung group, diversified. It now owns factories, has huge real estate investments, and is heavily invested in iron smelting. For their part, the other big families are also active across various industries––WAHUM manufactures enamelware and iron, as does Lee group, which also produces slippers and plastic bags, while Cha group focuses mainly on textiles.
The Oriental Hotel is therefore less a monument to the power of the Chinese state than the culmination of decades of private investment. In its kitsch pagoda styling, the abacus-style woodwork of the lobby café, or the opulence of the two Chinese restaurants therein, one can sense a kind of self-referential immigrant pride.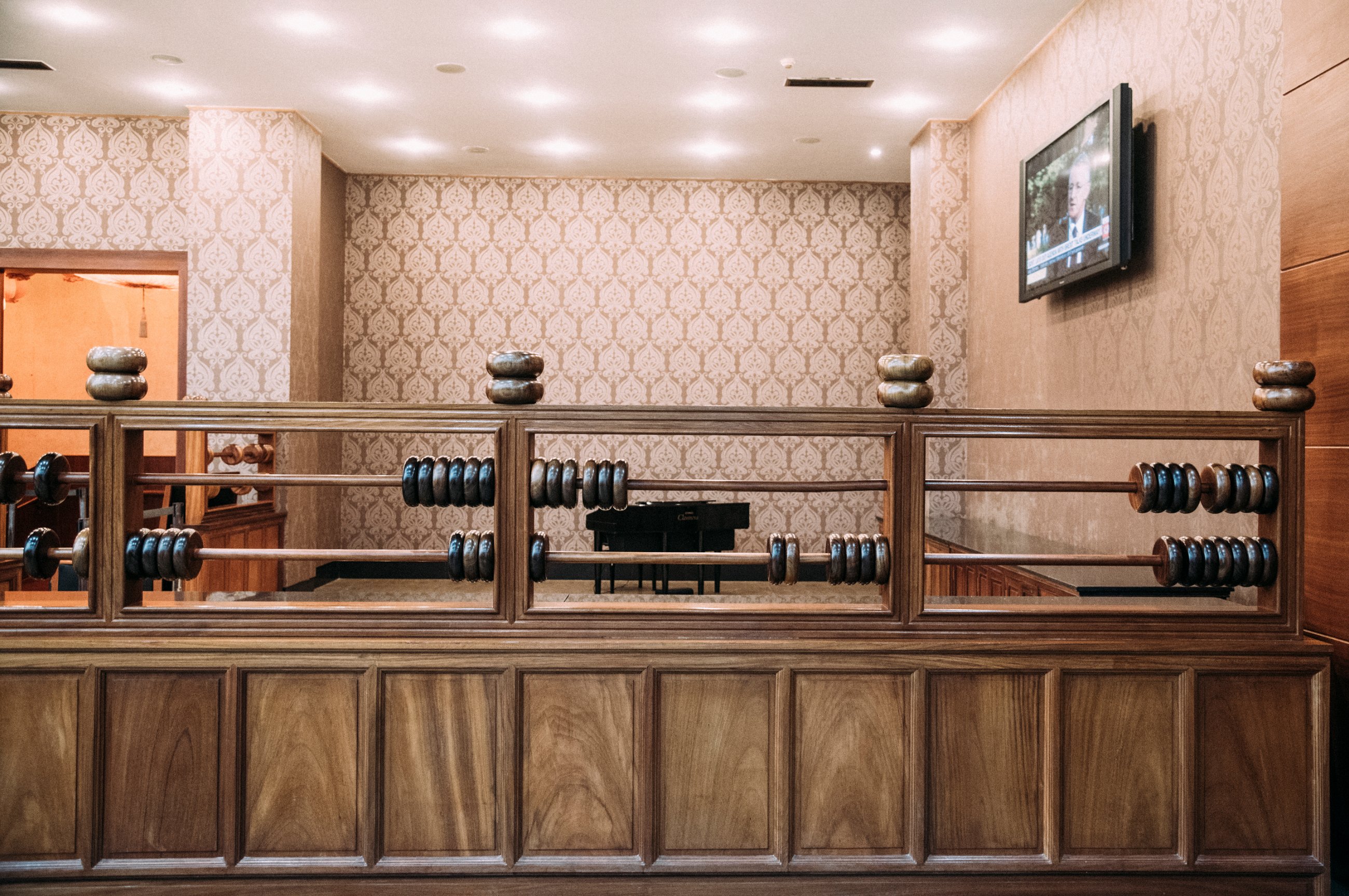 A less imposing but more curious monument to the Chinese presence in Lagos rests on the other side of the city, also abutting a highway. Sitting off the motorway that runs from Ikeja to Lagos Island, in an area called Ojota, Chinatown is hard to miss. It is a giant structure, with turrets and crenellations designed to make it look like the Great Wall, though the walls are too thin, the structure Potemkin. It is painted bright red.
It, too, was built by a private Chinese investor, Sun Guobing, but it's fortunes have paled in comparison to the Oriental Hotel. Stocked by petty traders who dealt mostly in fabrics, at one time it had more than three hundred stores and a significant portion of all the fabrics traded in West Africa passed through it. However, by the mid 2000s, most of the Chinese traders were chased out after claims from Nigerian trade unions that Chinese imports had eliminated roughly 350,000 manufacturing jobs, mainly in the textile industry. The police raided Chinatown in 2006, pushing most of the remaining traders out.
There are now only around 50 stores left, and while some are still owned by Chinese bosses, they are staffed exclusively by Nigerians. While there, I met Mr. Sam, who runs one of the larger stores. A Nigerian man, I found him sitting in an office chair bundling up bags of cheap Chinese-style qipao dresses. He greeted me with some reluctance, until I mentioned that I had lived in China for a few years. He broke into fairly fluent Mandarin, telling me that he had studied on the island of Qingdao for a few years. He goes back to China every few years to source products and keep up with his suppliers.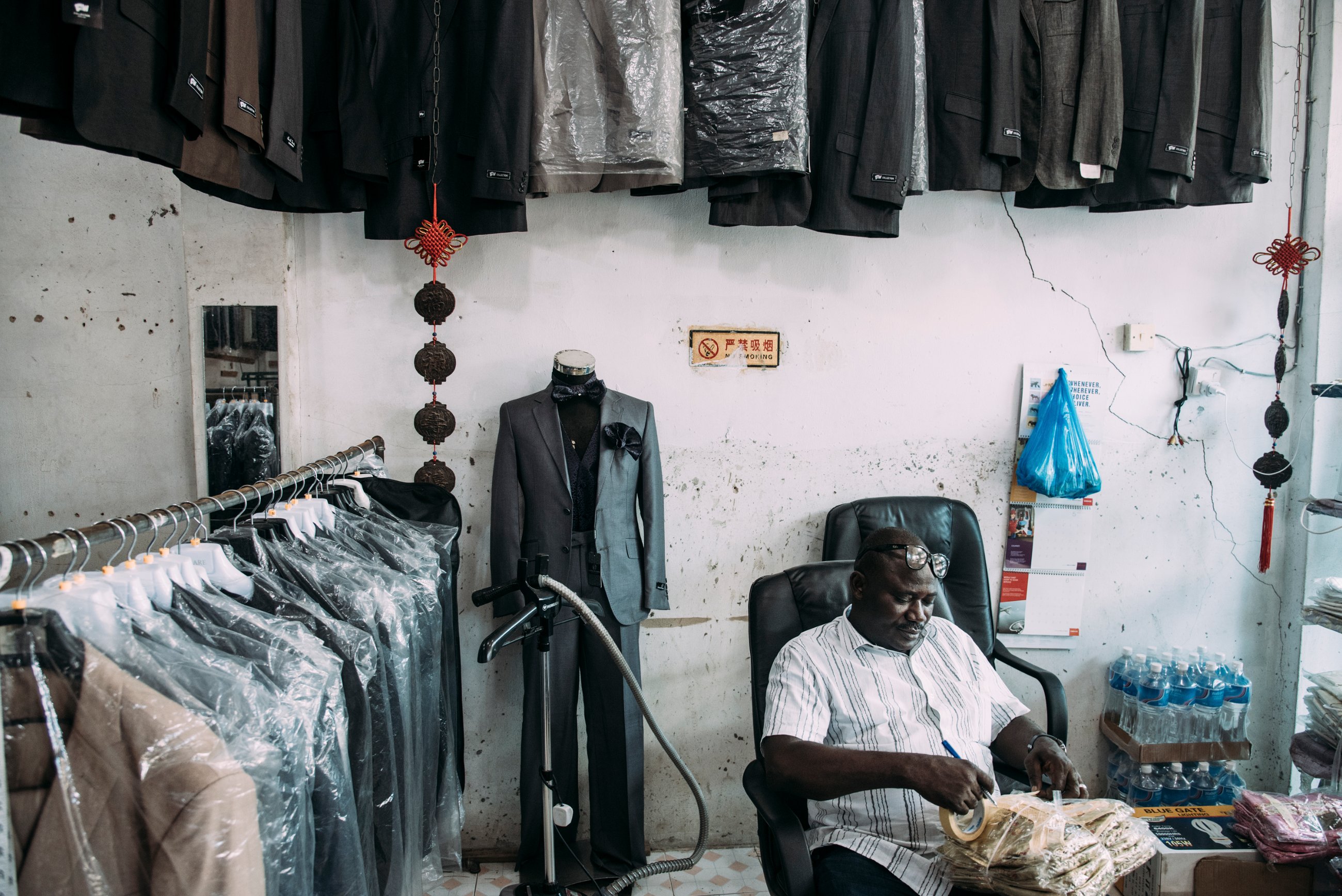 Even with a lot of the petty traders driven out, the Chinese community in Lagos is still around 50,000 and increasing. More importantly, the newest wave of Chinese immigrants is more like Fang––highly educated and more deeply embedded within the local community.
The petty traders, who typically only spoke limited English and who constantly felt insecure––physically and fiscally––lived largely apart from Nigerian society. As such, their lives were at odds with those of today's Huawei workers, who are highly educated and for the most part fluent in English. What they shared is a common and individual desire to succeed in the country, though their outcomes have inevitably been colored by their respective starting points.
It is a smart piece of unintentional diplomacy—the pairing of karaoke with Afrobeats
The Huawei workers, with disposable income and less of a language barrier, have no problem navigating the affluent downtown areas that surround the Oriental Hotel. One of the Huawei workers I met proudly pulled out his phone when he heard I was English and showed me a picture of himself in tennis whites at the old colonial Queen's tennis club, where he has a membership. The Huawei employees are better able to develop a real affection for Lagos, such that when I ask Fang if he has any plans to leave Nigeria he shakes his head––not for the next few years. "I could try another African country, though," he says.
Fang is heavily engaged in the local community. Every week he organizes an event, Unplugged Thursdays, in a bar in Victoria Island to promote his Music Plus app. When we walk in I can see they have set up karaoke machines, and people in the crowd are passing a microphone between them. The songs are popular Afrobeats tracks of the moment and the screen flashes the lyrics in Yoruba. An Afrobeats artist named Idahams walks in shortly after in reflective aviator sunglasses with an entourage of twenty.
It is a smart piece of unintentional diplomacy, the pairing of karaoke, China's favorite pastime, with Afrobeats, Nigeria's biggest cultural export.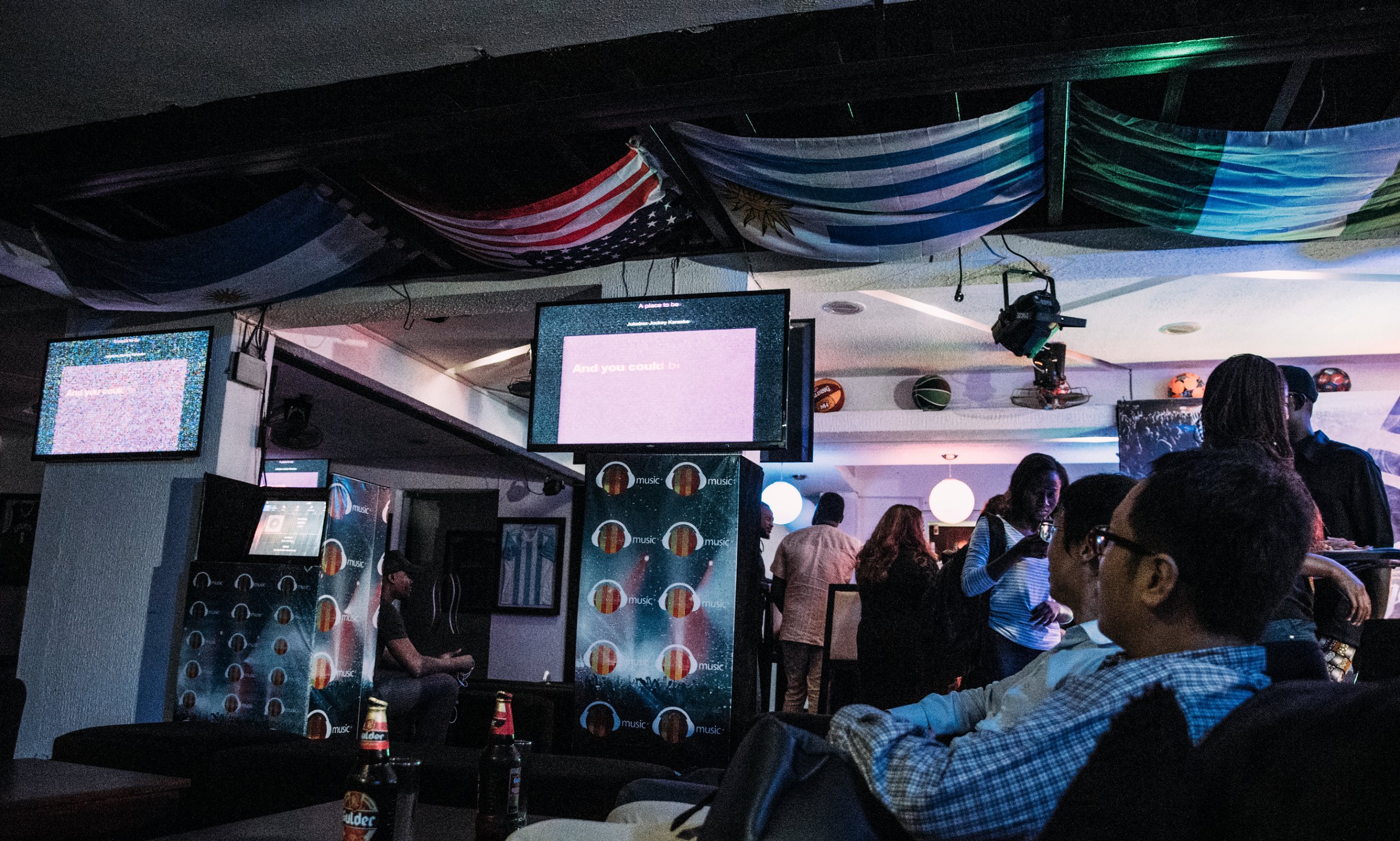 On my final night in Lagos, Fang invites me to the Huawei offices for dinner, handing me a guest pass and taking me through a winding corridor that opens out into a futuristic canteen. Staff can pay for their meal through Wechat, the Chinese social media app. The entire space is airy and light: polished stainless-steel fixtures, bright white tables, and huge windows that overlook the river. The food is incredible. The chefs and ingredients are flown in from China. Sichuanese gungbao chicken, stir-fried tofu, spicy king prawns, and more besides, are served buffet style.
When Fang sees that I have had my fill, he stands and tells me to come with him. He grabs a can of Rubicon, a tropical flavored soft-drink, from a shelf, and, along with three guys from his team, walks me out of the offices and to the main entrance of the hotel, which is directly next door. We go up to the fifth floor of the building and walk out onto a giant balcony. He throws the Rubicon to a guard, who nods and lets us pass.
We walk to the edge and look out at the Lagos lagoon that flows, river-like, beneath us. Fang starts to tell me about a trip he had recently taken, driving around seven African countries in the southeast, including Rwanda and Kenya, for more than a month. At no point does he mention that in doing so he missed an opportunity to return to China and to catch up with the life he had left behind. Instead, he was excited to list of the places he had been and the ones that remained for the next trip. "I wish I'd had three months," he says.
On the river below, fishermen bob in boats, throwing nets out. As Fang finishes his story, a light breeze picks up, carrying with it the hum of cicadas. The sun is setting, giving the clouds a dusky halo. Fang, reflective, points out over the vista. "It's our Huangpu," he says, referring to the famous river that cuts through Shanghai. "It's comfortable here."