An Ideal Muddy Wine to Pair with Stubby Meatballs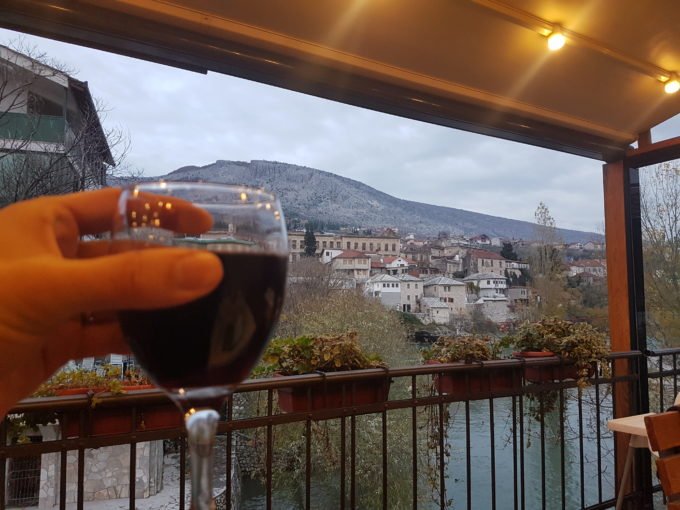 An Ideal Muddy Wine to Pair with Stubby Meatballs
Wine in Mostar
"Muddy" is far from the most flattering epithet for a wine, particularly a little-known one from an arid corner of the Balkans. And indeed, some less charitable topers say that the blatina grape's characteristics live up to its name, similar to—and quite possibly derived from—"blatan," the Croatian word for muddy.
The more kindly see the wine as delightfully gluggable, with a soft plumminess offset by spicy, peppery notes. Enthusiastic quaffers compare it to cabernet franc, while the over-excitable say that it reminds them the wines of the northern Rhone, or dub it "Balkan Beaujolais." Ask for a glass of local red in Herzegovina, and generally you'll be given something that is at least predominantly blatina. This is changing, however.
The blatina vine, aside from its unpromising name, is also a rarity in that it produces only female flowers, meaning that other grapes must be grown nearby in order to pollenate it. This factor, and a preference for internationally-recognized names, is seeing some blatina vineyards being replanted with other grapes. Even now, blatina is generally blended with the grapes that are grown alongside it.
Nonetheless, it's a local drop and thus the perfect thing to wash down a plate of cevapi, the meatballs shaped like stubby fingers that are ubiquitous in the Balkans, but that everyone in their heart of hearts knows are best in Bosnia.
The late autumn rain beats down on the roof of the Hindin Han restaurant on the right bank of the Neretva, overlooking the stout towers of Mostar's iconic Old Bridge and the charming Ottoman town beyond, a symphony of limestone and slate clinging to the precipitous riverbanks.
I'm here to report on the local reaction to the dramatic courtroom suicide of Slobodan Praljak, an ethnic Croat convicted of war crimes in the region in the 1992-95 war. Praljak oversaw the siege, in which the elegant 16th-century Old Bridge was destroyed, and thousands of Muslims were killed or driven from their homes. Some were interred in prison camps, overseen by Praljak's forces, where torture and killings were common.
Mostar remains a divided city to this day. Few Muslims mourn Praljak, and many feel that he has cheated justice by choosing the timing of his death, something his victims were denied. Many Croats say that he was a hero, and are as much bemused as offended by his conviction. Even those who reject the aura of martyrdom already being constructed around the late general emphasize the fog of war, the chaos and fear. "You weren't here, you couldn't understand what it was like," they say.
One doesn't have to find what happened any less horrifying to concede that, of course, they're right about that. I was ten and growing up in a leafy suburb in southern England when the siege took place. Even after more than a decade reporting on the region, I'll never understand.
But I do know that sometime, I'd like to come to this beautiful country to report on something entirely unconnected with the war. To have conversations that don't, like Godwin's Law, inevitably lead to the war. Then we can just enjoy the view and our and our blatina—if it's still being grown, of course.
Hindin Han, Jusovina
Mostar 88000
Bosnia and Herzegovina, +387 36 581-054
9am-midnight daily.