From sinful cakes to epic rabbit stews, these dishes define the small islands with a big appetite.
A few drops in the Mediterranean sea between Tunisia, Libya, and the southern coast of Sicily, the Maltese archipelago—including its three inhabited islands Malta, Gozo, and Comino—has absorbed many cultures and cuisines over thousands of years. A shining jewel fought over by a succession of marauding powers and empire-builders, the country has long been a trade hub and coveted base in the continent.
The first settlers arrived in Malta from Sicily, 92 miles away, around 5200 B.C. But it was the Phoenicians that recognized the islands' strategic value, settling there around 700 B.C. and making them a trade outpost and a base for exploring the Mediterranean. The Carthaginians then ousted the Phoenicians, and the Romans then ousted the Carthaginians, and so on. Malta's roster of settlers and occupying powers—including Sicilians, Romans, Byzantines, Arabs, Normans, the Spanish, briefly the Habsburgs, a noble order of Catholic Knights, the French, and finally, the British—shaped its food culture into a vibrant Mediterranean tradition. The food on Maltese tables, from elaborate rabbit-themed banquets to English-style thick-cut chips, is the result of centuries of handovers and encounters, conquest and cultural exchange.
Pastizzi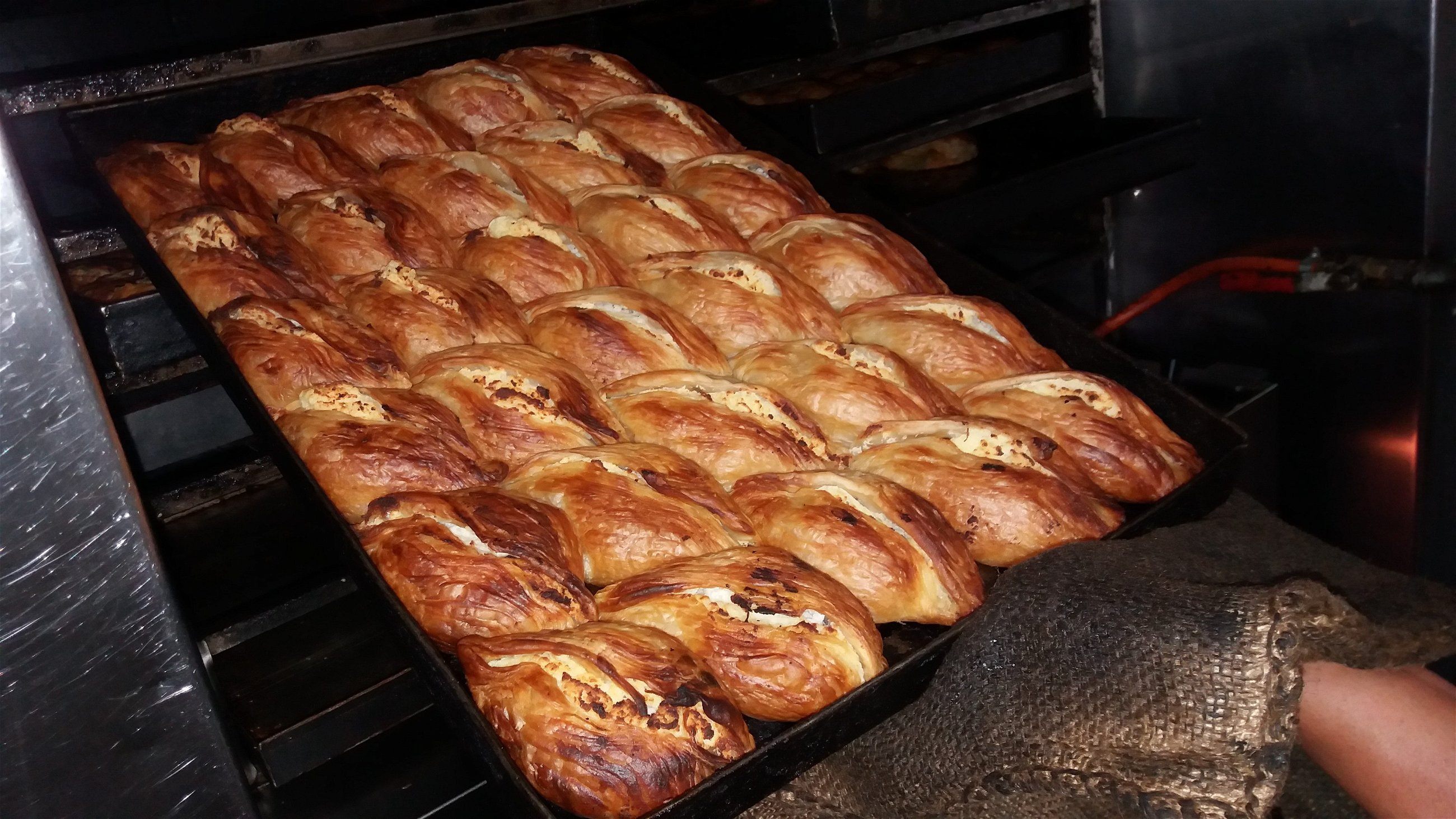 Muslims from North Africa are thought to have arrived in Malta around 870 A.D. They came via Sicily, and conquered the islands from the Byzantines during the Arab-Byzantine wars. They made Mdina, in the northwest of the island of Malta, their capital. Among Malta's Arab-era legacies were crops such as citrus and cotton, sweet pastries, spices—and the roots of Malta's distinctive language, descended from an extinct variety of Arabic developed in Sicily. It is the only Semitic language written in Latin script.
The Maltese town of Rabat was once a suburb of Mdina. ("Rabat" is derived from the Arabic word for suburb; "Mdina" from the Arabic word for city.) Now, Rabat is home to a special food institution: Crystal Palace Tea and Coffee Bar. This tiny bar has stood on a corner near Mdina's city gates for over 100 years. It's famous for its (almost) around-the-clock opening hours and its crunchy pastizzi: Malta's favorite snack.
The pastizz (singular) is a marriage between flaky, Arabic pastry and the contents, derived from Malta's southern Italian culinary influences: diamond-shaped filo-pastry pockets filled with fresh ricotta cheese, or a paste of mashed peas and spices. Pastizzi shops are all over, their popularity underscored by the Maltese expression jinbieghu bħal pastizzi ('selling as fast as pastizzi').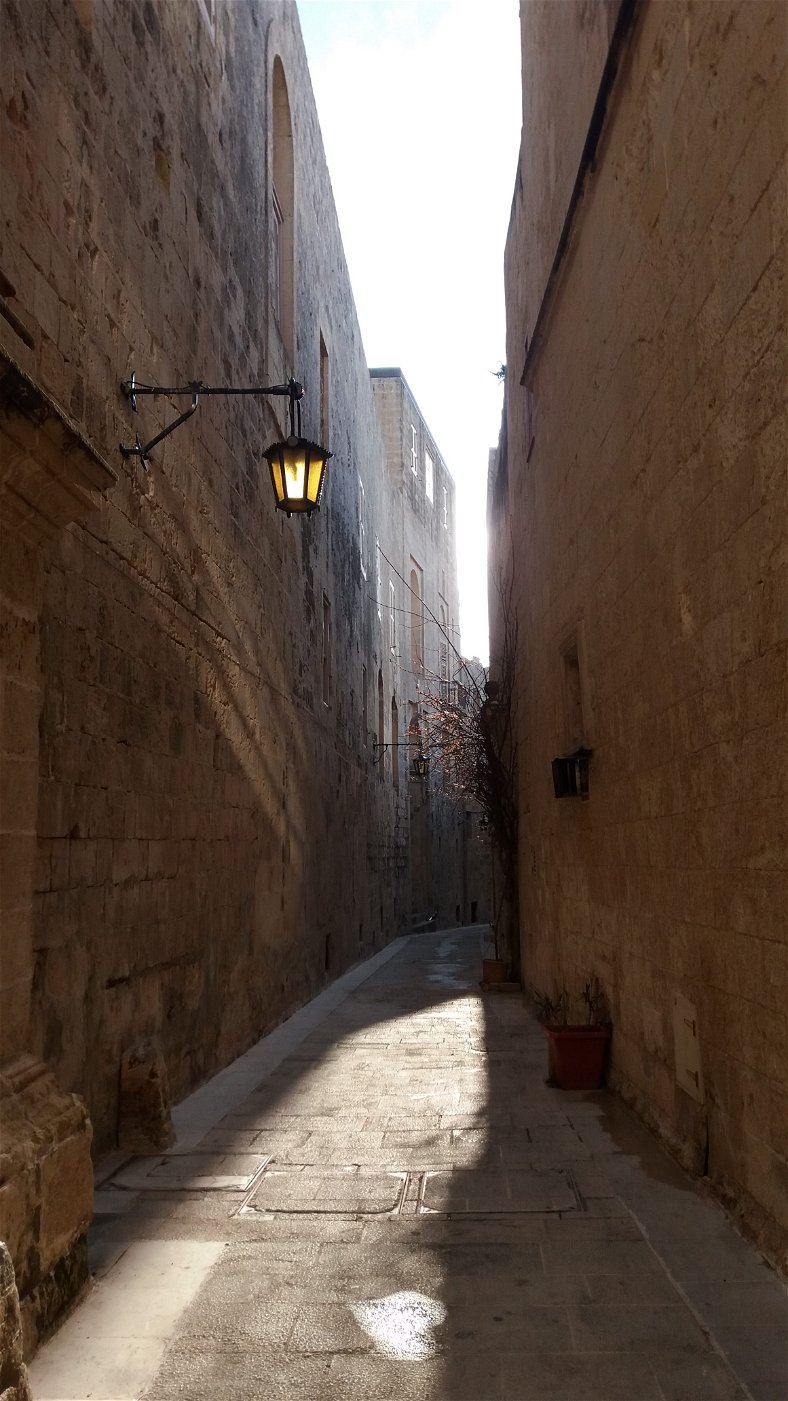 The aroma of hot pastizzi wafts into the street outside Crystal Palace. Workers in overalls and old men sipping steaming tea from small glasses throng around the doorway. In the very early morning, fish hawkers, hunters, and roadside workers come here for a quick bite before shifts. Later, office workers, delivery men, and bus drivers stop by for a quick lunch. In the afternoon, families stop by. In the evening and even very late at night, young people and party-goers stop by to fill up before (or after!) a night out.
The bar got its name from British troops stationed in Malta during and after World War II, many of whom came from Crystal Palace, a working-class neighborhood in the south of London. They took to calling the bar Crystal Palace because it was their second home.
Lampuki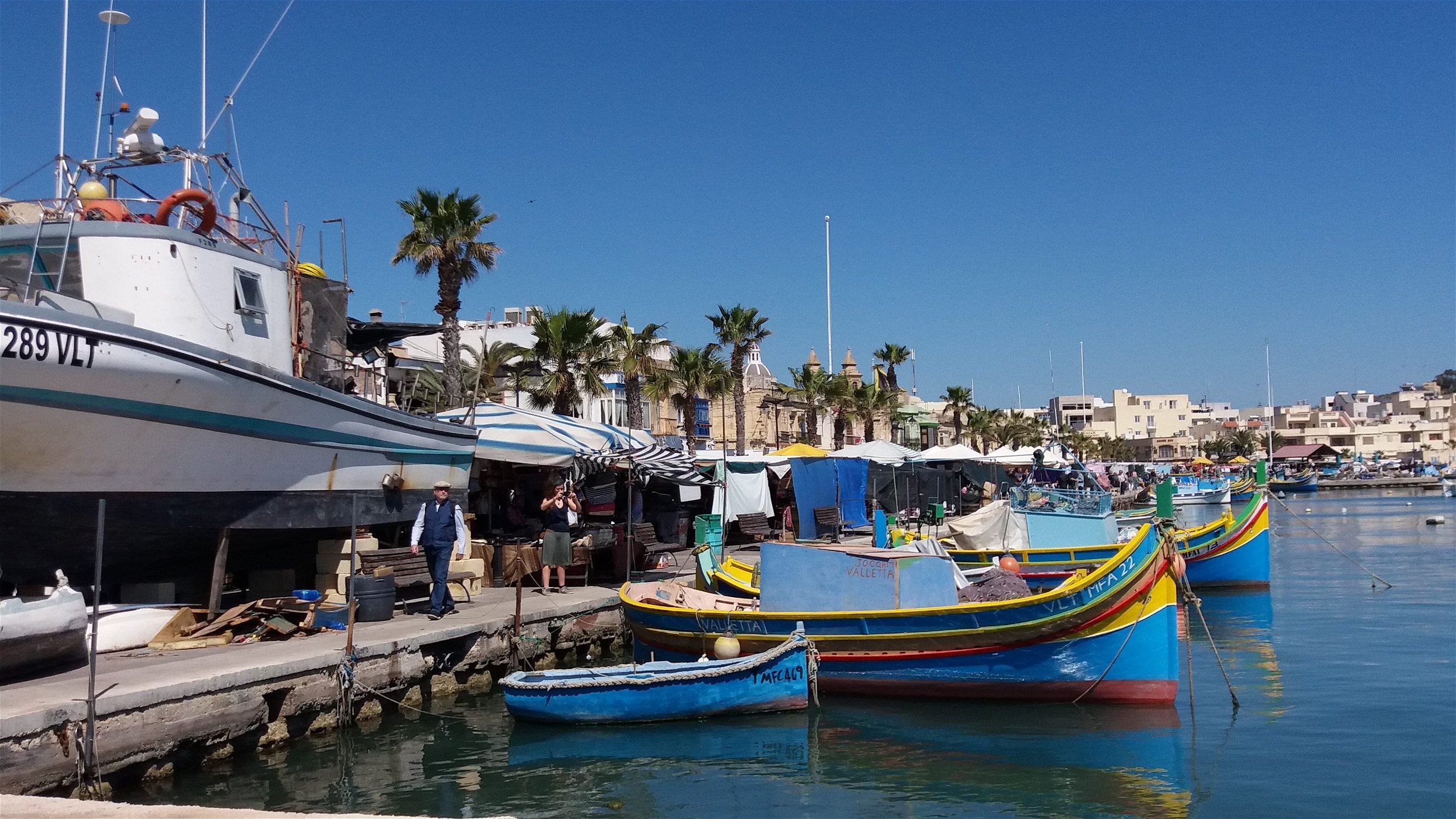 The Marsaxlokk fish market—one of my favorite places in Malta—is an open market sprawled along the harbor of Marsaxlokk Bay on the eastern part of the island of Malta. It opens very early on Sundays and offers the freshest fish around.
On a recent trip to the market, I hear the usual hawkers' cry "Friski u ħajjin! Għadhom ħajjin!" ("Fresh and alive! They are still alive!"). Out in the harbor, the brightly colored luzzi (traditional fishing boats thought to date back to the Phoenicians) have a pair of eyes painted on the bow to ward off evil and misfortune. (This superstition is another legacy from the Phoenicians, who believed the god Horus protected them from evil, so fishermen painted the Eye of Horus on fishing boats to watch over them at sea.)
Lampuki—mahi-mahi—is probably Malta's most popular fish. We like to shallow-fry them in local olive oil with tomato sauce, capers, and green peppers, or serve them in torta tal-lampuki, a pie made with spinach, tomatoes, and olives.
Malta's fishermen still catch lampuki by the traditional kannizzati method, which hasn't changed significantly since the Roman rule around two thousand years ago. Kannizzati, or lampuki netting, is a local fishing technique, whereby fishermen cut palm fronds and weave them into flat rafts pulled out to sea by the luzzu fishing boats. Once the sun is high, the fish seek shade and gather underneath the rafts, making them easy to net. The fishermen then leave the lampuki in nets on the side of the boat, waiting for other fish to school next to them before netting those too.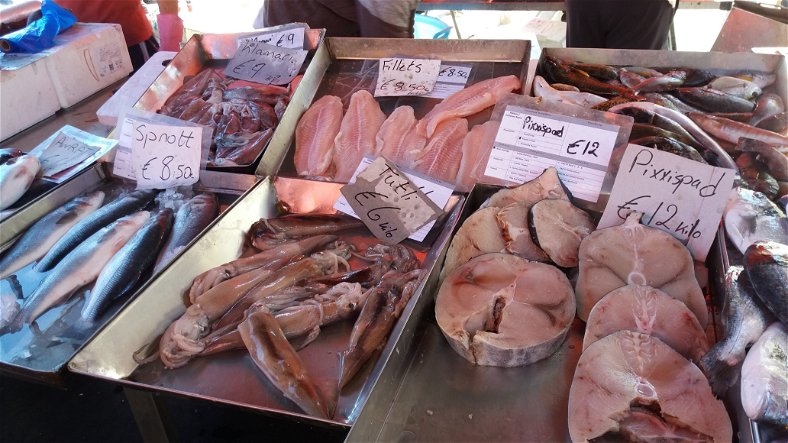 We're not in lampuki season the day I visit, though. Gianna, the wife of a local fisherman selling their catch at the market, explains, as she arranges some slippery eels into an oily compartment of her stall, that lampuki season is from late August to December.  So today, I gaze at the stalls overflowing with seabass, stonefish, grouper, and other fish I cannot identify.
Stuffat tal-Fenek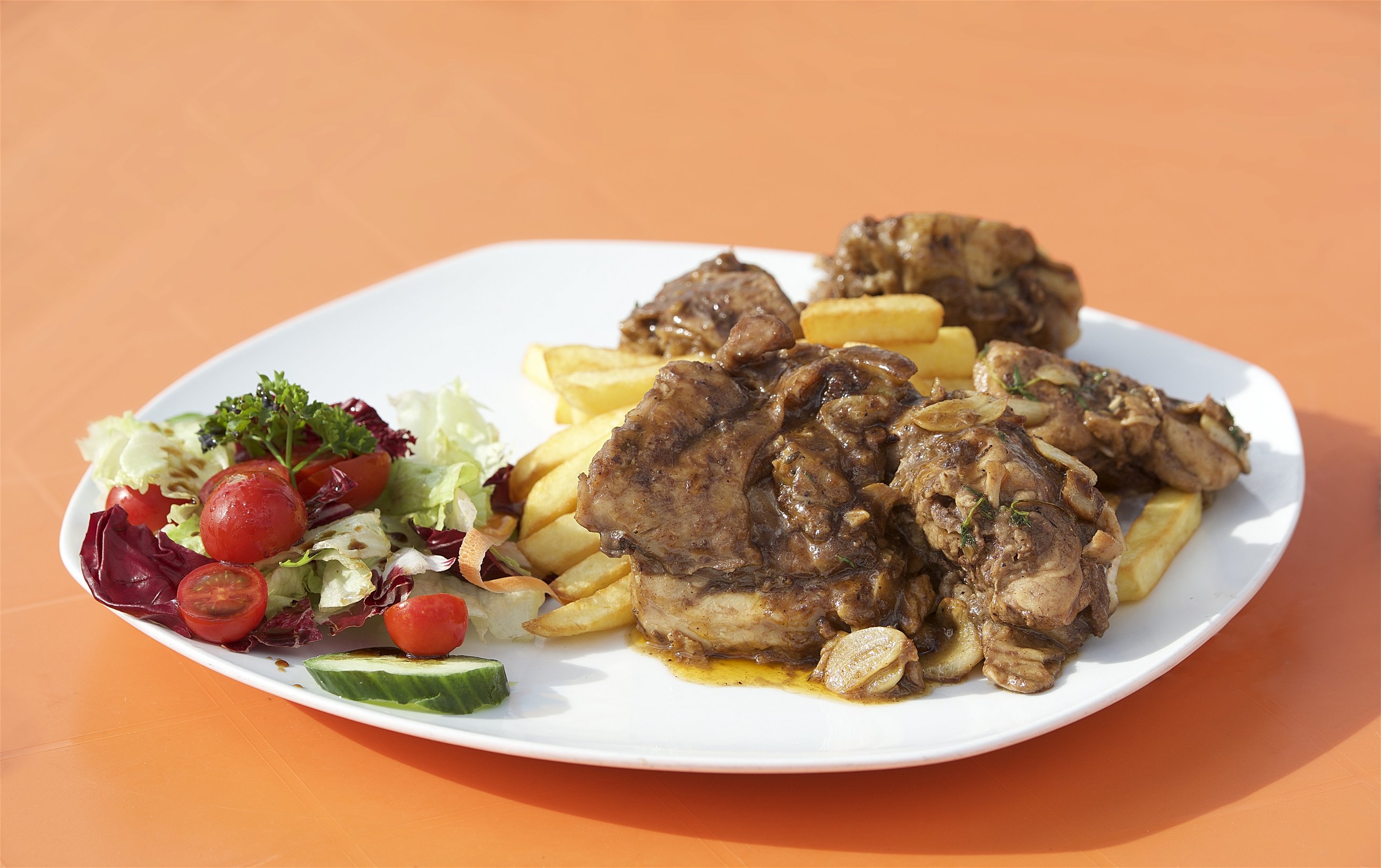 Malta's undisputed national dish is stuffat tal-fenek—rabbit stew.
Wild rabbits were not indigenous to the Maltese islands. They were introduced by the Phoenicians, who brought some of their stock to the islands to ensure a supply of fresh meat. But the rabbits flourished in the Maltese countryside and became part of the local diet, providing meat for local hunters. They also became immensely popular because the meat was easily sourced and cheap.
In 1530, the Spanish king Charles V, in an attempt to protect Rome from an Ottoman invasion from the South, entrusted the islands to the Order of Knights of the Hospital of Saint John of Jerusalem (also known as the Knights Hospitallier, or as I will refer to them, the Knights of St John)—a medieval Catholic military order that treated Christian pilgrims during the Crusades. The Knights presided over Malta for 250 years, shifting it culturally towards Europe and overseeing a golden age in art, architecture, and maritime power.
During the Knights' era, rabbits were so popular that the Knights, fearing their extinction, issued several edicts restricting or prohibiting rabbit-hunting. In 1775, these restrictions exacerbated long-simmering tensions between the Knights and the Maltese clergy, resulting in a short-lived revolt called the Rising of the Priests, in which the clergy took over Fort St. Elmo and Saint James Cavalier in Valletta. (The Knights quashed the revolt in a matter of hours, capturing and executing them.) But eating and hunting rabbit became a symbolic resistance to the Order's restrictions, cementing the dish as an expression of Maltese identity.
During and after the French occupation at the end of the 18th century, and after the ban on rabbit-hunting was lifted, the Maltese started to domesticate the local rabbits, breeding them as they did other livestock. Today, both domestically-reared rabbits and imported ones are used for cooking.
Fenkati—elaborate feasts starring rabbit—are a popular traditional event, and a large number of restaurants and bars specialize in rabbit feasts for large celebrations. Most fenkati tend to start off with spaghetti with a rabbit ragu as a starter, a blend of local cuisine and Italian influences. The main course is often a plate of steaming rabbit meat, garnished with rabbit liver or heart, with a choice of British-style chips (thick-cut fries) or traditional Maltese patata fil-forn, roast potatoes garnished with fennel seeds and rosemary. Needless to say, stuffat tal-fenek is paired with copious amounts of wine.
Mgarr, a rural village in the north of Malta, is synonymous with fenkati. According to Jason Sammut, the chef at Il-Barri, all the land around Mgarr was farmland in the 18th century, and almost all the farmers there bred and sold rabbits, destined for the cooking pot.
There are probably as many versions of Maltese rabbit stew as there are Maltese families. Quizzing my own nanna (who lives in the rural village of Siġġiewi) about her recipe has proven futile. Certain family secrets, it seems, will remain secret for now. She did, however, tell me to first cut the rabbit into joints and marinate them in a mixture of wine (she likes to use red), vinegar, bay leaves, and thyme.
Kwarezimal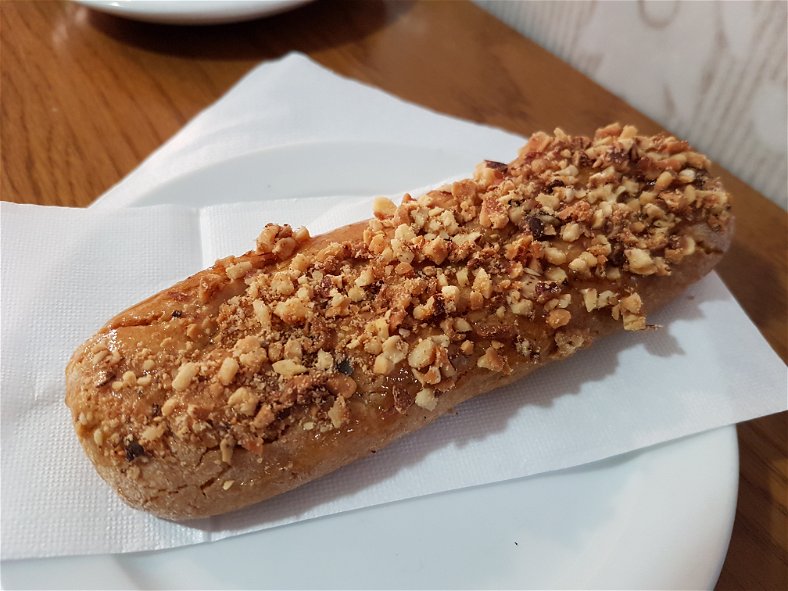 According to lore, and many Bible scholars, St Paul the Apostle was shipwrecked off the coast of Malta in 60 A.D. on his way to Rome to face trial, and swam safely ashore. St Paul is also said to have introduced Christianity to Malta, making it one of the earliest outposts of the faith.
The era of the Knights of St John reinforced the islands' Christian tradition, and Maltese culture and social life are heavily influenced by its faith (the islands are 98 percent Roman Catholic). Church attendance in Malta is among the highest in Europe, although it is declining. Many traditional Maltese sweets and pastries are only available at certain times of the year, bound to the Catholic liturgical calendar—such as kwareżimal.
Kwareżimal are a kind of chewy biscuit made with spices and ground almonds, a humble recipe originally made without eggs or butter, because during Lent, abstaining from eating animal products or animal meat was considered a penance. (Sugar, it should be noted, was not taboo because it was considered a spice and therefore savory.) The word kwareżimal stems from the Italian word quarezima, referring to the 40 days of Lent fasting.
Hobz tal-Malti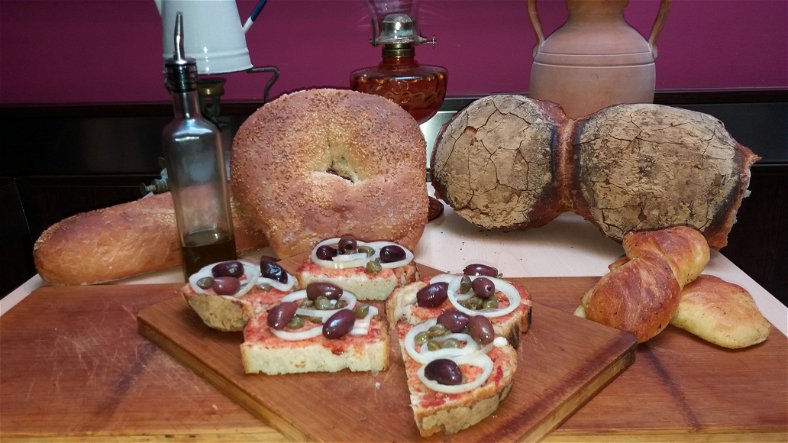 The Maltese have a long-standing love affair with bread. The climate—very hot summers and cold, humid winters—is ideal for cultivating grains. Regular, large imports of grain from Sicily were common in the Medieval period, at least until underground grain silos were built, which served as much-needed grain storage during times of famine, war, or disease. The largest collection of underground silos are the so-called Fosos, built in Floriana by the Knights of St John in the 17th century.
Carmelo Debono, 67, who everyone calls Nenu, is the founder of the Maypole bakery chain, perhaps Malta's best-known bakery.
For Debono, baking is a family activity. He and his wife, Angela, have six children, all of whom have followed them into the bread-making business. "You are surrounded by people who understand you. Even the fact that my wife is a baker is very important to me because she can help, and understand me better," says Debono, at his restaurant in Valletta, a spin-off of his bakery called Nenu the Artisan Baker's.
With 16 branches, the Maypole bakery is a big producer of the much-loved Ħobża tal-Malti'—Maltese bread—a round, sourdough loaf with a hard, crunchy crust, usually stone-baked. The crucial part of the process, he says, is that the fermentation process for preparing traditional Maltese bread is much longer—over seven hours.
The Maltese eat this bread for lunch, as a starter, or even as a street-side snack. A classic version, called ħobż biż-żejt u t-tadam, comes rubbed with fresh tomato paste (similar to Spanish pan con tomate), drizzled with olive oil, and (optional) stuffed with capers, olives, or tuna, seasoned with salt and pepper. The Maltese olive oil is a key ingredient; the Phoenicians introduced olive oil to Malta, but the Romans introduced olive presses, and the islands were once dependent on olive oil production. Today, olive oil is imported from other countries too, but Malta's own extra virgin olive oil is still a staple of the Maltese diet.
Soppa tal-Armla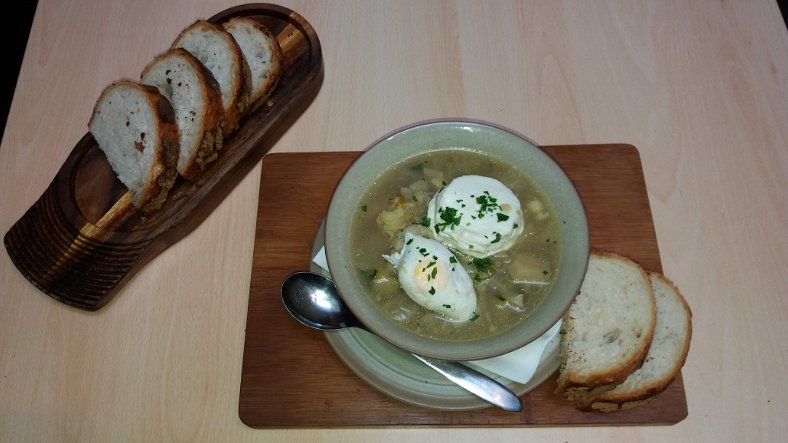 The typical Maltese soppa tal-armla—widow's soup—is perfect for vegetarians (though I am not one) and a great comfort food during winter months. It's made with fresh vegetables and pulses, usually garnished with a ġbejna, a small, round hunk of sheep's milk cheese.
This humble soup was a staple in leaner times throughout the Mediterranean. When people lived on what they could grow in their own fields and farms, they consumed meat only during special occasions. The soup's name comes from the Medieval practice of gifting penniless, widowed women with vegetables and other available produce, which would then be prepared into the most filling dish possible. In Malta, the traditional ingredients usually include potatoes, carrots, kohlrabi, broad beans, cauliflower, eggs, and cheese.
It also goes very well with slices of fresh Hobż tal-Malti for dipping. The well-seasoned vegetables and the melted cheese blend perfectly with the rich texture of the bread, which I like to use to scoop up pieces of egg and potatoes.
Figolli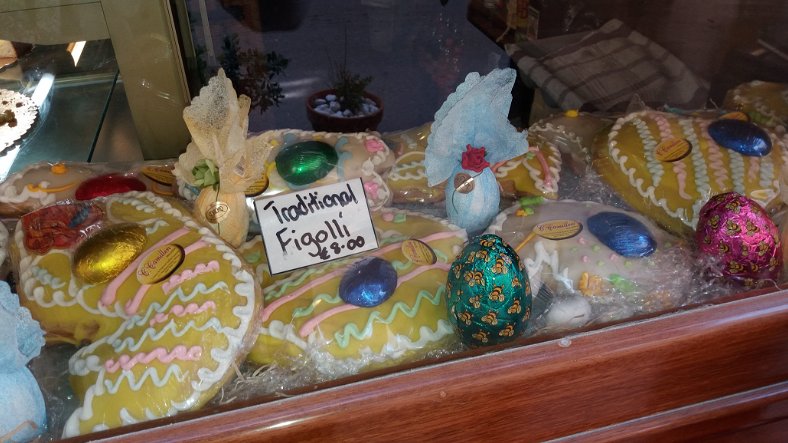 Figolli are marzipan-filled cakes made for Easter in Malta, a traditional post-Lenten treat gilded with icing sugar, chocolate, or a small Easter egg.
Figolli, a word Maltese believe is derived from the Italian word figura, or figure, are baked and cut into shapes linked to symbols of fertility and plenty, such as rabbits, hearts, and fish, and today, also butterflies or mermaids. Although they are now associated with Easter and Christianity, figolla (singular) is thought to be rooted in pagan fertility celebrations dating back to the Phoenicians' worship of Astarte, the goddess of fertility and sexuality.
The Phoenicians converted the Megalithic temple Tas-Silġ in Marsaxlokk, in southeastern Malta, into Astarte's sanctuary. (Later, during Malta's Roman era, the temple was repurposed for the Juno, the patron goddess of marriage.) According to mythology, symbols of fertility, or figures of men and women, as well as honey were presented to Astarte. These pagan offerings may well have been the blueprints for the modern duck, bunny, and butterfly-shaped cakes.
Although you'll probably only find figolli around Easter, you certainly won't go hungry in Malta, whatever the season.