Photographers documenting the movement of Central American migrants to the U.S.-Mexico border share images of the people leaving everything they've known behind for the possibility of asylum in the United States.
A young girl sits on her father's shoulders, crying, as they cross a river that divides Guatemala and Mexico. Another child peers out from the vents of a cargo truck, her small hand clinging to the grates. A teenage boy on Playa Tijuana dares to scale the fence dividing his past and what he hopes will be his future.
The subjects of these photos are among the thousands of Central Americans who have joined caravans pushing northward toward the United States in an effort to escape circumstances of violence or desperate poverty. It's a journey that offers hope but promises nothing.
We asked eight photojournalists who travelled with the migrants to send us some of the photos that stayed with them. The images ask us to consider what lies outside the frame. What calculations were made before setting out on this journey? What awaits them as they journey north? Will it have all have been worth it?
Meghan Dhaliwal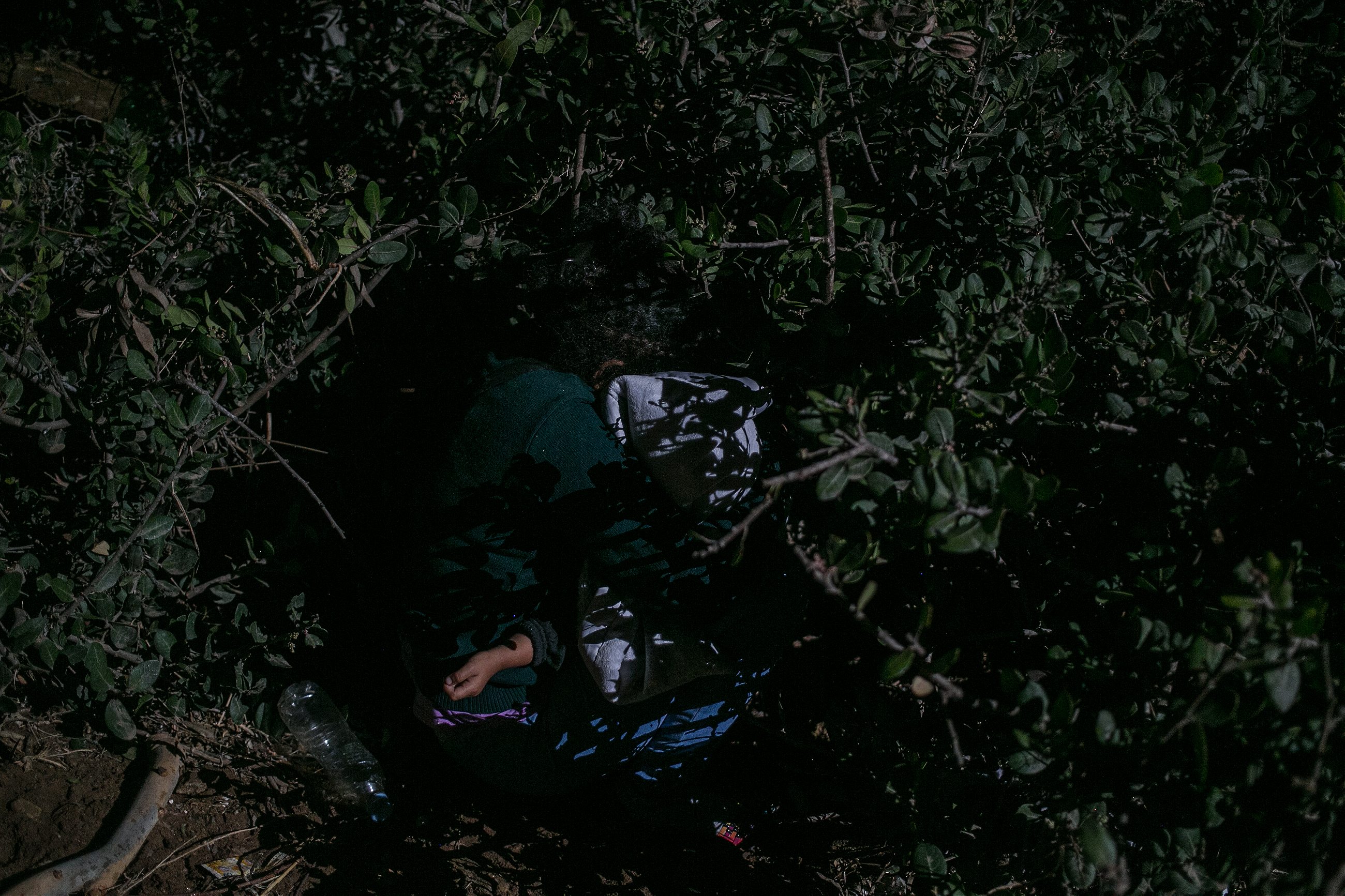 This image was made on Dec. 1 in Tijuana, right up against the U.S.-Mexico border wall. I was there late at night with a group of about 30 hopeful asylum-seekers. Many of them were from the caravan and were planning to cross the border wall and request asylum once apprehended by U.S. Customs and Border Patrol (CBP).
Asylum has long been a complicated process in the U.S., but currently a process called "metering" is making things even slower and more complicated. At ports of entry in to the U.S., U.S. agents are only accepting a small number of asylum seekers each day or every few days. In Tijuana, where the caravan of Central American people arrived in mid-November, there are thousands of people on the waiting list to present themselves to agents to request asylum. Some may have to wait months before they can begin their asylum process. In fits of desperation, people are attempting to cross the border wall instead of crossing at ports of entry.
That night, another photographer and I walked down a small canyon along the length of the border wall, following about 15 people, including small children. The group huddled in the dark behind a solid section of the wall, all whispering nervously about how far the drop would be from the top of the wall down to the other side.
It was between 2 and 3 a.m., and chilly from the ocean air. A man, complaining of chest pains, jumped the wall and was immediately apprehended by CBP. Several CBP vehicles zoomed to the scene, and we could soon hear the beat of helicopter blades drawing closer. Everyone sprang to hide beneath the dense foliage of a thick-stemmed desert bush.
The bright white searchlight from the helicopter, which remained on the U.S. side, drew closer to the bush, and the light, paired with the sound of the chopper hovering just above our heads, was a shock to the senses.
My back was pressed up against the border wall, unilluminated by the searchlight, when I shot this photo of a woman who asked to be identified as M., and her two-year-old son.
Rattled, no one else from the group attempted to cross the border that night. But many said they would try again the next day.
— Meghan Dhaliwal is a freelance photographer based in Mexico City. Her work focuses on immigration.
Encarni Pindado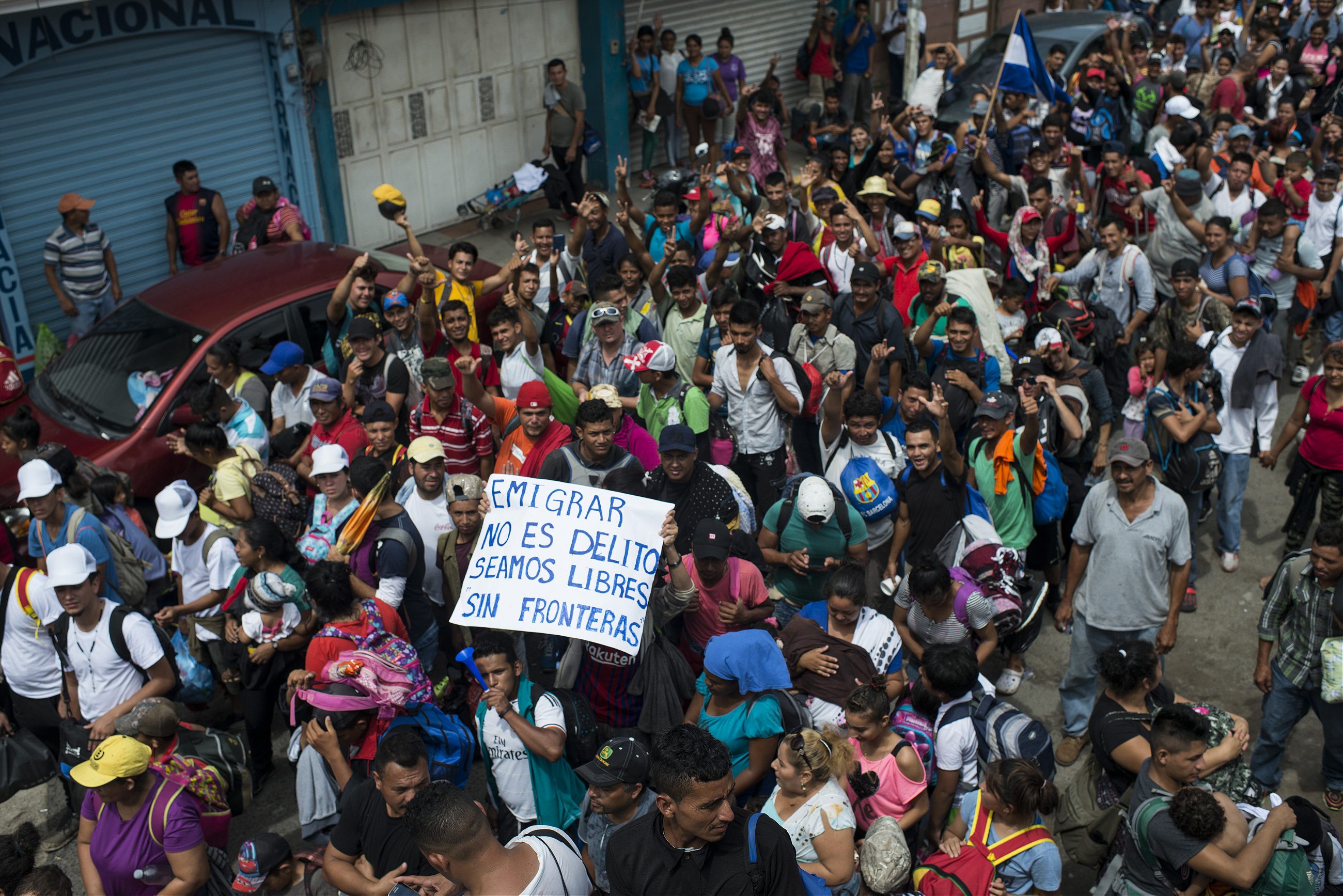 I had just arrived at Tecún Umán, Guatemala, on the border with Mexico on Oct. 19, and I wanted to take a photo from above to show the magnitude of the caravan and just how many people were about to cross the border into Mexico.
I saw a house with scaffolding and asked the construction workers for permission to go up. They said yes, and helped me reached the roof. There were at least 4,000 people in the crowd, all willing to risk everything to escape poverty and violence in their home countries. I chose this image because it demonstrates the injustice that the migrant community is facing; the sign in the middle of the crowd reads: "Migrating is not a crime, let us be free, without borders."
— Encarni Pindado is a Spanish documentary photographer based in Mexico who documents social, cultural, political, and human rights issues, with a special emphasis on women in migration.
Sebastian Castañeda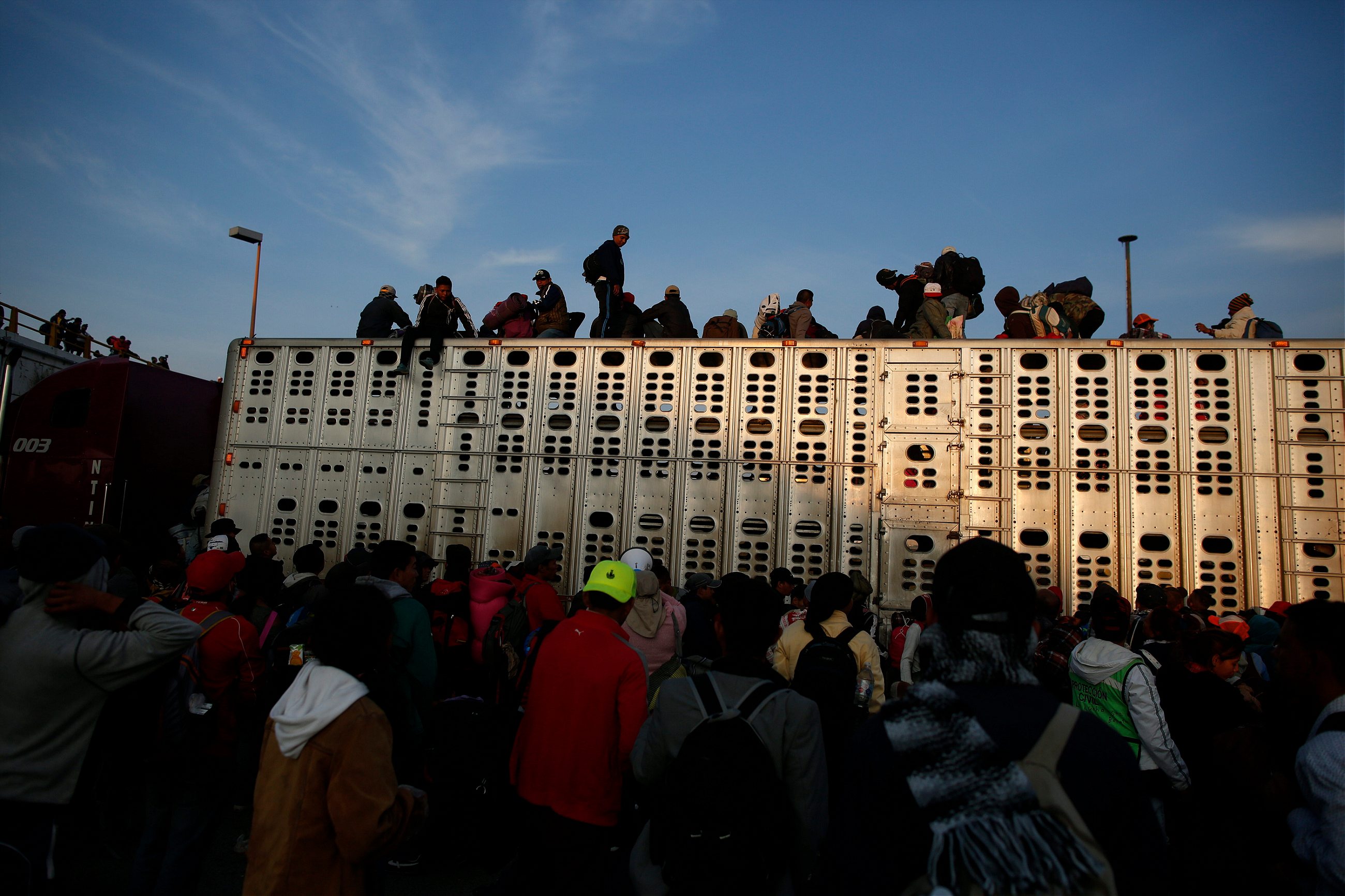 I followed this caravan for 15 days, from Mexico City to Tijuana. This photo was taken on Monday, Nov. 12, as a large group of migrants walked from a shelter in Irapuato (about 200 miles northwest of Mexico City) to a junction leading to Guadalajara. Thousands of migrants were trying to climb aboard cargo trucks, some of which stopped to offer rides. At one point, the crowd encircled this truck full of chickens, and several people tried to climb on top. The driver warned that the weight would make the roof sink, so they got inside instead.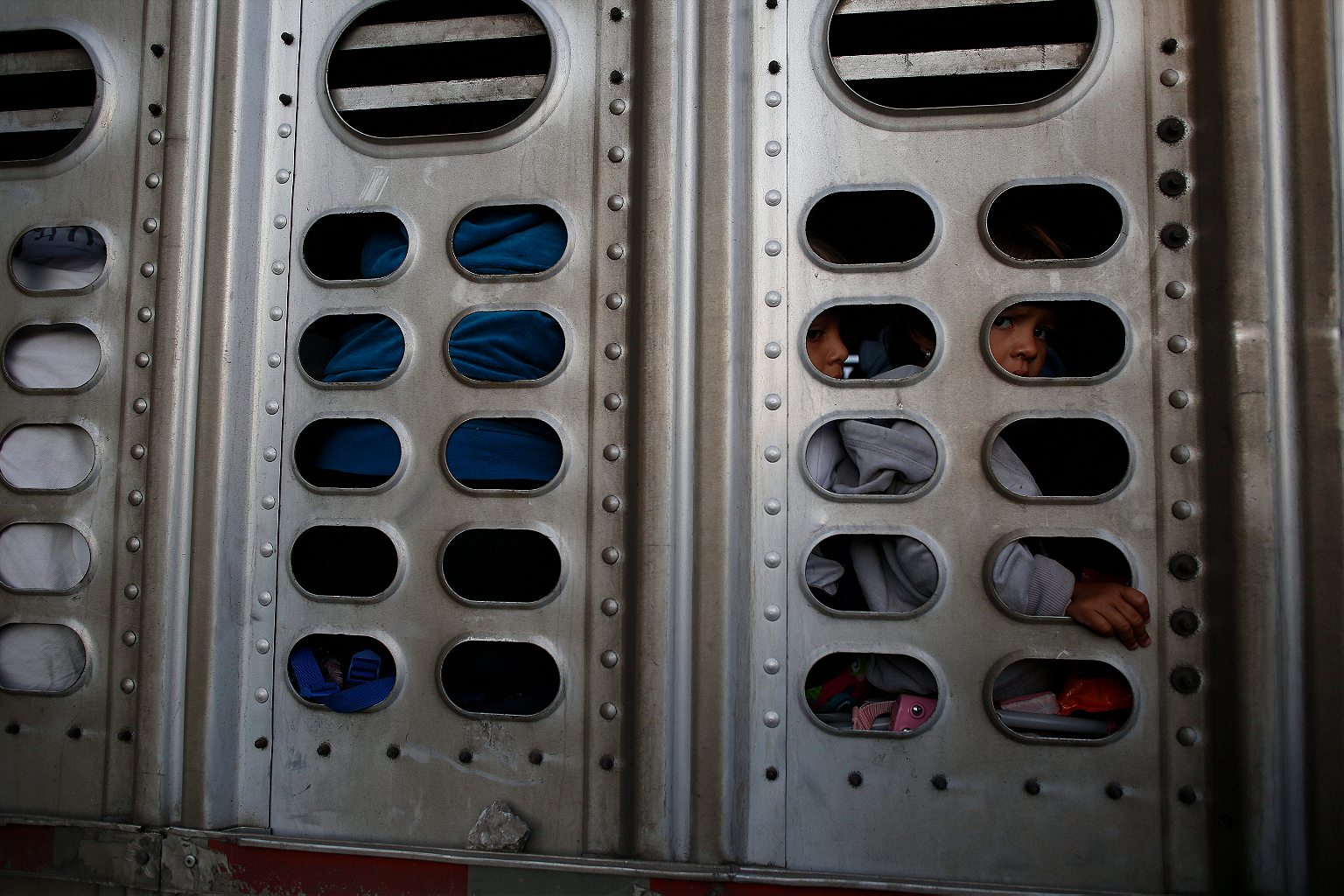 Initially, I took photos away from the truck to catch people on the roof, then I approached and saw these two girls with looks of bewilderment on their faces. In their desperation, migrants travel by any means necessary.
— Sebastian Castañeda is a Peruvian independent photographer who has documented Syrians fleeing the Islamic State, the Venezuelan exodus across South America, the Rohingya crisis in Bangladesh, and African migration in Niger.
Tomas Ayuso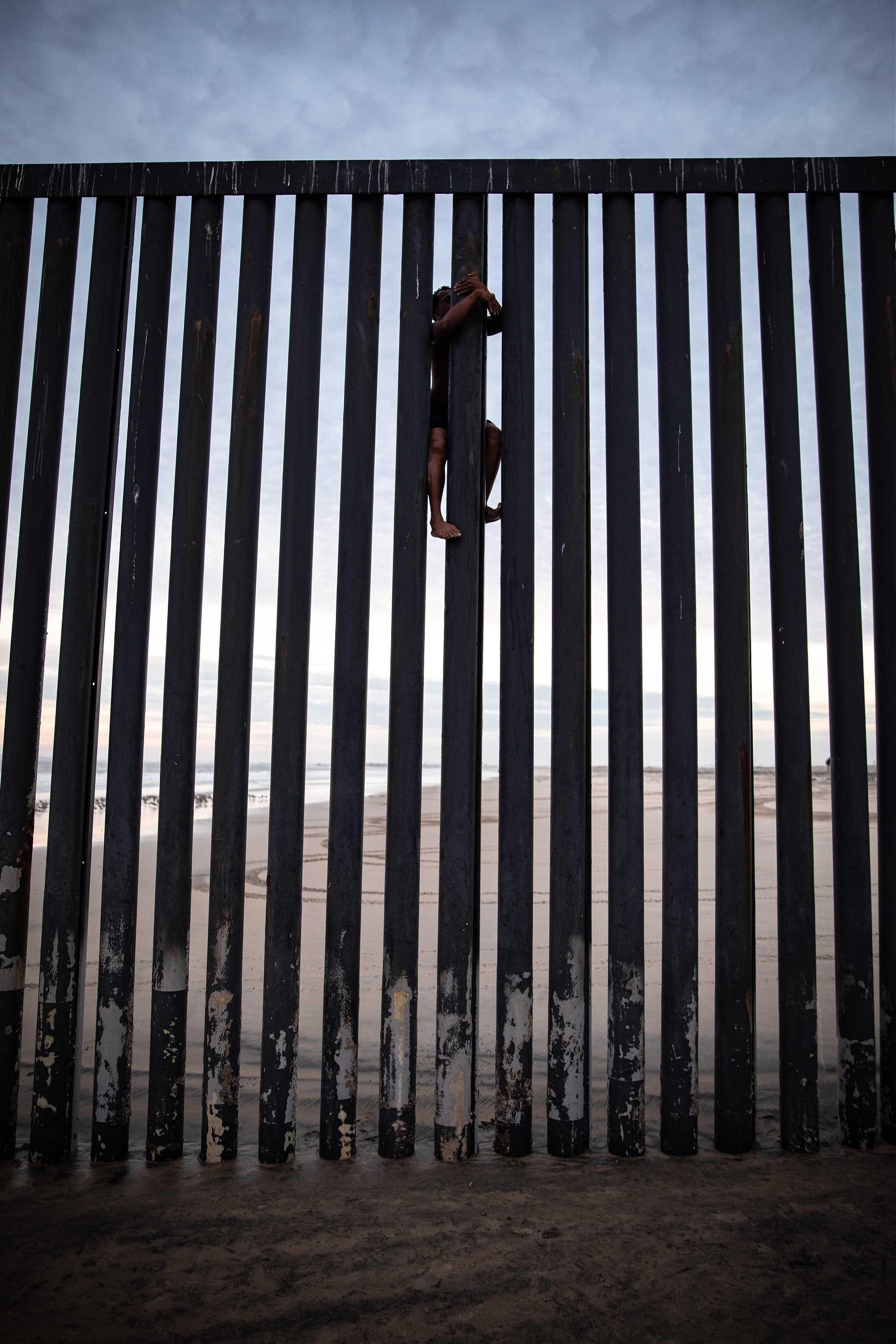 On Nov. 21, I'd spent most of the day at Playas de Tijuana, waiting to see if one of the thousands of displaced Central Americans who'd arrived to the border would try to jump the fence. Around 5 p.m., a young man who asked to be identified as 'Medardo' walked out to the western terminus of the fence and climbed to the other side. As he touched down on American soil, several beach-going Mexicans cheered him on.
Border patrol truck drew closer, and through the bars, it appeared Medardo was going to hand himself to authorities. But to my surprise, he turned around and climbed back up. He paused for a second near the top of the stained iron fence and closed his eyes to whisper something to himself. The shouts of encouragement from the Mexican side continued, and for a moment it looked like he might not reach the top. But then he gathered his strength and hurled himself back into the third world and to a crowd that embraced his bravery and resilience.
Medardo cleaned his hands, cut on the coarse metal, in the ocean. I asked him why he'd climbed back over.
"I can't do it like that, the wrong way, and leave everyone I traveled with behind," he replied.
I asked how it felt to be on other side.
He smiled and turned his gaze toward the American side, "It felt like I was so far from Honduras, that it was going to be OK." He told me that just days before joining the caravan, he'd buried his younger brother, a seventh-grader. The day after the funeral, his mother received a threat. She told Medardo they had to flee.
Medardo shivered in the breeze, the sun sinking, red on the horizon.
He had traveled some 5 weeks, sleeping rough and eating sparingly, and reached the United States, albeit briefly. The moment that he jumped over the fence carried the weight of the courage to make the journey, the pain that forced him out, and the love that held his family together as they journeyed across borders. There was elation and triumph in the air, but the specter of sorrow and desolation that led to this moment was never far away.
— Tomas Ayuso is a Honduran photographer and writer. The son of a Palestinian-Honduran mother and Spanish-Guatemalan father, he covers Honduran displacement in Mexico through a project called 'The Right to Grow Old."
Neil Brandvold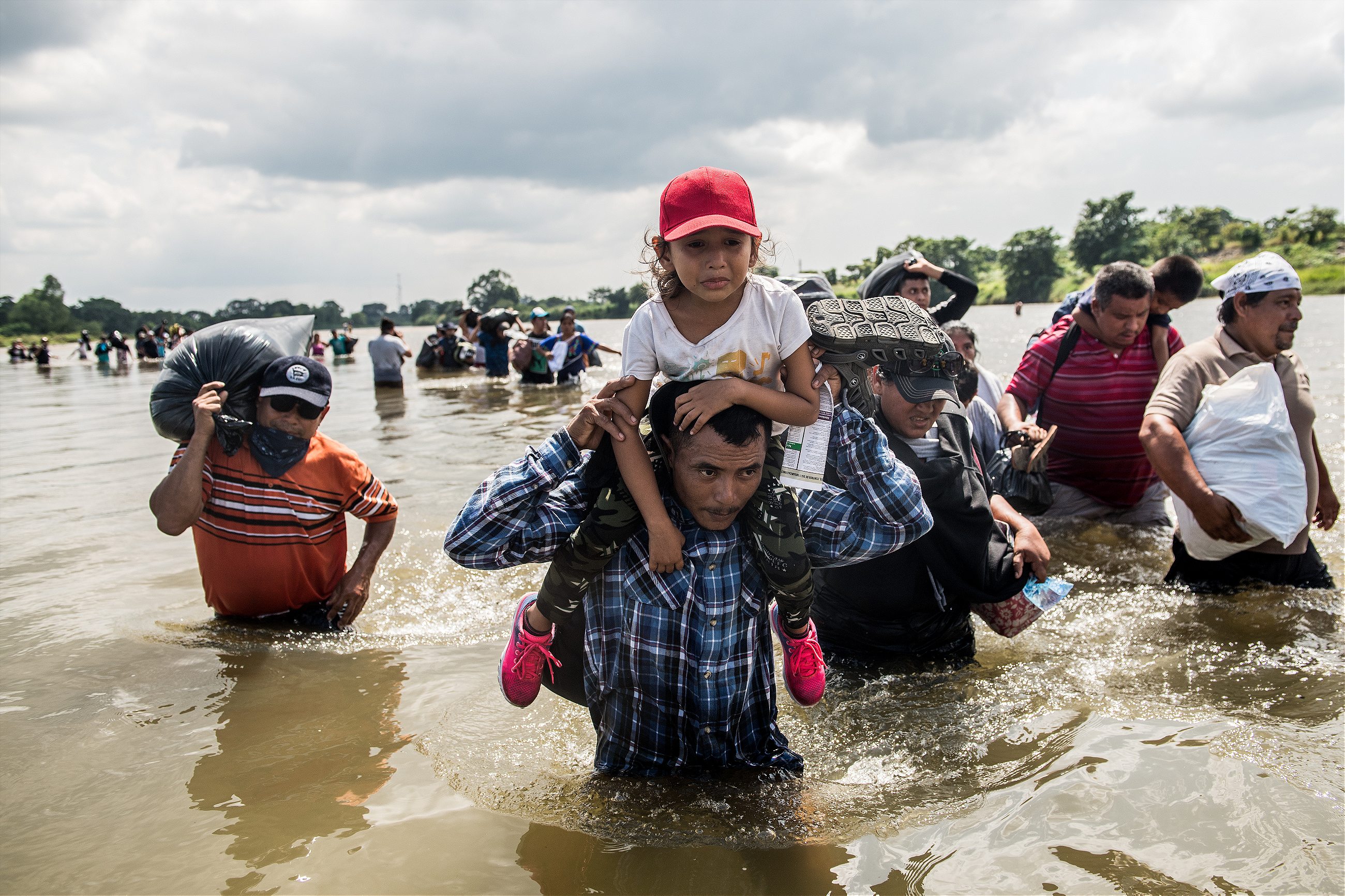 I joined a caravan of around 1,700 Salvadorans on Oct. 31, when they set out for the United States. When the group, which largely comprised families, reached Guatemala's border with Mexico, they were stopped by authorities. The Salvadorans decided to wade across the Suchiate River, about three miles from the official posting, to evade border patrol.
In a frantic dash, many families abandoned their belongings—strollers and luggage—and wrapped what was left of their things in plastic bags. As the stream of migrants entered the water, many realized the current was a much stronger and the river deeper than they had anticipated.
I jumped into the river and scrambled to get ahead of the crowd. I saw a young girl, who looked terrified. She was crying that she was afraid to cross the river. Her father lifted her on his shoulders and carried her into Mexico.
— Neil Brandvold is an El Salvador-based photojournalist and filmmaker. He has covered the Ebola outbreak in West Africa, the Arab Spring, neglected diseases across Africa, the M23 rebellion in Eastern Congo, and immigration and gang violence in Central America.
Federica Valabrega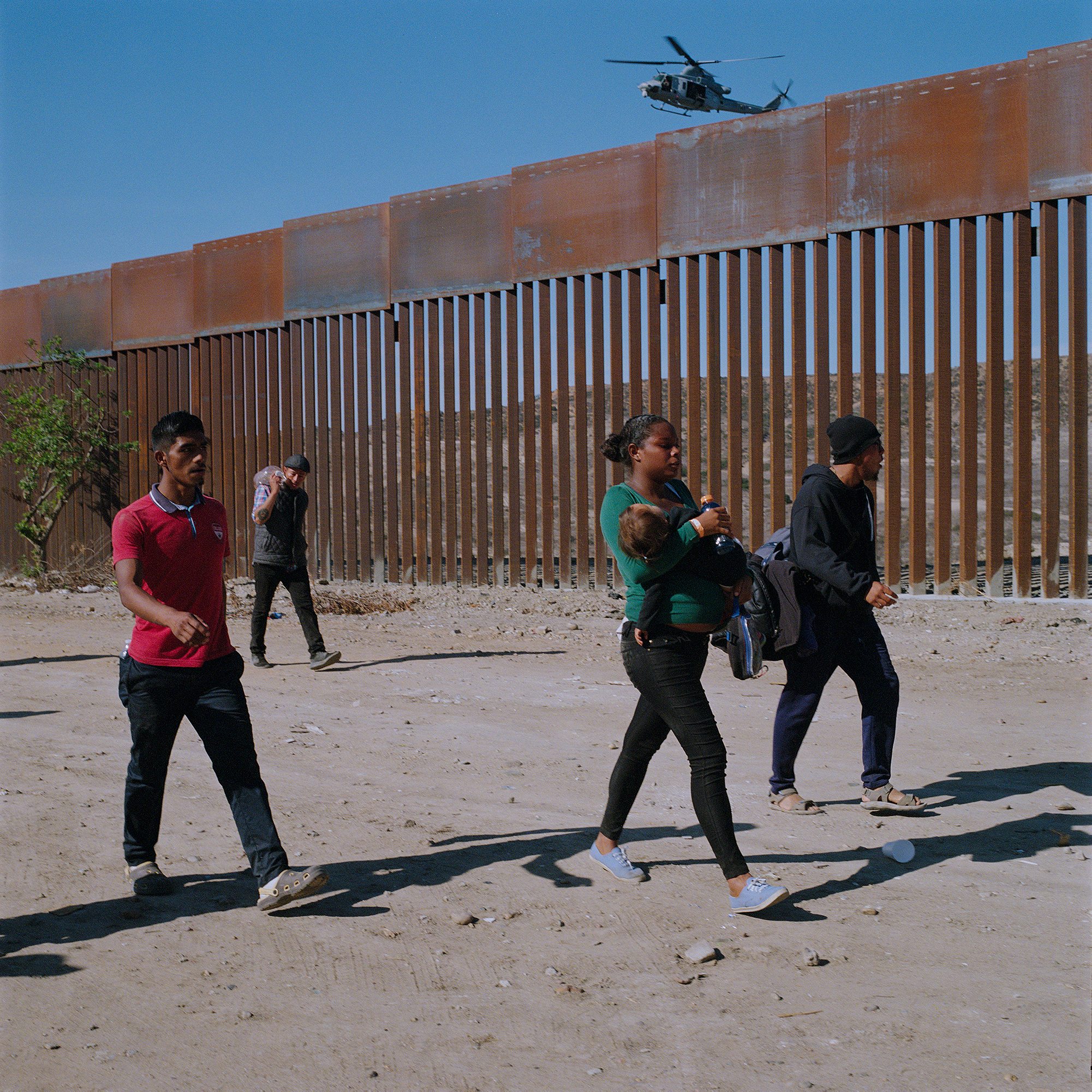 I took this photo on Nov. 25, along the U.S.-Mexico border. I felt a sense of closeness to the pregnant woman, who was carrying her sleeping child in this surreal environment. She was completely unprotected and unaware of the measures that U.S. officials were about to take: When she and the men got closer to the wall, the helicopter above released a series of tear-gas grenades, sending everyone running for shelter. I lost sight of the woman, as I was affected by the tear gas myself.
Moments later, when the air cleared, this woman, her children, and a couple of those men appeared on the other side of the wall, walking toward an American border-patrol car. I approached the wall to ask her name and why she crossed the border, but a Mexican police officer told me to stand back. I never got her name or a response to my question.
This woman stood out to me as a gladiator of sorts: Nothing was going to stop her in her intent to give her children a better life—not a very high, metal wall nor a gas-releasing helicopter.
— Federica Valabrega is an Italian photojournalist based in Brooklyn, New York. Her photography and personal projects focus on people and are rooted in her experience as an immigrant.
Guillermo Arias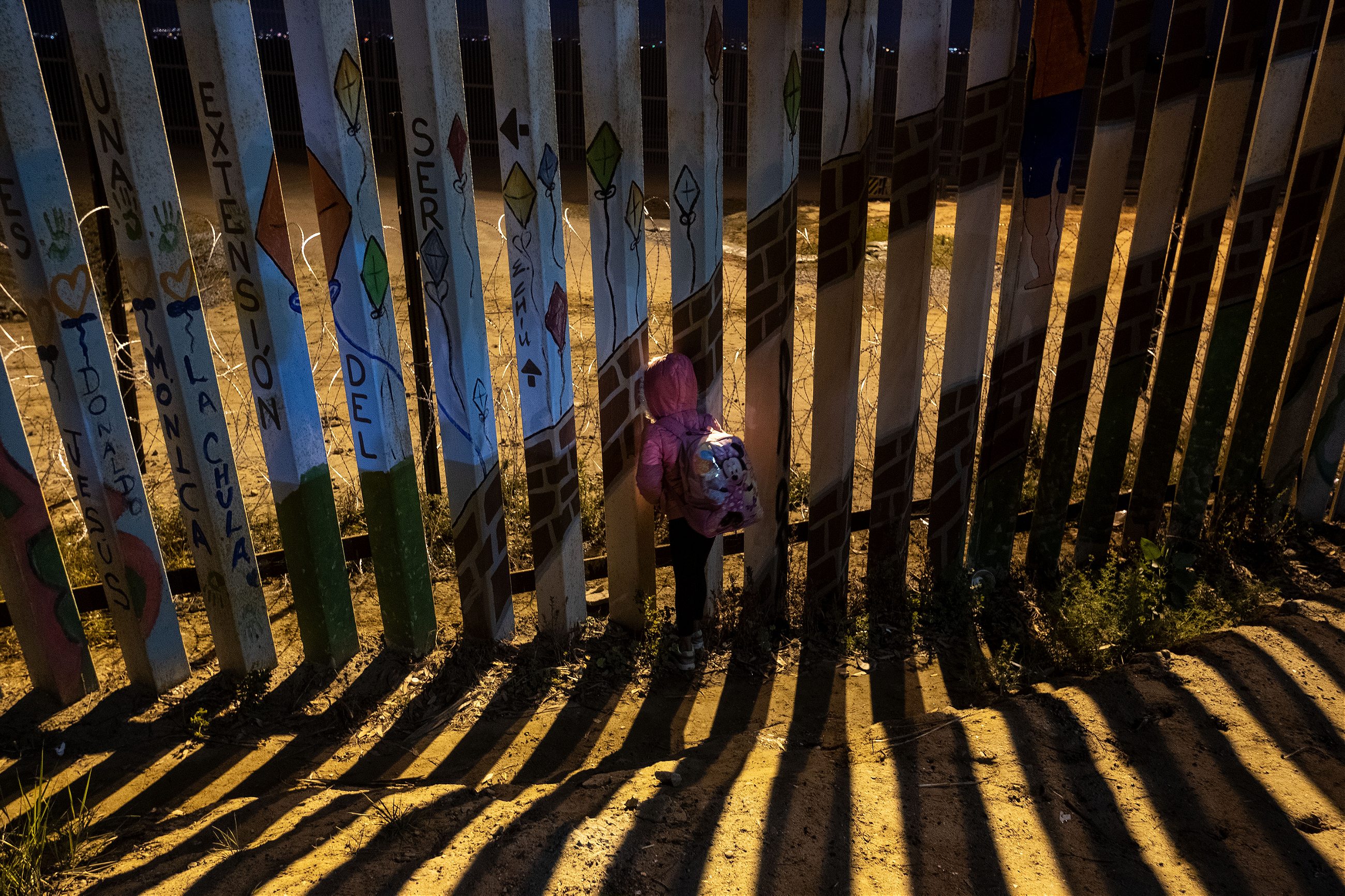 I took this photo of Britany Alondra, a seven-year-old from Honduras, in Playas de Tijuana, on Dec. 2. This image gave me some peace after an afternoon filled with heartbreaking scenes of children crying and lots of tension: Two groups of migrants had decided to jump the border fence and border patrol agents screamed at them not to do it.
As a journalist, I keep questioning how these scenes of people jumping and crying children are used to reinforce propaganda on both sides of the aisle. But our job is to show things as we see them in the most honest and complete way possible. The image of Alondra peering between the border fence bars and the shadows cast over Mexican territory shows the essence of what the migrants are facing in Tijuana in a way that most viewers can see without feeling threatened or compelled to take a stand.
— Guillermo Arias is a Mexican photojournalist based in Tijuana, Mexico. He is a regular contributor to Agence France Presse (AFP) and recently finished his personal project, El Cerco, that documents how the U.S.-Mexico border wall impacts the communities around it.
Juan Carlos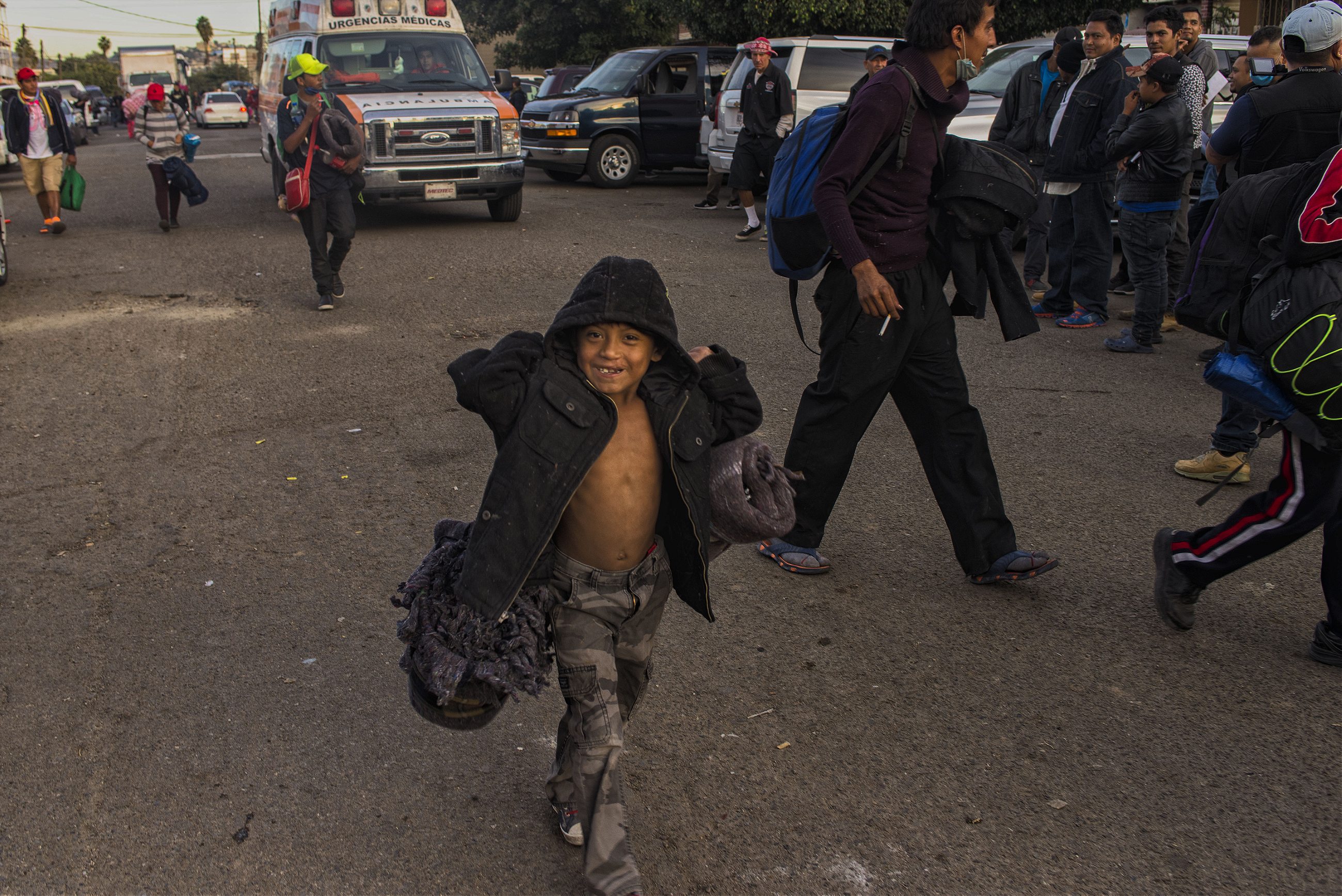 On Nov. 27, I was photographing a group of about 200 migrants who had just arrived at the makeshift shelter at a local sports complex. As I lowered my camera, I saw this kid's huge smile. He was walking as if he had reached the American dream (the U.S.); I had just enough time to frame and take a couple of shots to capture his joy.
This kid had such a joyful face, as if he was about to enter the U.S. or some amazing place, instead of this crowded shelter. Seeing this kid so happy to arrive to a place where he was going to live under harsh conditions left me with mixed emotions. It was heartbreaking seeing the children who were part of the caravan—you could not stop thinking this could be your daughter or son, niece or nephew. A child should not have this stressful and traumatic experience, and yet this kid had such a joyful face.
— Juan Carlos is a freelance photographer from El Salvador documenting social issues and humanitarian crises, including the ongoing post-conflict situation in El Salvador.