R&K's Alexa van Sickle takes a boozy, sentimental farewell trip through Austria.
Here is what several weeks' worth of brewer's yeast looks like, collected after a month or two of beer-making: melted caramel ice cream. That, or whipped mud.
Frank Dielen, a 36-year old brewer, collects this glop in a bucket, tapping a long, transparent tube under a fermentation tank, then lugs it to a dark L-shaped room and dumps the bucket's contents unceremoniously into a 13-square foot tub of hot water.
He makes four trips, through the clanking, whirring room of brewery tanks, past the small office with a laptop and a girly pin-up calendar (August is a brunette), through a cavernous medieval dining hall and into an old fermentation cellar, where several metal vats have been converted into spa pools.
This is how the Starkenberger Brauerei—a small but atmospheric brewery in Tyrol's Gurgl valley, in the west of Austria—prepares what it claims is the world's first beer spa.
Google and a couple of other breweries in Germany and Czechia say otherwise, so I ask Dielen—who is Belgian—if it's really the first. "Certainly, it's the first of this size," he assures me. "The others were probably just bathtubs or something."
Frank Dielen pours brewer's yeast into a vat of hot water, preparing the beer spa.
Once 300 liters (80 gallons) of lager leftovers have mixed with hot water, the whole thing looks less like beer, more like watery cookie-dough batter.
The room, in the base of a 700-year-old castle, has been revamped. Each of the seven pools are finished in smooth steel, with swimming-pool ladders. The walls are covered in murals of frolicking naked revelers, splashing in communal pools and brandishing wine glasses and beer bottles along a theater balcony.
A tub full of beer in a medieval castle, deep in the Austrian Alps—with a fresco of topless drinkers, fitting for the nation's fondness for nudity. I might have hit peak Austria.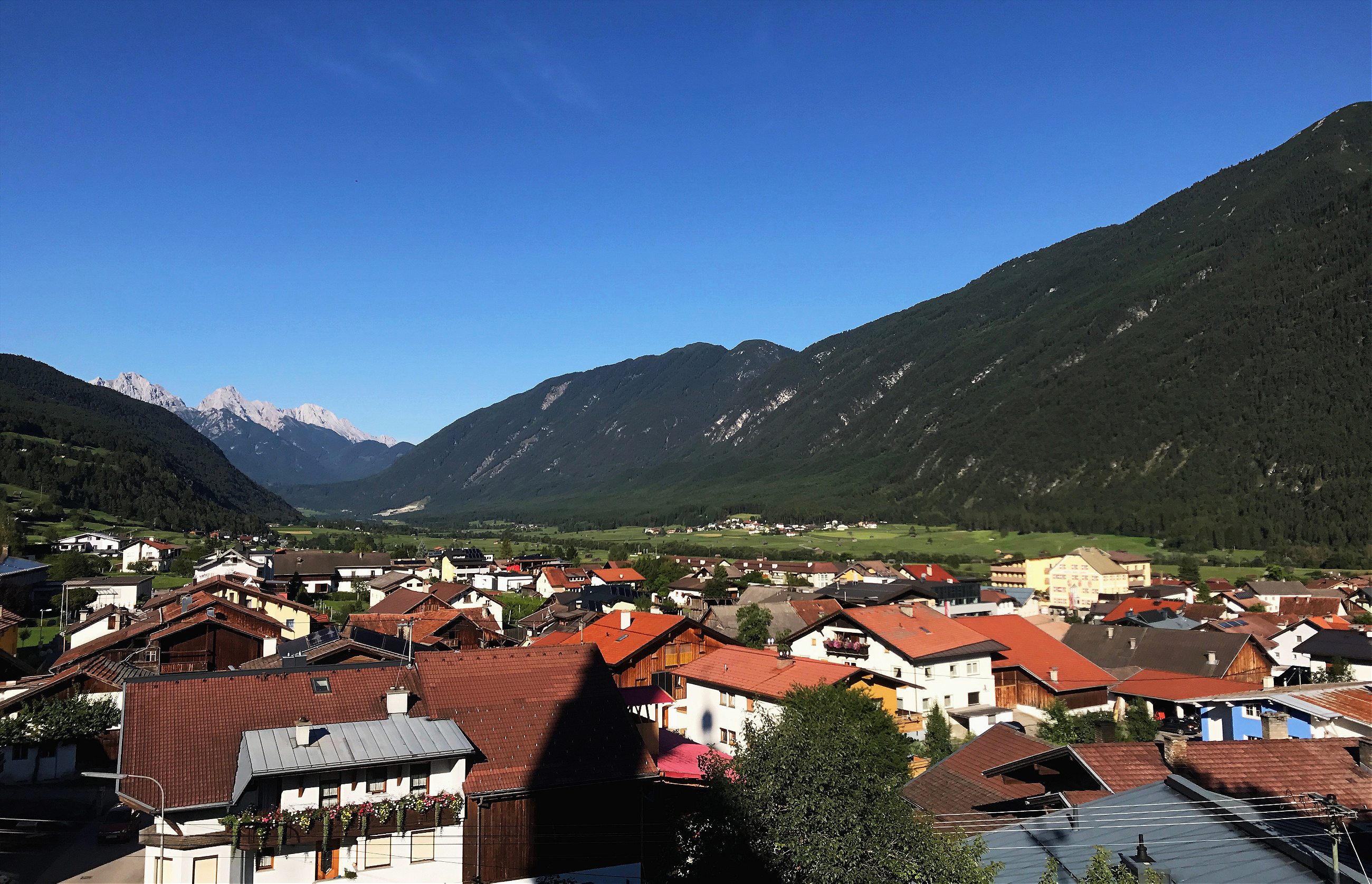 ***
I was born and raised in Vienna, to parents both born and raised elsewhere. This makes me not Austrian, exactly, but perhaps Austrianish. I left when I was 17, to go to college in Scotland. As years (a decade and a half, just about) went by, Austria became a dog-eared page I intended to revisit one day. And I finally did: I've spent the last two years here, on and off, trying to relearn everything I once knew. Before moving away again I decided to take a long road trip to see the country through older, perhaps wiser eyes—and to sample some of its finest booze.
Nations are mostly arbitrary territories, based on myth, embellished traditions and identities, selective history, or borders set by random events and the whims of distant powers. Austria ticks all of these boxes, and then some.
The first reference to Ostarrichi—"eastern realm," was in 996 A.D., describing the territories along the middle Danube, then under German rule. From the beginning, Austria (now in German, Österreich) was a geographical designation rather than a territory tied to an ethnicity or set of tribes, the way Germany or France started out. Austria was then (and still is) a bridge between Germanic and Slavic peoples, home to both and many others. Austria's traditional garb may be the Germanic Dirndls and Lederhosen, but its phone books are full of Czech, Hungarian, and Polish names.
"Austria is mountains in the west, and wine in the east"
Austria is a collection of smaller territories, roughly represented by its nine Länder—provinces—with discrete histories and identities predating the modern nation and its recent borders, which are only 100 years old. (In 2018, the Republic of Austria celebrates its 100th birthday, or put another way, it's been a century since the collapse of the Austro-Hungarian empire.) Only in the 1970s and 1980s did a majority of people start considering themselves Austrian, rather than as Tyroleans, Styrians, or even Germans first.
Another way to think of Austria is through its west-east divide. The country is overwhelmingly rural; the Austrian Alps, in the west, are 62 percent of its territory. Perched in the flatter eastern end—closer to Budapest and Prague than many other major Austrian cities—there is Vienna, the spoiled, cosmopolitan, world's-best quality-of-life capital, where around one-third of Austria's 8.7 million people live.
I like to think of Austria as mountains in the west, and wine in the east. I went to find both.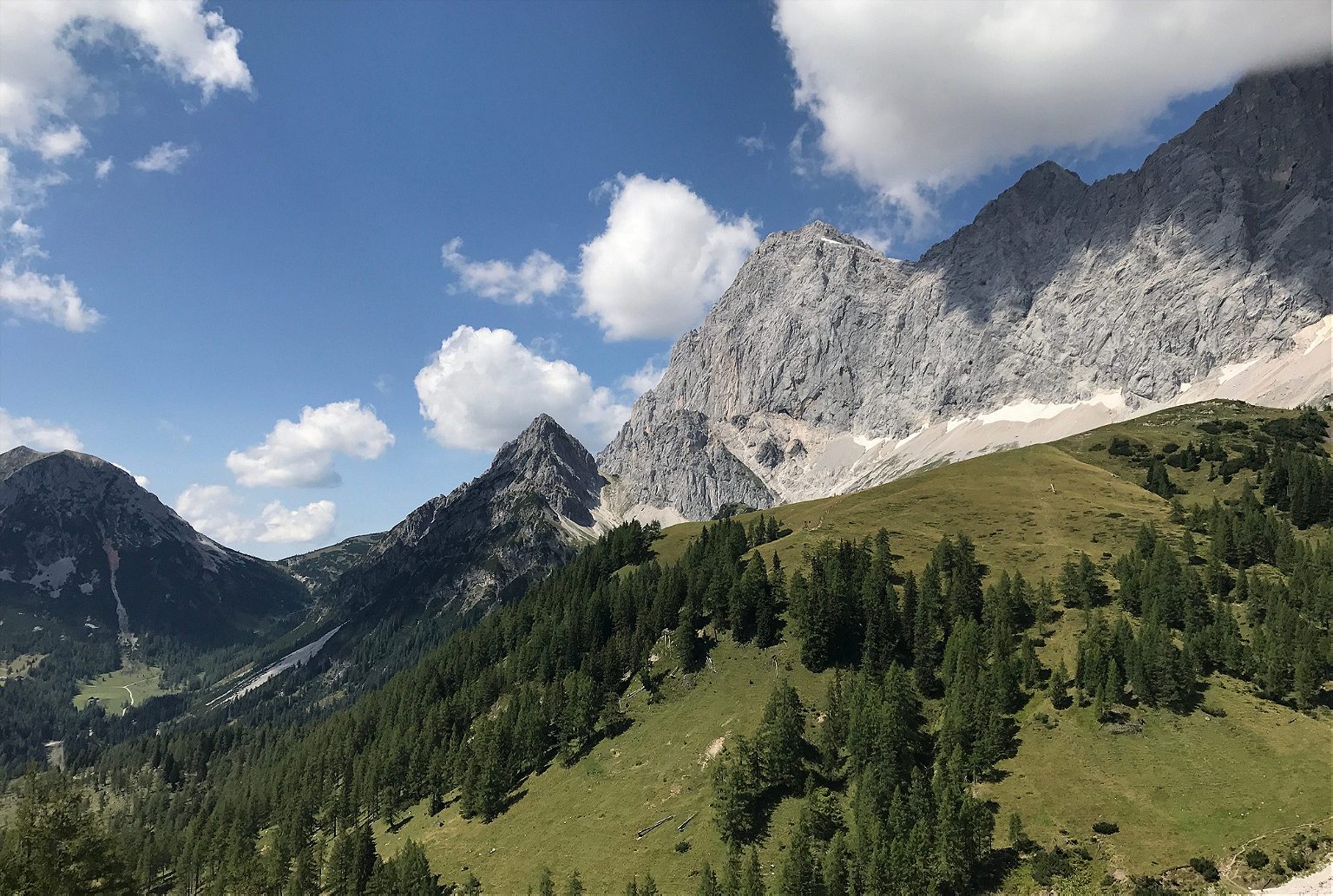 ***
I. TYROL | BEER
My journey to the beer spa—and a zig-zagging odyssey—began in Tyrol's capital, Innsbruck. From there I drove west through Austria's tail-end into this province of Alps, meadows, and twee farmhouses, through valleys and tunnels and panoramas to the Gurgl valley.
Tyrol is a proud province (that occasionally flirts with autonomy, or separatism, depending on who's doing the telling) once ruled by the marauding Ostrogoths, who conquered Italy from the Romans. Today it's an Alpine tourism paradise and skiing destination, but Austrians—and many international tourists—also come here in the summer to hike, swim, or to bask wholesomely in its natural bounty.
Foreigners also come here to make movies. Tyrol's mountains and valleys—plump cows, pretty church spires, and rolling green hills under jagged peaks—have formed the backdrop to numerous Bollywood dance numbers, after Tyrol's tourist board, aggressively courting visitors and film industries, wooed Bollywood away from its erstwhile love, the Swiss Alps. "Tirollywood" is now a go-to shooting location for big-budget Indian productions looking for telegenic snowy peaks. So far, scenes from about 85 Indian films, including Tiger Zinda Hai, Mehbooba, and Action Jackson—have been shot here.
The Starkenberger brewery, and its health-tourism innovation, sit high on a mountain ridge in one of these picturesque valleys, overlooking the village of Tarrenz.
The brewery was once famous for being owned and run exclusively by women. In 1810, a wealthy widow bought the castle—built by the noble Starkenberger knights in the 14th century—and started the beer-brewing operation. It then had a string of women owners until 2008, when it was sold to a new owner.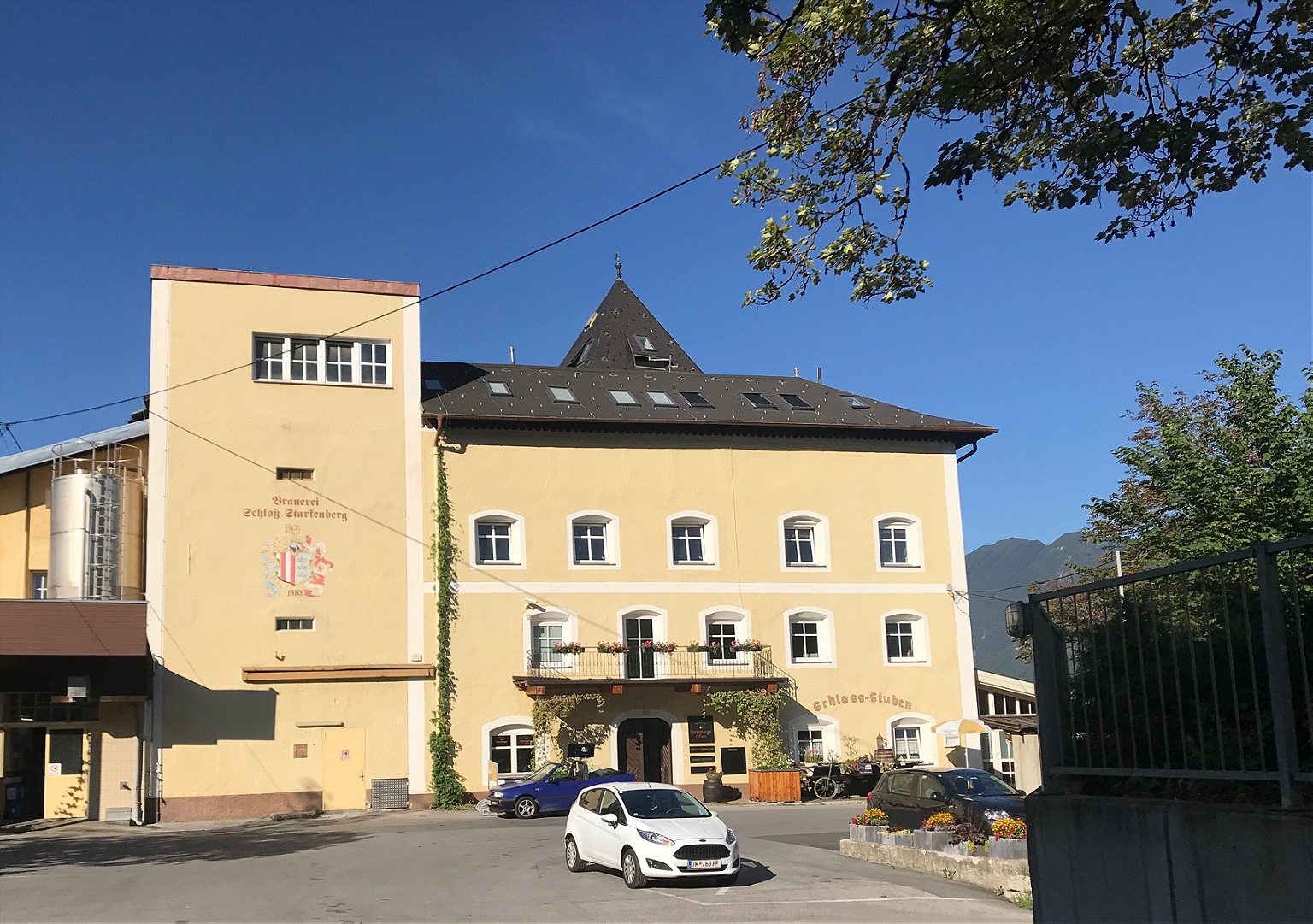 "[A woman-run brewery] was unusual, for this time period at least," says Dielen. "Of course, many years ago, beer brewing was a woman's job, and they would brew it at home. Until, of course, the monks got involved." Of course.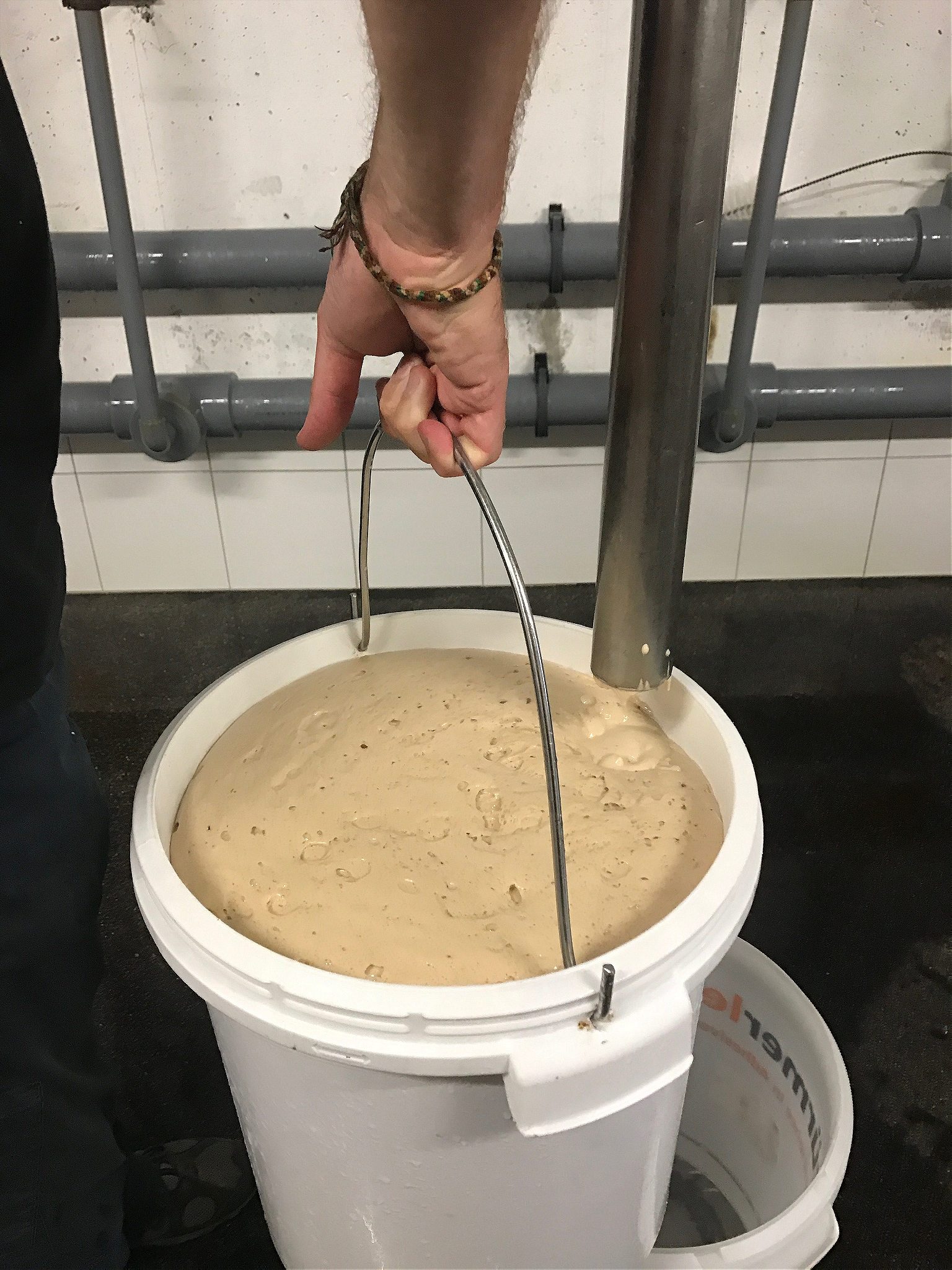 The beer spa was a savvy decision to parlay an obsolete fermentation cellar into a health-tourism destination. Beer yeast is supposed to be great for circulation, and good for skin conditions such as psoriasis, and even for open wounds. (Who's going to share a hot tub with someone with an open wound?). Unsurprisingly, it's the beer nuts, rather than health nuts, that make a special trip to experience brewer's yeast hot tubs, including many American bachelor parties.
Swimming in 'beer' is not like swimming in beer, which would be fizzy and cold. It's more like immersing yourself in soup, with the not-unpleasant olfactory sensation of being inside an oven with baking bread. You can't drink the pool water—too hot, possibly bad for you—but there is a tap for unlimited Starkenberger lager and a stack of plastic cups. There are worse ways to kill a few hours.
Afterwards, I drive east towards Salzburg province and the High Alpine Road—Austria's showcase high-altitude road trip, which ferries motorists to the Grossglockner, its highest mountain.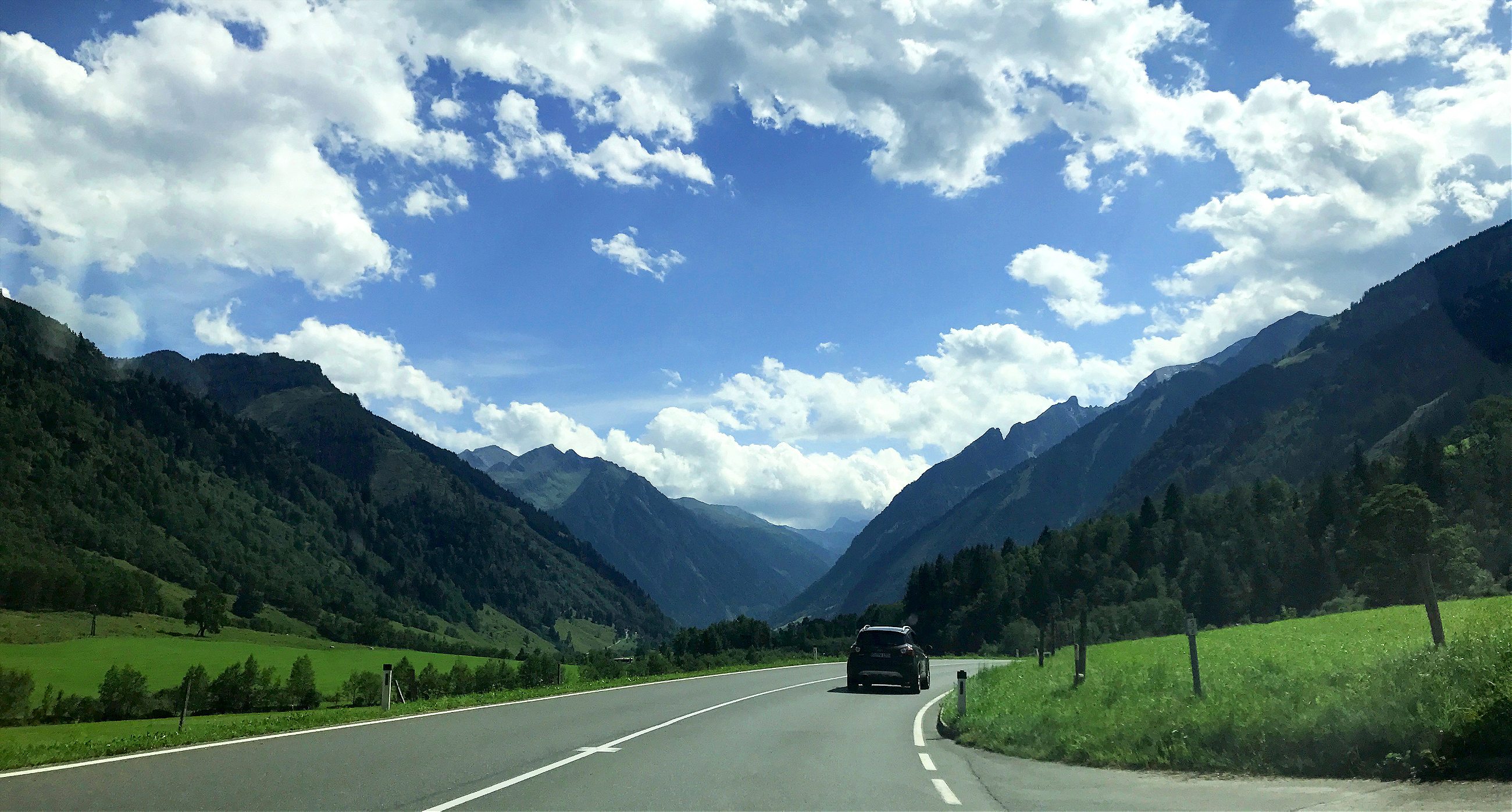 ***
II. Salzburg/Carinthia | High Alpine Highway
Bélla geránt aliī, tu félix Áustria nūbe.
"Let others wage war, you, happy Austria, marry."
This Latin line from a late-medieval poem describes how the Habsburg rulers built their empire—not through war and conquest, but through savvy Heiratspolitik (marriage politics) in the 15th and 16th centuries. The weddings of Emperor Maximilian I, and his sons Philip the Fair and Ferdinand I, scored Burgundy, Spain, Bohemia, and Hungary for the dynasty.  "Felix Austria" later became satirical shorthand for the Habsburg myth—the false notion that the Habsburg Empire was powered by a benevolent exceptionalism, ignoring the blood spilled in building it. Despite all the happy marrying, Habsburg rule was highly authoritarian—nasty, brutish, and long.  
The Habsburgs were also less skilled at keeping their multi-state, multi-ethnic family happy. Vienna's blundering hawks sleepwalked their way to 1914 and the assassination of Crown Prince Franz Ferdinand. His death preceded eight million more, pulling the whole of Europe—trip-wired with rival sets of military alliances—into World War I.
After the fighting ended, Austria, on the losing side with Germany, was for the first time in centuries a political non-entity. Its empire, which once reached from Trieste to Krakow to Transylvania, was dissolved, reducing the country to the tadpole-shaped rump it is today, one seventh of its former territory, dwarfed by the lands it used to own.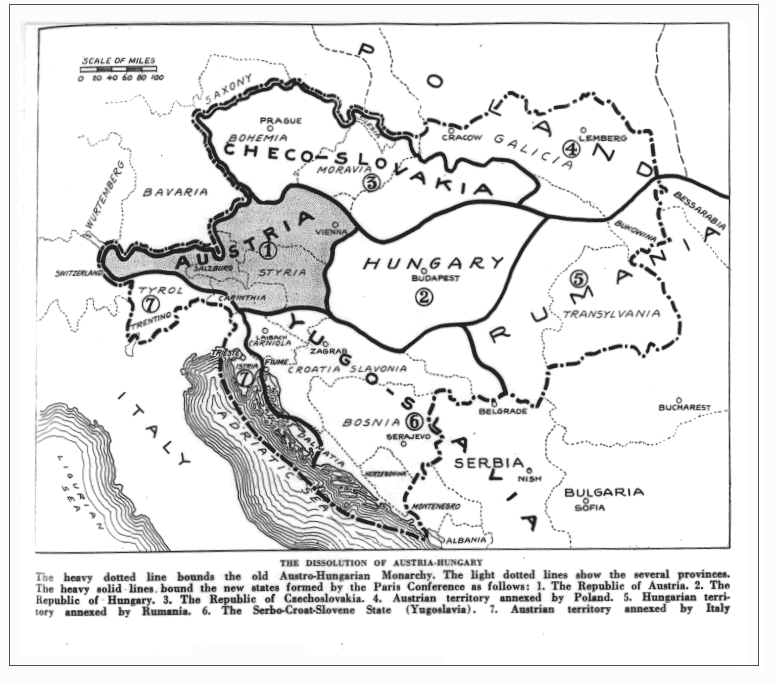 The Grossglockner High Alpine Road, Austria's highest paved mountain pass at 2,504 meters (8,215 feet), was conceived in the bad old days of post-war Europe. Austria had lost its empire and its international markets, and then the 1929 New York Stock Exchange crash jolted an already impoverished nation into 26 percent unemployment. Thus, the long-discussed (and long-dismissed) idea of opening the High Alpine Pass to tourism was revived, mainly as a way to employ 3000+ people.
When it opened in August 1935, it was more popular than its architects could have dreamed. Visitors far exceeded the expected numbers, even in those first few lean years. Today, it's a showcase item in Austria's Alpine tourism that draws over a million visitors annually. (Most of them seem to be motorcyclists.)
The road begins in the village of Bruck, in Salzburg province, and once over the pass, crosses into Carinthia province. When I drive under the arch at mile 0 of 30, I notice the swarms of motorbikes, which outnumber cars as a convoy builds steadily towards the horizon of forest-covered mountains and their snow-tipped grey rock faces. Once we start to climb the mountain and the route's 36 hairpin turns, it's clear I'm in the wrong kind of vehicle—two wheels too many. Groups of motorcycles speed up the curvy roads in swarms, weaving around the clumsy four-wheeled counterparts.
Humans trekked over this high Alpine pass as long as 3,500 years ago. Celts, and then Romans, brought spices, textiles, and gems from the south to trade for metal and furs in the north—but it was also a very dangerous crossing. It still is. This is a narrow road with barely a stone separating you and a steep ravine—and plenty of oncoming, descending traffic—cars full of restive families with cameras, one selfie-stick mishap away from disaster. (In 2015, two Britons plummeted to their deaths in a Porsche on this road when they crashed through the flimsy barrier.)
It's on the ascent that the backdrop—the longest glacier in the eastern Alps, the Pasterze—is the most striking; the mountains seem impossibly steep and impossibly close. Saddles of ice on the summits trickle into thin, forked streams, disappearing out of sight into the deep ravine next to the passenger-side window.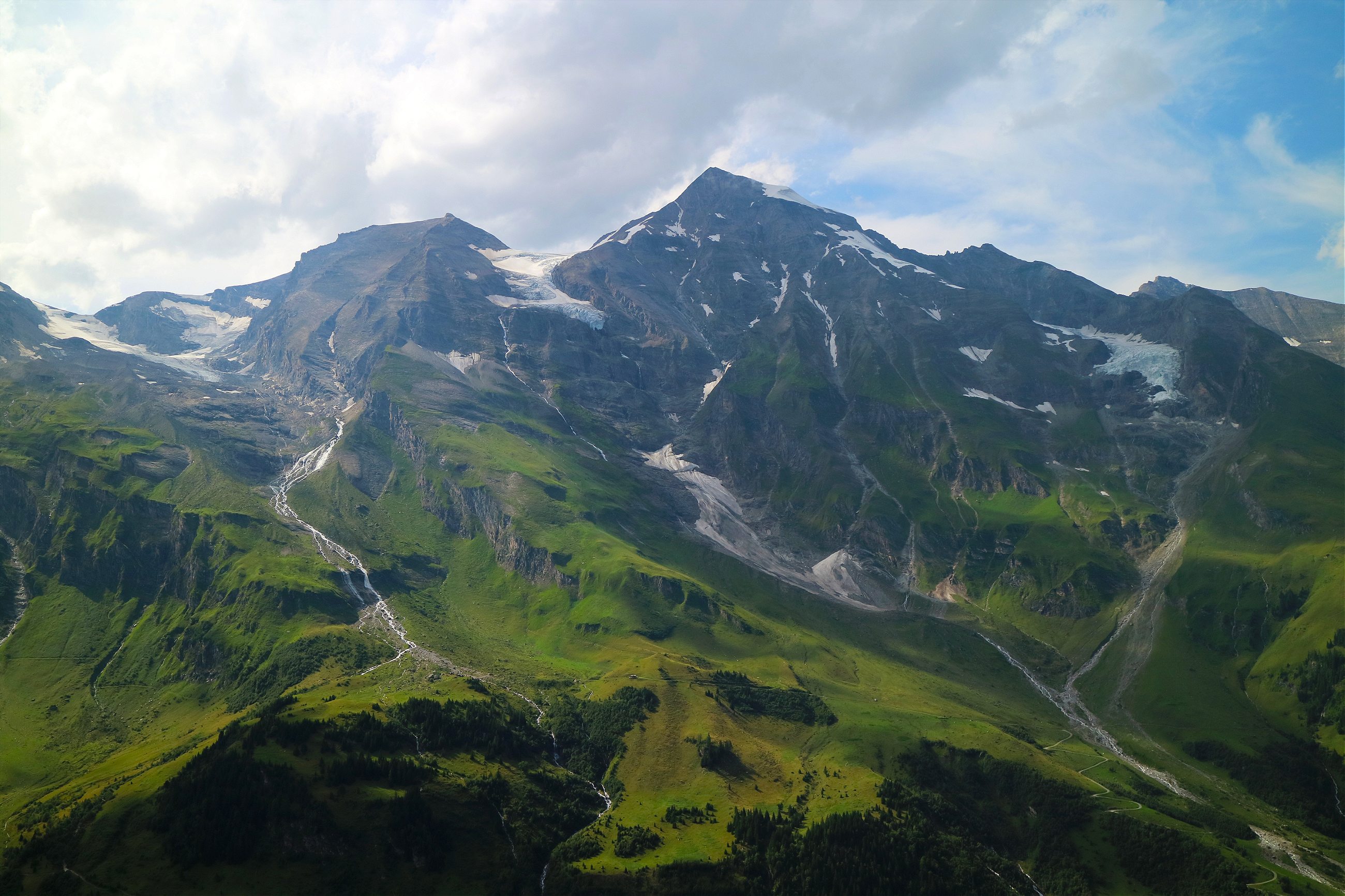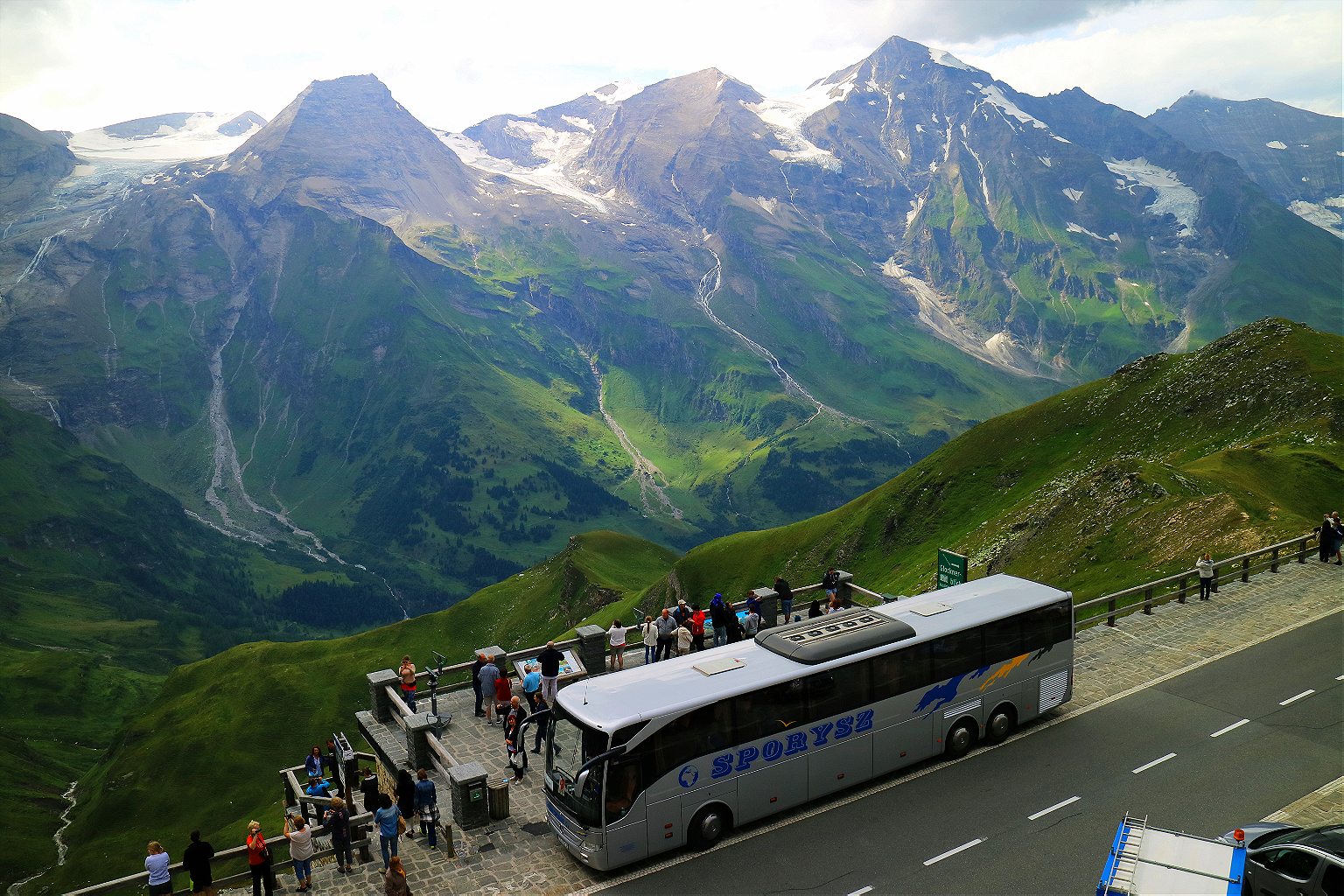 At the highest point, there is parking, the inevitable souvenir store selling marmot- and edelweiss-themed hats and postcards, and a restaurant, probably with a rather rude price mark-up for Schnitzel at high altitude.
The summit, however, is anti-climactic compared to the views on the ascent, where the mountains were closer. But there is an appealing sense of windy isolation fitting for the occasion, and it is surreal to be up this high with a car; usually, these heights are reserved for those with ropes and skis. From here, the Grossglockner, Austria's highest mountain, is merely a stony face in the back row of a group photograph. Still, it's the closest I've ever been to it. Its peak is pointy, like a snowy witch's hat.
***
III. SALZBURG | SINGLE MALT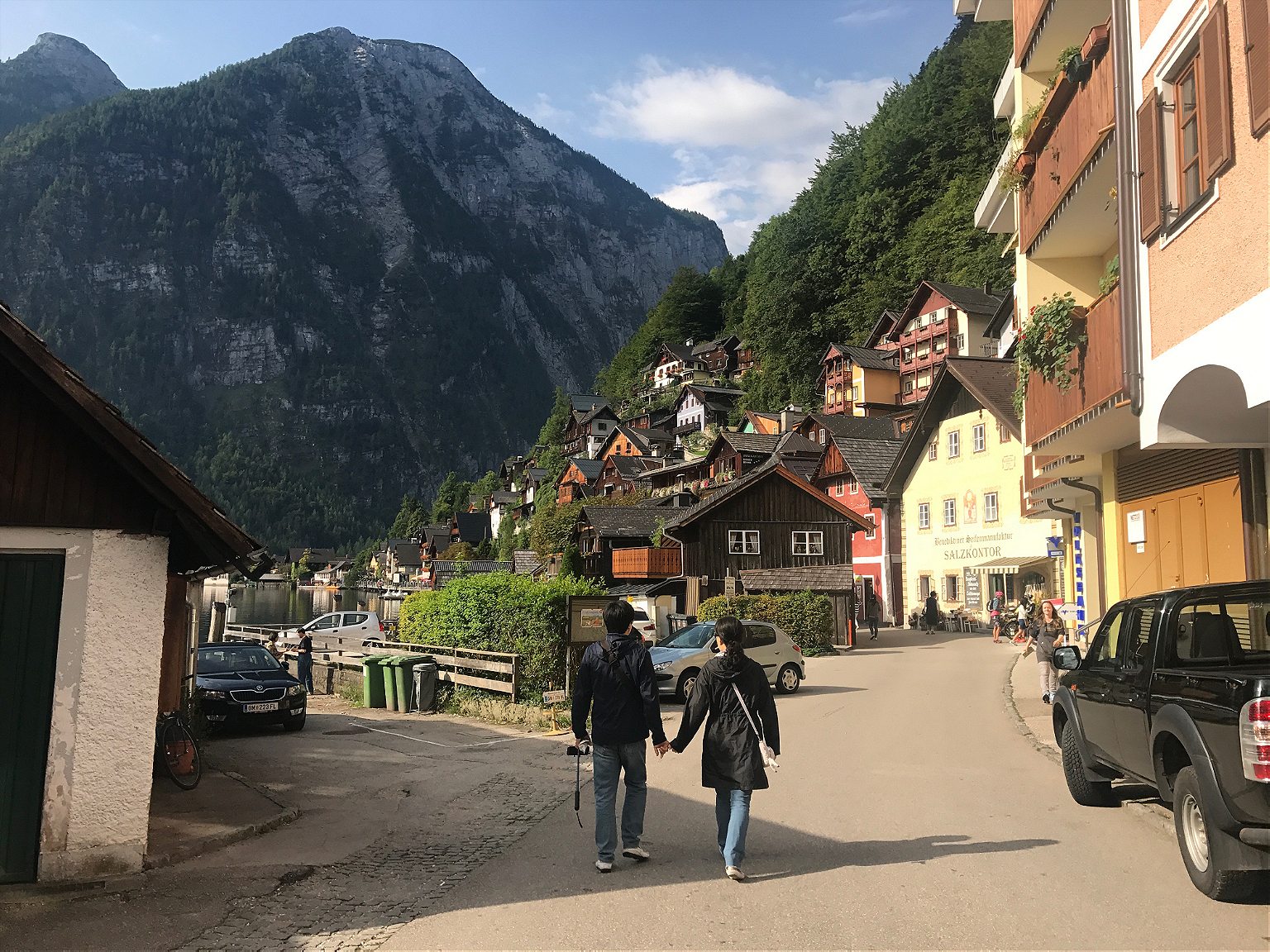 Before The Sound of Music (to which, I should add, Austrians are indifferent at best) brought tourists to the real Von Trapp house, the Salzburg region was a kingdom built on salt. People have been mining salt here for 7,000 years. You can buy fancy mountain salt at most area gas stations.
But I came to this region to find a newer treasure—a high-altitude booze experiment.
From the southern foot of the High Alpine Road in Carinthia, it's a long loop back on various Autobahns, north through Salzburg province, and just beyond, the Dachstein.
The Dachstein (roof stone) massif sprawls over three Austrian provinces, (Salzburg, Upper Austria, and Styria); the summit glacier straddles Upper Austria and Styria (Arnold Schwarzenegger's home province). There is skiing in winter, and in the summer, a busy gondola from the resort town, Ramsau, takes visitors to the glacier at 3000 meters (10,000 feet). After days of the comfortable solitude of a car, the unruly throng of peak-peepers in fanny packs is an unwelcome shock to the system.
At the top, people scramble around on rickety suspension bridges, eat overpriced sausages, and also, duck inside a glacier cave to see ice sculptures. (The Ice Palace is a rather generous description for an experience rather like being shrunk to Barbie-size and wandering through a leaky freezer.)
But this cave—under 20 feet of ice—also contains several barrels of single malt whisky.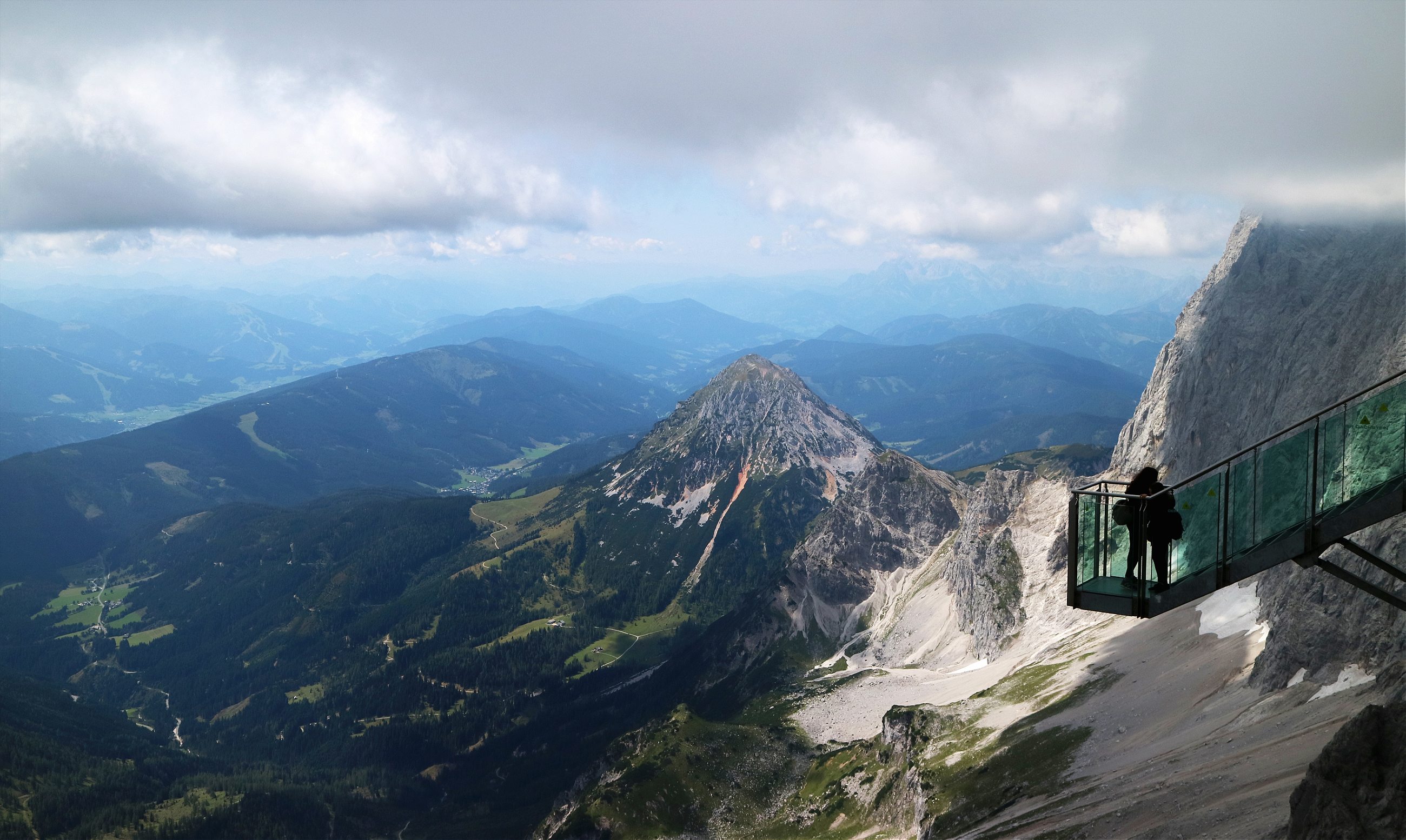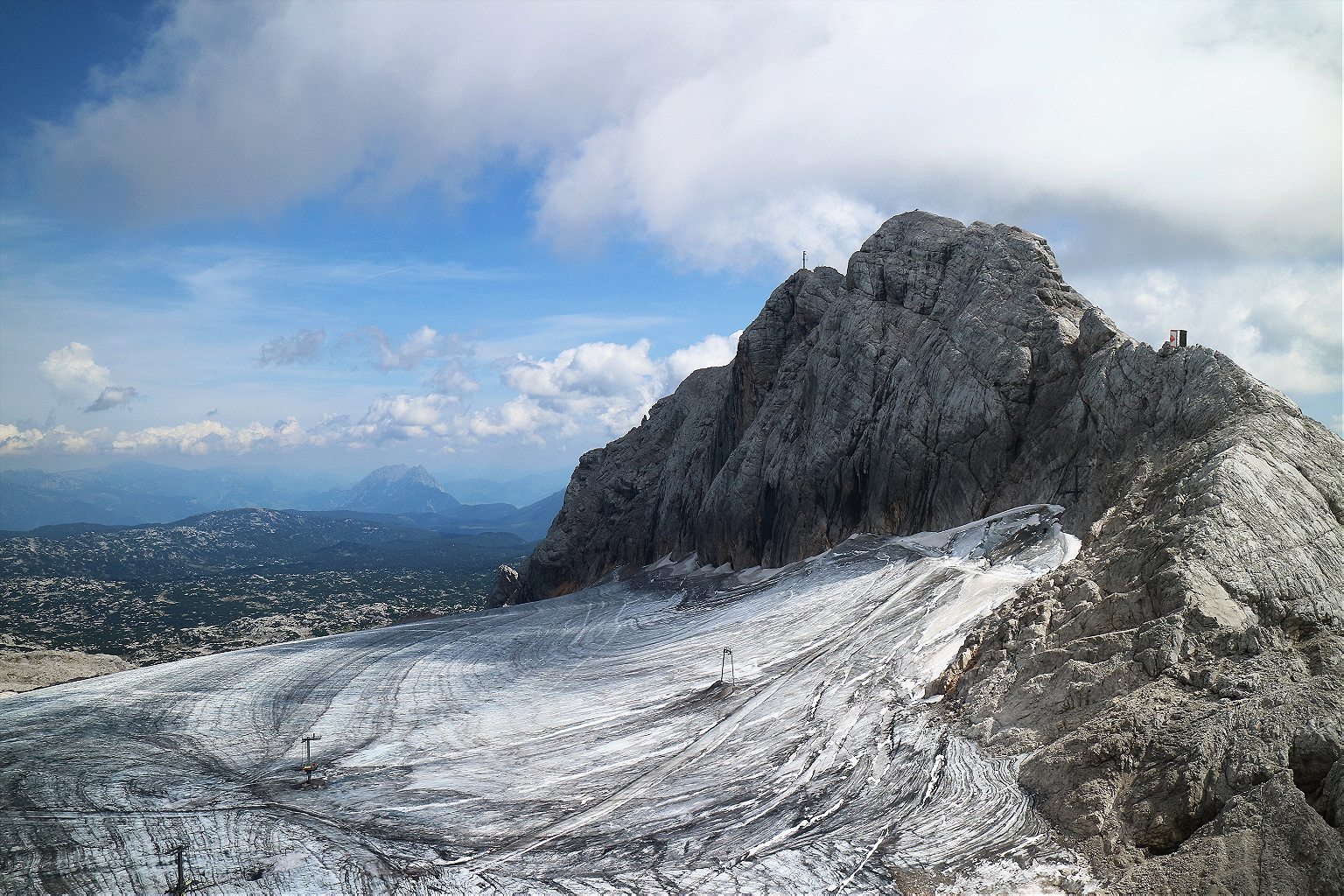 Compared to Austria's ancient industries—thousands of years of salt mining and wine-growing—its whisky tradition has barely begun. Joseph Haider founded Austria's first whisky distillery, in the Waldviertel (the forest quarter, west of Vienna near the Czech border) in 1995.
But these glacier-squatting barrels come from a much younger operation—a small but enterprising distillery on the Salzburg-province flank of the Dachstein.
The Mandlberggut is a 300-year-old farm—or Alm, a farm on an Alpine meadow. More recently, it's where the Warter family make all kinds of schnapps and their Rock Whisky, named for the Dachstein.
Bernhard and Doris Warter, a former locksmith and a confectioner, lived down in the valley. In 1998 they fulfilled a lifelong dream, and bought Mandlberggut, and turned it into a family distilling business. Theresa, 24, and her older sister Katherina run the place now, making the fiery fruit brandy, Schnapps, and now, whisky.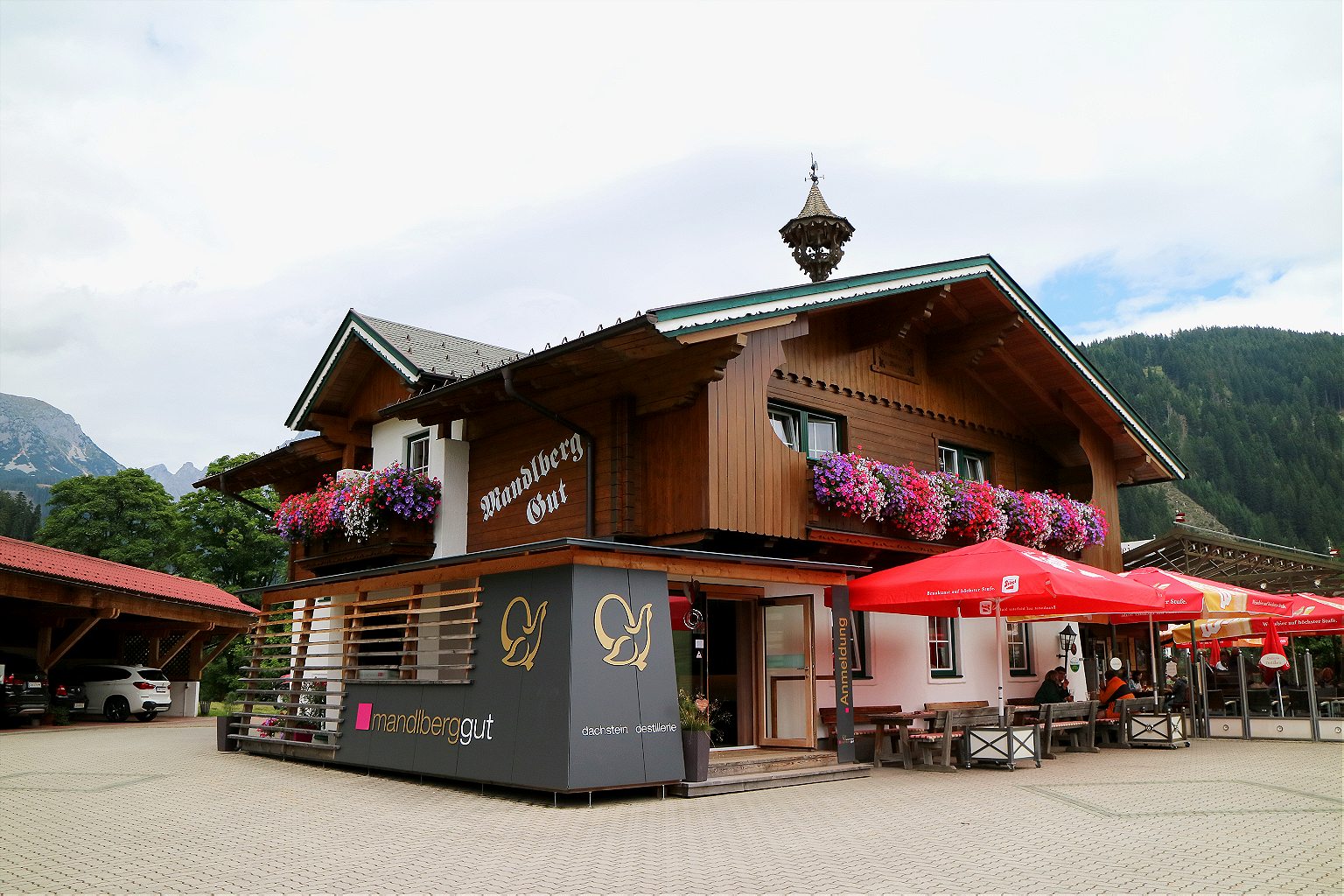 "My parents went to Scotland in 2005, and the loved the whisky so much they wanted to make their own," says Theresa.  As Schnapps-makers—which is also distilled in copper stills—making whisky was an easy transition.
They get the barley malt from the Schladming brewery down in the valley, and age it in oak barrels that formerly held sweet wine from the Burgenland wine region.
Of course, the most important thing in whisky-making is the water. The Mandlberggut has it own in-house source, direct from the mountain spring on the Schwemmberg. It's a soft water, says Theresa, which gives the schnapps and whisky a gentle note. "Distilled water is, in a way, dead water. Our water has come through many layers of earth and stone, and we can pass this energy into our whisky and Schnapps."
The Warters are now making more whisky and less Schnapps. More and more people come to them for the whisky, but it's still a small operation, producing 2400 liters (634 gallons) a year.
In 2013, they took some of their whisky up to the glacier's ice palace, stacking a set of rooster-branded barrels in the brand-new gondola. Aging whisky in the Dachstein glacier was another of Bernhard Warter's long-held dreams; he wanted to see what happens to whisky in the harsh conditions of glacier, and an altitude of 2650m (8,690 feet.) When the time comes, a team of experts will be on hand to judge the effects. Unfortunately, that's still a couple of years away and there is no glacier whisky to taste yet. So instead, Theresa pours me a generous finger of their Rock Whisky, aged 5 years, the old-fashioned way in their cellar.
It has vanilla and caramel, the tasting notes promise. But I also find a distinctly Schnapps-like fruity flavor, with a hint of burn. At second pass, it's more like a fruity bourbon.
Whisky is getting more popular all over the world, says Theresa. This seems like a sound investment. "People will always drink alcohol, in good times and bad." Prost to that.
***
IV. LOWER AUSTRIA | WINE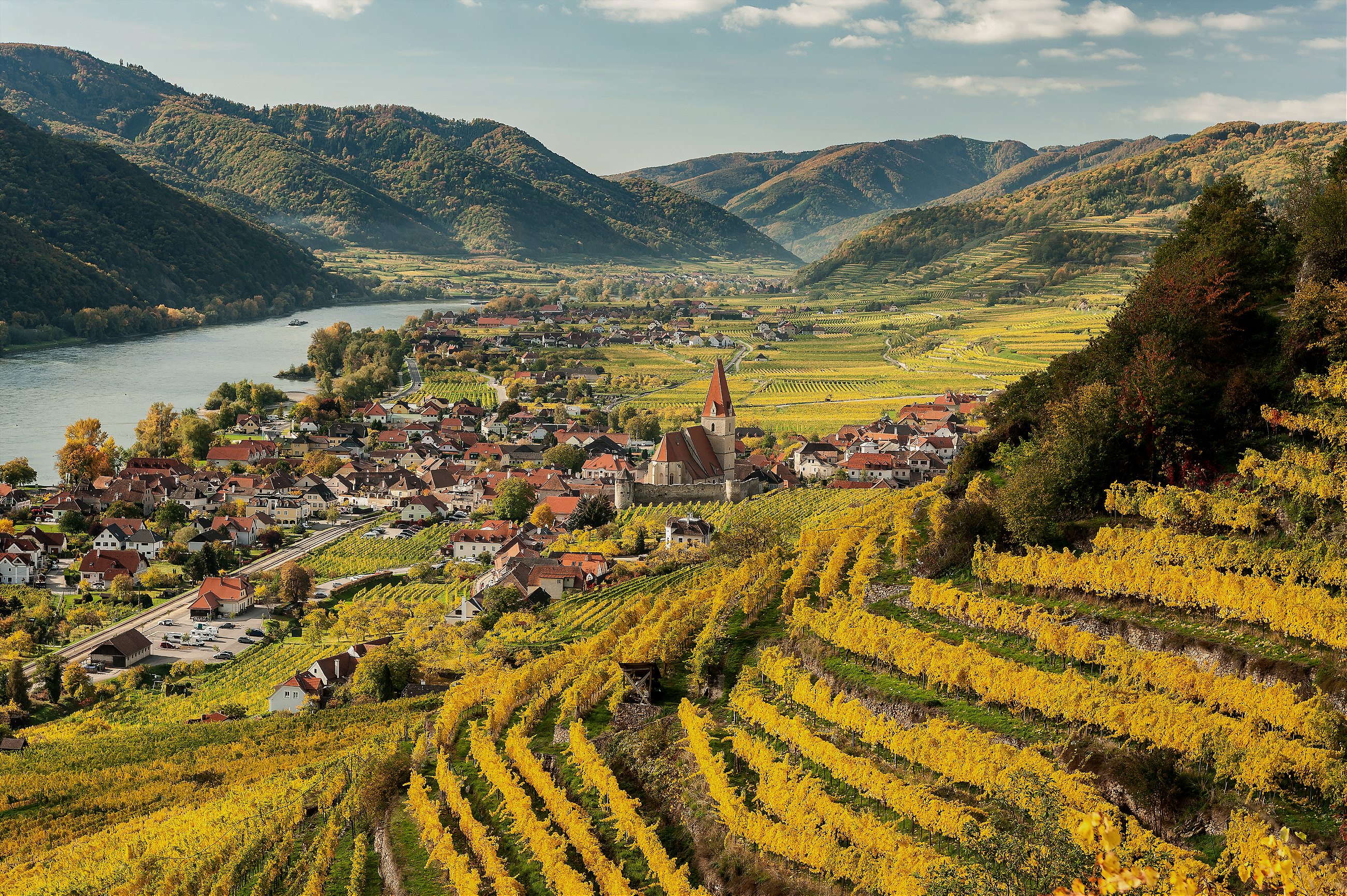 The Danube river was for a long time the northern frontier of the Roman Empire. It also gave Austria, and many other places along its banks, its wine culture.
The river cools the vines and deposits sand and loess sediment along its banks, creating ideal conditions for the dry white wines, such as Grüner Veltliner.
The Celts who settled the area around present-day Vienna had grown wine along the Danube since at least 500 BC, but the Romans cultivated it, importing vines from Italy. Today, Vienna is the only capital city in the world that produces significant amounts of wine (700 hectares) within the city limits—like in the foothills of the Kahlenberg, near the village of Grinzing, where I was born among the vineyards. (Home birth.)
But I'm heading to a meatier wine region, west of Vienna in Lower Austria province. The Wachau wine trail is a 25-mile traverse along the Danube, through a narrow valley of a steep, terraced vineyards. The road follows the curve of the Danube, a flat, mud-green ribbon lined with pebbled swimming beaches, barges, and riverside restaurants, and is flanked by millenia-old, dizzyingly steep terraces of vines.
About seven miles north of the Danube banks at the end of the Wachau trail, the town of Langenlois is the hub of the Kamptal wine region. The Kamp is a small, north-running side-river of the Danube, feeding one of the smallest of Austria's 16 wine regions—but one of its most successful.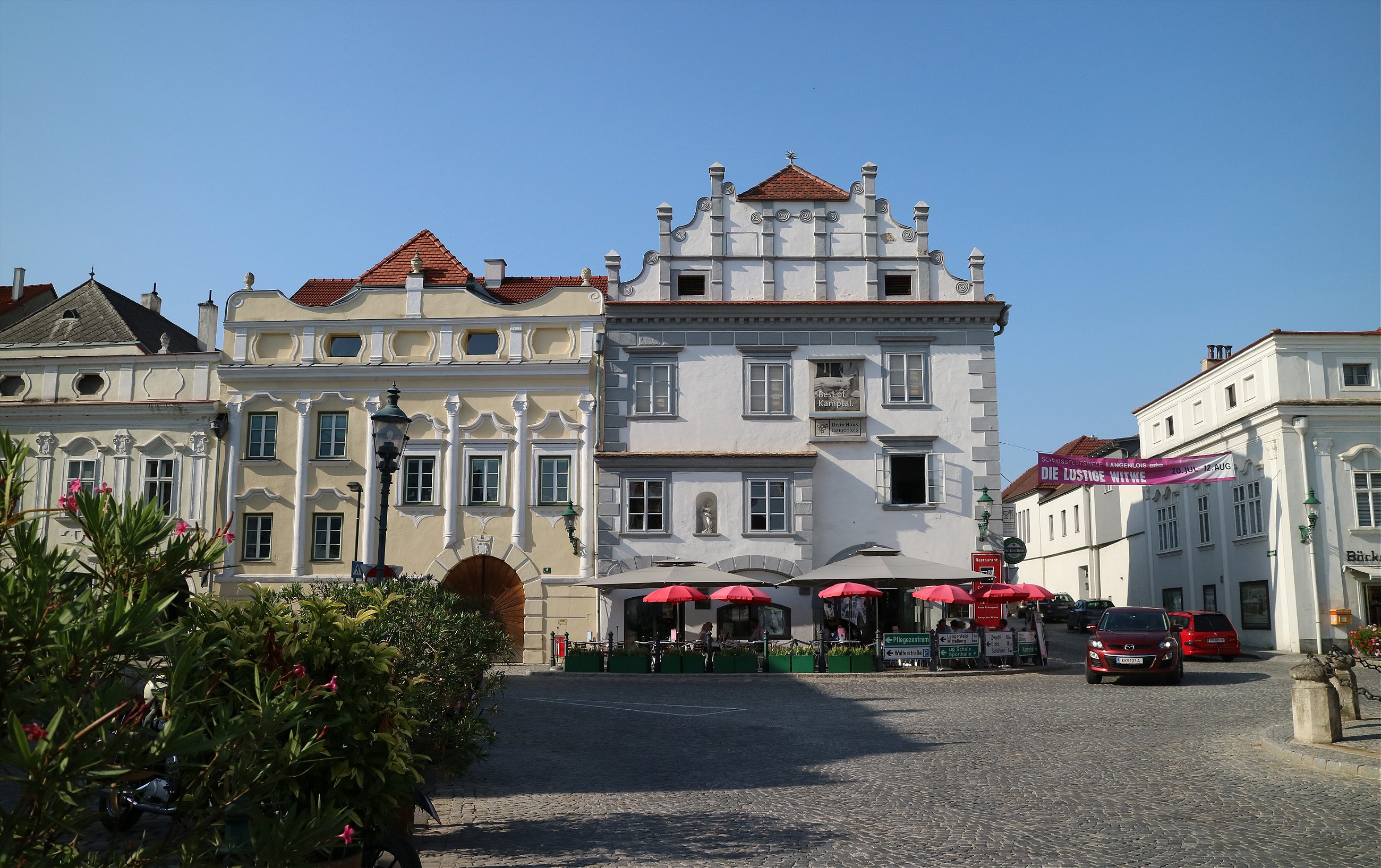 I meet Alwin Jurtschitsch (pronounced "Alvin"), a young local winemaker, in the town's baroque main square. He's in his mid-30s, but in a trucker hat and thick glasses, he looks barely out of his 20s. His family has deep wine-making roots: his great-grandfather bought their operation, the Jurtschitsch Sonnhof, in 1868 from the Franciscan monks next door.
He never wanted to do this, Jurtschitsch says. "When I was young, all I wanted was to get as far away as possible from Langenlois, from wine, from this lifestyle. I'd grown up with this. My parents were always angry, stressed about the weather, everything."
Jurtschitsch went to New Zealand—as far as away as he could get—under the ruse, to his family, that he would study winemaking there and bring back what he learned. To find work, he knocked from door to door, and eventually found a job as a bucket boy. After jumping from continent to continent and working at wineries in New Zealand, Australia, France, and Germany, Jurtschitsch rediscovered his love of wine. "I learned that you don't have to be so wedded to tradition."
We drove up to his family's Riesling vineyards, and he showed me what's underneath the vines: stacked layers of stone, forming the vertical steps of the wine terrace. This is the Heiligenstein–a 1,100-foot mound of Permian-period sandstone that makes this small hillside one of Europe's most revered Riesling sites; the sandstone and soil keeps the hill warm, creating powerful white wines. "This geology exists only here, on this hill," says Jurtschitsch.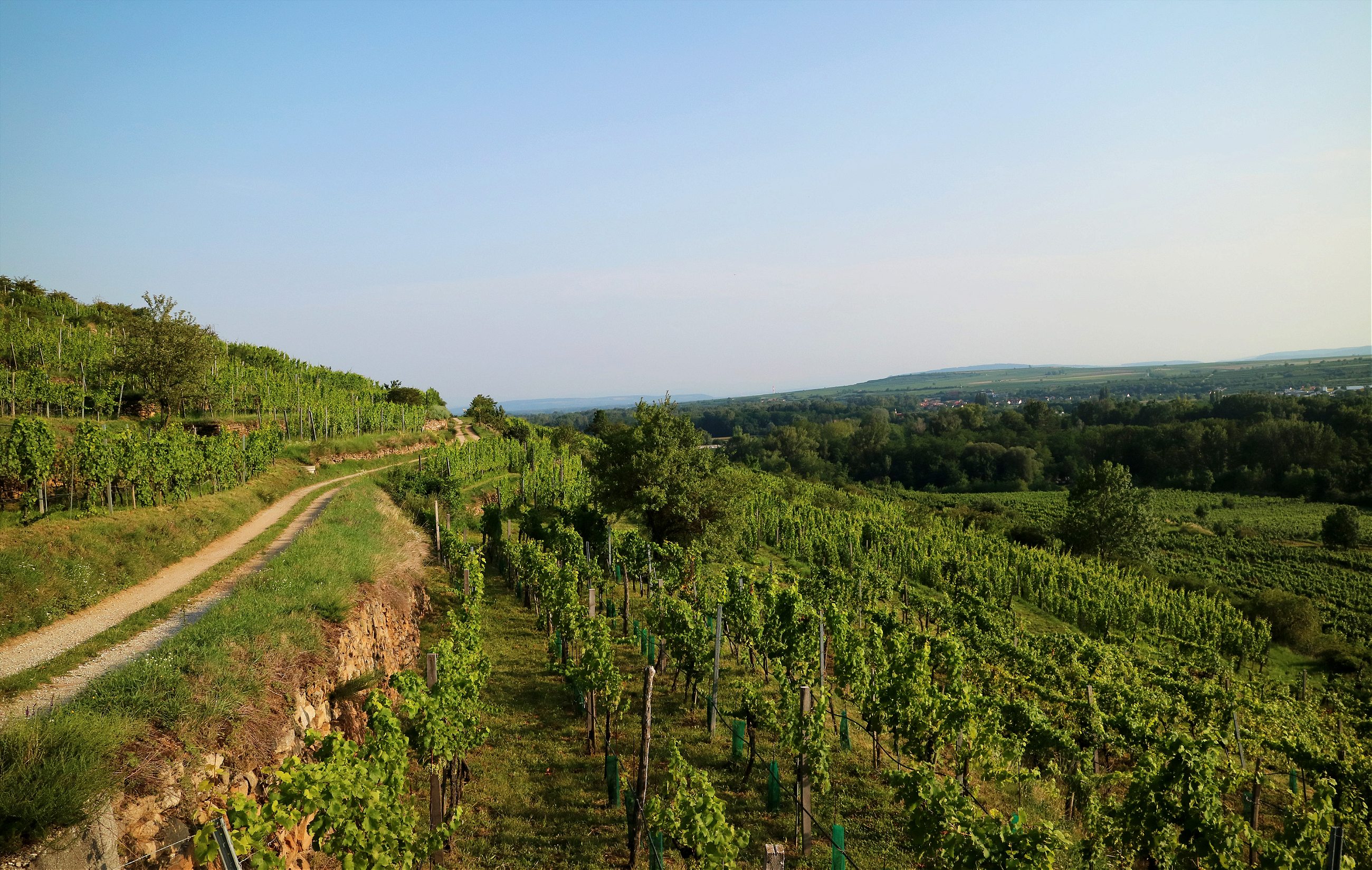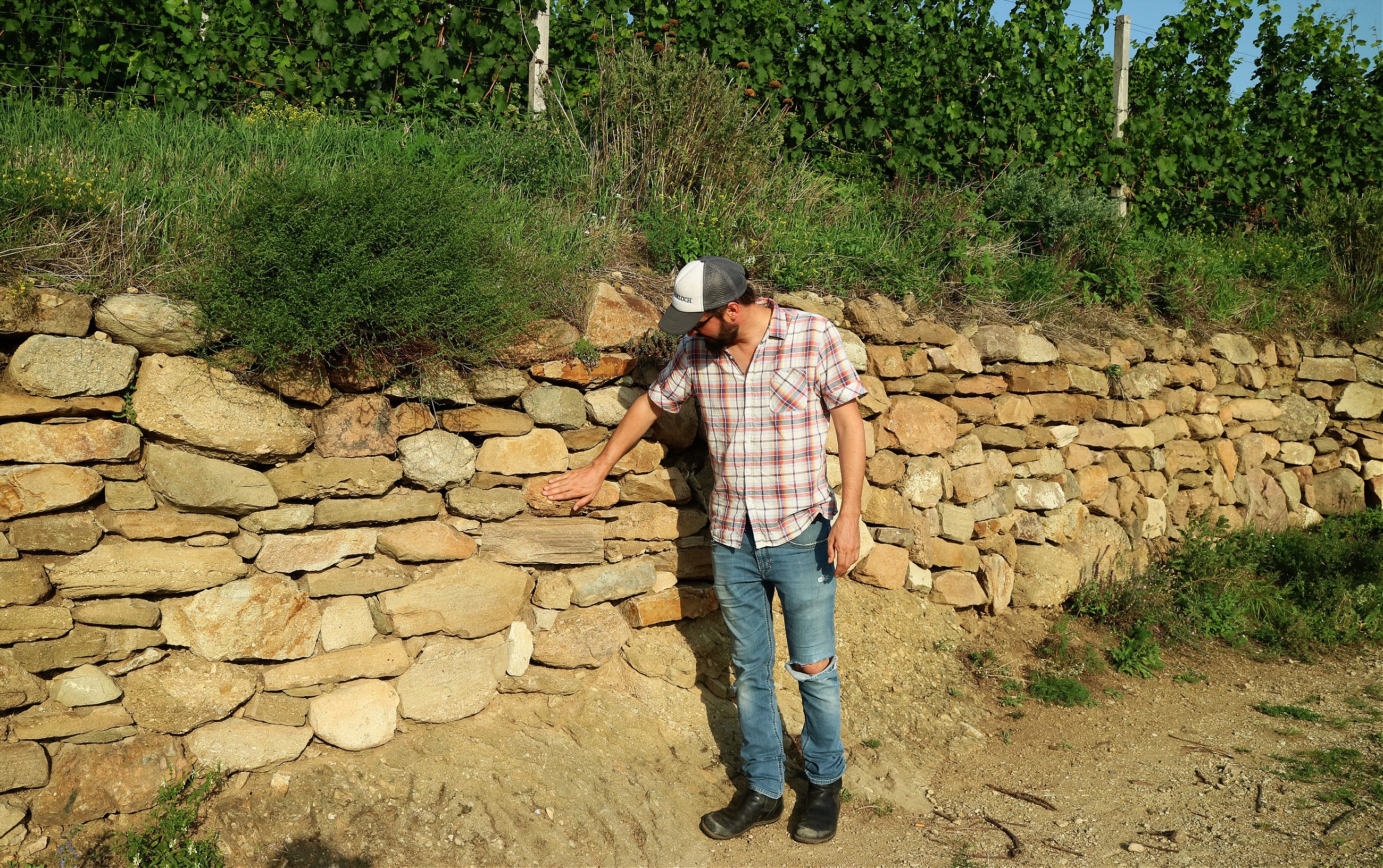 This hillside also gets perfect Riesling weather. "We want extreme temperatures to make Riesling." The grapes get strong sun exposure during the day, then get cooled by the evening winds blowing through the Danube's side-valleys.
Jurtschitsch returned from his wine walkabout in 2007, and took over the family business full-time in 2012. He's downsized the Jurtschitsch wine-growing sites dramatically, to focus production more deeply on white wines. Today, he makes wines with minimal manipulation, and no added aromas or flavor from the barrels.
"When people drink our wine, I want them to taste only this ground, only this hill."
"People say the anti-freeze scandal saved Austria's wine industry"
For the family wineries in the Kamptal, and the nearby Wagram wine district, Austria's wine scandal was close to home.
In July 1985, it emerged that dozens of Austrian winemakers had been lacing their wines with diethylene glycol—a toxic ingredient used in antifreeze—to make it sweeter and more full-bodied, to cater to tastes and prices at the time. (Apparently, the alarm was raised when one of the wine-spikers tried to claim the chemical on his tax return.)
Many of the guilty included winemakers from the Kamptal and the neighboring Wagram wine area, including Karl Grill, the mayor of Fels am Wagram, a village of 2,000 people, most of whom are winemakers going back generations. (When Karl Grill's accomplices found out they were busted and that inspectors were on their way, they tried to destroy the evidence by smashing their wine barrels out in front of their cellars, turning the streets of Fels a frightening pinkish-red with a potent cocktail of discarded—and toxic—wine.)
The scandal destroyed thousands of years of viticulture and reputation overnight, and led to a ban on Austrian wine sales. Yet, many people say it saved Austria's wine industry, forcing it to start over with scrupulous quality controls. It also forced producers to shift their focus from sweet wines to local dry whites, like the area's Riesling and Grüner Veltliner, that now have a great reputation.
Jurtschitsch says his family would have gone out of business if the scandal hadn't broken. So many people had been selling counterfeit wine and making money that those producing unadulterated wine couldn't compete. "When the people involved in the scandal went to jail and everyone started from zero again, we once again had a fair playing field."
Austria's wine industry is unusual for being dominated by family-owned businesses. But this is changing: in the Kamptal, as in the Vienna-based wineries where I grew up, families with centuries of winemaking history are selling up and getting out, and a handful of larger wineries are buying and growing. There used to be about 200 vintners in Langenlois, Jurtschitsch says. Now there are about 40 vintners, but no fewer vineyards.
Another thing people say about Austrian wine: that Austrians keep the best wine for themselves. Grüner Veltliner is popular in the U.S., and in China—but plenty of mediocre versions have made it across the ocean. I've tasted plenty of those. In Austria, the pickings are better.
"It's actually hard to find shit wine in Austria," says Jurtschitsch. "It's such a small world. If someone makes shitty wine and tries to market it, word spreads fast."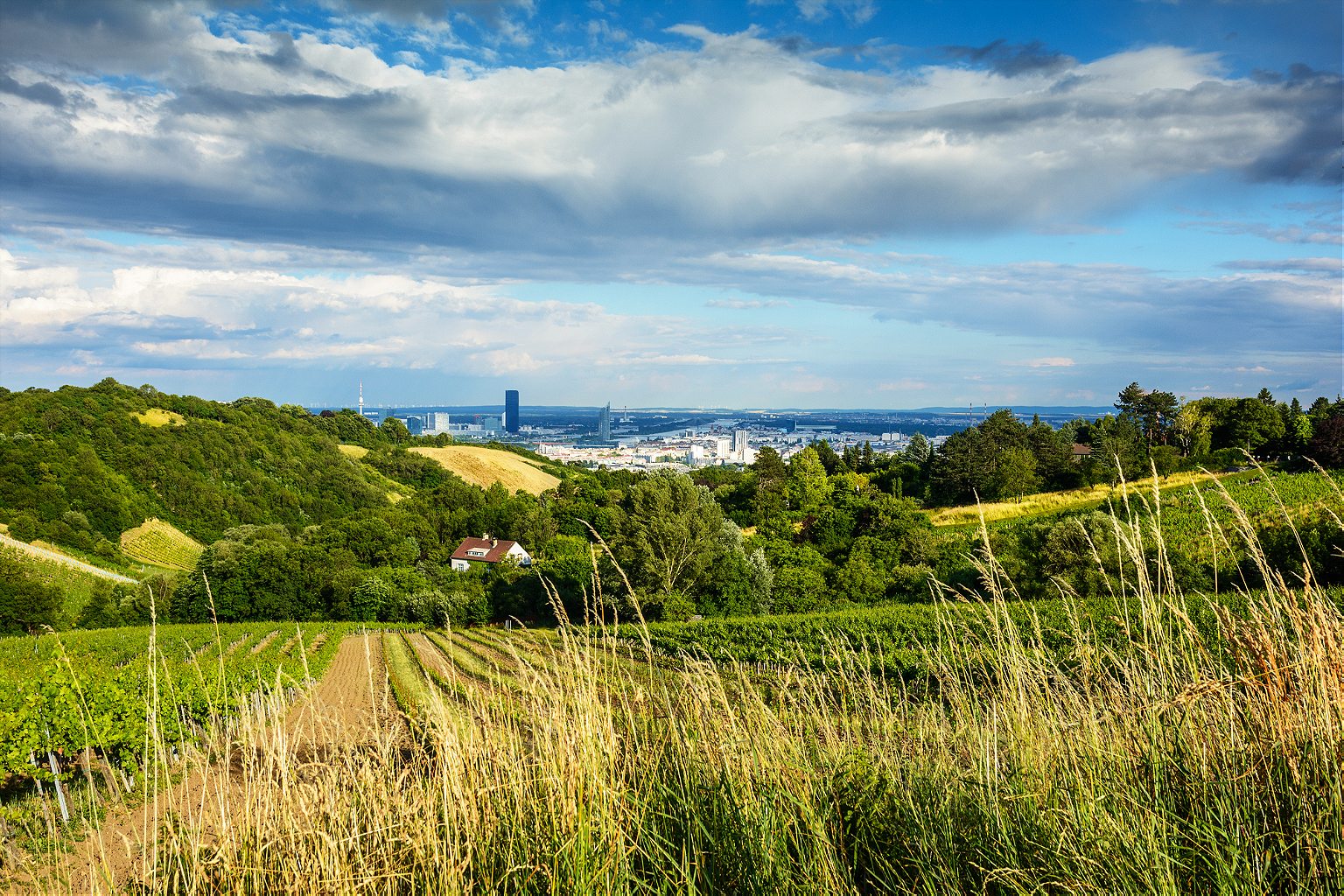 The late summer is the calm before the storm for Kamptal vintners. When the nights get colder, Jurtschitsch and his team will pick the grapes by hand, and Austria's wine season will begin.
It's dark when I leave the Kamptal and Wagram. After hundreds of miles, back and forth on Austria's highways and winding, scenic B-roads, it's only 50 more and one final hour's drive along the Danube, back 'home' to another, smaller set of vineyards inside Vienna's city limits. In Vienna, too, in a few weeks, mushroom season will give way to wine season. Vienna's wine producers will pick the grapes that have been fattening all summer, and hang bushels of pine outside their taverns to show they're serving the new, young wines.
The Viennese (and quite a few tourists) will venture up the hills to drink them, sitting at trestle tables on the slopes of the Kahlenberg or in the beer gardens of Heuriger, eating cold meats and cheese and Liptauer Hungarian cheese spread. If they're lucky, a gentleman in a suit vest will serenade them with an accordion. Just another Vienna autumn, like hundreds before it. It will be my last for a while.