All Stories Must Come to An End, But You Can Take the Wine With You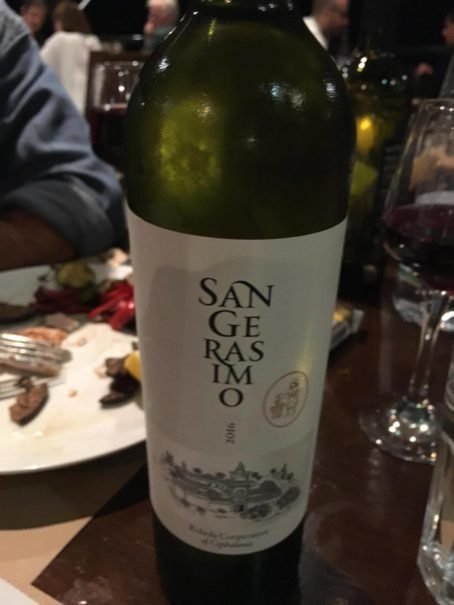 All Stories Must Come to An End, But You Can Take the Wine With You
Robola in Kefalonia
Every island has a story to tell. In the Greek archipelago, every rock in the water, no matter how big or small, speaks with its own voice. Kefalonia is like that—a rock with a very strong sense of identity.
I had come to see an old friend, and I was amazed. We'd barely struck up a friendship in California when he seemed to drop off the face of the earth, hit by dual crises of health and money. Months passed, and he began to resurface. Now a repatriated Greek, he seems to walk around in a spotlight, a celebrity on his land, his beautiful dog, John Lennon, in tow. As he took me on a tour of his village, the "Beverly Hills" of Kefalonia, which is also his family name, "Yia sous" (hellos) rang out everywhere.
Here, a wealthy ship-owner and former lover of Maria Callas (who later lost out to Onassis) rebuilt all the homes after the devastating 1953 earthquake. They are big stucco affairs, all blooming roses and wide terraces. This new California-ish posh quality is not at all what I expected from a Greek island village.
The next evening we gathered with friends and family for a huge spread of hand-cut fries, burgers, bacon, onion marmalade, and blue cheese. The wine was a local white, made from the Robola grape, and rang little bells on my palate. I was amazed again—by the caliber of the chefs, the food, the
wine.
I wanted to learn more and headed to the Robola Cooperative, up a serpentine mountain road next to a monastery in Omala Valley. Here, 85 percent of the island's wine is produced. I tried three wines, leaving the best for last, the San Gerasimo, which is fermented in stainless steel. This was just as bright and perky as the others, but lingered, trailing scarves of honeysuckle and pineapple.
That night, we met on my friend's veranda. There were blanched almonds, fresh kefalotiri cheese, and olives. An open bottle of the Robola. We drank from teacups, gin glasses, and mugs, and ate from a communal pot of tortellini. I was sitting in a rocker, leaning back, looking for a meteor shower that never happened. It didn't matter. The sky was still a siren song, deep with thousands of light pinpricks.
We opened a second bottle. The wine kept playing its chimes, enlivening the conversation. My friend regaled us with stories of working in a pizza parlor back in the day, turning heads with his old-time Vespa, and yearly trips to Italy. Everyone, all of these Kefalonian Californians, had stories of Italy. There is a longstanding connection between the island and Italy, a former "protector" of Kefalonia.
My friend's cousin walked me back to my hotel, the only one in the village. It was so quiet, even the cicadas seem to have fallen asleep. Up on Mount Ainos, the grapes were turning sun into sugar, some on 100-year-old un-grafted vines.
Every island has a story to tell, and all stories must come to an end. But the Robola came home with me on the plane.