The Czech Republic's Foreign Consulate in Saigon is also a beer hall.
The golf buggy whirs along as neon lights beckon from the opposite end of the darkened alleyway. It's a strange vehicle for the setting—a narrow ribbon of pavement weaving between street food vendors and sedate residential dwellings—but that makes it a fitting carriage as we approach one of Saigon's most famous—and bizarre—'secret' drinking dens. The dead-end street is so narrow that the city's taxi drivers rarely enter; hence the complimentary shuttle.
This is Hoa Vien Bräuhaus, a Czech-style restaurant, beer hall, and microbrewery, and the official state home of the Czech Republic in Ho Chi Minh City. Void of the usual lineup of armed guards and passport verification checkpoints, this is not your typical foreign consulate.
In this cramped jigsaw puzzle of a city, wedged among the phở joints and coffee shops, Hoa Vien's entrance sits like some kind of portal onto the cobbled streets of Prague. With 6,000 miles separating these two seemingly unconnected lands, it's possibly the last thing you'd expect to find in Vietnam; Czech beers and hearty European fare on offer alongside diplomatic assistance.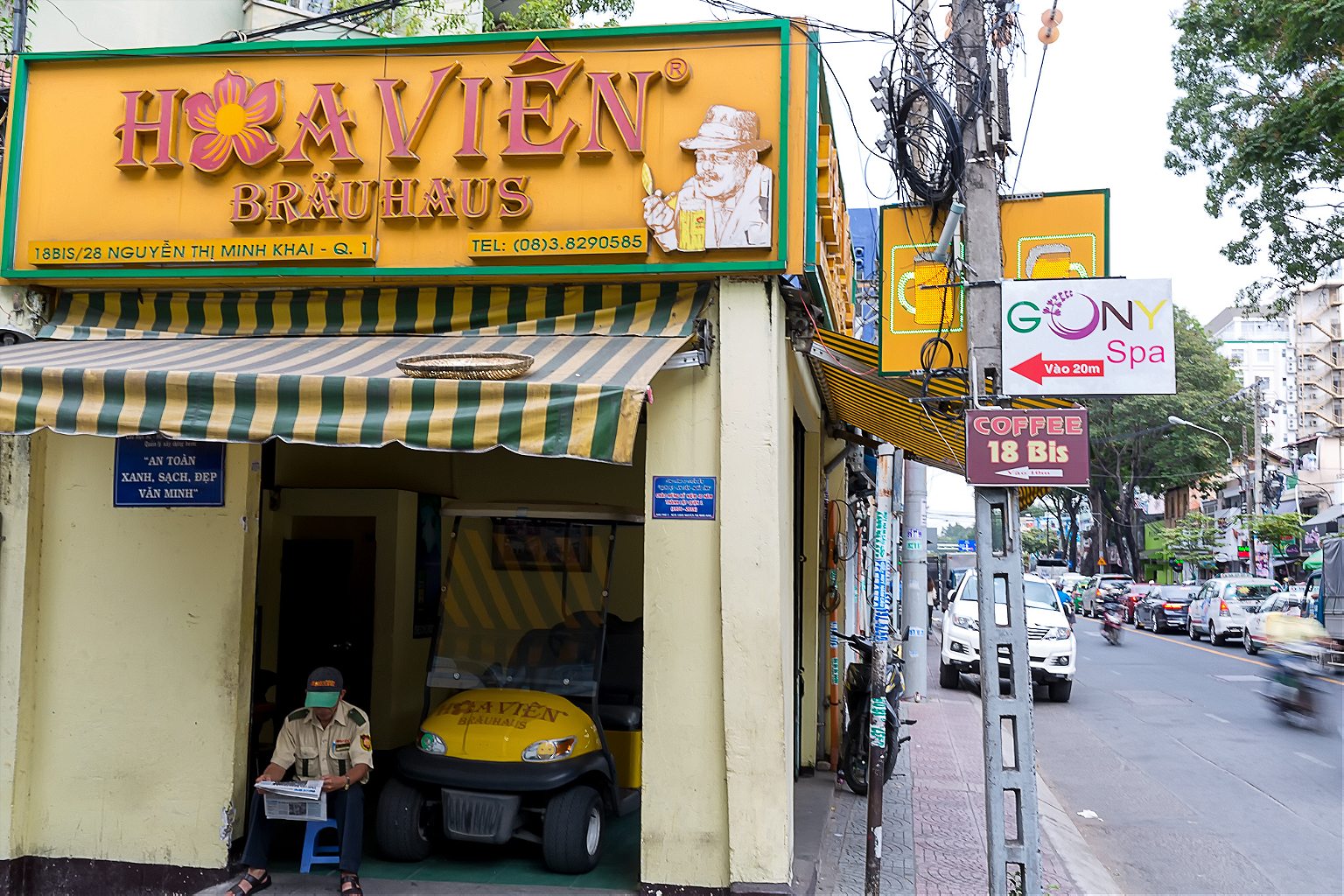 In 1948, amid the political turbulence of post-war Europe, Czechoslovakia—wrapped inside the iron fist formed by Poland in the north, East Germany in the west, and the U.S.S.R. in the east—became a socialist republic after a brief, Soviet-backed coup.
As the Cold War continued to split the world in two, the Czech ruling party sought support from other socialist powers, and, in 1950, diplomatic relations were established with the Democratic Republic of Vietnam, a state itself engaged in a war with the French for control of the nation. By 1954, the French had moved out, America had moved in, and Vietnam was divided. North Vietnam's infamous war with the U.S.-backed South had begun.
Czechoslovakia became a vital ally to North Vietnam, particularly as a supplier of modern machinery and weapons. Alongside bulldozers and assault rifles, Semtex, a Czechoslovakian invention, was one product regularly making the journey eastwards. This deadly plastic explosive famously went into mass production solely to supply Ho Chi Minh's army.
Consul General of the Czech Republic by day, brewery owner by night
It's a Friday night in December and I'm here to meet Ngo Hong Chuyen, Consul General of the Czech Republic by day, and Hoa Vien's owner and founder by night. On paper, as a Vietnamese citizen, Chuyen's title is an honorary one, granted to him 15 years ago when the Czech government moved the majority of its Vietnamese operations to the embassy in Hanoi. The old consulate was shut down and restaurateur and businessman Chuyen, with his fluency in both languages, became their man-on-the-ground in Vietnam's southern hub.
Chuyen's restaurant, as the only establishment of its kind in Saigon, had long been a focal point for the city's Viet-Czech community. Hoa Vien was an obvious choice for the Czech diplomats looking for a base in the south. As the Czech Republic drinks more beer per capita per year than any other nation, to find its offices inside a microbrewery is rather apt.
Today the bond between these old allies remains firm, although in the era of globalization and peace it's not quite as essential as it once was. Both governments continue to bolster diplomatic relations and promote international trade and support, and Chuyen is regularly called upon to host Czech dignitaries and business leaders as they visit what has become Vietnam's most prosperous city.
Tonight, Hoa Vien is jumping. Large communal tables of office workers cry 'một, hai, ba, dô!' before emptying their glasses (one, two, three, in!, the Vietnamese equivalent of 'cheers'). In the quieter corners, friends chat and smoke and couples hold hands across the tables in the open-air courtyard.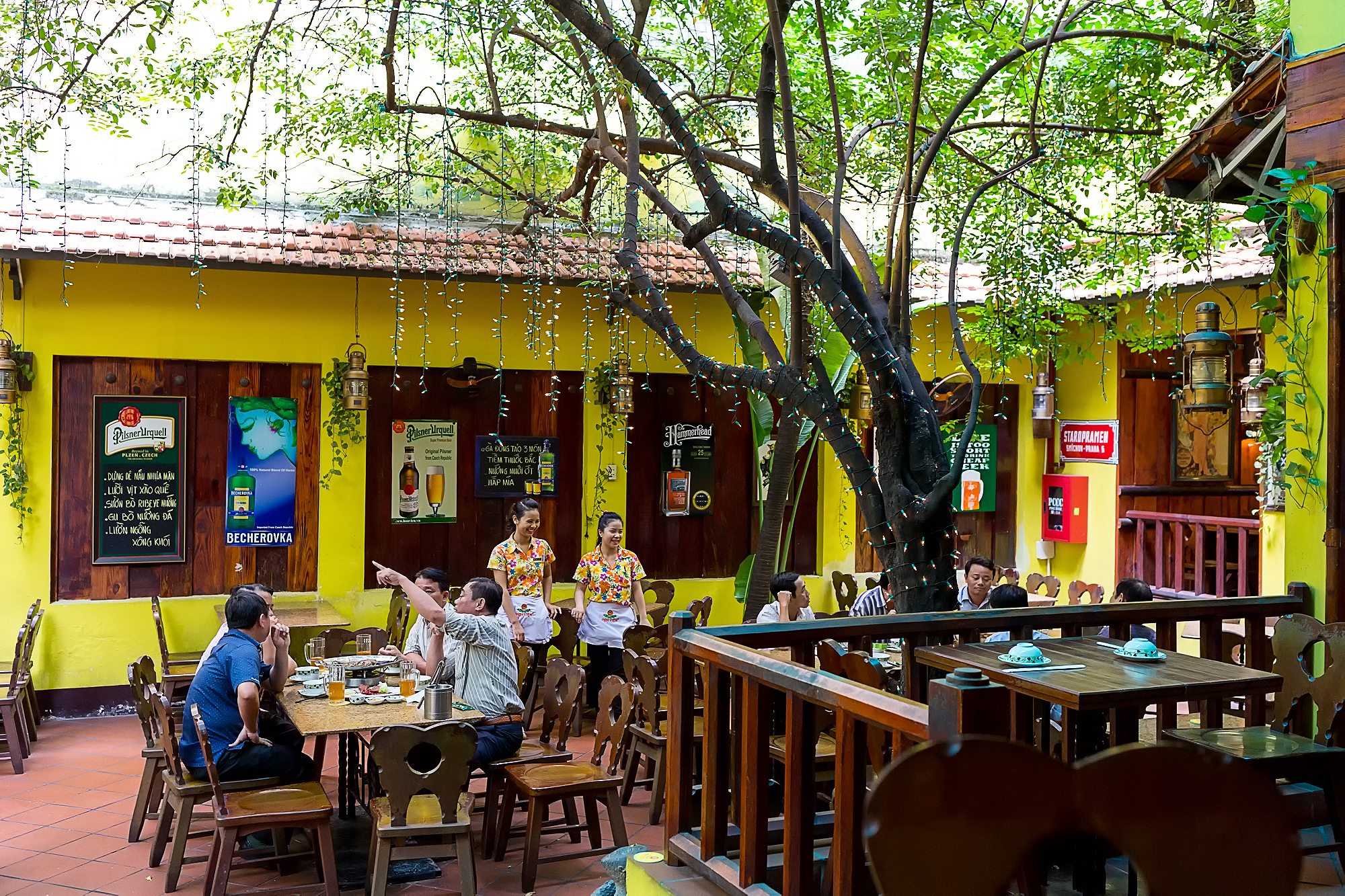 In the central atrium, polished copper piping runs down to the giant beer vats sitting just beyond the bar, where busy wait staff hustle back-and-forth with giant, one-liter steins of the famous Czech pilsner. With thick wooden furniture and just the right amount of European kitsch, it's a damn fine recreation of a traditional Czech brew hall. Take away the bowls and the chopsticks laid out neatly on each table and you could easily forget you were in Southeast Asia.
Head a little deeper to find cozy nooks and private booths which open up below low ceilings, faux oil lamps, and framed photographs of Hoa Vien's more famous patrons. Shaking hands with all of them, looking a little younger each time, appears the man I'm here to see.
Wearing a relaxed linen shirt, a dapper trim of facial hair, and with a glass of beer in hand, Chuyen, 51, recalls the tale of how the partnership between these two countries played out, and how the modern-day Czech Republic became home to one of the largest Vietnamese communities in Europe.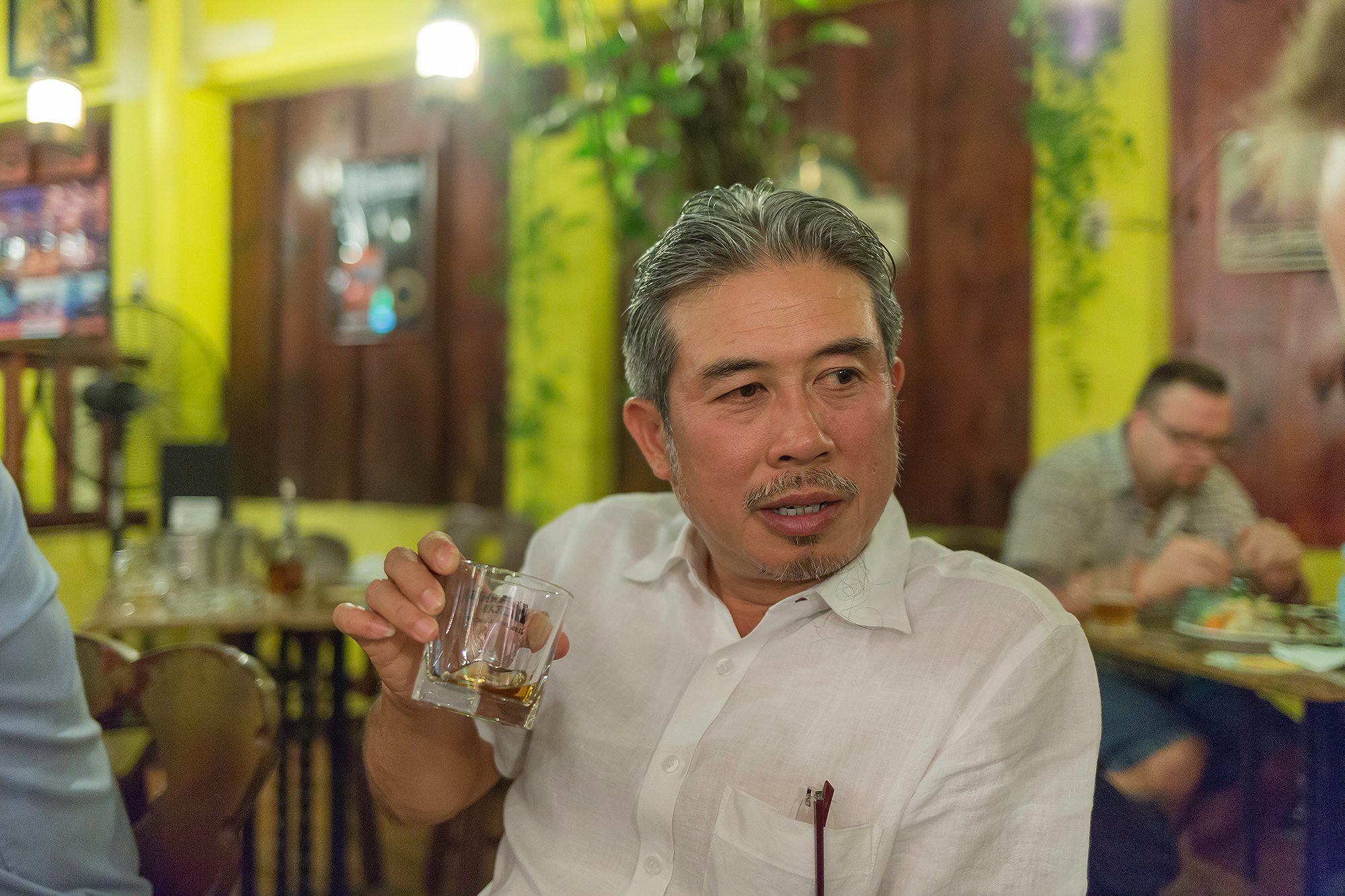 The two nations established a cultural exchange program that lasted from the 1950s until the collapse of the Soviet Union. At its peak, in addition to the goods and raw materials passing back and forth, thousands of Vietnamese citizens were offered jobs and scholarships in Czechoslovakia's factories and universities, flown out for free and provided with language training and accommodation in exchange for their hard work.
As Vietnam's economy struggled through the dark years following reunification in 1975, after more than a century of almost non-stop conflict and war, its cousin in Europe was experiencing a labor shortage. For those desperate to escape the hardships of post-war Vietnam, the offer was almost too good to refuse.
By the mid-1980s it is estimated that there were approximately 28,000 Vietnamese citizens in Czechoslovakia alone, with tens of thousands more dotted across the entire Eastern Bloc.
"I was sent to Czechoslovakia to study in 1983," says Chuyen. Having left high school and said goodbye to his home and his family, the then 18-year-old headed to Prague to become an electrical technician. "At that time, Vietnam was in a very critical condition. Life was hard. Whoever could get out, they were very lucky."
Since the earliest interactions between the two states, Czechoslovakia earned a reputation for high-quality manufactured goods such as crystal glass, radios, and bicycles. "We knew about these things," says Chuyen, who adds that a stereo cassette player was at the top of his shopping list, "but the most interesting thing to us was the beer. We flew to Prague with a Czech airline and the first thing I said when I got onboard was 'Give me a beer!'."
Since the beverage was first introduced to Vietnam by the French in the late 1800s, Vietnam has long been a nation of beer lovers, from the curbside bia hơi joints knocking out home made 'fresh beer' for just a few cents a glass to the former French-owned lager brands such as 333 and Biere Larue. Today, it represents one of the fastest growing beer markets in the world, with the Vietnamese drinking more per person per year than any other nation in Southeast Asia.
Moving from one beer-loving nation to another, and having heard tales of near-mythical brews of a quality far superior to anything available in Vietnam at the time, Chuyen was right to be excited.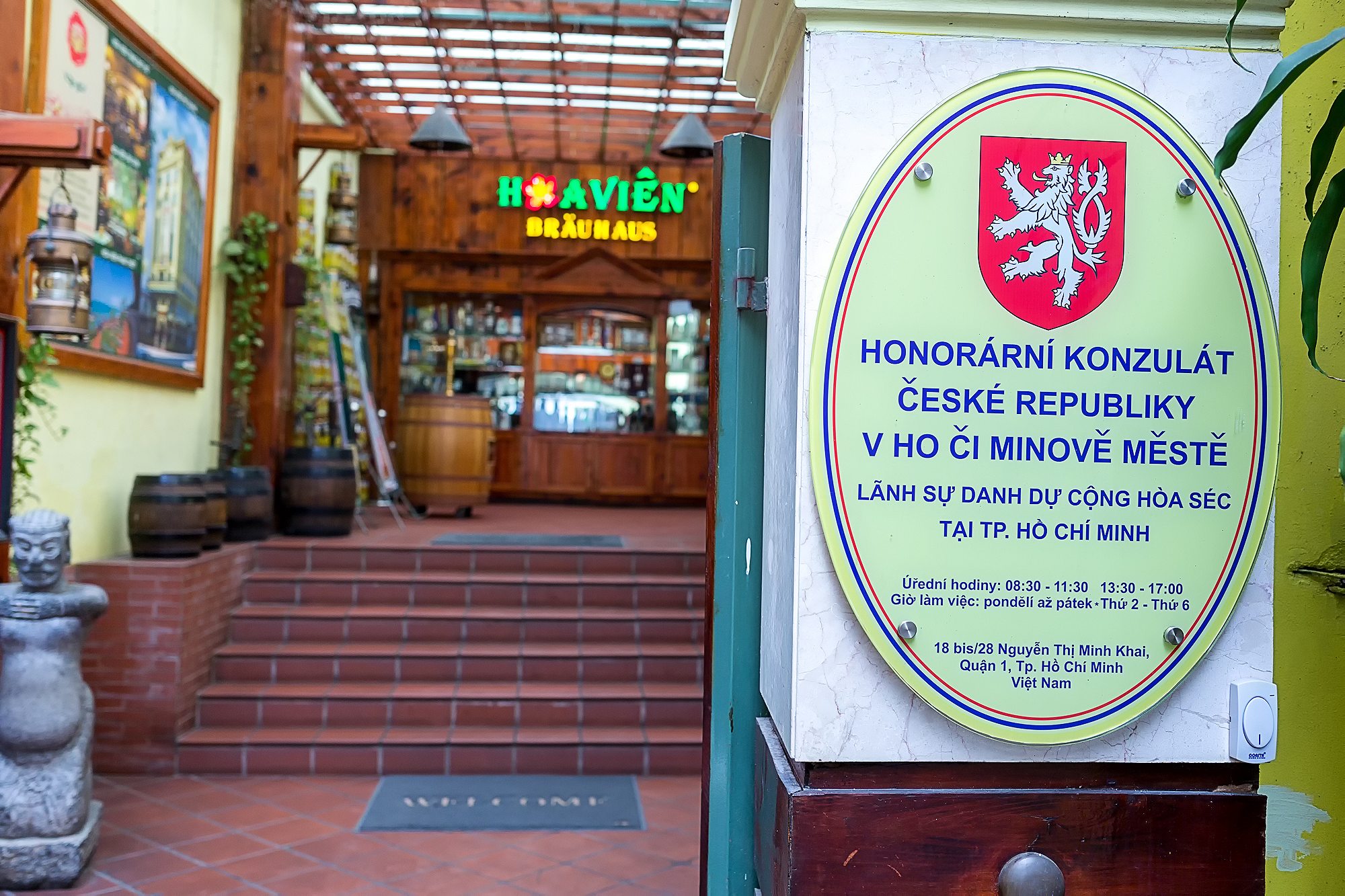 After his training, Chuyen was obliged to stay in-country and work for a further three years in order to pay back his fees as part of the government program. A lot changed in that time. The 1980s were almost over and while Vietnam (on the brink of financial collapse) underwent hardline economic reform, a revolution was brewing in Eastern Europe.
"I was there!" says Chuyen with a smile. "I was right there at the Brandenburg Gate, in East Germany, of course. I was visiting my friends and I saw it with my own eyes. People were climbing over [the wall] and they asked me to go with them. I said no, I had to go back to Vietnam. I had family."
Soon after the fall of the Berlin Wall, Chuyen returned to Prague to see the Velvet Revolution play out before him. The socialist ties between Czechoslovakia and Vietnam began to unravel, and although the official trade programs eventually fell away, Chuyen explains that it was of little concern to him and his comrades.
"After the revolution, you could go anywhere, live anywhere, sell anything, do anything. That really helped the Vietnamese a lot and a lot of them became rich after that time."
Today, Nguyen, the most common surname in Vietnam, is the ninth most common surname in the Czech Republic, with an estimated 60,000 first- and second-generation Vietnamese now living there. Prague even has its own 'Sapa' Vietnamese market named after the northern city.
Unlike most of his countrymen, Chuyen returned to Vietnam in 1990. "Many did not come back because they did not see any future here," he says.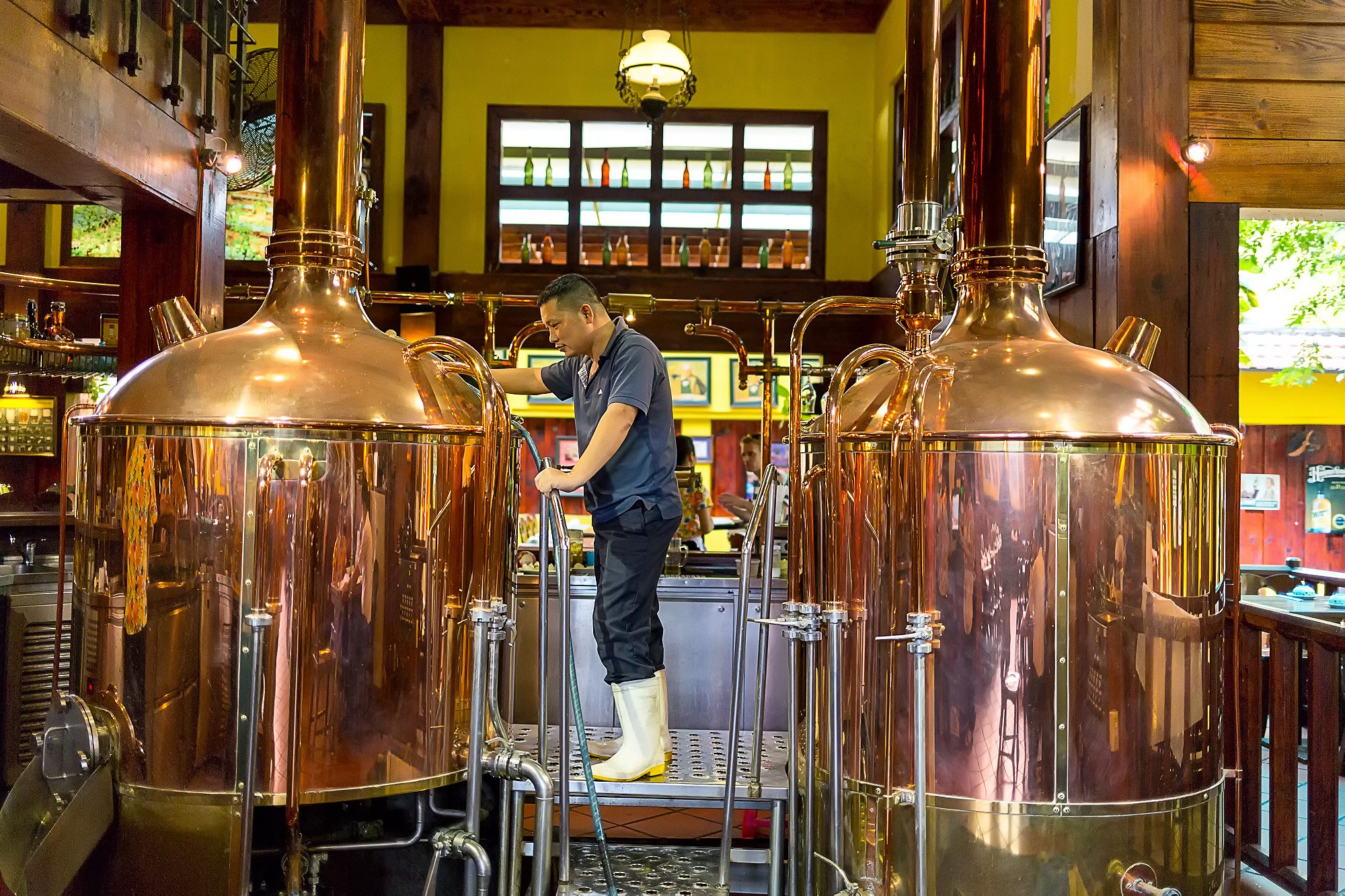 It was 1993 and Chuyen was living in Saigon. Czechoslovakia was no more and, as his friends in the newly-formed Czech Republic had foreseen when he told them he was returning home, he was struggling to find a job. Sitting in Saigon's only German pub at the time, he missed his second home and his favorite Czech beer, Pilsner Urquell, widely regarded as the original, the oldest, and, by his account, the best lager in the world. "I said, 'Why are we drinking German beer?'" he recalls. "'Why aren't we drinking Czech beer?'."
Two years later, having acquired a restaurant in the city's central neighborhood, District 1, Chuyen became the first importer of Pilsner Urquell in Vietnam. To offer a cheaper alternative while retaining that unmistakable quality, he eventually hired a Czech brewmaster to begin creating Hoa Vien's own beers, on-site, from imported Czech ingredients. For the price (today less than two dollars a pint) it could be the best craft beer in town.
The warm welcome offered by Chuyen's staff must come as some comfort to any Czech tourist who finds themselves in need of the Consulate's assistance. Despite their historic ties, Vietnam welcomes relatively few Czech visitors each year. The figure is rising, however, and Chuyen is often called upon for support, particularly when Vietnam's potent mix of cheap thrills gets the better of the odd backpacker or two.
"Sometimes people lose everything," he says, recalling a recent incident. "They might not even remember which hotel they're staying at. For this guy, we were delivering him food every day. He'd lost all of his money, his passport, everything."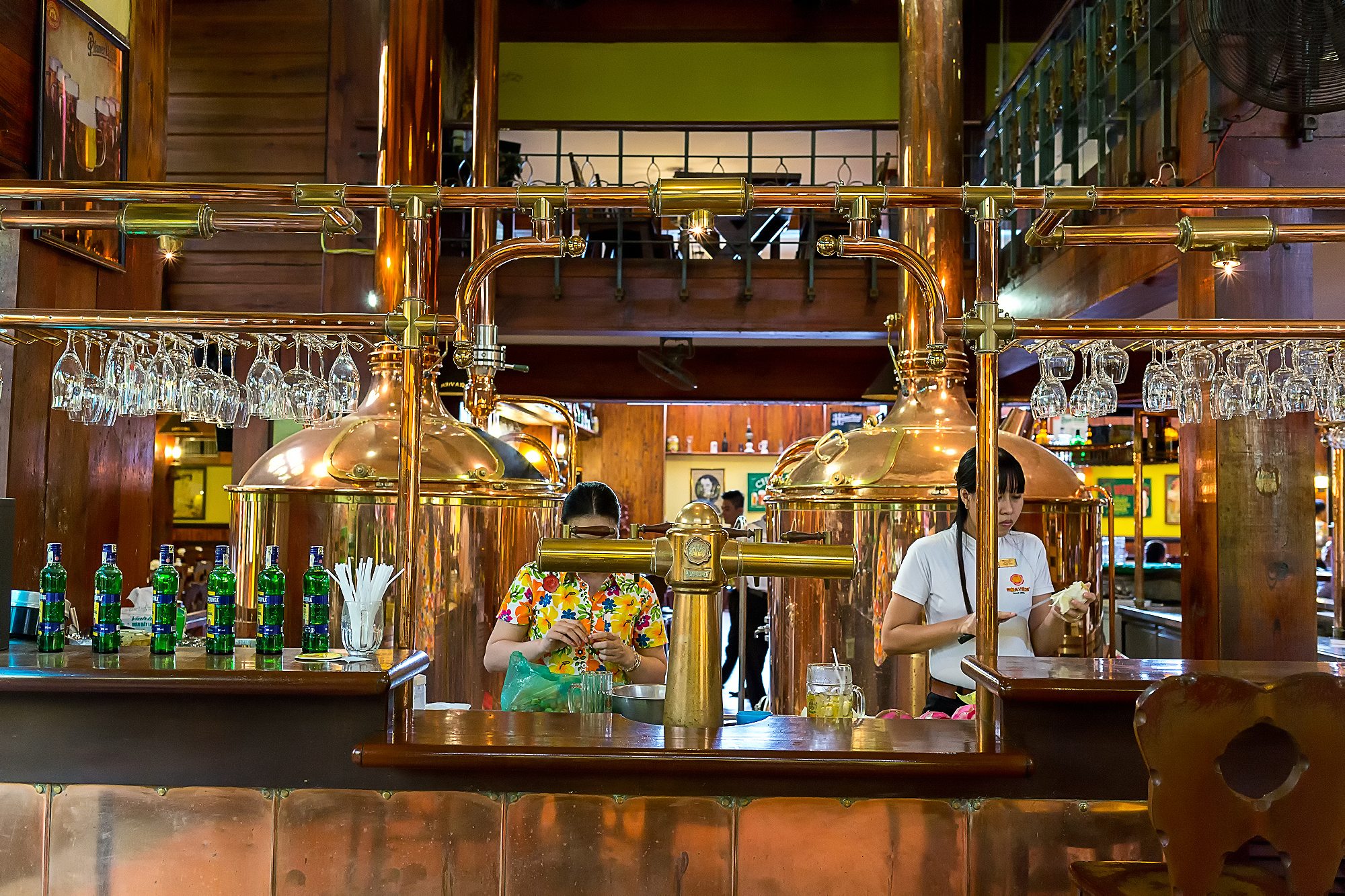 Our empty glasses are cleared and Chuyen calls on his staff to bring over the hard stuff. Among several imported Czech spirits on the menu, there's one particular tipple that no visit to the Consulate should be without.
"It's an interesting story," says Chuyen.
Imported spirits were extremely rare behind the Iron Curtain. Vodka, of course, was everywhere, yet certain apparatchiks had a taste for the exotic. They wanted Scotch. And so the Prádlo Distillery, a state-owned spirit manufacturer, set about creating an affordable single malt Scottish-style whisky. It was to be distilled in Czechoslovakia, using only local ingredients.
Having dug up an antique hammer mill, the only one of its kind in the country, and with only textbooks to guide their trial and error experiments, the boozy alchemists of Prádlo eventually struck gold, and Hammer Head Single Malt whisky was born.
It was in 1989, just before the revolution, when the last batch was placed into Czech oak barrels to begin the ageing process. But as the Iron Curtain fell, the doors were thrown open to imported spirits at discount prices, demand for Prádlo's young, 'inferior', home-grown whisky vanished overnight, and Hammer Head faded into history.
Smooth, oaky, with hints of vanilla and good old-fashioned socialist spirit
It was over a decade later when that final run was found laying dormant in an old warehouse. The barrels were tapped and Prádlo's new owners liked what they tasted. Time had worked its magic and created a legend.
Today, Hammer Head gets that little bit rarer with each glass poured. The latest run of bottles, at 25 years old, was released in 2014.
Chuyen pours a generous measure and it's surprisingly good. Smooth, fresh, oaky, with hints of vanilla and good old-fashioned socialist spirit. Distilled in Czechoslovakia, bottled in the Czech Republic, sold in Vietnam; while it's not the best whisky in the world, it is, indeed, an interesting story.
The party at the next table is dying down. It's only 8 p.m., but drinking sessions in Vietnam start and end early. For the heavyweights in the group, it'll be off to the nearest karaoke joint while the rest head to a café to see out the evening with caffeine. Chuyen and I finish our drinks and say farewell. For him, there's a party of Czech business men and women upstairs he needs to call in on. For me, the golf buggy is waiting.
The original Hoa Vien Brauhaus is at 18 Nguyen Thi Minh Khai, District 1, Ho Chi Minh City, with a second location in Tan Binh District, plus branches in Hanoi and Mui Ne.