When Falafel is Good, It's Very Good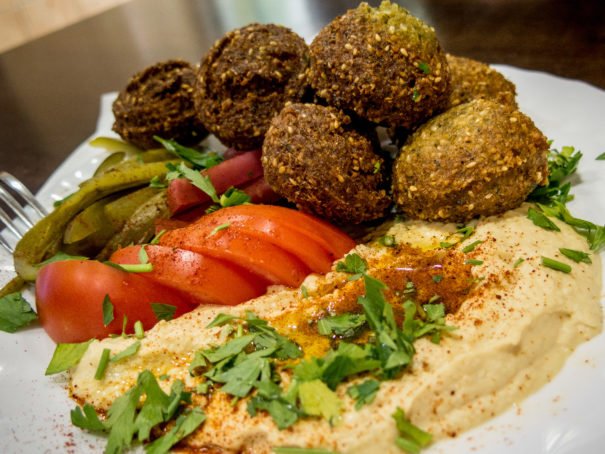 When Falafel is Good, It's Very Good
Falafel in Berlin
Why is falafel such a difficult food to get right?
This is not a rhetorical question. I don't cook, so I don't know. But half the time I order falafel, it's like a crunchy ball of baked sand. It's tasteless, mealy, and above all, dry. Sometimes it's so dry it crumbles like powder, and if I breathe too close to it, it ends up clogging my nostrils like cheap coke cut with laundry detergent.
Slather it in tahini, surround it with veggies, or dip it in a vat of hummus like so many potato chips—none of these tricks work. Bad falafel is just bad falafel. You ordered it because you wanted the "healthy" choice, or maybe you're vegetarian. In any event, you rolled the dice, and it sucks to be you.
Here in the north Neukölln district of Berlin, along Sonnenallee, there's as much Arabic spoken as German. The women wear an even mix of tank-tops and shorts and hijabs and long dresses. The men shake hands and hug, and talk a mile a minute over each other. There is Arab restaurant after Arab restaurant, so picking one can be hard.
It's a hot, humid, and hungover noon in Berlin, and anything is breakfast food. But do I dare risk the falafel? My mouth is already bone dry—wouldn't a moist and scrumptious lebne, halloumi, or chicken shawarma be the better choice? Or maybe I should walk a few blocks and get some Schnitzel or Bratwurst, or a hamburger from the gourmet hamburger restaurants that have sprouted like dandelions across Europe. It's hard to screw up a fat slab of beef on bread.
No. It's falafel I crave, and it's falafel I will have. According to Google, the best-rated restaurant in the neighborhood is a crowded little fast-food place called Azzam. You order at the cash desk, where the four men behind the counter work like machines, chopping, slicing, garnishing, throwing, yelling–the last two are necessary in an overcrowded joint like this. I order the falafel plate, which comes with hummus, pickles, and tomato.
There is free tea out of the samovar. It has two nozzles–one for hot water, and one for hot Turkish tea concentrate; espresso tea, if you will. Put too much of the second one in, your tea backhands you.
Finally, it's the moment of reckoning. The fact it was only four euros and served up in less than a minute bodes well for my pocketbook and the use of my time, but not the quality of the food. The pickles are a bit too salty, the hummus seems a bit too oily. What will it be?
Success! It's good! And when falafel is good, it's very good. Crunchy on the outside, warm and moist on the inside. Exploding with garlic and chickpea flavor. All seven balls of falafel go down beautifully, dipped in hummus, chased with pickles and backhanding Turkish tea.
It augurs well for my time in Berlin.