Is There Anywhere on Earth Where One Can Escape Craft Breweries These Days?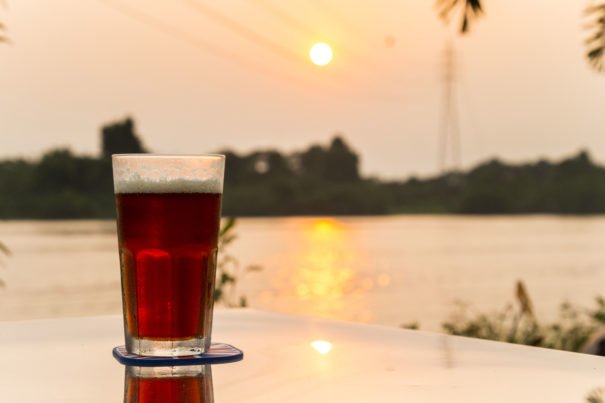 Is There Anywhere on Earth Where One Can Escape Craft Breweries These Days?
Ale in Yangon
It's a quarter to six in Yangon, and it's finally getting cool enough to sit outside without sweating through my shirt. It's April, the hottest month of the year, but the sun has mellowed into a fuzzy red orb and the mosquitoes have yet to marshal in earnest. There's a breeze coming off the river, and the German-style Weizen in my hand is cold and sweet, with hints of honey and banana.
Two years ago, this warehouse-turned-brewery would have seemed like ill-fated venture: too much, too soon. But a lot has changed in Yangon recently. The streets are choked with traffic (steering wheel on the right), Uber has arrived, and the newest mall, with twin luxury condo towers, wouldn't feel out of place in Bangkok or Singapore.
But not everything has changed. Since the earliest days of the military junta, the men in brass have kept a firm hold on brewing and distribution licenses. Despite dipping a toe in the tides of global trade, Myanmar's thirst is still mostly slaked by the same few military-owned, watery rice lagers. The most common watering holes are curbside beer stations, where patrons pull up plastic stools, gesture at a waiter for a pint, and presumably try not to think about whose pockets they're lining.
In a growing handful of upscale bars, foreign imports such as Singapore's Tiger and Thailand's Singha are starting to make an appearance alongside locally-brewed versions of international brands, which offer the same familiar swill behind a Heineken or Carlsberg label.
But tonight, I've abandoned my local beer stop to venture into North Dagon industrial zone, sit on the banks of Pazundaung creek and sip British and German-style ale. Burbrit (a portmanteau of Burma and Britain), Yangon's new and only craft brewhouse, opened to nervous whispers earlier this year. How'd they get a license? Would it last? My fellow beer drinker takes a deep swallow of her Burma IPA, a rich, malty brew bursting with hops and floral notes.
Burbrit's riverside patio, as well as the five varieties of ale, is a welcome respite from the congestion downtown, from the rising levels of air pollution and creeping disappointments in the democratically elected government. We sit in silence until our glasses are empty and order another round. The Irish Red Ale this time? Sure, why not.