Separate celebrations for women and men mean opportunities for female photographers in Iran.


TEHRAN, Iran—
The flat, rocky terrain in this part of Tehran is punctuated at regular intervals by high-rise condos. Most are still under construction; others have just been completed but are still empty. Out here, west of the center, the manic traffic and the congested streets of downtown Tehran have faded away.
We're headed for one of the few busy buildings here, the no-expenses-spared Lebina Hotel. The green glow of the hotel's massive sign lights up the desert. It is late afternoon, the sun is setting, and we're halfway through a wedding. I am in a car with wedding photographer Somayeh Pakar, two of her assistants, more DSLR cameras than I can count, a heavy video camera, endless battery packs, lights, tripods, rig kits, reflectors, and a crane on wheels. We are transitioning from a photo shoot with the couple to their actual ceremony.
In Iran, the bride and groom often have separate wedding parties. At the bride's party, strict Iranian dress codes are thrown to the wind, and guests don lavish evening gowns and short dresses. Gender-segregated weddings provide opportunities for female caterers, DJs, and photographers to take part in the lucrative wedding industry. Pakar is one of Iran's growing ranks of female photographers.
Tehran, by Pakar's estimate, has more than 1,500 photo studios. At least 90 percent of them hire women to work as photographers, which many customers prefer for religious reasons. Pakar says the need for her services has only been increasing as wedding videos and photos become a must for many couples.
"My parents don't have a movie from their wedding. They just have some pictures that they took with an old analog camera," says Pakar. "Women were less open about having their picture taken than they are in this decade. In fact, recording the private lives of people was not popular 20 years ago. It was not a photographic subject in Iran." Nowadays, as elsewhere, Pakar says, people want to have detailed reminders of their increasingly elaborate wedding days, and an industry has grown up to supply this demand.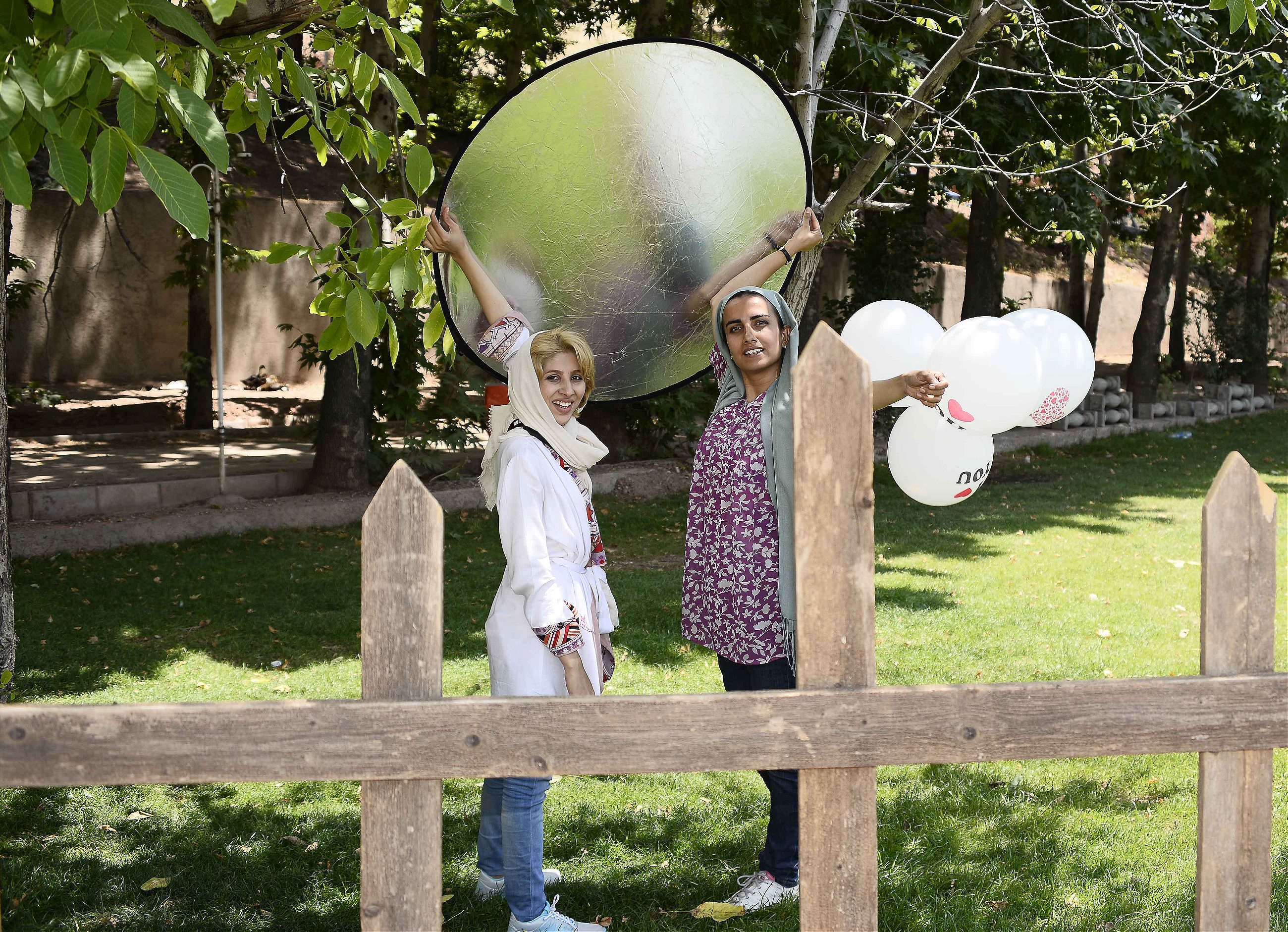 The most basic packages start at 10 million Iranian rials, or about $350 for a few professional snaps. Services from a top studio often climb to the equivalent of $9,000. If the wedding takes place near the Caspian Sea or in foreign locations such as Dubai, photography can cost up to $15,000. These are huge sums in a country where the average yearly income is about $7,000.
The photography gets more elaborate as prices go up. Today's wedding started with a photo shoot at a studio in north Tehran, then another on location at private gardens near a mountain range to the north. Dramatic locations are favored because drones can be used for stunning aerial shots, which are then used as part of the wedding movie. The movie itself can last anything between 45 minutes and two full hours. There are slow-motion shots, sweeping tracking shots, and usually an emotional soundtrack. Ballads by Coldplay are common, and the production values are high.
Wedding photos are important in Iran and will be shown over and over to every visitor, friend, and acquaintance. I experienced this on an intercity bus, when a Ph.D. student who was married with children spent hours showing me family photos. These images are also a vehicle to communicate social status. Photographers are careful to capture tasteful close-ups of expensive jewelry and costly clothing.
We unload the car and head for the room where the ceremony is about to take place. The bride is a woman in her early 30s. She emerges wearing an expensive-looking white dress with an embroidered lace bodice, elbow-length sleeves, and a full tulle skirt. The groom stands beside her, looking like James Bond in a black tuxedo, bow tie, and—incongruously—white sport socks. As the bride makes her entrance, her head is loosely covered by a white hijab, which she takes off, before a comment from an uncle forces her to put it back on. In Iran, the hijab is compulsory everywhere but private homes and gender-segregated gatherings.
Guests start squeezing into the small room and stand around the couple, who are sitting on an ornate bench in front of a sofrayeh aghd, an altar. On the altar are several symbolic items, including seven herbs, rose water, honey, coins, a copy of the Quran, a poetry book, and a prayer rug.
SEPARATION IS NOT CONDUCIVE TO GOOD PHOTOGRAPHY
The air is stifling: The guests start sweating, and children begin to throw tantrums. The officiant is late. When he arrives, wearing a light-blue suit, he looks miles away from the picture of a religious bureaucrat. He speeds through the ceremony to make up for lost time. A quick 30 minutes later and the couple are married. The crowd pours out, seeking space and fresh air.
Pakar and her team have worked hard to capture every gesture, ritual, and smile, but their job has just started. Once the ceremony has finished, it is time for the party. I help the photographer lug equipment into a ballroom decorated with large mirrors in ornate gilded frames and silver velvet curtains. We sit and drink juice as the guests come in. Then, to my surprise, Pakar yanks the veil off my head. "Why are you still wearing this?" she says. "You don't need it anymore." Then a little girl in a poufy white dress appears, and she starts snapping.
It takes at least 30 minutes for all the guests to arrive. The dressing room beside the ballroom is full of women. They are changing from pastel-colored hijabs and matching manteaus (loose coats skimming the knees) into dazzling evening gowns. Slowly, they trickle into the ballroom, wearing jeweled dresses. There is no scarcity of sequins, see-through lace, miniskirts, and fake tans. There are no veils.
The men are upstairs, in an identical room, at the groom's party, where two male photographers are covering the event. Pakar picks up a different camera and continues shooting.
Pakar later tells me that she personally doesn't think that the separation is conducive to good photography. "At times, I work with people whose religious beliefs are relaxed and I can picture men and women together. These are my best shots," she says.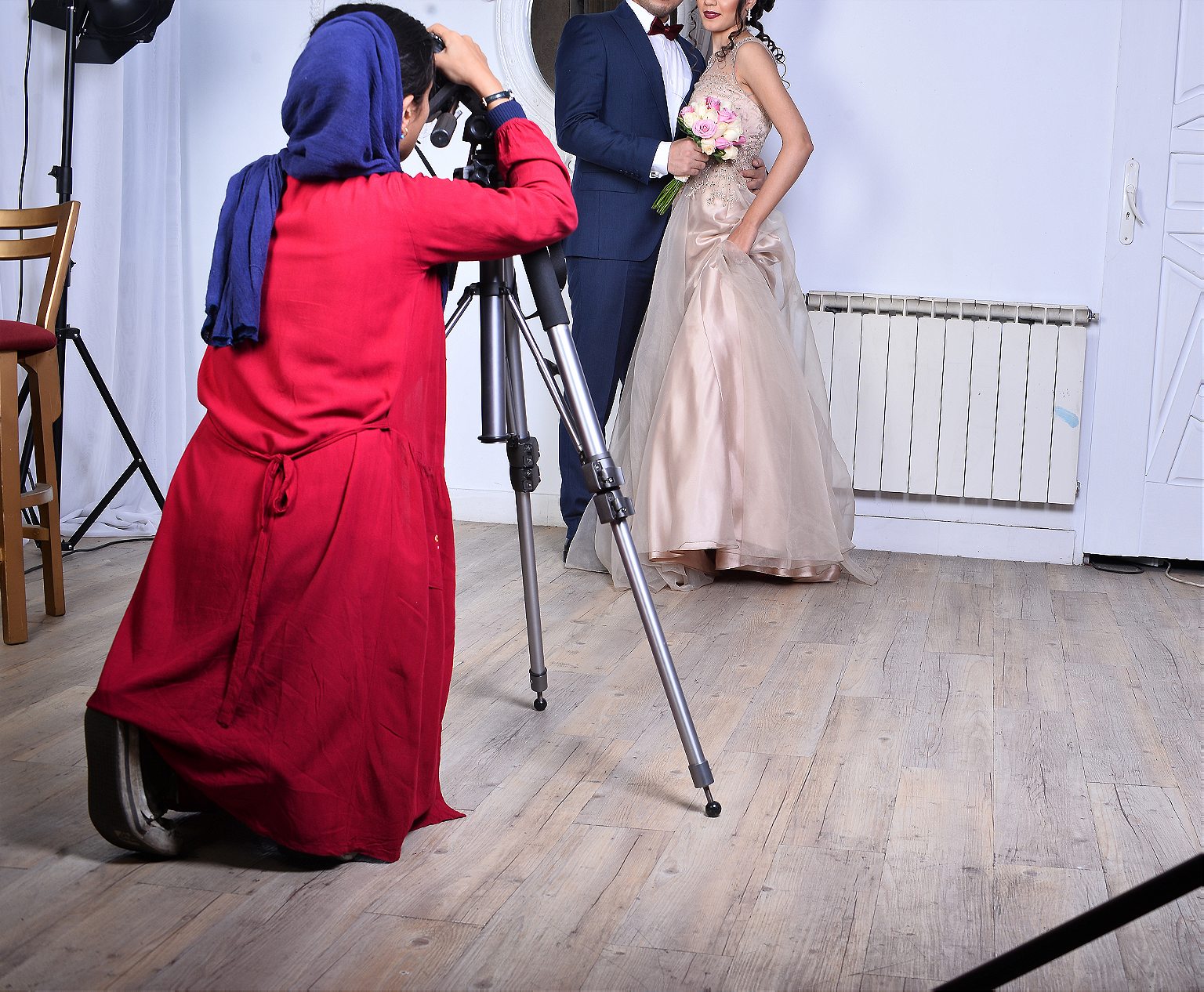 More than 30 percent of Iranian women are part of the workforce, mainly in teaching, administrative, financial, and medical professions. Pakar has a fine arts degree from the University of Sistan and Baluchestan in the south of the country. She moved to Tehran to look for work and develop as a painter. She got lucky and landed a job in a photography studio. She's been on the job for a little more than a year, has several assistants, and often directs entire wedding shoots herself. Thanks to her job, she can live in central Tehran and has traveled extensively. She still paints and is planning a solo exhibition soon.
"I want to think I have this job not just because I am a woman," says Pakar. "I am confident in what I do. For me, it is easy to manage an entire wedding, and people love the photos. Too bad I am not particularly well paid."
Everyone has found a seat in the hotel ballroom, small talk has been made, and the sweet little petit fours at each table have been sampled. It is time for some music. Strobe lights and a smoke machine start up, and a DJ in a bright green minidress appears on the podium. She mixes Ricky Martin with local dance hits. Young children, middle-aged aunts, and everyone in between kick off their shoes and show off rapid dance moves.
Pakar and her team record every step. They use a crane to take aerial shots of the dance floor. A few relatives ask to be left out of the video, uncomfortable at the thought of being pictured without hijabs. But most of the guests are vying for the attention of the cameras. There is posing, pouting, and air-kissing.
The groom appears briefly to share a dance with the bride. Some guests hastily put their hijabs back on, some others drape their heads loosely with veils. After just one awkward dance, the new husband and wife share their first meal together. They look sweet, but the moment is short-lived. He needs to get back to his own party.
The bride, Parisa Majidi, later told me she felt more comfortable posing and partying with a female photographer. "It is normal for women to feel more comfortable with other females. This is because we grew up with very strict religious rules," she says. "Having a woman behind the camera makes us feel relaxed, but I also think that another woman can capture better my emotions. I think this holds for the grooms as well, feeling more comfortable with male photographers. Although, I also think some men do not really care."
The female caterers have set up a large wedding buffet, where colorful rice and meat dominate. Traditional tahdig, rice with a golden crust; khoresht e fesenjan, minced turkey stew with pomegranate syrup and walnuts; dizi, mutton with chickpeas and potatoes; and jeweled rice with strings of saffron and pomegranate seeds.
After the meal, the party winds down. All of a sudden, we are preparing to leave. Manteaus and hijabs reappear, and the women file out with sore feet and high heels in hand.
For the closest family members, there is still an afterparty to attend. We pack the cars with the equipment again and head to the couple's new home where a final mixed-gender party will take place. There is a disco ball, soft drinks, dates, and sweets.
After about 18 hours and thousands of frames, Pakar starts to pack up. The photographers are exhausted. Their work will continue tomorrow when the photos will be selected and retouched at the studio, and the video will be edited.
Pakar later tells me the work can be stressful. "The wedding day is the most important day for many, and every one wants it to be perfect and have the best photographic record of it. So there is a great degree of pressure," she says.
Most of the work she does has to fit a certain formula. Certain poses, certain close-ups, that kind of thing. Pakar said she tries to balance this out. "I am always ready to grab those candid shots that may not happen again, like a lovely gesture or a genuine big laugh," she says. "Wedding photography is not different from photojournalism. It is all about capturing the moment."