The hot pools of Hammam Al-Alil in northern Iraq are a steamy, sulfurous world away from the war on their doorstep, and bathers like it that way.
HAMMAM AL-ALIL, Iraq—
In this hardscrabble town on the western bank of the Tigris River, the war against the Islamic State is never far away. For two and a half years, ISIS jihadists occupied Hammam Al-Alil until they were driven out by Iraqi security forces last November. But even after liberation, this place remains on edge: in April, suicide bombers disguised as federal police launched an attack on the local police station.
Today, gunmen walk the streets in diverse attire. Black, tan, camouflage and blue digicam uniforms belong to counter-terror, army, emergency response, and federal police units respectively; militiamen often have no uniform beyond mismatched fatigues and a casual attitude towards firearm safety. Many of the fighters here are on leave from the frontlines, just 15 miles up the road in Mosul.
The battle has also driven thousands of civilians from Iraq's second largest city to seek shelter in Hammam Al-Alil. They now outnumber the locals, with over 30,000 Mosulawis living in bleak tent camps on the edge of town. Conditions are tough and only getting worse as summer closes in.
Before all this, though, Hammam Al-Alil was famous chiefly for the thermal baths from which its name derives. Today the baths survive, offering a rare respite from wartime stress for soldiers, refugees, and dusty foreign correspondents alike.
Hammam-Al-Alil means "baths of the sick" in Arabic and the sulfur-rich geothermal waters that rise from the ground here are said to be an effective treatment for everything from rheumatism to hypothyroidism. In more peaceful times, Iraqis would travel from across the country to daub themselves in the mineral-laden mud and soak in the steaming waters.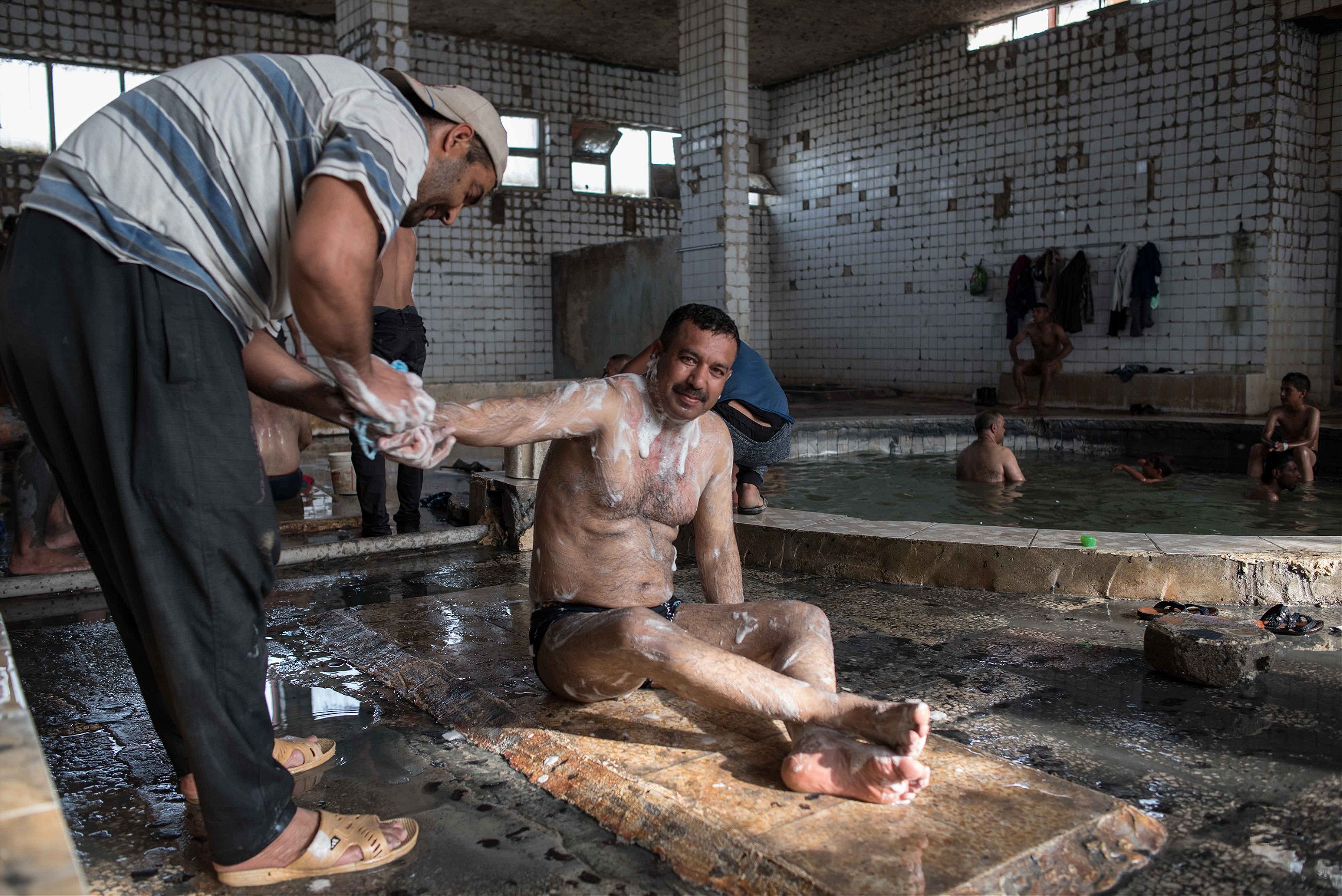 Built in the 1980s, the main facilities are showing their age as well as signs of the recent fighting. The windows are blown out, tiles are dropping from the walls, and a bucolic mural on one wall has been defaced by Islamic State cadres who believed that any artistic depiction of the human form was haram, or forbidden by Islamic law.
In the center of the room, a deep circular pool 15 feet in diameter contains splashing children, cigarette-smoking men, and water of a hue somewhere between turquoise and café au lait. On three sides are banks of deep baths for men to wash and shave in. Two marble slabs serve as massage tables, where sudsed up men receive rub downs. It's nothing fancy, but by comparison, the outdoor pools nearby are even more rustic.
Once inside, men drop their clothes on benches, stripping themselves of rank, social status, and most of the usual indicators of religious and political affiliations. Until a few months ago, the ISIS religious police ensured the townsmen wore full beards with trimmed mustaches, but today in the hammam, the young men are clean shaven and sporting tight fades. Among enlisted soldiers, the preference leans towards Hulk Hogan-style handlebars, while some of the older men grow bulletproof Baathist-era mustaches.
As they undress, deeply tanned arms and necks contrast sharply with pale torsos. Lean soldiers scrub each others' backs with loofahs, while portly officers relinquish the deference normally afforded by their stars and epaulettes to transform themselves into creatures from the black lagoon with handfuls of thick therapeutic mud. "I haven't had a proper wash in a month," says Mandor, a federal police major who has come straight from the front. "I've come here today to relax."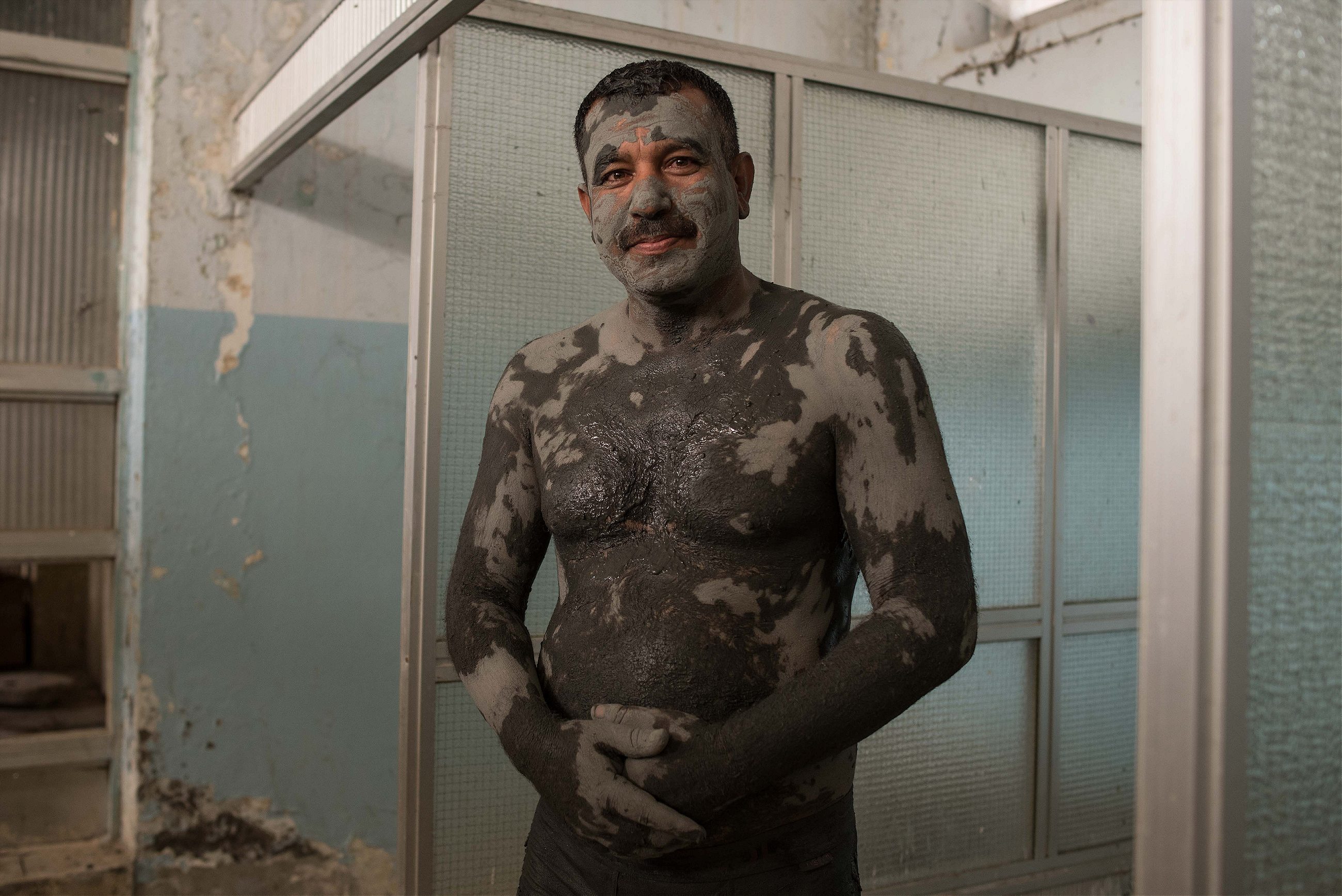 For Taher Ibrahim Hussein, a 30-year-old displaced resident of Mosul, the baths are a welcome escape from life in the camp. "I was itching everywhere," he says of a skin condition picked up in the crowded camp. "But I applied the mud and left it to dry in the sun and when I washed it off I felt better."
He is spending the rest of the day relaxing in the steamy atmosphere, prolonging the moment when he'll have to return to his tent. "It's muddy when it rains and there's choking dust when it's hot," Hussein tells me. A shortage of hygiene facilities has contributed to outbreaks of scabies and there's no work available for the men. "It's no life," he says. But since his family's home in east Mosul was destroyed, the camp will likely be his home for the foreseeable future. Luckily for him, the hammam staff waived the 1000-dinar entrance fee (about 80 cents), allowing him a temporary reprieve from camp life. "I came here today to forget all that," he says.
For others, though, an hour in the baths isn't enough to banish worries of the war. Sajad Mohamed Ali is a fresh-faced 20-year-old federal policeman who was sent to town to get his unit's battered Humvee repaired. While waiting on the mechanic, he seized the opportunity for a much-needed wash. "We don't have showers at the front," he says.
Dressing after his bath he lingers on a bench, the thought of returning to the war weighing heavily on his mind. "Today ISIS snipers killed five of our guys," he offers, unprompted, in a low whisper. Discussing casualties, particularly with foreign journalists, is usually frowned upon.
Some are less keen to engage with a Western reporter. "Don't take my picture, I'm with Hadi Al-Ameri," says a stern-faced fighter with a dark beard. Ameri is the leader of the Badr organization, and his Iranian-backed fighters form one of the most powerful Shi'a militias in Iraq. But most are delighted with the attention. "Don't just look, come and get in," a young boy tells me.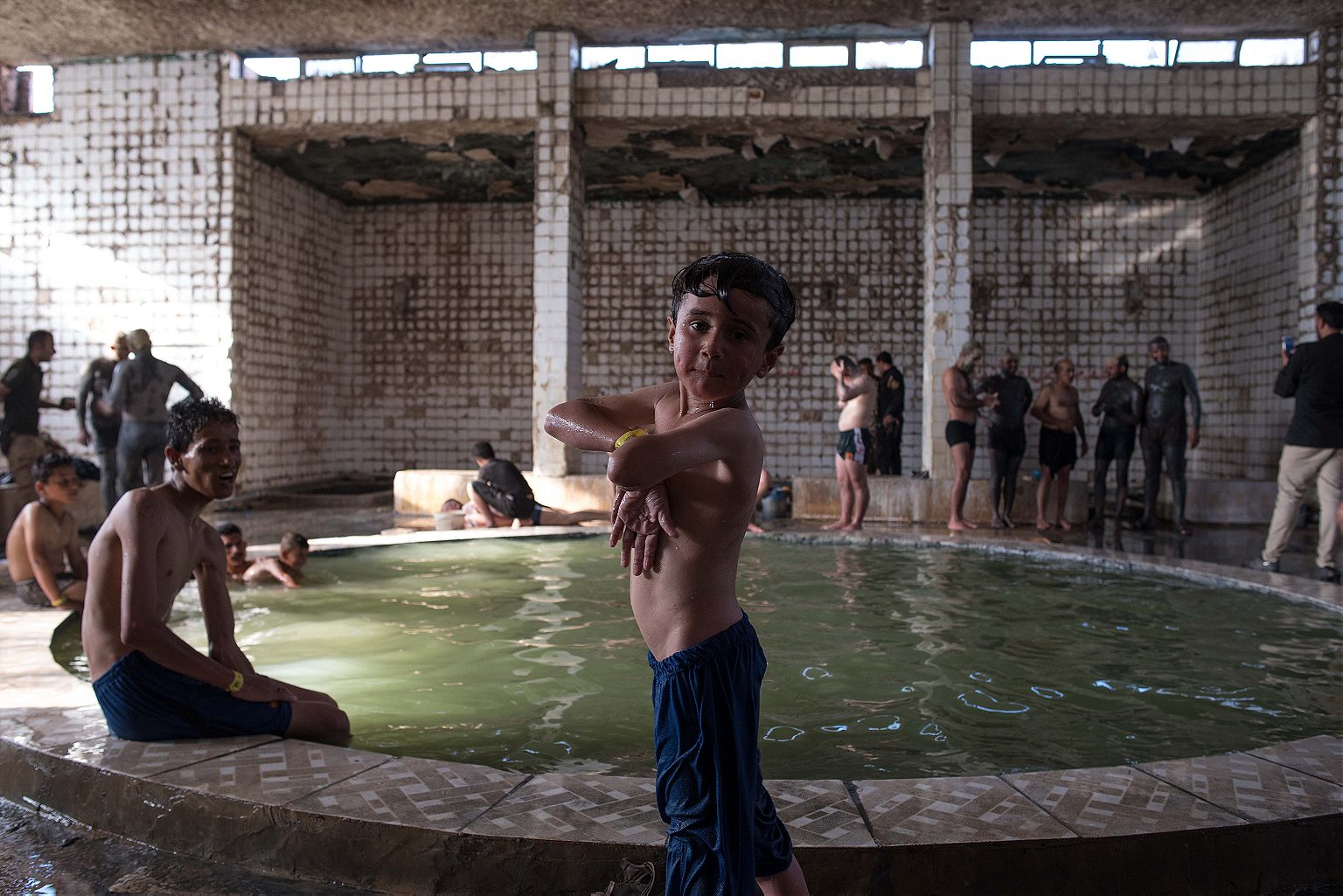 Putting down the notepad is a tempting proposition. I'm dusty and fatigued after a tense day reporting in Mosul. There was little happening news-wise in the destroyed city, but during a dash across an open road an Islamic State fighter fired an RPG our way, leaving us rattled. We pay our fee and soon a young boy is slathering mud onto my colleague's chest and I'm enduring a vigorous massage. I wonder where Ammar, my masseur, learned some of his more dynamic maneuvers. Legs are folded behind my back and hidden pressure points activated. I squirm, but there's no escaping his grip.
"When ISIS came to Hammam Al-Alil they took over the hot pools for their own use," he tells me between wrestling holds. "They were for their fighters only, everyone else had to stay away." For Ammar, this meant losing his income. The decidedly grungier outdoor pools nearby were left to the locals, but even there, the religious police patrolled to check the men were wearing approved swimming tunics—no swimwear allowed—a dress code that was enforced with lashings.
After a thorough scrubbing, Ammar rinses me down with buckets of scalding water until I'm gasping like a landed fish. Skin now glowing, I get back into grimy clothes, already thinking of the long drive ahead. Outside, the sun is already setting. The placid waters of the Tigris slip silently past, and a vibrant green bee-eater flies overhead. For a moment, the war feels a world away.