Everything You Wanted to Know About Millet But Were Afraid to Ask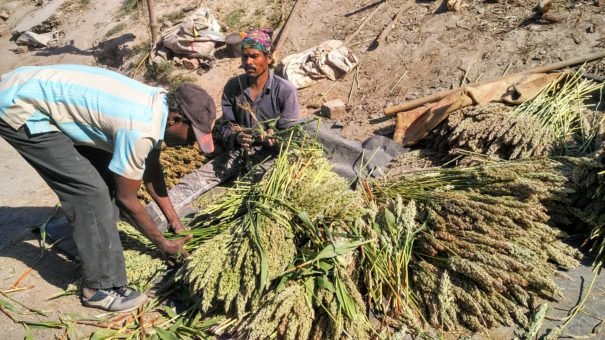 Everything You Wanted to Know About Millet But Were Afraid to Ask
Ponkh in Surat
It's a bit past the breakfast hour as I hitchhike to Surat's most famous winter market. Near Swami Narayan Mandir, a short trek away from the main road, under the Sardar Bridge, lies the processing unit of Surat's limited edition crop of ponkh, also known as tender jowar—one of the six species of sorghum found in the country.
One side of the market is lined with shops selling ponkh fritters while the other side has wholesalers selling the roasted and the dried version. Ponkh is Surat's winter crop. It's grown mostly in Hazira, a port town bounded by the Tapti delta and the Arabian Sea. After harvesting, the crop is brought to the market, where it's roasted, packed, and sold. A big chunk of it goes to stores in Mumbai, while some heads to famous Gujarati restaurants.
I had my first encounter with this pearl-like millet sometime last year at The Bombay Canteen, a Mumbai restaurant that celebrates local and indigenous produce. It piqued my curiosity, and a year later I was standing in the city where the millet originated.
The roasting process is a treat for the eyes and the ears. Bushels of fresh millet are first roasted under coals and ash, then wrapped in a coarse cloth for pounding. The pounding is soft and rhythmic, on the beats of Gujarati music blasting from the speakers. It's a visual experience. Families from tribal areas in Maharashtra come to the city every year to work at the processing unit. Men take care of the roasting and pounding, while women do the cleaning and packing of the final product.
After soaking in the experience for a while, I head to the shop to get some packed ponkh for home. There's a sun-dried version too, which is easier to carry and can be stored for longer periods. But the earthy sweetness of fresh millet, enhanced by roasting, is unbeatable. The ideal way to eat it is with sev—a deep-fried savory snack made of chickpea flour—and smothered in green chutney. Farms in Gujarat and Maharashtra have winter picnics or hurda parties (hurda is the Maharashtrian name for ponkh) where they roast it on the spot and eat it with flavored sev, green garlic, and a spritz of lime and chutneys.
I decide to have a late breakfast of ponkh wada—deep-fried ponkh fritters, split Bengal gram, and spices, as well as ponkh pattice—ponkh stuffed inside mashed potato and deep-fried.
It's fiery, so I wash it down with a bottle of cold chaas—buttermilk.