The Enduring Tradition of the Famous Portuguese Egg Tart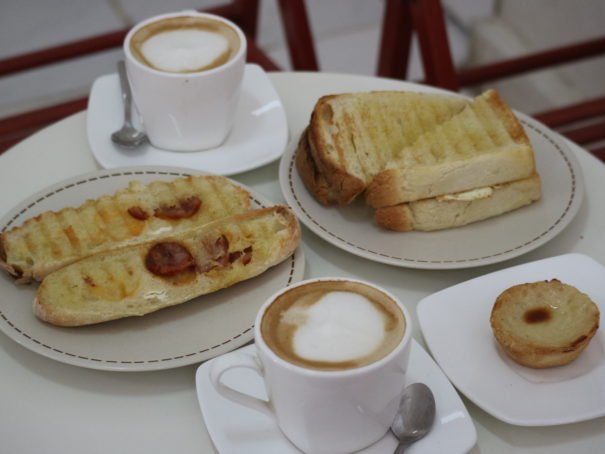 The Enduring Tradition of the Famous Portuguese Egg Tart
Pão and Pastel de Nata in Dili
A simple menu on the counter of Padaria Brasão lists two savory items: pão com chouriço and pão com ovos fritos. My knowledge of Portuguese is rudimentary at best, but from the photos alone it's obvious what's on offer. We order one of each, two coffees and a pastel de nata, the famous Portuguese egg tart.
'Long black or flat white?' the young woman asks in English, the Australian influence on coffee culture evident in the question. There's a sizable Australian contingent in Dili—recent compared to the Portuguese who've been coming for more than 300 years, originally as colonizers. Australians started to arrive during the late 90s, and more have arrived since the restoration of independence from Indonesia in 2002. But we're just blow-ins staying for a few weeks.
I watch dozens of local patrons leave Padaria Brasão with red plastic bags full of steaming bread rolls. Bread is a staple of the Timorese diet, and this acclaimed bakery makes it the traditional Portuguese way.
At a small table in the simple and spotless interior, everything is laid out for us. The pão com chouriço has been sliced lengthways and grilled with a few slices of fatty chouriço—the bread-to-meat ratio demonstrating old-world restraint. The ovos fritos is sandwiched between two thick slices of marshmallow-soft toasted bread. The coffee is strong and farm-to-table because Timor-Leste is a key grower. But while the style of brew is Australian, the milk used is long-life, and back home would be unthinkable with coffee, because only fresh milk will do.
The nation of Timor-Leste might be young, like its population, but the Timorese have old traditions, including the Portuguese ones like the pastel da nata, originally created by Catholic nuns in Lisbon over 200 years ago.
Holding Padaria Brasão's version, I take a bite of the flaky crust and caramelized edges of the filling. The tart's sticky sweetness fills my mouth. It may have originated in a distant place on the Iberian Peninsula, but in Dili, the pastel da nata is as everyday as bread.