What Happens Behind the Temple Stays Behind the Temple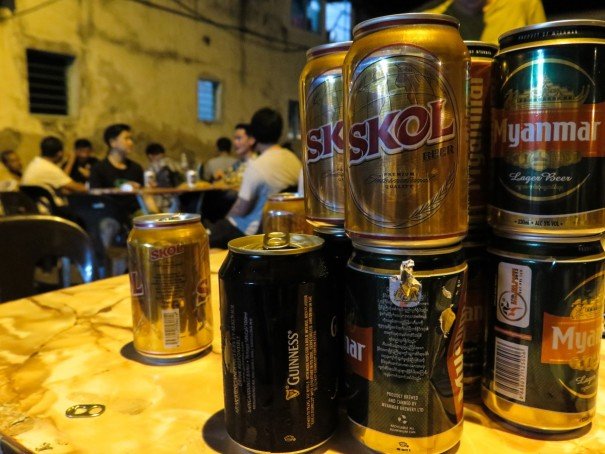 What Happens Behind the Temple Stays Behind the Temple
Skol in Penang
Right when the nearby offices call it another day, the end of Muntri Street beside the God of Mercy Kuan Yin temple turns into an open-air lounge for degenerates. Cheap red plastic chairs of made-in-China quality sprout on the street next to tattered metal tables that would look at home in a morgue. This is Antarabangsa (translated not coincidentally as 'The International'), George Town's most infamous watering hole, a decaying traditional shop house manned by two generations of a Chinese family responsible for selling the cheapest alcohol on the island. The boss—a bad-ass, plumpy man in his mid-thirties—waits behind the bar next to a standing fan, no shirt on, his man boobs glistening with sweat. Towers of cigarettes, small packets of nuts, dried plums, and collections of the most gut-turning Southeast Asian whiskeys are his halo. He's the pusher of an international array of beers neatly displayed before him in a wall of refrigerators. Skol, a European beer introduced in Malaysia by Carlsberg in 2004, has the lion's share. Three cans go for 11 ringgit, the equivalent of mere $2.62USD.
In Malaysia, a predominantly Muslim nation where spirits are costly imports and other brands, like Singapore's Tiger, sell for a minimum of 7 ringgit ($1.70) a can, we will never know where such cheap booze comes from. Some say it's smuggled from nearby Thailand, others from the tax-free island of Langkawi to the north of Penang. What is certain is that you won't find it cheaper than Antarabangsa. By 10 pm, hundreds of golden cans shimmer in the street corner's dim lights, littering the autopsy tables as proof of each drunken group's intoxication level. An Indonesian woman makes the rounds to collect the empties in a plastic bucket, saving them for the recycling shops that pay a few cents for aluminium.
For years, this twisted corner of Penang Island's World Heritage Site was shunned and feared by locals because of the populace of drunken Indians and the area's reputation for fistfights. Slowly, however, thirsty and penniless backpackers discovered the cheap Skol cans and made Antarabangsa a truly 'international' evening hangout. Seeing the white faces of these foreign kwailos ('white ghosts') sitting among the Indians, even the Chinese were convinced that Antarabangsa couldn't be as bad as they had been told. In a predominantly Islamic nation where ethnic identity is a marker of everything, finding Chinese, Indians, and foreigners from all parts of Asia and the West rubbing elbows over beer is quite an accomplishment. Especially when Skol beer, another international champ, is the clincher.
The other side of the coin is that these days, Antarabangsa has become so flooded by backpackers that Lonely Planet should consider including it within its budget nightlife options. But with all the drunken locals swaying from the tables to the temple's wall to pee—and sometimes vomit—in the drain, that's hard to happen. Kuan Yin, however, keeps turning her merciful eye across Harmony Street towards the cleaner alleys of Little India. She also believes that what happens every night at the back of her temple is better kept a secret.