Wait, Who Is the Guy Raising Chickens in This Town Famous for Its Chicken‑Eating Bear?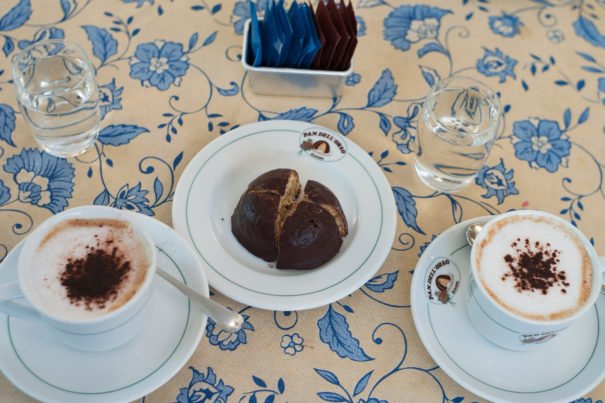 Wait, Who Is the Guy Raising Chickens in This Town Famous for Its Chicken‑Eating Bear?
Bear's Bread in Abruzzo
We came to Scanno, a town in Abruzzo's L'Aquila province, by chance. On the map, the area looked mountainous, wooded, and remote: just what we needed after an arduous vacation on crowded Italian beaches. Our hosts—Maria and her two sons—lived near Lago di Scanno, the lake to the town's north.
As soon as we arrived, they served us tiny cups of Italian coffee and asked whether we wanted to see a bear. "There is a bear living in the area," said Paolo. "It killed 89 chickens in a farmer's coop the other day," he added enthusiastically, whipping out his phone to show us pictures of the bear and its haul.
The lakeside area was famous for its resident Marsican brown bear, Gemma. It's one of only 30 or so of this subspecies left, found only in Abruzzo National Park. According to our hosts, Gemma has lived between Scanno and the nearby village of Villalago for 24 years. "She's not dangerous," Paolo said. "She wears a radio collar and eats only rabbits and chickens."
When we heard strange roars late in the afternoon, we were sure it was Gemma. We walked along the lake, but saw no sign of her, although the roars still rang out, keeping us in suspense. "Maybe it's just cows," my husband said. I thought it might be a lynx or a wild boar. But all we saw that day were some large sheepdogs guarding some horses and a few deer grazing calmly by the road.
As a consolation after our failure to spot the notorious bear, we decided to follow our hosts' advice and try the local treat, pan dell' orso, or "bear's bread." In years past, when local shepherds moved their herds to warmer parts of the mountains in the autumn, they took with them all kinds of food, including sweet pastries made of flour, almonds, and honey. According to legend, one night a big bear entered their camp, but ate only the pastries—which became an Abruzzo specialty, named after the mountains' wild residents.
Our hosts sent us to a local pasticceria (named, naturally, Pan dell' Orso) to sample this local delicacy. Because it's popular with tourists and locals alike, the barista knew what we had come for as soon as we came in. As it rained outside, we huddled in a corner with our cappuccinos and a small dome of bear's bread glazed with dark chocolate—the classic version. It also comes with white chocolate glazing, or with whole almonds.
For the full bear experience, we ordered a scoop of pan dell' orso gelato, made with almonds, chocolate, and cinnamon. But we never saw the real bear.