In a Kiev pizzeria, veterans struggle to adapt to life away from the Eastern front.

KIEV, Ukraine—
In December, something unexpected happened on the restaurant scene in Kiev. A group of war veterans opened a modest pizza parlor, Pizza Veterano. It shares space with a Japanese restaurant, whose owner decided to help the veterans' enterprise. There is nothing special about Veterano's pizza, but there was buzz in the local media that rivaled the long-awaited visit of a foreign pop star.
Two weeks after Veterano opened, there was so much demand that the cooks had to put a daily limit on the number of orders and look for more staff. Nobody expected that level of popularity, but the reason for Veterano's success is pretty clear. Veterano is the first public enterprise in Ukraine created by war veterans, at a time when servicemen are returning from the Eastern front and trying to adapt to life away from the frontline.
The armed conflict in Eastern Ukraine is not yet over. Despite the cease-fire agreed upon in Minsk, Belarus last year, there are still periodic skirmishes on the frontline. The war is now a frozen conflict, and many experts are concerned that it won't end with a clear victory, and that the country will have to deal with the consequences for decades to come. Post-traumatic stress disorder, alcoholism, drug abuse, suicides, and violence among war veterans and people living in the conflict zone are the main causes of worry these days.
Back in 2014, when pro-Russian protests in the East escalated into armed conflict, Ukraine wasn't ready for a war. The Armed Forces had neither modern equipment nor adequate provisions for its soldiers. Civilians were frantically collecting money for bulletproof vests, clothes, food, and even ammunition to send to the front. The country didn't have enough professional soldiers, so the government had to rely on conscripts and the patriotic fervor of numerous volunteer fighters, who "cried when there was no place for them on a register," says Anton Kolumbet, a former volunteer and a present-day veteran. Nowadays, there are enough bulletproof vests and shoes, so volunteers and professionals are focused on helping the ex-servicemen restart their lives.
Once back home, many veterans try to continue living where they left off. Some, like Kolumbet , find it impossible: "I had a top position in the tourism business before the war," he says, "But I couldn't concentrate on [my] career and earning money, buying a car and a house when I came back. Not after what I have lived through in the East."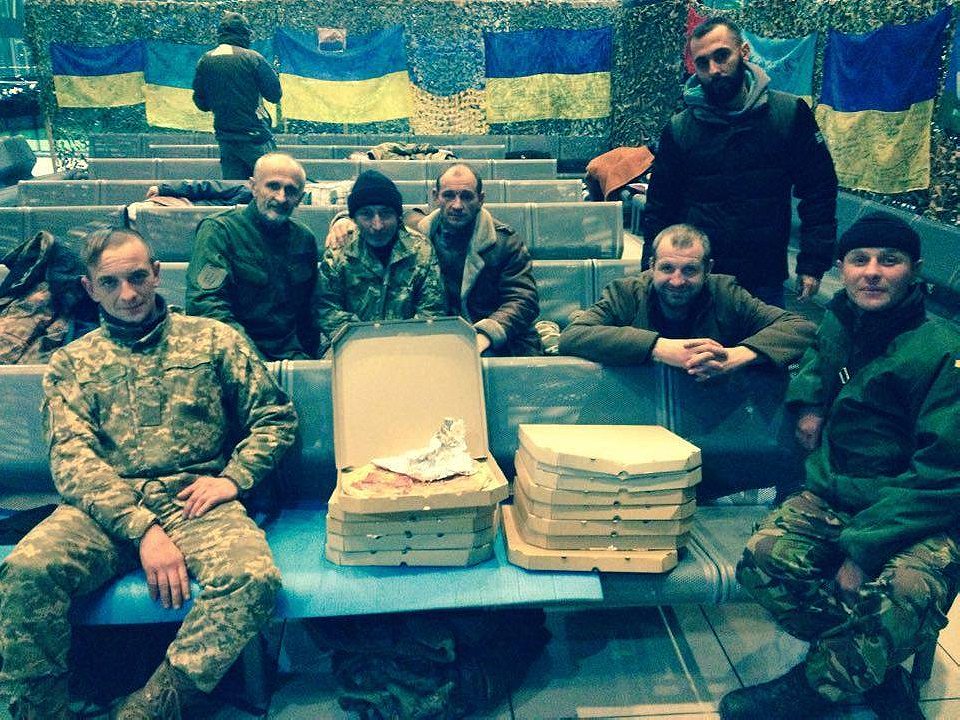 Instead of going back to his old life, he's using his administrative skills to help run a union of war veterans and takes part in a project designed to help servicemen to deal with everyday problems. The project is called No Armor and is mainly focused on creating a positive image of psychological therapy among veterans.
"In Ukraine a man has to be strong: He doesn't cry, he drinks vodka," says Anastasia Melnychenko, the coordinator of the project. "When one speaks about psychological therapy to a man, he takes it as an insult," she says. "Therapy, he thinks, is a thing for sissies or psychos." The aim of the project, Melnychenko says, is to help veterans understand that therapy is an act of responsibility and not of weakness, and share that with others.
Around 70 percent of all veterans and their relatives reject help, says Iryna Kryzhanovska, a professional psychologist who worked at the Main Military Clinical Hospital when the war started. "Some even rejected offers to go to Bulgaria for rehabilitation," she says. The reason is the same: Therapy is either considered shameful or is simply an unknown procedure in Ukraine. Although there are plenty of psychologists offering their help for free, not many were qualified to work with war trauma at the beginning of the conflict. Now foreign specialists have been invited to give master classes to Ukrainian colleagues and Ukrainian professionals have been sent abroad for training.
At the same time, many veterans feel they have more pressing matters at hand than their own well-being: finding a job, earning a living, and supporting their families, especially if they live in a village and have no one else to rely on. "There are instances when a veteran receives money for prosthesis but instead of installing it, buys fuel for his tractor and renovates his house back in a village," says Melnychenko, the coordinator of the No Armor project, smiling bitterly. "You go and try to convince him that he needs some art therapy."
The government is not very helpful in supporting the veterans. "There are people up there in the government that simply hate us," says Kolumbet. Besides, people are disappointed with the scandals in the new government and its reluctance to pass anti-corruption laws and introduce reforms. Servicemen have more cause for bitterness than anyone: They are giving their lives, while the politicians keep their schemes going under cover of the war.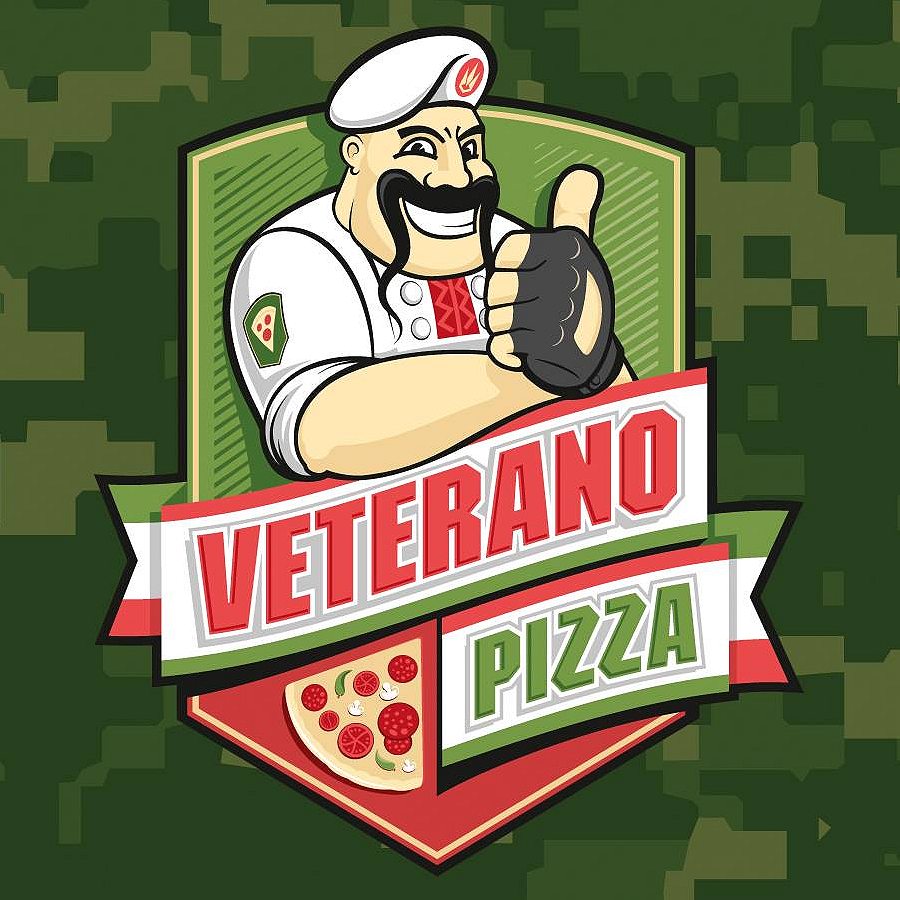 The government has promised the veterans a lot, including free medical treatment and financial help. But to get access, veterans need to battle through another war, in the offices of government institutions. Self-organized unions help their newly arrived comrades navigate the bureaucracy. One of the options open to veterans is a four-week course in starting an enterprise. Leonid Ostaltsev, a pizzaiolo in his former life, enrolled in the course and eventually opened Pizza Veterano.
Ostaltsev wanted it to be a simple affair: a place where his war buddies would come over for a chat, a drink, and a pizza. After a month of poring over the business plan, he had the idea that the pizzeria should be run exclusively by war veterans. It would make the venue stand out and provide employment for ex-servicemen. Ten percent of his monthly income would go toward gifts for children whose fathers died in the East, and all servicemen would get a pizza for free. He also decided that anybody could order a pizza for soldiers recovering in the military hospital and those about to be deployed at the volunteer center at the Central Train Station. The "pizza for a soldier" options now constitute most of the orders at Pizza Veterano.
When Ostaltsev announced the opening on Facebook, his post got more than 3,000 shares. On the first day, three hours before the opening, there were already 50 orders for soldiers. Within a week, Ostaltsev was all over the Internet, newspapers, and TV. "These days, I sleep three hours a day," he says in one TV interview, "But it is better than before. I am glad that I can still serve my country."
Pizza Veterano has gotten a few negative reviews online. People get angry about the slow service: Waiters forget to bring cutlery, and some reviewers call them arrogant. Ostaltsev says he never expected so much demand; there just aren't enough waiters or cooks, and they're inexperienced and often in a rush. They will get better with time, he promises. Some argue that there should be more alcohol on the menu, but Ostaltsev is adamant that people should visit his venue for the food, not alcohol. Besides, alcohol isn't the best idea for veterans struggling to adapt to life back home. They've seen enough alcohol abuse on the frontline.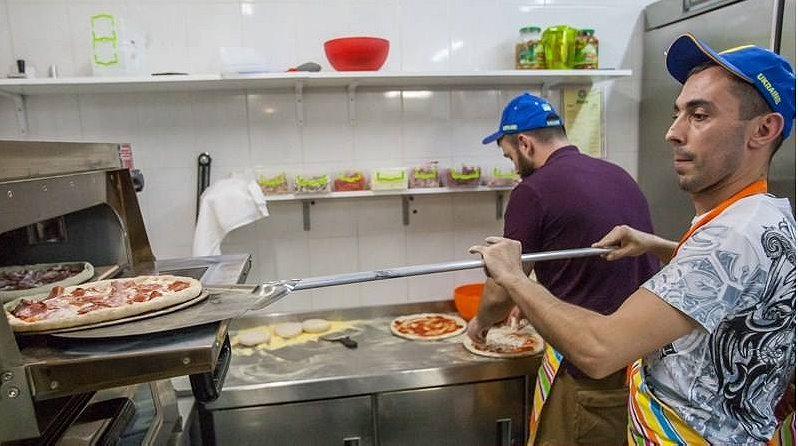 When I visit Pizza Veterano almost a month after the opening, there are still reporters hanging around. Ostaltsev says he doesn't need any more publicity. He posts photos of active soldiers receiving pizzas on <ażhref="https://www.facebook.com/Pizza.Veterano/" target="_blank" rel="noopener">Facebook so people can see where their donations are going, he says. When I ask him what he feels, taking pizza to soldiers who are about to be deployed, Ostaltsev says he feels a bit uncomfortable. "I don't give any advice or anything, I just tell them to return safe and that I owe them a pizza," he says. The soldiers, he says, are happy to receive such a gift and feel taken care of, being thanked in some way for their service. Some of the veterans in the hospital don't get any visitors at all.
Every Sunday, Pizza Veterano organizes free pizza-making classes for children with special needs and children whose fathers died in the war. The lessons are highly popular, and the list of reservations is full weeks ahead. The pizza parlor is now decorated with children's drawings and photos from the frontline.
Ostaltsev says that he decided to invite other war veterans to work with him because he felt uncomfortable among nonservicemen. Unions of war veterans were created partly for this reason: to get together and talk. Every district in Kiev has its own union; they organize concerts, vacations, and birthday parties. According to veteran Kolumbet, the get-togethers are therapeutic.
"There is a small percentage of people who have PTSD and who really need professional help," Ostaltsev says. "Usually we buddies notice when something is wrong and [say], like, hey, bro, listen: We think there is something wrong with you, I think you need to go to a shrink." Otherwise, they manage well between themselves, he says. "There is only one good thing about war: brotherhood. We bring it back from the East and keep it with us."