Pioneering chef José Andrés went to Cuba with President Obama's delegation. After Obama left, José stayed on for a home-cooked night of rum, salpicón and politics.
He was smiling at me. My sunglasses were next to his book on the bar. I turned away and felt a hand on my back. As if he were coming back to life. I had just finished my sixth daiquiri in less than half an hour—bartenders kick them out quicker you can drink them—but even so, he was not coming back to life. It was just another tourist jostling to get a prized photo with him. A selfie trophy-hunter, stalking the Hemingway statue next to me at the corner bar inside La Floridita.
La Floridita is an almost 200-year-old institution in the old part of La Habana. I felt more excited than usual in there. I could hear the music of anxiety in the air, my anxiety. That's the music Steinbeck referred to in The Pearl to describe situations without words. Okay, so La Floridita is a tourist attraction now, but I love to get the same view Hemingway had 70, 80 years ago. Bar packed. Salsa music in the air, live. A few tourists with no rhythm in their veins, dreaming they could dance. Fools. Decadence. But what I really couldn't understand were the people lining up along the bar drinking daiquiris through a straw. A straw? Did you imagine Papa "strawing" a daiquiri? No way.
I raised my hand. Fidel, the bar director, was ready to please with a seventh daiquiri. I took the straw out and asked for a splash of the best rum they had on top. A beautiful dark brown, with the aroma of molasses, on top of the pale, frozen citric daiquiri. I sipped it, bringing the glass carefully to the lips. That's the way to have a daiquiri at La Floridita.
Finally the chef of La Floridita came with a plastic bag. I had asked him to sell me some Brie and blue cheese. And a bottle of virgin olive oil. These are not easy ingredients to find on the streets of La Habana, so the best thing is to ask a chef. This one had brought me something else as well: I looked in the bag. Lobster tails. I puffed my cigar, a Cohiba Behike, once again. My fourth of the day and it was only 6 o'clock. I had three more at the beisbol game. Cuba and America becoming better friends through a sporting event. Historic. Legendary. Maybe life changing for many. Happiness thick enough to grab out of the air.
I looked at the lobsters again. I sipped my daiquiri. Yoani, my partner in crime, my hostess for that evening's dinner, had told me not to bring anything. "It's better that way." What did she mean? For the last four days I had been trying to contact her. Wifi is erratic at best in La Habana. Communications slow when available. So two nights before I had ventured late at night to her apartment in a concrete mid-rise building in the not-at-all touristy Nuevo Vedado neighborhood. To try my luck. Eleven pm. Semi-dark street. Fourteen-story building. I couldn't believe I was there. But no luck waiting for someone to open the door; after 30 minutes, nobody came in or out. And with no way to call her, I couldn't access the elevator that would take me to her house, or office. I left.
But today was different. I had an arrival time and an invitation. I grabbed the two plastic bags—cheese, oil, and lobster. I put them inside my black backpack. Sipped the last of the daiquiri and gave the cigar one last kiss.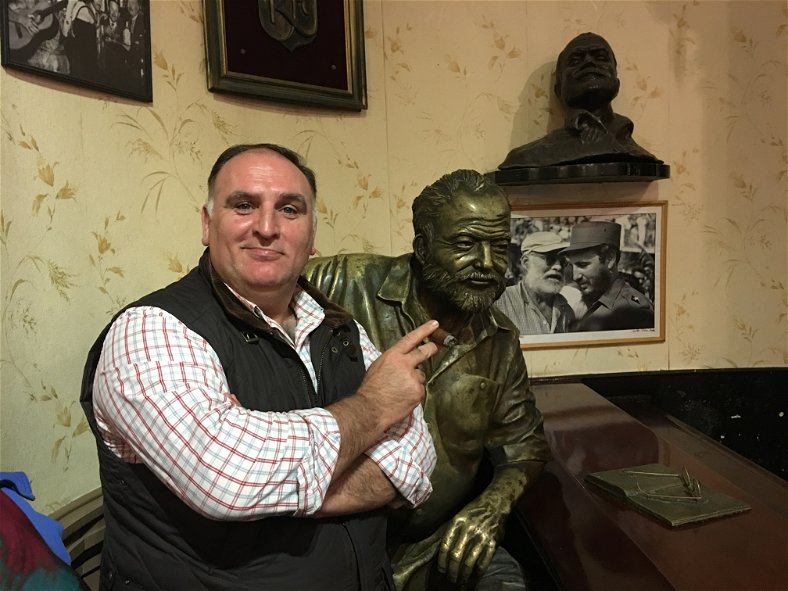 I jumped in a taxi. I thought it was better not to attract suspicion. I had with me the Cuban national team shirt. Beautiful blue. A baseball cap. Finally we arrived at Yoani's street. It felt good, at least, to be already familiar with the area. Still daylight shining through. I told the driver to drop me at the beginning of the street. Voy a andar! I told him. I wanted to walk. To arrive on my own. I asked him to wait for me. How long… I don't know. Thirty minutes or hours. I left him with a bag of shirts I had bought for my daughters. Trust: give it, and you get it back.
The sidewalks were cracked from years of tree roots breaking through, showing who was in charge. I turned my ankle. Pain for a second. The excitement was a good antidote to pain. I guess the daiquiris helped too. Finally I was there. I saw a man walking towards the door. I came in with him. And into the elevator. Fourteenth floor. But there were only 13 numbers. I didn't want to ask. I wanted to look like I belong. All the stories I had heard of police, informants, dissidents taken to jail. Yoani, my hostess, is an independent journalist. A famous one, because of the way she has used technology to tell the world what was happening in Cuba. Once on the thirteenth floor, I saw some narrow stairs leading to the fourteenth floor. Great. It existed. I arrived at a closed metal gate. I rang the bell. A man came from behind a door. He asked, Are you Joe? Was that code? I said yes. He opened the fence. And gave me a big hug, like you give an old friend you haven't seen for a long time. Even though we didn't know each other.
Finally I came into the apartment. Yoani was there. Her entire team just started clapping. It was only a year ago that I met Yoani in Washington. Her stories of Cuba, its fight for freedom, liberty. The hardships that everyday Cubans had to endure to move on. All of that resonated in my head. I had promised to visit her. And finally I was there. I was not in an apartment. It was like a Press room. The clapping, still I don't know why. I guess it was because of the few photos I had sent her from the backstages of President Obama's trip, which I had been invited on as an official culinary ambassador. I had sent a photo of entrepreneurs and Obama. And others. Photos were never sent to her directly but to Miami, and they somehow made it back to La Habana. By coming to dinner here during a trip I was on with Obama, I was helping to tell the story of the visit through a different lens. In my mind, I was just seeing a friend.
Yoani and her team came in and out. In the air was the smell of roast chicken and oregano from three small birds in the oven. Conversations were fluid. From family to paladares, to Obama, to beer, to ice… nonstop. I made a sopa de avena with brie, chicken juice, and chicken soup powder. Yoani told me how Cubans like big portions. They had been hungry and under stress. When they can, they want to eat big.
Yoani just was finishing a waffle in a electric waffle-maker she has on top the microwave. Tiny kitchen, so creativity is a must. But a waffle at 8 pm? Why didn't they have bread? "Well, no time," they said. "We've been busy." After all, she had just finished an interview with Obama's security adviser, Ben Rhodes. Big day for her. From a dissident to standing with a man close to the president. She was telling me how she was brave enough to ask for a interview with the president. "If you don't dream, it doesn't happen," she said.
The team was hungry. They had already devoured the Brie and the Stilton lookalike I put on the table.
There were only two waffles. I topped them with margarine, the blue cheese I had left, olive oil, salt and pepper. The salt she had brought with her from her last trip to D.C. She was proud of how many spices she had. Not every Cuban household was so lucky.
Cooks are a bit like Jesus. We can multiply anything
The waffle pizza was too small. We had no more flour or eggs to make more mix. But the team seemed to like it. In Cuba we like big portions, José. There's not much I could do. There was only one Jesus.
The chicken was ready. I cut it into small portions, sprinkled with oregano and some of the chicken drippings. I brought it to the table. All around the room: smoking, drinking beer and rum, one-on-one conversations.
Just after that I served a salpicón de langosta, with the lobster that I brought. Pieces of the lobster tail closest to the head, barely poached with olive oil, chopped lettuce, and vinegar. I was lucky. They thought they had nothing to cook with. But I am a kitchen survivor. I knew how to manage in a small navy ship kitchen, in gasless ones, in ingredientless ones… cooks are a bit like Jesus. We can multiply anything.
They were ready to put the roasting pan with the drippings into the sink. But the juices and the caramelized skin attached to the pan were more ingredients to salvage. I turned the heat back on, added a glass of rum, and scraped the bottom. I added tomato paste they had like it was a precious sacrament. I added water and let it boil. I had some chicken stock. I added the water left over from boiling the lobster ceviche. Some garlic. The pasta was ready. Half an hour before, I had been pan frying the spaghetti. Often you burn it if you are not careful. But the fire in that home seemed to be alive, in control, and well behaved. Soft. Like a whisper. As I was toasting the pasta, Yoani was telling me about an article. About Obama arriving. How on a rainy day he came out on his own, carrying his own umbrella. How he opened it and covered Michelle as she was leaving Air Force One. A sharp contrast to the Cuban officials, who had others carrying the umbrellas for them. A sign of what freedom means.
My culinary ego was saved
My broth was ready, I thought. Probably the worst one I've ever cooked, I thought. Toasted pasta went in. Small lobster medallions went in. And I put it in the oven to crisp up the top. If anybody saw that in Catalunya or Valencia, I would be doomed. But the dish was finished. On the long table, chaotic with plates of chicken, glasses of rum and cans of beer, we made space for the tray.
It was well received. The conversation turned to how you could go jail if you were a Cuban caught with lobsters. No boats allowed, so that nobody can escape the island. Too much temptation. The diners wiped their plates clean. My culinary ego saved. No one mocked me with Cubans like big portions José this time.
The night was not yet finished. Yoani liked a drink I made for her the month before in DC. A cremat. A burning rum drink with coffee beans and cinnamon and lemon peel. But there was no lemon or lime available. Strange this, in this perfect citrus climate. I felt a shot of guilt, thinking of how much juice they used to make my daiquiris. I told them the story of Catalan sailors returning home after the Spanish-American war in Cuba and elsewhere. Spain lost, but drinks and traditions were created. I sang a habanera, "El meu avi se'n va anar a Cuba…" Under the light of the burning rum, all sang along.
Yoani Sánchez is an independent media pioneer in Cuba, and a founder of the island's first independent news outlet, 14ymedio.