Oh, to Be Trapped Inside With a Beer on a Sunny Day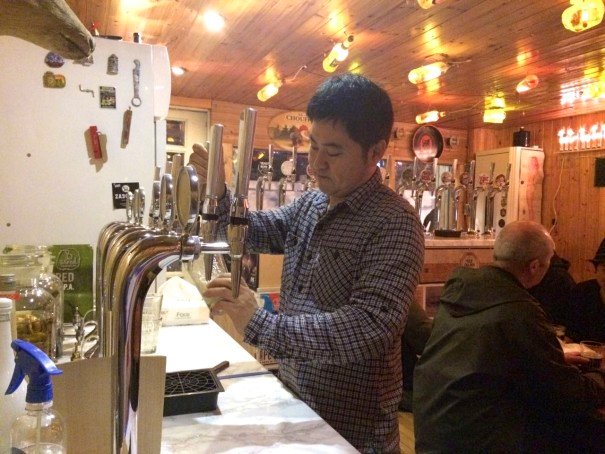 Oh, to Be Trapped Inside With a Beer on a Sunny Day
Ales in Shanghai
I had just gotten back to my apartment in Shanghai after a few months out of the city. It was 4:30 pm and I was eager to go straight back out. It was warm and I wanted to enjoy the last couple of hours of sunshine.
I immediately thought of one of my favorite spots in the city: Jackie's Beer Nest. It's a tiny, no-frills bar that serves the largest selection of hard-to-find beers in Shanghai. Owner and brewer Jackie Zhou built the 40-tap kegerator himself, and unlike other brewers who set up shop in glitzier and hip areas, Jackie has been operating from this tiny bar in Laoximen since 2008.
Laoximen is located south of People's Square and east of Xintiandi, but unlike its neighboring districts, there aren't neon billboards or shopping malls to be seen. Laoximen (老西门), which translates to Old West Gate, is the heart of the old Shanghai, and one of the few remaining traditional neighborhoods where Longtang buildings (弄堂), street food, and temples still coexist.
I hopped on my bicycle and headed southeast. I tried sticking to the calm and quiet streets, but these were often interrupted by sudden big crossroads, construction sites, and blocks of identical residential buildings. I notice Belgian beer bars, Korean bibimbap restaurants, and vape shops.
I arrived at the beer nest just a few minutes before five. Jackie had already opened up and took out an empty glass as soon as he saw me, ready to pour me a beer. There was a wide range of pale ales, IPAs, and DIPAs. New Zealand microbreweries 8 Wired and Yeastie Boys occupied a large number of the taps, but there were also IPAs from Chengdu and a Chinese date-infused IPA that Jackie brewed himself. I was tempted by Founders' Double Trouble, an Imperial IPA with an abv of 9.4 percent, but decided instead to go for a lighter session IPA from 8 Wired. It was only five o'clock, after all.
I went to sit outside, but Jackie stopped me. "Tables and chairs are not allowed outside anymore," he explained. Things change extremely fast in Shanghai, but the new rule still came as a surprise as Laoximen was famous for its street food and it was normal to eat and drink outside, surrounded by traditional Longtang houses. "We are now part of Xintiandi, so we have to follow the same rules," continued Jackie.
Xintiandi is the neighboring district, traditionally composed of Shikumen houses. It was now a redeveloped entertainment area and a popular destination for tourists.
As I stood at the doorstep sipping my IPA, I sensed the imminent change in the air. I notice the big E-Mart letters on a large building nearby. I could hear the familiar sound of bicycle bells, but could also hear the noise of demolitions and construction works in the background.