Let's take a moment to appreciate the quadrennial snowball of beauty and oddity that is the New Hampshire primary.
The world has moved on from New Hampshire by now: four days is an eternity in the political news cycle. But before the people of South Carolina have their say, let's take a moment to appreciate the quadrennial snowball of beauty and oddity that is the New Hampshire primary.
Complain if you want about the state's role as an earlier kingmaker—it's too white, too small, too full of burly French-Canadians and grumpy Irishmen and other demographic anomalies to speak for the entire country. But there is no place in this country where retail politics is as arduous and unscripted as the New Hampshire primary. After this, it's just one large media campaign. No boots, no mud, no ice, no chili cookouts at the firehouse, no sipping on pints in front of skeptical mill workers, just national media buys and an endlessly expensive spin cycle fueled by the bullshit industrial complex.
Much of what is good about the New Hampshire primary is due to one man, NH Secretary of State Bill Gardner, now in his fourth decade in office, a tireless defender of his state's unusual political traditions. And the greatest, most democratic thing Bill Gardner has ever done was to keep the ballot open to nearly anyone who wants, for a few frigid months in a tiny northern state, to run for president of the United States of America.
Photographer Shane Carpenter and I have been tracking down lesser-known presidential candidates in New Hampshire each primary since 2004. There were a near-record 58 Democrats and Republicans who paid the $1000 registration fee to be on the ballot. They run for reasons that are as varied and human as can be: loneliness, idealism, vanity, passion, paranoia. Our old friend Vermin Supreme was also on the ballot again, but he's mostly interested in satire and street theater. The rest we ran into had some deep desire to help the process, themselves, and their country. America, meet your lesser-known candidates.
Lloyd Kelso: The Organizer
We start early on Super Bowl Sunday, heading straight from the airport to The Draft sports bar in Concord, NH, where presidential candidate Lloyd Kelso surprises us with something of an entourage. Sitting at the long booth with him is Antwon Stephens, his 19-year-old campaign manager; a field volunteer named April who signed on after she had been his waitress at the Olive Garden ("I just thought he had something about him," she says); and her friend Elliot, who seems amused by it all and ducks out from time to time to stand on a dirty snowbank and vape.
Kelso, a family law attorney from Gastonia, NC, has spent around $80,000 of his savings on the campaign—five weeks living in New Hampshire, buying signs, paying ballot fees, and even traveling to Iowa, where the Democratic party leadership wouldn't allow him to participate in any mainstream political events. Kelso's wife isn't happy about the expense ("we're dealing with that") and his kids don't understand why he's doing it either. But he says he was compelled to run because nobody else matches his eclectic platform: strong support for gun rights mixed with quiet anger about income inequality and the continuing poverty of his hometown after the textile industry moved overseas. He's gotten some traction on Facebook: his page has 52,000 likes and he's always quick to respond to any question, challenge or encouragement from voters.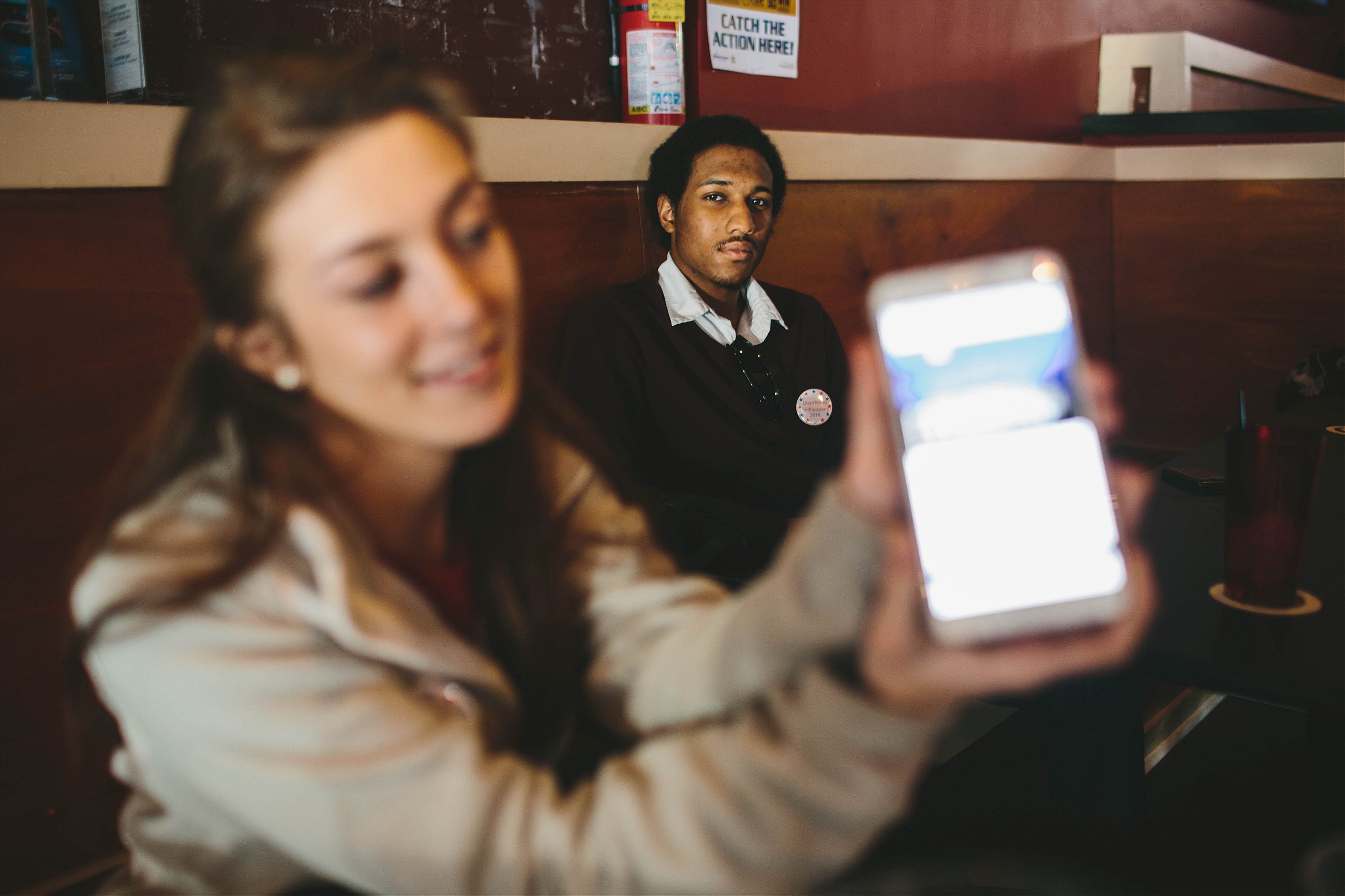 Retail politics and media are proving tougher. He knows most people aren't even aware he's running. "Tomorrow I've got two TV interviews," he says. "One is public access and tomorrow night, I don't even know where they show this thing, but I think it's called Doing it Live."
Stephens nods. He's only 19, but he says he has been into politics for at least a decade. "I remember being nine years old and wanting to listen to George Bush speeches, back when none of my friends even knew what politics was." Signing up to be the campaign manager for Kelso has made for an challenging first step in the business: the Kelso campaign has had trouble in all states but New Hampshire, rebuffed by seemingly arbitrary rules that allow the Democratic party power structures to exclude Kelso from ballots and debates alike, including in Stephens' home state of Georgia. Stephens' first takeaway: "Politics are brutal."
Richard Lyons Weil: The Romantic
Next stop is the Residence Inn in Concord; Shane and I have been here in earlier primaries. It's a favorite with lesser-known candidates, who need big rooms with kitchens for long-term stays on a budget. That's where Richard Lyons Weil, running as the "Reboot America" candidate on the Democratic ticket, met us.
Weil is an accomplished attorney from New Orleans, but also an author, a songwriter, and a hopeless romantic. He's been married five times, to everyone from his law clerk to his children's Guatemalan nanny. More recently, he drove his mobile home and his Shih Tsu-Pomeranian (named Precious Angel) to Colorado to finish his campaign video. While there, he met a woman he met on OurTime.com, a dating site for older folks, and she eventually co-wrote his Pocketbook of Politics. He seems like a rare candidate who is relishing the carnal advantages of a possible presidency: he once shot a campaign video in front of Victoria's Secret while talking about the hunt for the right First Lady. And when he wants to make a pitch for himself as next president of the United States, he picks up a guitar and sings a very sweet song about marriage. "This is my wedding song to the country," he says. "I'm gonna marry the country with this song."
Weil's politics are deeply informed by his father's progressivism and sense of duty. He published a book of letters that his father, a quartermaster in the U.S. Army, wrote home during World War II, and Weil laced his "Reboot America" pocketbook with bits of gentle wisdom from his father (along with Beatles lyrics and a touch of Jewish liturgy). His platform calls for a $22/hour minimum wage, tax increases on the very wealthy, universal health care and education for all. He's always felt this way, compassionate about the less fortunate, and angry about the "moneyed interests", but a heart attack two years ago convinced him to live every day like it was his last, even if that means running for President. "My kids think I'm completely nuts," he says. "But man, you're dead tomorrow. And that's really true."
Eric Elbot: Back in the Game
"Politics is just another sport," says Eric Elbot, Democrat for President. We are eating dinner with Elbot–Reuben sandwiches and nachos, Guinness and Amber Ale–as the Super Bowl plays on the televisions at JD's Tavern in the Manchester Radisson. Every four years JD's Tavern itself turns into something of a professional stadium for media and politics, where the prime athletes–Dickerson, Matthews, Klein, Cooper–filter in and out through the evening.
Elbot puts his sandwich down, leans in and tells us a different story about sports. He gave up watching football on TV, he says, and put his nascent political career on hold, when his wife died of breast cancer and left him a widower with three little kids. But now his kids are grown and happy and he is returning to "adult sports", to his political addictions. He's had a lot of careers, from Harvard think tanks to national security consulting, but now he is just enjoying the idea of being in the game, even as a minor player on the fringe of primetime.
"New Hampshire is this really cool thing," he says. "It's authentic. After this it's all about media buys. And it's expensive to get on ballots. I know lightning isn't going to strike. I'm not going to win. But it's been an honor." He owns a house in Maine, and spent much of his campaign in northern New Hampshire, talking to voters in the diners that serve as the community hubs up north. "I talked with a lot of white undereducated middle-aged guys who are really hurting," he says. "They can't find jobs, there's so much drug addiction. It was powerful. They cried. I cried too."
Bill McGaughey: White Rights, with a Twist
I don't know what alchemy transforms the personal into the political for some of these candidates, but it has happened to Bill McGaughey, a Minneapolis landlord with faltering health, a slight history of run-ins with the law, and a new mission. He is running for the Democratic nomination primarily as an advocate for white people's rights and men's rights, despite—or perhaps because of—the fact he is married to an African-American woman. "I know that sort of being an advocate for white people is not exactly respectable these days. But white privilege and insulting terms like that aren't helpful," he says. McGaughey is also running on a platform of a shorter workweek (32 hours, to be exact) and fair labor standards. But race is at the center of that discussion too, he says. "It's not that white people are trying to suppress black people, it's that the jobs are not there." His conversations about race with his wife are "one-sided," he says, "but we love each other. She'd respect me even less if I was a racial pushover, I think". When he got sick on the campaign trail in January, she came out from Minnesota to be with him in the hospital. Now that he's well again, she's supporting his candidacy. Sort of. "She's all for the shorter workweek," he says. "She doesn't like me talking about race."
McGaughey was an accountant and a talented enough writer to have co-authored a book with famed progressive Eugene McCarthy (the book was an argument for a shorter workweek). More recently, though, came this YouTube video in which he talks about how his ex-wife brought domestic abuse charges against him, which he says were later dropped. He has had run-ins with the city of Minneapolis over living conditions in the low-income apartments he rents out. Things seem to sliding down around McGaughey, and he's running for president, as his former mentor McCarthy once did, perhaps in response to all the uncertainty. About McCarthy, he says, "I'm not sure he would endorse my campaign."
Roque "Rocky" de la Fuente: There's no Gandhi in this Race, so I'm Here
"Listen," says Rocky de la Fuente, leaning forward, hand lightly on my elbow. "I really think you guys are doing something good here. And when I win this thing, we're going to need good people who want to work hard for their country. I can't do it alone. Come talk to my people, if you want to put in two good years of hard work for my administration."
De la Fuente is unique among the group of lesser-known candidates. He's not white, for starters. He's got a small staff he orders about in English and Spanish. He's got a slickly branded semi-trailer, a campaign bus, and a Rocky 2016 jeep he keeps artfully parked in front of the Manchester Radisson. I ask what he does for a living. "I pay a lot of taxes," he says. "I run a lot of companies".
He says he wouldn't have gotten involved if there had been a good candidate around—a Gandhi, a Mandela, even a Biden would have done—but there wasn't, so it was his turn to step up. He has a succinct, if whimsical, platform: halve homelessness, build 100 new massive city parks throughout America, create a million new jobs, and have an immigration policy that unites instead of divides.
James Valentine: A New Fucking Constitution
By the time I finish with my thoroughly enjoyable hour at the bar at JD's Tavern with James Valentine, I have heard him mention his "new fucking constitution" enough times that I'm starting to imagine it as an acronym: New Fucking Constitution. NFC.
Valentine says he has written the first NFC for America in 200 years, and he wants everyone to go to thevalentineconstitution.com to learn about it. If you can't just get there just yet, he would summarize the document as a Grand Bargain, a mix of environmental concessions to liberals and tax concessions to conservatives. Or, as he puts it, "I'd have the left by the balls, and the right by the balls. Occupy and Tea Party would both be with me." He's a bit mystified as to why his document hasn't gathered more traction. He looks around JD's Tavern: we're 30 feet from where that "little bully bastard" Trump is currently being interviewed on MSNBC. He points to the gathering media behind us. "What's the word I'm looking for? They're all so cynical. They don't give a shit that the author of the first constitution in 200 years is here?"
Stephen Comley: The Long Struggle
Campaigning is brutal, especially if no one will spare you a minute, much less allow you onstage. And there are those, like Stephen Comley, Sr., of Rowley, Mass., whose campaign is part of a much longer, much harder march through a conspiring world. "This is a pretty monumental task," he told his local paper when he announced his candidacy for president. "But I want you to know that my campaign manager is going to be Jesus Christ. You can't get any better than that."
Comley is a capable man—he ran his family's sizable nursing home for decades—but he has fought shadowy governmental powers since the Reagan era, and he promises that he could hand me "the biggest story of the entire 2016 election" if only we would pay attention. That story, it turns out, is an unsalvageable tangle of affidavits and assertions about unsecured nuclear plants and Obama recruiting for ISIS, but the emotional cost of being the center of a vast conspiracy is real.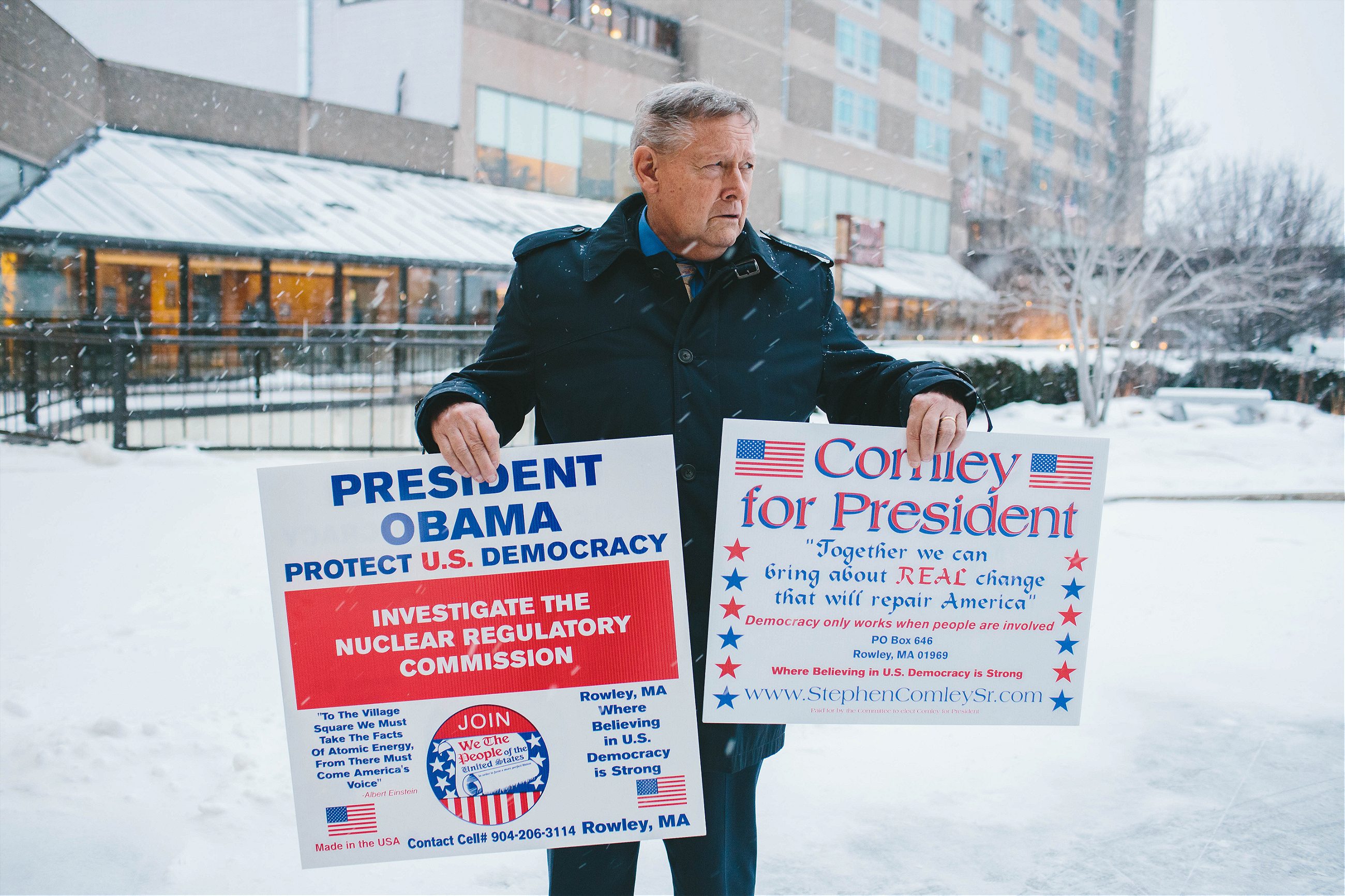 It was only when I turned away to speak to Secretary of State Bill Gardner (whom Comley is threatening to call as a witness in a planned lawsuit again Bernie Sanders) that Shane found Comley fighting back tears. He was talking about his wife, whom he adores, who finally left him recently, weary of the long years of bitter struggle against the powers, real and imagined, arrayed against him. There's not much to do except to wish him peace, election or no.
Steven Lipscomb: Fixing the Rigged Poker Game
"Look, who would want to be president? Anyone who raises their hand for this job should be automatically disqualified." That's the first sign that Steven Lipscomb, the founder of the World Poker Tour, isn't actually campaigning to win. Rather, his candidacy is something of an extension of a reality show that he's been pitching since he sold the Tour and started looking for what to do with the rest of his life. Yes, there's a platform there—he's plugging something called the Fix-It America Constitutional Amendment, which would take money out of politics and ban gerrymandering (more details at FixItAmerica.org). But he's still hoping that his show concept, Born 2 Run, in which television audiences pick a leading candidate from each party to run against each other, will have traction beyond this primary.
We meet him in the cafeteria at Merrimack High School, one of the largest voting precincts in the country. The elections biggest logistical crisis is unfolding outside as a traffic piles up for hour-long delays, but Lipscomb seems completely relaxed, with succinct and compelling arguments for taking the money and corruption out of political campaigning. "I'll tell you this," he says. "If you sat down at a poker table, and it was rigged like this game is, you wouldn't stay in there very long."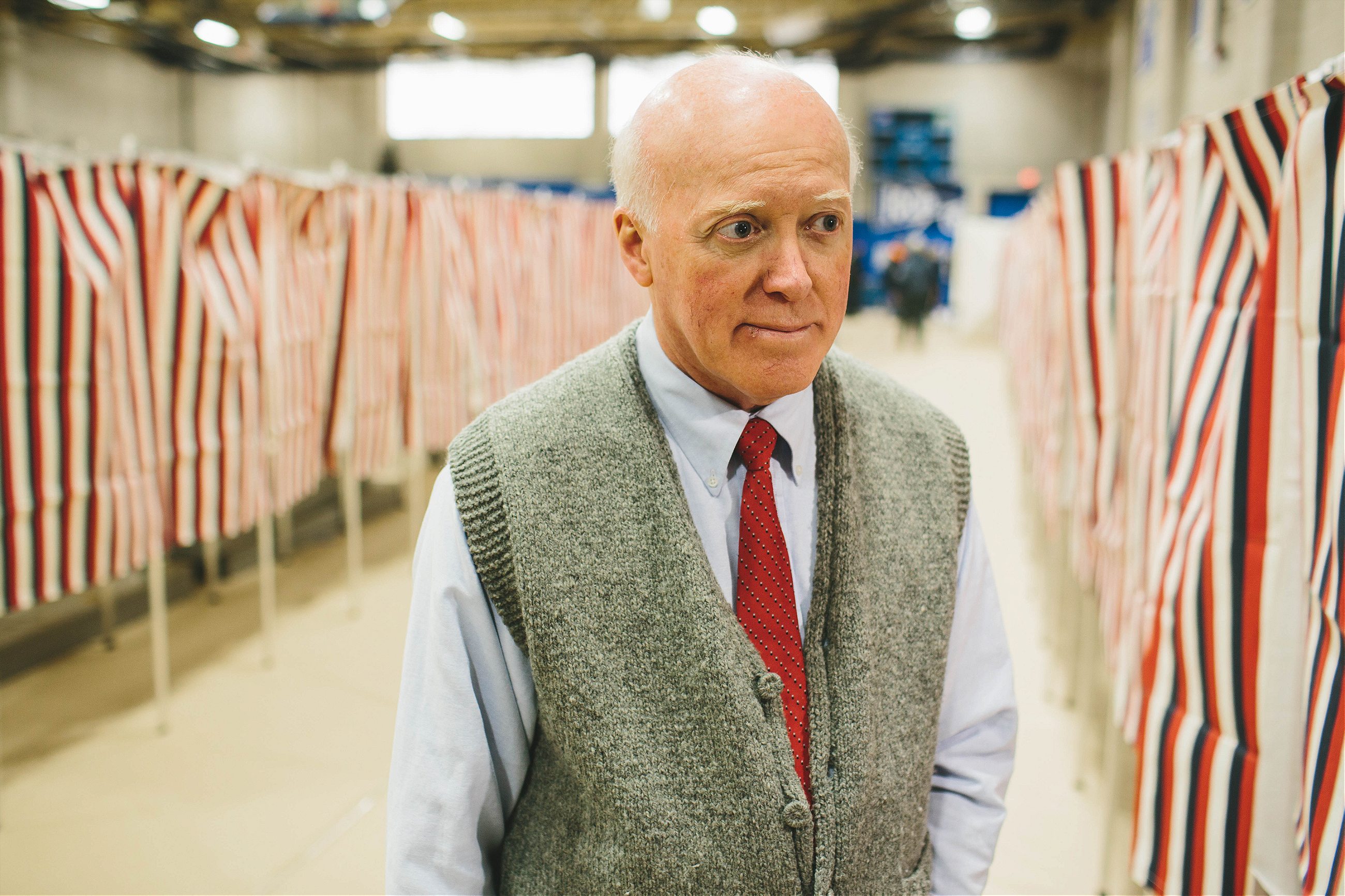 The Results
The day after the vote is a tough one for most lesser-known candidates. Whether delusional or just optimistic, candidates can get carried away with their own expectations. And while the major media headlines announce the big winners and losers, the lesser-knowns have to find their disappointment by scrolling much farther down the page.
Vermin Supreme, as befits a man with such a striking legal name, came out ahead of all the lesser-knowns, with 260 votes. The others did worse, sometimes much worse.
"Well, I only got 17 votes," says McGaughey when I reach in him Pennsylvania. "I was 22nd among 28th candidates, but I had spent quite a bit of time and effort on this… I just can't account for it. I'm not depressed, but I'm disappointed."
Valentine, who had wanted to take his name off the ballot after all, isn't too upset about his 25 votes. But he is still mystified by the lack of attention to his New Fucking Constitution. He suspects that his staff is to blame for some of it. But if the NFC doesn't get any traction, he doesn't care. "Doesn't matter," he says. "I'm already working on writing a new constitution for India."
Eric Elbot had an unusual therapeutic solution to get past the fact that only 34 people voted for him. "I went to the Marco event at the Radisson on election night," he says, "to see him and his supporters and just to share in their pain."
Richard Lyons Weil, who got just seven votes, the lowest of any candidate, went back to Colorado early the day after the primary. "Oh, god, I didn't get all that many votes," he says by phone. "But I feel great, because I had so many wonderful contacts, and interviews, and whatever. I wish I would've gotten 19,000 votes or something, but it is what it is. It was so very much well worth it."
Lloyd Kelso, who had given so much for so little—just 47 votes for all that time, heart and money, was driving with Antwon south to the next primary. "We're starting a write-in campaign in South Carolina," Kelso says brightly. "Jimmy Carter won the presidency, and he got less than 1% of New Hampshire." He pauses. "I'm no quitter."