A Surprisingly Serene Brunch in Between Parking Lots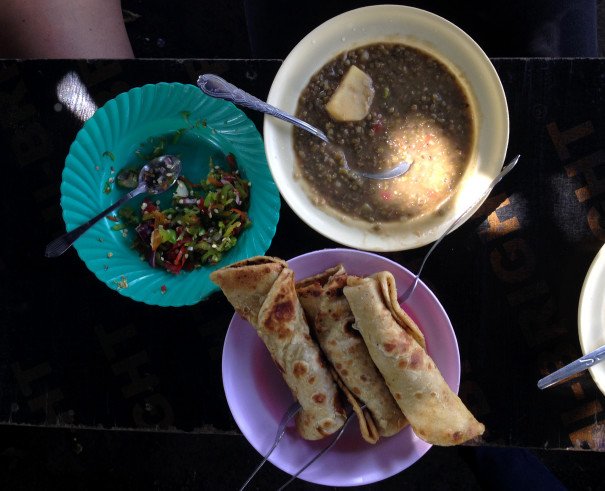 A Surprisingly Serene Brunch in Between Parking Lots
Irio in Nairobi
I wasn't sure what to expect for brunch from an informal Kenyan eatery with no name. Research told me a typical Kenyan breakfast consists of uji, chapatti or mandazi—porridge, flatbread or doughnut—and a cup of chai. But it was already late in the morning when I approached the restaurant with my two friends, and we had no guarantee what would be on the menu.
Under the shade of a few trees, five women dressed in brightly colored skirts took turns chopping vegetables, stirring pots, and seating customers at a makeshift dining space. This restaurant couldn't be more unlike the fine dining venues at Nairobi's infamous Westgate Mall across the street.
A cluster of massive pots—some of which held about five gallons of liquid— were boiling aggressively over open fires. There was no breakfast in sight, apart from fried eggs, as lunch items were already being prepared.
Not wanting boiled fish or boring eggs, we consulted the staff to determine a brunch-appropriate alternative, deciding on cowpea stew, chapatti, and irio.
We took a seat at one of several handmade picnic tables where only four or five other customers were scattered. The venue was surprisingly serene despite being sandwiched between two busy mall parking lots.
One of the staff, armed with three plastic bowls, delivered a stew that resembled green lentils more than cowpeas. I asked what type of bean was used, but not speaking Swahili, I could only understand the description of "green beans." After a taste test, the consensus among my friends was that the stew was made of lentils.
I've never had lentils for breakfast. Being a vegetarian, they're my usual go-to for a hearty dinner on a cold day. I was surprised to discover the stew—flavored with only salt, pepper, onions and tomatoes—a satisfying breakfast.
A plate of three chapattis was brought over to us by a man who was kneading, frying, and stacking the cooked dough with the speed and efficiency of an assembly line.
The greasy chapatti was a welcomed comfort food and perfect for scooping up the stew. A plate of irio—mashed potatoes laced with kale and kernels of maize—also complemented the stew. While the individual dishes were rather bland, the combined flavors and textures were perfect for breakfast. Spicy peri peri (peppers) were also offered to give the meal a kick.
We leisurely finished off our meals, enjoying the breeze and sunshine. It cost less than $4 to feed all three of us and we were left so full that lunch wouldn't be necessary. Given that a single cup of coffee at the fancy mall across the street goes for nearly the same price, the idea of ever again choosing a pricey Western brunch over the open-air eatery seemed ludicrous. If we arrive early enough, we have mandazi to look forward to.