A Dream‑Like Jet Lagged Meal Interrupted by a Monster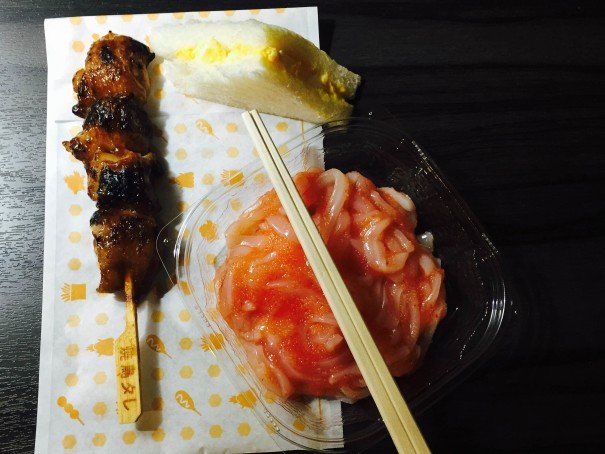 A Dream‑Like Jet Lagged Meal Interrupted by a Monster
Squid in Kanazawa
Through some combination of naiveté and denial, I believed I'd overcome my jet lag just three days after leaving New York, but it persists: I am wide awake, and hungry for breakfast, at 2 am, after a few hours of super-deep sleep in a business hotel in Kanazawa, Japan. There are worse fates.
Kanazawa is a city of just under half a million people, situated at the foot of the Tateyama mountain range and just inland from the base of the Noto Peninsula that curves into the Sea of Japan. The shinkansen (bullet train) line from Tokyo that once terminated in Nagano began running to and from Kanazawa in April 2015; for now, this city remains largely unexplored by foreign tourists, though they—we—are slowly starting to arrive.
Yesterday was Shunbun no Hi, the vernal equinox, a public holiday in Japan; at lunchtime, the 300-year-old, seafood-intensive Omi-cho market was packed with families snacking on oysters the size of a grown man's hand, steamed snow crab legs, uni in the shell, and megaprawns. Now, after hours, there's a high concentration of drunk, young, cigarette-smoking life on the wide avenues and tiny back alleys that intersect outside my hotel as I walk to Lawson, the nearest konbini.
It's reliably over-lit, staffed by unwavering professionals, and crammed with things like "fish and almonds"—a bag of slivered blanched nuts mixed with tiny dried silvery fish—and packages of chewy, semi-dehydrated squid rings coated in spicy grated roe. I have already tried, and loved, both of these snacks, but I want something more recognizably meal-like, so I choose a cold container of sliced raw squid seasoned with spicy roe, a skewer of juicy grilled and glazed chicken thigh, and a salty egg salad sandwich on crustless white bread.
Back in my hotel room, I brew a cup of green tea and happily consume the meal that I hope will convince mind and body to let me sleep for a few hours. I turn on the TV, seeking further narcotic effect, but there's that fucking garbage monster, Donald Trump, a dream-stealer, a waking nightmare. I may never actually sleep again.