How an unassuming Canadian suburb became home to a booming South Asian majority.
My grandmother told me something strange about white people. As a schoolgirl in pre-Partition India, she learned that white skin was hardened by cold climates, which is why white people were so industrious. Adversity had made their flesh firm. Teachers and older relatives agreed: white people weren't afraid of hard work. White ambition built great civilizations, solved problems, birthed heroes. It fattened bank accounts and expanded properties. White resolve did not melt in the hot sun; it did not succumb to noon-hour naps. Brown laziness had bought our crummy reputations in politics and finances. The sun crisped our ambitions over time until there was nothing left but vice and survival.
In 1975, a formidable majority Muslim population was tightening its grip on public life in Pakistan, making it difficult for Christians to live comfortably. My grandmother scanned the globe for a place where her faith wouldn't hinder her three children. When her son was admitted to the University of Toronto, zarda was delivered to every neighbor's home in celebration. Everyone in the neighborhood ate their weight in the sugary, canary-hued rice sprinkled with almond shavings. Long-grained, slightly sticky, seasoned with saffron and peppered with raisins, zarda is happiness in a saucepan; it commemorates everything from new cars to new babies. The perfume of zarda hung in the air for hours, an exhilarating mixture of sugar and spice and beginnings.
The family arranged to stay in a suburban outpost of Toronto called Brampton, and in idle moments their thoughts drifted across seas and nations into Canada: the wondrously wide streets, the quiet dignity of its national flag, the purifying chill of winter air.
In the tenth grade, my mother's peers threw chalkboard erasers at her head from the back of class
In Canada, a dashing Quebecois politician named Pierre Trudeau had transfixed the nation. He championed relaxed immigration policies and inserted multiculturalism into the Canadian national identity. Trudeaumania was altering the country's cultural landscape; the left was mesmerized, the right rolled its eyes. The young politician was often swarmed by throngs of youths. Canada—land of lumberjacks, farmers, and fishermen—was changing.
Still, when my mother enrolled in the tenth grade, her peers threw chalkboard erasers at her head from the back of class. Her long black hair, a dark needle in a blonde haystack, elicited sneers from girls in Jordache jeans and cowl-neck sweaters. She doused herself in Avon perfume to drown out the smell of tarka—the aromatic blend of onions and spices that anchors most Pakistani dishes. A cursory scan of the 1975 graduating class reveals many mullets and moustaches, but only a handful of colored faces scattered throughout the glossy pages.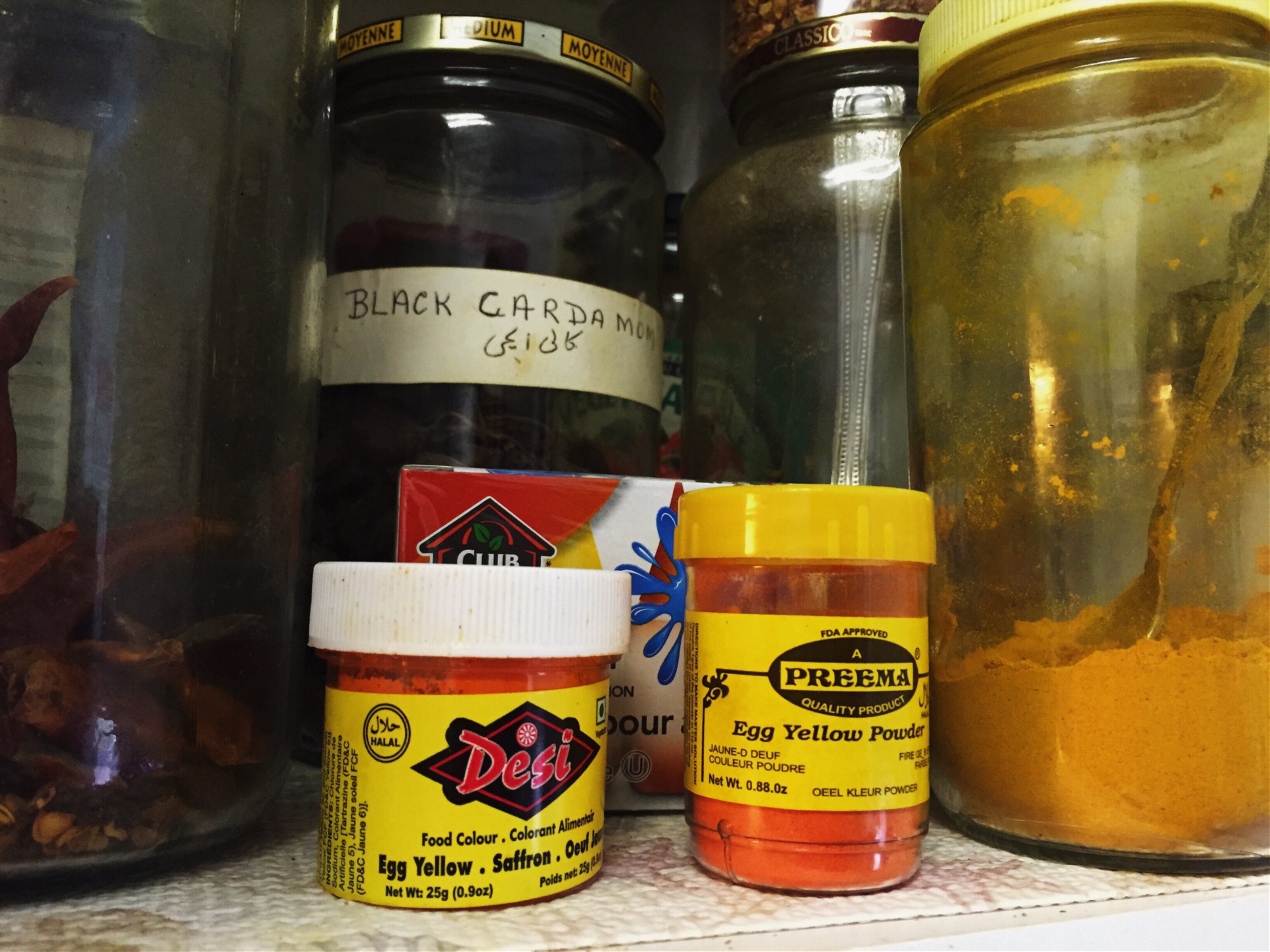 My mother's eight-year-old brother journeyed home for lunch every day, eager to be embraced by the smoky scent of parathas fried on a crowded stovetop. A dense, roti-like bread made from durum wheat flour (atta) and fried in oil, paratha is served with almost everything. Inhaling a familiar bouquet of canola oil, cardamom, and cloves, my uncle momentarily forgot the shrill voices of classmates berating him for his heavy Punjabi accent.
One of my grandfather's first jobs in Canada involved nighttime security duty for an open-air heritage museum that replicated life in 19th-century Ontario, complete with a gristmill and an "authentically furnished" general store. My grandmother packed him a warm roti wrapped around aloo ghobi (potato and cauliflower) or bindi (okra curry). By the time he ate it, alone on a bench surrounded by wilderness and night, the food would be cold. Charged with the protection of antiquated life in Canada, my grandfather negotiated eerie noises and unsavory shadows into the wee hours of the morning.
At church, white faces offered wide smiles and exaggerated two-handed handshakes. The family had the golden ticket—crosses around their necks and prayer books in their hands —but their names stretched Canadian mouths in peculiar directions. The church organized potlucks, staged in the church basement or in the homes of pastors, and asked about Pakistani food with wide eyes. That year, pizza was the latest in titillating cuisine; teenagers ventured downtown to snag a slice and bragged about their adventurousness. The churchgoers paused for a moment, and then asked that my grandmother bring something Pakistani for everyone to try.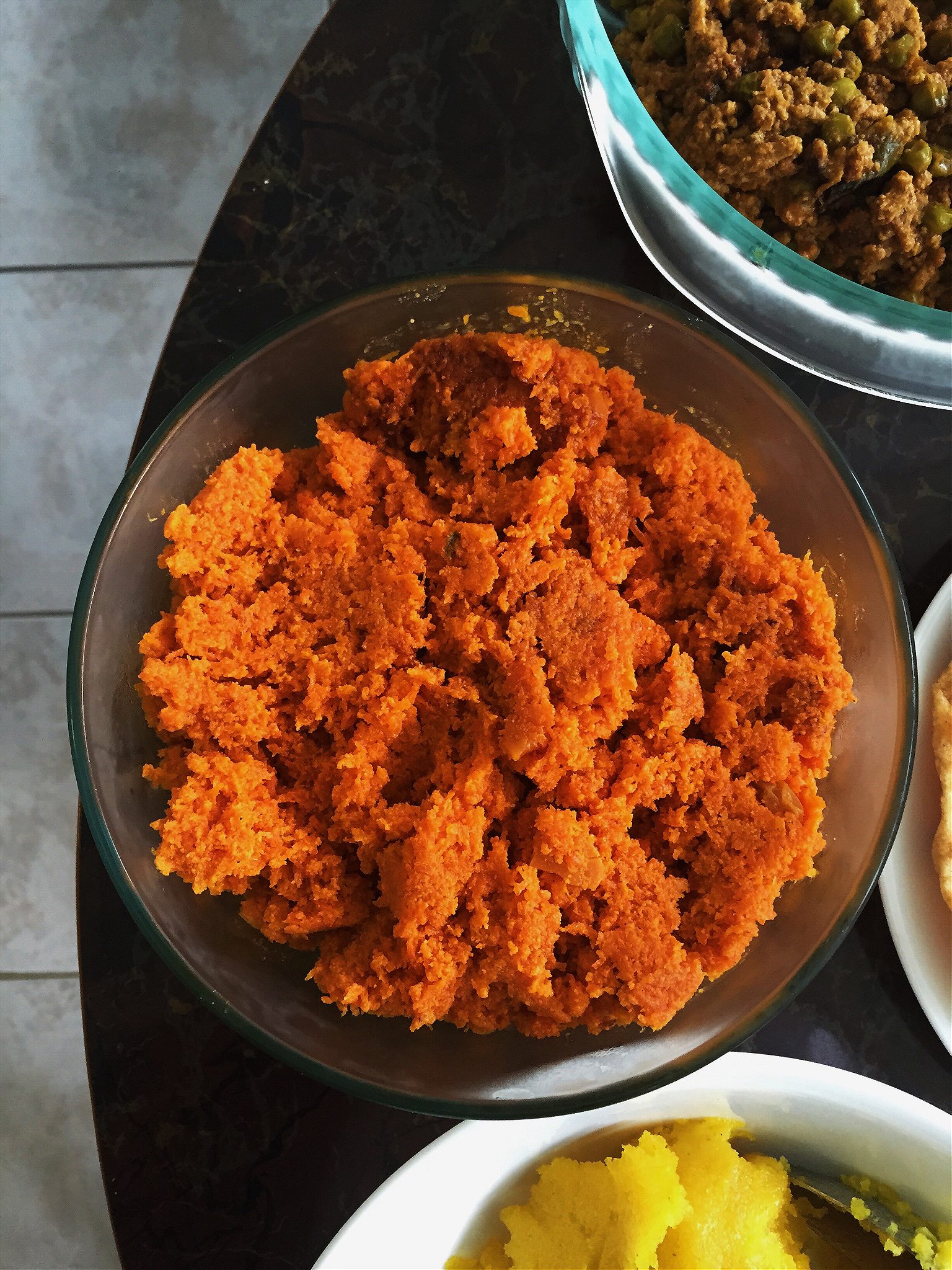 A January snowstorm swirled through the city as my grandmother hauled plastic bags full of vegetables and spices on the bus, the thin handles burning blisters into her hands. She juggled bus tickets, frigid temperatures and disapproving stares. She stepped gingerly on the icy sidewalks.
At home, as she fussed in the kitchen, she fretted about spice levels and brainstormed Western synonyms for foreign-sounding dishes. She decided aloo pakoras were a fairly safe bet ("They're sort of like chips!"). Comprised of potato slices dipped in a spicy gram flour batter and deep fried, she served them with raita (yogurt-based dip accented with mint and cucumber, effective at tempering spice). Pulao also became a staple at bible studies. Softened with chicken broth, pulao is rice cooked with various meats and vegetables. My grandmother's method involves combining rice with dalchini (cinnamon sticks), zeera (cumin), cloves, and elaichi (black cardamom), all wrapped in cheesecloth and placed in a large roasting pan. The rice can be finished with chicken or lamb, or kept vegetarian with raisins and green peas. And of course, the perennial zarda, meticulously arranged in a glass pan and sprinkled with dried cranberries, a North American adaptation.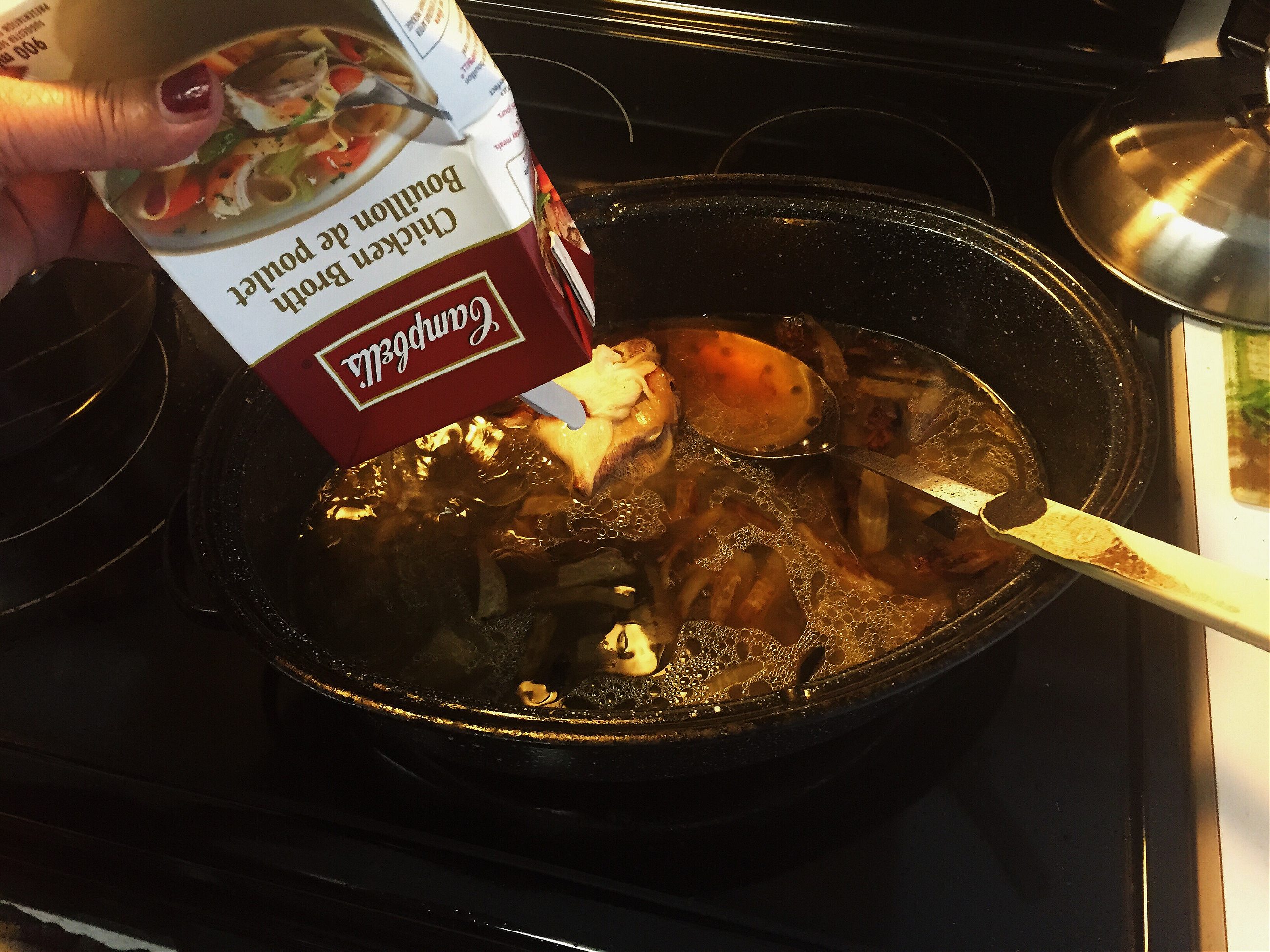 On the day that Pastor Finney rhapsodized over her food from the Sunday morning pulpit, lavishing praise on her skill and his cleared nasal passages, my grandmother exhaled a sigh of relief. At least this battle was won. If you can't beat them, feed them pakoras.
Today, at Brampton's Popular Pizza, you can get any pie finished 'Punjabi-style': with ginger, garlic, fresh coriander, and any variety of chilies. Tandoori fish is available, as is butter chicken pizza and shahi paneer gravy.
Brampton is comprised of nearly 50 percent immigrants, most hailing from South Asia. By the time Trudeau left the nation's highest office in 1979, only 30 percent of immigrants were of European origin, with national immigration quotas being increasingly filled by Asian countries. As the 20th century came to a close, South Asian influence in Brampton could not be denied: there were more Indian video stores than Blockbusters, more Desi grocery stores than traditional supermarkets, more fireworks in November (for Diwali) than July (for Canada Day). A Little Punjab had long ago formed around Brampton's first gurdwara, the place of worship for Sikhs, and Curlew Street had been renamed Gurdwara Gate. Mithai (South Asian sweets) shops, sari stores, and Indian restaurants dotted every major street. As of 2013, two-thirds of Brampton's population identified as a visible minority. By 2031, close to one in four people in the Toronto area will be of South Asian background.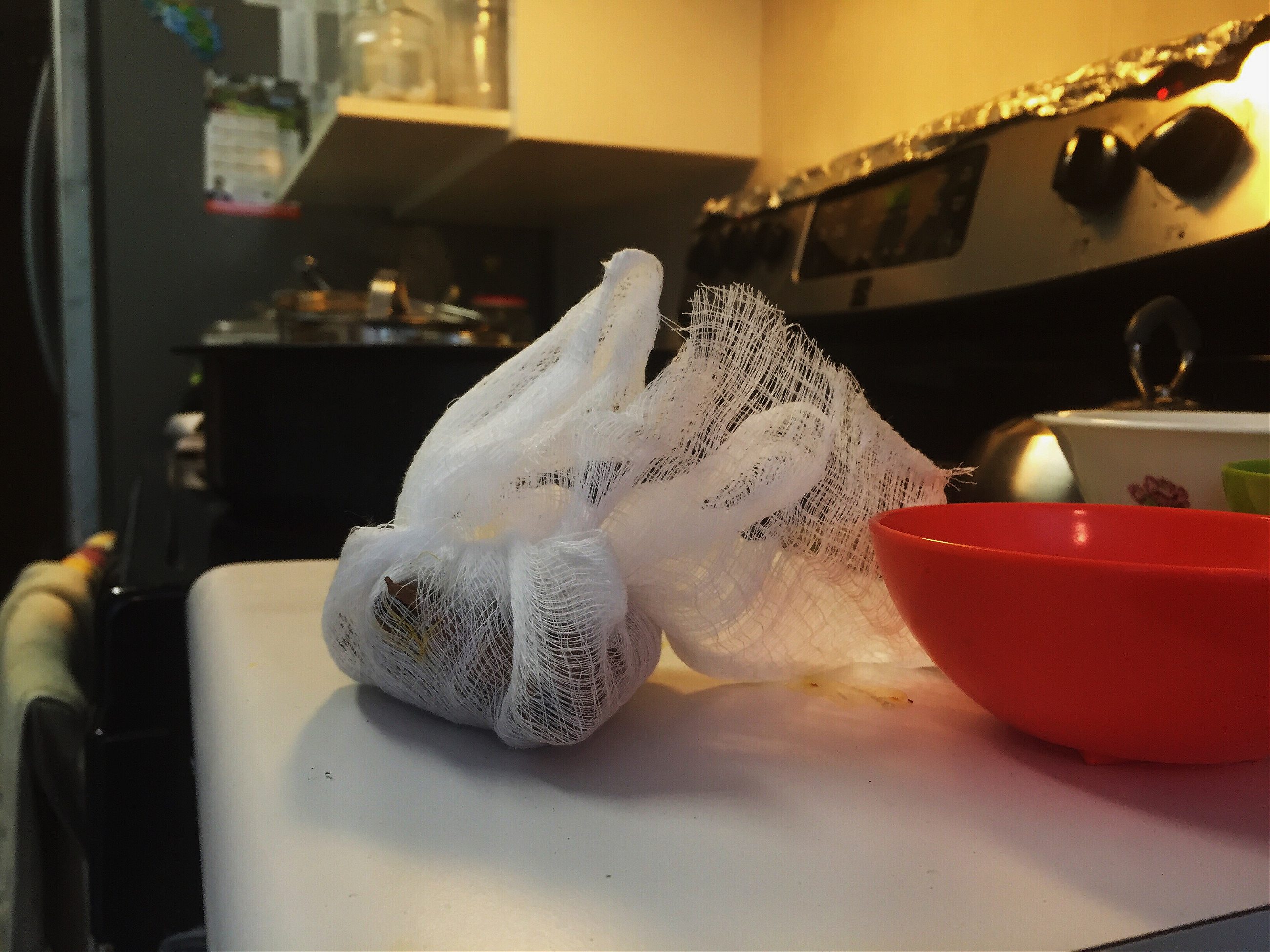 Simultaneously, the number of white residents is faltering. In 2011, the white population declined by 12 percent, and the term 'white flight' has been thrown around. In 2014, flagrantly racist flyers were distributed to homes across Brampton, juxtaposing an all-white group photo with a picture of Sikh protesters (wearing colorful turbans and holding Punjabi signage) with the caption "From This…To This. Is this really what you want?" The race issue has earned Brampton nicknames like Bramestan, Browntown, and Bramladesh across southern Ontario.
In today's Brampton, establishments like Kwality Sweets and Restaurant are consistently crowded. Cheerily lit with high ceilings and large booths, wide glass cases display all kinds of mithai, from jalebi to patissa, and massive neon signs read "Kashmiri Kahava" and "Masala Tea." Jostling and shouting is a prerequisite for service of any kind. There are no white faces in sight; in fact, many patrons seem to be new immigrants, laughing at old Punjabi latifay (folk tales) and greeting one another with the wide-eyed enthusiasm of a reunion.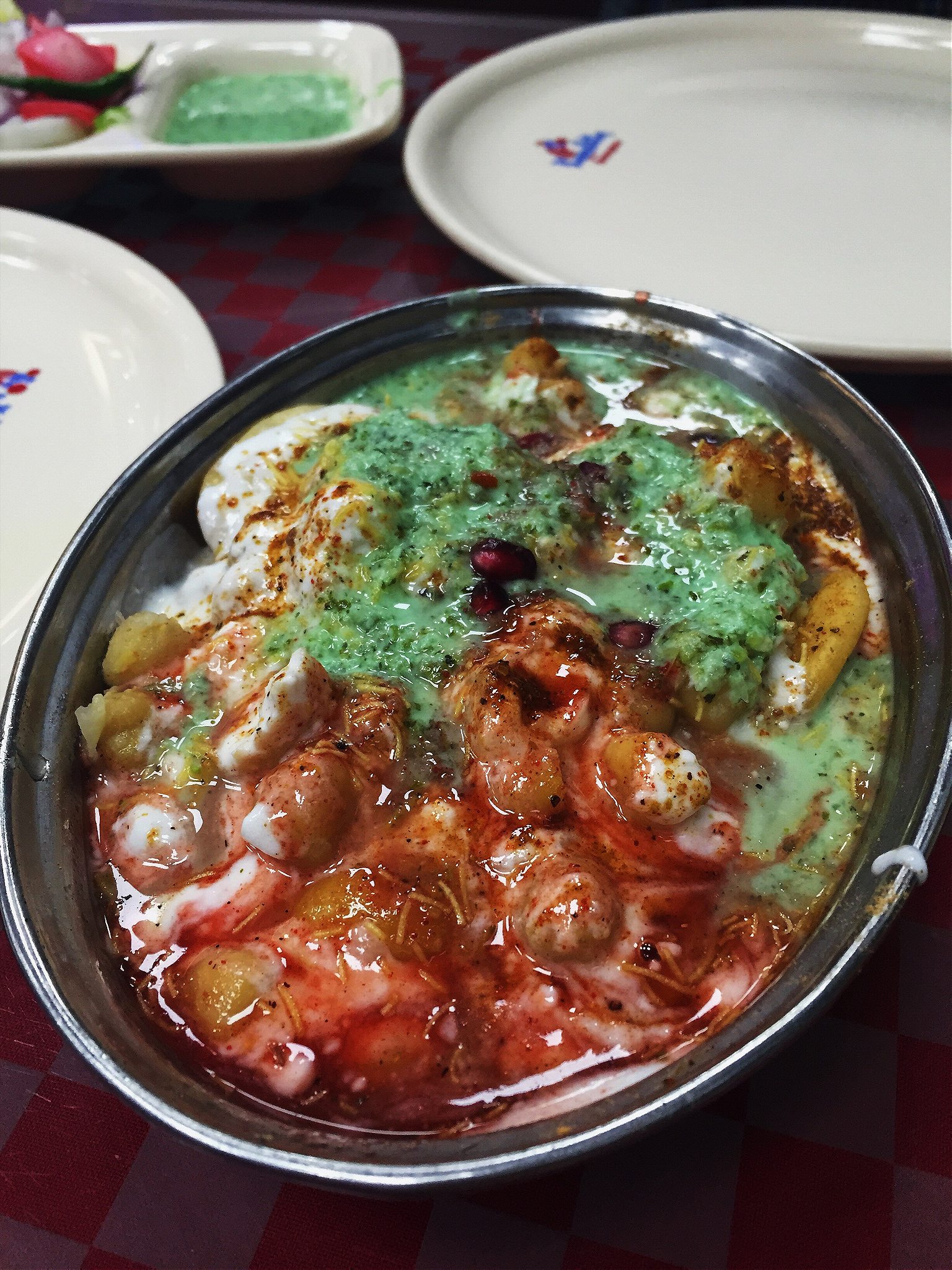 The menu here is vast and varied. Chaat papri is a favorite to start, a cool dish of fried flour crisps, boiled chickpeas and potatoes, yogurt, tamarind chutney, chaat masala, and crispy sev. Gol guppay, literally meaning bite-size rounds, are fried dough shells punctured at the top and filled with spicy water. Palak paneer and chicken karahi are scooped up in generous wads onto pieces of deliciously flakey garlic naan. The fish pakora is immaculate, flawlessly seasoned and fried to a state of delicate crispness.
After dinner, it's time for malai kulfi. The thick milk-based popsicle is best enjoyed outside, leaning against the car while people watching. Conversations in Hindi, Urdu, Punjabi, and Tamil bounce around the property like a multi-ethnic pinball. Vanity plates namedrop regions half a globe away—Sialkot, Gujrat, Pindi—and suggest steadfast allegiances to identities long left behind. The day after my visit, I can still smell tarka in my hair. I don't rush to conceal it.
Tandoori Flame is a six-minute drive away. Spread over 14,000 square feet, it claims to be North America's largest Indian buffet. Rara gosht, mutton cooked in a dense curry, is available on a massive tawa. Tandoori chicken and seekh kabob are piled nearby, as well as samosa, pakora and various tikka. For dessert, there's gajar ka halwa (a viscous carrot-based pudding) and rasgulla (a sponge-like pastry moistened in sugary syrup). A few women don formal salwar-kameez, ornate enough for a night out but not bathed in sequins like typical wedding wear. Dozens of kids chase one another, ducking between everyone's legs. The atmosphere is celebratory, almost kinetic. It's the spot to be on a Saturday night.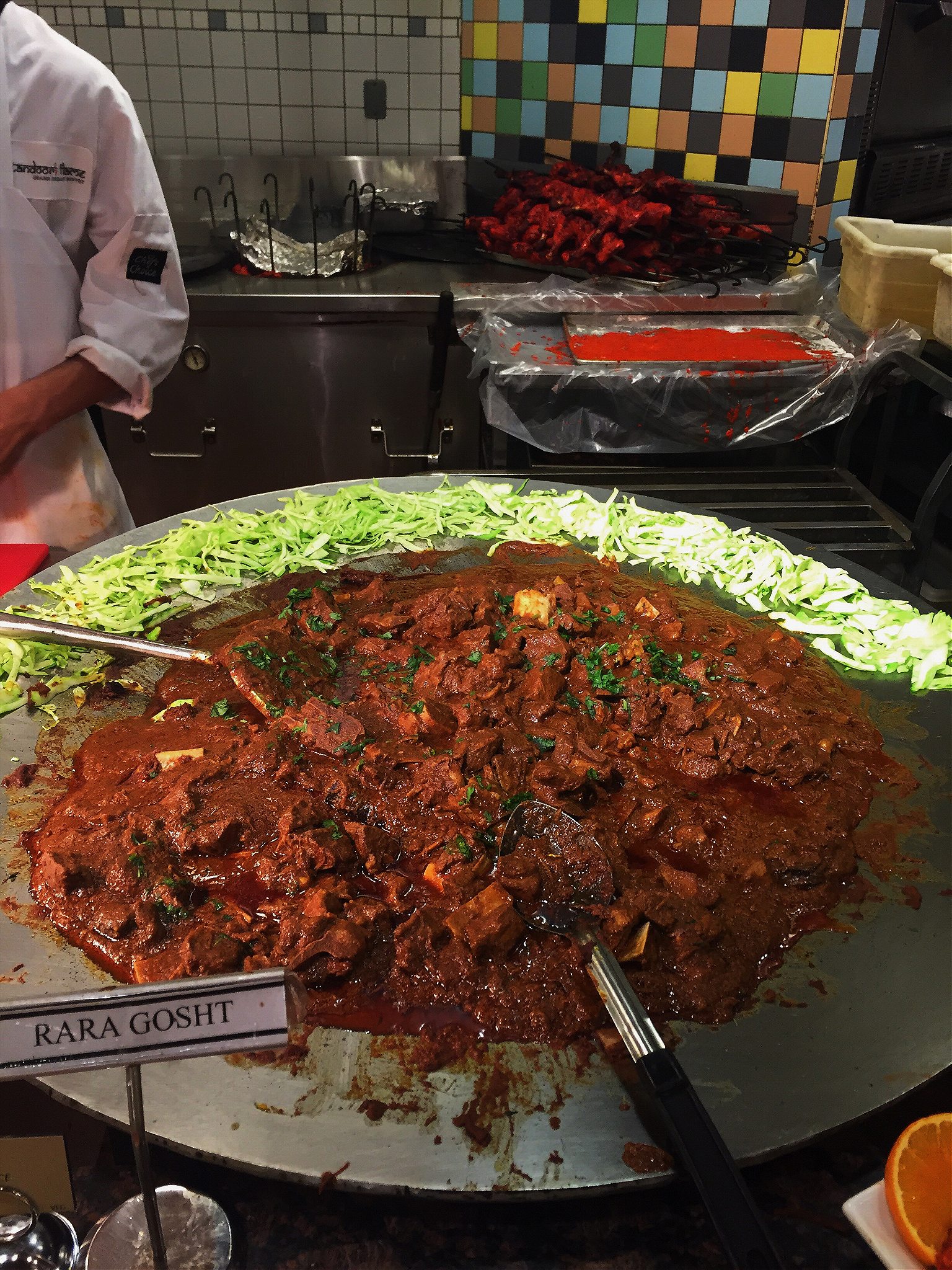 As we leave, we push past a hearty queue waiting to get in. A giant screen captures our photo and offers to upload it to Tandoori Flame's Facebook page. I note that only three decades ago, the Tandoori pizza at the beginning of the buffet would've been the most "ethnic" thing on the menu by far, and my mother laughs out loud at the thought. Three decades ago, her brothers devised special routes from school to avoid a gaggle of pale teenage boys, armed with piercing derision and the cosmic fortune of God-given Canadian-ness. Her mother shopped at the only South Asian grocery store in the area. Just around the corner from here, she was called 'paki' on a regular basis. A raucous buffet adorned with twinkling lights and sari fabric draped from the ceiling attracting crowds by the hundreds would not have entered even her most audacious dreams. How could it? Theirs was to cower, to justify, to please. And so it should be, they told themselves, for those who seek choice in a foreign place.
Outside, I spy a brand-new Mercedes SUV. A wooden cross hangs from its rearview mirror and the license plate reads something vaguely Punjabi. A slender man with thick-rimmed glasses and dark hair swept over his forehead saunters towards it, bringing it to life with a tap of the remote in his hand. I wonder how much zarda was made in its honor, and if Canadian air has hardened his brown skin.