Inside Phnom Penh's White Building.

PHNOM PENH, Cambodia—
"Aren't you afraid?" 30-year-old Chea Sinat, asks as we walk down a long, dark corridor to her aunt's apartment on the top floor of Phnom Penh's iconic—and infamous—White Building.
"No," I say with a shrug. "It's OK."
"What about the smell?" Sinat continued, slightly nervous that I would judge the edifice, where she lived until recently.
Though she has moved away from the White Building, Sinat still spends time there, visiting family and hanging out with residents. This was how I met her one late afternoon in November. After a few minutes of talking, she agreed to let my friend and me visit her family's apartment.
Sinat had good reason to be nervous about outsiders' impressions. The White Building is one of Phnom Penh's most famous apartment buildings, but one that many locals and outsiders consider a slum. Crime was worse in the 1990s, although Phnom Penh was much more dangerous then. The building has mostly been cleaned up, but there are transient tenants with drug-use problems. It is also close to a strip that is known for prostitution as well as tuk tuk drivers who sell meth, weed, and heroin. Because of this, many Cambodians assume that the building must be home to sex workers and drug users, although as I would soon learn, this is far from true.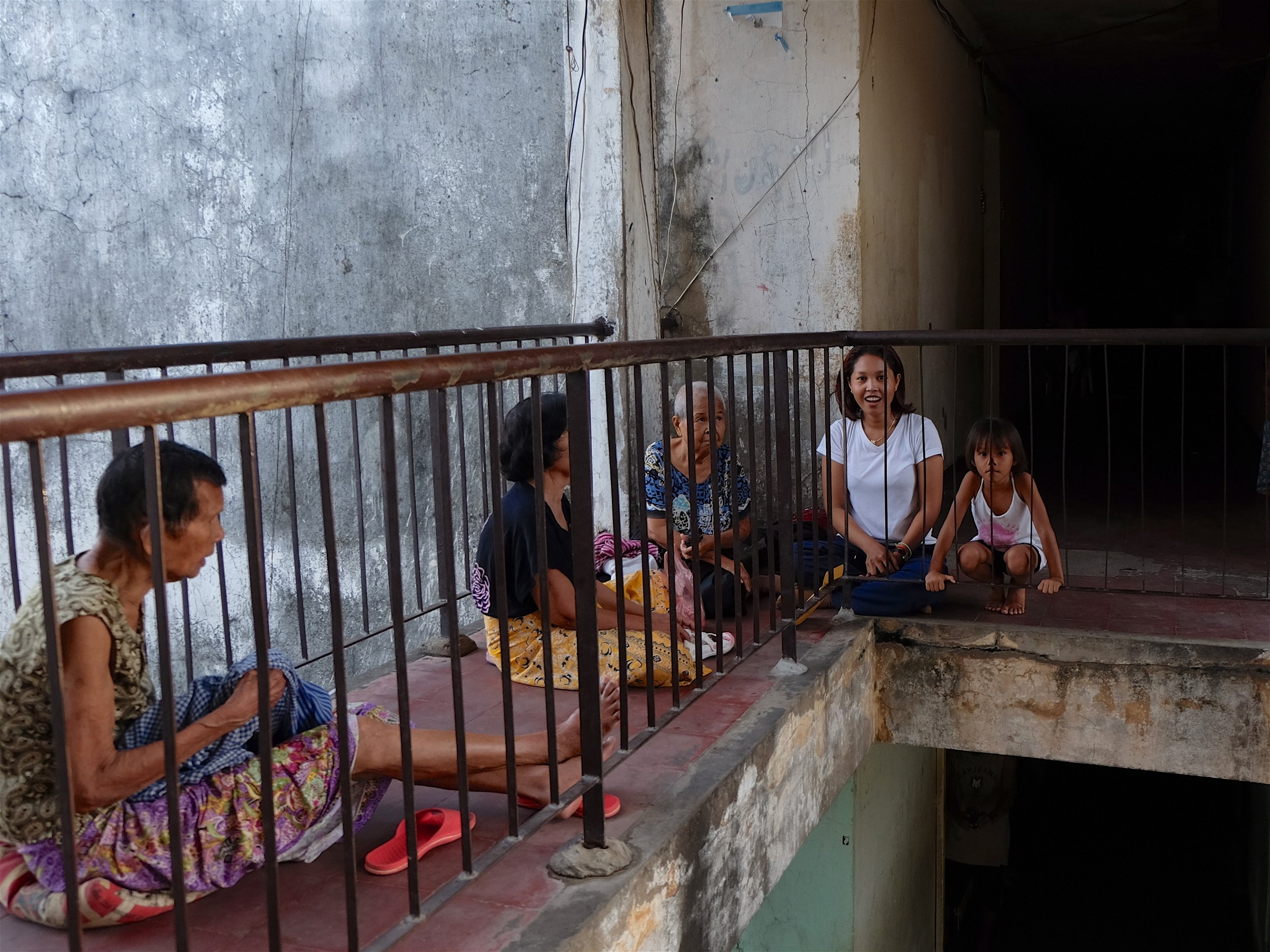 The White Building is certainly intimidating. Having long ago lost its original sparkling white facade, the front of the low complex is a hodgepodge of extensions, hanging plants, clotheslines, and grime. Its street entrance is also the unfortunate site of a poorly placed dumpster, which is often overflowing with garbage. A nearby road is lined with dubious looking "massage parlors."
But the apartment complex of 2,500 residents is a self-contained community of apartments, shops, salons, restaurants, and non-governmental organizations, with its own school, art space, and archive.
While the White Building may no longer physically resemble its former self, the vibrant community carries its architects' dream of an integrated housing project in the midst of the capital. It has survived a civil war, a foreign occupation, and the merciless drive of redevelopment in modern Phnom Penh. It is one of the most fascinating and resilient buildings in the city.
The White Building was completed in 1963, 10 years after the country's independence from France. It was one of a series of buildings designed to reimagine the Bassac Riverfront, a neighborhood close to the Royal Palace and Wat Langka, one of Phnom Penh's most important pagodas.
It was constructed alongside the now-razed "Grey Building," which was designed for wealthier residents, and another apartment complex for employees of the National Bank of Cambodia. New civic buildings were built nearby as well, including the National Theatre and an exhibition hall, according to Building Cambodia: New Khmer Architecture by Helen Grant Ross and Darryl Leon Collins, which chronicles the post-independence era's architectural achievements. Between the buildings were parks and large public spaces where residents, including those from the White Building, could gather in the evenings.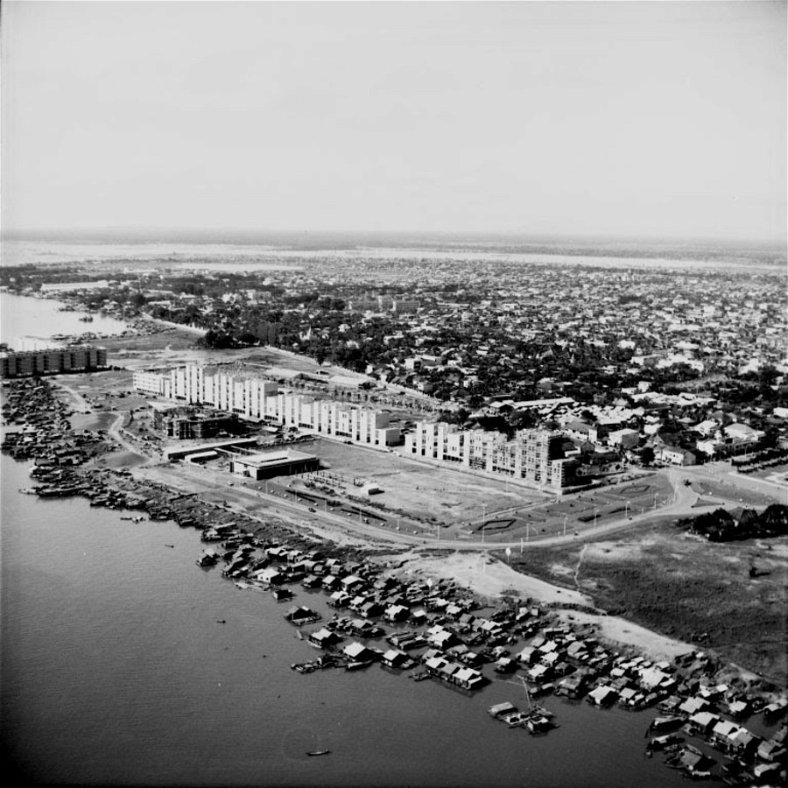 At the time, Cambodia was renowned for its new architectural style, which combined traditional Cambodian architecture and French modernism to express the country's independence and its arrival on the international scene as a modern and innovative nation.
The ambitious post-independence construction boom was led by Prince Norodom Sihanouk—who led the country through independence and was heavily involved in politics—and a team of architects including Khmer architect Lu Ban Hap and Russian engineer Vladimir Bodiansky who designed the White Building. Their aims extended beyond the Bassac Riverfront to the entire nation.
Prince Sihanouk, Lu Ban Hap and leading architect Vann Molyvann had plans to develop Cambodia's major cities and towns with a new style: New Khmer Architecture. This included constructing new civic buildings, universities, museums, hotels, and private homes for those who could afford them. They started with the port city of Sihanoukville and Kep in southern Cambodia, as well as the town of Battambang in the west. They didn't get very far though, because in 1968 the Khmer Rouge launched their insurgency in the provinces.
"What's interesting is the level of internationalism they had in those days compared to other countries. Bangkok was still rather small and Singapore was still poor. This was really a big pearl in Southeast Asia," said Martin Aerne, a Swiss architect who teaches at the Royal University of Fine Arts in Phnom Penh.
The plan extended beyond aesthetics, said Aerne. "It was the whole development: the parks, the theaters, the sport arenas, the education, universities, libraries. It was really like building a society, building an infrastructure for a new society, and nowadays that is missing," he said.
As a social experiment, the White Building was also truly innovative for its era. Residents followed a 10-year payment plan to buy off their flats, enabling them to become home-owners. It also made sure less wealthy residents could live in a central location and take part in the cultural activities of the nearby civic centers.
20 percent of the population of Cambodia would eventually be killed or die of disease or starvation
But the burst of development and creativity of the 1960s came to a grinding halt the following decade, when Cambodia was thrown into political turmoil. Prince Sihanouk was overthrown in a U.S.-backed military coup in 1970, by a regime that subsequently fell to the radical Khmer Rouge five years later.
With the Khmer Rouge victory in April 1975, the capital was depopulated as part of the new regime's plan to turn Cambodia into a peasant utopia. The White Building was evacuated and left to rot. Twenty percent of the population of Cambodia would eventually be killed or die of disease or starvation.
Many of Cambodia's bright new buildings fell into disrepair, and were neglected even after the Khmer Rouge were removed from power by a Vietnamese invasion in 1979. Phnom Penh was under foreign occupation for the next decade.
As people began to trickle back into Phnom Penh, residents drifted back to the White Building. They found their belongings exactly where they had left them when they walked out on April 17 1975, according to Sebastian Strangio, author of Hun Sen's Cambodia. Because property records were destroyed by the Khmer Rouge, many started as squatters and then became official tenants.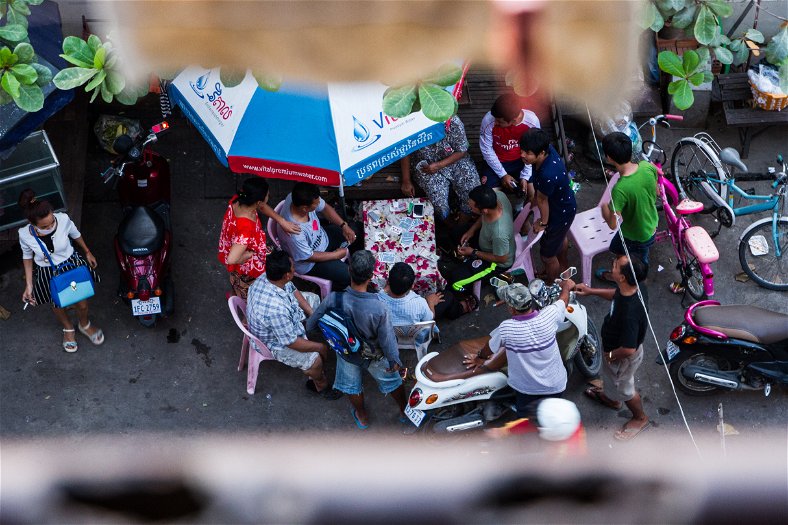 Sinat's aunt, Chea Samon, 49, moved to the White Building in 1980. Samon remembers it as a happy time at the building, despite the turmoil many residents had survived and the lingering post-war poverty.
"It was more spacious here when I first arrived here. I felt happier to live here before than now. There weren't many people residing here. There wasn't as much garbage downstairs as you can see now. I was happier to live here before because this building wasn't as densely populated as it is now," she said.
In the 1980s, before democracy and rampant capitalism replaced the Vietnamese occupation, Samon enjoyed many of the Bassac district's original amenities.
"I can tell you it was happy to live here. Having lived here, you could enjoy the garden and the theatre nearby before it was destroyed in a fire later on. Everything around here, including this building and the theater kept its shape and quality. The streets in this neighborhood weren't as narrow as they are now. [It was] so spacious," she said.
Today, her apartment is dimly lit with fluorescent lighting, and has traditional Khmer woven mats on the ground. Internal walls have been removed so it feels like an L-shaped studio with a small bathroom. On one side of the apartment there is a large bed where two women seemed to sleep, with a small loft over the kitchen on the other side of the apartment for extra sleeping space. Even though the furniture is old, the apartment is clean and well kept.
The original apartments were two or three rooms, but most residents have modified them, turning the balconies into rooms or taking advantage of the high ceilings to build sleeping lofts. The renovations also explain the haphazard wood, brick and concrete appearance of the building, which was once a uniform white concrete when it was first built.
Chhum Phanith, who lives and works in the building's historical archive, says maintaining the building, and fighting against encroaching redevelopment has helped to keep the community united.
Though most residents are low-income, they want to keep their right to live in downtown Phnom Penh—as the architects intended—rather than being pushed out to the edges of the city.
"We work together to improve this building, because if we leave this building we cannot afford to buy any house in Phnom Penh. This place is very important for me—for us," Phanith said.
Local organization Somakun Theang Thnout has helped to fix up the building, donating iron to repair the hand rails on the open-air staircases and green paint for the hallways (an expensive commodity in Cambodia, where a can of imported paint can cost $80) and this year they will repair the roof, according to Phanith.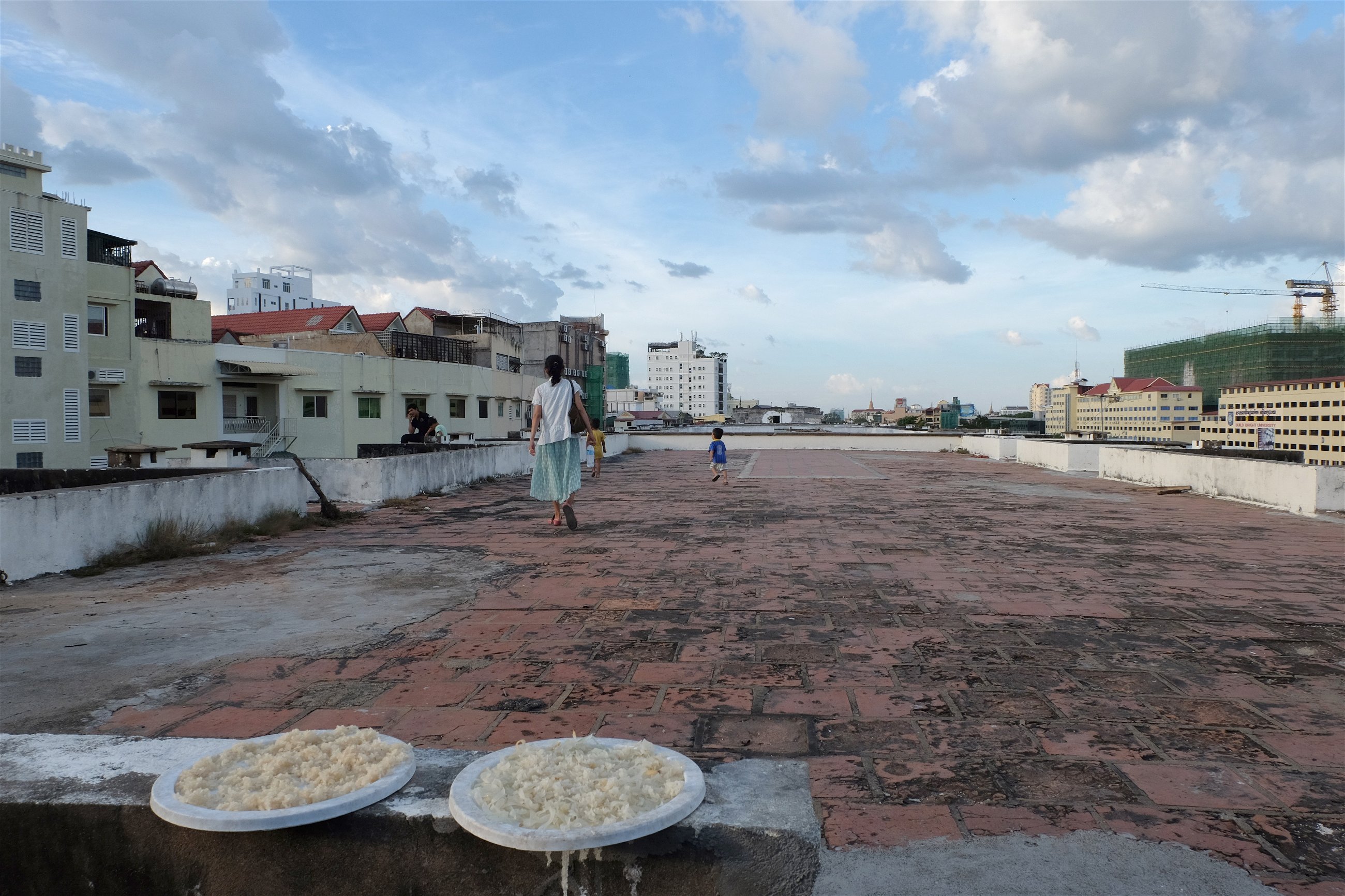 But there are larger structural problems. Last year, a large four-story crack appeared on one of the outer walls, caused by the massive overload from all the additions and extensions built by residents, according to local media. It was later repaired, but similar problems are expected to emerge in the future.
Residents are also worried that the White Building may be torn down by developers. It's sitting on expensive commercial real estate in the center of Phnom Penh, down the road from a new Japanese mall and a Sofitel hotel.
Phanith said the residents of the building have no guarantee from the government that their building is protected from developers. As in other cases in Phnom Penh, the police can move in and evict residents.
However, the White Building residents have learned from past disasters and have held developers off for the moment, said Pen Sereypagna, an architect who has studied the White Building.
"The White Building is really special in that it has a dynamic mix," said Sereypagna. "There's police, military, the art community has galleries there, some NGOs have offices there. The White Building is now really well known inside and outside the country," he added. "It's not just one building," said Sereypagna. "It's a really small city inside the whole of Phnom Penh."