It may not be Epcot, but Meixin Foreigner Street—featuring Christ the Redeemer's smaller twin and the world's largest public bathroom—hints at what China thinks of the rest of us.
The white form of Christ the Redeemer, standing considerably shorter than his Brazilian counterpart, spun in slow motion atop a yellow pedestal on an orange, artificial mountain. Candy-colored gondolas bobbed gently above the Christ's outstretched, beseeching arms. A waterslide, painted blue and rimmed with green, snaked down the side of the mountain. The scent of cumin-flavored lamb skewers hung in the air. Off in the distance I could see an ersatz Egyptian pyramid; the white and shining spire of a Western-style church; and the Guinness World Records-certified world's largest public bathroom. Beyond the attractions, across the wide brown expanse of the Yangtze River, rose the green and hazy hills of Chongqing, dotted with white apartment buildings still under construction.
I was at an international themed Chinese amusement park, and it was exactly as weird as I'd expected it to be.
I had decided to visit China's low-budget answer to Epcot Center with the aspirational hope that it would show me how the Chinese see the rest of the world. I also wanted to take a whole bunch of weird photographs for the benefit of the Internet. Meixin Yangren Jie—or Foreigners' Street—as the amusement park is known, didn't disappoint on either count.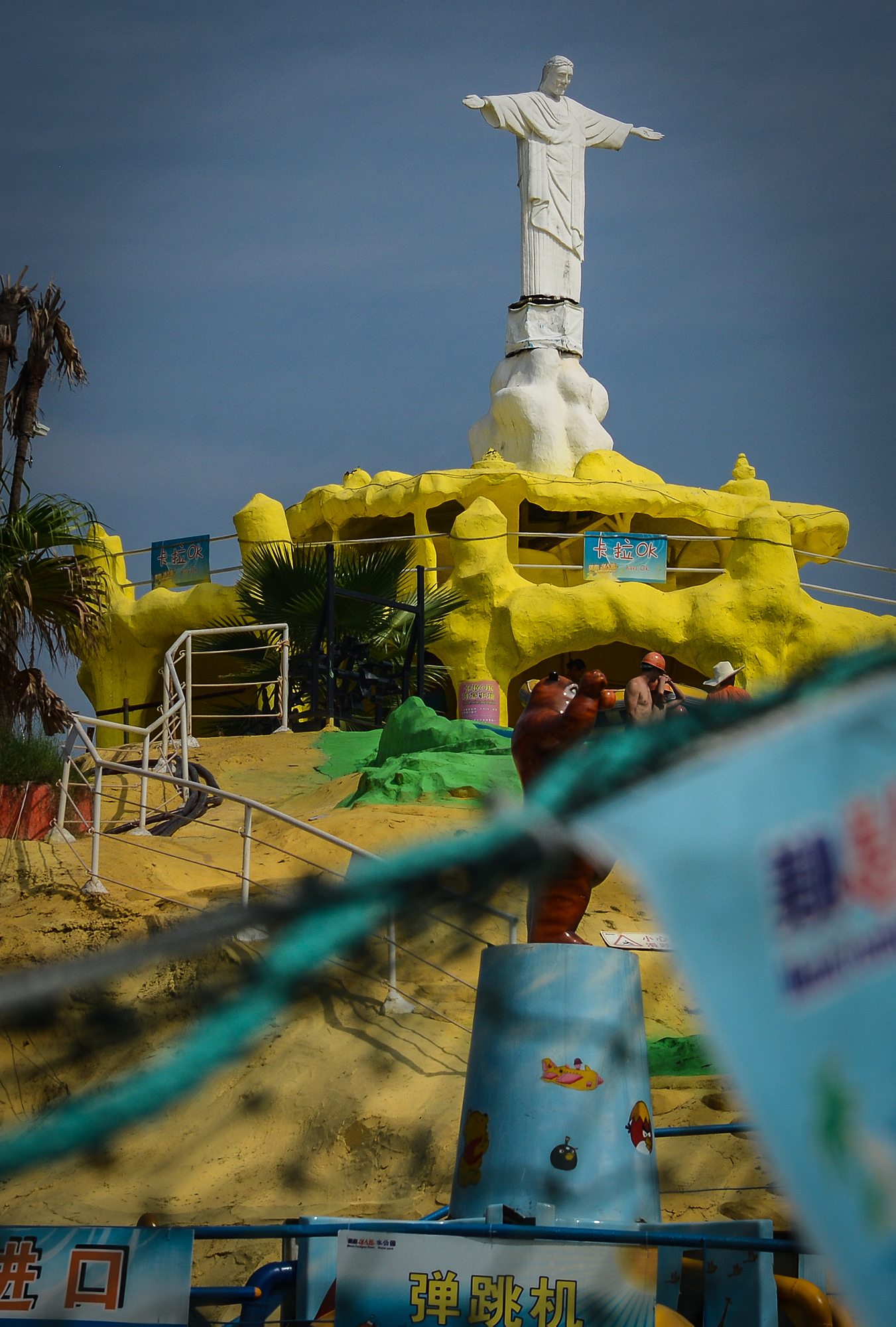 Yangren Jie, which first opened in 2006, was conceived of as a classy walking street catering towards expatriates and the locals who wanted to interact with them, or at least take a good long look. Foreigners' Street, in this optimistic vision, would be equipped with exotic restaurants, bars, and shops, operated with a certain level of exotic flair by members of Chongqing's then 5,000+ strong foreign population. This did not pan out.
Sure, some expatriates did sign on to the Foreigners' Street scheme in those heady, early days: An American named Clifford Yasay reportedly opened Chongqing's first sports bar, while an Ethiopian woman is said to have sold coffee at a concession. There may have been a couple of Australians selling tea.
The foreigners and their businesses had all fled
No longer. By the time I visited Meixin Foreigners' Street in the summer of 2014, the foreigners and their businesses had all fled, and there was nowhere to get a cheeseburger, or even one of those unfortunate Australian pies. The reasons behind the unfortunate lack of foreigners at Meixin Foreigners' Street remained unclear—maybe a breakdown between investors and workers, or the distasteful aspects of being featured in a human zoo, or the park's distant location.
Deprived of their foreign population, the owners punted, taking advantage of Chongqing's limited palette of attractions. They opened the World's Largest Public Bathroom, a multi-building themed edifice meant to give the park a certain international status. They added more amusement park rides, stuck to their free-entry policy, and stationed vendors selling familiar Chinese snacks throughout the grounds. They even attempted to add a sex-themed, separate amusement park next door, before horrified city officials quashed the plan.
And now I was here, the only actual foreigner in an entire theme park supposedly devoted to… me. I hoped no one expected me to do anything amusing.
To reach Meixin Foreigners' Street from my hotel in Chongqing's center, I'd taken a gondola across the Yangtze and then a taxi, which threaded through the city's relatively quiet ‪Nan'an District. Upon arrival, I walked up the steepish hill to the entrance, where I was immediately greeted with a circular UFO (slightly leaning to the left), with a gold alien and two silver companions peering curiously out of it. The aliens loomed above a covered pavilion where six irritated looking ponies were waiting to be ridden, and where a man was selling stinky tofu and luridly colored blue soft drinks to visitors. The tone, I realized, had already been set. I got out my camera. ‬‬‬‬‬‬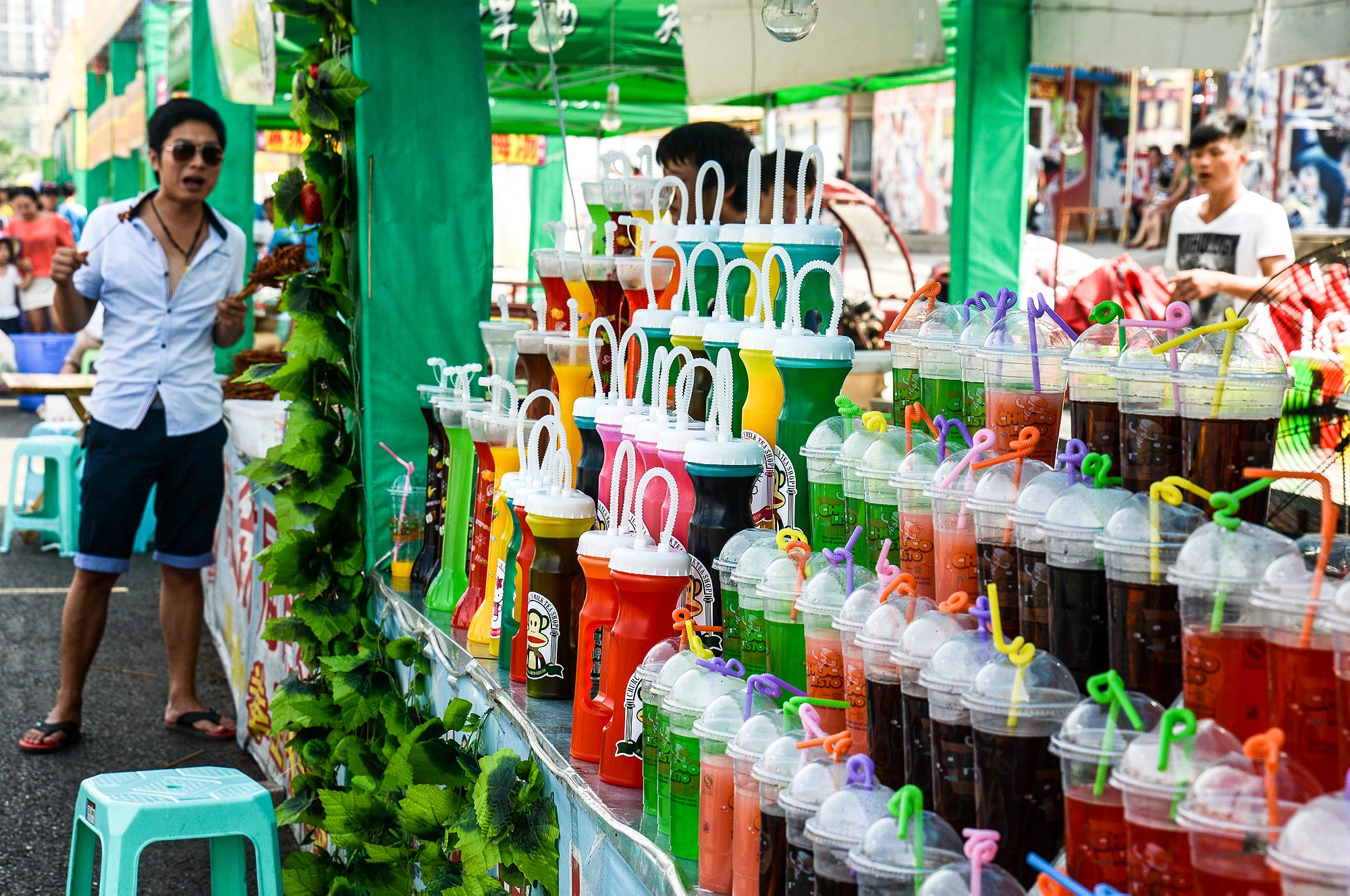 I passed the UFO and the ponies and the blue beverages and kept walking uphill, and I found myself looking up at a replica Great Wall of China, where groups of Chinese teenagers happily wielded selfie sticks along the paint-chipped battlements. Nearby the miniaturized Great Wall was a forced-perspective hill in the style of Alice in Wonderland, with a tower painted with cowspots on top of it, and the word LOVE spelled out in big cardboard letters below the tower, as if to inspire us. On the slopes of a hill, a huge fanged red demon's face was set up next to a picnic table, where someone had placed a plastic human skeleton and a cash register. "Concentric locking point of sale," read a sign next to the skeleton, with pink hearts besides the text. "Satan's ticket office."
I kept wondering if I would turn a corner and Meixin Foreigners' Street would make sense, have some kind of coherent unifying principle, but this never happened. Walking through the park was like being inside the physical manifestation of a Chinese word association game about foreigners played by a group of drunks, or maybe more like touring what Salvador Dali would have come up with if he had ever been asked to design a triumphantly-scaled mini-golf course.
I passed a tree house play-area with an inexplicable painting of "Cathy" from the Sunday comics stuck on its side, and a bright orange upside down house that kids pedaled little cars in and out of, on a railway ten feet above the ground. I wondered if the more badass local teenagers came here at night to get extremely drunk, just like American teenagers do on closed mini-golf courses. A billboard above the street read "It is forbidden to beat staff," and was decorated with a menacing painting of Rosie the Riveter, as if this was a recurring problem.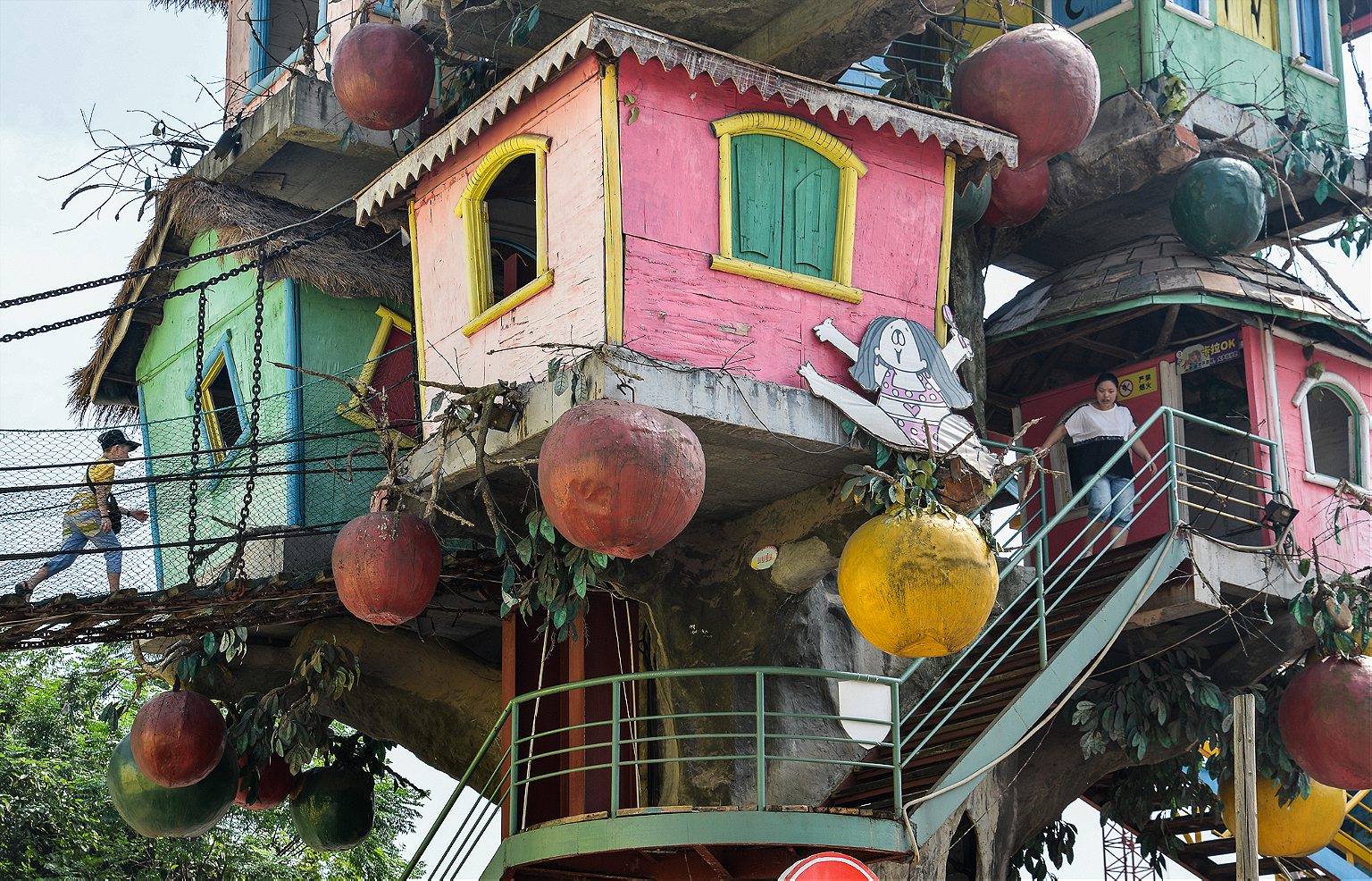 I walked down the path and found myself looking out over the full panorama of Meixin Foreigners' Street, walking down the path towards the waterpark, towards the Son of God and the water attractions he quietly rotated above, as if to ensure he missed nothing, not the fall of a sparrow, or the despair of someone prone to swimmer's cramp. (Isaiah, 43:2: "When you pass through the waters, I will be with you; and through the rivers, they shall not overwhelm you.")
Here, there was a large swimming pool decorated with wilting palm trees and an enormous, fiberglass bear with a vague but slightly melted resemblance to Yogi. By the waterslides, a middle-aged woman in a large sun hat attempted to cajole people into giving her ten yuan—about $1.50—to see the reptile show, while occasionally prodding a large bearded dragon into moving.
Past the waterpark, I walked over a rope bridge across a small creek and found myself in what was supposed to be Africa, where the woman from Ethiopia supposedly used to sell coffee. But she was long gone, and what was left was an orange stucco wall with five or six burrow-like protrusions, all set in a blue basin that probably once held water but now simply hosted a few picnic tables. The wall was hung with masks presumably intended to represent Africans, in shades of coal black, green, and inexplicably, blue with yellow hair. Grass grew through cracks in the concrete, and I felt uncomfortable and exposed, like something bad might happen.
I walked up the stairs and out of Africa, which is the kind of thing one can easily do in internationally-themed amusement parks, and found myself looking down on what had likely been meant to be the Foreigners' Street bar area. A stunted-looking Egyptian pyramid painted in a blinding shade of yellow stood an easy walk from a austere, vaguely French Gothic white church with a tall spire, flanked by low stone huts meant to evoke Medieval Europe.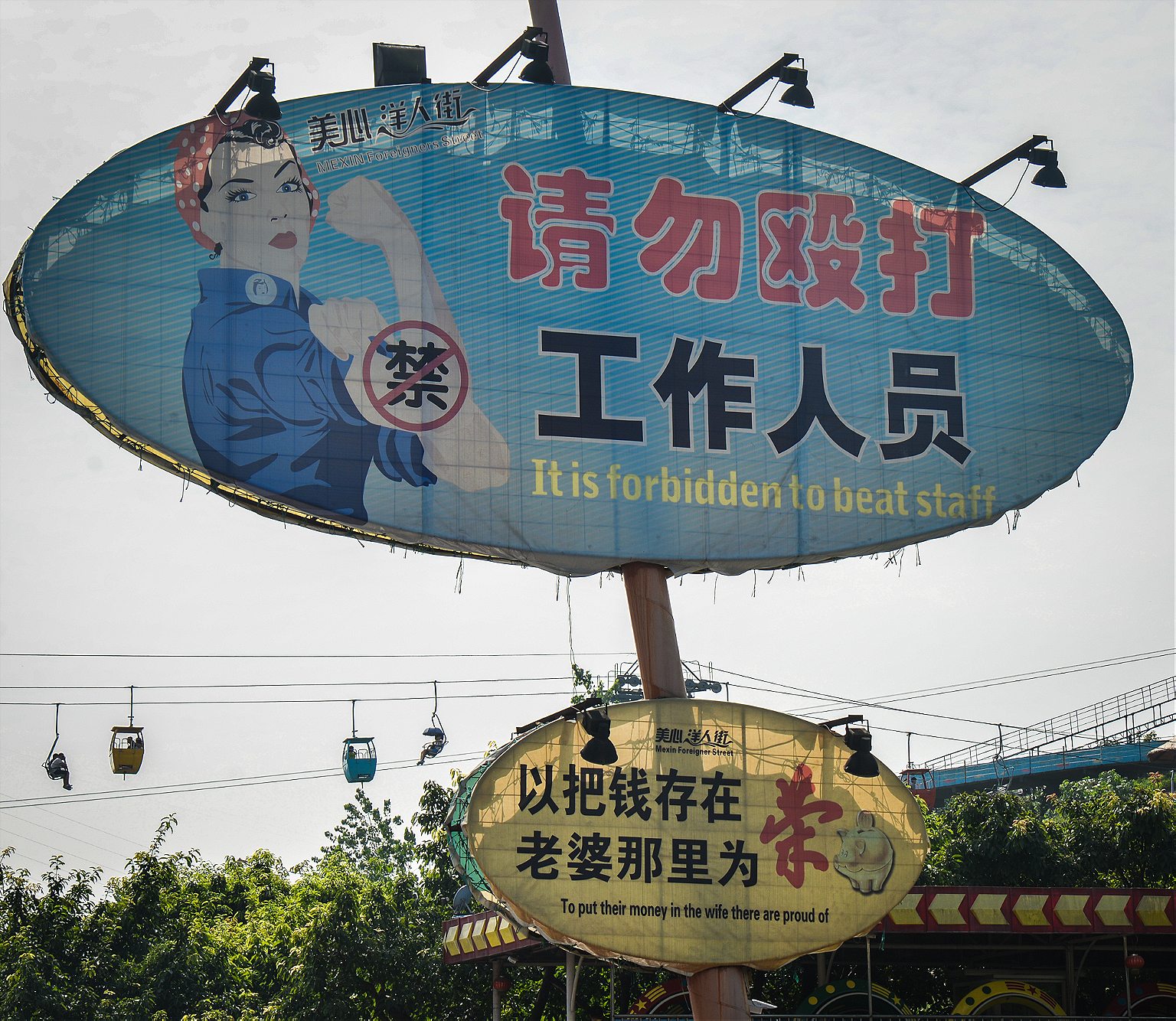 A few couples in full-on wedding regalia sweated in the heat and posed for pictures beside the church, smiling prettily. Beyond the church was an adorably miniaturized version of New York City, a slightly crumbling knock-off of the already miniaturized version in Las Vegas, but without the rollercoaster. Next to New York, a sign showed the black silhouette of a woman, attired only in a pair of yellow panties. "Knowledge is like underwear, invisible but very important," it read.
The afternoon lengthened and the heat had begun to wear on me. I had yet to spot another foreigner. It was time to see the World's Biggest Public Bathroom, the crown jewel of the park. I didn't have to spend much time looking for it. Built into and around a large artificial hill, the open-air bathroom sprawled over 3,000 feet and featured 1,000 different toilets to choose from—a mighty Ziggurat of public shitting. Grand staircases wound around to the top of the peak, and each walkway featured many toilet stalls, and each bank of toilets had some different theme or color. There were multiple entrances, but the main and grandest entrance was built to look like the Egyptian Sphinx, and you had to pass between her paws and distant expression to enter.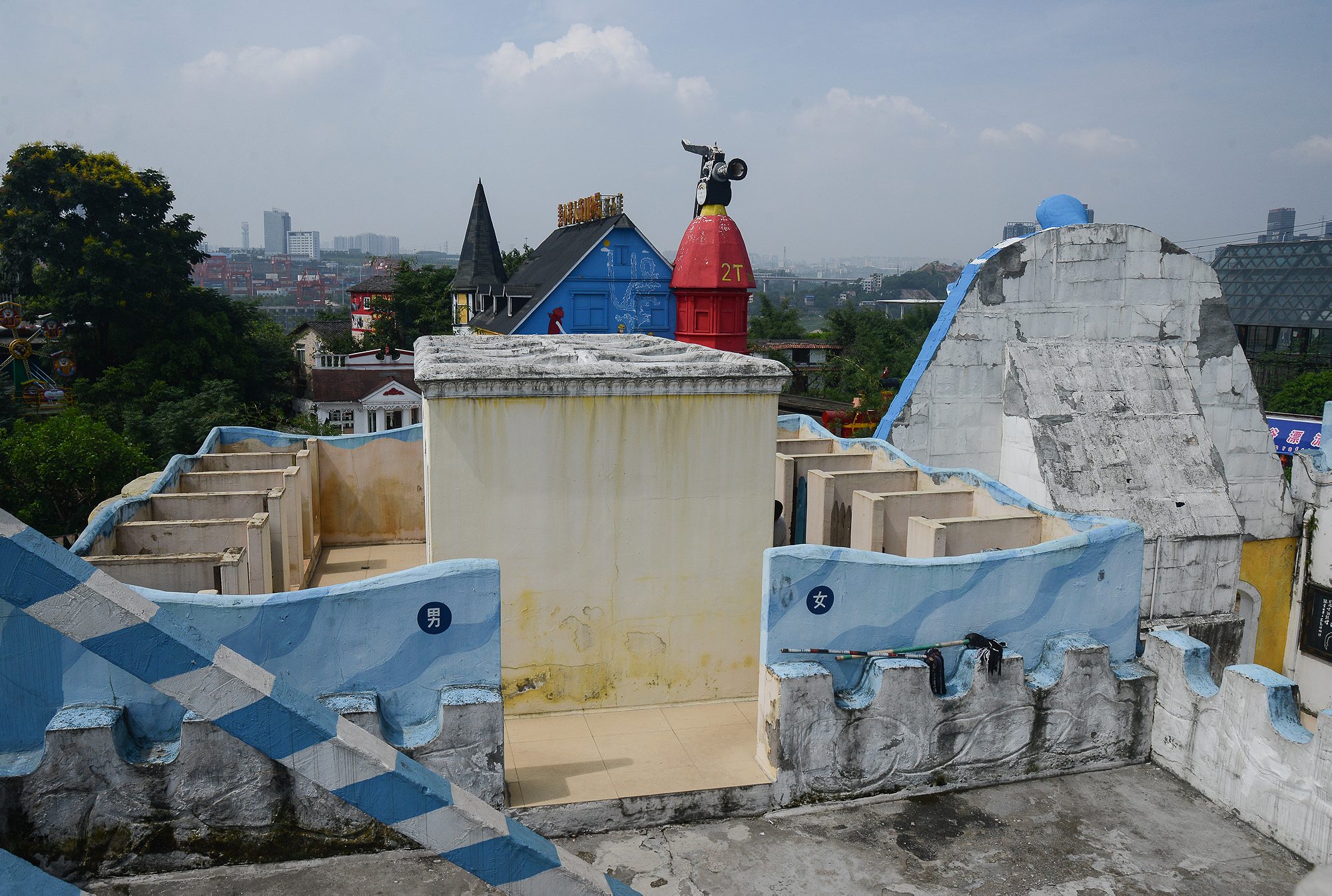 There was nothing approximating a coherent theme, or message, in the World's Biggest Public Bathroom: it simply was. Two urinals represented a stoic Virgin Mary, with her hair covered, and her arms outstretched to hold a pee-collecting basin. Another was meant to look like the gaping, toothed mouth of either a predatory fish or vagina dentate—whichever one your imagination preferred. There used to be sinks that looked like the bottom halves of bent-over thong-wearing women with robust rear-ends, but these had been removed in the interest of public morality.
Black elephant heads supported mirrors with gold rims, although I couldn't figure out if the elephants functioned as sinks, urinals, or neither. A few people wandered around the maze of bathrooms reverentially, snapping photos, but no one actually dared to use the toilet. Mostly, it was practical: The stalls had no toilet paper and few had working doors, which afforded the user great views of the Yangtze and absolutely no privacy.
But the World's Biggest Public Bathroom wasn't meant to be used, after all. It was a prestige piece, in the same spirit as the entire Foreigners' Street—something to prove that Chongqing had really arrived. City officials were in fact so invested in the bathroom edifice that they had personally appealed to the Guinness World Record authorities to have it listed—ensuring that the people of the world would know Western China could lay claim to something both large and preposterous. Said Foreigners' Street official Lu Xiaoqing, to the World Records Academy in 2007, "We are spreading toilet culture. People can listen to gentle music and watch TV." (I did not see any TVs when I visited).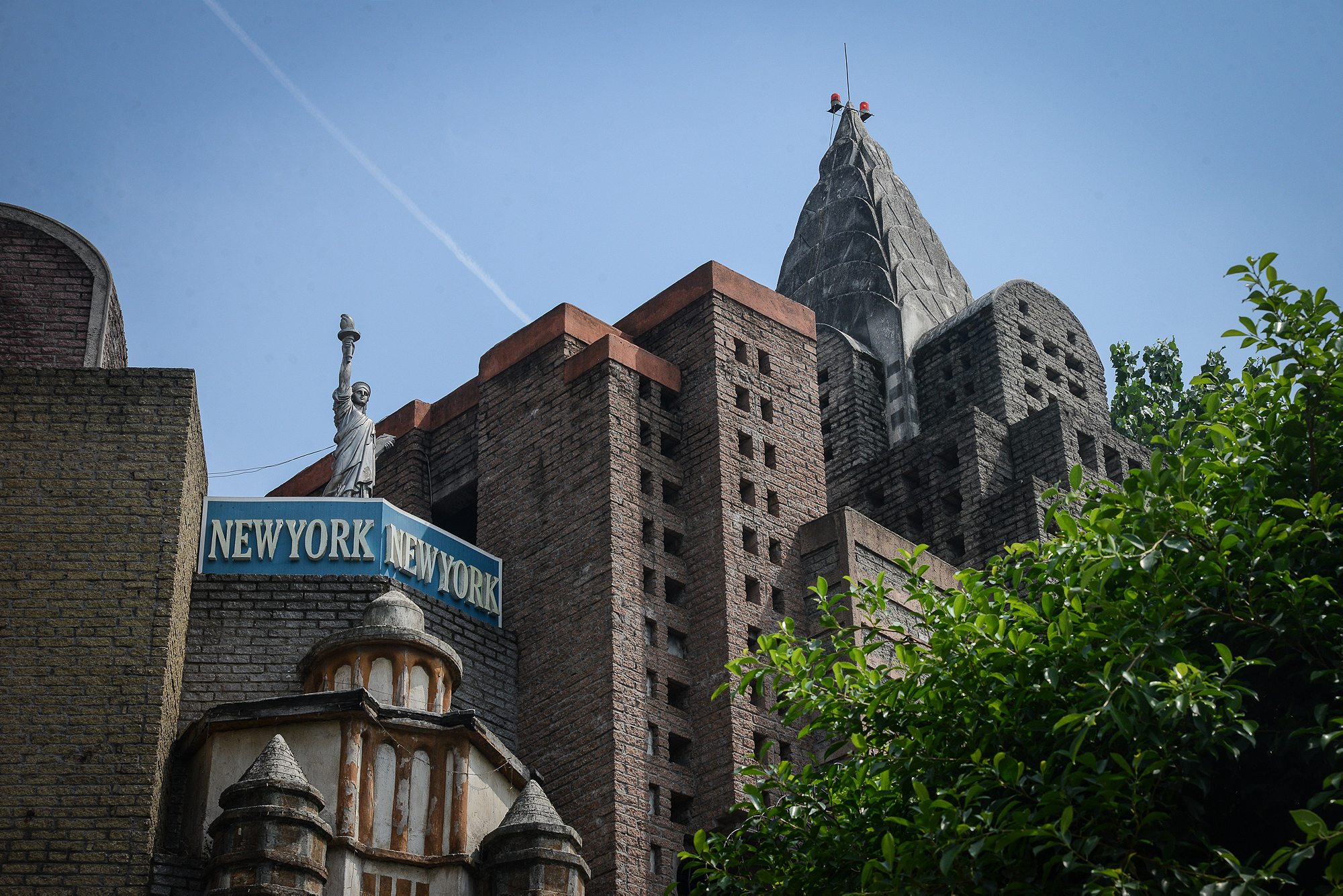 I took pictures and laughed about it, because the joke was obvious, because there was something weirdly poignant about the world's biggest public bathroom being empty, with chipped paint, with no one actually bothering to use it. But as I made for the well-hidden exit to the park, I realized I couldn't claim some sort of snobbish cultural superiority over the World's Biggest Bathroom, over Meixin Foreigners' Street itself.
Because I'm American, a native of the nation that invented mid-century tacky and roadside attractions—sometime between the birth of Las Vegas and the inevitable opening of Walt Disney World, during the era in American history where road-tripping was an inevitable summer ritual. I come from the land that is the proud home of the Boll Weevil Monument, the World's Largest Ball of Twine, the World's Largest Tiger Muskie, and the World's Largest Horseshoe Crab (which was constructed by a Creationist pastor). I have many childhood memories of driving by the rotund, slightly pornographic orange curve of the Peachoid Watertower in South Carolina, of passing by the lit-up form of the World's Biggest Thermometer in the arid outpost of Baker, California, of going by a gigantic cowboy boot in Florida, and on and on.
Generation after generation of my countrymen have ambitiously devoted themselves to making grand plaster representations of the mundane, because they felt we ought to have them, because they gave us something to brag about. Even if that something to brag about was a large thing that wasn't actually supposed to be large, even if it was shabby, a little tragic, not as grand as its creators had initially imagined. It didn't matter. As I walked by the giant UFO, by the souvenir and noodle shops meant to look like the Flintstone's houses at the exit, I realized that Meixin Foreigners' Street represented a meeting point, something both Chinese people and Americans can recognize, even in a slightly different format. We are each as tacky, and as tasteless, as the other, and neither of us is even a little ashamed of it.