A look at the Mexican matriarchal society that inspired Frida Kahlo.
"Mi vestido soy yo," Frida Kahlo used to say—my clothing is me. More than 60 years after the Mexican artist's death, her colorful embroidered clothing and vibrant skirts are still very much alive both in her self-portraits and beyond. Earlier this year, an exhibition in London showcased photographs of more than 300 items of her clothing, which her husband Diego Rivera had carefully stored in a room that remained closed for 50 years.
Kahlo's look was inspired by the traditional clothes of the Tehuantepec region of southeast Mexico, where women often earn more money than their husbands and administer the family assets. She was fascinated by this unusual matriarchy and its velas, the festivities where Tehuanas dress up, wear extravagant gold jewelry and dance among themselves rather than with men.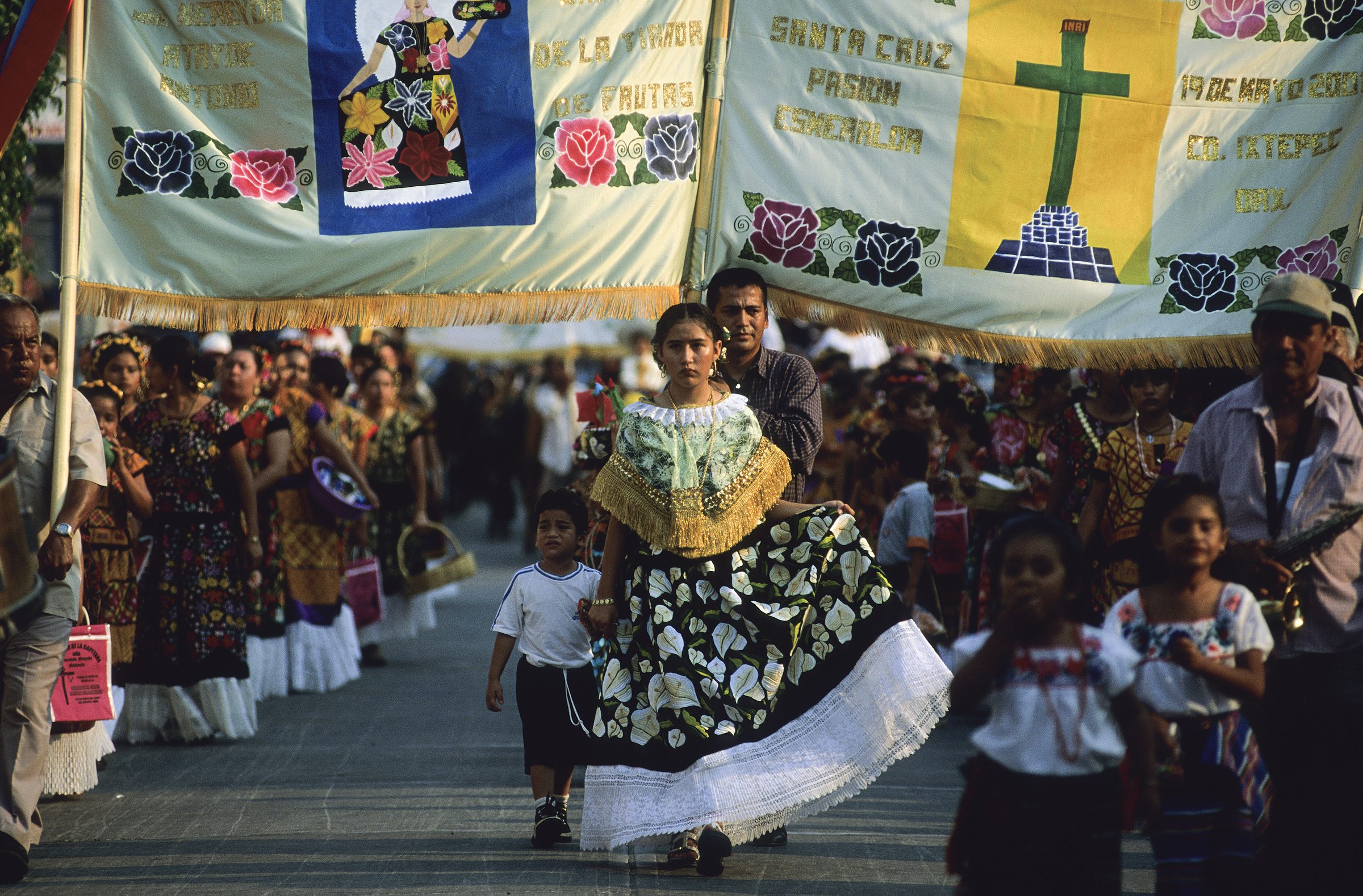 Every day at noon in Tehuantepec's capital, the unofficial national anthem, La Zandunga, is played by the clock of the town hall. Believed to have originated in Andalusia, the lyrics of this Mexican waltz recount the story of a Tehuana woman mourning the sudden death of her mother. They were written by Maximo Ramo Ortiz in 1853 after his own mother, who served as governor of Tehuantepec, passed away.
"We are the heirs of our ancestors," Maria Siru explains proudly during the vela El Calvario in the nearby town of Juchitán. "That's what gives us the right to organize these festivals and to bring these clothes." Each vela, organized by a mayordomo and dedicated to a patron saint, includes a procession and the crowning of a queen. Women wear traditional dresses laboriously embroidered by hand that include indigenous Zapotec designs. Their large skirts balloon as they dance to the slow melancholy of the Son Istmeño, making the men around them appear smaller, for an instant.