On farms outside Bogotá, Valentine's Day is less hearts and kisses and more big bucks and sore backs.

PUENTE PIEDRA, Colombia—
Dozens of pairs of hands wearing thick, clumsy rubber gloves bundle thousands of rose bouquets in clear plastic sheets. More hands, these deft and ungloved, slide young buds still on the bush inside socks of protective red mesh to ensure uniform growth. Nine hours spent bent over roses—clipping thorns, measuring stems, wrapping, and shipping the vegetal symbol of love—this is the daily reality of the rose farmers of Puente Piedra.
Colombia is one of the world's foremost producers of flowers, exporting $1 billion per year and growing. In 2013, 65 percent of all cut flowers imported into the U.S. were from Colombia, up from 55 percent a decade earlier. Exotic species of orchid, anthurium, and bird of paradise are all regularly shipped to the U.S. But the ubiquitous rose is, by far, the country's biggest flower seller.
The growth in flower exports was partly influenced by a 1991 U.S. government-backed move to curb coca farming and spur job growth in Colombia by eliminating import duties on the country's flowers. In the 1970s, the U.S. grew more flowers than it imported. As of 2003 that trend has reversed, and the Miami International Airport now processes around 187,000 tons of flowers every year.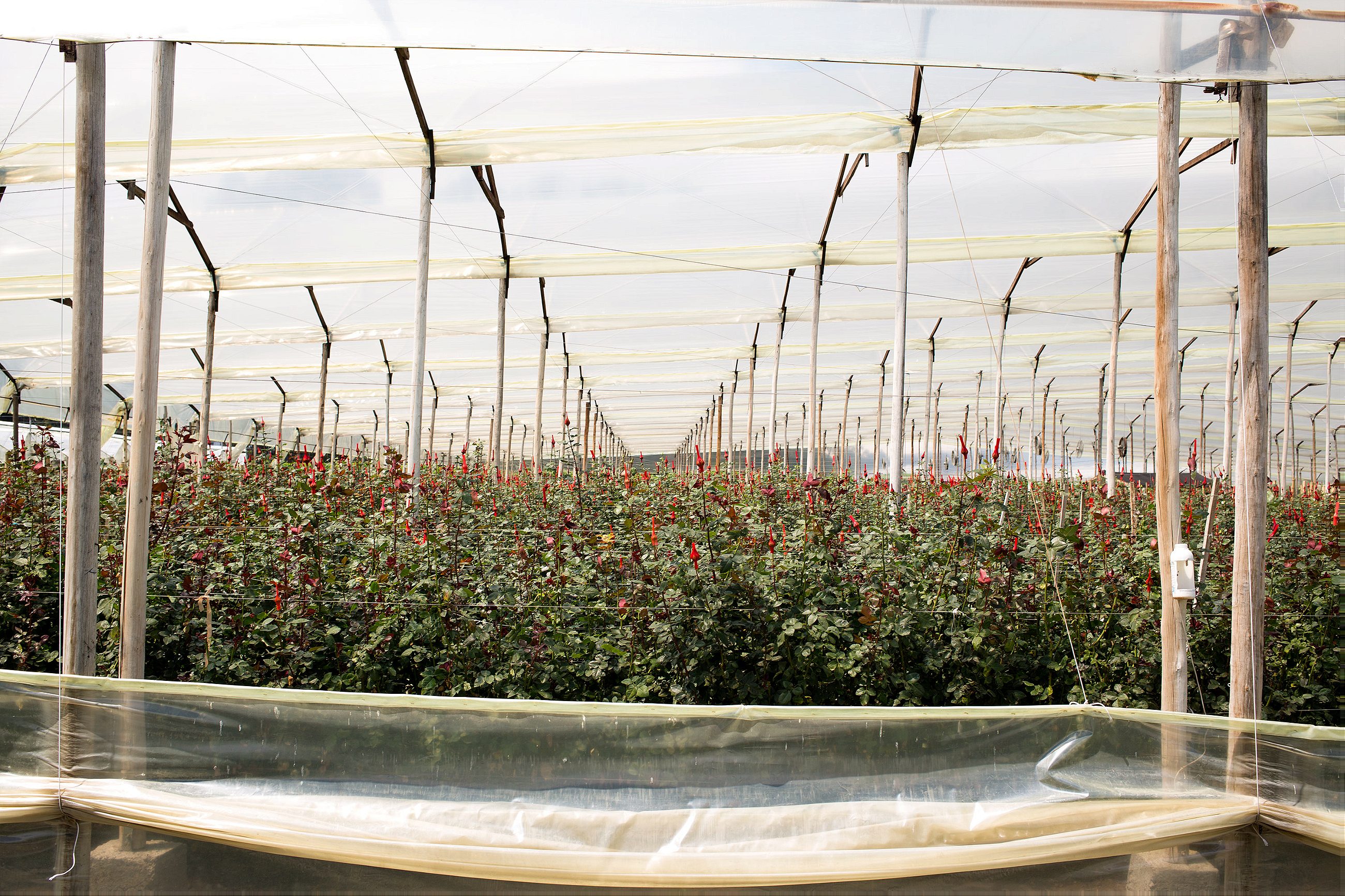 Puente Piedra, which means "stone bridge," is a small farm town located in the shrinking savanna outside of the sprawling capital of Bogotá. The capital city of nearly 8 million inhabitants continues to swallow its outskirts, where modern shopping centers have replaced dairy farms.
But the rose farm I visit still maintains a certain pastoral ideal. With 70 hectares nestled amid tree-lined pastures, the farm is small by flower business standards. At the entrance is a brightly painted ceramic shrine honoring the Virgin Mary. Milk cows graze 200 feet away, and broken tractors lay waiting and dusty underneath a simple awning near the management offices. Resident cats stretch lazily in the sun.
Other features of the farm are considerably less quaint. This particular operation supplies Miami-based wholesale distributor Fresca Farms and is outfitted with custom-designed dethorning machines, refrigerated storerooms, and automated conveyor belts. The packaging warehouse is a choreographed race to cheat death. Their photosynthesizing abilities severely crippled, cut roses are sorted into uniform stem lengths by dozens of workers in lines, dipped in an antifungal preservative solution, and hurried off by the churning belts into storerooms set at 34 degrees Fahrenheit. The freshly harvested specimens then sit frigid under bleak neon lights in a plant morgue of sorts, their decaying processes delayed.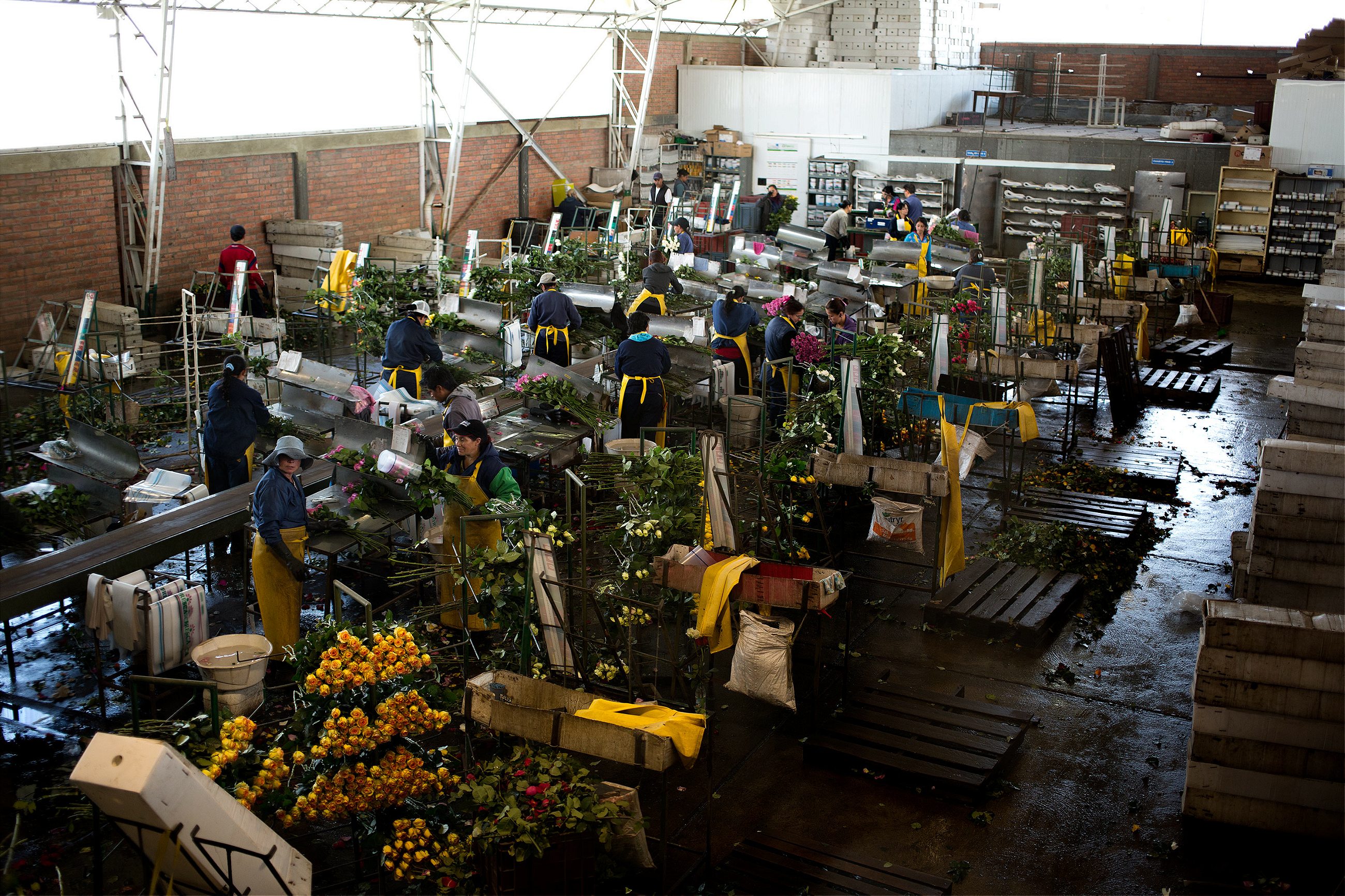 The arresting cold is what makes it possible to walk to a corner bodega in Queens, New York, and purchase a Valentine's bouquet of roses grown 2,500 miles away. Refrigerated trucks bound for refrigerated planes carry the farm's daily bundles, around 100,000 roses a day, destined for impossibly far locales. A parcel of land adjacent to Puente Piedra was recently purchased to be developed into a modest airport for the sole purpose of shipping flowers and other goods produced in the savanna.
"Most of our roses are sent to New York and Miami. Some even go all the way to Russia," says farm manager Gloria Rodriguez. She wears a yellow baseball cap and pink lipstick and addresses every worker we come across by name. There is a tranquility surrounding her, perhaps from working with a product that, given enough water, grows and blooms and smells nice—seemingly simple and fulfilling math. However, Latin American history has taught us that the cultivation of natural products is not always simple and rarely fulfilling.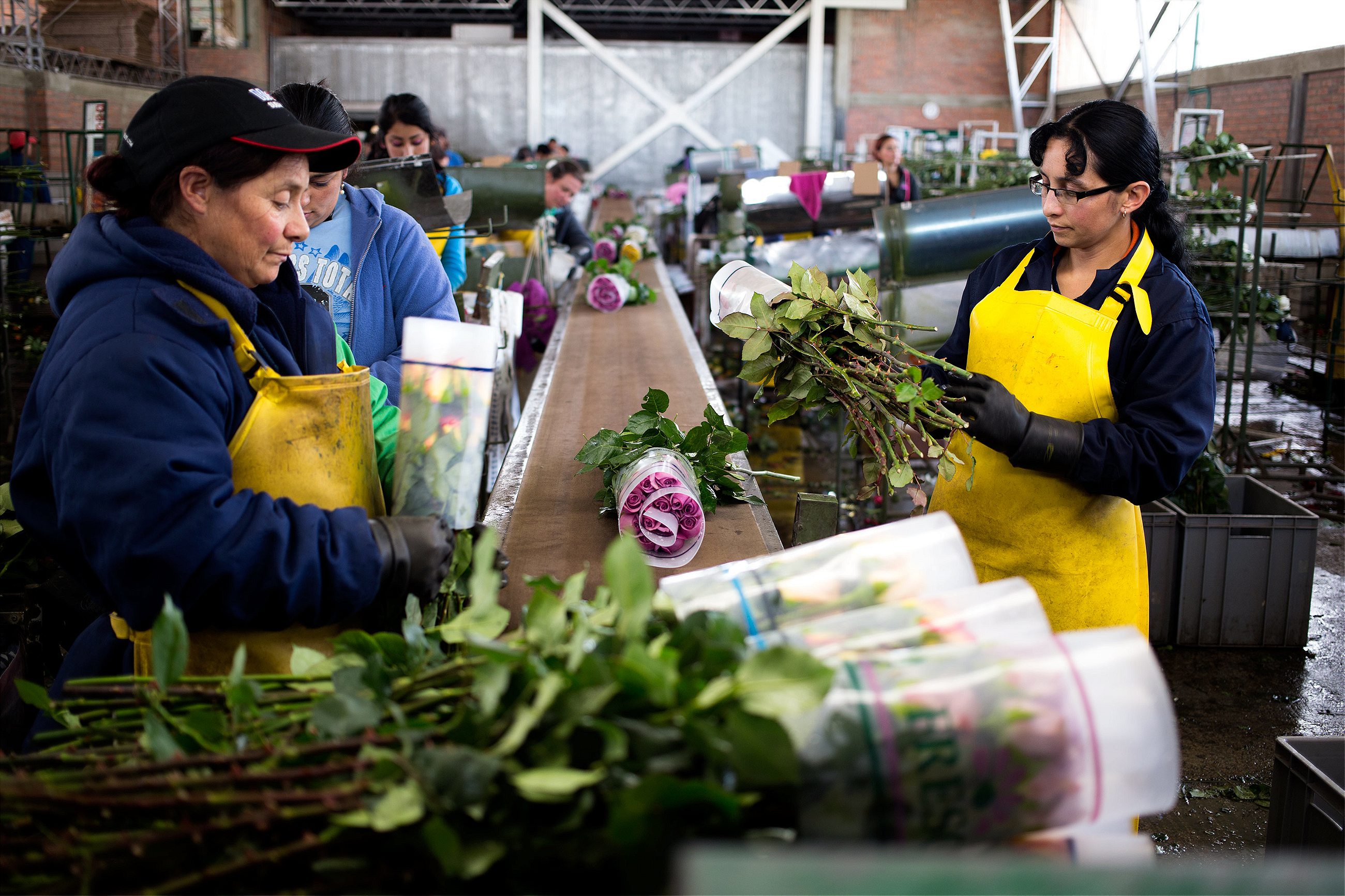 Stooping over rose bushes all day takes a toll on the body. One benchmark study revealed that Colombian flower workers can be exposed to 127 different chemicals from pesticide use. Pregnant women exposed to pesticide chemicals have high rates of premature births and miscarriages. Pay is minimal, the few pesos awarded per packaged rose result in a monthly paycheck of $300 or less. Child labor was rampant in the cut-flower business before initiatives were implemented in 1996 to eliminate the practice, but the use of underage workers still occurs. Women dominate the worker population, with more than 80,000 holding positions on farms, and sexual harassment by male bosses is often reported.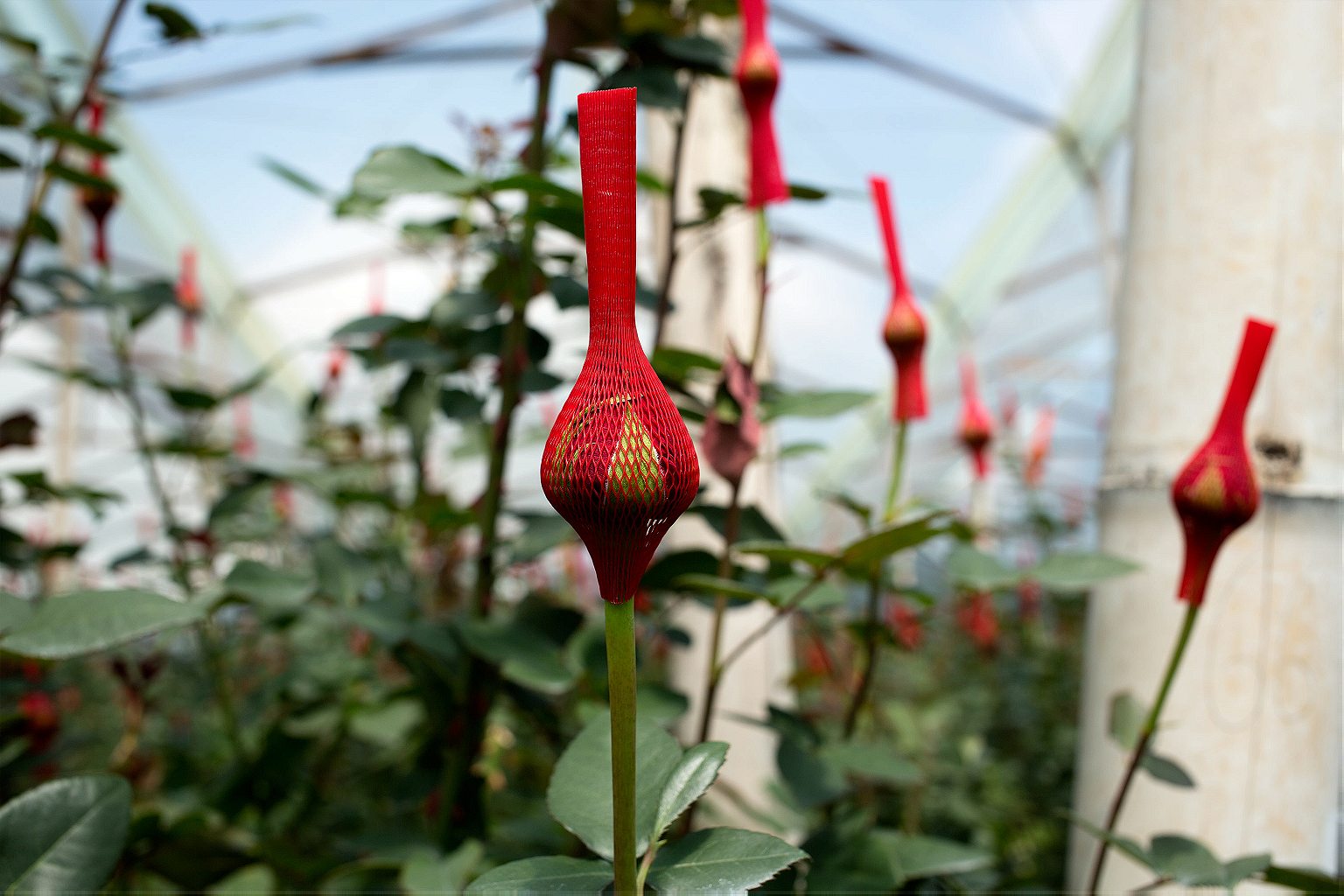 The floral industry in Colombia is self-regulated; there are no uniform standards that exist to ensure workers' rights and physical well-being. Luckily, the 100-odd employees at Fresca Farms appear to be benefiting from a company with higher standards than most. Lunch is provided in a clean, well-lit mess hall. Protective gloves, shoes, and aprons are worn by all employees. New cleaning and cutting technology lowers the amount of stress placed on a worker's lower back.
Pesticides are rarely used, if at all. Many farms in Colombia are beginning to recognize the competitive edge the "all natural" label provides in North American and European markets. A walk through the greenhouse reveals mint bushes at the end of every row of roses, a way to prevent pests. Smoldering tobacco leaves are often waved through the bushes, the thick smoke another alternative repellent.
Those workers who are not bused in by vehicles with hand-painted TransMilenio logos on the sides live near by and bike to work. Diego, a soft-spoken 20-year-old sporting a backward baseball hat and a goofy smile, lives in town and enjoys his job at the farm. "I bring back roses that we can't ship to my family. Our house is always filled with flowers," he says.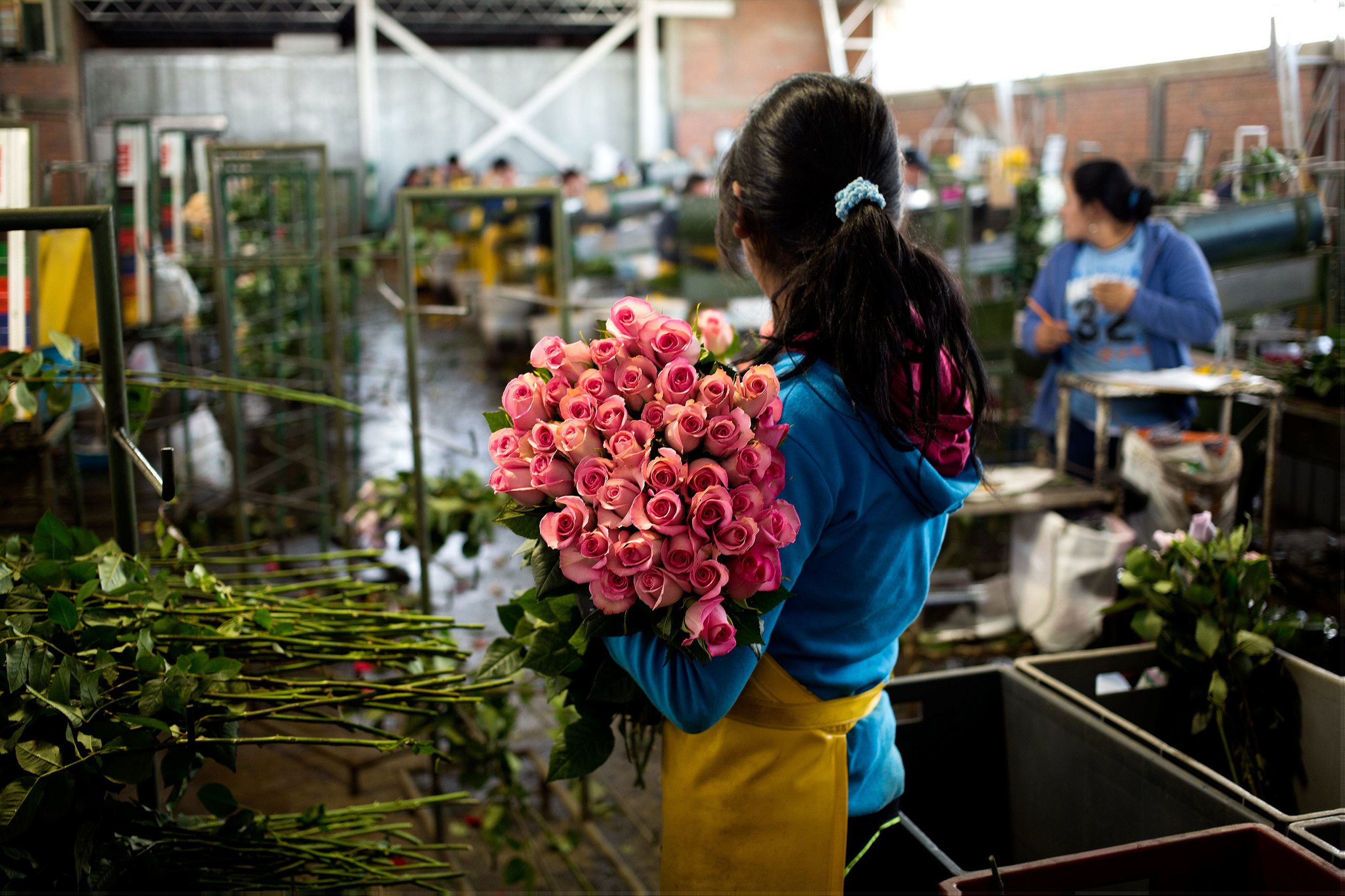 This particular farm grows 32 different rose colors, with names like Hot Lady and Ocean Song. A splicing technique is employed to ensure the rigor and longevity of the species. The seedlings, grown from seeds developed in Dutch labs, are placed in a mountain bush native to Colombia. Not unlike most European corporations lured to Latin America by rich soil and cheap labor costs, the seedlings then become parasites, launching their genetic material into the bushes, sprouting buds that are ready to harvest in approximately 12 weeks. The same buds that at this moment are filling shops in the United States, readying for the great Valentine's Day plunder.
In Colombia, yellow roses are laid at the graves of loved ones, white varieties are given away at weddings, and red are reserved for displays of passion. Diego tells me his girlfriend liked red roses best. Many of the families in the savanna region were displaced by rural poverty, FARC guerrilla wars, and cocaine cartels—Colombia's more infamous export. The economy that the flower industry provides, not without its controversies, has enabled income levels to rise significantly to support medical, education, and housing costs in Bogotá's savanna region.
The small farm sitting on the high plain of Puente Piedra grows a product that carries innumerable symbols when given away but is inarguably lovely. As we take photos of different workers clipping and wrapping, they laugh and tease one another but proudly carry the roses that are bright and so intrinsically tied to the Colombian spirit. Standing in the greenhouse, the scent is luscious, crisp, and overwhelming. It smells like success.